These Whole30 meal prep tips, ideas, and recipes will help you get started and succeed on Whole30. You'll wake up every morning knowing what's for breakfast, lunch, or dinner!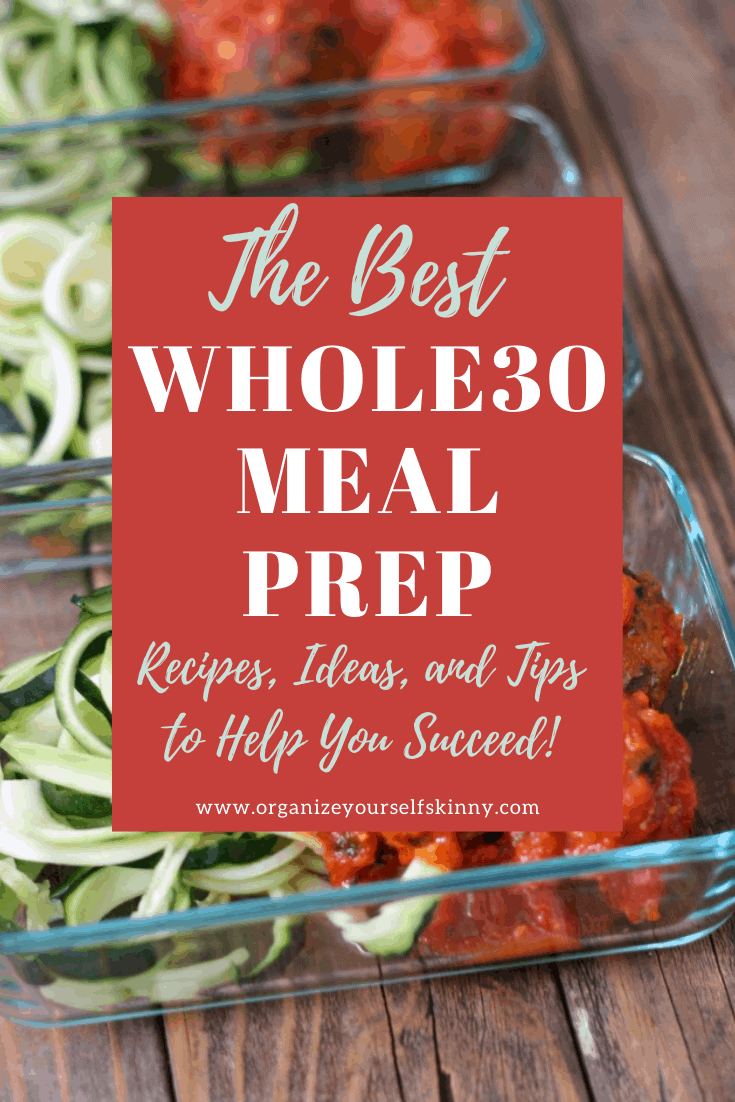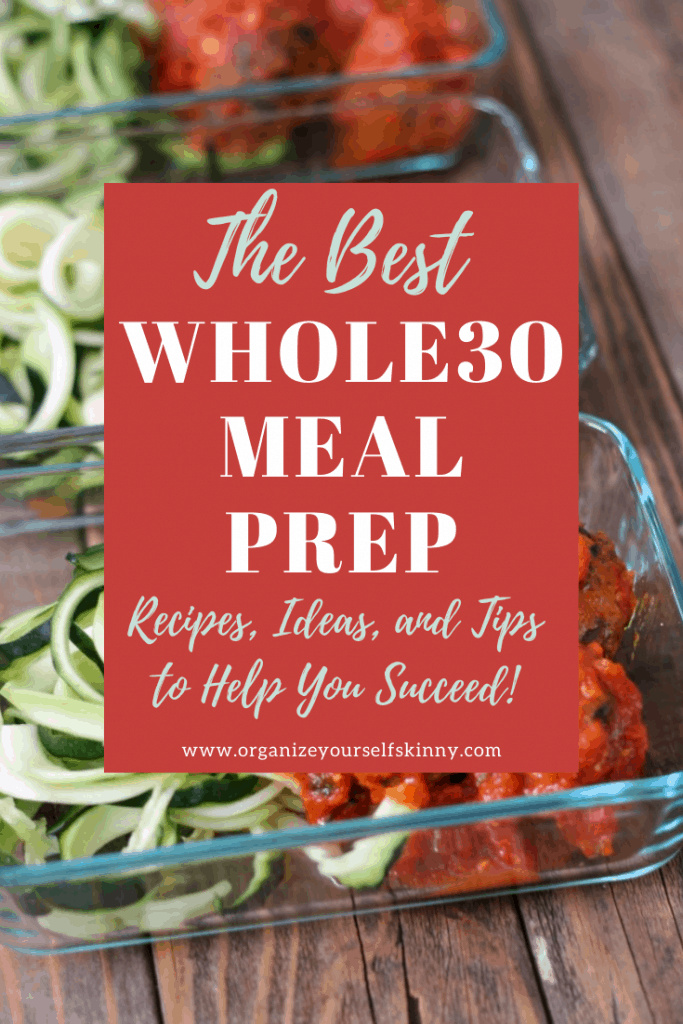 This post includes affiliate links. I'm an affiliate for Amazon and other brands I love and use. If you use one of my affiliate links to make a purchase I will make a small commission. You're by no means obligated to use my links but, if you do, thank you so much for supporting Organize Yourself Skinny.
Since turning 40 I've become much more in tune with the way food affects my body. As my hormones began to change I realized that certain foods were becoming problematic. Symptoms such as skin rashes, exhaustion, and stomach issues were made worse or better depending on the foods I ate.
I started to discover this on my own, but, a few years ago, took it a step further by completing a Whole30.
In this post, I want to talk about using meal prep to set yourself up for success with Whole30. Because, quite honestly, Whole30 will be a challenge if you don't take the time to get prepared.
However, before I jump into this Whole30 meal prep guide, I want to give a brief rundown along with some resources.
What is Whole30
First, let's talk about what it's not – Whole30 is not a weight loss program.
Sure, weight loss is possible since you'll be changing your eating habits and, most likely, eating less.
However, it's also possible you won't see any weight loss.
Actually, one of the Whole30 rules is not to weigh or measure yourself for 30 days. The main priority is to focus on the food.
So, what is Whole30?
Whole30 is a reset to your body. It's designed to help you become intentional with the food you eat and aware of how food affects your body. It's designed to help you figure out which foods are problematic for you.
For example, if you're experiencing bloating, lethargy, acne, or other symptoms and can't figure out why then it's likely the food you're eating is to blame. In this case, Whole30 can help you discover the foods that are most likely causing those symptoms.
If you want to learn more about Whole30 I strongly suggest purchasing the Whole30 book by creators Melissa and Dallas Hartwig. This book covers the program in-depth and answers any questions you could have about Whole30.
Also, the Whole30 website includes tons of free information, most of which is found in the book.
The difference between Whole30, Keto, and Paleo.
Whenever I share a Whole30 recipe, or information, I get questions about the differences between Whole30, Keto, and Paleo.
So, here's the quick and dirty.
Whole30 does contain a lot of the same foods found in the keto or paleo diet. Actually, Whole30 was designed based on the Paleo diet so it's most similar to that.
However, Paleo focuses on the history of paleolithic eating while Whole30 looks at the science behind how certain foods affect your body.
So while you will find some similarities in the types of foods allowed and not allowed with both eating styles the concepts behind the plans are different.
What makes Whole30 different is that the goal is to remove food groups temporarily (30 days) to reset your body and see which foods are problematic.
After the 30 days, you may or may not add certain foods back into your diet.
With Keto or Paleo, you're making that style of eating a lifestyle, essentially committing to it beyond 30 days.
3 Reasons You'll Love Whole30
Whole30 helps you to become aware and intentional with food. This is more than half the battle when trying to create a healthier lifestyle. Often we eat without thinking, which is problematic in so many ways. Whole30 helps you to stop and truly pay attention to the way food affects your body.
Whole30 provides structure. It's overwhelming to feel out of control with food. Where do you start? What do you eat? Why should you eat that? Whole30 answers all those questions so you can navigate through making changes to your eating habits.
Whole30 helps you feel confident and in control. You'll start to understand the direct correlation between the foods you choose to eat and the way you feel. This gives you the power to be in control of your body, mind, and health.
Foods to Stay Away From on Whole30
Ultimately, Whole30 is an elimination diet so let's start with the foods to stay away from.
The goal isn't to remove these foods forever but only for 30 days to see which foods are problematic for you.
After the 30 days, you'll slowly add back in foods to see how each one individually affects you. At that time, you decide which foods to keep out for good.
On the Whole30 diet you'll need to remove:
Sugar, except that found naturally in fruits and fruit juices. But the goal is to stay away from any added sugar. 
Dairy – the only exception is Ghee.
Alcohol – Even low carb and low sugar beverages are off the menu for 30 days.
Grains – this includes everything, including quinoa
Legumes – this is all beans including lentils.
All baked goods – even if it's considered Paleo, low-carb, or even Keto stay away from it. The goal is to only eat nonprocessed foods.
Whole30 Food Ideas
If you're used to a standard American diet then you're probably thinking "okay, what the heck can I eat."
Basically, you're left with everything that's not on the "do not eat list".
On Whole30 you can eat meats, seafood, fruits and vegetables, natural fats, spices, and seasonings.
Butcher box online meat delivery is my go-to resource for high-quality organic meats and seafood. I order a custom box every single month. In my opinion, they offer the most delicious organic chicken, grass-fed beef, heritage breed pork, and wild-caught seafood at affordable prices. Check out my full Butcher Box review to learn more.
Foods with minimal ingredients or no ingredients. The goal is to eat clean real foods and stay away from processed foods.
Organic food and ingredients. Purchase organic to remove pesticides or other chemicals from foods.
A full list of Whole30 foods can be found on the website or in the Whole30 book.
The most important habit when choosing Whole30 foods to eat is to read labels. It's amazing the amount of additives, preservatives, and sugars that are found in foods, even foods that are considered "healthy".
Another great resource for purchasing Whole30- complaint foods is online at Thrive Market. Thrive Market is an online market that specializes in natural and organic non-perishable foods. They offer a large amount of Whole30 compliant foods at great prices. To learn more read my full Thrive Market Review.
Whole30 Substitutions
The good news is most recipes can be made Whole30 compliant with substitutions. So, keep that in mind as you're searching for healthy Whole30 recipes.
Instead of pasta use zoodles, spaghetti squash, or other vegetables as a base.
Unsweetened coconut or almond milk instead of dairy.
Coconut or almond milk instead of coffee creamer.
Cauliflower or broccoli rice instead of grains.
Almond or coconut flour instead of bread crumbs in recipes like meatballs, meatloaf, or breaded chicken.
Whole30 Meal Prep
If you're used to convenience meals then starting a Whole30 is going to require more effort and cooking than you are used to.
Therefore, putting together a healthy meal prep routine will be essential to help you succeed on Whole30.
Compile a list of Whole30 compliant foods and recipes. Again, if you're used to the American standardized diet of sugar and carbs then switching to Whole30 is going to take some effort.
However, you don't want to overcomplicate it either. Choose family-friendly recipes or simply stick with recipes you love but make Whole30 substitutions. I'll give more meal prep ideas below.
Create an easy meal plan. Look at your schedule and plan out what you need for easy weeknight dinners.
Again, don't overcomplicate it. But, be specific so you know exactly what you're going to eat. This assures you'll purchase all the necessary ingredients.
Carve out time to grocery shop and meal prep. If you can help it, try not to do both on the same day. This can be exhausting and overwhelming.
My advice is to grocery shop 1-2 days before meal prep day. Then in the morning, just wake up and get started prepping foods for the week!
Easy Whole30 Meal Prep Ideas
Whole30 is on the strict side with the list of foods you can and cannot eat. Like I mentioned, this is the #1 reason it's so important to plan and prep.
In fact, I think meal prep makes all the difference between succeeding on Whole30 and throwing in the towel.
Here's a list of my best meal prep tips when you're following Whole30 or even when you're just focusing on healthy eating.
All of these ideas are meant to be prepared on Sunday so you can easily and quickly put together a Whole30-compliant meal.
Make a batch of roasted veggies. Roasted veggies are great alongside baked chicken breast, shredded beef, or even stirred into scrambled eggs.
Bake sweet potatoes for the week. Make a taco stuffed sweet potato with taco meat and salsa or eat plain alongside roasted chicken. Break out your slow cooker to make a big batch of sweet potatoes for the week.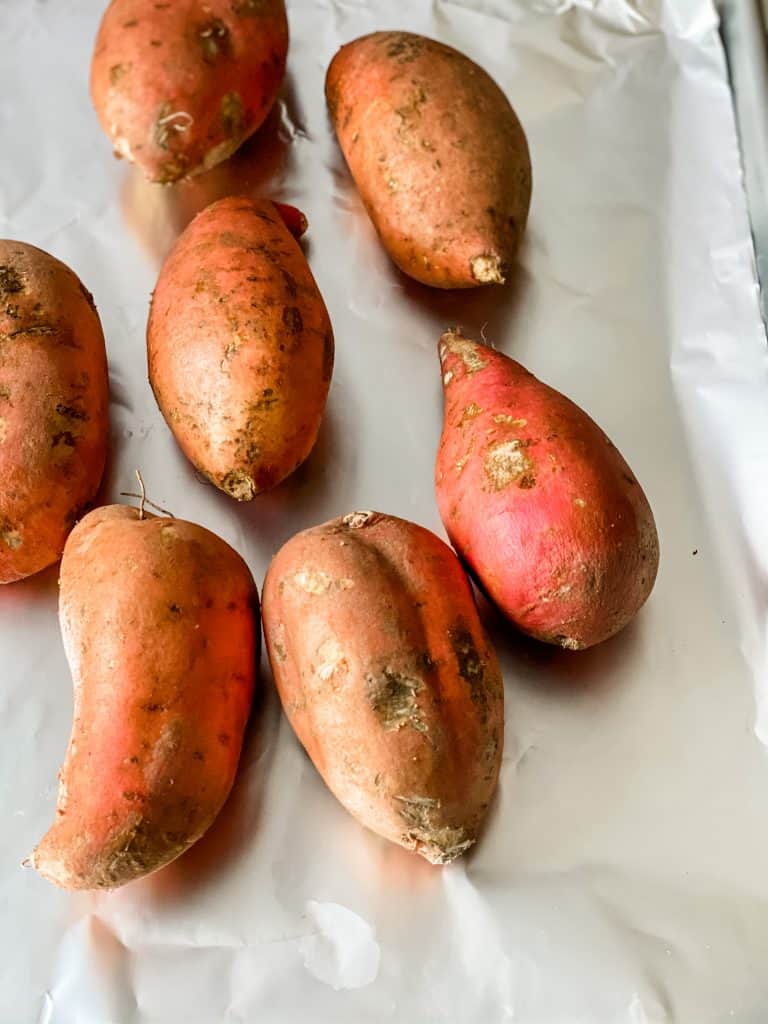 Make zoodles or spaghetti squash ahead of time. These are great to have on hand to throw into "pasta" recipes.
Prepare shredded chicken, beef, or pork to use in recipes. Again, break out the slow cookers to whip up some shredded meat for the week. Shredded meats can be used in salads, lettuce wraps, soups, or mixed with zoodles for a delicious "pasta-inspired" recipe. We love this basic shredded chicken recipe or slow cooker salsa chicken.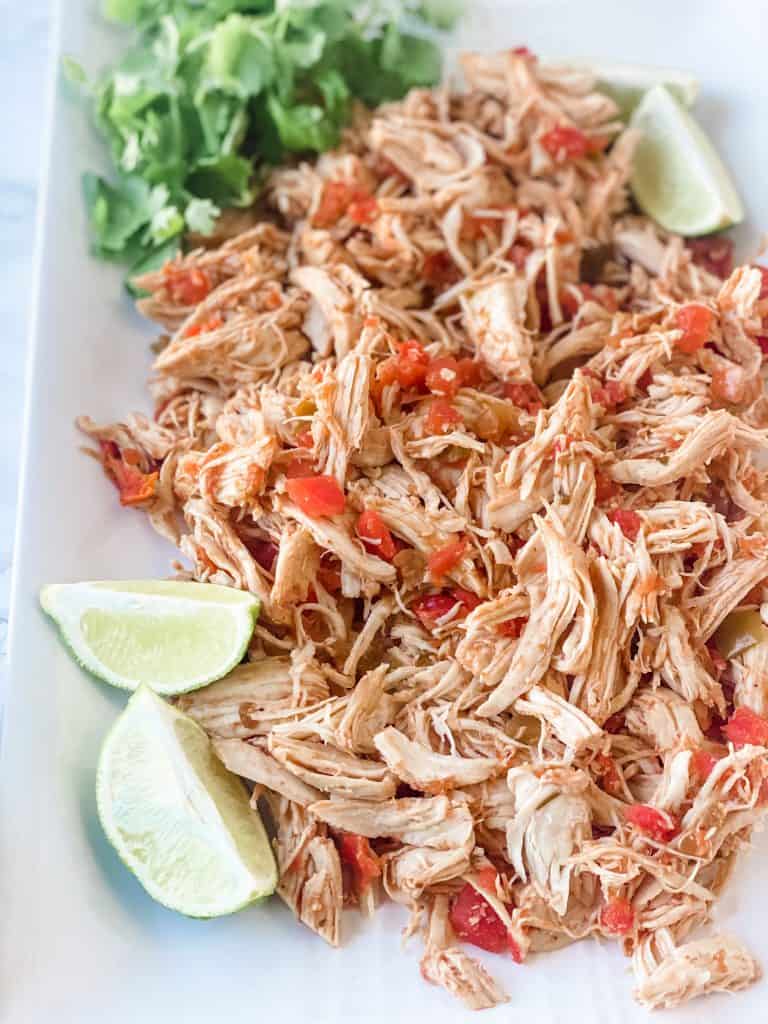 Prepare dressings, sauces, or seasonings to use. There are many Whole30-compliant sauces and dressings on the market but it's so easy to make your own. Take time on Sunday to throw together 3-4 sauces to use in recipes during the week. We love this Whole30 taco Seasoning.
Prepare and freeze soups. Soups are a great way to get into a huge amount of nutrient-dense foods. And, most soups get better by the day so you can make a pot on Sunday to enjoy during the week.
Chopped vegetables to use in stir-frys or salads. If you don't feel like cooking then take time to chop up vegetables to use during the week for snacks or in recipes. Some of the things I do are trim green beans, sliced peppers and onions, clean and slice Brussel sprouts, and/or chop broccoli. 
Put together mason jar salads. If you struggle with lunches then I encourage you to give mason jar salads a try. I've been making them for close to 10 years and I never get sick of them. I make 5 salads on Sunday and have lunch ready for the rest of the week. Here's my how to make mason jar salads tutorial. Or prepare meal prep bowls.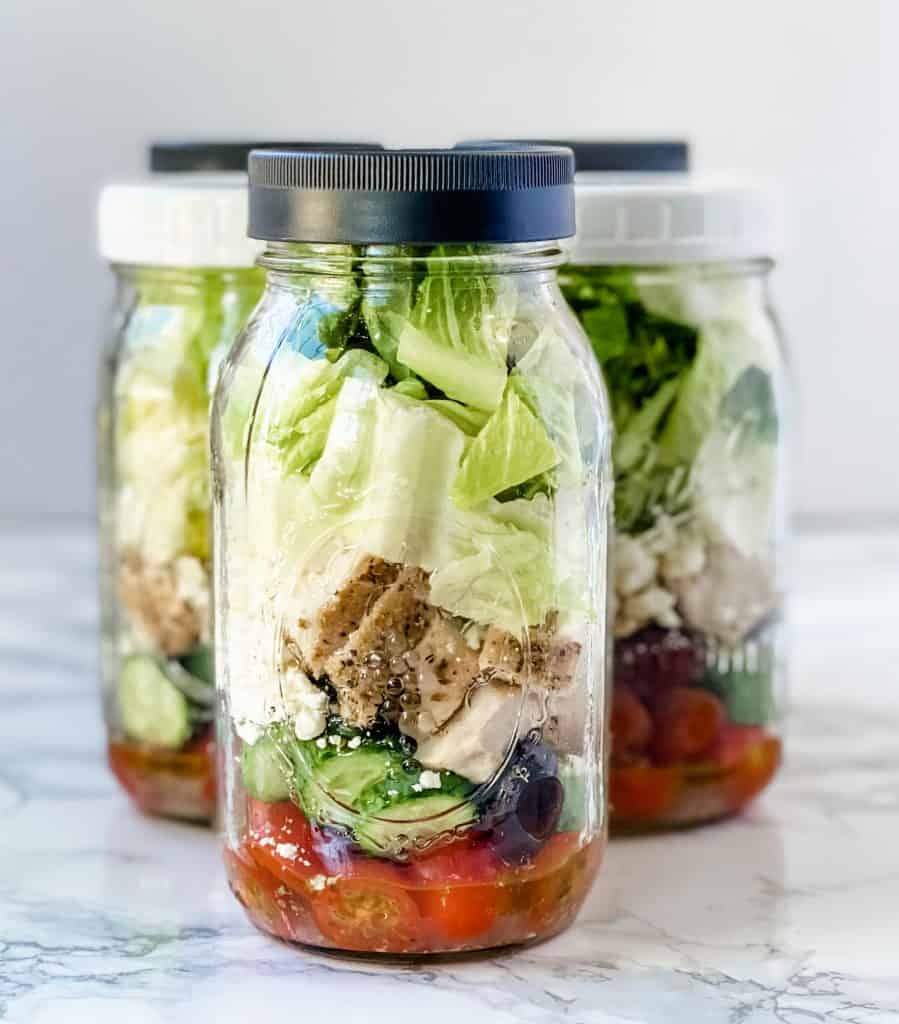 Whole30 recipes
All of these recipes are either Whole30 compliant or can be with a couple of tweaks that I'll make note of.
Whole30 Breakfast Recipes
Broccoli Egg Bake
This Broccoli Egg Bake is a high protein, low carb breakfast recipe perfect for meal prep or serving a crowd.
Check out this recipe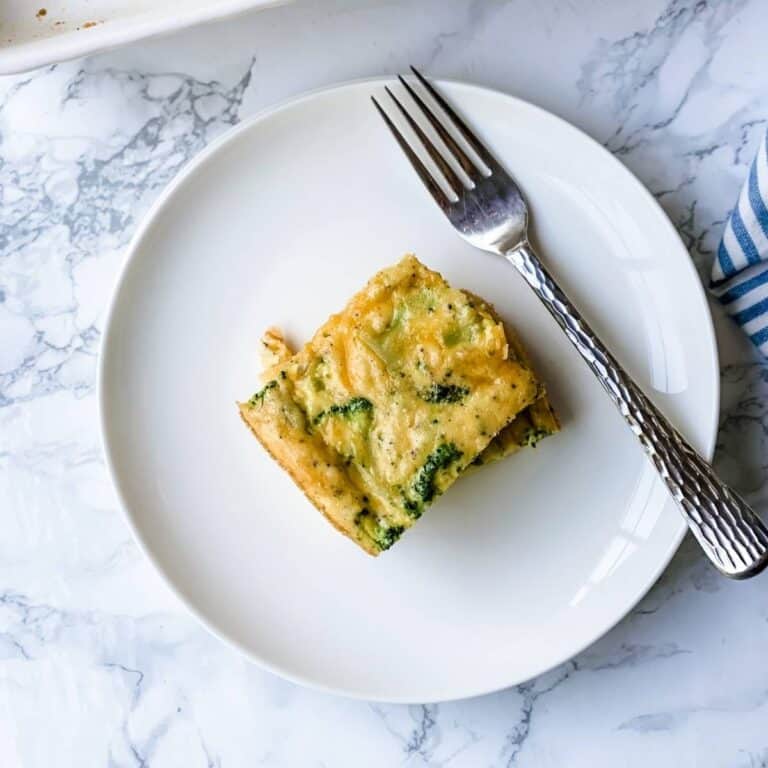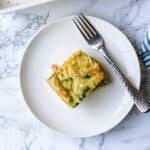 Whole30 Lunch Recipes
Greek Chicken Salad in a Jar
This Greek Chicken Salad in a Jar is the low carb lunch recipe you've been waiting on. This delicious healthy salad recipe has all your favorite Mediterranean toppings to enjoy on the go! It's made with a homemade greek dressing and filled with fresh vegetables, tangy feta cheese, and lean chicken breast to keep you full all afternoon. Make 4-5 jars on Sunday to enjoy all week for lunch!
Check out this recipe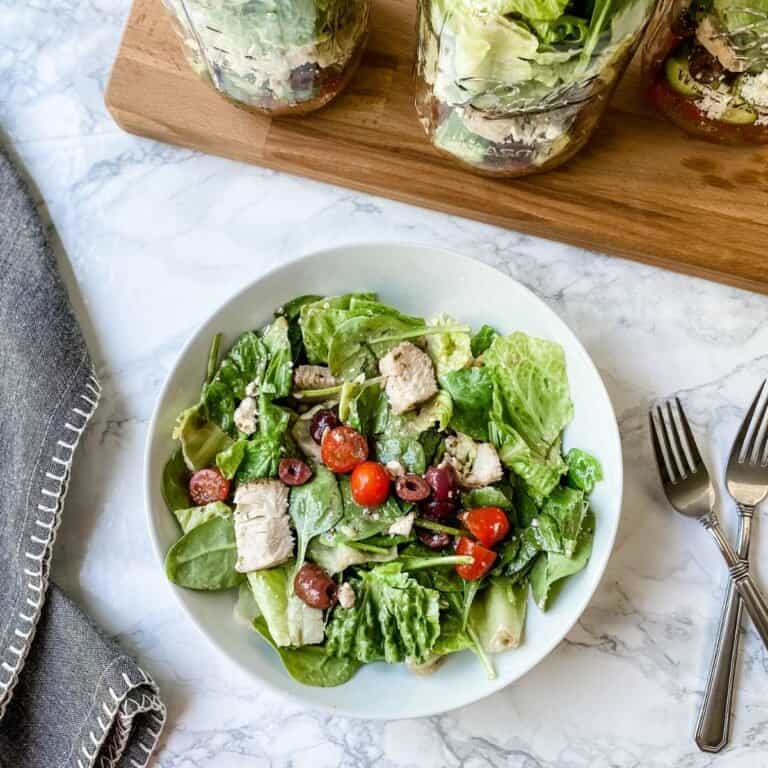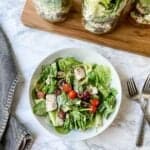 Whole30 Dinner Recipes & Sides
Chili-Spiced Roasted Sweet Potatoes
These delicious roasted sweet potatoes are the perfect thing to add to your weekly meal prep. With a chili-spice seasoning that perfectly balances the natural sweetness from the potato, you'll be shocked to learn that this tasty dish is Whole30 compliant!
Check out this recipe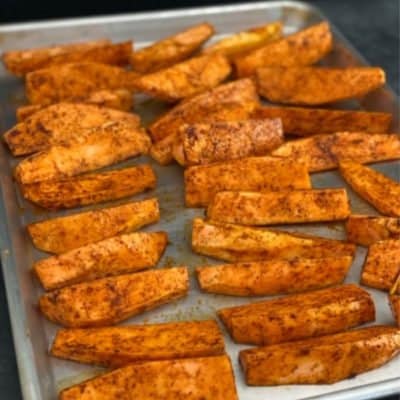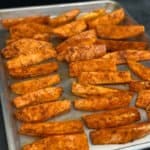 Whole30 crockpot recipes
Other meal prep posts: