If you're looking for some low carb breakfast ideas, these Jalapeno Cheddar Egg Bites should definitely be on your radar. At only 89 calories per egg bite and 7 grams of protein, this egg bites recipe is the perfect low carb, high protein option when you're on the go.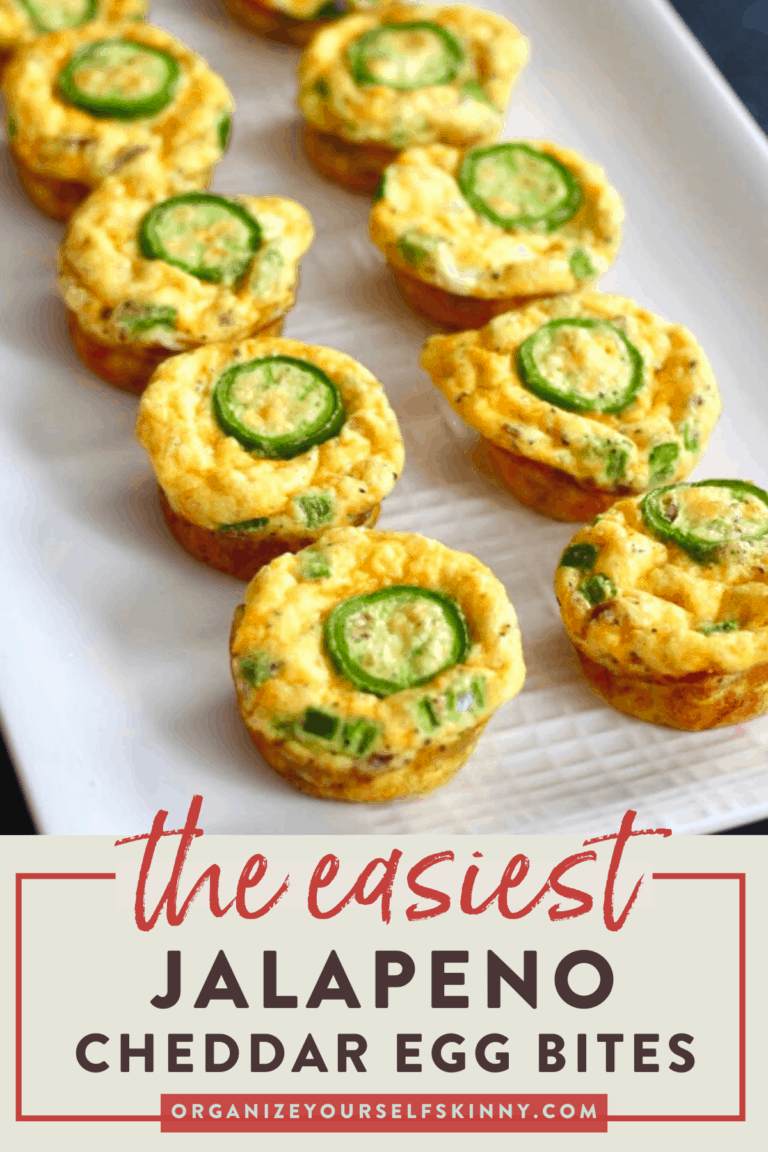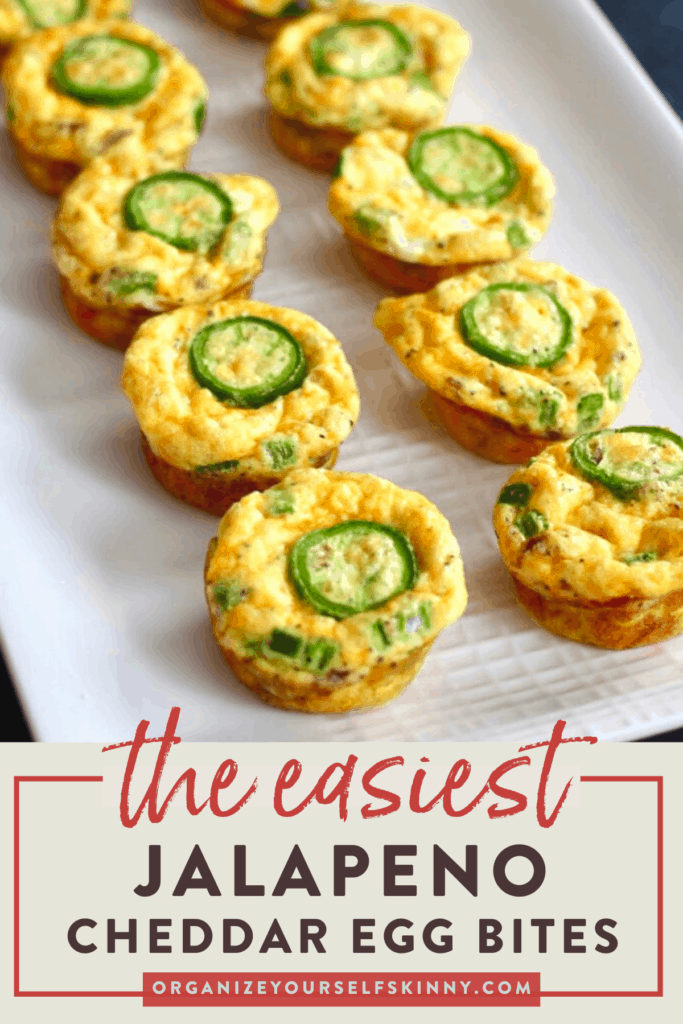 A Favorite Low Carb Breakfast Idea
Let's be real — most people who tend to skip a meal in the day choose breakfast. Whether it's because you are scrambling to make it to your job on time or simply can't be bothered to put something together, breakfast is always the first one to go…but it really shouldn't be.
I'm pretty passionate about getting in a good, healthy breakfast like these egg bites! There are so many reasons why I believe strongly in a good meal to start the day, but here are a few.
By eating a healthy breakfast meal, especially a low carb one, your body can benefit from:
increased daily calorie burn
boost in endurance and energy
a decrease in appetite which decreases the chances for an eating binge.
There's a reason why most people say breakfast is the most important meal of the day!
That doesn't mean it's any easier for us to actually make and eat a good breakfast though. There are so many things we know are good for us, but we don't have the time (or inclination!) to do them.
Trust me, I get it. Between keeping up with work, spending time with my family, and simply living my everyday life, I don't have as much time as I'd like to cook meals that are good for me and still do everything I need to do. I'm sure a lot of you are in the same boat! Well, these Jalapeno Cheese Egg Bites might be the answer we have been searching for.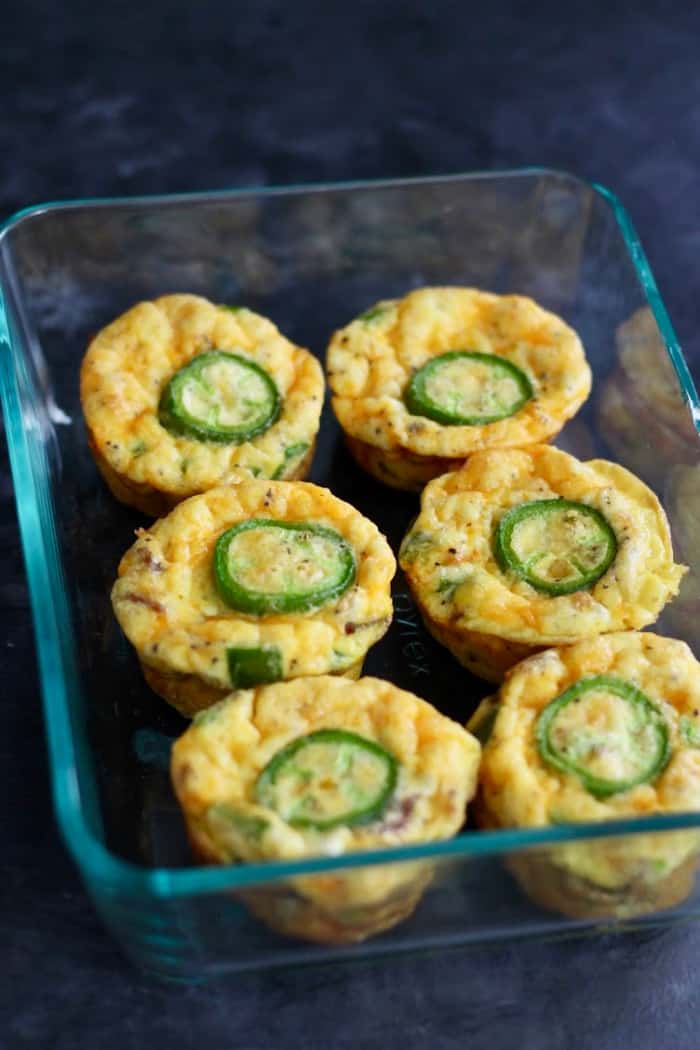 Frequently Asked Questions About Egg Bites
Packed full of protein and delicious spice, these keto-friendly egg bites sill give you the boost you need in the morning along with the nutrients your body is looking for. Rather than running off to a nearby coffee shop and purchasing egg bites that are overly expensive and not made with healthy products, make these cheesy egg bites yourself! It's easier than you might think.
But, before I jump into the recipe, let's go over some common questions you might have and some tips I've learned while creating this recipe.
What other toppings can I add if I don't like jalapenos? 
I get it. Spicy isn't for everyone and that's okay. The best thing about these egg bites is how versatile they are. You can add pretty much anything you want to them and they will still taste good.
You could add some diced red and green bell peppers with some chopped spinach and ham if you are in the mood for some southwestern flavors. If you are looking for more of an Italian route, you can add some chopped tomatoes, basil, mozzarella and a dash of oregano for a "pizza" egg bite.
Can I make this into a vegetarian recipe?
Vegetarians, don't feel left out! This egg bite recipe does have bacon in it, but you can easily leave it out for a meat-free version.
Can I use egg whites? 
Yes! This recipe calls for both eggs and egg whites but you could completely omit the eggs and just use egg whites.
How do I meal prep with these egg bites? 
The great thing about this recipe is that it's very easy to double or even triple the number of ingredients so you can meal prep. These egg bites are easy to make and can be made ahead of time. I have been meal prepping these bites along with some of these meal prep recipes for a healthy make-ahead breakfast so that I have something good to eat all week.
Egg bites can be stored in the refrigerator and warmed up quickly in the morning by sticking them in the microwave for about 1 – 2 minutes. They can be stored in the refrigerator all week. You can also freeze these bites and reheat as needed for a low carb breakfast on the go.
Which is the best way to store these egg bites? 
There are many different ways to store these egg bites. It just depends on how many you make.
If you are making about 1 dozen of these egg bites and plan to eat them every day, I would recommend storing these in glass meal prep containers because I feel they are best when it comes to keeping the food fresh.
It can also be frozen if you want to make a bunch ahead of time. Wrap individually and then place all the wrapped egg bites into a plastic freezer bag. To warm up remove from bag and plastic wrap and then warm up in the microwave.
Jalapeno Cheddar Egg Bites
Okay, it's time to start cooking! Now that you know all the benefits and customization options making this low carb breakfast idea gives you, let's go over how to make egg bites.
By the way…the full instructions are in the printable recipe card at the bottom of this post. 
Ingredients for this easy breakfast idea with eggs are readily available at your local grocery store. This truly is a quick recipe to make!
Here are the ingredients to make egg bites with jalapeno cheddar flavor:
Eggs – for protein and a dose of healthy saturated fats
Egg whites – I like using a combination of eggs and egg whites to get both healthy fat and lower calorie counts
Spices – these add flavor and a savory undertone to the eggs
Jalapeno peppers – I love the kick these add! Plus, eating spicy foods can help speed up the metabolism
Shredded sharp cheddar – in my opinion, sharp cheddar gives you the most flavor which means we can add a little bit less and lose some calories
Bacon – you don't need much bacon to make an impact! In fact, there are only four slices throughout this entire recipe.
A helpful tip for making bacon: Cooking bacon in the oven makes it so much easier than the counterpart stovetop method, and way less messy. I cooked the bacon in the oven for 25 – 30 minutes at 350-degrees and it worked perfectly. Then, I laid the bacon on a paper towel to soak up all the grease. I also decided to use foil on my baking sheet for easier cleanup! Just roll it up and toss.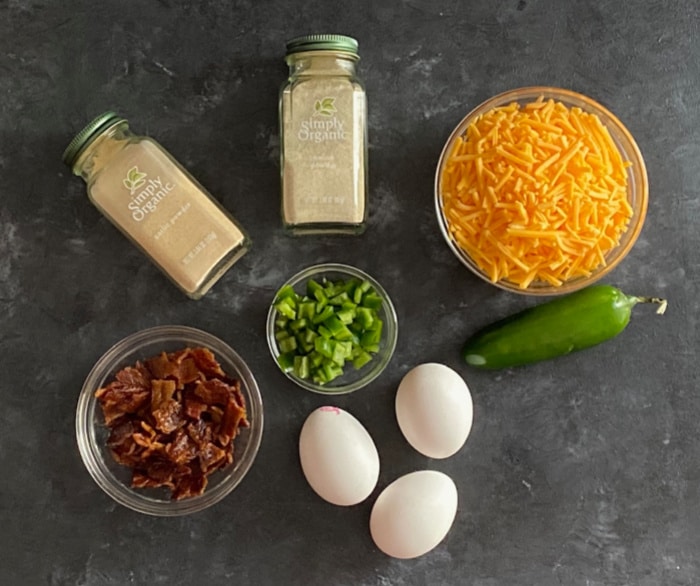 The first thing you will want to do is grab a large mixing bowl and whisk together eggs, granulated garlic, onion powder, salt, and pepper.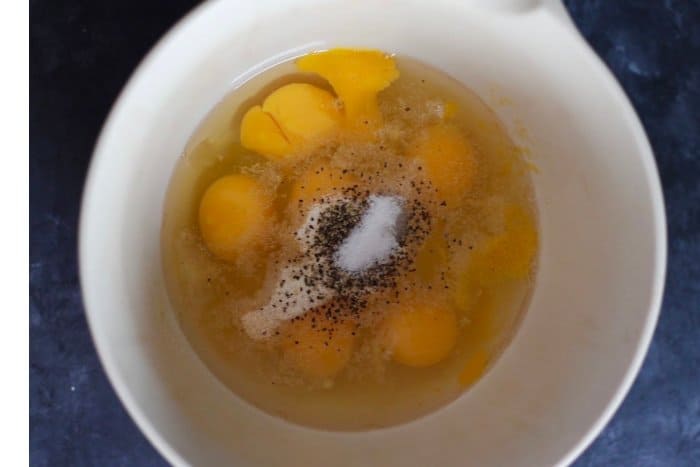 Once it has all been whisked together, gently fold in the diced jalapenos, shredded cheddar, and crumbled bacon into the eggs.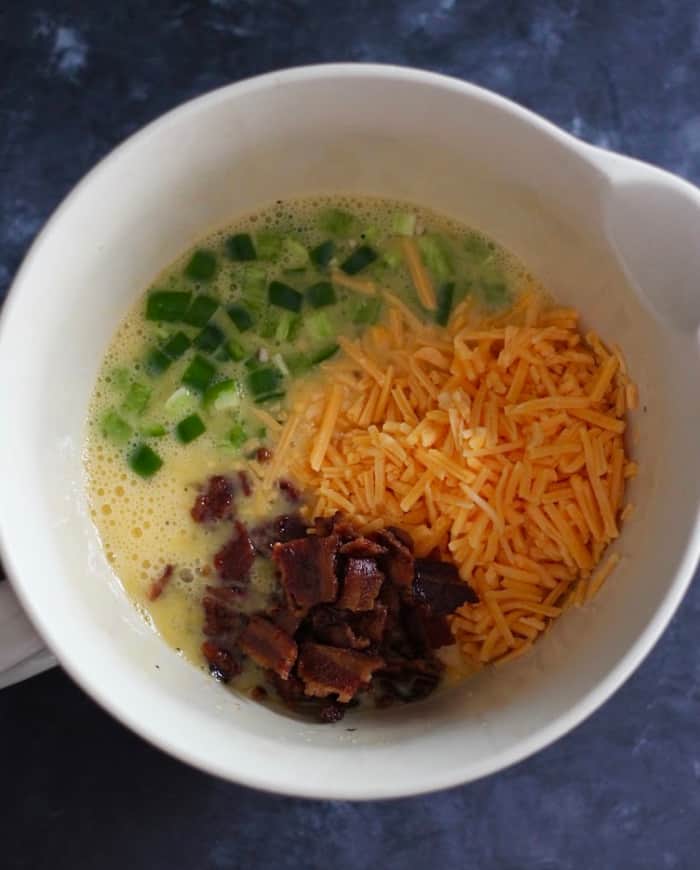 Divide the egg mixture into a 12-cup muffin pan sprayed with cooking spray. Place a jalapeno slice into the center of each egg cup. If you want to reduce the heat, then remove seeds from the jalapeno or if you just really don't like any kind of spice, omit completely.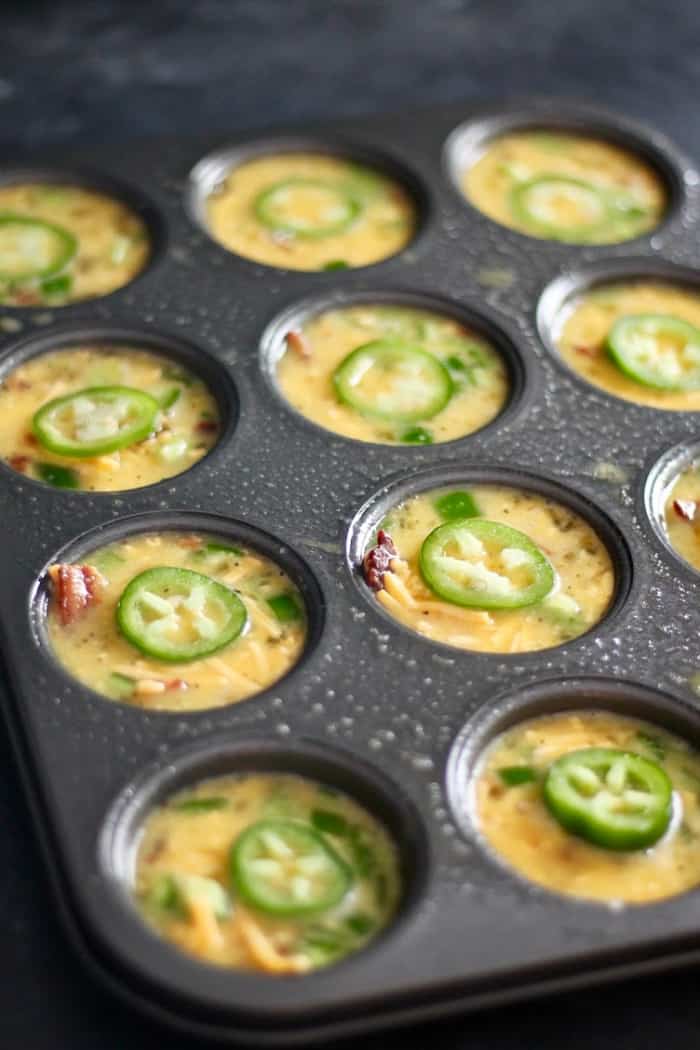 Bake for 20 -22 minutes in a 350-degree oven. Keep an eye on them towards the end to make sure they don't overcook and become rubbery. Once the egg bites are done, let them cool before attempting to remove them from the muffin pan.
These egg cups will slide out very easily! Simply run a butter knife around the edges and they will pop right up.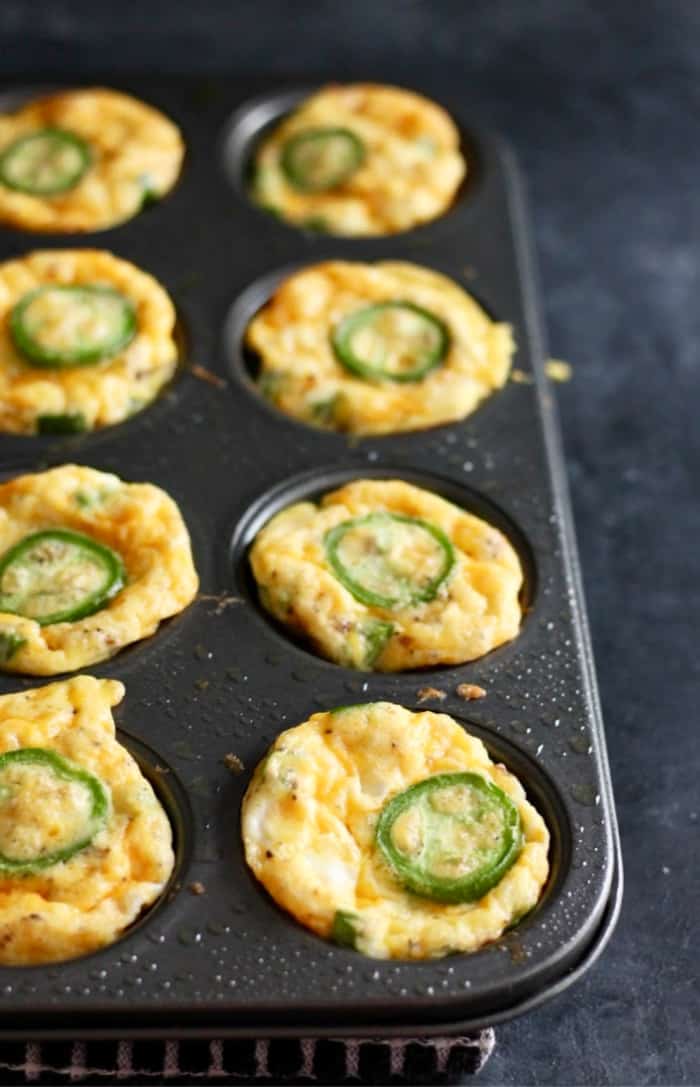 I have to say my favorite thing about these cheesy egg bites is, well, the cheese! I love that combination of great cheddar flavor with a kick of spice just at the end. These jalapeno cheddar egg bites basically have all the flavors of a jalapeno popper but without all the fat and calories. Plus, you get to eat it for breakfast—how cool is that? They really are delicious.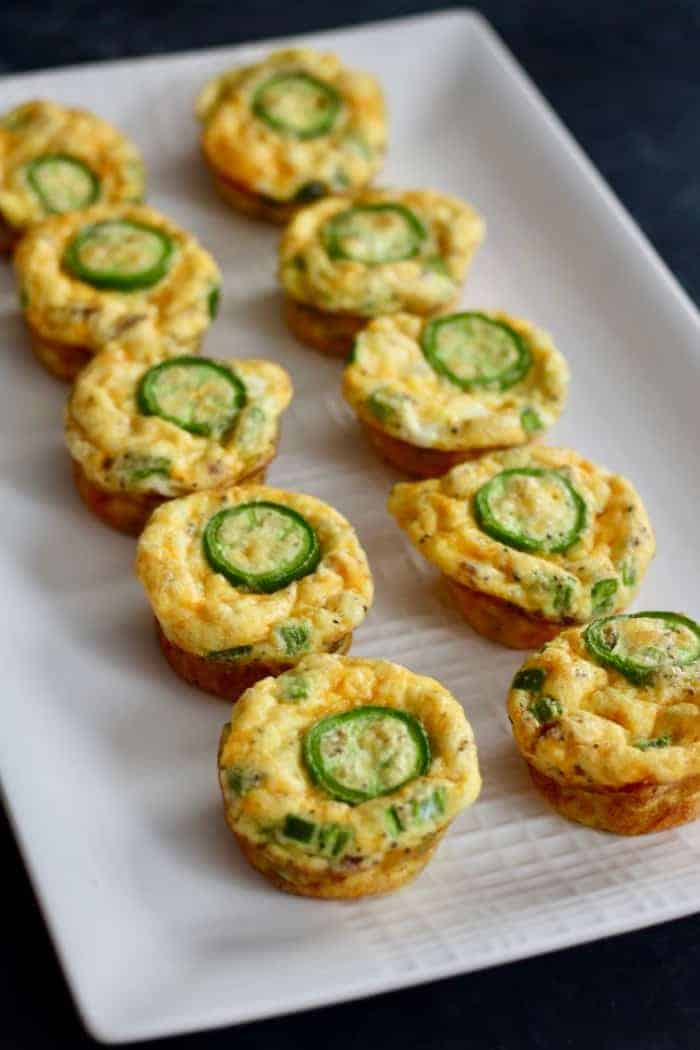 I know I mentioned it before, but these really are perfect for meal prep. I like to double the recipe and make 2-3 different kinds of batches to add some variety to my week. Variety really is the spice of life and in my experience, will keep you from being bored.
This breakfast idea is really great for a busy morning. You can bring them to work in a container for a quick bite or even eat one while getting ready to start your day. I like to pair these egg bites with a piece of fruit or even some yogurt to really round out my breakfast meal.
For some more wholesome breakfast ideas that you could eat on the go, you should take a look at these recipes:
Spinach and Feta Breakfast Bagel Sandwich
If you are looking for some new keto-friendly breakfast idea, then these Jalapeno Cheddar Egg Bites are going to be your new low carb breakfast on the go. Share a picture and tag me on Instagram or Facebook if you decide to try it!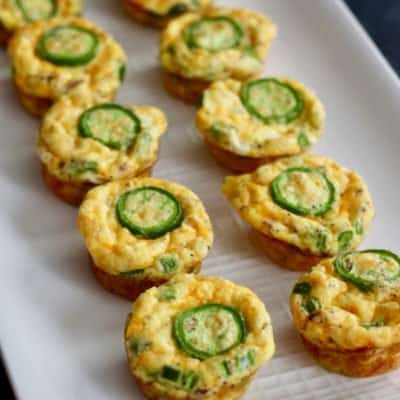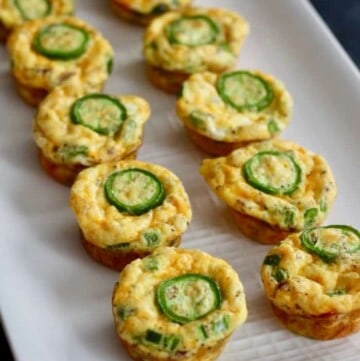 Jalapeno Cheddar Egg Bites Low Carb
Egg bites are a versatile and delicious way to start your day! This savory low carb breakfast idea is loaded with protein and flavor. Yum!
Print
Pin
Rate
Ingredients
6

large eggs

6

egg whites

1

teaspoon

granulated garlic

1

teaspoon

onion powder

1/2

teaspoon

salt

1/2

teaspoon

ground black pepper

3

jalapeno peppers

divided

1/2

cup

shredded sharp cheddar

4

slices

bacon

cooked and crumbled
Instructions
Preheat oven to 350

In a large mixing bowl whisk together eggs, granulated garlic, onion powder, salt, and pepper.

Take 2 of the jalapeno peppers and slice in half and remove the membranes and seeds. Diced the jalapenos into small pieces.

Stir diced jalapeno's, shredded cheddar, and crumbled bacon into the eggs.

Slice the 3rd jalapeno into 12 slices, remove the seeds.

Divide the egg mixture into a 12-cup muffin pan sprayed with cooking spray.

Slice the 3rd jalapeno and place in the center of each egg bite.

Bake for 20 -22 minutes or until the eggs are set.

Remove from pan and serve.
Notes
Make ahead Instructions
This egg bite recipe can be made ahead a couple different ways. First, you can prepare the recipe completely and then store in the refrigerator up to 5 days. Heat up in the microwave for 1 - 2 minutes or until heated through.
Or wrap the egg bites individually in plastic wrap, place together into a large freezer bag and store in the freezer up to 3 months. To heat up remove from plastic wrap and warm up in the microwave for 1-3 minutes or until hot.
Nutrition
Serving:
1
g
|
Calories:
89
kcal
|
Carbohydrates:
2
g
|
Protein:
7
g
|
Fat:
5
g
|
Sugar:
1
g