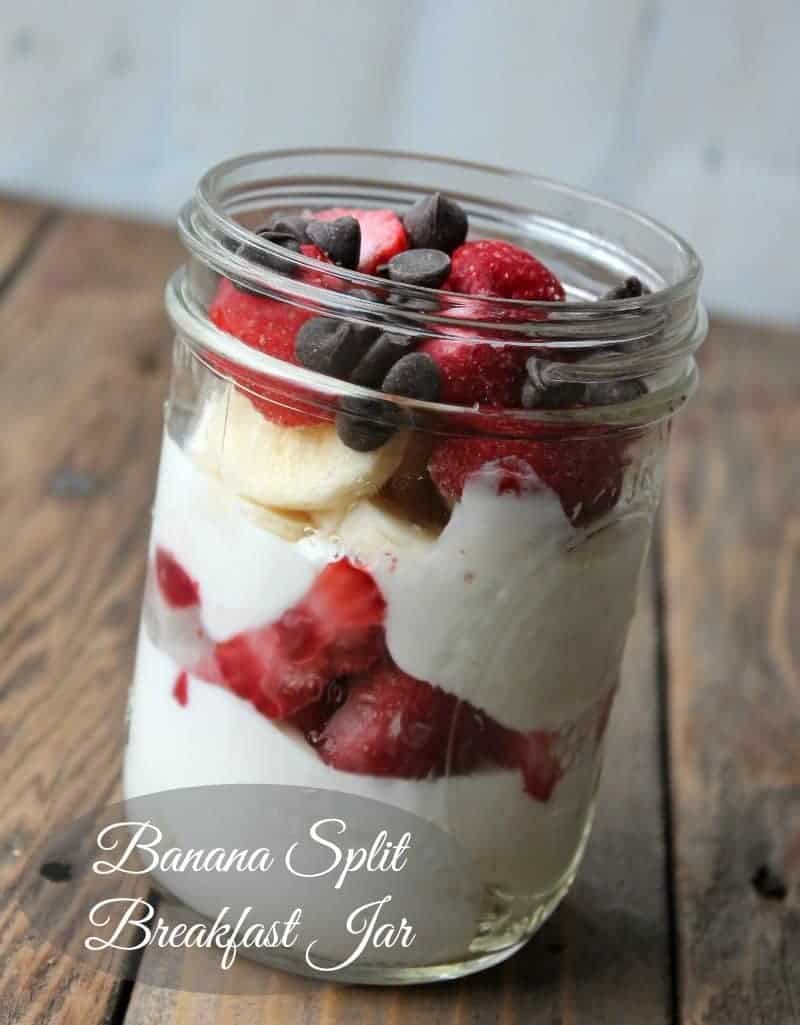 Make-ahead "grab and go" breakfast recipes have become a must have in my house. Of course, the goal every morning is to sit down at the kitchen table bright eyed and bushy tailed while eating a delicious homemade breakfast. Yes that's the goal. Does that happen? Ummm. No. Unfortunately, my mornings look more like an episode of the walking dead with me turning into a lunatic trying to get my children out of bed, dressed, and out the door for school. If they didn't take ½ hour to brush their teeth and get socks on maybe we could eat breakfast before leaving the house. But it never happens. #mommatries
Instead of trying to fight the morning battle I decided to work around it because the last thing I want to do is depend on the drive thru for breakfast. Been there, done that, and sometimes still do it. But I definitely don't want to do it often.
So, to keep us out of the morning drive thru I try to have breakfast made ahead of time. Often I'll make breakfast burritos or whip up a smoothie (I use these sip and straw mason jar lids for on the go smoothies) but I need more than 2 options for my little queens. Unlike me, they don't like to eat the same things everyday for breakfast. They get bored quickly. So a couple weeks ago I decided to do a little breakfast brainstorming and came up with this simple banana split breakfast jar recipe.
My kids are OBSESSED with ice cream and even though these don't include ice cream by just calling the recipe banana split jars my girls were all about trying them. #winformom
These are so easy to make and can be made 1-2 days ahead of time. You need a 16-ounce mason jar, 1 small banana, 1/2 cup frozen strawberries (slice them up), 1/2 cup vanilla greek yogurt, and 1 tablespoon chocolate chips.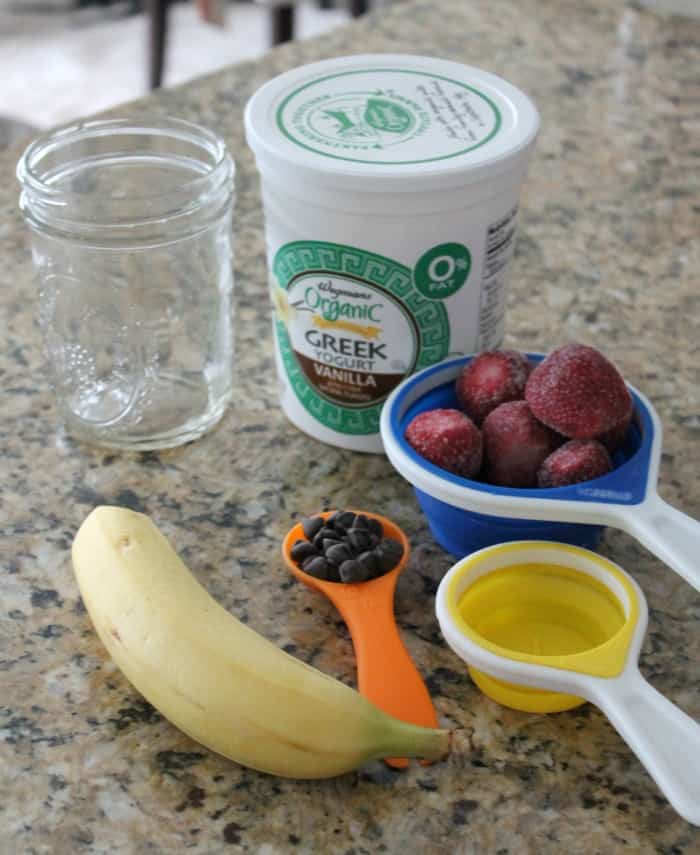 I sliced 1 small banana and layered the bottom with half of it.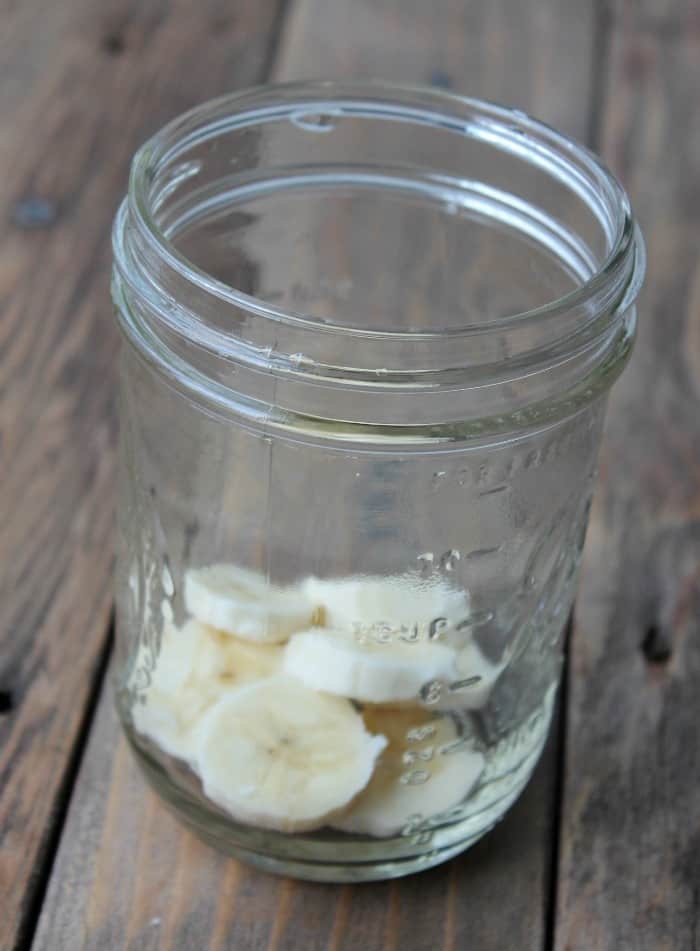 Then I scooped 1/4 cup vanilla greek yogurt over top of the bananas.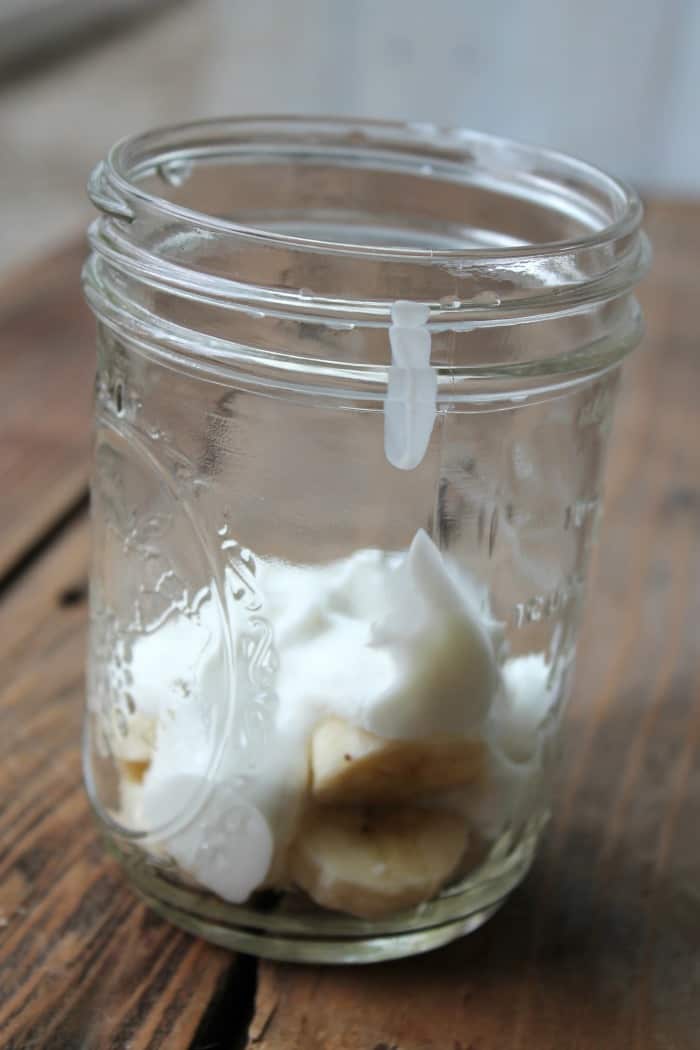 Next I added a 1/2 cup of sliced frozen strawberries. I had whole frozen strawberries that I sliced up. If you can find strawberries already sliced that would be better. And yes you can use fresh but I live in Buffalo, NY and our "fresh" strawberries come from across the country, cost a small fortune, and don't even taste that good. So, I use frozen organic strawberries. They're cheaper and taste better plus I always have a bag in my freezer ready for smoothies. I also LOVE using frozen strawberries in this recipe because as the strawberries thaw they release juice and that bring nothing but strawberry deliciousness to this banana split jar.
Another thing to keep in mind is that strawberries can be tart. If you want this recipe to be a little sweeter then add 1 teaspoon of pure maple syrup to the strawberry layers.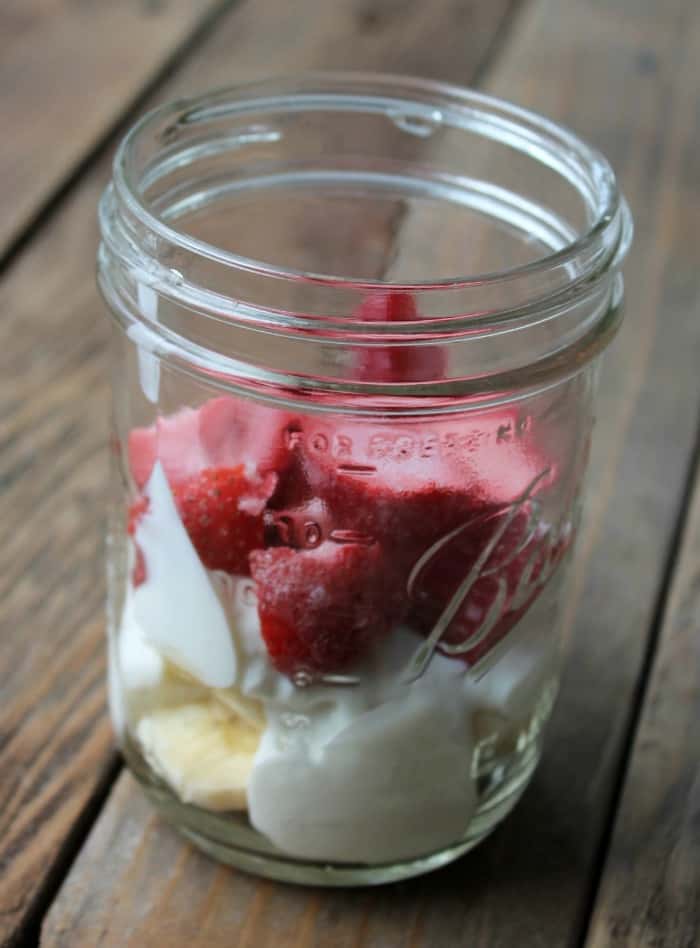 Then add another 1/4 cup of vanilla greek yogurt, layer the rest of the bananas and strawberries, and top with 1 tablespoon of chocolate chips. Put the lid on and store in the refrigerator for 1-2 days.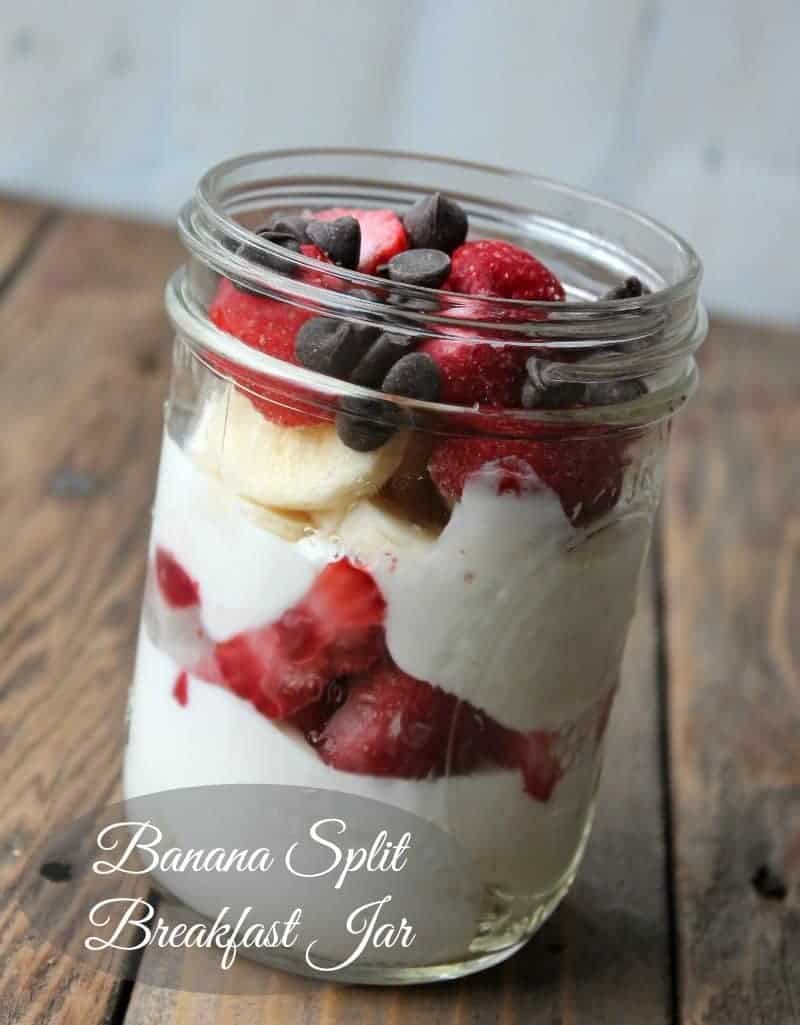 This is what the banana split jar looks like after a day in the refrigerator. See the juice from the strawberries? Mmmm. When your ready to enjoy just get a spoon and dig in.
My kids loved these and I plan to make other varieties. You can't have too many healthy, filling, on the go breakfast recipes.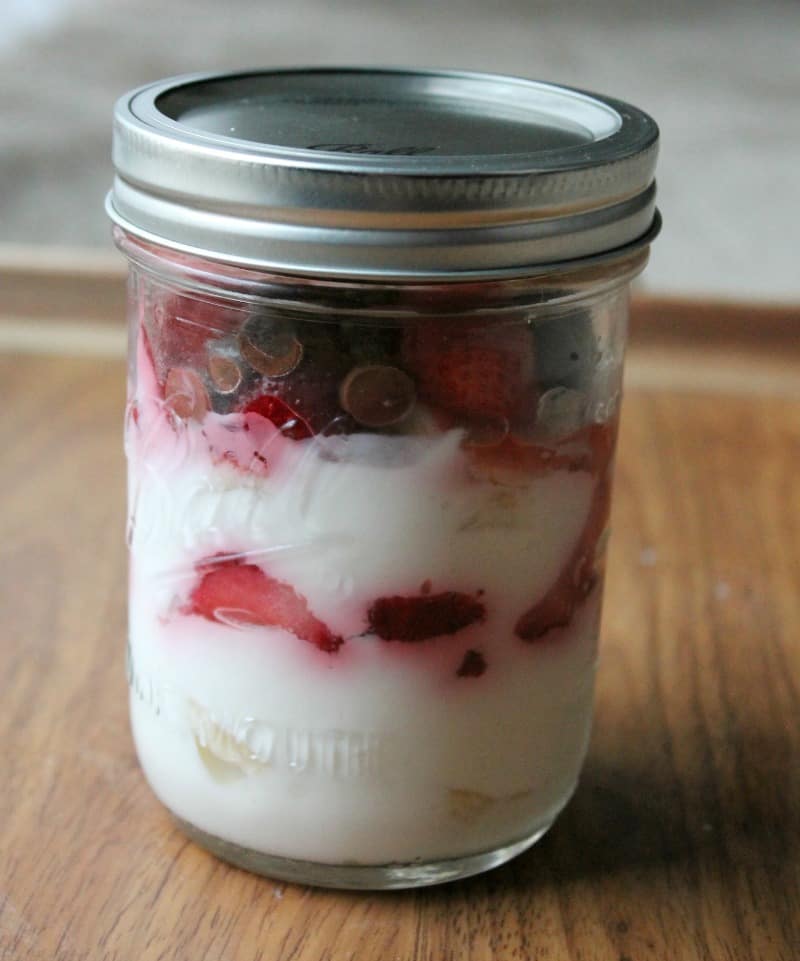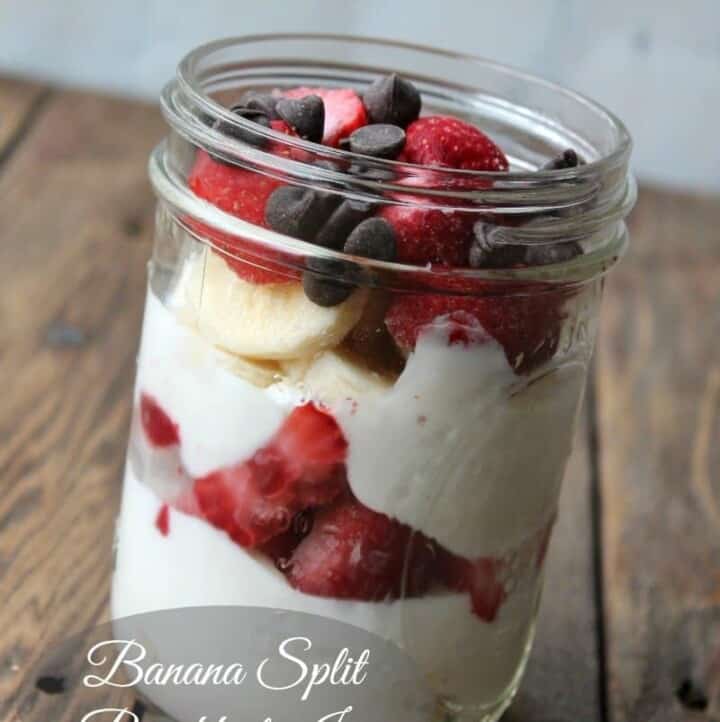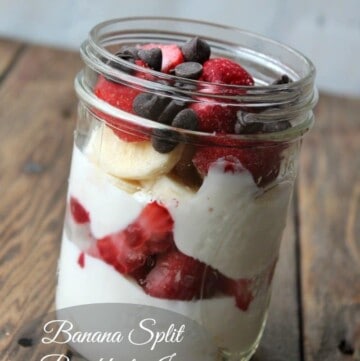 Ingredients
1

16-ounce mason jar

1

small banana

sliced

1

cup

whole frozen strawberries

sliced

1/2

cup

vanilla greek yogurt

1

tablespoon

chocolate chips
Instructions
Place 1/2 of the banana slices in the bottom of the mason jar.

Layer 1/4 cup of the vanilla greek yogurt, 1/2 cup strawberries, 1/4 cup of vanilla greek yogurt, and then top with the rest of the bananas and strawberries, and finish with the chocolate chips.

Put the lid on and refrigerator for 1-2 days. If you use fresh strawberries you can eat this immediately. Otherwise enjoy after the strawberries have thawed.
Nutrition
Serving:
1
g
|
Calories:
352
kcal
|
Carbohydrates:
66
g
|
Protein:
17
g
|
Fat:
4
g
|
Fiber:
6
g