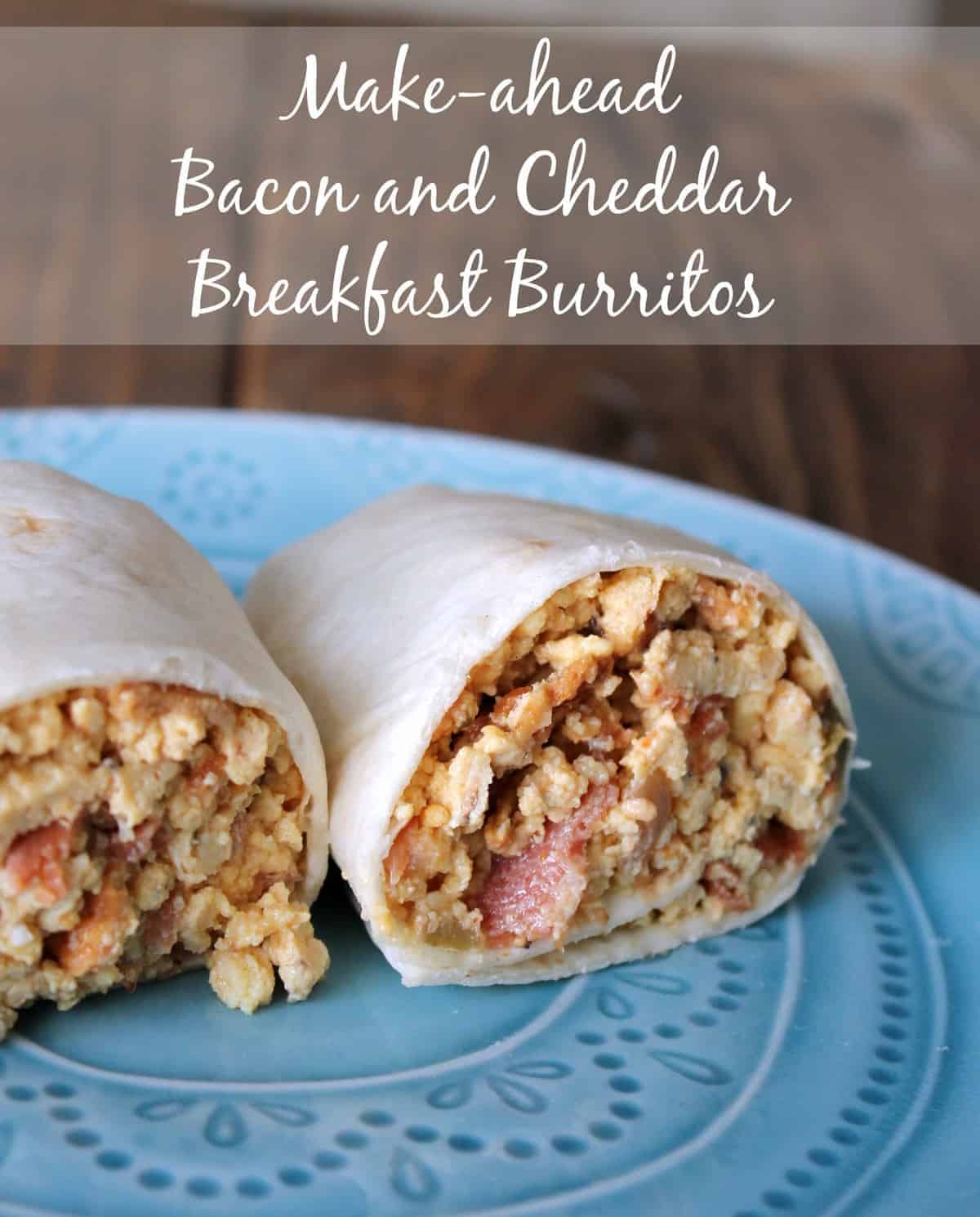 I know it's time to stock my freezer with breakfast burritos when my kiddos and I find ourselves heading to the Tim Horton's drive thru more than once in a week for breakfast. As much as I would like to say we have relaxing "kumbaya" mornings  where we all wake up, stretch, sip our green tea, and then listen to meditation music as we head to school…we don't. Ha! Far from it. It's more like an episode of Dance Mom's where I'm Abby Lee Miller screaming like a crazy lady and my kids are moving in slow motion or not at all. Please tell me how a child can spend 20 minutes in the bathroom, another 15 minutes in her room, and then come downstairs with no socks on. Seriously, I go crazy. Anyway, I try my best to keep my mornings from sending me to the nuthouse. I wrote a little bit about my nightly routine here. Another thing I do, when time allows, is stock my fridge and freezer with breakfast foods. If I don't we are definetly going to the drive through which I don't like for 3 reasons. 1. It's unhealthy. I don't care if it is just eggs, bacon, and a bagel. 2. It's expensive. 3. I write this here blog where I talk about make-ahead meals for a living sooooo I probably should follow my own advice. Just sayin. But I'm human. My kids are animals. And I cave if not prepared ahead of time.
Hence the breakfast burritos. My standard one is the sausage and egg recipe I made years ago. But I'm not a huge breakfast sausage fan. Don't get me wrong it's yummy but when it comes to breakfast meats I prefer bacon. So since I'm the cook in this kingdom I decided to swap out bacon for sausage and create a similar, yet slightly different, make-ahead breakfast burrito.
As I prepared a bunch for the freezer I couldn't help but wonder why I don't make these more often – they're so easy to make and absolutely delicious!
I whisked together 18 eggs. Yes you can use some egg whites. Yes you can use egg beaters. I like whole eggs and for some reason I have an issue with throwing egg yolks out. But if you want to reduce the fat a bit then use 1/2 egg whites.
After the eggs were whisked together I stirred in plain greek yogurt, salsa, and the seasonings. I've become quite obsessed with plain greek yogurt in my blogging years. It's a staple in my house and I seem to use it in everything from muffins to casseroles. It creates a tenderness in baked goods, creaminess in pasta and casserole dishes, and keeps eggs moist and fluffy. I love it! I used greek yogurt in this recipe to keep moisture in the eggs which is helpful if you decide to store the burritos in the refrigerator and/or freezer.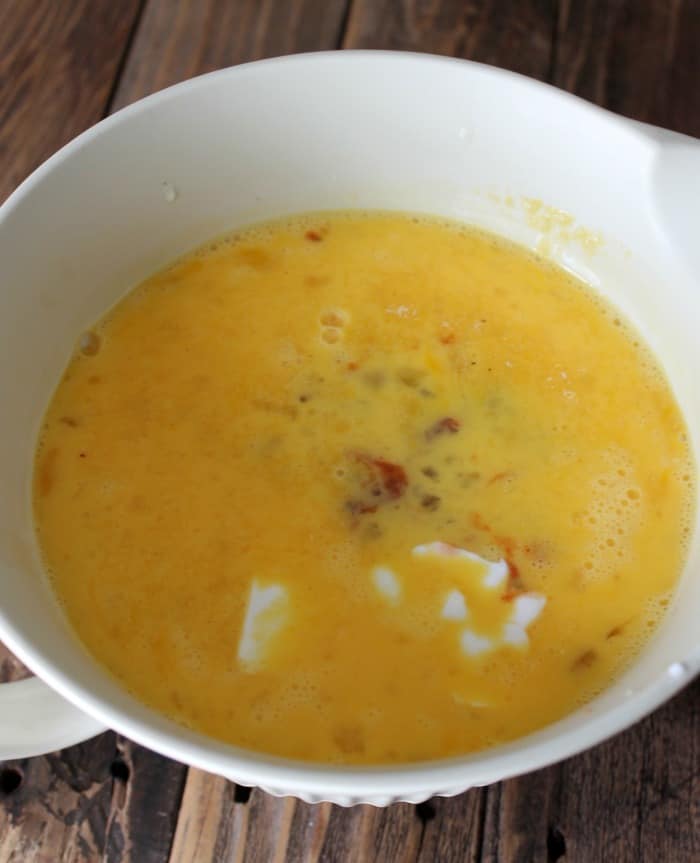 After I stirred together the ingredients I poured the egg mixture into a large deep skillet and cooked over low to medium heat. Make sure to consistently stir this until it starts to set. If you don't and have the heat to high the eggs can burn.
Break apart and scramble the eggs as it cooks. Cook until set and liquid is absorbed.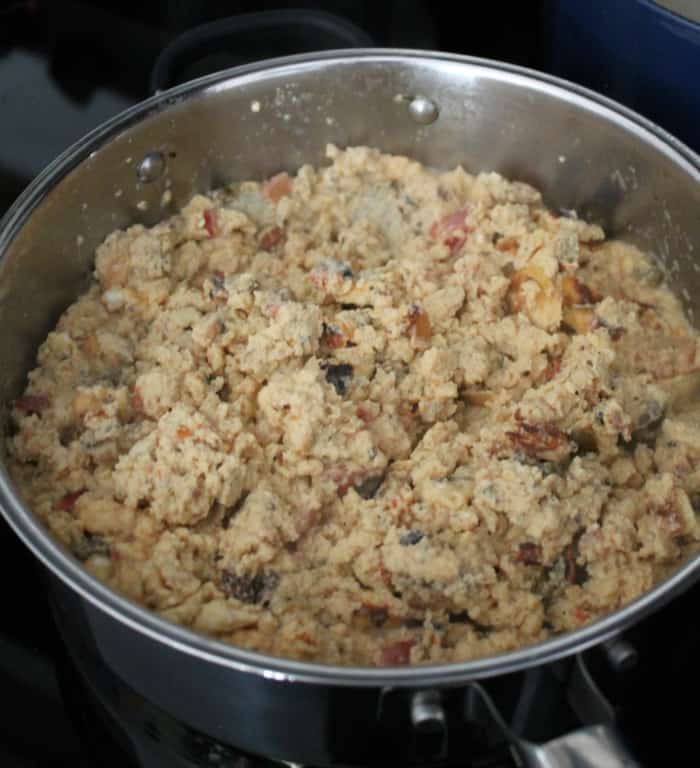 Stir in the cheese and crumbled bacon. I cooked the bacon ahead of time in the oven. This is the easiest way to cook bacon and can be done ahead of time. I never cook bacon on the stove anymore. Mostly because I'm scared of losing an eye from bacon grease popping up.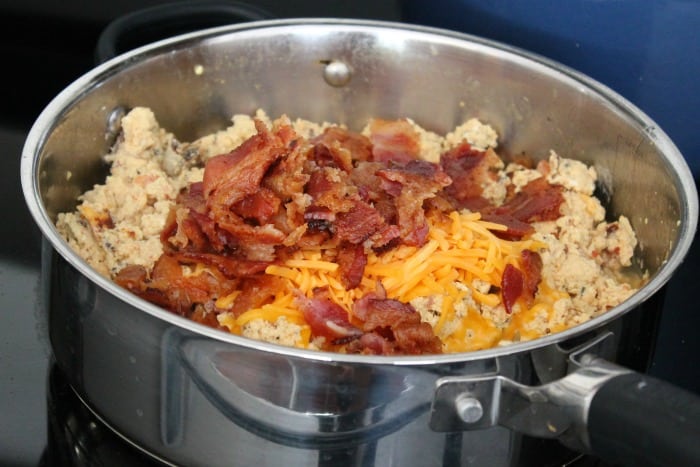 After the burrito filling cooled a little I went ahead and assembled my burritos. I used flour tortillas. Yes you can use wheat, corn, or whatever you like. We prefer the flour so that's what I get. No sense in making 15 burritos nobody eats. I scoop about 1/3 cup of the burrito filling onto the center of the flour tortilla.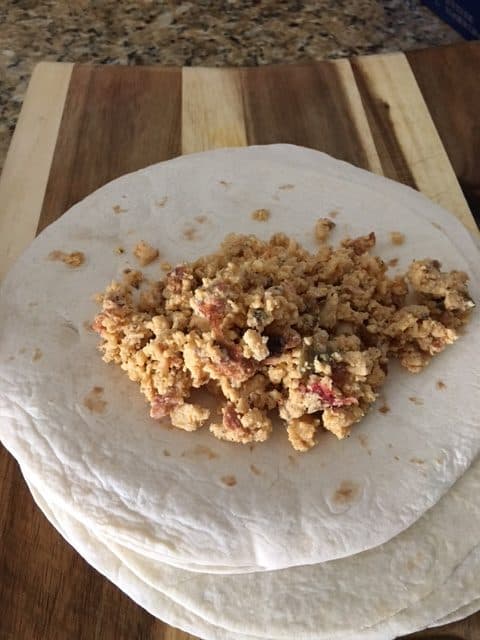 Then I fold it up.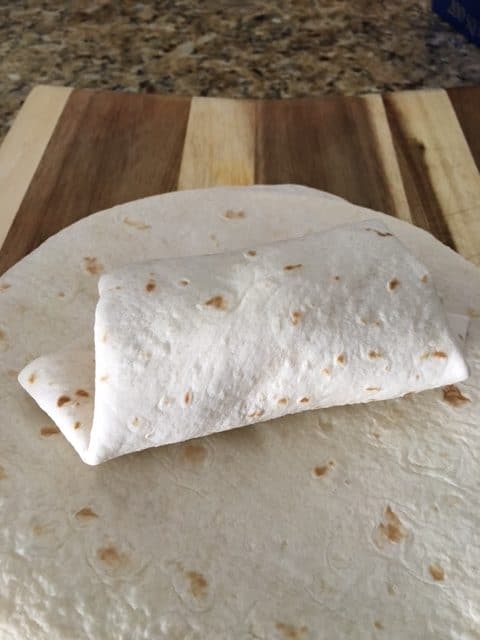 And wrap it in either foil or plastic wrap. If you plan to warm these up in the oven I say use foil. I used foil because I ran out of plastic wrap. I warm mine up in the microwave so obviously I'll remove it before I put it in.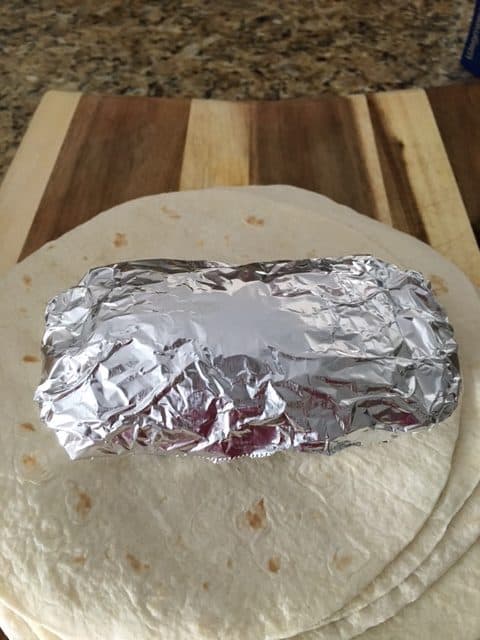 Then I stored them all in a plastic bag, labeled it, and stuck it in the freezer.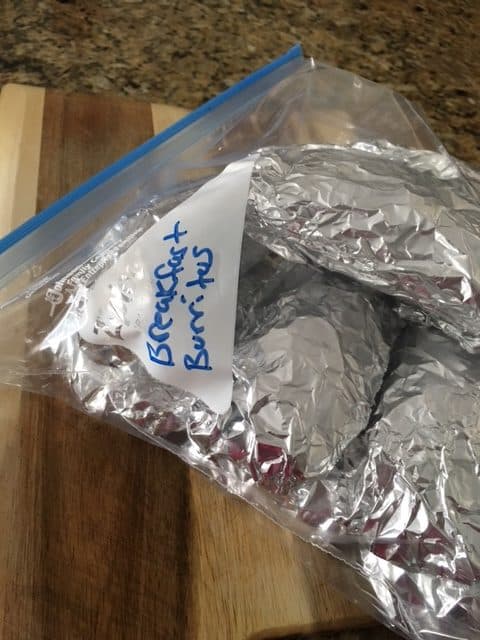 To warm these burritos up I recommend taking out the night before. It's not totally necessary but it does make it easier. If you're going to warm it up in the oven then keep the burrito in the foil and place it in a 350 degree oven for 20 – 25 minutes or until hot. To warm up in the microwave remove foil or plastic wrap and place in the microwave with a cup of water. The water will keep the tortilla from drying out.
Enjoy your breakfast burrito! These are better and cheaper than any breakfast burrito you get in a drive thru.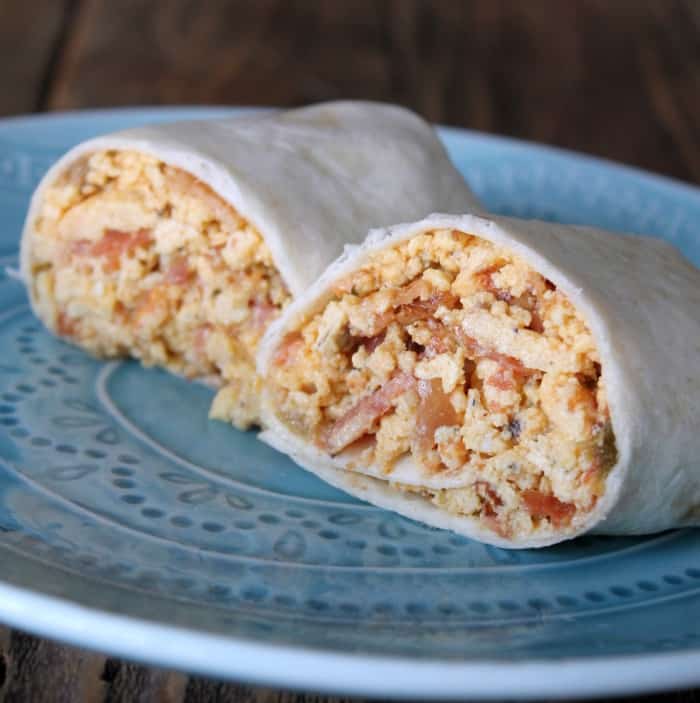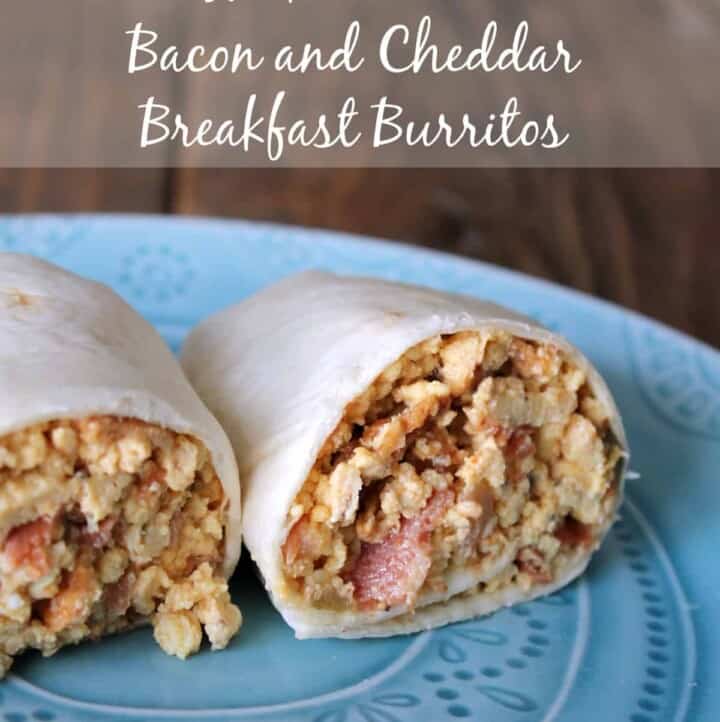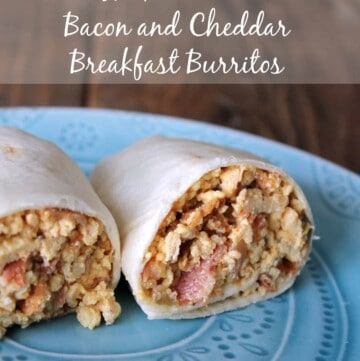 Ingredients
18

large eggs

1

cup

salsa

1/2

cup

plain greek yogurt

1

teaspoon

onion powder

1

teaspoon

granulated garlic

1/2

teaspoon

salt

1/2

teaspoon

pepper

10

slices

bacon

cooked and crumbled

1

cup

shredded sharp cheddar cheese

15

flour tortillas
Instructions
Whisk together eggs until blended.

Stir in salsa, greek yogurt, onion powder, granulated garlic, salt, and pepper.

Pour egg mixture into a large deep skillet and cook over low to medium heat stirring consistently.

Once the eggs are set stir in the cheese and bacon.

Let the burrito filling cool slightly and then assemble the burritos.

Scoop 1/3 cup of the filling onto the tortilla, fold in sides, and then roll up. Wrap the burrito in plastic wrap or foil.

Refrigerate for up to 5 days or freeze up to 3 months. Warm up in the oven (350 degrees for 20 minutes or until hot) or the microwave ( remove the foil if using) 2-3 minutes on high. Place a cup of water in the microwave to keep the tortilla from drying out.
Nutrition
Serving:
1
g
|
Calories:
339
kcal
|
Carbohydrates:
26
g
|
Protein:
17
g
|
Fat:
19
g
|
Saturated Fat:
7
g
|
Fiber:
1
g