Losing weight is about lifestyle. Period. What does this mean? It means putting in place daily routines that keep healthy choices on autopilot. Here are 8 night habits you can do before bed to stay organized, fit, and healthy!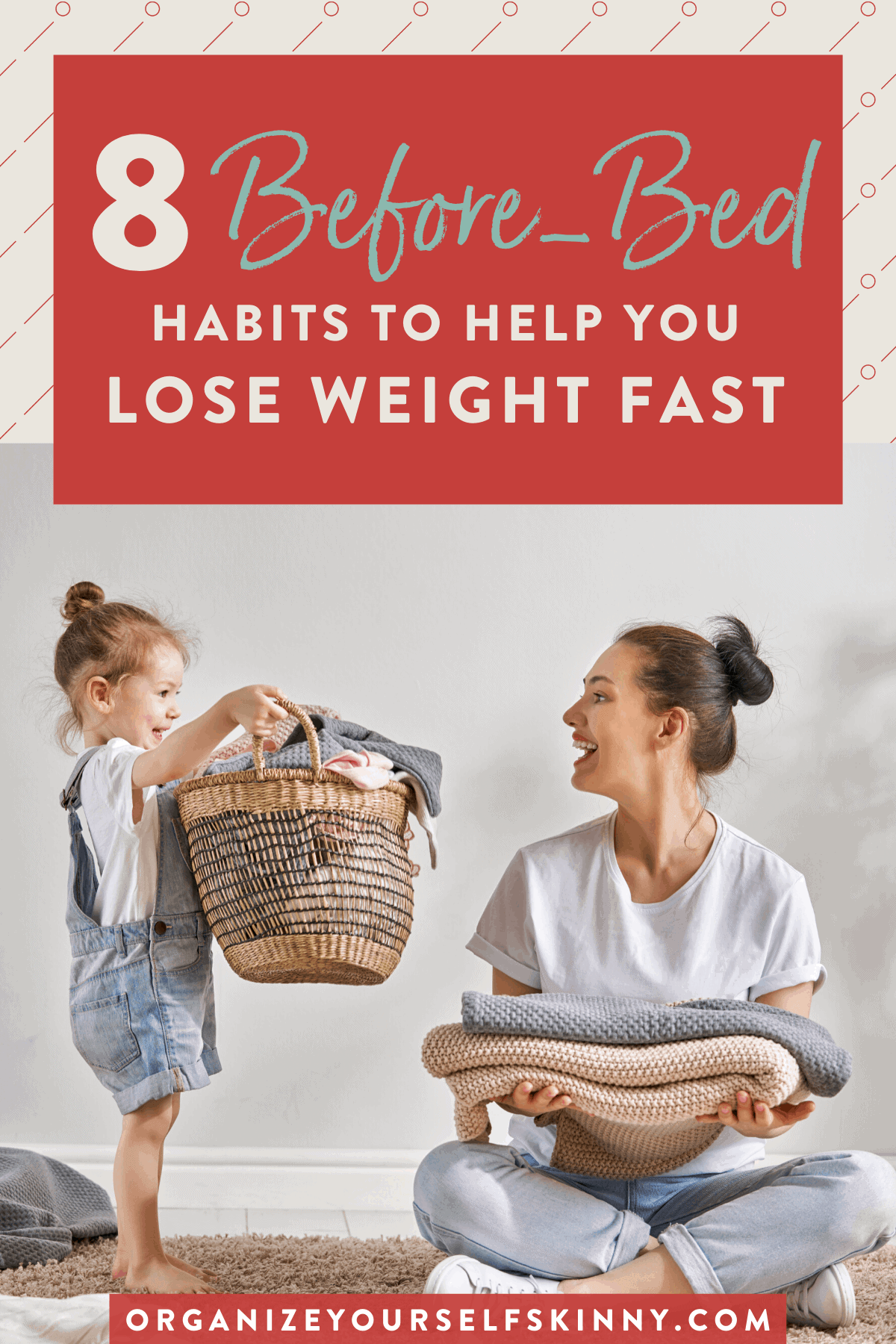 When I say healthy habits your brain might automatically go to "I need to eat certain foods" or "I need to exercise". I want to push you to think beyond the basics of weight loss. Beyond the calories in and calories out.
Healthy habits don't need to focus solely on food groups, or specifically what and what not to eat. Yes food's important and you need to pay attention to calories, fat, and points (if you use Weight Watchers). However, one thing I've learned about sustainable weight loss is my environment absolutely needs to support and encourage my weight loss goals. If not, I'll fight a constant uphill battle.
For example, I know I should exercise 5-6 times a week. But if I don't get enough sleep, have my clothes ready, and get up early then exercise is not going to happen. So it's not about exercise per se but the habits and routines I do that make exercise a priority.
I know life isn't perfect and sometimes I need to suck it up and exercise regardless but if I want exercise to be a regular part of my life there are habits I need to practice. Make sense? I'll explain more in a bit.
Same with food. To eat healthy foods and snacks everyday I need to make time to meal prep. But it goes beyond that. I also need to carve out time for healthy meal planning and grocery shopping. Meal prep cannot happen without either of those two. So as you can see it's not just about the specific foods I eat.
It comes down to being prepared and staying out of the hot zone. Nothing good happens in the hot zone. You can read more about controlling your hot zone in this post <— this is honestly some of the best weight loss advice you'll wish you got years ago.
Again, life happens and there are things that'll be out of our control. But it's very difficult to manage stress, and adopt healthier habits, when everyday you feel like you're just trying to survive. Been there, sometimes still there, and I can tell you keeping up with healthy habits is near impossible when I'm stressed out and not prepared ahead time. In fact, I often resort back to bad habits when I enter the hot zone.
There are night habits I try to do daily, to start the next day on the right track. Each of these habits help me to stay organized, healthy, and fit!
I'm putting these in order in which I do them. But, of course, you can adapt this night routine in any order that suits you best.
#1 Clean kitchen and quickly straighten up
My nightly routine happens right after dinner. I load the dishwasher, clean dishes, and wipe down counters. I read the book Sink Reflections by The Fly Lady a few years ago and one piece of advice that stuck with me was to never go to bed with a dirty kitchen sink. This is huge for me.
A year or so ago I wrote about how making my bed everyday helps my weight loss efforts too. Well the kitchen sink is the same concept. In my opinion, clutter causes confusion and chaos. Cleaning my kitchen before bed gives me peace at night and helps me start the day fresh and focused. Again, it's about living outside the hot-zone.
After I clean the kitchen, I quickly straighten up the living room. This includes organizing papers, bringing toys upstairs, and possibly vacuuming. If I have time, and not completely exhausted, I'll fold laundry. I usually wash a load in the morning when I run on my treadmill. Don't think I'm spending hours doing this. In reality, if I don't fold laundry, this quick clean up takes me about 45 minutes. Folding laundry will take me longer. But I find taking an hour or so to clean things up is worth it the next morning when I wake up to tidy and not a tornado.
The goal is start the day fresh. Waking up to a straightened up house lets me move forward instead of focusing my limited time on yesterday's messes.
#2 Make sure lunches and snacks are packed
The next thing I do is put together lunches for the next day. In the morning, by the time my kids get dressed and come downstairs we are about 10 minutes from running out the door. There's no time to make lunches then. So, if lunches aren't made ahead of time it's quite possible my kiddos will be buying their lunches. I'm not totally against buying lunches, because I am human, but I try to limit school bought lunches.
Even though I don't have time in the morning to prepare lunches, it really doesn't take that long at night. Probably because I'm not racing against the clock and I also take time on Sunday to prep meals and ingredients for the week.
Snacks are organized in a snack bin, cheese cut, fruit and veggies are washed, and other ingredients are prepped. Most weeks I have mason jar salads, soups, and/or other recipes portioned out and ready to go. Are you seeing a pattern here? Prep, prep, and more prep.
#3 Prep ingredients for tomorrow's dinner
Here we go with meal prep again! But I'm telling ya even the littlest bit of food prep will make a huge difference in your week. During the week I don't do a lot of food prep – most of it's done on the weekend. Now it's just about remembering to take things out, making sure I have certain ingredients to finish a recipe (ex. salsa and cheese for tacos), or prepping the slow cooker for the next day.
Basically, if there's something I can do the night before to make dinner run smoothly the next day I will do it. Within reason of course. You won't find me cooking complete recipes during the week. However, I will do that on the weekends and then portion out and store in the refrigerator or freezer during the week.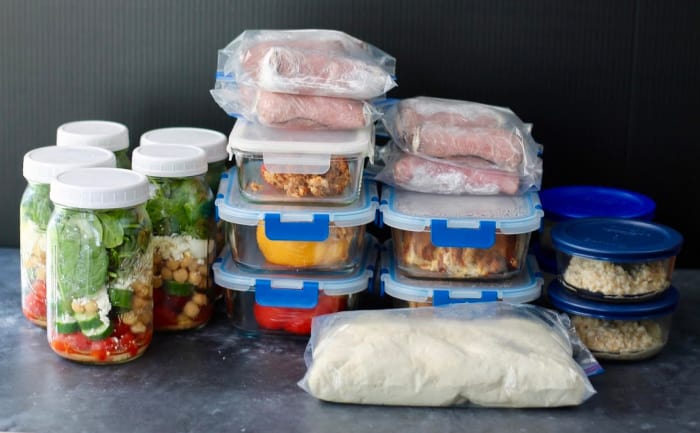 I take time on the weekends to prepare the bulk of my foods and then a little time the night before to make sure dinner is ready to go for the next night. This keeps us eating fresh healthy foods when we don't have a lot of time.
#4 Lay clothes out
Now that food is all ready for the next day I turn my focus to clothes. Did you know the world would end if my youngest can't find anything to wear in the morning? True story. These "I can't find anything to wear" meltdowns can turn a great day bad in about 2 seconds. My simple solution is to pick outfits out the night before. Yes I know this sounds basic but trust me there are still nights we forget.
More importantly, I need to have my exercise gear ready. This includes my clothes, hair bands, earbuds, and sneakers. My attention is easily diverted from a workout when I don't have my exercise gear ready. I know that's a lame excuse but I'm not a diehard exercise person so it is what it is. I've learned this about myself so if I want to prioritize exercise I need to have everything ready. Trust me, the last thing I want to do at 6:00am is search for my ear buds and sneakers. Nope. I will go back to bed.
I also get into my exercise clothes right when I wake up. This is also a little tip I learned from the Fly Lady book. She wasn't talking about exercise but more about getting your mind ready for the day. When I put my exercise clothes and sneakers on, my brain becomes mentally prepared to workout.
#5 Write a todo list
Okay the dishes are done, house straightened up, lunches made, dinner prepped, and clothes are ready for the next day. Now what? I write my todo list. My personal and professional life would not function without a todo list. In fact, on days I don't have a todo list I can get overwhelmed and often don't get anything accomplished. It's not like I have all these important tasks, I'm sure my day looks a lot like yours. But if I don't write it out then many of those tasks will get lost in the shuffle.
My todo list is the roadmap for my day. I used to write out every single thing I wanted to accomplish in life on my daily todo list but guess how that went? Ha! Yep nothing got done and I felt discouraged and overwhelmed. Today I keep my todo list manageable with 4-5 tasks a day. Those tasks include business and personal. On days I don't have appointments I have about 4-5 hours to get things done. Obviously, that's not a lot of time so I need to manage my time as best as I can. I'm still working on that.
I've used all kinds of online todo lists tools but honestly the one that work best for me is good old fashion pen and paper along with white board calendar. Some things I put in my phone calendar but I find it helpful to see tasks written out in front of me. It keeps me focused.
I also love to cross tasks off as I complete them. This motivates me to keep going.
#6 Stop eating past 7:00pm
An important part of my nightly routine, that I try hard to stick with, is to stop eating past 7pm. I won't go into too much detail because I wrote an entire post on this strategy a couple weeks ago. But I will say having night habit is very important to me. It keeps my calories under control and helps manage my weight.
#7 Do a quick toning routine
I'm a runner and run outside, or on my treadmill, at least 4 times week. However, I don't do as much toning exercises as I should. I want to, and have every intention to do so after my runs, but rarely do. Why? Because I'm a sweaty mess and ready for a hot shower. A solution I came up with was to do toning exercises before bed. I have this quick toning routine. This toning routine takes 10 minutes to complete and can easily be done before bed.
Of course, you can do this in the morning too. Whatever works.
#8 Quiet time
I know it might seem odd to see "quiet time" in this list since it really has nothing to do with organization or weight loss. Also, "quiet time" might seem impossible with little kids or a busy life. However, life can be quite chaotic. You can have a newborn, a parent dies, maybe you're going through a divorce, or have teenagers, or maybe it's a combination of a few different things.
Being an adult is not easy.
Like I said earlier, some things in life are not in your control, it's just the way it goes. But you do have control over the way you cope and handle stress. You choose the way stress affects your life. Learning to cope with stress in a healthy way is a skill that will take you very far in life. It will keep you on track with goals and will be the difference between thriving and surviving.
One way I handle the stress of life is to prioritize quiet time. I wouldn't say that I meditate although I know people that do and love it. For me, I just need time every night to myself. Most of the time that happens when I take my nightly shower. I turn music on and just relax for 10 -15 minutes. If I don't take a shower then I try to make time for myself after the kids go to bed. Either way I need that time to relax and reflect.
I also get that time when I run. Not only do I keep my body in shape with running but it tremendously helps my stress levels. I often say that running is my happy pill. After a good sweaty run I feel focused, relaxed, accomplished, and can handle life much better.
Do I practice all these night habits religiously every night without fail? Of course not. I'm human. Trust me, I get tired and lazy with the best of them. However, I can tell you that when I do make each of these night habits a part of my routine, and do them consistently, my life is better organized and I feel healthier. They do make a difference.
Also, keep in mind that I didn't wake up one day, incorporate these habits, and all of the sudden I had the perfect night routine. Ha! I wish it were that easy. It took me time to adopt these new habits and I still slip up. I'd be willing to bet you're already doing a lot of the things I talked about and just need to make a few tweaks.
Or maybe you do need to make some big changes. Either way don't get overwhelmed. Just make 1-2 changes at a time. After you practice these habits, and experience the benefits, I know you will make each one a part of your nightly routine.
What does your nightly routine look like? Do you have any tips or ideas to share?