Let's talk about healthy meal planning, shall we? Creating a meal plan is the first step in getting your food under control – I often call it our food road map. With a meal plan we start the week knowing what to eat.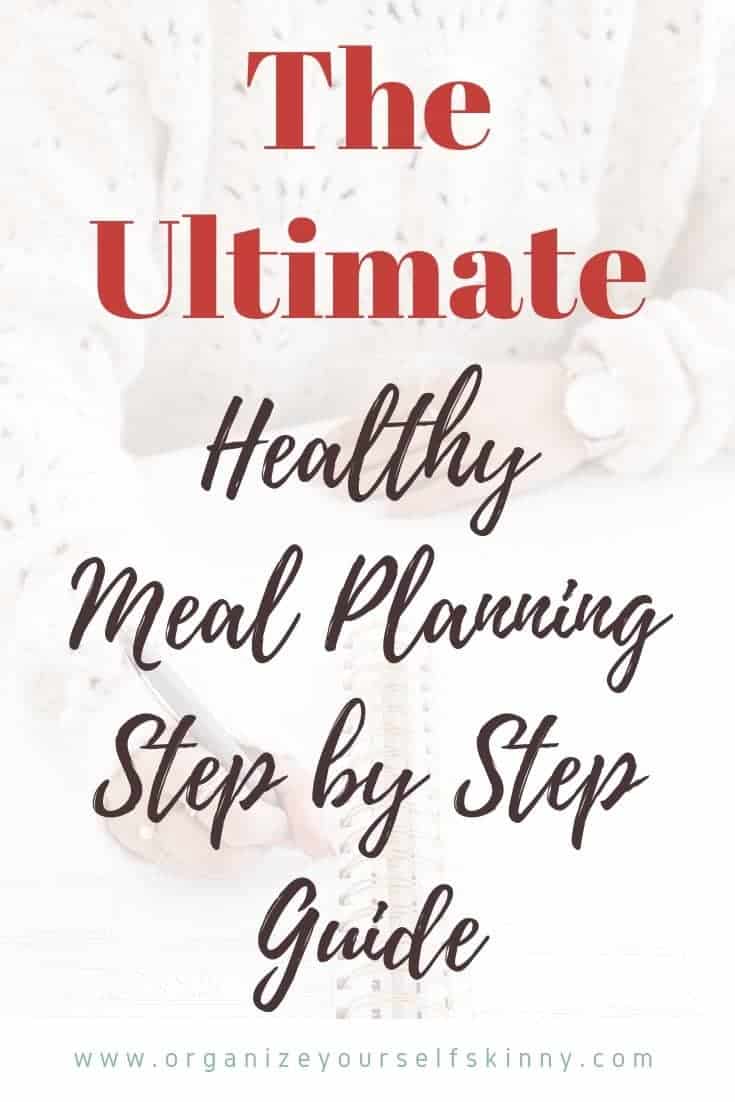 A healthy meal plan takes it a step further. Not only should our meal plan tells us what to eat but it should also plan out how much to eat and when. In fact, that's what seperate a normal generic meal plan from an organized meal plan that's healthy and geared towards losing weight.
This guide is going to walk you through the steps of putting together a healthy meal plan. I'll start with the benefits, offer some tips to easily create your own, and then end with some super helpful resources.
Benefits of Healthy Meal Planning
First and foremost it helps you eat healthier
Creating a meal plan ahead of time forces you to think ahead of time about the food you're going to eat for the week. This is important especially if you're trying to lose weight.
A meal plan forces you to be intentional.
So if you want to eat lower carb, that's what you plan. If you don't want to eat a lot of meat, don't put those recipes in the meal plan. Create a healthy meal plan around the eating habits you want to incorporate into your lifestyle.
Prior to meal planning I'd wake up with no clue what to eat. I'd walk aimlessly around the kitchen and grab whatever I could find – most likely not healthy. This lack of planning resulted in many pounds over many years.
Having a meal plan removes the guessing game. I know what to eat because I planned for it.
Saves money
Not only does a meal plan help us eat healthier but it also saves money. One of the biggest concerns about eating healthy is that it costs too much. Sure, some foods are going to cost more money but with a meal plan you only purchase the foods you're going to eat. This saves money on impulse buying and/or buying a bunch of food you don't need.
Prior to meal planning I'd go into the grocery store (without a plan or list) and just fill my cart with whatever. Embarrassingly, most of it was frozen processed junk. But at that time I didn't bother with meal planning – I felt I was too busy. Once I started to put a meal plan together I noticed we ate much better and our grocery bill didn't explode.
Again, a meal plan keeps you intentional and focused.
Reduces stress
Yaaaassss!!! This one is huge. Sure as a college kid coasting through life on leftovers from the night before worked – maybe. However, as an adult, and working parent, I had no idea the stress I'd bring to my life without a meal plan. They completely skipped over that in graduate school!
Anyway, I spent many years trying to quickly decide on dinner before the meltdowns began. Actually, there were many dinners decided under duress. Hence, the 60lb weight gain over the years! It wasn't fun.
Creating a meal plan, a healthy meal plan, completely changed dinner time! It wasn't that I planned, and made, Pinterest perfect gourmet meals. Nope, I just simply planned out the meals we would eat.
Oh and then I learned about meal prep – that's when life totally changed! Meal planning + meal prep = happy healthy parents! Just saying. You can read all about meal prep on the meal prep page I put together.
Less food waste
One of my biggest pet peeves is throwing food out. I don't even want to think about the food wasted prior to meal planning – but it was a lot.
Creating a meal plan significantly reduces food waste. Again, when you put together a meal plan, and only purchase the food you need, you're less likely to waste. This saves money too!
Tips for Healthy Meal Planning
Have I convinced you that meal planning is the way to go? Awesome. Now let's take it a step further and talk about healthy meal planning.
Creating a healthy meal plan is different than just throwing together a general meal plan. The focus is more on nutritional information, food quality, and portions rather than just on "what are we going to eat?"
Figure out the calories/points/or other nutritional information you need to eat every day to lose weight.
If you want to lose weight then you need to know this information. When I first started on my weight loss journey I figured all this out with My Fitness Pal.
My Fitness Pal is a free online food diary and exercise tracker. It's actually much more than that but it's basic function is to help you track the food you're eating. Some people don't like the idea of "tracking" but I found it to be the most effective weight loss solution for me.
Anyway, once signed up for My Fitness Pal you plug in all your information along with your weight loss goals. From there you'll get the amount of calories you should be eating a day to lose weight <— this information was a huge game changer for me and I hope it is for you too.
Of course, if you're not concerned with calories or points but maybe your goal is to simply eat more fruits or reduce carbs then that's fine. The point is to figure out what your eating goals are and create a meal plan around that.
Compile recipes that meet your needs
Now that you know your calorie goals it's time to start compiling recipes. One of the great things about My Fitness Pal is they have a recipe calculator which makes it very easy to figure out the nutritional information of recipes that don't have it listed or ones you've created.
My advice for finding healthy recipes is to get a few cookbooks or follow some healthy food blogs. Searching Pinterest is also helpful. The issue is it can get overwhelming quickly with all of the recipe options.
Don't try to make a bunch of new complicated recipes every week. Stick to the recipes you're comfortable with but make healthy substitutions instead. For example, substitute ground turkey for beef in tacos. Baked chicken instead of pan-fried. Again, you can figure out all the nutritional information using My Fitness Pal.
In the beginning, the goal is to create the healthy meal planning habit. So don't overcomplicate it!
I go over some healthy meal planning resources below that make this step much easier.
Create meal plans using your daily caloric information.
Now that you know the number of calories to eat daily for weight loss you want to create a meal plan that reflects that.
There are a number of ways to break down calories for the day. This is what my day typically looking like when I'm sticking to 1500 calories.
Breakfast – 350 calories (7:00am)
Midmorning snack – 150 calories (10:00am)
Lunch – 400 calories (12:30PM)
Mid afternoon snack – 150 calories (3:00pm)
Dinner – 450 calories (6:00pm)
Of course, this is general and there is some flexibility depending what's on my meal plan that day.
Here's a sample 1500 calorie meal plan.
Breakfast: Detox Smoothie – 222 calories 
Coffee with 2 tablespoons creamer – 70 calories
Mid-morning snack: ¼ cup raw almonds – 180 calories
Lunch: Protein Power Mason Jar Salad – 415 calories
Mid-afternoon snack: cheese stick – 80 calories
Dinner: Pizza Meatloaf with roasted broccoli – 521 calories
Total daily calories – 1488
It doesn't take long to use up 1500 calories so I recommend making each meal count. Make sure you eat protein at every meal to stay satiated in between meals.
Have a rotation of favorites
When people ask me what I eat they are typically surprise to see I eat a lot of the same things every week for breakfast, lunch, and snacks. They are even more surprised when I share my rotating list of family favorites I make for dinners.
Here's the thing…
I like simple! My weeks are busy so I don't have time to search out brand new recipes week after week. I do try new things on a regular basis and if the family approves it goes into the rotation.
My advice is to keep healthy meal planning simple with a list of rotating favorites.
Here are a few of mine:
Buffalo Chicken Macaroni and Cheese
Tacos
Meatball Subs using these meatballs
Homemade Pizza
Organize with theme days
Themes days simply mean planning dinner around a specific theme – like meatless Monday and Taco Tuesdays. But it can even be something like chicken on Mondays, stir-fry on Tuesdays, slow cooker on Thursdays. The point is to keep weekly themes the same to make planning meals for the week easy
Stock your freezer when you have time
When I first started my weight loss journey freezer cooking made all the difference between whether we ate healthy or ordered pizza. Freezer cooking means cooking a whole bunch of food, and freezing it, when you have the time so you can eat healthy when you don't. Trust me, it's so helpful to grab a healthy homemade dinner out of the freezer instead of having to make something from scratch every night – which, by the way, I don't have for that!
I take a weekend every 6 weeks or so and stock my freezer with breakfast and dinner recipes. Those recipes get plugged into my weekly meal plans. This makes planning and prep so much easier. Speaking of meal prep, when I have recipes in the freezer all I really need to do is make mason jar salads for the week and possibly a couple other things.
Here are 6 of my favorite make ahead freezer meals. I also love making frozen smoothie packs and breakfast burritos.
Keep a stocked pantry
When you're trying to eat healthier and lose weight you want to be able to create a quick healthy meal when needed. Having a stocked pantry will help you do that.
Some items I have in my pantry are:
Olive oil
Coconut Oil
Chicken, Vegetable, and Beef Stock or Broth
Quinoa
Brown rice
Steel Cut Oats
Nuts (all kinds)
Gluten-free Pasta
Almond butter
KIND Bars
Canned tomatoes
Canned beans
Jarred marinara sauce
salsa
Those are some of the basics.
Save meal plans and grocery lists
If time is of the essence then it's essential to save the meal plans and grocery lists you've worked so hard to put together. This makes it so you can just print and go when it's time to grocery shop. Meal planning can be daunting at first but once you have a system in place and meal plans saved it becomes much easier. I've saved meal plans and grocery lists in Google Drive but you can also save them in Plan to Eat (see below)
Meal prep
This is the key to getting the most out of your meal plan. A meal plan won't work if you don't follow it. The best way to stay on track with healthy meal planning is to prep food ahead of time. This assures that all the meals you planned are ready to eat. 
Here's some tips to keep meal prep manageable:
Don't try to meal prep your entire meal plan. Again, if you take time to stock your freezer you'll have more meals available each week without having to prep each week.
Start with the meal that'd make the biggest difference in your week if prepped ahead of time. For example, if you struggle with lunches then start with making your lunches for the week.
Eat the same thing for breakfast and lunch everyday. This way you only need to make one breakfast recipe and one lunch recipe for the week. For example, make an egg bake on Sunday to eat all week for breakfast.
Double dip recipes. If you have Buffalo chicken wraps on Monday save a cup to make Buffalo Chicken Macaroni and Cheese on Friday.
For more meal prep tips and recipes check out this beginner meal prep post.
Healthy Meal Planning Resources
When I first started meal planning it was just me and a few cookbooks. Honestly, I used to spend HOURS putting together meal plans and grocery lists. It was very daunting. Well, times have changed!
There are many meal planning resources out there now to make the entire process easier and to meet everyone needs.
Here are my favorites.
One of the best resources to help organize recipes, create (and save) meal plans, and generate grocery lists is Plan to Eat. Plan to Eat also has the option to include nutritional information making it super easy to create a healthy meal plan. They also have an app which makes grocery shopping a cinch! Plan to Eat doesn't do the work for you like some of the other services I'll go over but instead provides the tools to help you organize and streamline the whole process. Plan to Eat offers a 30-day free trial so give is a try and see if it's something that'd work for you.
If you've been struggling with putting together any type of meal plan that doesn't include tacos 3 times a week then Emeals might be a great option. Emeals sends a healthy meal plan and grocery list to your inbox each week. All you need to do is shop and cook.
Emeals offers meal plans for any eating style. They have low-carb, low-calorie, vegetarian, Mediterranean, clean-eating, slow cooker, and everything in between. If you're looking to change your eating style but not sure where to start Emeals could be super helpful. They also offer breakfast and lunch options.
Emeals is one of the first meal planning services I joined years ago and I still think they are one of the best. I've subscribed to many of their plans and think the recipes are delicious. They offer a 14-day free trial for you to see if it's something that would work for you.
If you need something more than Plan to Eat, or Emeals, to get you on the right track with healthy meal planning then some of these other services might be the solution.
In the last few years meal kit delivery services have blown up in popularity – and for good reason. They make it easy and convenient for people to enjoy homemade cooked meals without needing to meal plan or go to the grocery store.
These services have met the needs of today's busy schedule's and make it much easier for people to ditch the takeout and eat fresh foods. Of course, these meal planning services aren't for everyone but for some they are game-changers.
Most of these meal delivery kit services work the same. You pick out the meals and they send all the recipes and ingredients to your front door. All you need to do is cook the meals.
The thing to keep in mind when choosing a meal delivery kit service is which one is going to support your eating style. So if you're looking to eat low carb, Paleo, vegetarian, or simply keep calories under control you want to choose a meal kit delivery service that'll offer those options.
These are meal kit delivery services I think are best for supporting a healthy lifestyle.
Sun Basket offers Paleo, Lean and Clean, Gluten-free, and Vegan Options. Their produce is organic and they give the option to choose organic meats as well. I find their recipes to be on the eclectic side but nonetheless still super tasty. They also offer lunch salad options. If you want more information then check out my Sun Basket Review. If you're ready to give Sun Basket a try then here's a coupon for $35 off your first box and $10 off your second box.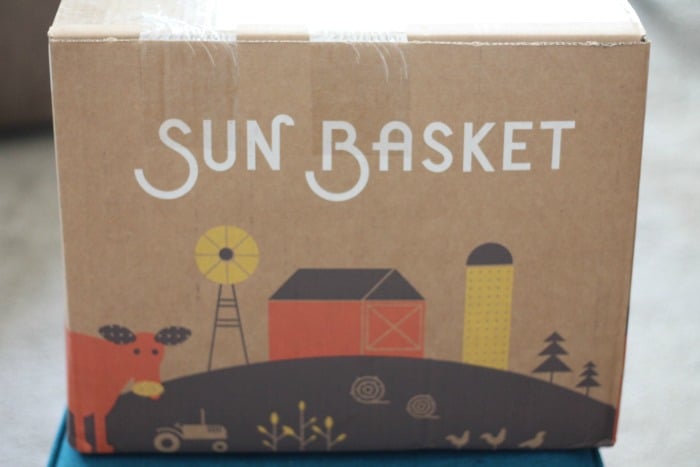 Green Chef is another great healthy option especially if you're trying to eat Keto, Paleo, or Vegan, or Low-carb. All of their meal plans follow one of these eating styles and include high quality organic ingredients. The recipes are delicious. You can read my full Green Chef review for more information. If you're ready to give Green Chef a try then here's $40 off your first box.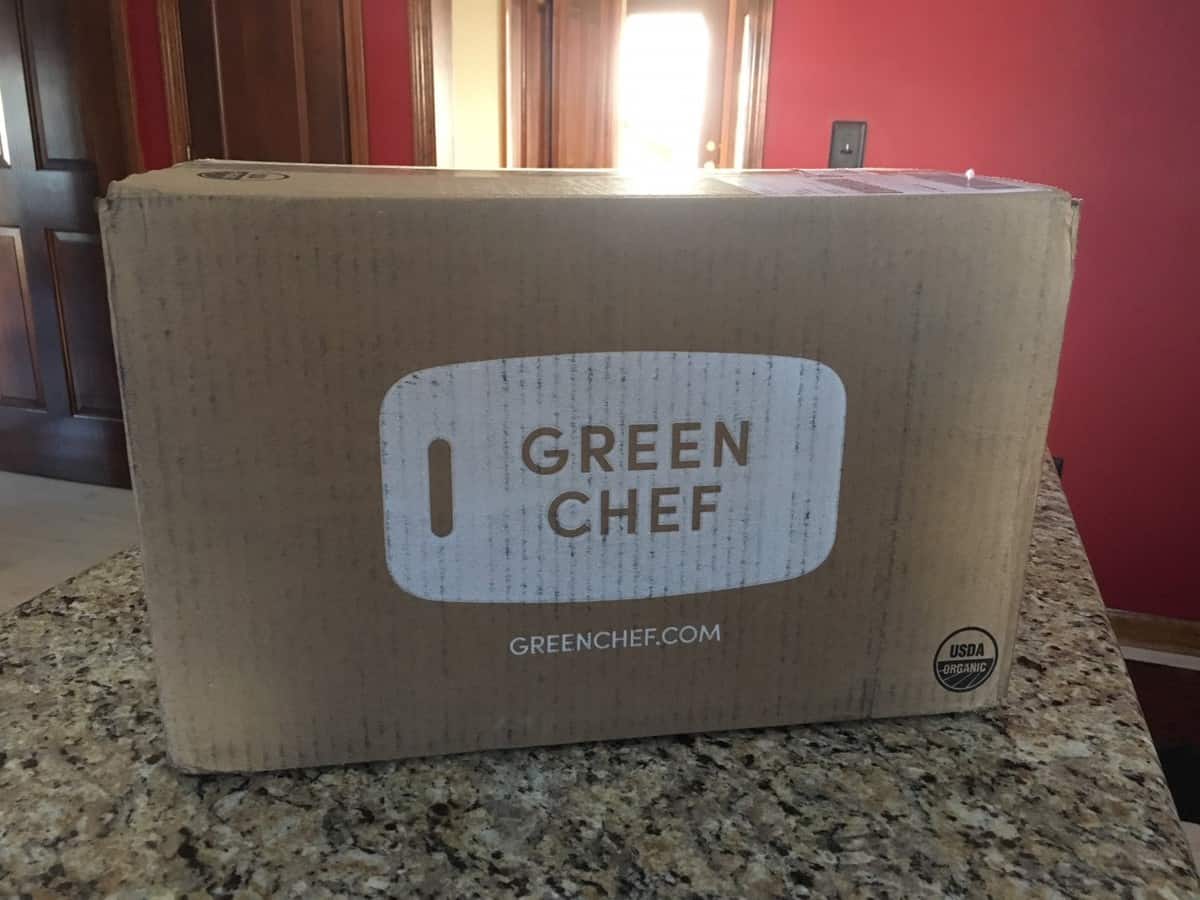 Blue Apron
In the beginning Blue Apron is not a meal delivery kit service I'd consider "healthy". Yes, their ingredients are fresh and recipes have all the nutritional information but they weren't necessarily catering to people looking to lose weight. Well, that's changed.
In the last year, Blue Apron has offered Whole 30 options and most recently partnered with Weight Watchers to offer recipes that included points. I think Blue Apron is a great option for someone just starting the Weight Watchers Freestyle Program – especially if you're not sure what to cook or eat. You can read my Blue Apron review for more information. If you're ready to give Blue Apron a try here's $40 off your first 2 boxes.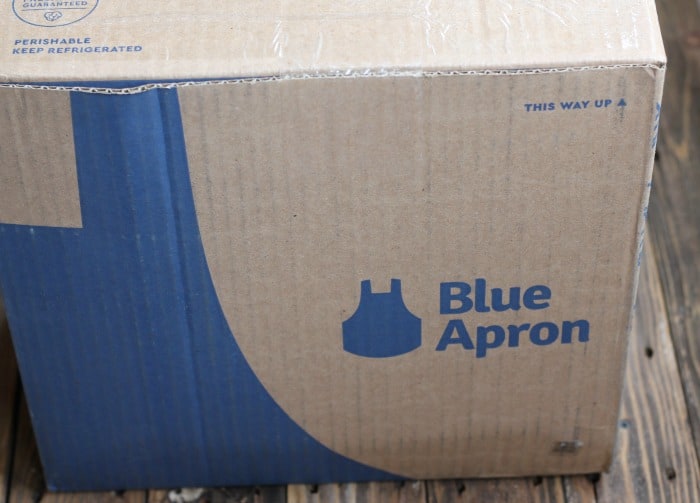 Changing your eating habits starts with healthy meal planning. This guide gives you the foundation to get started and resources to help out.
Some of these links are affiliate links. This means I receive a small commission, at no extra cost to you, if you choose to use my links to make a purchase. If you do, thank you for supporting my site. You can rea my full disclosure policy here.