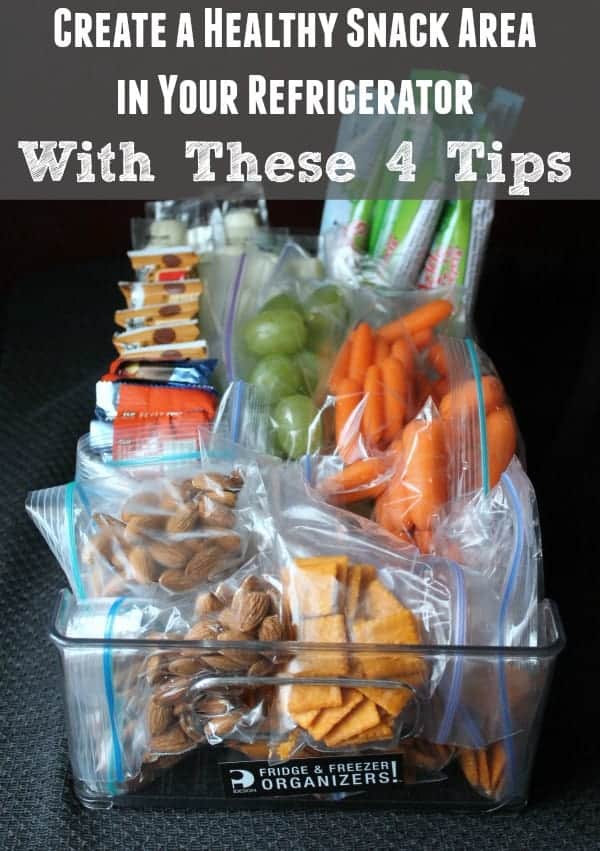 Snack time is a big deal in my house. As soon as my kids get home from school bags are drop and they head right into the kitchen looking for food. They open the refrigerator, start scanning the shelves, and within 30 seconds I hear "MOMMY, we don't have ANYTHING to eat". Then I go into the kitchen, look in the fridge, and find like 50 things for them to eat. Apparently, I am the only one who can see cheese and crackers, baby carrots, apples, and almonds. Moms have special powers.
Anyway, a couple weeks ago as we went through the SAME ROUTINE for the 1000th time I finally asked my kids "Don't you see all this food?" They each replied "No". Sigh. Then a light bulb went off. I decided to create a snack area in my fridge. This way my kids know exactly where to look for food and what they can eat. Now I know this is not the same a creating world peace. But…. in my world, the idea for a snack area is borderline life changing.
I saw an immediate change after I implemented the designated snack area. Now there is no whining after school for something to eat. They are able to get their own snack, which gives them a little independence and me a break. It has made snack time a much more pleasant experience.
I also found that having a snack area makes packing lunches easier. As I put lunches together I can grab small bags of grapes, a cheese stick, and some nuts without needing to search through the fridge. Everything is prepared in advance and ready to eat. Grab and go.
It is amazing that something so simple as a designated snack area can make such a big difference. But it did.
Here are some tips for putting together a designated snack area in your refrigerator.
1. Keep food contained using a drawer
The biggest issue with finding snacks to eat was finding snacks to eat. My refrigerator could be packed with cheese sticks, yogurt, fruit, and everything else but if it is not right in front of their faces then it does not exist. My kids need to have everything together and in one place. I think us adults are the same way. We like easy.
To keep all the snacks together I use a removable refrigerator drawer I bought from Target. You can also find them on Amazon. You don't need anything fancy or a special size. Use what works best for you. I like the clear drawers because you can see all the snacks, especially ones that might fall to the bottom. Remember if they don't see it then it does not exist.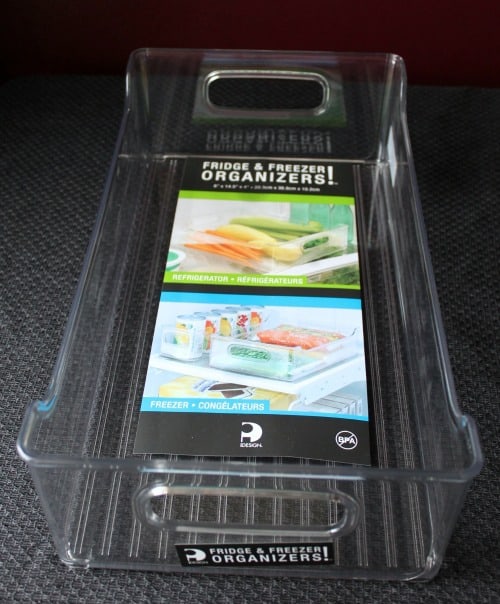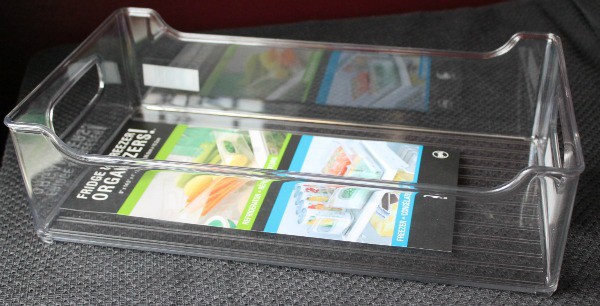 Organize the snacks neatly in the drawer. I try to keep the snacks scannable. This way my kids can get a accurate read at the snack options with a quick glance.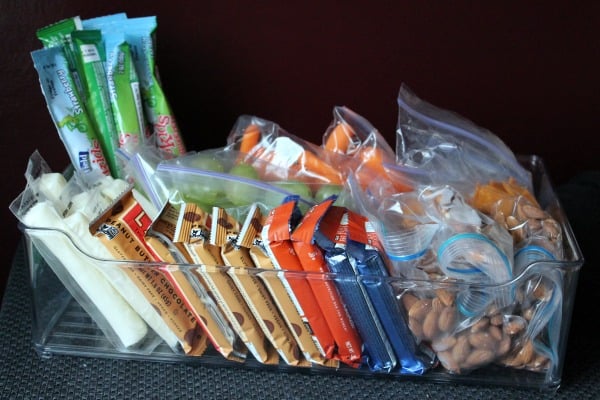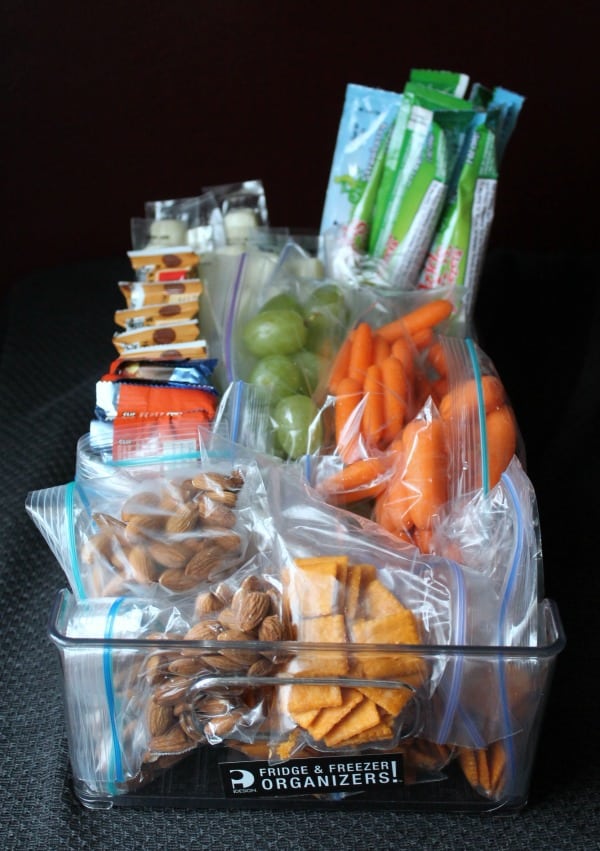 Then place the drawer on a shelf where they can easily see and access it.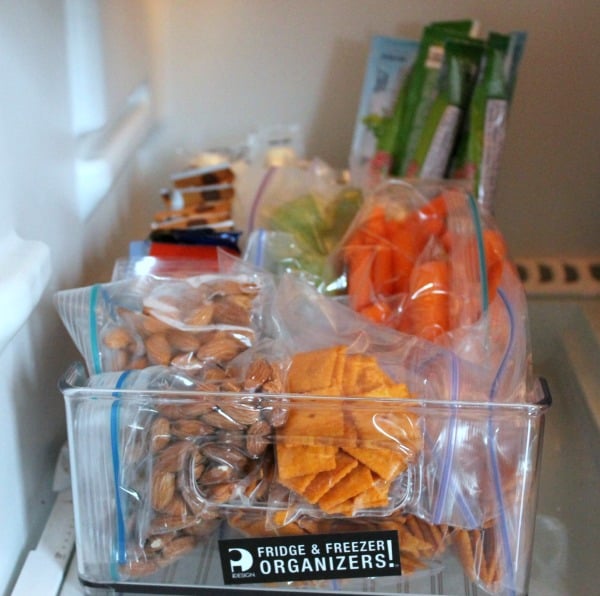 A bonus to a snack drawer is it helps keep your refrigerator organized. Gone are the days of random cheese sticks or go-gurts finding their way to the back of the fridge only to be lost forever. When everything has a place it makes it difficult for things to get lost.
2. Have variety
A snack drawer is only as good as the snacks it contains so I think it is important to have a healthy variety. This keeps it interesting and provides choice. When kids have a choice over their food they are much more likely to eat what is in front of them.
My snack drawer contains fruit (grapes or apples), luna or lara bars, organic greek individual yogurts, bags of almonds, cheese sticks, crackers and other items like this. This gives my family a nice variety to choose from.
Fill your snack drawer with food your family enjoys.
3. Set guidelines or rules
The first week our snack drawer was in place I learned it is important to have rules or guidelines. If not then I guarantee the luna and lara bars will go before anything else and at the end of the week I will be left with all almonds. So I tell my kids that once an item is gone that's it. There are no refills until the next week.
I also don't want them filling up on snacks before dinner so I only allow them to have 2 items after school and one of them needs to be a fruit.
Of course, you don't want to have too many rules because that ruins the fun. A couple guidelines to keep everything organized and under control should be all you need.
4. Be aware of temptations
Having healthy snacks ready to eat is a great way to make sure your family has access to nutritious food in between meals. However, you still need to be careful that these snacks are being controlled. If you find that everyone is reaching into the snack drawer more than they should then this might cause a problem, especially if you are trying to lose weight. Those little bites and snacks add up quickly. So just be aware of the temptations, track your food, and make adjustments if needed.
Overall, having a designated snack area has been very beneficial for my family. Do you use a snack drawer? What are your tips?