Medjool dates blended with dried cherries, unsweetened cocoa powder, almond butter, and dark chocolate to create a rich energy bite you'd swear was a luxurious piece of fudge.
If you've been looking for a recipe to replace a hard-core chocolate addiction then this is it! I'm not exaggerating when I say these dark chocolate and cherrie energy bites taste like a chocolate truffle you paid big bucks for. I was in love at first bite and I don't care if that sounds corny. These energy bites are amazing.
Yes I know I've shared one too many energy bite recipes lately. However, I only discovered them a short time ago and feel like I've been missing out for years. I guess I kind of feel like I need to make up for lost time. Plus, energy bites are a great way to satisfy a sweet tooth without completely ruining your new healthy eating habits. Trust me, you want these in your life.
Especially this dark chocolate and cherry energy bite recipe. Mmmmmm.
This might be the easiest energy bite recipe to prepare, which makes it even better. All you need are Medjool dates, unsweetened cocoa powder, dried cherries, dark chocolate, almond butter, pure vanilla extract, and a pinch of salt. Yep that's it.
Start by blending the medjool dates. For energy bites that use Medjool dates and unsweetened cocoa powder I blend the dates first. This prevents the cocoa powder from flying all over the place. Just a little tip I learned the hard way.
Another quick note about the dates. The pits need to be removed and then the dates need to be rehydrated in warm water. Oh and make sure to drain the water completely. In fact, give the dates a couple squeezes to remove excess water. Again another few lessons learned the hard way.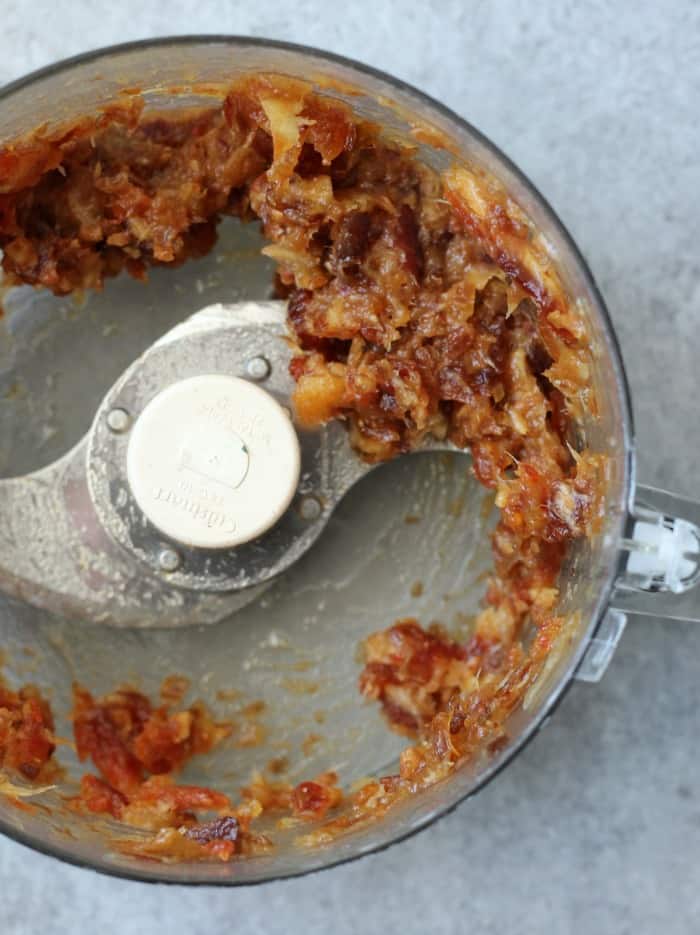 After pulsing the dates a few times add the unsweetened cocoa powder, almond butter, vanilla extract, cherries, dark chocolate, chia seeds, and salt. Process until all the ingredients are blended together and forms a thick batter. If the batter isn't sticking together add a 1-2 tablespoons a water until it comes together.
It should look like this. **Please note this picture is from my peanut butter and chocolate energy bite recipe. I forgot to take a picture of this step but this is the consistency you want. I'll update with a new picture when I make this again.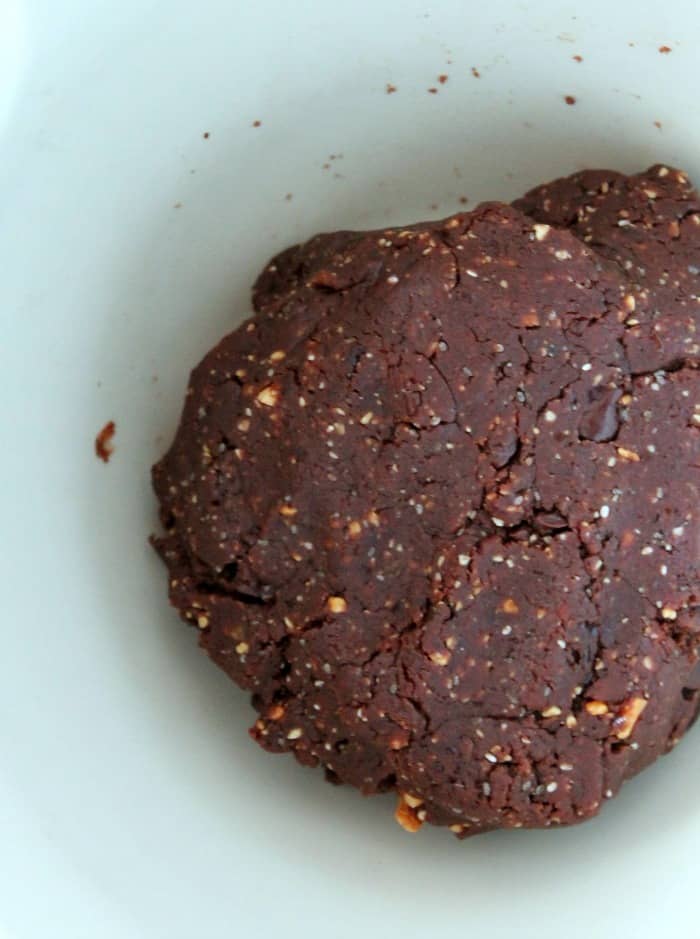 After the batter comes together place it into a bowl, cover, and refrigerate for 1-2 hours. This helps the batter firm up making it easy to roll the bites.
Now get to rolling. Depending on the size you should get about 20 energy bites out of this recipe.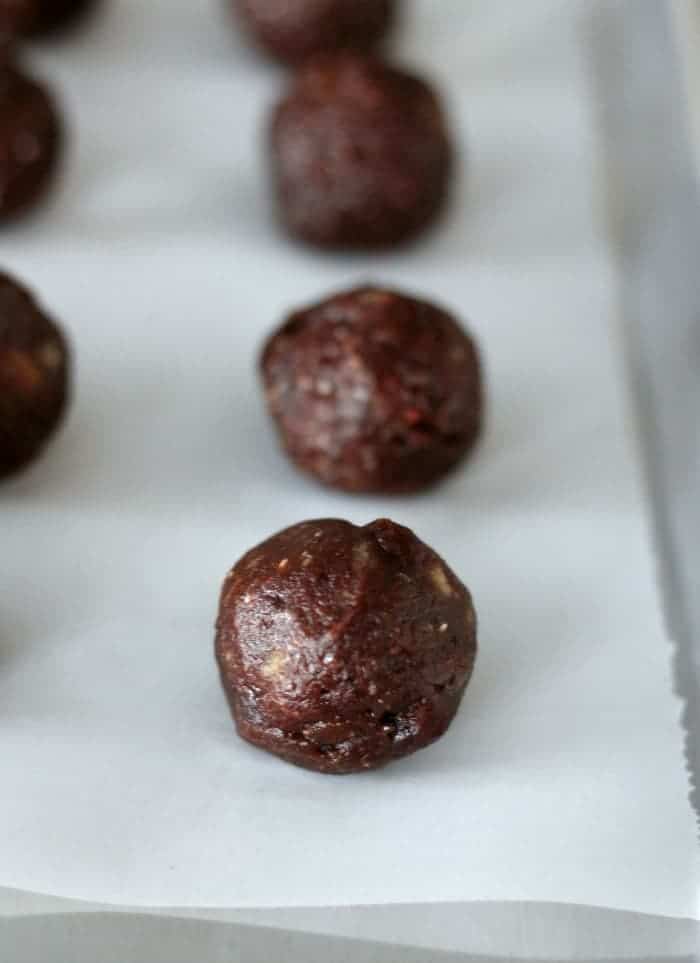 Place the energy bites into a container and refrigerator overnight. These taste better day by day so I recommend planning ahead. My advice is to make the batter on Saturday, roll the bites on Sunday, and then enjoy all week.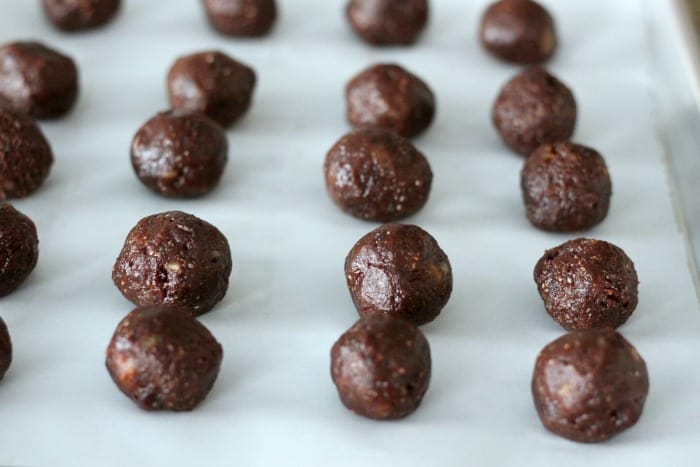 Okay let's talk flavor. These are DEEEEELICIOUS! I'm telling you it's like eating fudge or a truffle. So rich and chocolaty. I love the little bites of tart from the cherries, and the chunks of dark chocolate just send it over the top. If you miss chocolate being in your life then make these, stick em in the freezer, and then enjoy in moderation. Trust me, you will dream of these babies!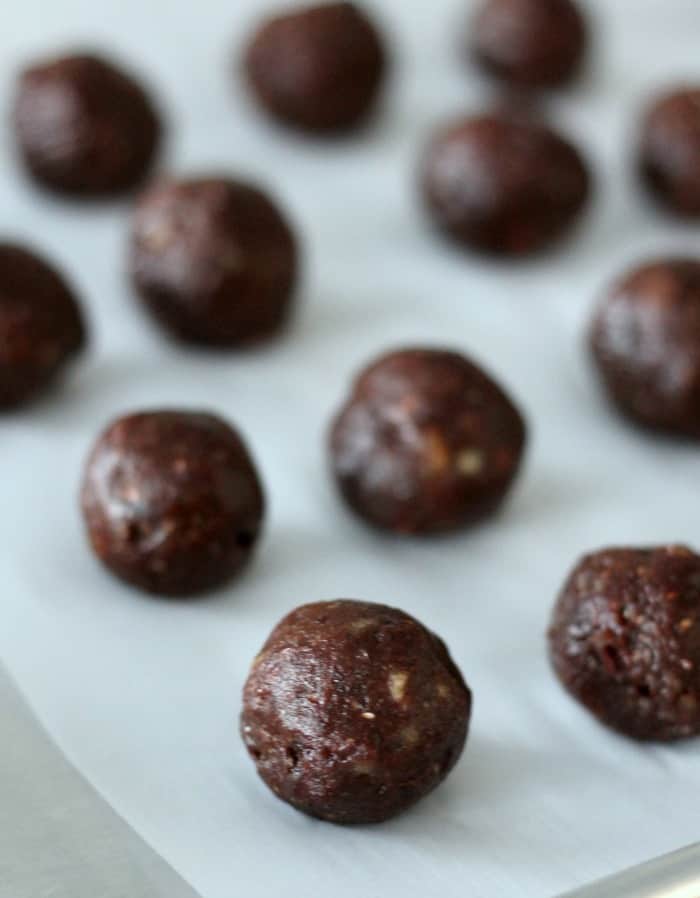 If you make these please share on Instagram using hashtag #organizeyourselfskinny.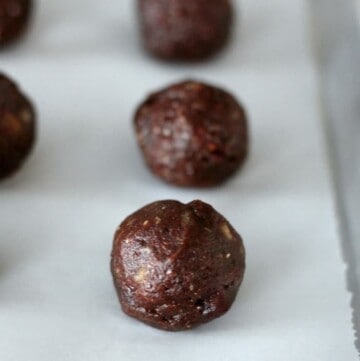 Ingredients
1

cup

packed Medjool dates, pitted (about 14-16 dates)

2

tablespoons

unsweetened cocoa powder

1/2

cup

smooth almond butter

1/2

cup

dried cherries

1

teaspoon

pure vanilla extract

1/4

cup

dark chocolate chips

1

tablespoon

chia seeds

pinch

of salt
Instructions
Place pitted dates in warm water for 10 minutes. Drain completely. If you need to, squeeze the dates to remove as much liquid as possible.

Place dates in the food processor and pulse a few times.

Add the unsweetened cocoa powder, almond butter, dried cherries, vanilla extract, and chocolate chips. Pulse until all of the ingredients are blended together and forms a thick batter. If the batters crumbly and not coming together then add in 1-2 tablespoons of water.

Place the batter into a bowl, cover, and refrigerator for 1-2 hours.

Roll batter into 20 balls and then refrigerate overnight.

Enjoy!
Notes
sugar: 15
Make-ahead tips
These energy bites can and should be made completely ahead of time. Store in the refrigerator up to 7 days and freeze up to 3 months.
Nutrition
Serving:
1
g
|
Calories:
116
kcal
|
Carbohydrates:
19
g
|
Protein:
2
g
|
Fat:
5
g
|
Saturated Fat:
1
g
|
Fiber:
2
g