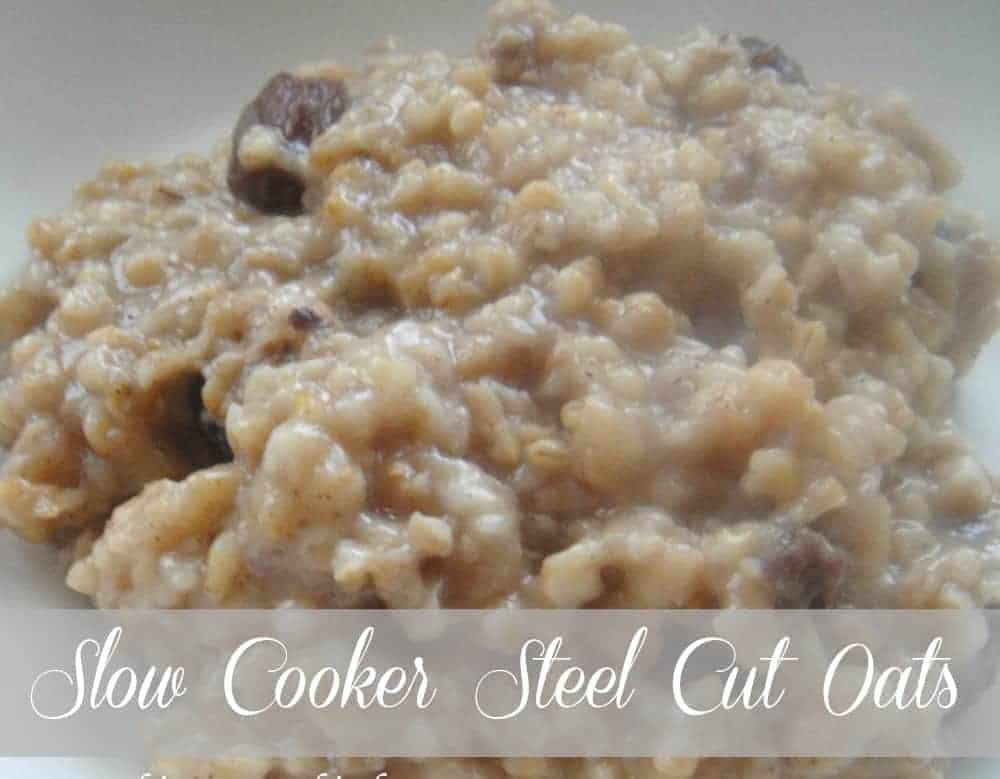 It has been a couple weeks since I received my slow cooker as a birthday present (yes these are the type of things I ask for) and have been chomping at the bit to use it. The reason I haven't use it is because all of our meals are prepared and frozen for this month and I did not "need" to really make anything.
However, this week we finally ran out of the freezer pancakes and breakfast sandwiches giving me a chance to put my slow cooker to work. Therefore, the first recipe I made in my slow cooker was a delicious steel-cut oats breakfast adapted from the America's Test Kitchen Slow Cooker Revolution
Cookbook. By the way this slow cooker cookbook is AWESOME. It has lots of great recipes and very easy to understand tutorials for those of us just starting out with the slow cooker. I will be cooking a lot during the month from this book and at some point post a review.
Anyway, back to the recipe.
Steel-cut oats are typically a real pain to prepare on the stove top because they take so long to cook and need to be tended to frequently. With making them in the slow cooker you will find it much easier to whip up a large batch of these oats to enjoy for a few days. Simply store the cooked oatmeal in a container in the refrigerator and then warm up on stove or microwave when you are ready to eat. Add a little milk or water to bring it back to the desired consistency.
This steel cut oats recipe turned out deliciously creamy with just the right amount of texture you come to expect with this hearty breakfast. It went perfectly with my pumpkin flavored coffee and the Today Show 🙂

Steel-Cut Oats Slow Cooker Recipe
Author:
Organize Yourself Skinny
Ingredients
1 tablespoon unsalted butter
2 cups steel-cut oats
8 cups water
½ cup raisins (you could use more but that is all I had left)
½ cup packed dark brown sugar
1 teaspoon ground cinnamon
1 teaspoon salt
Instructions
Melt the butter in a pan over medium heat. Add the oats, stir and coat with the butter, and toast over medium heat until lightly brown. You will start to smell their nuttiness. This only takes about 1-2 minutes. Be careful not to burn them.
Mix oats and the rest of the ingredients into the slow cooker. Cook on low for 4-6 hours.
Notes
Special note **I used a 6 quart slow cooker and cooked mine for 5 hours and then it went to warm for about an hour. I turned it off and went back to bed for another hour. When we came back down to eat it was perfect.
Nutrition Information
Serving size:
⅛ of recipe
Calories:
265
Fat:
4
Carbohydrates:
58
WW Points +:
8
Fiber:
5
Protein:
6
I will admit I was bummed at first when the recipe said 4-6 hours because I was hoping to turn it on when I went to bed and then wake up to perfect oatmeal. However, the recipe I used was pretty adamant that oats would turn out mushy if cooked longer than that. With being new to slowing cooking I did not want to take to many risks at first. If you have cooked a recipe like this longer than 6 hours and it worked out then I would love to hear about your experience.
Get Instant Access to My Best Weight Loss Tips & Strategies!
Sign up now for a free step-by-step 7-day email course that I created exclusively for my email subscribers! That's you. I will teach the best habits, strategies, and insider tips so you can enjoy a lifestyle that encourages and supports weight loss! Stop relying on willpower and take control back over your life! You can do this. Let me help!