Zucchini Bread Baked Oatmeal – all the delicious flavors of zucchini bread baked into a convenient make-ahead oatmeal cup. Add this to your meal prep menu on Sunday for a healthy grab and go breakfast all week.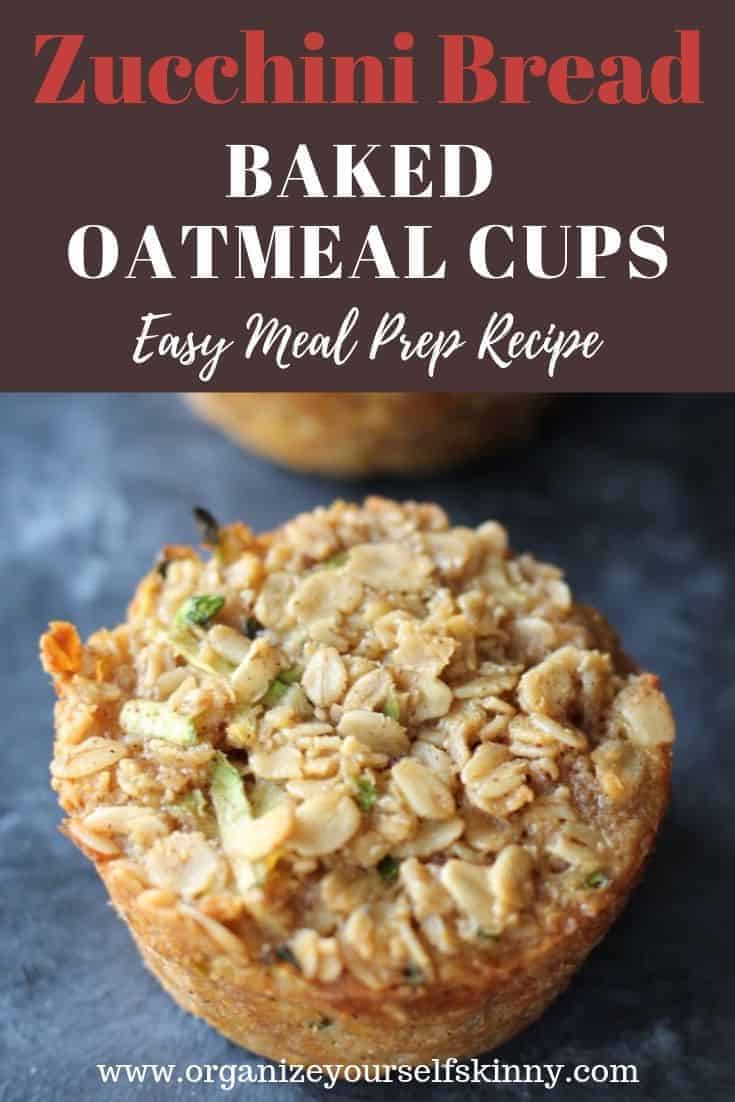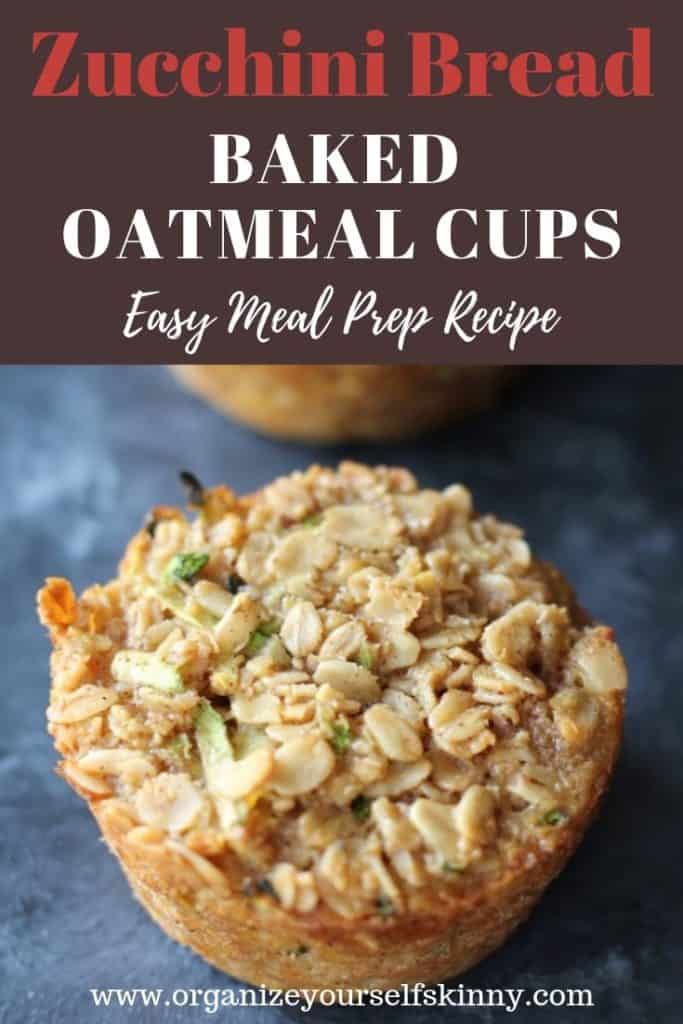 It's that time of year where zucchini is starting to grow wild in my garden. Honestly, I only plant a couple plants and by August I have a garden FULL of huge zucchini. Every year I give a ton away to friends and family, because a person can only make so many zucchini breads.
The great thing about zucchini is it's soooo versatile. Whatever you're in the mood for I bet you can add zucchini to it.
In fact, here are some of my favorite zucchini recipes:
Double chocolate zucchini muffins – these are beyond rich and delicious.
Zucchini brownies – again, who knew chocolate and zucchini went so well together.
Zucchini Feta Turkey Meatloaf – just make this, you'll thank me later.
Those are the zucchini recipes I have on my regular summer rotation. I also throw chopped zucchini into sauces and I've even used zucchini in green smoothie recipes. If you don't have time, or energy, to cook with all of the zucchini you've acquired then it can be shredded and frozen for up to a year.
This year I wanted to create a baked oatmeal cup recipe with the flavors of zucchini bread. I figured it's a great way to add some vegetables into breakfast.
Before I get to the Zucchini Bread Baked Oatmeal Cups I want to answer some questions about this recipe.
Do I need to remove the zucchini skin before using it in a baked oatmeal recipe?
No, you don't have to peel the zucchini skin before using in a baked oatmeal recipe or any recipe. The skin gets very tender as it cooks so it doesn't interfere with texture. Plus, the zucchini skin has a lot of vitamins, so leave it on.
Should I squeeze all the excess water from the shredded zucchini before using it in baked oatmeal?
Yes, yes, and did I say yes? It's really important to squeeze out as much water as you can before adding the zucchini into baked oatmeal or any recipe. I put the shredded zucchini into a mesh strain and just squeeze until I can't squeeze anymore more. Some people use a clean towel but I prefer a mesh strainer.
Can I use gluten-free oats in baked oatmeal?
Yes, gluten-free oats work fine in baked oatmeal recipes.
Can I use instant oats or steel cut oats in baked oatmeal recipes?
No. Instant oats will get to mushy and steel cut oats won't cook all the way. Rolled oats are just right 🙂
Can I use coconut oil, or another oil, in place of vegetable oil in baked oatmeal?
Yes. I've made baked oatmeal recipes with coconut oil and melted butter – both worked just fine. There might be some variations with certain oils but I think, for the most part, any oil will work.
Can I use dairy milk in place of coconut or almond milk?
Yes, I've used all kinds of milk and each one works fine. I use unsweetened coconut milk because I try to keep it dairy free when I can.
How do I convert this baked oatmeal cup recipe to a 8 or 9 inch baking pan?
Simply put it into a 8 or 9 inch pan and cook for the same amount of time. I've cooked all of my baked oatmeal recipes in muffin pans and 8 inch pans using the same cooking time and temp.
If you have any other questions leave them in the comments and I'll get back to you.
Supplies to make Zucchini Bread Baked Oatmeal Cups
Box grater – this is to shred the zucchini. You can also use the shred attachment that comes with your food processor.
Mesh strainer – this is for draining the excess water from the shredded zucchini.
Muffin pan – this is to bake the baked oatmeal cups in.
Mixing bowls – to mix up all the ingredients.
Zucchini Bread Baked Oatmeal Cups
Step 1: Shred zucchini and squeeze out the excess water. Set it aside.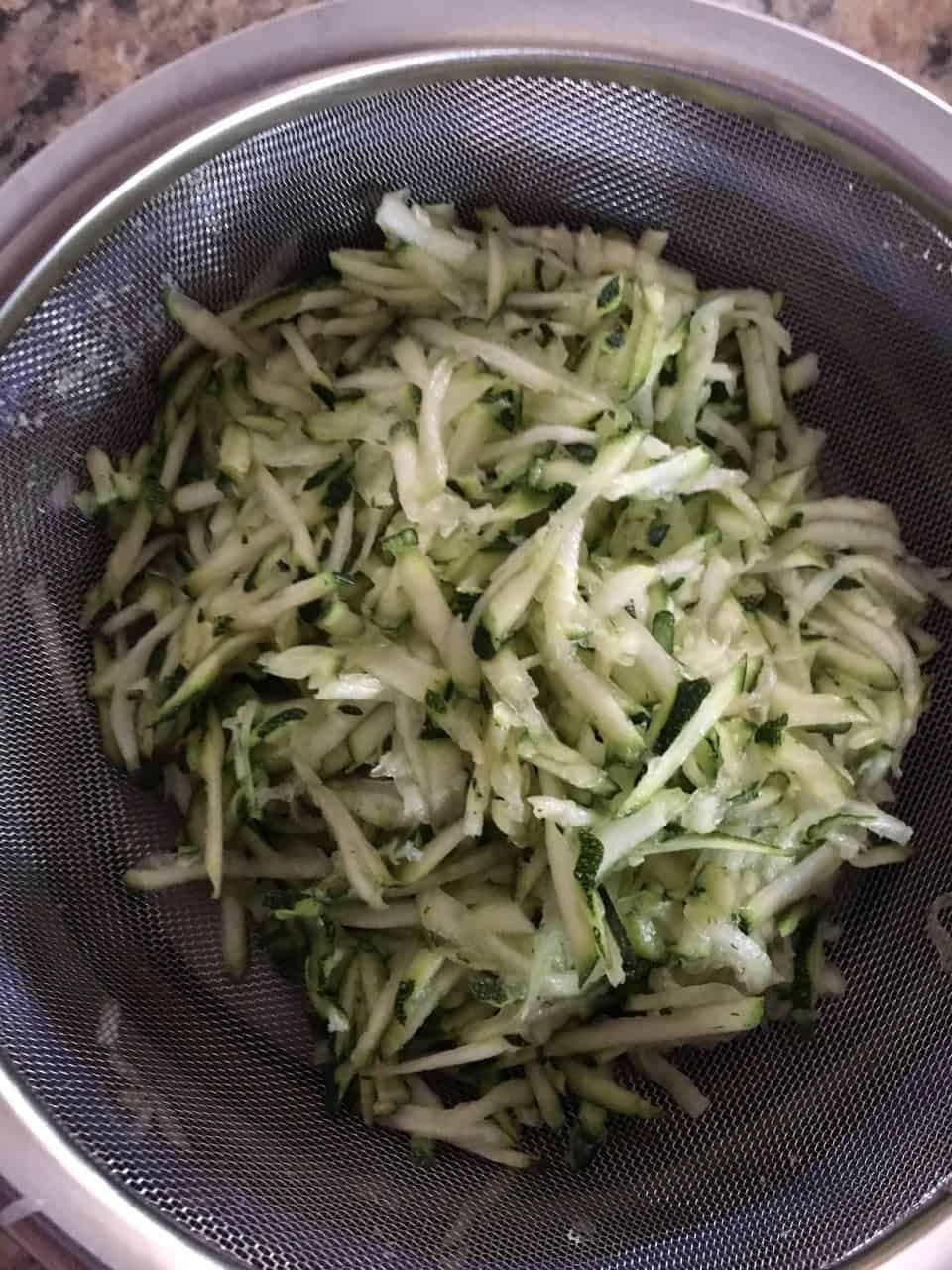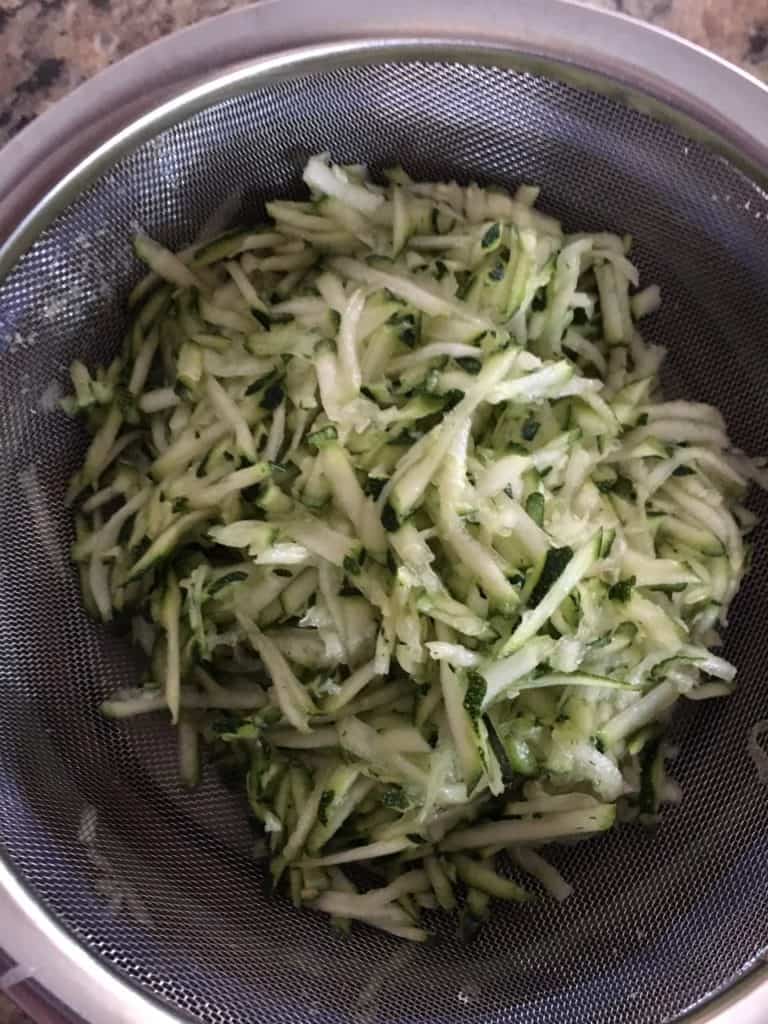 Step 2: Combine all the dry ingredients into a large mixing bowl. Give it a couple stirs so all the spices are evenly distributed. If you pour the wet ingredients on top of the dry without mixing you might end up with globs of cinnamon. Don't ask me how I know.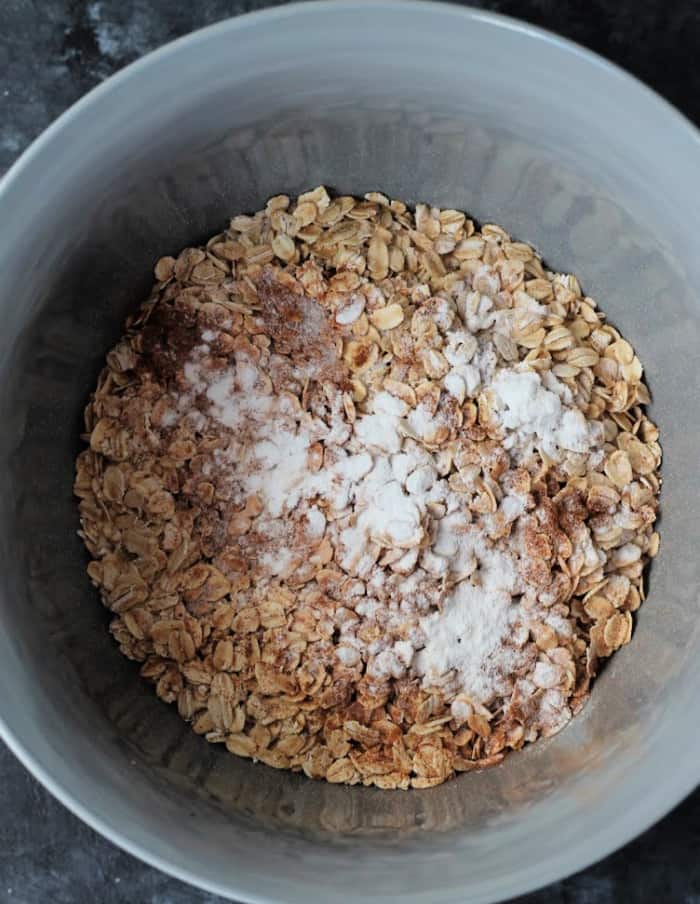 Step 3: In a seperate bowl mix all of the wet ingredients together.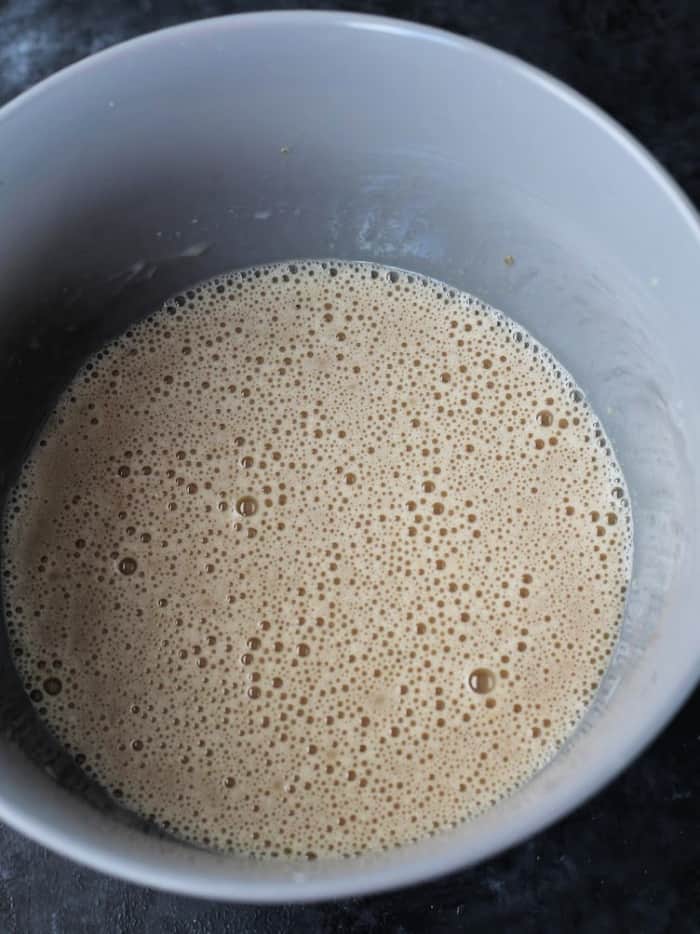 Step 4: Pour the wet ingredients in with the dry. Then give it a few stirs until all the oats are covered and submerged in liquid. See, this is easy peasy.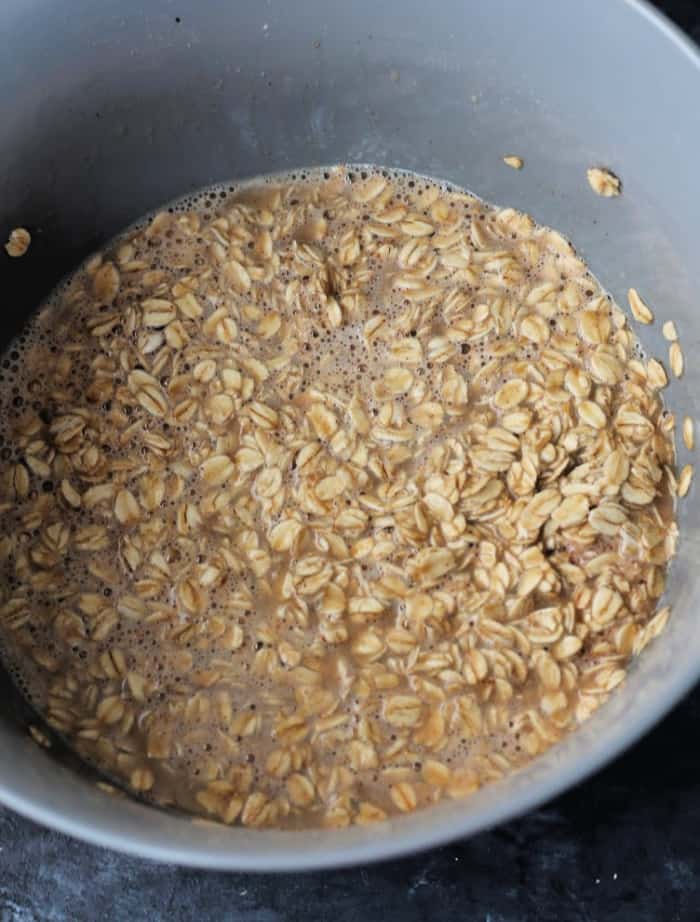 Step 5: Slowly stir in the 1 1/2 cups shredded zucchini.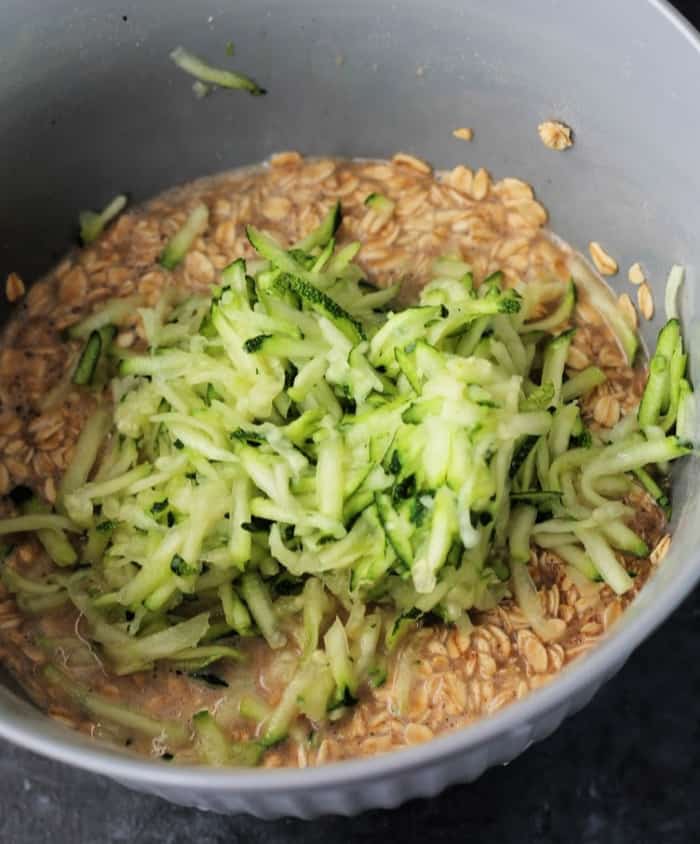 Step 6: Divide the oatmeal mixture (or batter) among a 12-cup muffin pan. Make sure that pan is sprayed with cooking spray. Using a spoon, push down on the oatmeal cups until all of the oats are soaked with the liquid.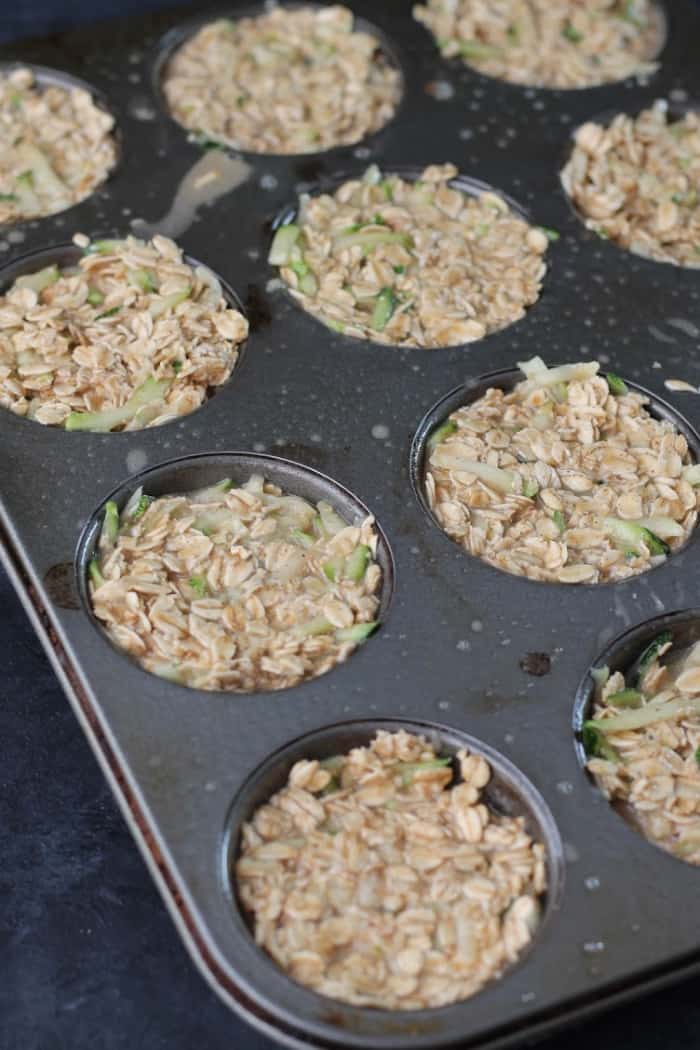 Step 7: Baked the zucchini bread baked oatmeal cups in a 350 degree oven for 30 minutes. Mine cooked perfectly at 30 minutes but it depends on your oven so start watching at around 25 minutes, if the oatmeal cups looks like they're getting to brown then take them out. The baked oatmeal cups should spring back when you push on them.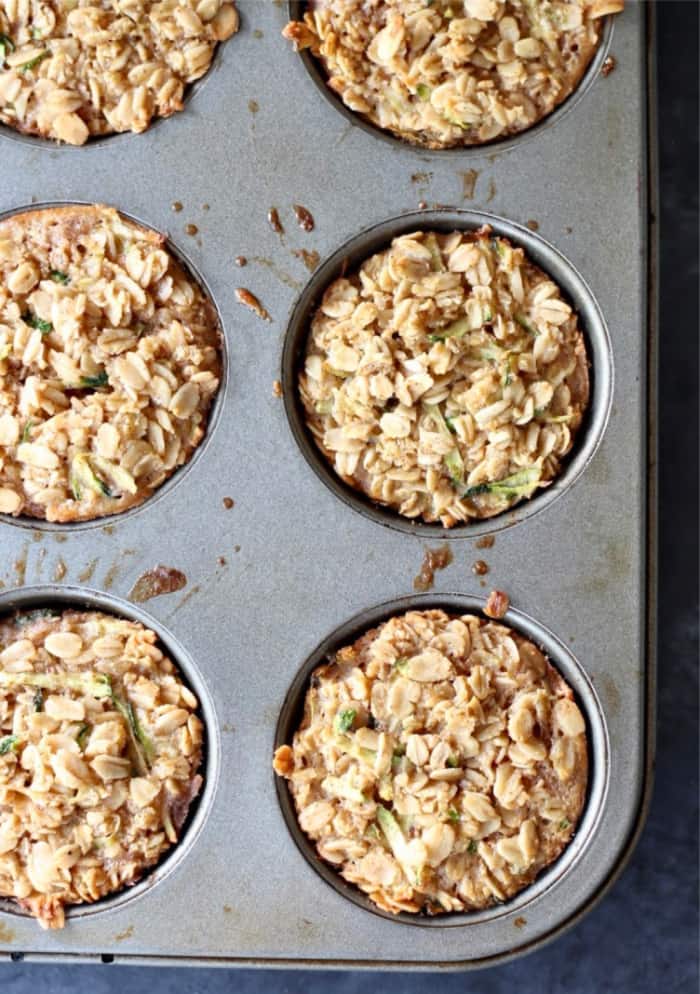 Step 8: Let the baked oatmeal cups sit for about 5 minutes. Glide a knife around the edges and then remove the baked oatmeal cups from the pan. Serve with pure maple syrup.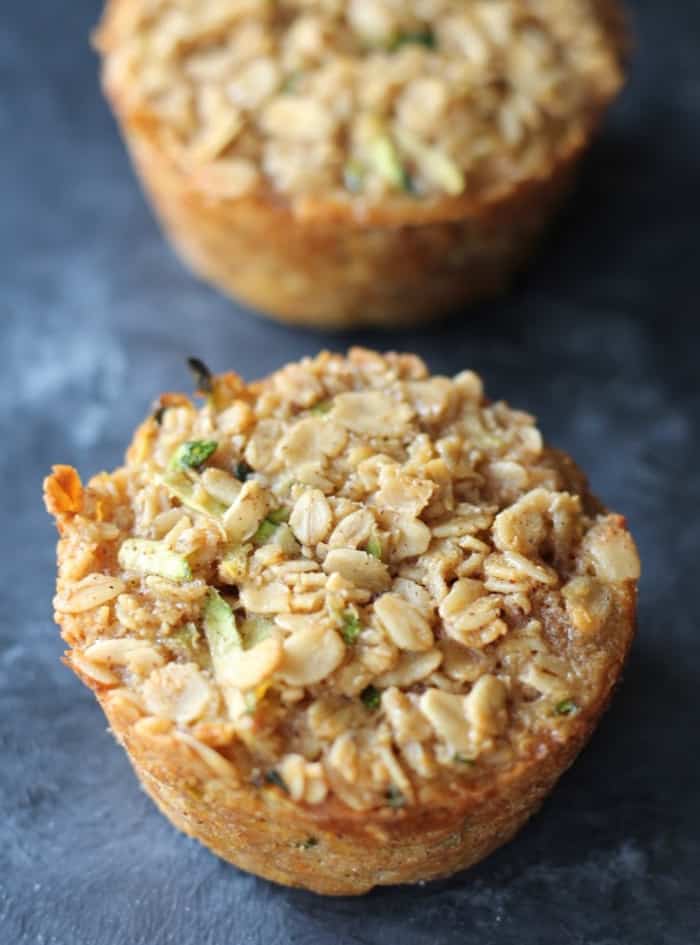 Meal prep ideas
Baked oatmeal cups are perfect for a quick make-ahead breakfast. You can keep these in the refrigerator all week, simply store in glass meal prep container or a plastic container. Warm up in the microwave for 1 -2 minutes.
Or these freeze great too. After the baked oatmeal cups have cooled, individually wrap them in plastic wrap, place in a freezer bag, and freeze up to 6 months. I think these warm up better when you take them out to thaw in the refrigerator overnight. But you can warm these up directly from the freezer. Either way, remove the plastic wrap and microwave for 1-3 minutes or until heated through.
Other baked oatmeal recipes
Banana Chocolate Chip Baked Oatmeal Cups
Cashew Honey Baked Oatmeal Cups
Blueberry Banana Baked Oatmeal Cups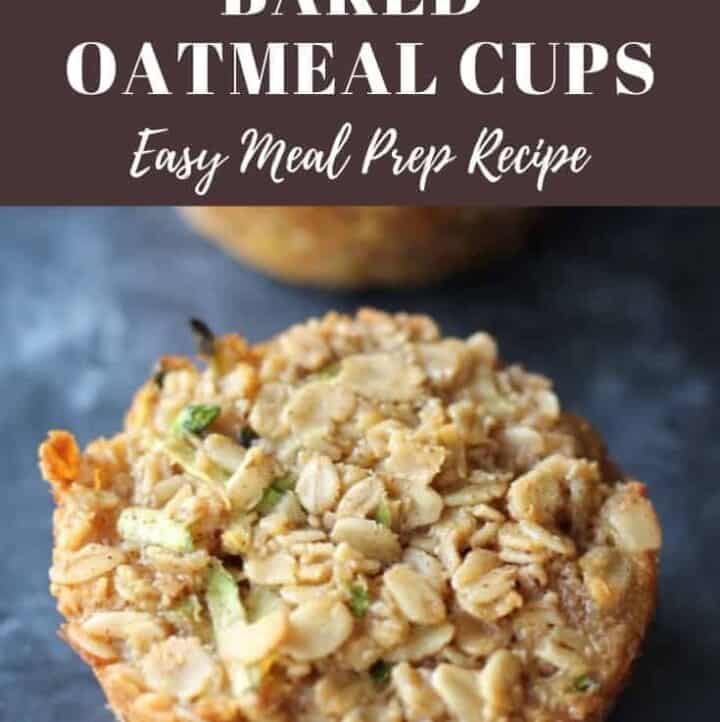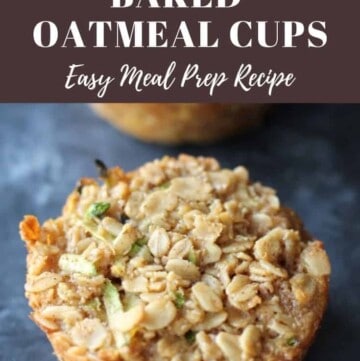 Zucchini Baked Oatmeal
Baked oatmeal with all of the delicious flavors of zucchini bread. Add these to your meal prep on Sunday for a delicious grab and go breakfast all week.
Print
Pin
Rate
Ingredients
3

cups

rolled oats

1

teaspoon

cinnamon

1/2

teaspoon

ground nutmeg

1/4

teaspoon

salt

1

teaspoon

baking powder

2

eggs

1/4

cup

vegetable oil

1/2

cup

dark brown sugar

1

teaspoon

pure vanilla extract

1 1/2

cups

1% milk

or any milk

1 1/2

cups

shredded zucchini.
Instructions
Preheat oven to 350 degrees

In a medium bowl mix together rolled oats, cinnamon, nutmeg, salt, and baking powder.

In a second medium bowl whisk together eggs, vegetable oil, dark brown sugar, vanilla extract. Slowly stir in milk until all the wet ingredients are blended.

Stir in the shredded zucchini.

Pour wet ingredients into dry ingredients and mix.

Divide the oatmeal mixture among a 12-cup muffin pan coated with cooking spray. Flatten the oatmeal mixture down with a spoon making sure all of the oats are covered with the liquid.

Bake for 30 minutes.

Remove from the oven and let the oatmeal cups sit for 5 minutes in the pan.

Remove from the pan and serve warm with some pure maple syrup or let the baked oatmeal cups cool completely and then store in a container in the refrigerator or freeze.
Notes
Make-ahead instructions
These baked oatmeal cups keep great in the refrigerator or freezer. To store them in the fridge simple put cooled baked oatmeal cups into a plastic or glass container. To freeze wrap the cooled baked oatmeal cups in plastic wrap and then put all of them into a large ziploc bag and freeze
Nutrition
Serving:
1
g
|
Calories:
201
kcal
|
Carbohydrates:
27
g
|
Protein:
5
g
|
Fat:
8
g
|
Saturated Fat:
1
g
|
Fiber:
3
g
|
Sugar:
10
g