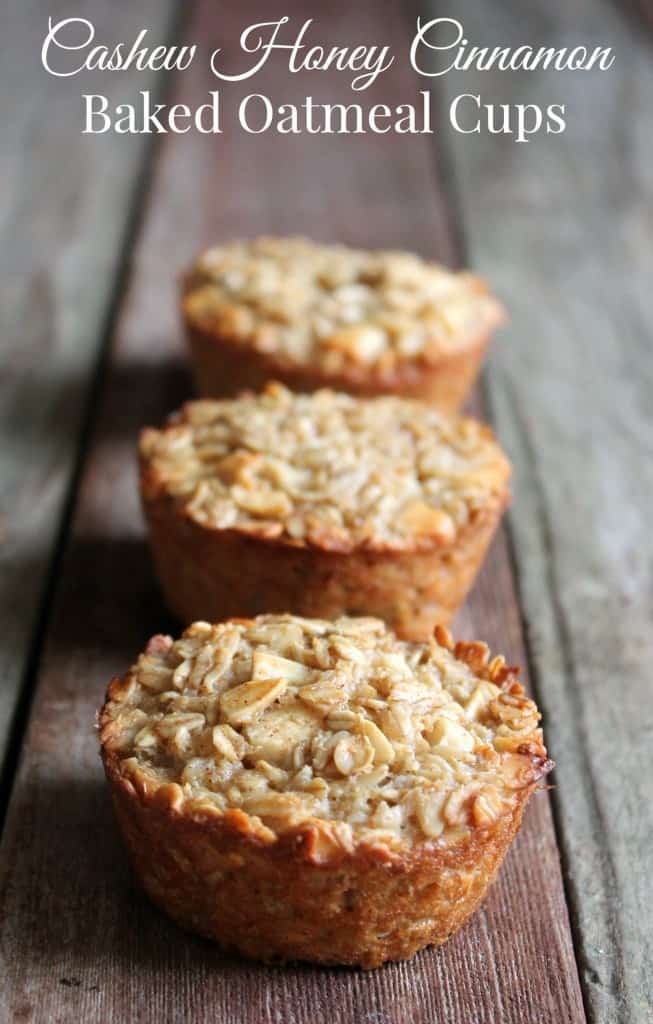 My daughter and I have a running joke about my cooking. Whenever I make a recipe more than once I always say, "This is the best one yet!" Then she says "you always say that about your recipes". But it is true. The more I make a recipe the better it gets. I add a little extra of this and dash more of that and next thing I know "it is the best one yet!"
That is what happened with my new baked oatmeal cup recipe. The first recipe I made was good, the second was even better, the third was whoa baby, and this new one is scrumptious. Now my daughter says they are all equally good and I can't disagree but this new cashew honey cinnamon baked oatmeal cup recipe is wonderful. They have great flavor and the texture is tender and moist. My kids chowed down 3 each after I took them out of the oven.
I stuck with my base baked oatmeal cup recipe but switched up the milk, sweetener, spices, and nuts. Instead of dairy milk I used cashew milk. I don't typically use cashew milk but I had it on hand for another recipe I was working on for Silk. The cashew milk is delicious in this recipe. It gives the baked oatmeal cups a very tender moist texture. I find the same result happens when I use coconut milk in baking recipes. For this reason, I actually prefer using coconut or cashew milk in any baking recipe.
Instead of brown sugar or maple syrup I sweetened this recipe up with honey. Combine this with the spice from the cinnamon and the taste was amazing. Not to mention my house smelled like a bakery with cinnamon and honey filling the air.
Since I was using cashew milk in the recipe I decided to throw in some raw cashews too. I don't think I ever used cashews in a baking recipe. In my opinion, cashews have a unique flavor. They are kind of sweet and have a heartier texture than other nuts. I used about a cup of chopped raw cashews. You can probably by them chopped but I bought whole on accident. So I just put a bunch in a plastic bag and gave them a couple whacks with my meat mallet. Then I measured 1 cup from the bag.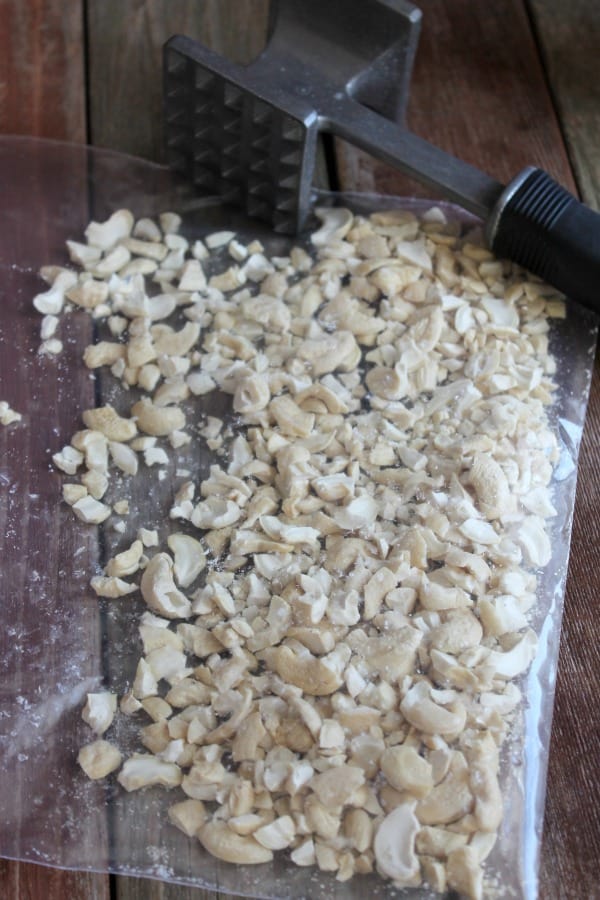 Like with my other baked oatmeal recipes I mixed the dry ingredients separately from the wet ingredients. Then I poured the wet ingredients into the dry and stirred until all the oats were evenly coated.
Next I divided the mixture into a muffin pan spray with cooking spray. I am able to get 12 perfectly portioned cups with this recipe. Make sure there is enough liquid in each cup.
After I distributed the oatmeal mixture I pressed down on each one with a spoon. This helps the oats soak up the liquid.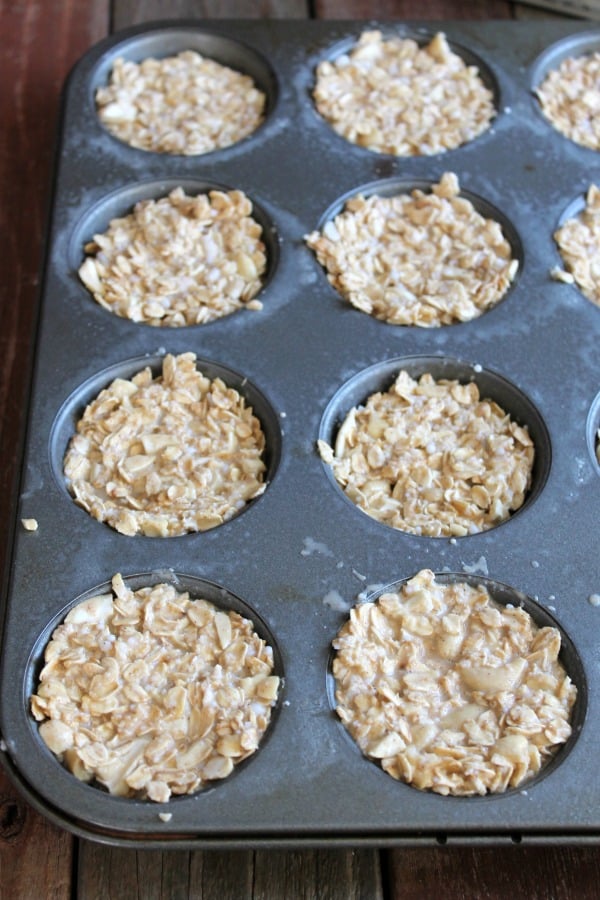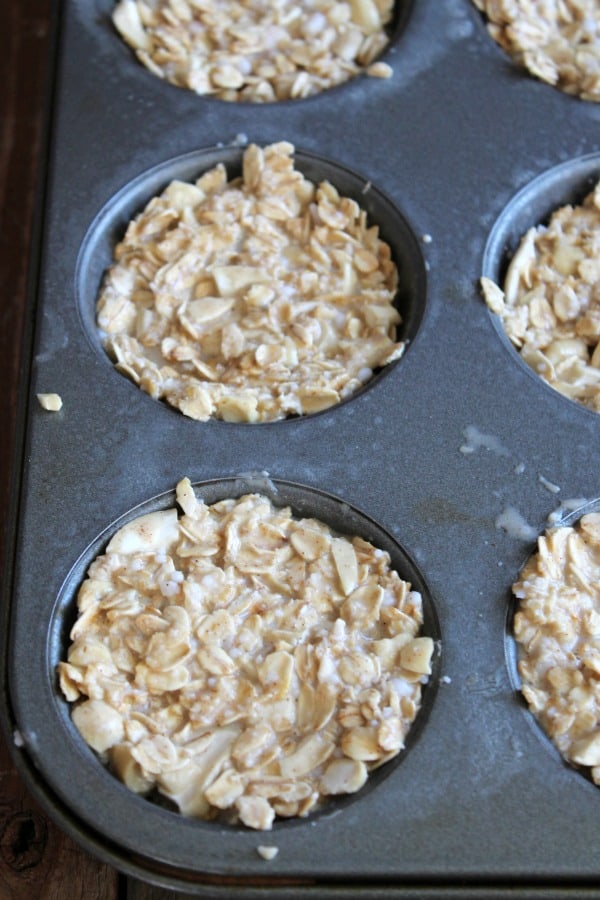 Then I baked the cups for about 27- 30 minutes in a 350 degree oven. My other baked oatmeal cup recipes baked for the full 30 minutes but I took these out around 27 minutes, so just keep an eye on them.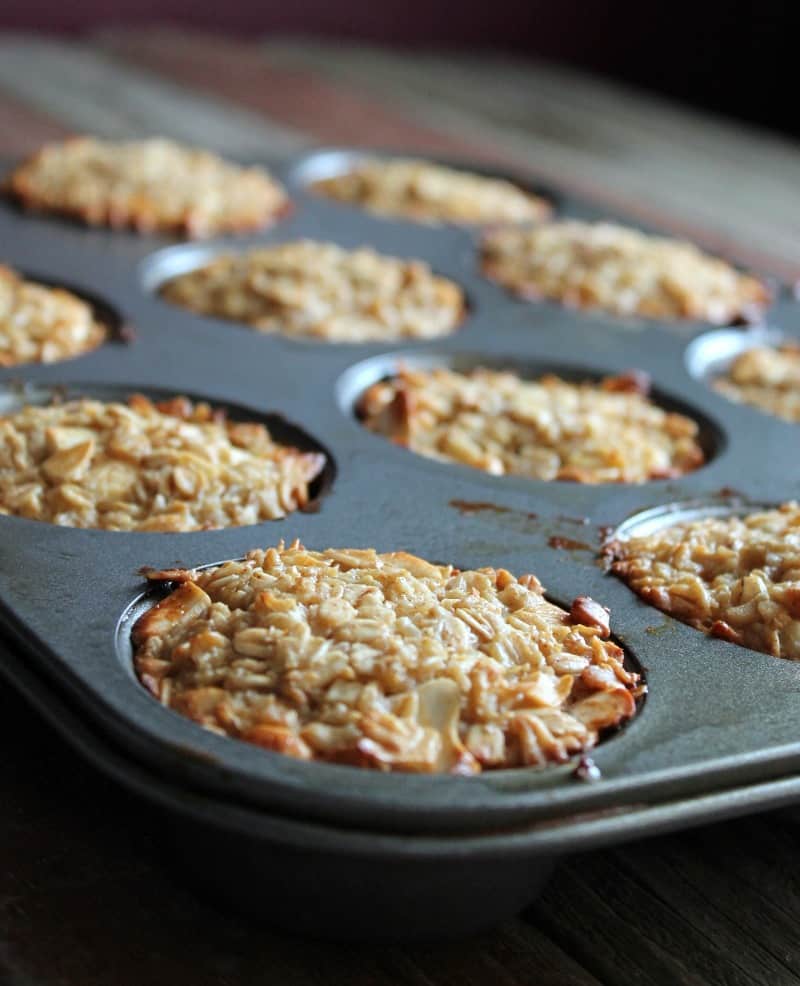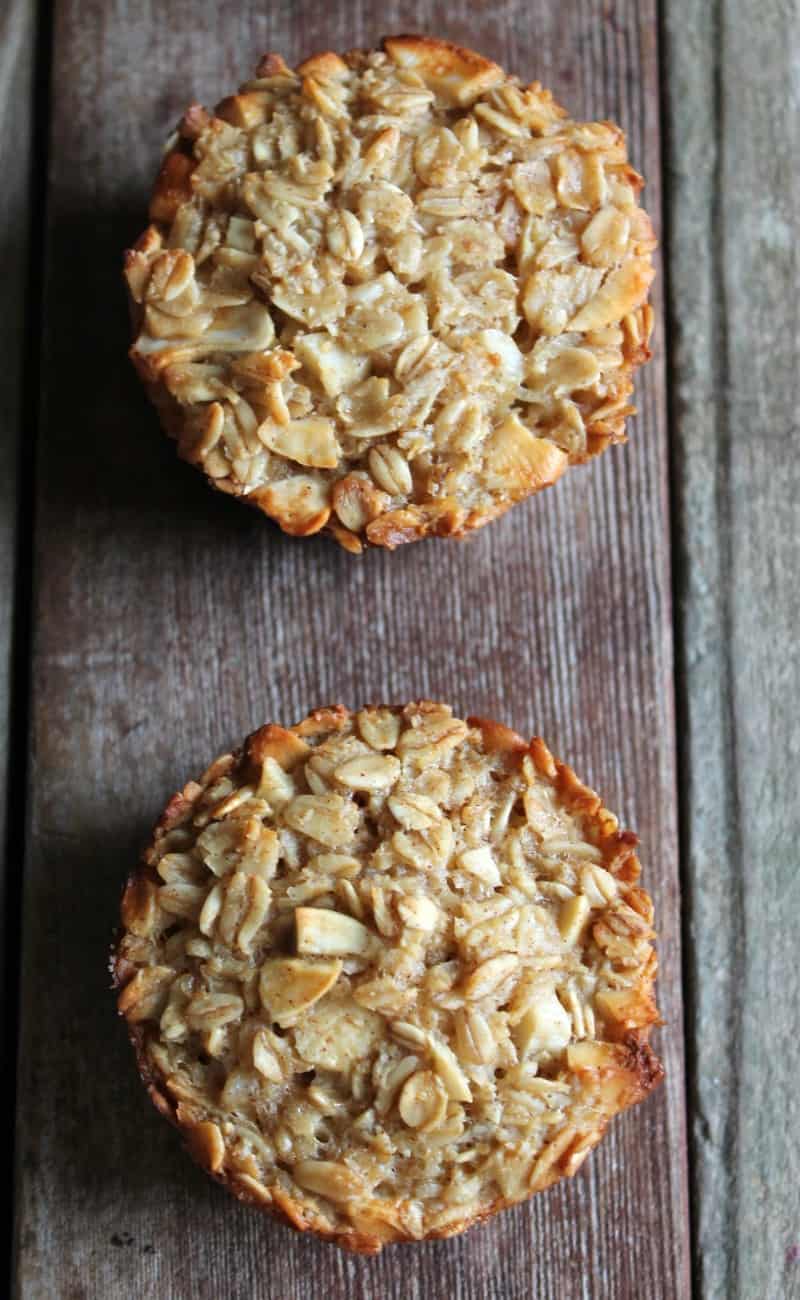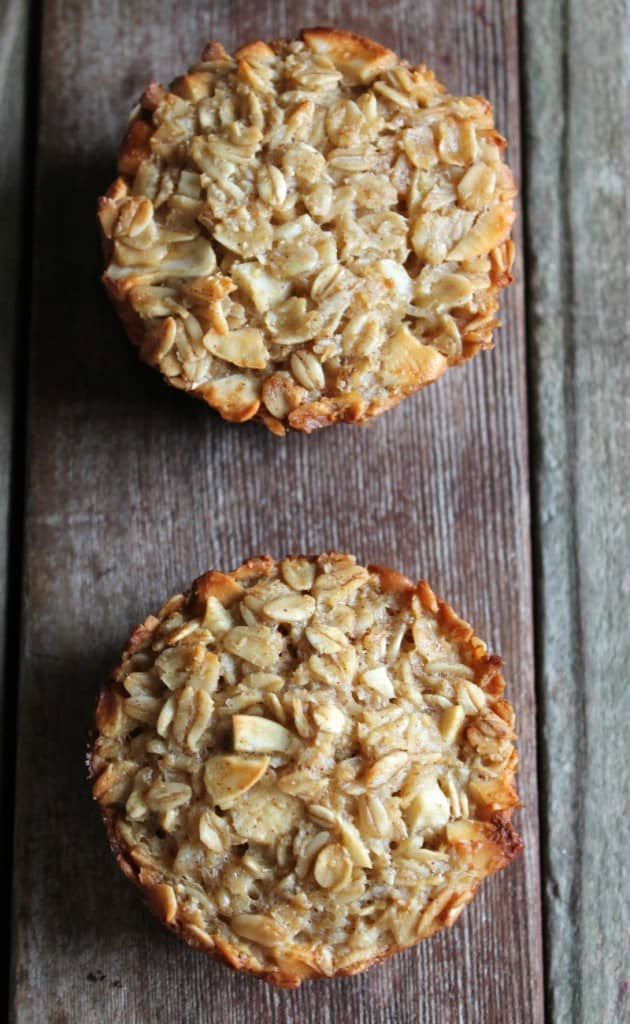 These baked oatmeal cups are definetly one of my best ones ever! Ha! They are delicious, easy to make, and freeze perfectly. So you can make a batch on the weekend and freeze for an easy breakfast during the week.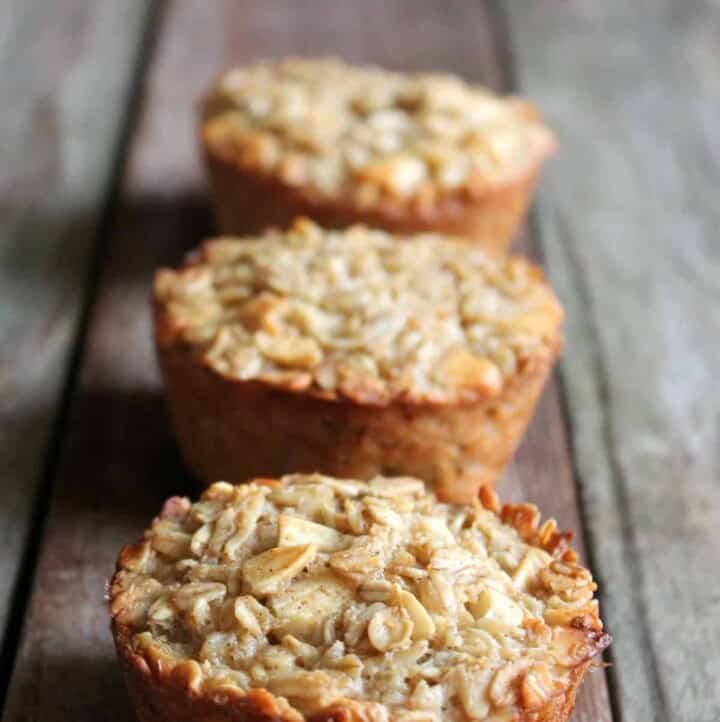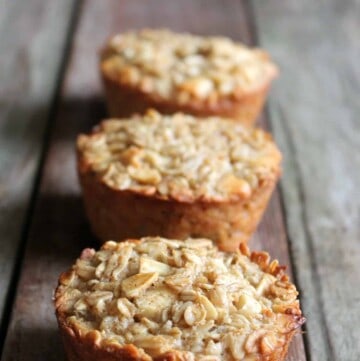 Ingredients
3

cups

rolled oats

1

teaspoon

cinnamon

1

teaspoon

baking powder

2

eggs

¼

cup

honey

1

teaspoon

pure vanilla extract

½

cup

vanilla greek yogurt

¼

cup

melted coconut oil

1

cup

cashew milk

1

cup

chopped cashews

maple syrup for serving

optional
Instructions
Preheat oven to 350

In a medium bowl whisk together rolled oats, cinnamon, and baking powder.

In a seperate medium bowl beat the eggs. Slowly stir in honey, vanilla, greek yogurt, coconut oil, and cashew milk.

Stir the wet ingredients into the dry ingredients. Mix well to make sure all the oats are covered in liquid.

Slowly stir in the nuts.

Divide the mixture among a 12-cup muffin pan sprayed with cooking spray.

Bake 27-30 minutes or until they baked oatmeal cups are golden brown.

Let cool for 3-5 minutes and remove baked oatmeal cups from muffin pan and serve with some pure maple syrup.
Notes
Make ahead instructions
These baked oatmeal cups can be made completely ahead of time and frozen. After they cool wrap in plastic wrap and store together in a plastic bag. When ready to eat remove from plastic wrap and set on microwave plate or bowl and microwave on high for 2 - 3 minutes or until hot. I recommend put a coffee cup of water in with the baked oatmeal as it warms up. This keeps it from drying out.
Nutrition
Serving:
1
g
|
Calories:
212
kcal
|
Carbohydrates:
23
g
|
Protein:
6
g
|
Fat:
11
g
|
Fiber:
2
g
|
Sugar:
6
g