Attention all baked oatmeal fans! I have a recipe that is going to quickly become one of your absolute favorites. It is wholesome, delicious, and perfectly portion controlled. It will have your house smelling like a bakery and if you have kids then they will think you are the best parent ever. I am sure they already do but seriously these Berry Baked Oatmeal Cups with Almond Streusel Topping will bring you to a whole new level. And they freeze perfectly so you can add them to your freezer cooking rotation. Win for everyone!
The dry ingredients include hearty rolled oats, cinnamon, and a touch of nutmeg. The wet ingredients include eggs, brown sugar, vanilla, plain greek yogurt, coconut oil, and milk. This is the base of the baked oatmeal. I kept the sugar to 1/4 cup and I think that adds the perfect amount of sweetness. You can reduce it more if you wish. Also, I have made this recipe with coconut milk and almond milk so if you would rather not use dairy milk those are great substitutions. Just make sure they are unsweetened.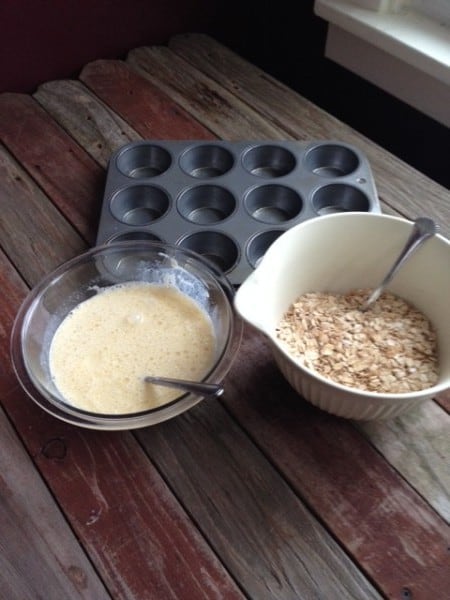 It is important to mix the wet and dry ingredients separately. If not you will end up with clumpy spices and sugar.
After you have the wet and dry ingredients prepared then you pour the wet into the dry and stir it up. It is going to be a wet "batter".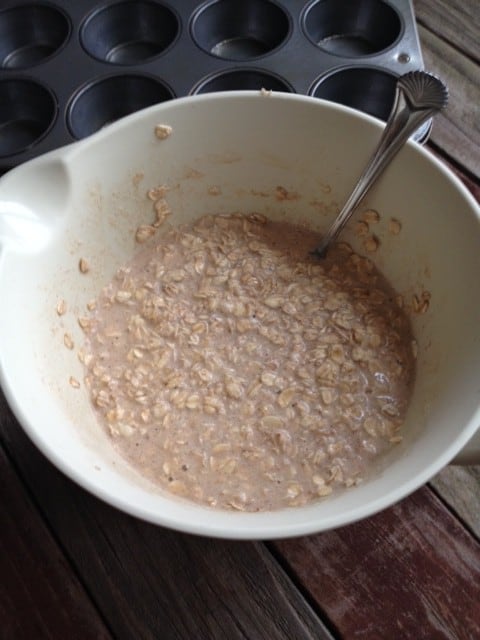 Then I slowly stirred in the frozen berries. I used a 12 ounces package of frozen berries that included raspberries, blueberries, blackberries, and strawberries. It equaled about 2 – 2 1/2 cups. The strawberries were kind of big so I left them out – there was only 4 in the whole bag. However, you can easily cut them up.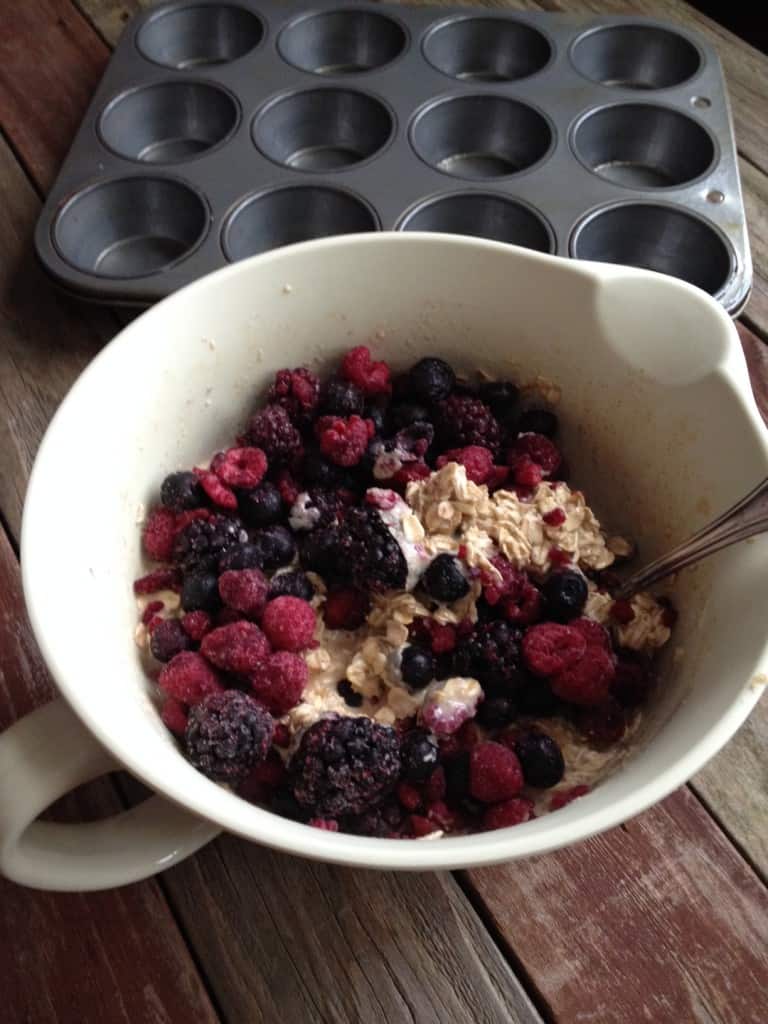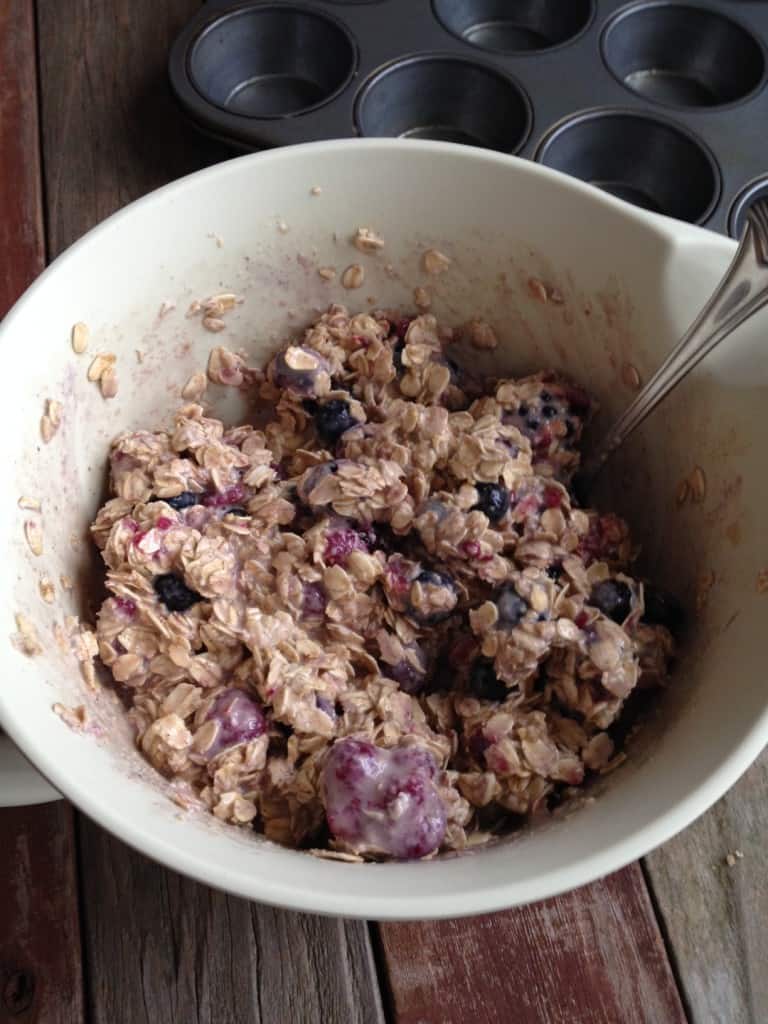 Next I sprayed a muffin pan with cooking spray and divided the oatmeal mixture among the 12 cups. I used a cookie scoop for this. You want to make sure that you are getting enough liquid into all the cups. After you fill the muffin cups then press down on each of them with a spoon. This makes sure the liquid is evenly distributed throughout the oats.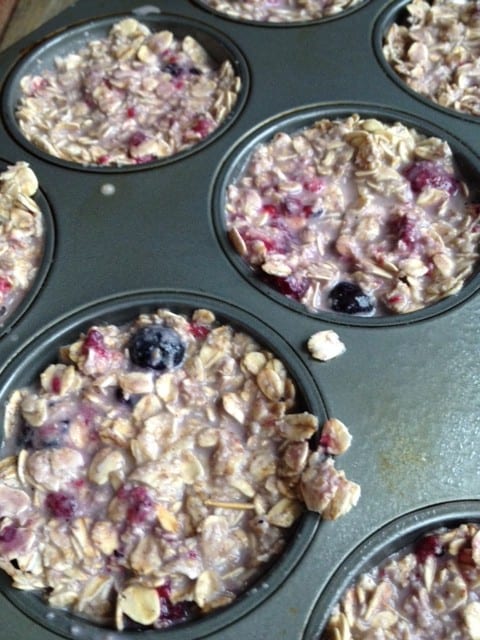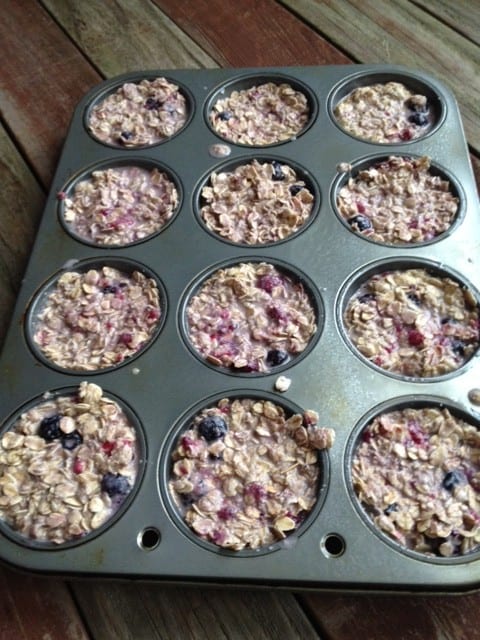 Okay now for the almond streusel topping. This topping is completely optional. I have been obsessed with streusel lately so I got the urge to put it on top of these baked oatmeal cups. And just like with the other recipes I used it on the streusel did not disappoint. I figured out the nutritional information with streusel topping and 2 teaspoons pure maple syrup. But without the streusel topping (but keeping the syrup) it is 193 calories per oatmeal cup and 5 WW points plus.
With or without it these baked oatmeal cups are amazing! After we ate a few for breakfast I wrapped them individually in plastic wrap then placed in the plastic bag to freeze. I will take these out the night before to thaw in the refrigerator then warm up for a about 30 seconds or so in the microwave.
Enjoy!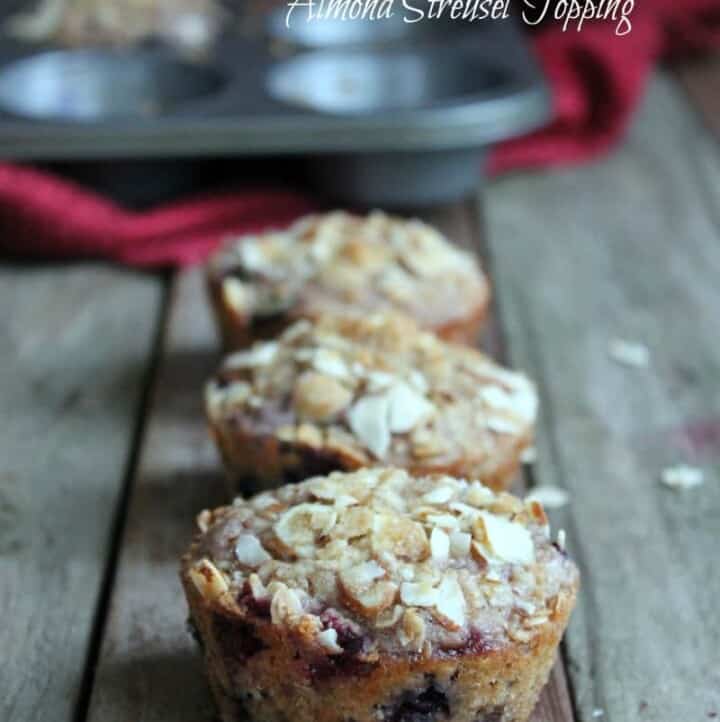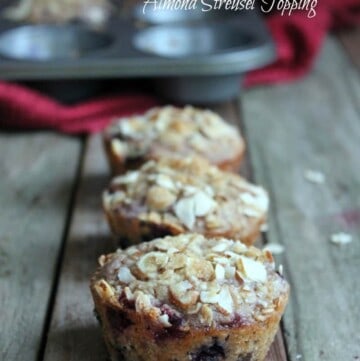 Ingredients
3

cups

rolled oats or old fashioned oats

1

teaspoon

ground cinnamon

1/8

teaspoon

ground nutmeg

1

teaspoon

baking powder

¼

teaspoon

salt

2

large eggs

¼

cup

packed light brown sugar

½

cup

plain greek yogurt

2

teaspoons

pure vanilla extract

1

cup

1% milk

¼

cup

melted coconut oil

1

12 ounce package frozen berry mix, about 2 – 2 1/2 cups

Almond Streusel Topping

3

tablespoons

brown sugar

2

tablespoons

white whole wheat flour

¼

cup

sliced almonds

pure maple syrup

1

tablespoon

chilled butter

cut into small cubes
Instructions
Preheat oven to 350 degrees.

In a medium to large bowl mix together rolled oats, ground cinnamon, nutmeg, baking powder, and salt. Set aside.

In another medium to large bowl stir together eggs and brown sugar until combined. Slow stir greek yogurt, vanilla extract, milk, and coconut oil into the egg mixture.

Slow stir the wet mixture into the oat mixture until combined.

Fold in the frozen berries.

Spray a 12-cup muffin pan with cooking spray. Divide the oatmeal mixture among the 12 muffin cups.

In a small bowl mix together the 3 tablespoons of brown sugar, flour, almonds, and butter. Using your hands, squeeze and mix the ingredients until it becomes crumbly.

Sprinkle evenly on top of the oat mixture.

Baked for 30 minutes. Let cool for about 3-5 minutes. Remove from pan. Serve each baked oatmeal cup with 2 teaspoons of pure maple syrup.
Notes
Make ahead instructions
After the baked oatmeal cups cool, wrap in plastic wrap, and place together in a large freezer bag to freeze. To reheat, take out the night before and let thaw over night in the refrigerator. Warm up in the microwave for about 30 – 60 seconds then drizzle with maple syrup.
Nutrition
Serving:
1
g
|
Calories:
234
kcal
|
Carbohydrates:
33
g
|
Protein:
7
g
|
Fat:
9
g
|
Fiber:
3
g
|
Sugar:
6
g
Have you checked out my ebook Organize Yourself Skinny: 5 Strategies to Help Busy People Create a Healthy Lifestyle and Lose Weight? If not, then check it out here!