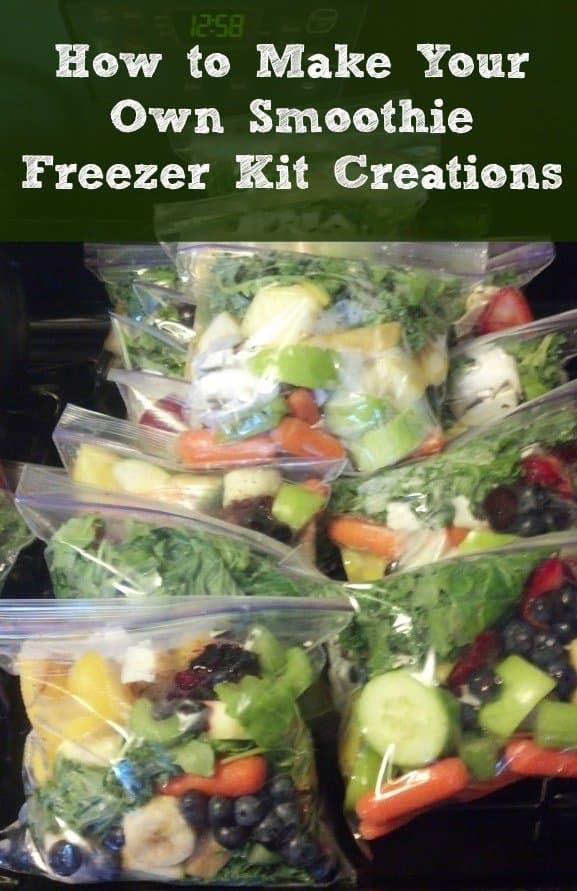 This is a guest post by my friend Paula.
I remember when OYS came to work and was raving over her Triple Berry Smoothie. I remember the excitement in her face as if it were yesterday. You would have thought she just won the lottery. I tried to share in her excitement over this fantastic smoothie but the truth is, I have never been a big "smoothie" or even "milkshake" fan. I would drink them, but I didn't want to go through the trouble of ever making them myself. As you can tell, if something involves a lot of ingredients, several appliances or more than a couple minutes to make, I feel as though it is too much work and you are going to have to sell me on why I should do it.
I think another reason why I was never too excited about shakes and smoothies is because I am somewhat sensitive to dairy products. I can eat them, but try to stay away from them as much as possible. I use Almond (Breeze) Milk at home and substitute it for any milk ingredients in recipes. I find the taste is the same (if not better?)
In the beginning…
Right before summer I set a few goals:
Increase my water
Use myfitnesspal to track everything I ate & drank for at least a month
Increase my clean eating (and decrease my processed food intake)
Increase my daily servings of fruits & vegetables
Decrease my carb intake
Decrease my sugar intake (in foods and added)
I was already using myfitnesspal and had realized I was eating a lot of pre-packaged and processed foods, especially breads and pastas. I also really wanted to kick the sweet cravings that I was having. So I re-visited the smoothie idea with kind of a "juicing" concept in mind. I check out some recipes that included things like spinach, carrots and kale; but I wasn't excited about drinking green goop or having to take apart the blender and wash it for that matter either. I mean I am lucky I can get out of bed without serious injury, and now I am going to operate what I define as "heavy and dangerous machinery" at some awful early hour in the morning when it is probably still dark out? Yes, that is right. I tried it…I did it…and I'm still alive to talk about it!
"Recipe"
So I am not OYS…but I have grown quite fond of my little smoothie creations. Here is how I prepare my breakfast smoothies. I buy, wash and cut all of the food ingredients. Then I assemble them into sandwich bags and put them in the freezer. I will make anywhere between 15-25 smoothie kits at a time.
I also include "dry" ingredients which I package into little snack bags and keep by the blender.
Smoothie Ingredients:
Kale
Spinach
Cucumber
Celery
Carrots
Strawberries
Blueberries
Kiwi
Green Apples
Bananas
Pineapple
Water
Dry Ingredients
Chia Seeds
Flax Seeds
Hemp Seeds or Powder
Dry Organic Coconut Flakes
Protein Powder
Other/Sometimes
Organic Vanilla Extract
Coconut Water
Omega 3 & Fish Oil
Coconut Milk
Almond Milk
Ice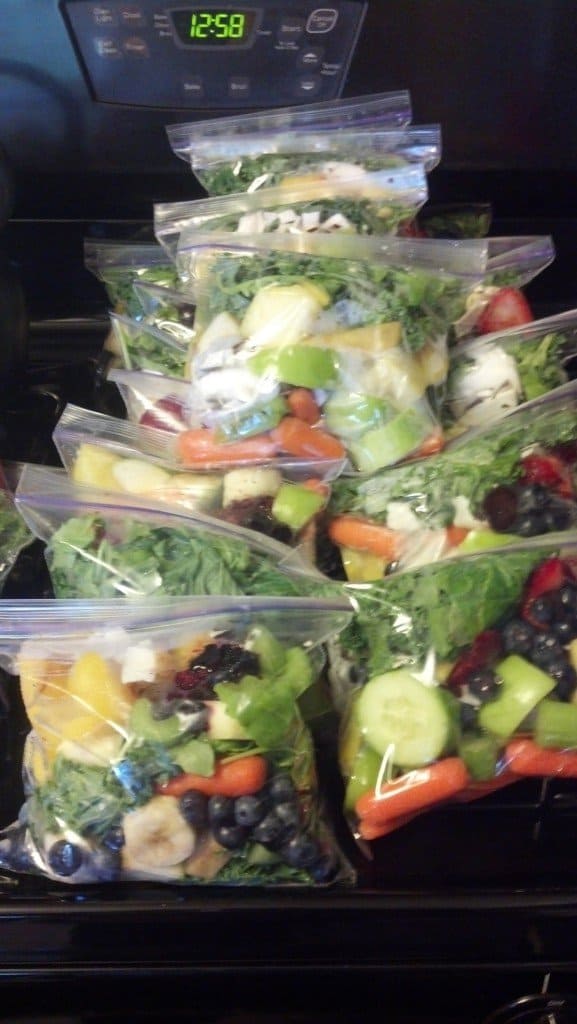 I usually pour a package of the dry ingredients and a package of the frozen food ingredients in the blender and then ½ – 1 cup of coconut water, 1-2 cups of cold water, a teaspoon of the Omega 3 & Fish Oil, and a teaspoon of organic vanilla extract. Blend for about a minute. *Sometimes I will add the water as it blends to help agitate the ingredients.
Here's a quick video Tammy put together showing us how to prepare green smoothie freezer kits.

You can see my assistant helping me measure the dry ingredients in little cups before pouring them into the snack bags.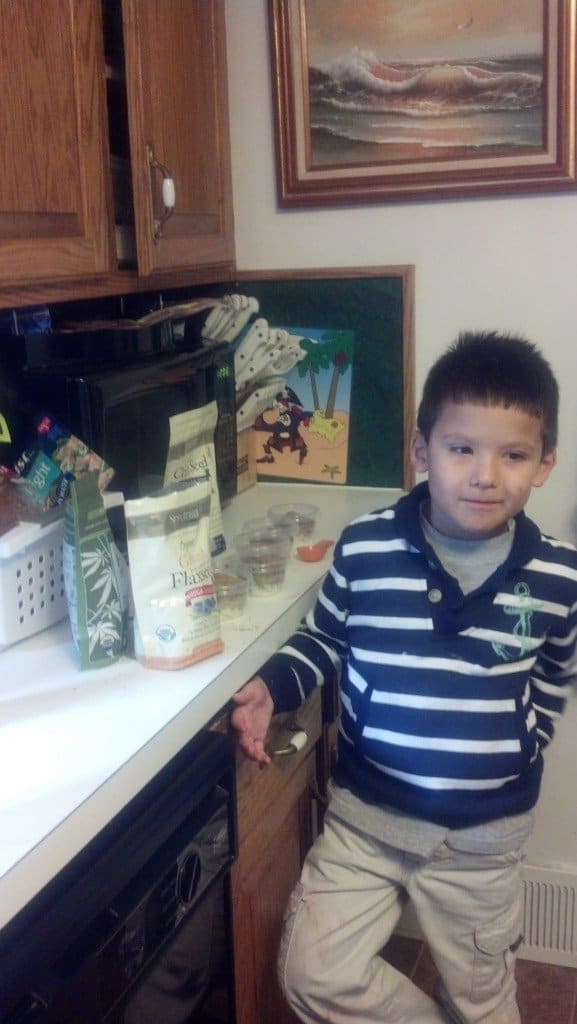 This is my dry ingredients packaged in snack bags. I also keep my dry ingredients and blender supplies in this small box that is next to the blender and easily accessible.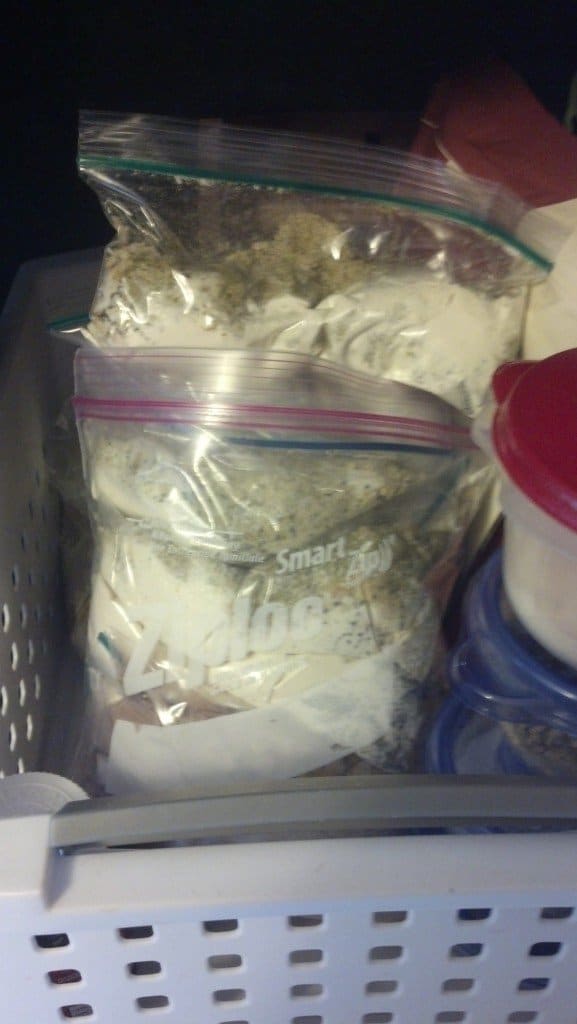 Here is a great video by Lisa from Whole Foods who shows you how to put together your own DIY smoothie packs. It is a quick watch so check it out if you need more of a visual.
Tips & Tricks:
Frozen: I have found that if I freeze my smoothies and take them out the morning I make them, then I do not need to add ice (which I hate to do). My blender is very powerful and has a component to press down on the frozen ingredients so I defrosting is not an issue for me. Depending on your blender, this may not be possible in which case you may want to take it out of the freezer and put in the fridge the night before.
Blender: Also, I use a vitamix (pass-me-down from my grandma and I love it!) But the speed is so high that if the smoothies are just cool or fresh then by the time it has blended it tastes warm (yuk).
The good thing about the high speed is that when I empty the blender, I just have to rinse it and then fill it with water and a drop of dish soap and then blend it again. The vitamix is so powerful that it will simply clean itself (and I get to keep all my fingers 🙂 I also tested the magic bullet and an oster blender. Neither of which I liked for this. They didn't provide the same power and simplicity that I get out of my vitamix.
Consistency: If you like it thicker, use less water. You can also add milk to thicken it up (coconut and/or almond). If you like yogurt you can add that as well. I prefer my smoothies to be more on the "thinner" side so I add about a cup of coconut water and 1-2 cups of cold water.
Sweet: If you would like your smoothies to be a little sweeter (probably the first few) I suggest including more and sweeter fruits and/or organic honey. I only used honey once and it was too sweet for me. I think the vanilla extract helps add a little sweetness and overall taste.
Calories: Calories may vary between 300-600, depending on how much you put in the smoothie. As you can see in the pictures, I do not use "full servings" for any of the ingredients. Also, you may not use all the ingredients I use (or you may use more) or you may split a smoothie between 2 people.
Make-Ahead: I also have been making my smoothies ahead of time and then drinking it over the course of 2 days. I will make a smoothie on Sunday night, then take it to work Monday morning and leave it in the fridge at work and finish it Tuesday morning. This way I am not blending every morning and cuts down on my hectic morning routines.
Good Stuff
Ever since I started making these smoothies, only good things have happened. Not like "magical" things, but I have an appreciation for the little rewards these smoothies give.
I have more energy in the morning
I am not starting with carbs or a sugar high then crash
I can take it with me on the run
I get my fruits and vegetables in
When my husband is home it makes enough for 2 (although I can drink a whole one by myself)
It's easier than it looks…trust me. I would know! And the taste isn't that bad! That was a concern of mine right up there with the entire blending process. This is coming from a girl who would sing "I hate V8". 🙂
So what are your smoothie thoughts and experiences?