Learning how to count calories is an essential skill for anyone who wants to lose weight—and keep it off! Don't worry, It's not as boring as it seems. Learn how calorie counting works and enjoy all the benefits of this free, simple-to-use system.
Calorie counting works…plain and simple. From my experience, counting calories is the best way to lose weight. It's how I personally lost weight and I feel it is the easiest, least painful, and most natural way for a busy mom to fit healthy eating into her routine.
Not to mention it's free! There's no monthly membership for counting calories.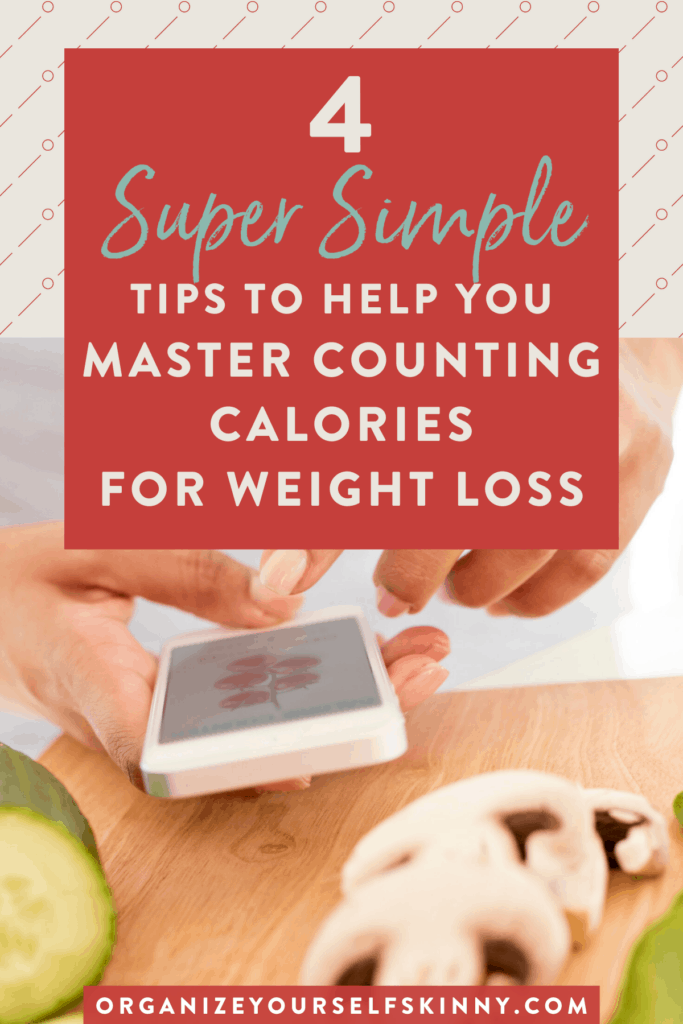 Does Counting Calories Really Work?
Regardless of what the diet industry wants us to believe, losing weight comes down to one basic formula: you must consume fewer calories than you burn in a day. This is also called a calorie deficit.
To do this you need to either: eat less, work out more or, for maximum effect, do both. While the ultimate goal is to integrate healthy eating and exercise into your lifestyle, baby steps are important.
You'll get the biggest bang for your buck by focusing on food and getting your calories under control.
My first 30lbs lost were the result of simply counting calories. No fancy foods, no expensive shakes, no gym memberships. All I did was learn how to count calories.
Many people think calorie counting is tedious but I found it was quite empowering to get control back over my food this way. It wasn't until I started taking a good look at the food I was eating that I realize I was in total control of my weight.
In short, learning how to count calories was the moment my life completely changed. I know that sounds dramatic but it's true.
If you're struggling to lose weight, and don't know where to start, then I highly recommend starting with counting calories. You'll be surprised how paying attention to the food you eat makes all the difference.
How to Count Calories: 4 Crucial Tips
Here are 4 tips that will teach you how to count calories.
#1 Determine your daily caloric intake for weight loss.
The magic number that we have always heard when it comes to daily caloric intake is 2000. Nearly every food label states "This is recommended as part of a 2000 calorie diet."
The problem with that is everyone is different and that may or may not be the caloric intake number you need to start losing weight.
To determine the number of calories you can consume and still lose weight, use an online tool such as My Fitness Pal. There are many free weight loss tools available on the internet but this is the one I use.
Once you sign up, you enter your weight, height, age, activity level, target weight, and other information. This is all funneled into a tool that will calculate the number of calories you should be eating every day to help meet your weight loss goals.
Then, to lose weight, you to stay as close to that number as possible on a daily basis. There are no shortcuts in weight loss sadly. But stay the course, learn how to count calories, and you'll start seeing results!
#2 Keep a food journal.
After you determine how many calories you should consume daily to reach your target weight, but before you actually jump into counting calories, you need to determine the number of calories you have been consuming on a daily basis.
This is a very important step. I call this a food overhaul. For me, this was a sobering experience. I discovered that I was eating close to 3000 calories a day! 500 of those calories came from coffee drinks alone. Yikes.
Before starting your calorie-counting crusade take a day or two and eat as you normally would but, this time, track everything. Be completely honest with yourself too. That pack of Doritos you found leftover in your desk drawer and then ate immediately counts as calories. Don't pretend you didn't eat them!
Remember when I talked about the mom moments that made me fat? Those moments were filled with mindless calories I did not account for.
Choose the Food Journal That Works for You
You can use pen and paper, online calorie trackers, or download a calorie tracker to your smartphone. Again, I strongly recommend My Fitness Pal. It's free and super easy to use.
However, use the weight loss tool that fits into your life and works easiest for you. I just like My Fitness Pal because it is SO simple. The nutritional information for numerous foods can be found right in My Fitness Pal.
At the end of the day, look over the food you consumed and see where the calories are coming from. This way, when you start creating a plan, you know where you need to make changes.
As you start making changes and creating a plan for yourself, keep journaling. Your food journal will become your most important tool because it holds you accountable and keeps you on track throughout the day.
#3 Dust off the measuring spoons and cups and purchase a food scale.
Before I started counting calories, I only used my measuring utensils for baking or if I was attempting a new recipe. I did not even own a food scale.
Now, I use them both to ensure that I am always eating or drinking accurate portions. It's so easy for calories to get out of control when you don't know the amount you are eating!
For example, a serving of cereal is 1 cup and about 200 calories depending on the brand. If you just dump it into your bowl straight from the box you can easily consume 2-3 servings without even thinking, bringing you up to 600 calories. Eeek!
Measuring and weighing your food lets you have control over the calories you are putting into your body. Some may think this is tedious and too time-consuming but once you work it into your daily routine, it just becomes a habit that does the body good!
#4 Plan and prepare menus ahead of time.
It will be so much easier to stick to your daily calories if you plan and prepare all your meals ahead of time. You can do this through menu planning, meal prep, and freezer cooking. Make healthy food easy to obtain in your house.
I know this is easier said than done so here are some resources to get you started with meal planning and plan, along with some services that I find helpful in keeping both manageable.
My Favorite Meal Planning Resources
This is one of my favorite meal planning resources. Plan to Eat is a website where you can organize all of your recipes, easily create meal plans using their drag and drop calendar, and quickly generate grocery lists.
Also, Plan to Eat lets you keep track of the calories with your meals which makes it so much easier to put together a custom weight loss meal plan. All you need to do is add the nutritional information into the recipe if it's not already there.
Plan to Eat can shave off hours from your meal planning routine. You can sign up for a 30-day free trial to see if it would work for you.
If you're trying to eat healthier but struggling to find recipes or put a weekly meal plan together then I highly recommend checking out Emeals. This meal planning service will send you a meal plan to your email each week. You can also access the meal plans on their website and app.
Emeals offers all kinds of meal plans for every eating style. Their meal plans range from Paleo to Clean Eating to Low-Carb to Low-calorie and everything in-between. The recipes include the nutritional information so this takes the guesswork out of it.
Emeals offers a 14-day free trial so you can try out the meal plans before signing up.
Meal Delivery Kit Services
If you don't know where to start with meal planning and hate to grocery shop then maybe a meal kit delivery service would be a good option for you. All of them work the same in that they create a weekly menu of recipes, you choose the recipe you want, and then they send you a box with all the recipes and ingredients.
Again, all of the nutritional information is included so there's no guesswork. I reviewed a few meal kit delivery services so you can get a better idea if one would work for you:
More Meal Prep Resources
Check out this meal prep resource page I put together with all my best posts to get you started with preparing meals ahead of time.
The good thing with counting calories is there are no special foods, shakes, or weird recipes. You can eat what you want as long as you stay within your calories.
Choose to Nourish Your Body While Counting Calories
Keep in mind, however, becoming healthy is more than just losing weight, the quality of the food going into your body is just as important. You want your body to be nourished.
Choose foods and recipes that are low in calories and also nutrient-dense. All of the recipes on Organize Yourself Skinny include nutritional information.
I know many people just starting with counting calories struggle with figuring out the calories for dinners they're making. In this instance, I recommend using the recipe builder in My Fitness Pal. You'd add all the ingredients ahead of time and then it will calculate the calories and other nutritional information. From there that recipe is saved so you only need to do it once. You can add it to your food diary at any time.
I really believe in the simple, yet powerful, habit of counting calories. It may not be fun or sexy, as some fad diets out there, but it works.
Counting calories brings a strong sense of personal responsibility to one's own eating. There's no diet to blame when a person counting calories fails to lose weight. The awareness that comes with knowing exactly how many calories are in our foods is empowering.
Success with counting calories also brings with it a tremendous feeling of accomplishment. Just think, how good would you feel knowing that you were the one solely responsible for your own weight loss?