Dinnerly is a meal kit delivery company that markets itself as affordable, easy, and family-friendly. They're focused on filling the needs of busy people and families who are budget-conscious. I tried Dinnerly a few different times and this is my honest Dinnerly review.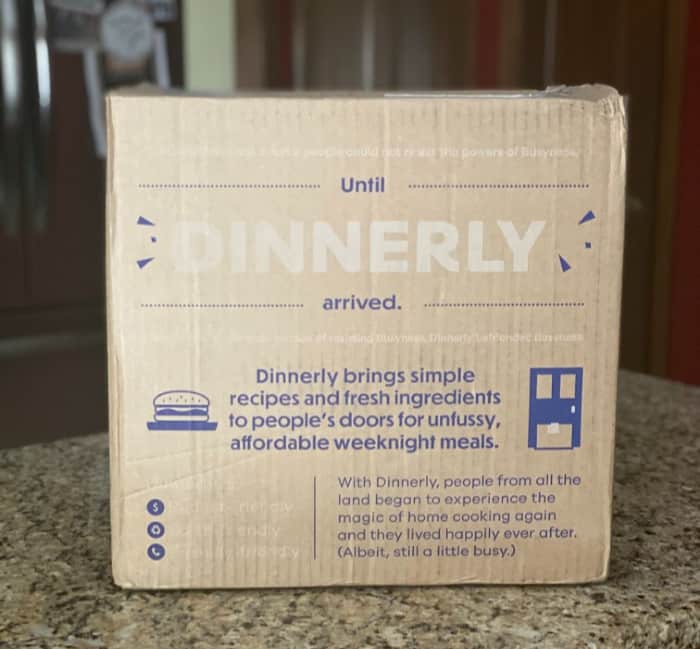 What I like:
Affordable
Classic easy recipes
Whole ingredients
What I don't like:
No recipe cards included.
No options for Keto, Paleo, or other speciality diets.
No organic options.
Overall thoughts:
Dinnerly is a great for people who want an affordable meal kit option. Recipes use minimal ingredients and are relatively easy to put together making it perfect for busy families. With that said, the flavors, while still tasty, definitely tend to be more on the basic side. Someone looking for more of an eclectic flair to their meals might not lean towards this meal kit service. However, someone looking for classic family-friendly recipes might think this is the perfect match.
If you're ready to give Dinnerly a try, and don't want to read my entire Dinnerly review, then get $10 off your first box here.
Dinnerly Review
I've been reviewing meal kit companies for about 3 years. You can see all my meal kit reviews here. Personally, I think meal kits are a great option for busy families. Meal kits do all the meal planning and grocery shopping for you. Perfect! However, one of the most common complaints I get is that meal kits are to expensive. I get it. The convenience of a meal kit service is awesome. However, that convenience comes at an extra cost.
That's until Dinnerly came along.
Dinnerly is one of the first companies to provide customers with affordable meal kit options. They want everyone to experience the convenience, and other benefits, of a meal kit company without it being a burden on their budget.
Dinnerly saves money by using minimal ingredients, not providing recipe cards, and they don't have the big marketing campaigns like some of the other big meal kit companies. This is how they're able to reduce costs and pass those savings on to their customers.
Dinnerly meals cost $4.99 per meal when most other meal companies cost $10 or more. Keep in mind, Dinnerly does charge shipping. I'll talk more about the costs later in the review.
But can Dinnerly deliver on taste? I tested out 3 Dinnerly boxes and I'm excited to share my Dinnerly review with you. Keep reading to see what I think.
If you're ready to give Dinnerly a try, and don't want to read my entire Dinnerly review, then get $10 off your first box here.
How Dinnerly works
In my reviews I like to start with the basics. Is it easy to sign up, order meals, and cancel. Let's start with with the sign-up process.
Dinnerly makes it super easy to sign-up. You start with choosing the type of box. The options are a 2-person box and a family box. Then you choose the number of meals you want per week. Of course, once you sign up you can change this.
After that you set your location and then move on to Delivery details. There are not a lot of delivery date options. When I signed up the only option I got for delivery was Thursday. The delivery date you get is, most likely, dependent on your location. This might not be a huge deal but just something to keep in mind.
Next you put your payment in and choose meals.
Please make note. If you don't skip or cancel before the cut-off date you WILL be charged for your next box. So, just like with any meal kit company, you need to be aware of your cut off date. Dinnerly will send email reminders to try and prevent any unwanted boxes.

Dinnerly makes it super easy to skip weeks. Again, as long as you do it before the cutoff date you can just click "skip this order" underneath the week you want to skip.
Last Dinnerly, makes is painless to cancel your subscription. This is a HUGE deal for me and I won't recommend any meal kit company where I need to call and jump through hoops to cancel. Who has time for that? Not me!
To cancel your Dinnerly subscription you simply go to the setting sections, scroll down, and click pause or stop subscription. If you decide to start it back up later on they make it easy to do so.
If you're ready to give Dinnerly a try, and don't want to read my entire Dinnerly review, then get $10 off your first box here.
Costs
The typical cost per serving is $4.99 when you order 5 or more servings. So a Family Box with 3 meals is going to $4.99 a serving. If you order less the price goes up a little. It's still cheaper than the other meal kit companies but just know you do need to order at least 5 or more servings to get the $4.99 per serving.
I wish the cost was better spelled out on their website. You can play around with the number of meals and servings and Dinnerly will give you the cost, but you need to figure out the amount per serving.
Also, they do charge $8.99 shipping per box. Again, this still ends up cheaper than other meal kit companies. Not to mention, many meal kit companies are starting to charge for shipping so this seems to be a new trend.
Choosing meals
Dinnerly makes it simple to choose meals. Keep in mind, Dinnerly will automatically choose recipes for you each week. However, you can choose your own Dinnerly recipes too.
If you want to be surprised then there's no need to go in and make switches, but if you want control over the meals sent then you can do that.
Go into the week you want to switch and click "edit recipes".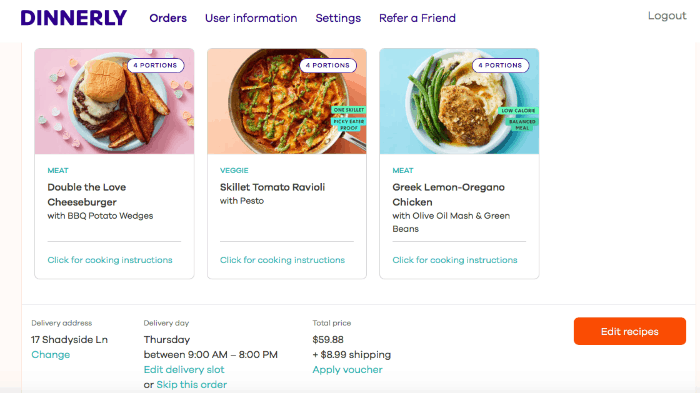 From there add the recipes you want. You can also add in other meals and change the number of portions. Dinnerly currently offers 16 recipes to choose from each week. Recently, I noticed they offer 1 dessert option a week if you wanted to add on a sweet treat.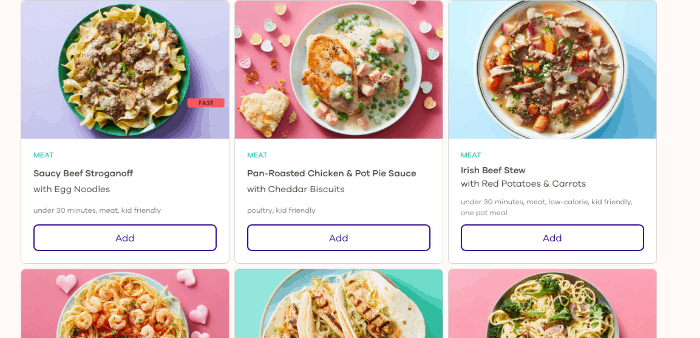 If you're ready to give Dinnerly a try, and don't want to read my entire Dinnerly review, then get $10 off your first box here.
Packaging
Dinnerly packaging is relatively standard. Just like with other meal kit companies, Dinnerly sends all the ingredients in a sturdy cardboard box.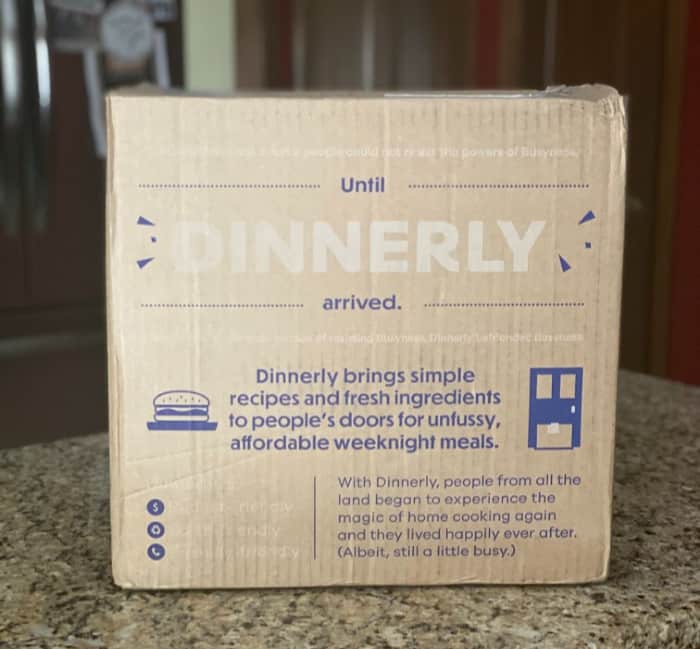 One difference is in the way perishables are sent. Instead of insulating the entire box (like other meal kit companies) they put the perishables into an insulated bag. This saves on waste and also cost.
Everything that needed to be cold was cold. I thought the packaging was completely fine.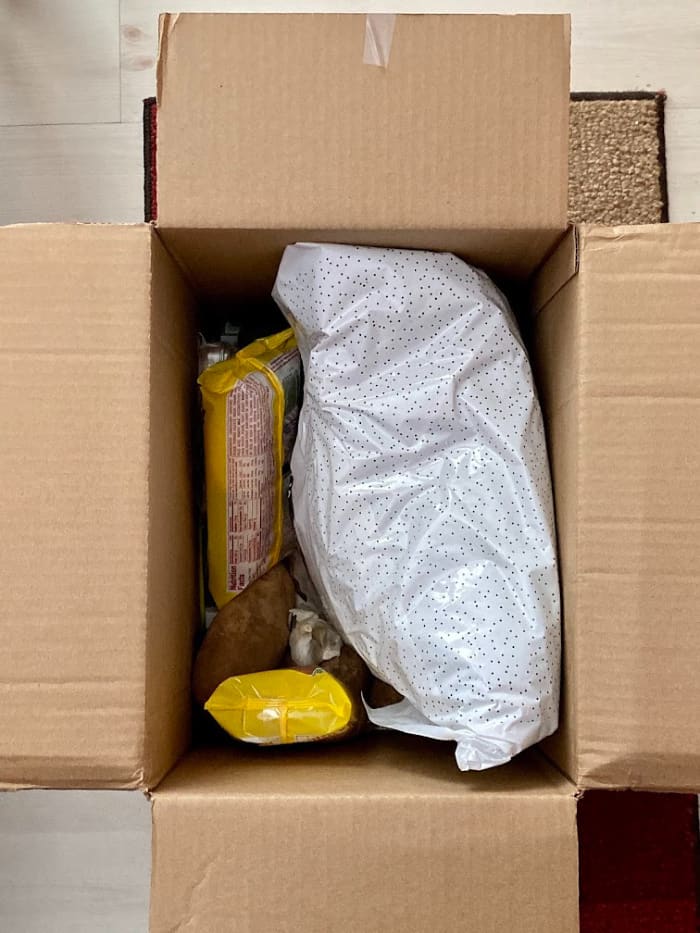 This is everything that wasn't in the cooler bag.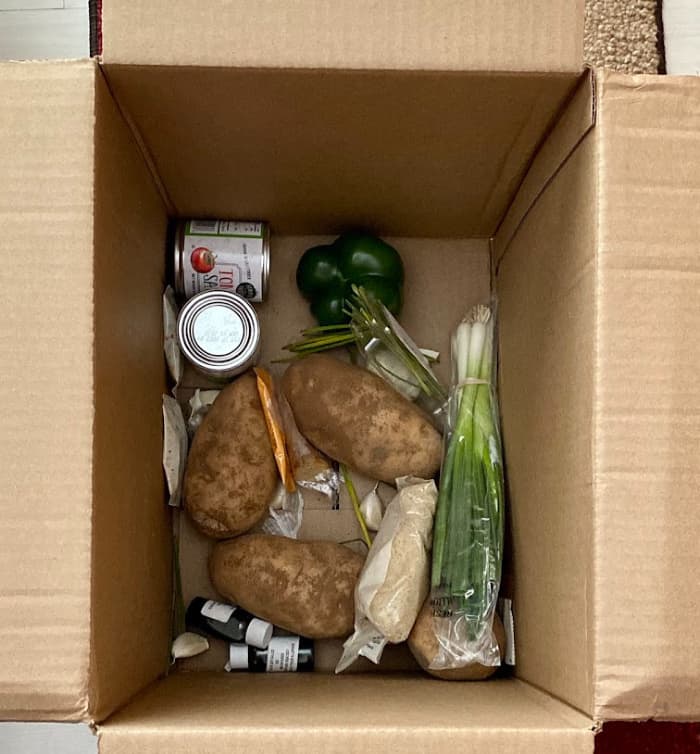 If you're ready to give Dinnerly a try, and don't want to read my entire Dinnerly review, then get $10 off your first box here.
Cooking meals
One of the biggest differences between Dinnerly and other meal kit companies is Dinnerly doesn't provide any recipe cards. To get the recipe instructions you need to log into their website or app. They also send the recipes via email. So, basically, when you're ready to cook you need to have your phone nearby or print out the recipe ahead of time.
This is one way Dinnerly is able to save money and pass that savings on to their customers.
I'm not going to lie. At first I really missed the recipe cards. It was a pain to look them up on my phone each time I went to cook a meal. However, like most things in life, I adapted.
After making a few meals I didn't really care whether or not I had the recipe card. Also, I realized that the recipe cards I have from other meal kit companies just became clutter on my desk or countertop.
So, keeping Dinnerly recipe cards virtual saves money, reduces waste, and helps keep my home clutter free.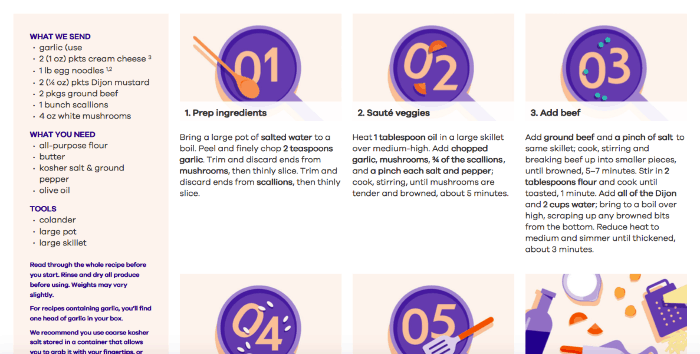 Moving on.
I thought the Dinnerly recipes were very easy to make. I think these are great for a beginner to intermediate home cook.
There weren't many ingredients and the cooking instructions spelled out each step.
Quality of ingredients
One of things I was most concerned about was the quality of Dinnerly ingredients. I purchase mostly organic, and higher quality, ingredients so I wasn't sure what to expect when I got my recipes. When I read "affordable" I often go to cheap. And when it comes to cooking one thing I don't want are cheap ingredients. I don't mind cutting costs in other ways but I prefer to use quality ingredients.
Here's my first box of ingredients.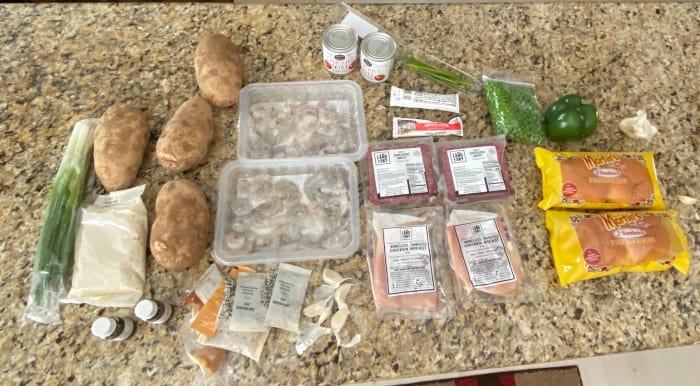 Overall, I'd say the ingredients were of very good quality. Of course, nothing was organic but I thought the meats and seafood were fresh and had great flavor.
To be honest, I was a little surprised with the quality. I was expecting rubbery chicken, smelly shrimp, and tough ground beef. However, I was proven wrong. Everything tasted fresh and of good quality – in all the boxes I received.
Especially, the ground beef. I got burgers in all my boxes and the ground beef sent made some of the juiciest burgers ever.
Also, the vegetables and other ingredients were fresh and of good quality. Nothing was rotten or tasted like it's been sitting around forever.
Overall, I was pleasantly surprised by the ingredients. Again, nothing is organic but if you don't care about that then it doesn't matter.
If you're ready to give Dinnerly a try, and don't want to read my entire Dinnerly review, then get $10 off your first box here.
My Dinnerly Recipes
Here are some of the Dinnerly recipes I prepared.
The first one I made was this Louisiana-Style Shrimp. I chose this one because it was labeled as fast to prepare and low-calorie. Not all Dinnerly recipes are labeled but the ones that are low-calorie are, so that's good if you're looking for this type of meal.
This recipe delivered on it's promises. It came together super quick.
The flavor was good – not my favorite – but still good. I wasn't 100% sold on the seafood seasoning it came with and I thought it could've used some garlic and a kick of hot sauce.
However, the shrimp was delicious and the rice was fluffy and very good.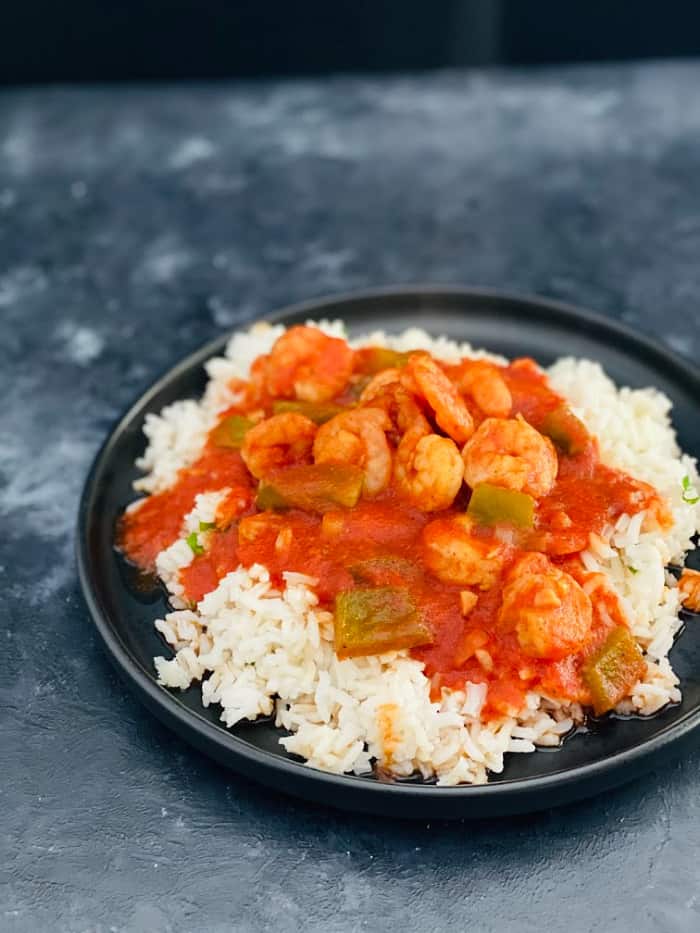 One of things I like to test with meal kits is how well the recipes can be prepped ahead of time. In an ideal world wouldn't we all love to cook homemade meals every night. Unfortunately, that's not always possible. So, I like to meal prep the meal kits I get.
The Louisiana-Style Shrimp prepped perfectly. I stored the sauce and rice separately, then I heated up a plate when we were ready to eat.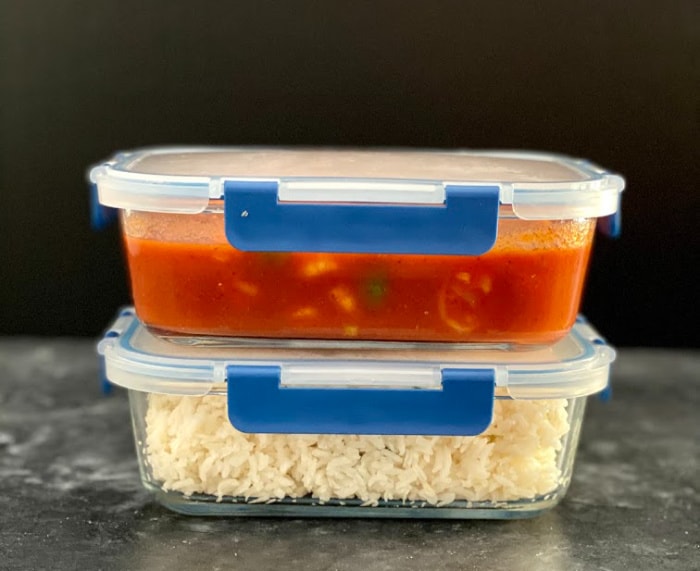 This Tomato Pesto Ravioli was my favorite Dinnerly meal. It was sooooo delicious! I saved it for our Sauce Sunday dinner and everyone chowed it down.
All the ingredients were fresh and tasty. The recipe came together very fast. I did make a couple changes to this recipe. It was suppose to be made in a skillet but I opted to bake it in the oven instead. Regardless, it came out perfectly and I would order this again.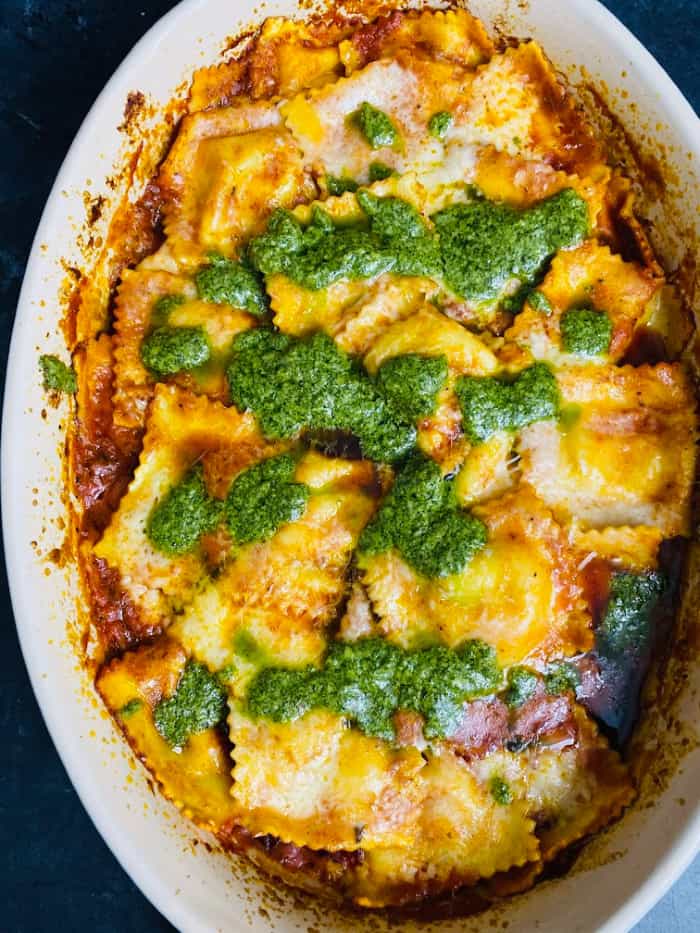 In two of my Dinnerly boxes I got burgers. Burgers seem to be a staple on the Dinnerly weekly menus.
This BBQ Cheeseburger with homemade onions rings was scrumptious. At first, I thought the onion rings were going to be high maintenance but they ended up easy to prepare. And they were awesome. Not exactly healthy but they were baked and not fried so I guess that makes them "healthier".
The seasoning and cheeese on the burger were delish. Also, I'm a big fan of the rolls Dinnerly sends. Every package of rolls I received were soft and good.
I would order this meal again.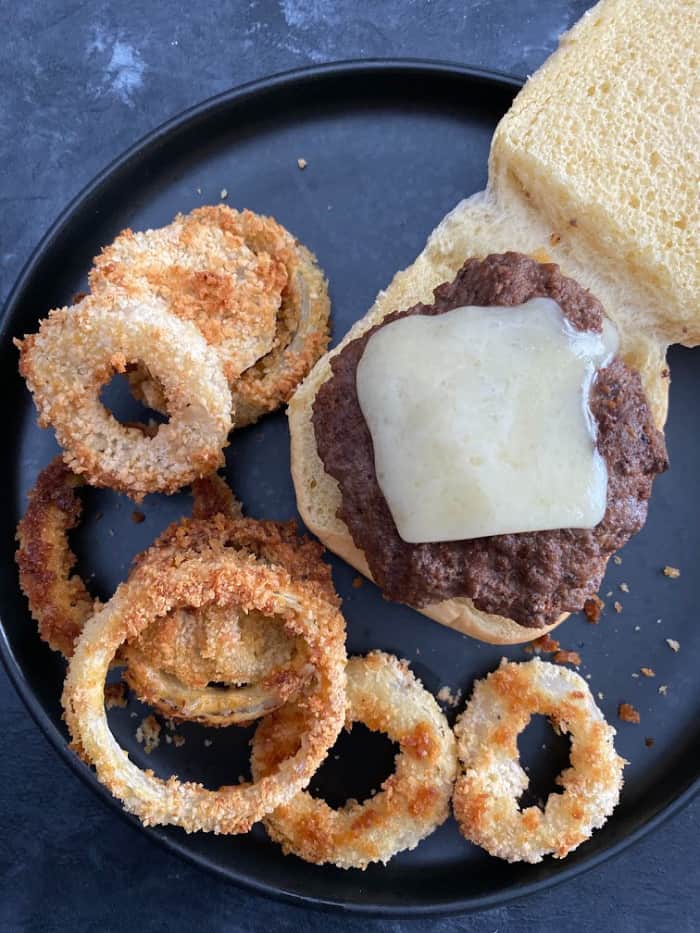 Another burger option I ordered was the Everything But the Bagel Burger. This was suppose to come with baked fries but I accidentally used all the potatoes in a different recipe. Oops. This was one of my first mistakes with not having a recipe card right next to me 🙂
We loved everything about this burger. The beef for so flavorful and juicy, rolls were soft, and the seasoning was perfect.
I would order this again.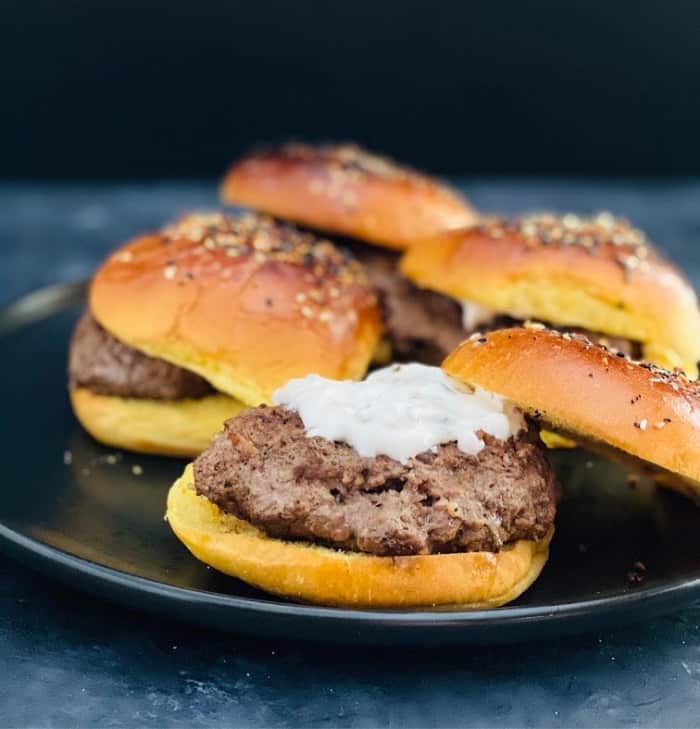 Last but not least I want to share a chicken recipe with you. I made this Greek-lemon Oregano chicken which is very similar to a chicken recipe I make often for my girls. How can we go wrong with chicken, mashed potatoes, and green beens?
This recipe was quite basic but it was very family-friendly. My kids gobbled it up without any complaints and that's always a win for me.
The texture of the chicken was good – not rubbery at all. Green beens were fresh and the potatoes made a creamy tasty mashed potato. No complaints with this recipe.
If you're ready to give Dinnerly a try, and don't want to read my entire Dinnerly review, then get $10 off your first box here.
Who Dinnerly is good for
Dinnerly is a great option for people who want to share in the benefits of a meal kit service but don't want to break the bank doing so. Dinnerly would also work well for people who prefer classic family-friendly recipes like pastas, burgers, and other home-style meals.
Who Dinnerly isn't good for
Dinnerly is not a good option for people who are looking for organic ingredients. While I do think Dinnerly offers quality for the value the ingredients are not organic. Also, Dinnerly will not work for people who want speciality diet options like Keto, Paleo, or Gluten-free. They do not offer these options at this time. Last, people who want more eclectic meals, or to be pushed out of their cooking comfort zone, won't benefit from Dinnerly. Dinnerly meals are more on the basic side compared to other meal kit companies. If you want organic eclectic meals that cater to specialty diets then I recommend checking my Sun Basket review or Green Chef review.
Final thoughts on Dinnerly Meal Kits
Overall, I was pleasantly surprised by Dinnerly. Yes, the meals are on the basic side but I actually think this meets a big need of families who want to use meal kits but worried that their kids won't like the food. Not everyone wants eclectic meals. I thought the recipes were flavorful and very family-friendly. Not to mention, easy to prepare.
I do think that Dinnerly provides an affordable meal kit option for busy families without compromising quality.
I hope my Dinnerly review helps you make a better informed decision on whether or not to use this meal kit company. If you have any questions please leave them in the comments and I'd be happy to answer them.
I'd love to learn more about your experience with Dinnerly. Have you tried the recipes? Do you think you're getting a good value?
If you're ready to try out Dinnerly box then here's $10 off your first box.