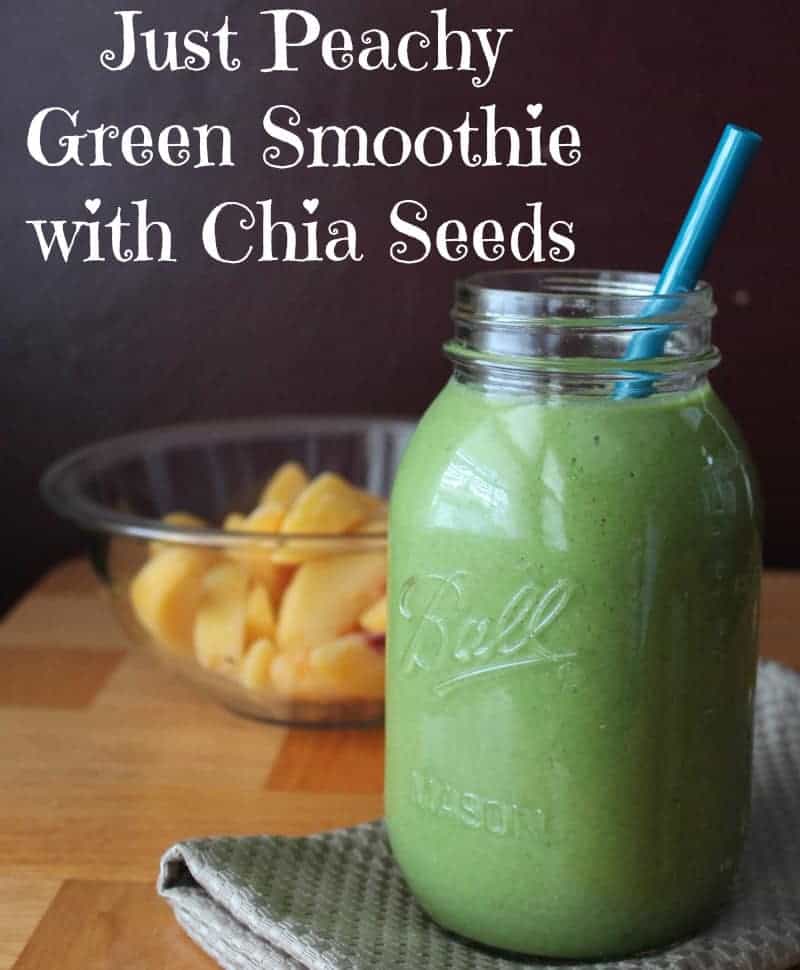 Do you dream about food? Do you wake up in the middle of the night and think "Hmmm that would taste great in a smoothie"? If you do, then you know where I am coming from. If not, then just sit back and enjoy the fruits of my nightly thoughts, literally.
The other night I must have been dreaming about green smoothies because I woke up around 4:00am with the vision to make a green smoothie using peaches. Yum peaches! Of course, I did not have peaches in the freezer because I typically drink my tropical smoothie which has pineapple and other tropical fruit. But peaches were now calling my name. So I went and bought a big bag of frozen peaches and got to work on a new green smoothie recipe. Yay for green smoothies!
I made this recipe about 3 times before getting the flavors right. At first, I added in plain Greek yogurt but for some reason I enjoyed it better without. I was able to taste the peaches more without it. Then I played around with some sweetness using pure vanilla extract and pure maple syrup. Usually, I don't need to use sweetness in my smoothie – because the banana adds enough – but with this one I thought needed it.
For the liquid I went with my favorite – unsweetened coconut milk. I love the creaminess it gives to my smoothies. You could use almond milk or whatever liquid you like.
I decided to use kale for the "green" in this green smoothie because that is what I had on hand. Spinach would work great too.
Lastly, I decided to add chia seeds to this smoothie. Chia seeds are considered a super food and because they are tasteless can easily be added to smoothies or other meals without noticing. Chia seeds might be small but they are packed with Omega -3 fatty acids, protein, fiber, phosphorus, and other nutrients. They have been know to help with heart health, keep you full and hydrated longer, and fight belly fat. Lots of good things come from making chia seeds a part of your diet. Read more about chia seeds here.
The end result was a just peachy delicious creamy green smoothie. This recipe makes about 4 cups of smoothie which is enough for 2 servings although many times I will drink the whole thing and skip my mid morning snack.
Here are more of my green smoothies.
Blueberry and Kale Green smoothie
Strawberry and Kale Green Smoothie
Peanut Butter and Banana Green Smoothie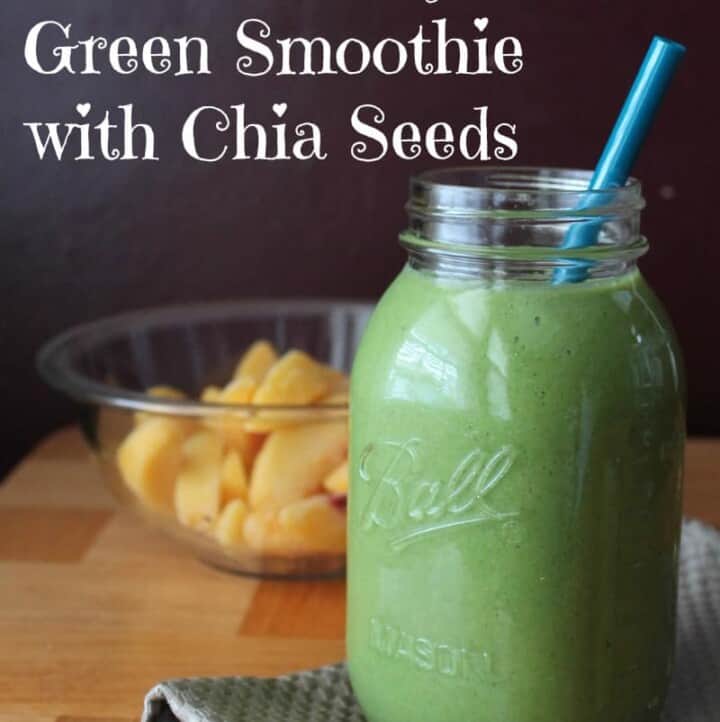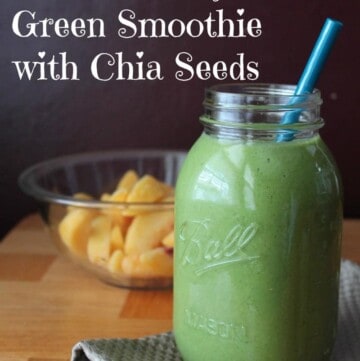 Ingredients
2

cups

frozen peaches

1

medium banana

the more ripe the better

1

tablespoon

chia seeds

2

cups

unsweetened coconut milk

1

cup

water

more if needed for consistency

½

teaspoon

pure vanilla extract

1

teaspoon

pure maple syrup

1

cup

or so of kale

Put all ingredients in a blender and blend. Add more water

if needed, till you get the consistency you like.
Instructions
Put all ingredients in a blender and blend. Add more water, if needed, till you get the consistency you like.
Notes
Make ahead instructions
All ingredients (besides coconut milk and water) can be made ahead of time into smoothie freezer kits. add liquid the morning you make the smoothie.
Nutrition
Serving:
2
g
|
Calories:
202
kcal
|
Carbohydrates:
36
g
|
Protein:
3
g
|
Fat:
7
g
|
Fiber:
6
g
|
Sugar:
6
g