This week I am making recipes for Vitamix. Yesterday I posted the Buffalo Hummus recipe and if I do say so myself this is one of the best hummus recipes I ever tasted. So good! Today I am going to share my Peanut Butter Banana Green Smoothie.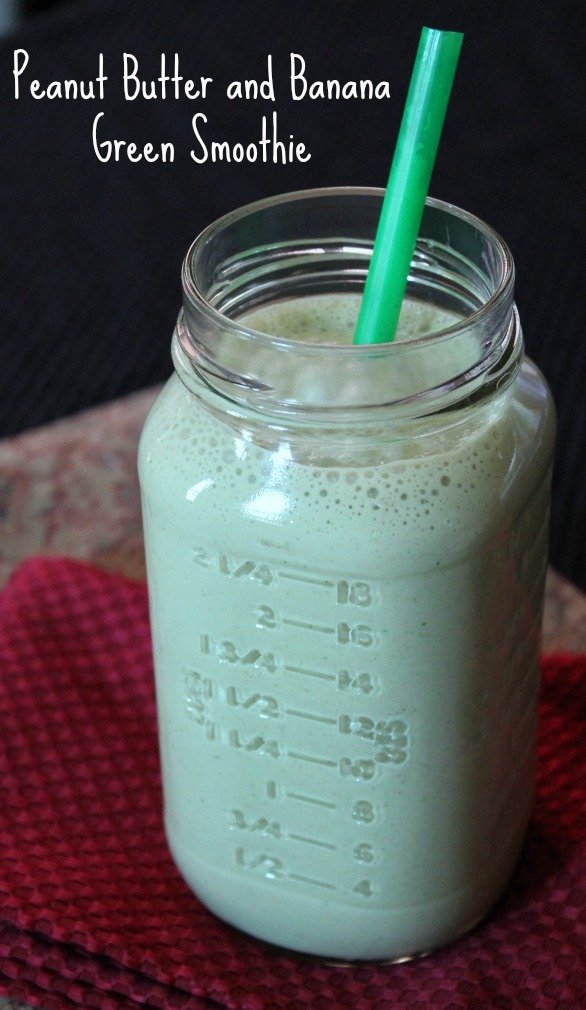 One of my favorite snacks is a banana sliced up with some peanut butter to eat with it. Yum! I could probably eat that every day without ever getting sick of it. The reason I don't is because it has to many calories to consume just for a snack. I try to keep my snacks between 100 – 150 calories and my banana peanut butter snack clocks in easily at over 250 calories. So I don't get to eat my favorite snack as much as I want.
However, I could justify eating that many calories for a meal. That's when it hit me to create a smoothie using bananas and peanut butter. I know I am not the first person to think of this but I felt pretty genius at the time.
I have been drinking green smoothies for a few months now and love them. It is such a great way to get in a solid dose of veggies especially when you don't feel like eating a side of broccoli every night with dinner. But I did wondered what kale would taste like mixed up with banana and peanut butter. For some reason that worried me even though I put kale in all my smoothies.
I decided to test the smoothie with kale despite my worries. I probably could have left it out but I drink smoothies to get my vegetables in so I knew I at least needed to give it a shot.
Well there was no need to worry. I placed all the ingredients into my Vitamix and within two minutes I had a super creamy and delicious Banana Peanut Butter Green Smoothie. Of course, the color was green from the kale but the flavor was all banana, peanut butter, and hint of sweetness from the maple syrup. Delicious and completely satisfied my craving for bananas and peanut butter.
For this recipe I highly recommend freezing the banana ahead of time. If not you will have to use a cup or so of ice to get that cold smoothie consistency. The smoothie will still taste good without the bananas frozen it just won't be cold or have a thicker smoothie consistency.
See other Vitamix recipe here.

Banana Peanut Butter Green Smoothie
Author:
Organize Yourself Skinny
Ingredients
1 large frozen banana
1 cup kale
1 cup almond milk
½ cup plain Greek yogurt
1 tablespoon peanut butter
1 teaspoon maple syrup
water if needed
Instructions
Place all ingredients into the Vitamix container in the order listed and secure lid.
Select Variable 1. Turn machine on and slowly increase speed to Variable 10, then to High. Blend for 1 minute or until desired consistency is reached. Serve immediately.
Nutrition Information
Serving size:
1 (2 cup) smoothie
Calories:
173
Fat:
6
Carbohydrates:
25
WW Points +:
5
Fiber:
3
Protein:
10
** Disclosure: I was provided with a Vitamix blender along with compensation to purchase ingredients for this recipe. All opinions are my own.
Get Instant Access to my Green Smoothie Recipe E-cookbook!
Sign up now to receive your FREE e-cookbook that I created exclusively for my email subscribers! That's you!