Blueberry banana muffins prepared with wholesome ingredients and protein-rich Greek yogurt make the perfect grab and go meal prep breakfast and/or snack.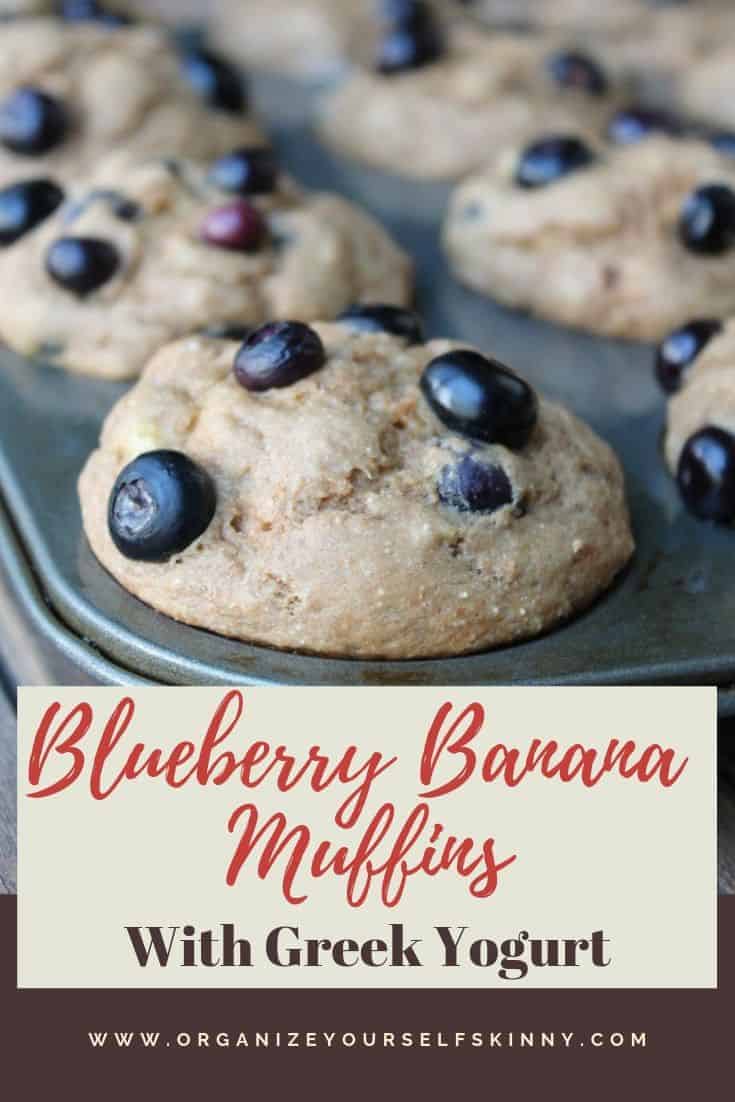 Is there anything prettier than plump blueberries bursting out of a muffin? I don't think so. You know what's even better? When a recipe taste just as delicious as it looks! Now I know a few weeks ago I promised to lay off the baked goods, and only post bikini-friendly low carb recipes but here's the thing… I often have ripe bananas that need to get used up, my kids love muffins, and blueberries are in season. In my defense, these muffins are made with wholesome ingredients, filled with fruit, and only 184 calories per muffin. So today, I think we can handle this blueberry banana muffin recipe being in our lives. Can we agree? Good! Cause I'm excited to share it with you.
Let's get right to the blueberry banana muffin recipe. If you're more of video person then check out this quick "how to" I put together for this recipe.

Blueberry Banana Muffins
Step 1: I started by whisking together the eggs and brown sugar. The first time I made these blueberry banana muffins. I use 1/2 cup of brown sugar and I didn't think it was enough sugar – either did my kids.
Next time I prepared this recipe I used 3/4 cup of sugar and that added the perfect amount of sweetness without being too sweet. My oldest suggested sprinkling some raw sugar on top before baking. I actually think thats a good idea so I might try that next time. Of course, if your goal is to keep sugar to a bare minimum then skip the extra sugar.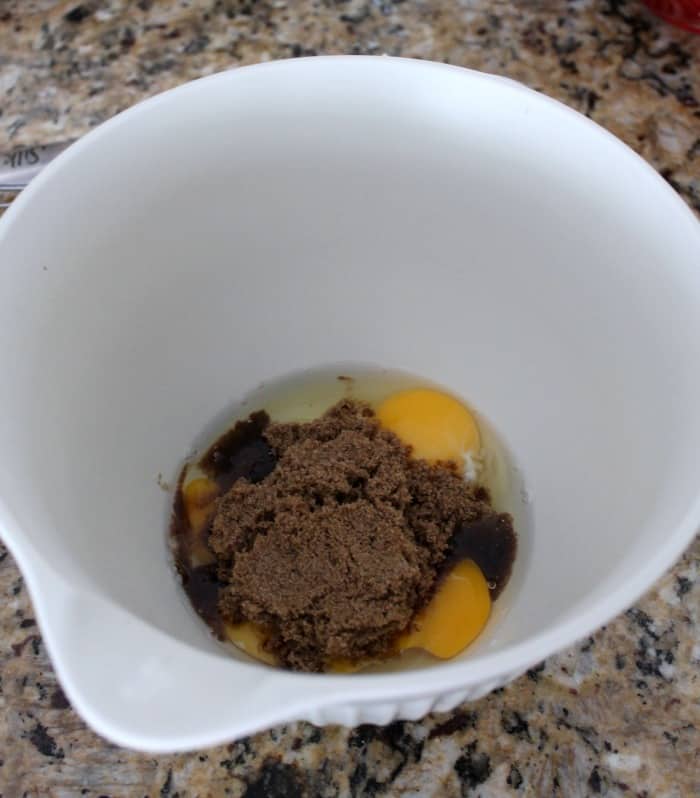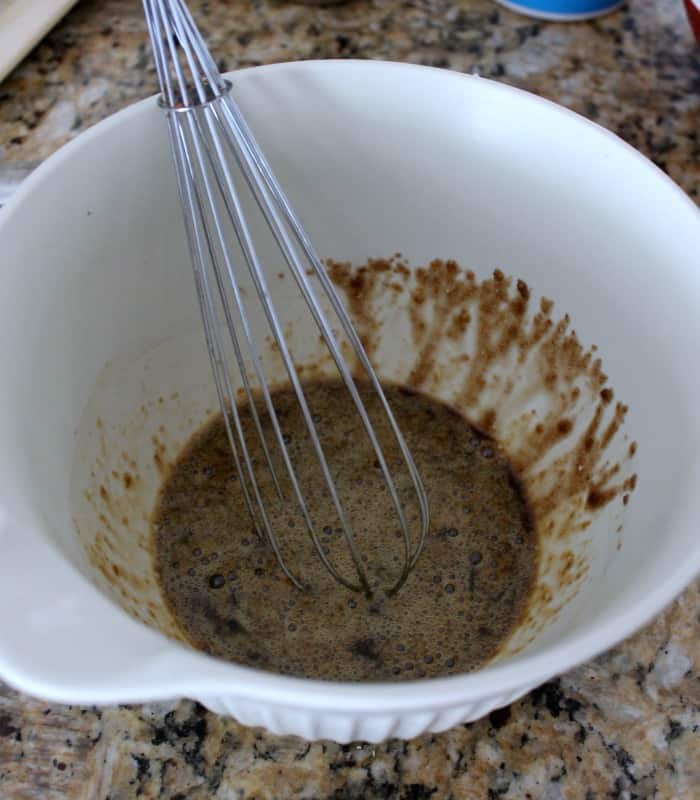 Step 2: I whisked in the mashed bananas and Greek yogurt. To add flavor and sweetness make sure the bananas are ripe. I love using Greek yogurt in baking recipes. I often use it in place of the oil because it creates a nice tender muffin without a lot of added fat.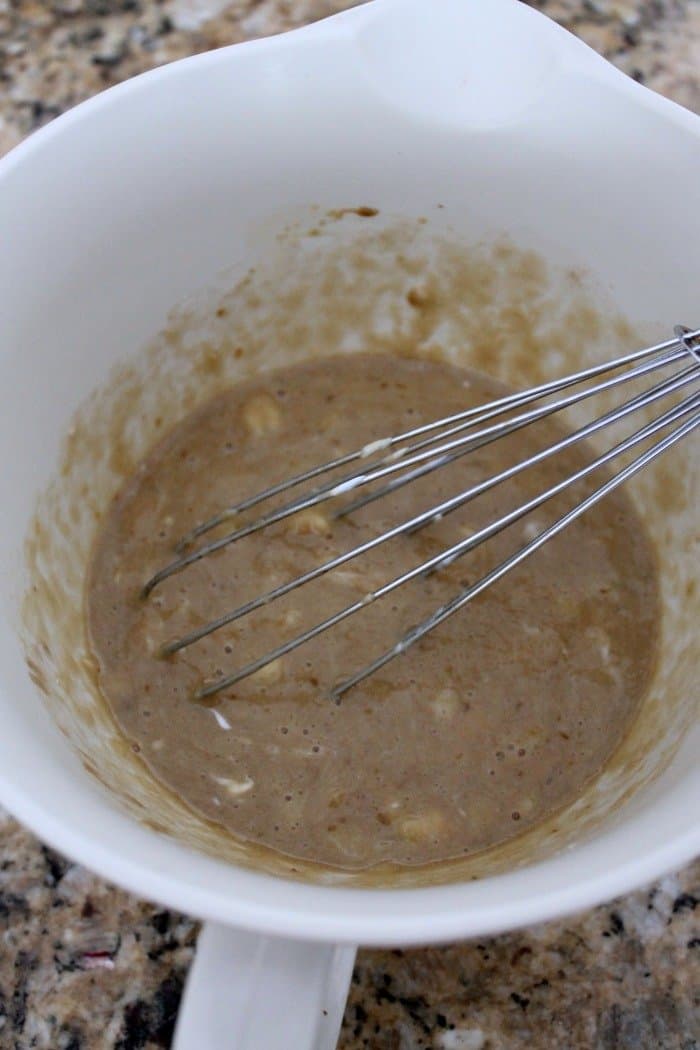 Step 3: I whisked in the unsweetened coconut milk and pure vanilla extract. Of course you can do this in the previous step but…I forgot sooo here it is 🙂
I use unsweetened coconut milk instead of dairy milk because that's what I have in my refrigerator. I do think it works well in baked good recipes but if all you have is dairy milk then that will work just fine.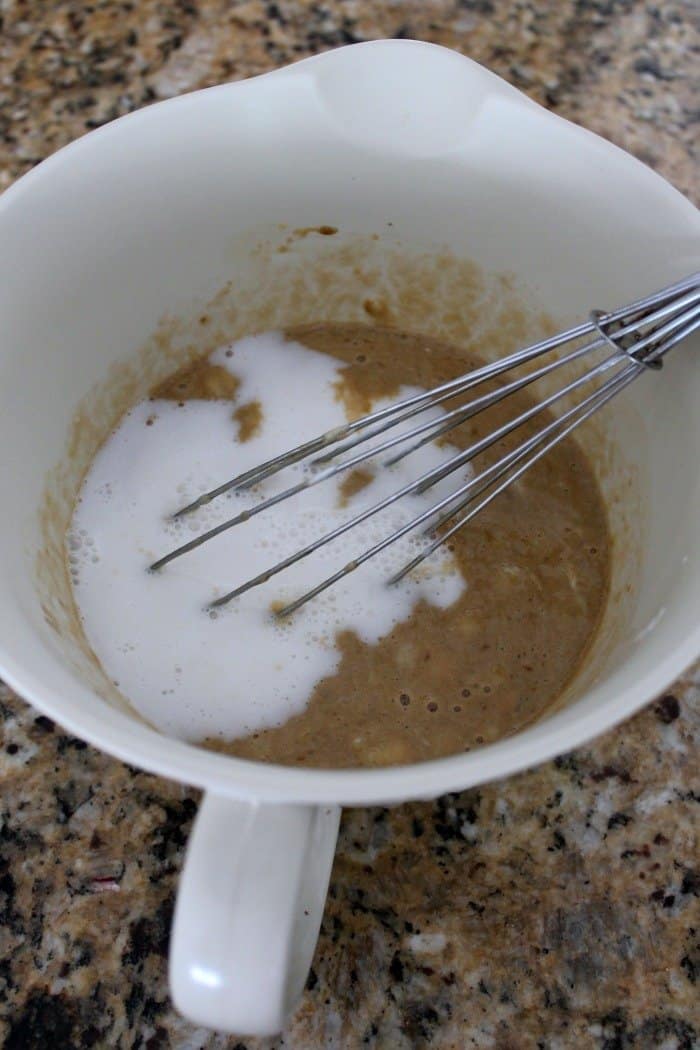 Step 4: After all the wet ingredients are mixed together I added the dry ingredients right on top. Back in the day I use to mix dry ingredients in a seperate bowl, create a well in the center, and then pour the wet ingredients into the dry. Now I just plop it on top and mix together. Guess what? It works just as good and I don't mess up two bowls.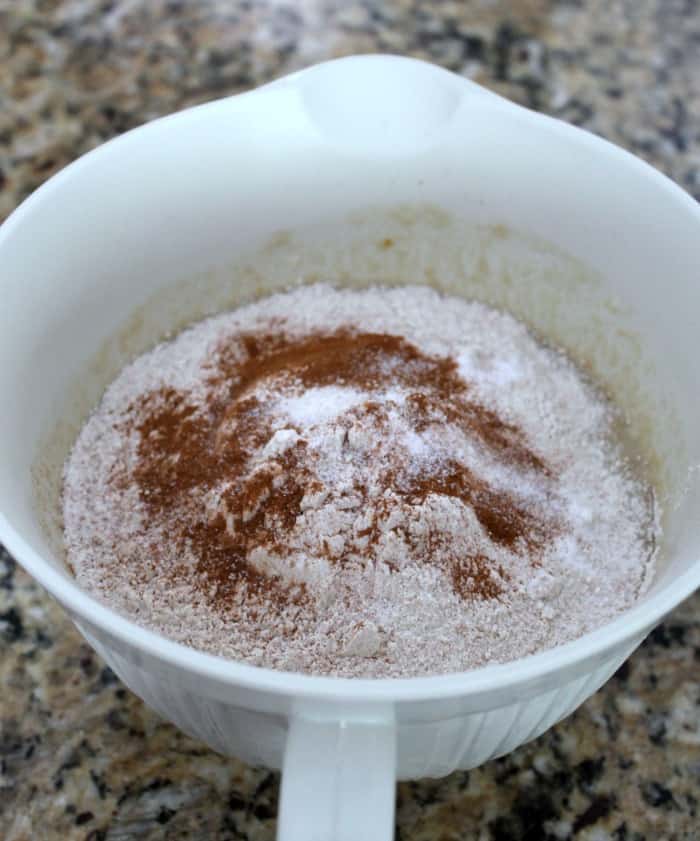 Step 5: I stir the ingredients just until the dry mixes with the wet and forms a wet batter. I've read that over mixing muffin batter isn't good so I try not to.
Step 6: Once the batter ingredients are combined I slowly stir in 1 1/4 cups of fresh blueberries. I save 1/4 cup of the blueberries for the top of the muffins.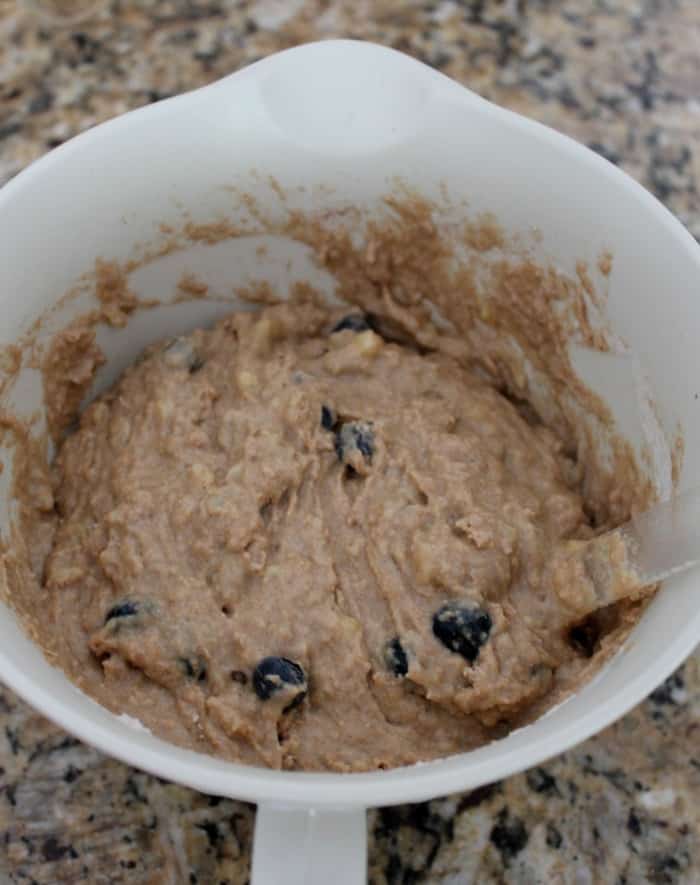 Step 7: Then I divided the batter among a 12-cup muffin pan coated with cooking spray and topped the muffins with the rest of the blueberries. I used a medium cookie scoop to divide the matter. Each muffin cup got about 2 cookie scoops. This is where you can add a little extra sugar to the top if you like. Don't worry I won't judge.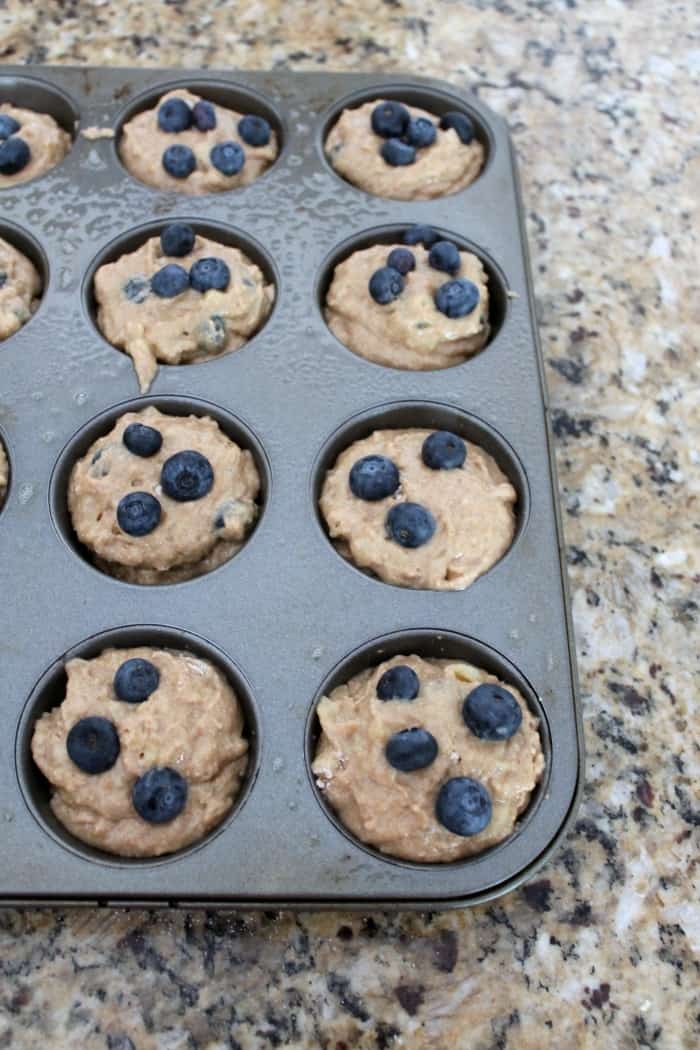 Step 8: Now stick these beauties in a 350 degree oven for 18 – 20 minutes. Mine cooked perfectly at 18 minutes. I was sooooo excited to see how well the muffins rose and the way the blueberries plumped. YUM!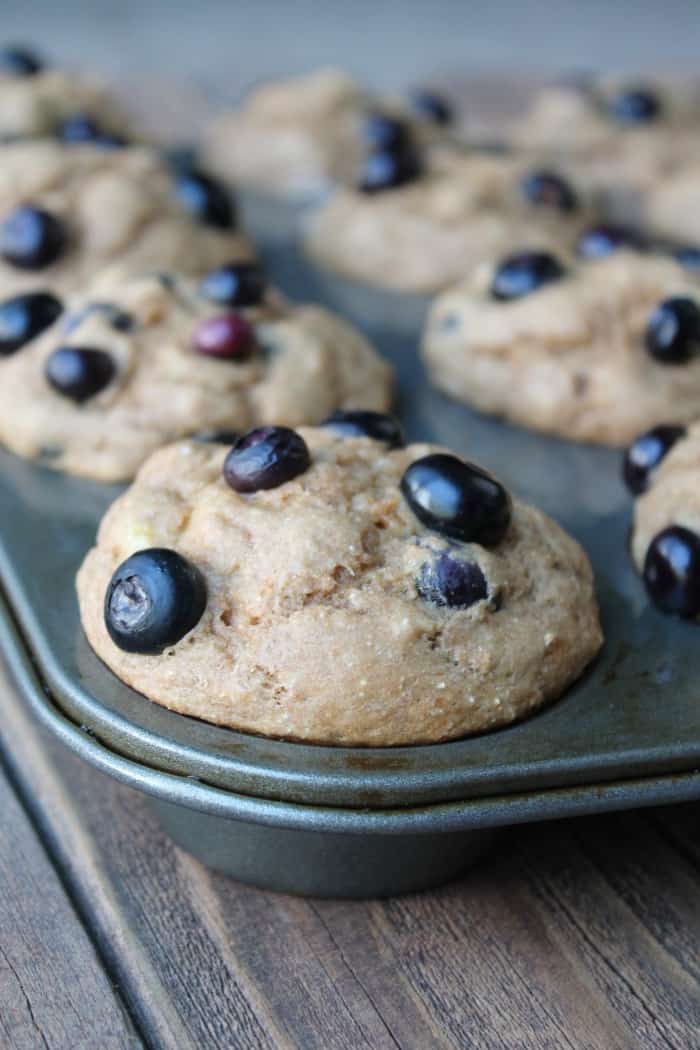 These blueberry banana muffins are absolutely delicious and completely satisfying. If you get worried about having baked goods lying around the kitchen don't worry I got you – I'm completely the same way. My solution is to stick these muffins into the freezer after they have cooled. You can the muffins wrap individually in plastic wrap and then place in a gallon size bag in the freezer. This makes it easy to grab and go. Or just stick all the muffins in a gallon size freezer bag and lay flat in the freezer until the muffins are frozen. Then arrange the bag however you want.
These muffins take about 45 minutes to thaw on the counter. Or warm it up for a few seconds in the refrigerator.
You will love having these Blueberry Banana Muffins available for a quick healthy snack.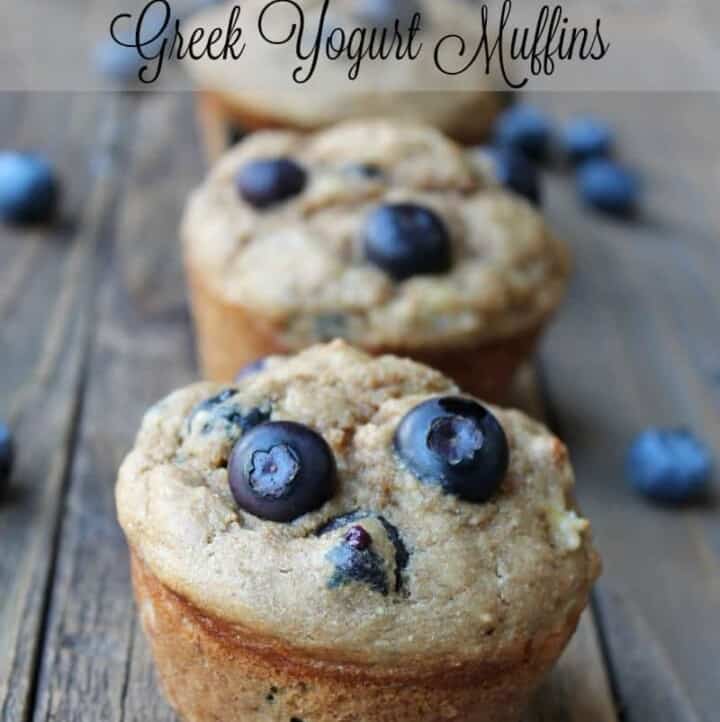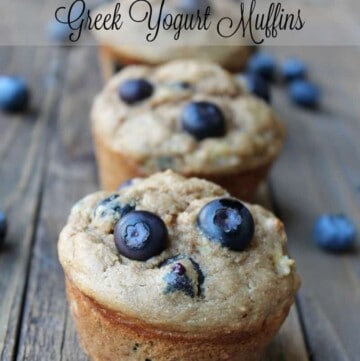 Blueberry Banana Greek Yogurt Muffins
Low-fat blueberry banana muffins prepared with wholesome ingredients and protein-rich Greek yogurt make the perfect grab and go snack.
Print
Pin
Rate
Ingredients
2

large eggs

3/4

cup

brown sugar

1/2

cup

plain greek yogurt

3

medium ripe bananas

mashed

1

teaspoon

pure vanilla extract

1

cup

unsweetened coconut milk

2

cups

white-whole wheat flour

1

teaspoon

baking soda

1

teaspoon

cinnamon

1/4

teaspoon

salt

1 1/2

cups

fresh blueberries
Instructions
Preheat oven to 350 degrees.

In a large bowl whisk together the eggs and brown sugar.

Next whisk in the mashed banana, Greek yogurt, pure vanilla extract, and unsweetened coconut milk.

Add the flour, baking soda, cinnamon, and sat on top of the wet ingredients.

Mix the ingredients just until everything is combined.

Slowly stir in 1 1/4 cup of the blueberries.

Divide the batter among a 12-cup muffin pan.

Divide the rest of the blueberries among the muffin cups.

Bake for 18-20 minutes or until you can stick a toothpick in the center of a muffin and some crumbs stick to it.

Let cool in the pan for about 5 minutes and then finish cooling on a wire rack.
Notes
Sugar: 19
Make-ahead instructions
These muffins can be made completely ahead of time an frozen up to 3 months.
Nutrition
Serving:
1
g
|
Calories:
184
kcal
|
Carbohydrates:
39
g
|
Protein:
5
g
|
Fat:
1
g
|
Fiber:
4
g
Other blueberry banana recipes:
Blueberry banana overnight oats
Blueberry banana baked oatmeal
Slow cooker blueberry banana steel cut oatmeal