Medjool Dates blended together with chocolate, almonds, and coconut to create this delicious almond joy inspired energy bite.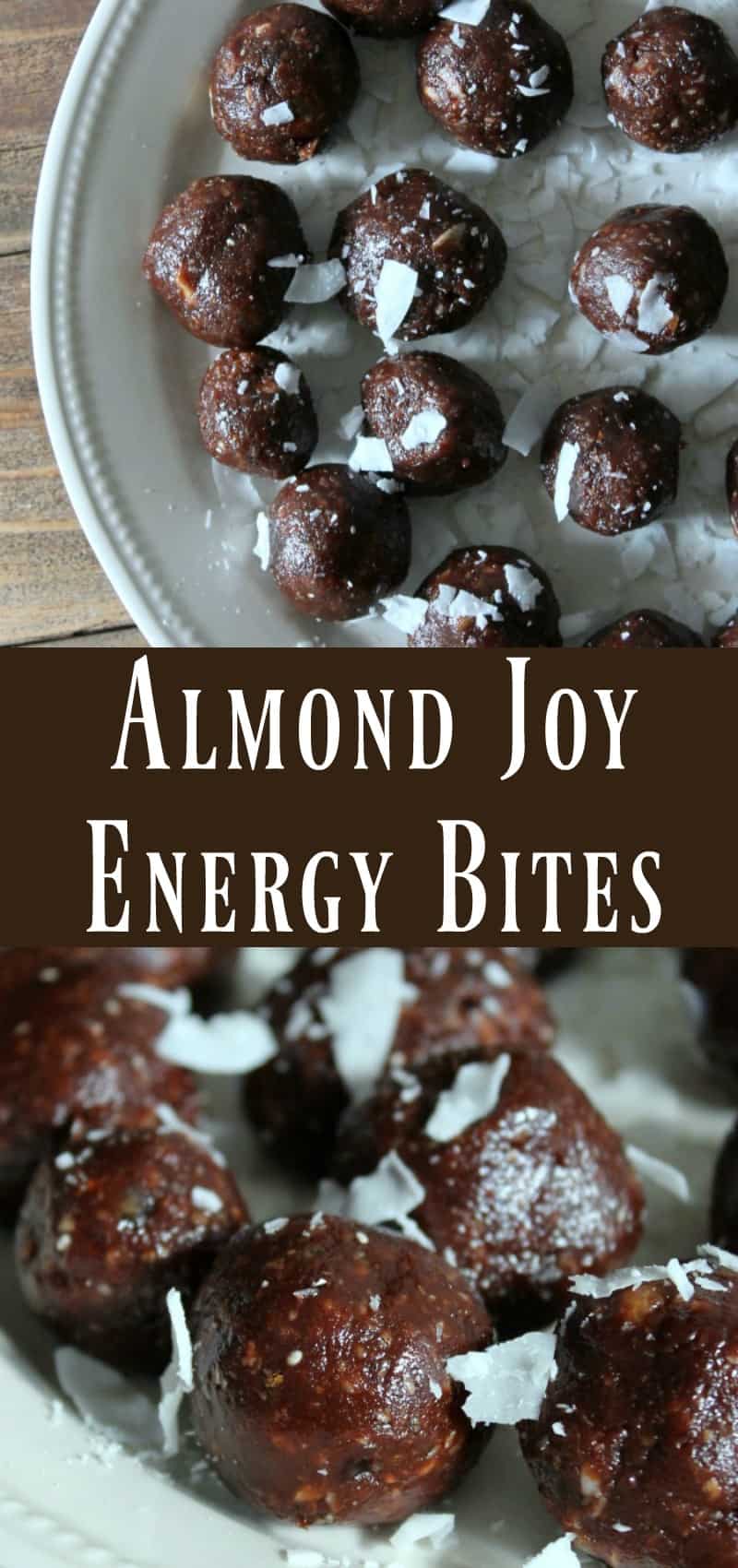 I truly feel this recipe needs a disclaimer. Like warning warning these energy bites are good for you but OMG you WILL eat every last bite if not careful. Okay now that I got that out of the way let's dig into these scrumptious energy bites inspired by the classic almond joy candy bar.
Truth be told I can't tell you the last time I ate an Almond Joy candy bar. I know it has chocolate, almonds, and coconut but I don't remember the exact taste of one. I'm sure it's good but I'd also be willing to bet that it's waaaaaay too processed tasting and sweet. Just saying it's how candy is nowadays. Yes I use the term "nowadays" because at 41 that's just how it is.
I made an Almond Joy inspired overnight oats recipe a month or so ago and even though it's good I feel this Almond Joy Energy Bite recipe takes the cake. I bet I could hand these out at halloween and everyone would love them. Seriously! It takes like a ball of chocolate candy and, if I didn't make these myself, I would be hard-pressed to believe these energy bites are good for me.
But here's the deal.
They kinda are.
These Almond Joy Energy Bites include simple whole ingredients like Medjool dates, almond butter, raw almonds, chia seeds, unsweetened coconut, and unsweetened cocoa powder. A quick note about the dates. Before I put them in the food processor I soak in warm water first to softened them up. Then I drain the water and add the dates to the food processor with everything else.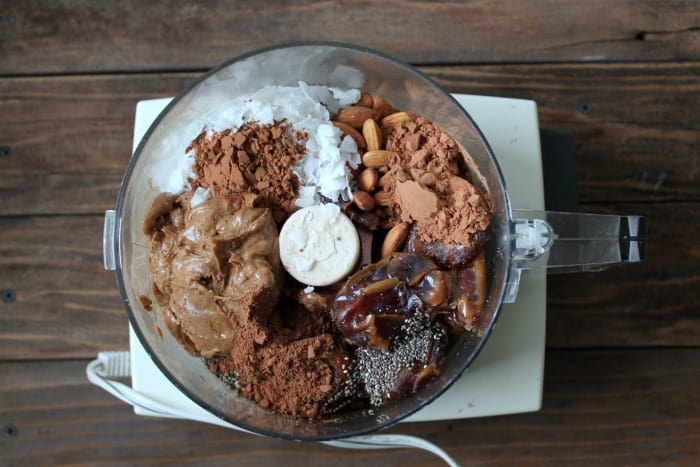 You want to process the ingredients until a big thick "batter" appears. You will have to scrap the sides a couple times. Another quick note. I used raw whole almonds. When making this again I would chop up the almonds a little bit before putting them in the food processor. This would make it easier to get smaller pieces of almonds throughout.
I also want to mention that almond butter is freaking delicious. As you probably know, I'm a huge peanut butter lover but I have to say almond butter is starting to give peanut butter a run for its money.
After you blend all the ingredients together stick the dough in the refrigerator for an hour or so. This helps to firm up the dough to make it easier to roll balls.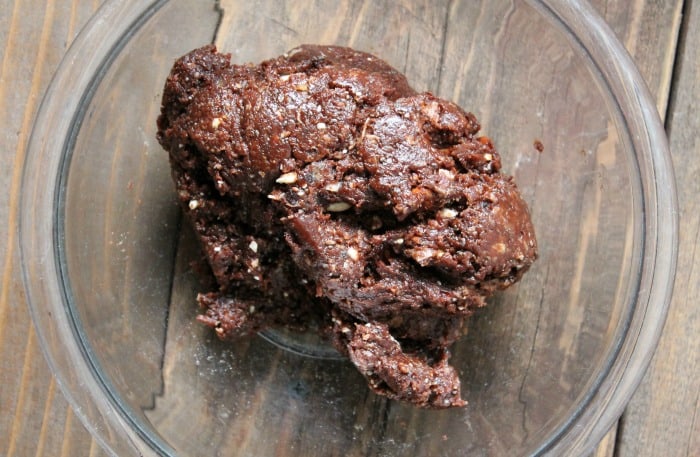 After the dough has chilled, roll the dough into 20 balls. Then place back in the refrigerator to chill (and set) overnight. I think it's important to let these energy bites sit for a couple reasons. First, the chia seeds expand a bit and create a firm bite. Second, the flavors become better blended and more pronounced. You can perfectly taste all the coconut, almonds, and chocolate.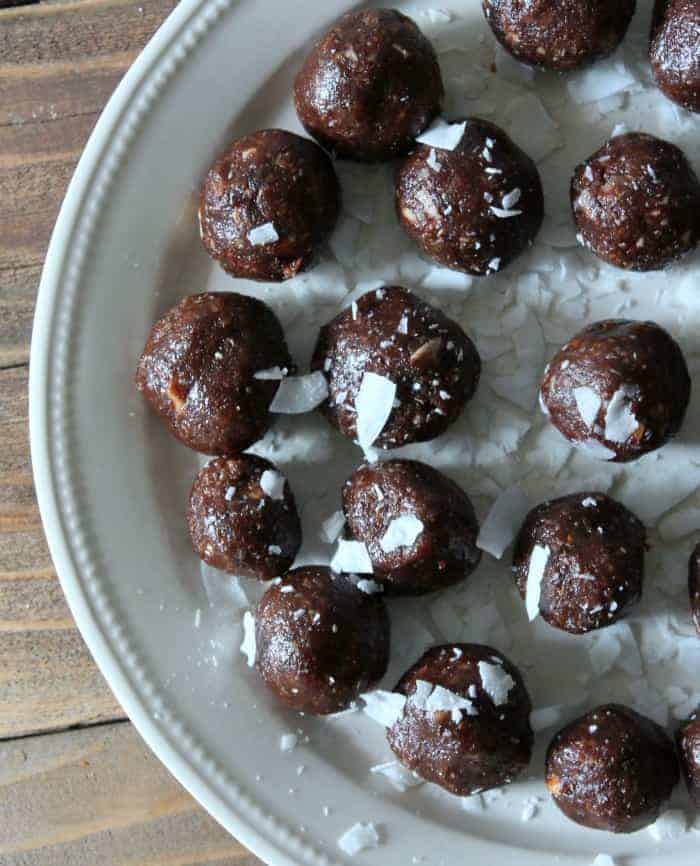 If you want to roll in coconut or finely chopped almonds you can certainly do that. However, keep in mind, that will increase the calories. I sprinkled some extra coconut on for pictures but other than that I enjoyed as is.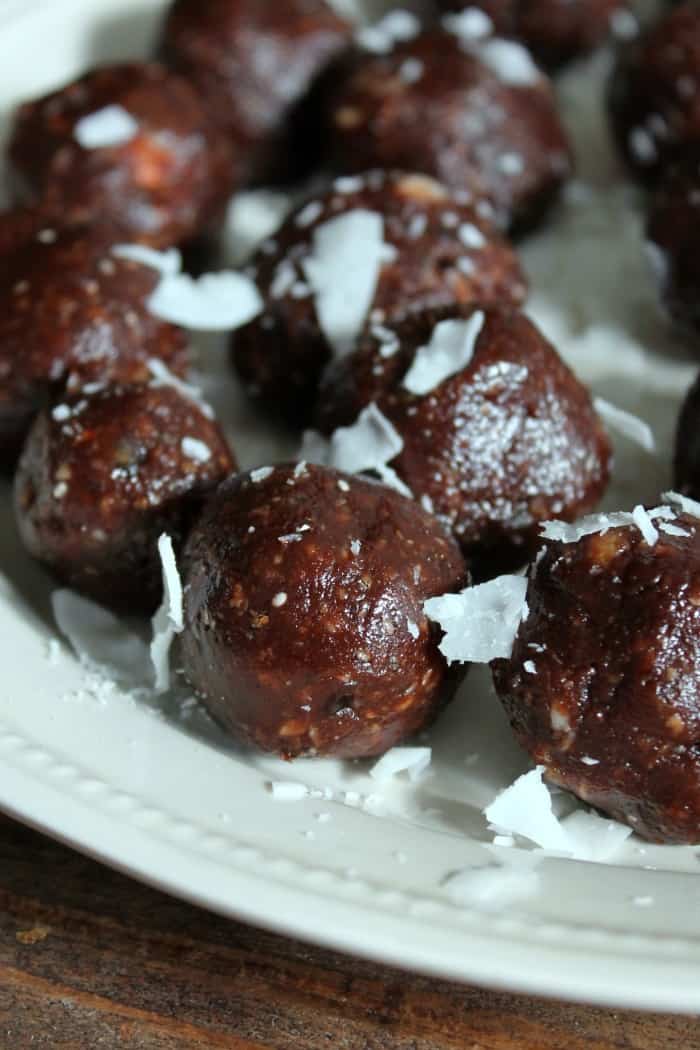 This is my favorite energy bite recipe to date. I made a pumpkin spice and chocolate peanut butter recipe a couple weeks ago which both are fantastic. But I think this Almond Joy inspired energy bite beats them both out. It is YUM YUM YUM!
The last thing I will say is to make sure to stick these energy bites in the freezer. If you don't you'll run the risk of eating the entire batch in a week (or day) and you shouldn't have more than 2 a day for a snack.
Let me know if you make these Almond Joy Energy Bites and if love them as much as me.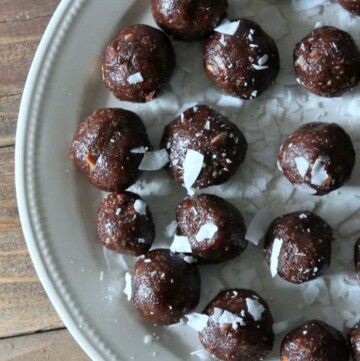 Ingredients
14

Medjool dates

pitted, soaked in warm water for 10 minutes, and drained

1/2

cup

almond butter

2

tablespoons

unsweetened cocoa powder

1/4

cup

whole raw almonds

1/2

cup

unsweetened coconut flakes

1

tablespoon

chia seeds

1

teaspoon

vanilla

dash of salt

tablespoon

of water if needed
Instructions
Add all the ingredients (except water) to a food processor. Process until all the ingredients are blended and a thick dough forms. If the dough is not sticking together or is crumbly add 1 tablespoon of water.

Place dough in the refrigerator for 1 hour. This is to help it firm up to make it easier to roll the energy balls.

Roll dough into 20 energy balls and refrigerator overnight.
Notes
Sugar: 9
This recipe can be made ahead of time and store in the refrigerator up to 5 days and frozen up to 3 months.
Nutrition
Serving:
1
g
|
Calories:
103
kcal
|
Carbohydrates:
2
g
|
Protein:
2
g
|
Fat:
6
g
|
Saturated Fat:
1
g
|
Fiber:
2
g