This delicious skillet recipe is filled with fiber and protein rich quinoa and black beans to keep you full for hours. It's deliciously flavored with southwest spices and gets a nice spicy kick from the jalapeño. When the quinoa is made-ahead of time this recipe comes together in 30 minutes or less.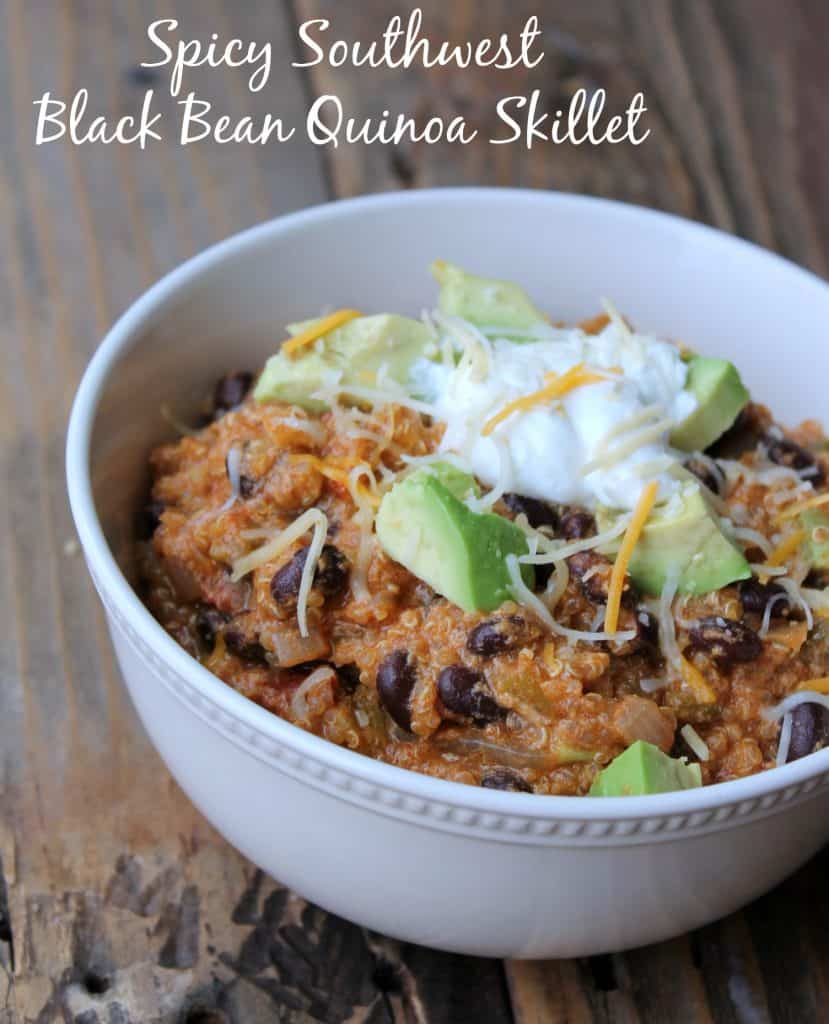 Quinoa has become the ingredient of the year for me. So far I have used it in salads, overnight oats, egg bakes, and lots of casseroles (my favorite is this cajun one). Quinoa truly is the super food that could! If you haven't tried it yet then I recommend picking up a bag today and giving it a try. Quinoa is gluten free, easy to prepare, filled with tons of fiber and protein, and can enhance almost any recipe.
Hence my new recipe – Spicy Southwest Black Bean Quinoa Skillet.
This recipe is a pantry recipe at it's finest! Every ingredient I used I had in my pantry or refrigerator ready to be created into this delicious new skillet meal. I also want to point out that this skillet recipe comes together very quickly when the quinoa is made ahead of time. Typically, I make a batch or 2 of quinoa during my meal prep day to use in recipes throughout the week.
Also, this recipe can be 100% vegan if you cook the quinoa in water or vegetable broth. However, if you are a meat lover then this recipe would be great with some shredded chicken or taco meat. Throw in what you have and let the magic happen.
These are the ingredients I used.
I started with 1 medium onion and a jalapeño pepper. It seems I always have a lonely jalapeño in my fridge. Probably because they add a lot of flavor to a recipe, without a ton of money, so I often pick one or two up.
I diced both up. Be careful with the pepper because they are hot and the oil can burn your hands or eyes. Make sure to wash your hands right after handing the peppers. If you prefer a less spicy dinner then leave the pepper out.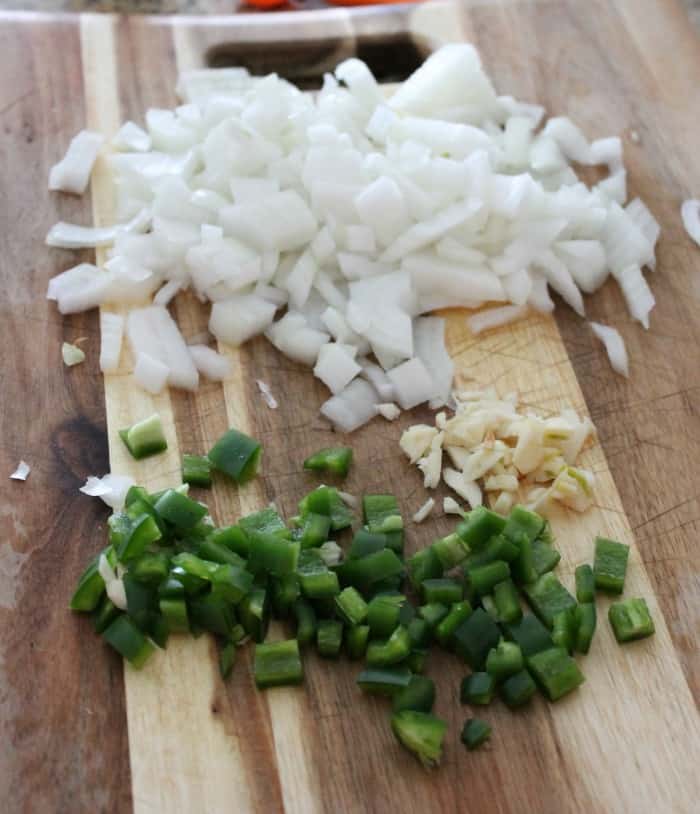 Next I simply sautéed the onions and peppers in a little olive oil until the onions were translucent.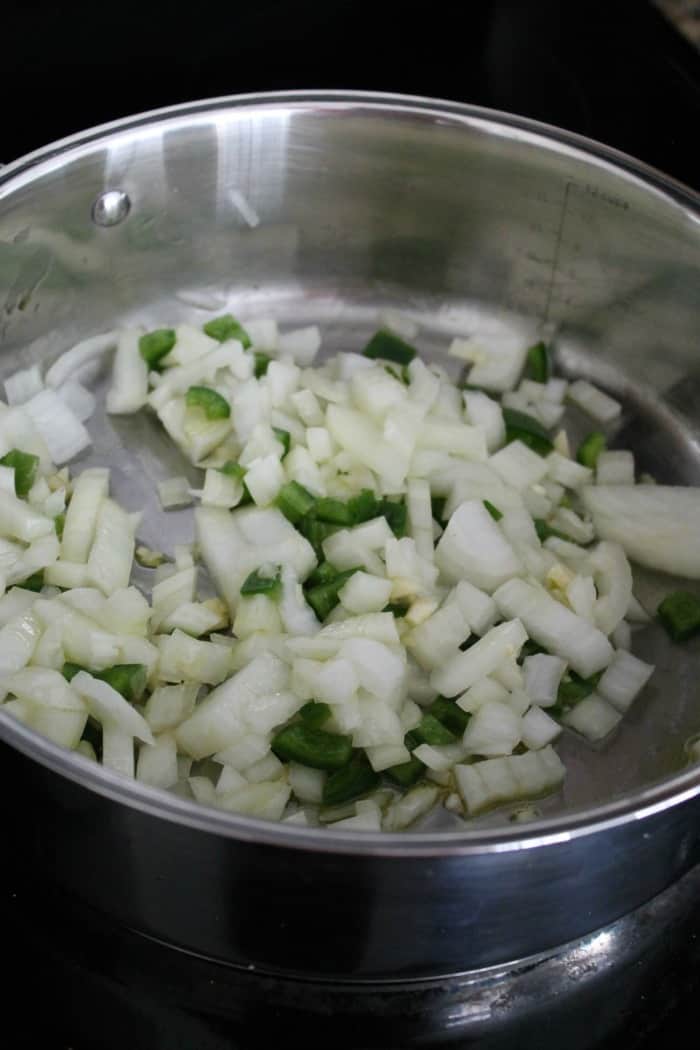 Then I sprinkled the spices over the onions and peppers and let it cook for another 1-2 minutes. I like to cook spices this way as I feel it cause them to bloom and become more flavorful. If you find the spices starting to stick to the pan then add a little stock or water. I used Simply Organic Southwest Taco Seasoning for this recipe but you can use any taco seasoning you like.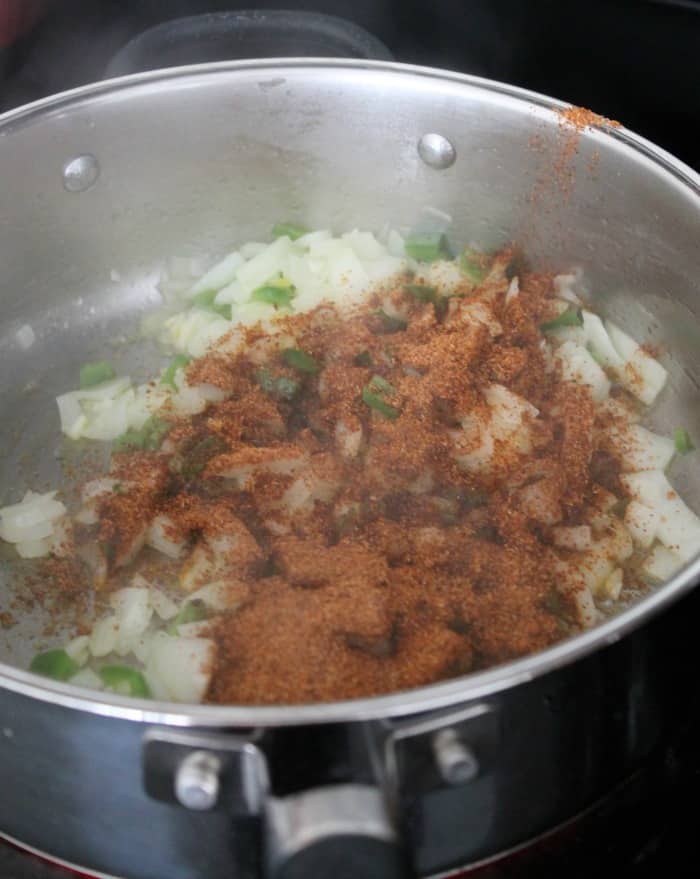 Next I stirred in the tomatoes, chilis, and black beans. All three of these ingredients are staples in my pantry.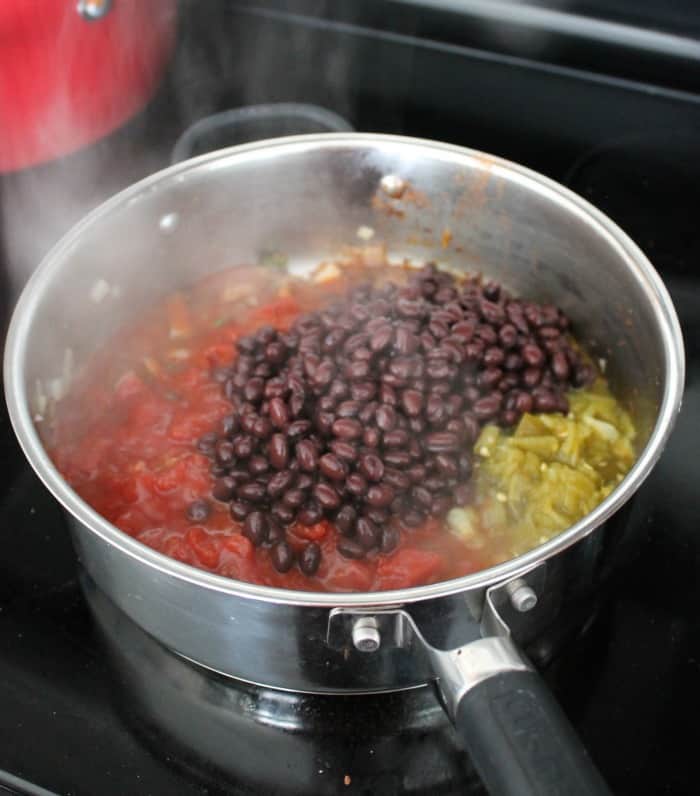 After I let the tomatoes and beans simmer for about 10 – 15 minute I stirred in the quinoa, shredded cheese, and greek yogurt.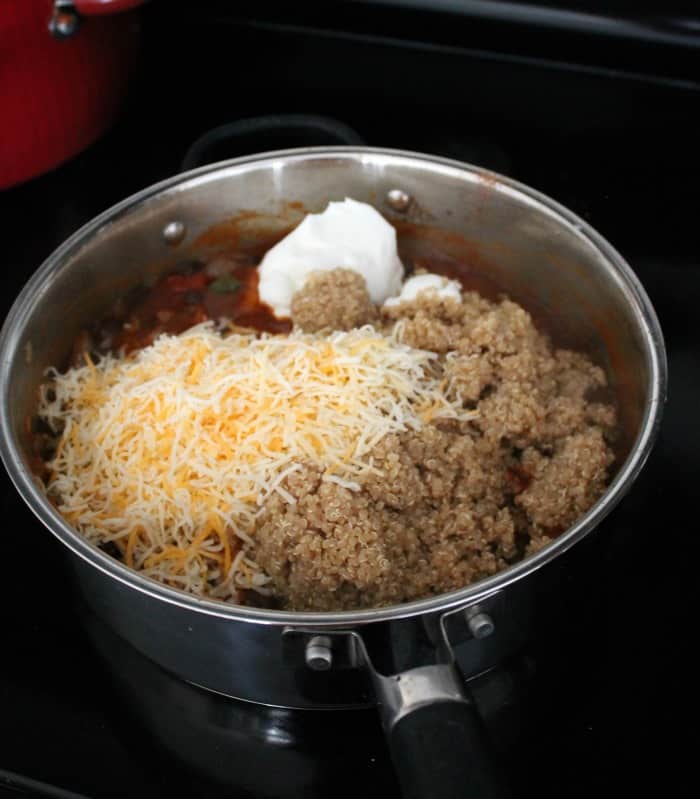 The greek yogurt and cheese add creaminess and the quinoa adds a nice texture. I let this cook for another 2-3 minutes or until it was hot.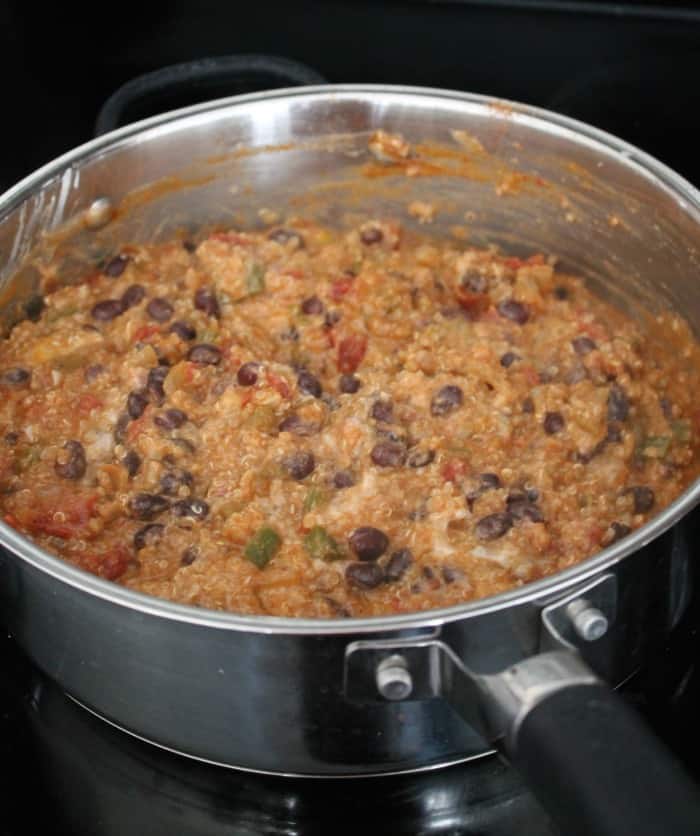 Then I served with a little bit of avocado, plain greek yogurt, and sprinkle of cheese. Because I like spicy I added a couple dashes of hot sauce to mine. Mmmm Mmmm Mmmm. This is good, easy to make, and reheats perfectly. After it cooled, I portion out the recipe into these containers, and froze. When I was ready to eat I placed the portion into a bowl and reheated it in the microwave. You can also reheat this recipe on the stove. It was delicious and tasted like the day I made it.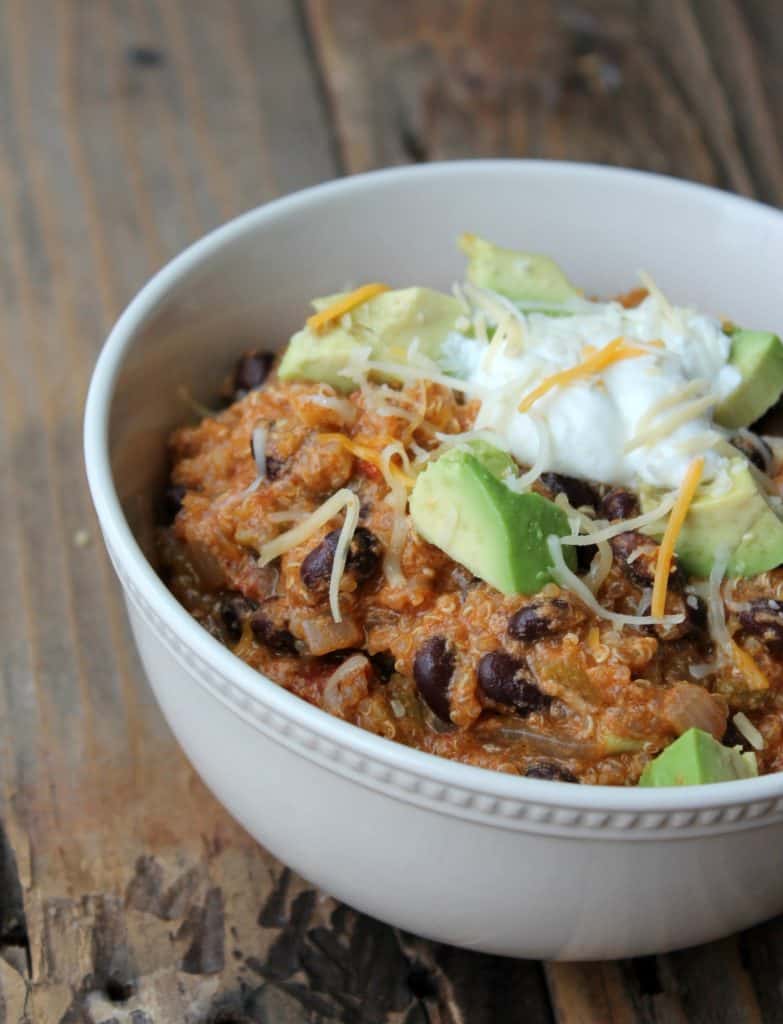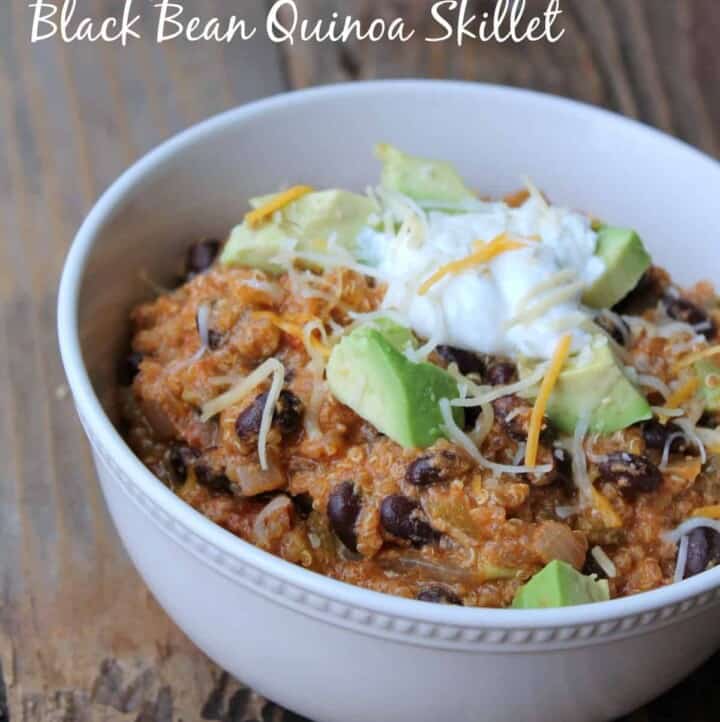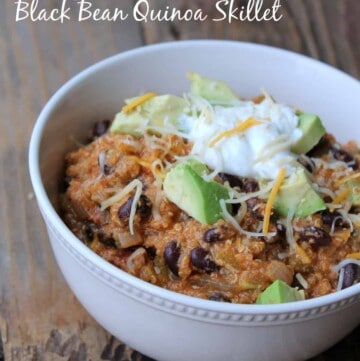 Ingredients
1

medium onion

diced

1

jalapeño pepper

seeded and diced

1

tablespoon

olive oil

2

tablespoons

southwest taco seasoning

1

14.5 ounce can chili style diced tomatoes

1

4-ounce can mild diced chilis

1

15.5 ounce can black beans, drained

1/4

cup

plain greek yogurt

1

cup

shredded Mexican cheese

2

cups

cooked quinoa

avocado

plain greek yogurt, and shredded mexican cheese (optional)
Instructions
In a large skillet heat the olive oil over medium heat. Add the onion and pepper and sauté until the onions are translucent.

Sprinkle seasoning over the vegetables and cook for 1-2 more minutes. If needed add a little water or stock to keep the seasoning from sticking to the pan.

Stir in the tomatoes, chilis, and black beans. Bring to a boil and then let simmer for 10 - 15 minutes.

Stir in the greek yogurt, Mexican cheese, and quinoa. Cook for another 3-5 minutes or until hot.

Serve with avocado, greek yogurt, and cheese.
Notes
sugars: 4
Make-ahead instructions
This recipe can be made completely ahead of time and stored in the refrigerator up to 5 days and in the freezer up to 3 months. You can also make the quinoa ahead of time to prepare this recipe in 30 minutes or less.
Nutrition
Serving:
1
g
|
Calories:
311
kcal
|
Carbohydrates:
47
g
|
Protein:
15
g
|
Fat:
7
g
|
Saturated Fat:
3
g
|
Fiber:
7
g