Spaghetti squash alfredo with chicken is a fun spin on this popular classic Italian-American comfort food and turns it into a delicious low-carb and keto-friendly dinner recipe. It's so easy to make and you'll never miss the pasta!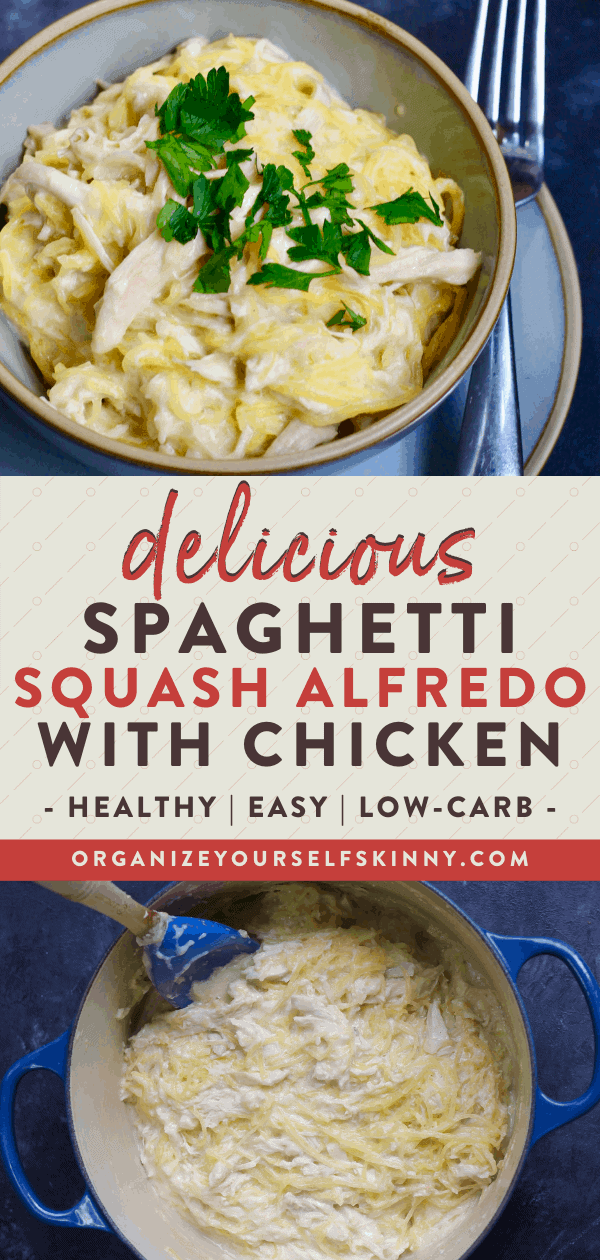 I think one of the best things to happen to me this year is the discovery of spaghetti squash. Yes, I know I've been a healthy lifestyle blogger for close to a decade now and should've tried this a LONG time ago but I just never got around to it.
I wouldn't necessarily call myself a squash girl.
However, it came in one of my green chef meal kits a couple of months ago and I was blown away. I made a shrimp scampi with it and it was amazing. I couldn't believe how much spaghetti squash mimicked the pasta.
Does it taste like spaghetti? Not 100% but it definitely fulfilling this pasta-loving girl's cravings.
So much so that I couldn't wait to create more of my favorite Italian dishes using spaghetti squash.
First up on the list is my favorite guilty pleasure: chicken alfredo. Who doesn't love rich creamy cheesy sauce with chunks of tender chicken?
It's so delicious and something that I only have once in a while. But, by creating a healthier version of alfredo and pairing it with low-carb spaghetti squash, I can have this any time I want!
Frequently Asked Questions About Spaghetti Squash Alfredo
Before I get to this scrumptious recipe, let's go over some questions.
What size spaghetti squash should I use?
A medium squash, about 3-4 pounds, will give about 3 cups of spaghetti squash. A larger squash, around 4-5 pounds, will give you about 5 cups of spaghetti squash. Of course, this can vary but this gives you an idea.
I always purchase a 3-4 pound squash which is a good size.
Does spaghetti squash taste good with alfredo sauce?
Beyond amazing! Honestly, if you've put pasta alfredo on the back burner because you're trying to eat low-carb or keto, then honestly this might be the best thing to come into your life. You're welcome!
Spaghetti squash has a very mild flavor so it absorbs all the flavors of a garlicky creamy alfredo sauce. Trust me, you'll love it.
Can you make spaghetti squash ahead of time?
Yes, thank goodness! Nobody has 45- 60 minutes during the week to cook spaghetti squash. So, for this recipe to come together within 15 minutes, it's important to have it cooked ahead of time.
I make the spaghetti squash on the weekend and then store it in a glass meal prep container and refrigerated. When I'm ready to make the recipe, I just add the squash when I'm supposed to in the instructions.
I also portion out the squash into freezer bags and freeze. When I want to make a recipe, I'll let the squash thaw in the refrigerator, or I'll warm it up in the microwave.
The only difference is I'll drain (and discard) any liquid that came about from thawing out then I just continue with the recipe.
How do you make low carb alfredo sauce?
Alfredo sauce is made with cream, butter, and cheese so it's naturally low-carb and keto. I lightened up this alfredo recipe while still keeping it low carb and keto. I use half and half, a small amount of butter, grated parmesan, garlic, and chicken stock. It is so easy to make and beyond delicious and perfect for a keto diet.
You can see the full recipe in the recipe card below!
Can you use jarred alfredo sauce?
Yes, you can and I have used jarred alfredo many times. My favorite jarred alfredo sauce is Rao's roasted garlic alfredo sauce. It's on the pricier side but it's made with minimal ingredients and is keto-friendly.
If you purchase jarred alfredo, I recommend reading the label to make sure there aren't any extra sugars or additives.
When you use jarred sauce, all you need to do is heat up the sauce on the stove and add the spaghetti squash and chicken until hot and heated through.
What type of chicken can I use in spaghetti squash alfredo with chicken?
This recipe is super versatile and my goal was to keep it very easy.
When I originally made this recipe, I used leftover rotisserie chicken I had in the fridge.
You can also use shredded chicken, grilled chicken, baked chicken, or whatever you want or have on hand. I bet you could even use flavored chicken like cajun chicken or any marinated chicken you have on hand. It's all good!
I prefer to use boneless skinless chicken breasts but you can also use boneless skinless chicken thighs.
What else can I add to alfredo sauce?
In this recipe, I added chicken because I love chicken alfredo but you can also add:
Shrimp
Scallops
Salmon
Steak
Spinach
Kale
Mushrooms
Asparagus
Sun-dried tomatoes
Honestly, the skies the limit!
Spaghetti Squash Alfredo Recipe with Chicken
Alright, let's get to this delicious recipe. I'm so excited!
Spaghetti squash
Olive oil
Butter
Garlic cloves
Half and half
Chicken stock
Flour
Parmesan cheese
Shredded chicken
Salt and pepper
Note: Grab the exact measurements for all of these ingredients in the recipe card below.
How To Cook Spaghetti Squash In The Oven
This is probably the hardest part of the recipe and the part that takes the longest. The good news is that you can do this ahead of time to have the spaghetti squash ready in the refrigerator for when you're ready to make the rest of this recipe.
You can cook spaghetti squash in the Instant Pot or the microwave but I've only cooked it in the oven. So the two methods I'm sharing today include using the oven.
Method #1
The first way is to cut the spaghetti squash in half lengthwise or across the middle using a sharp knife. This is not the way I do it because it's hard. Like really hard. Most spaghetti squashes I've purchased are super hard and almost impossible to cut raw.
However, if you do get it cut in half, then you would scoop out the seeds and guts. The guts are slimy and resemble what you'd find in a pumpkin.
Then, brush with some olive oil and sprinkle salt and pepper on top.
Place the squash cut side down and bake for 30 – 45 minutes in a 425 degrees oven. Time will be more or less depending on the size of the squash. It's done when the sides become very tender and you can easily remove the squash from the sides with a fork.
Method #2 (Preferred)
My preferred method is to cook the spaghetti squash whole. Only because it's easier and I don't need to worry about losing a finger.
All you need to do is poke holes all around the squash. This helps to steam the inside of the squash and keeps it from blowing up in the oven – imagine that mess!
Cook in a 425-degree oven for 45 to 60 minutes. It's done when you can stick a knife through the skin with minimal effort.
When it's done, let it sit for 10 -15 minutes because it's going to be hot.
Then, cut it down the center and remove the seeds and guts. You can also cut it lengthwise but I tend to get more squash when I cut it down the middle.
Then, take a fork and scrap and pull out the spaghetti squash from the sides.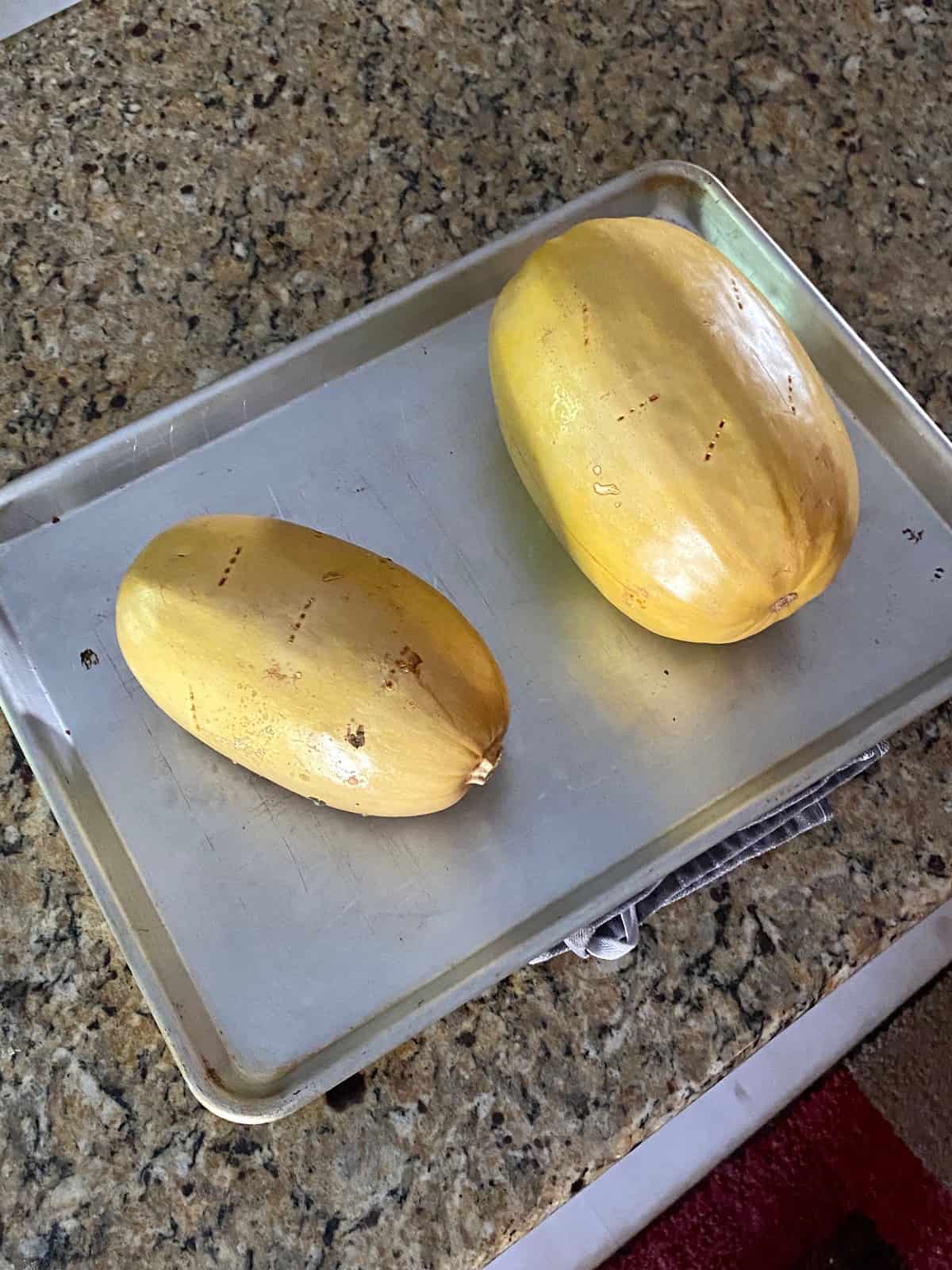 The Difference Between Cooking The Spaghetti Squash Whole vs. Halved
The big difference when cooking whole or cutting in half is the amount of time it takes to cook the squash and also the flavor.
Cutting it in half and roasting it that way gives it more of a roasted flavor. Cooking it whole steams the squash and you don't get that roasted flavor. Personally, I think the flavor difference is minimal and if you're going to use it in a recipe that requires a sauce, it really won't matter- Which is why I choose the easy way.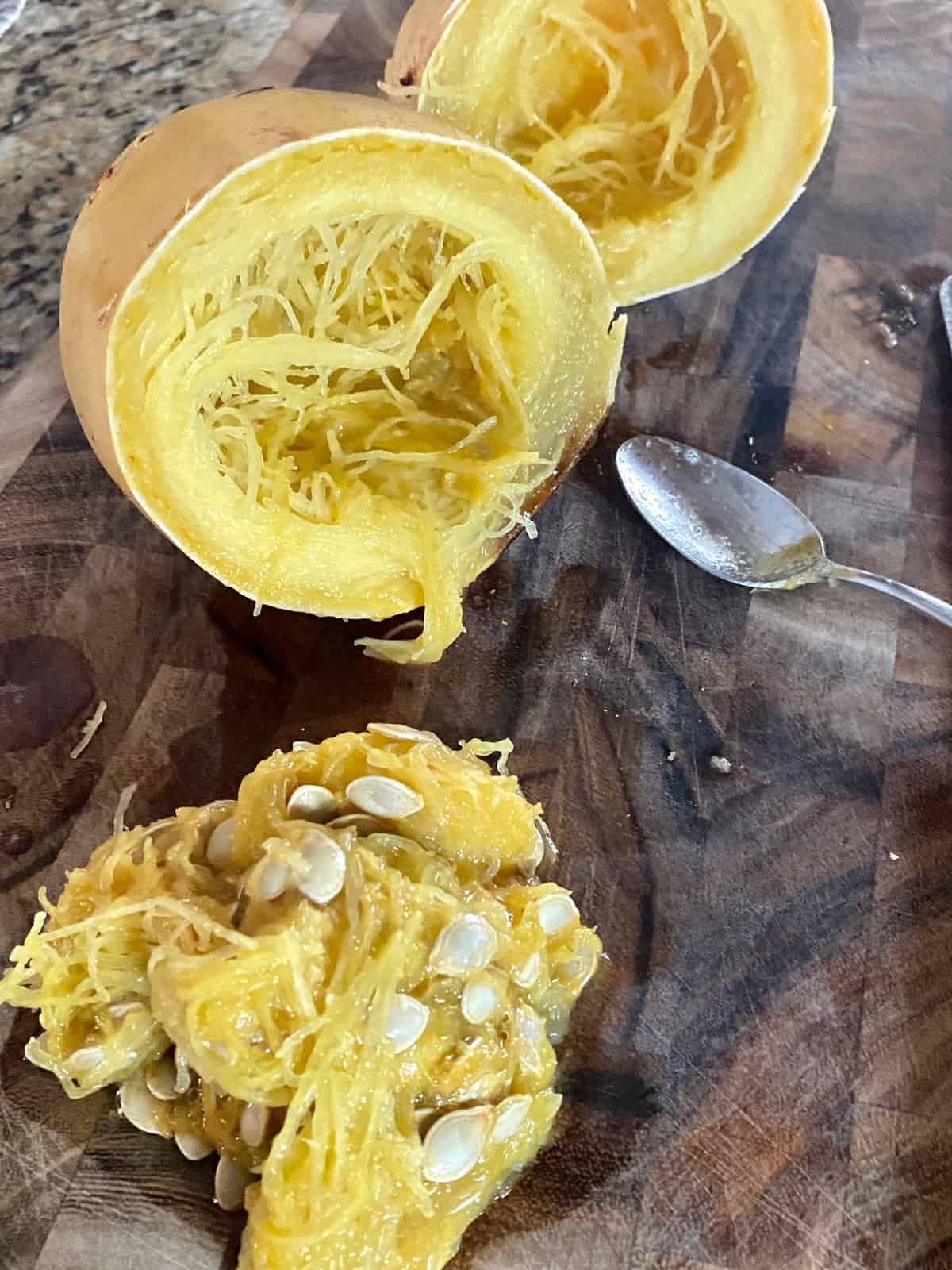 How To Make Spaghetti Squash Chicken Alfredo
The first thing you're going to do is cook the spaghetti squash. Make sure to follow one of the two methods mentioned above!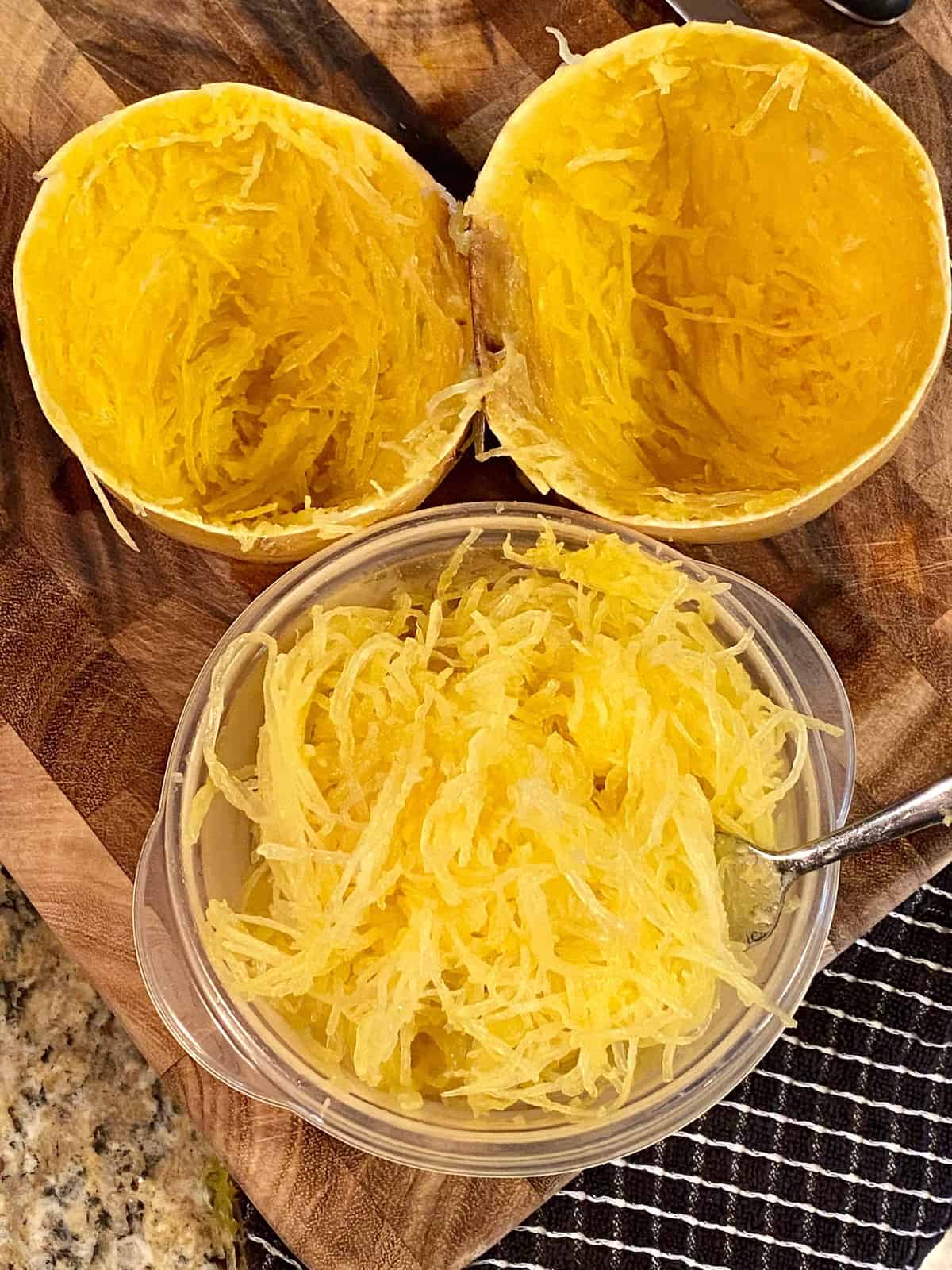 After you have finished prepping the spaghetti squash, start making the alfredo sauce. In a 6-qt dutch oven or a large, deep saucepan, heat the olive oil and butter over medium-high heat. Once it's hot, add in the garlic cloves and cook for 2-3 minutes until fragrant. Be careful not to burn the garlic!
Gently stir in the half and half and 1/4 of the chicken stock.
In a small bowl, whisk together the rest of the chicken stock and flour to make a quick roux. Slowly whisk that into the pan with the half and half.
Bring that mixture to a boil and then reduce to a simmer. Let the sauce simmer for about 5-7 minutes until the sauce starts to thicken.
Then, stir in the shredded chicken and parmesan cheese. Stir everything together until the cheese is blended into the sauce and chicken is hot. Taste for salt and add if needed.
Stir in the spaghetti squash and cook until it's hot and completely heated through. You'll probably need to use tongs to move the spaghetti squash around.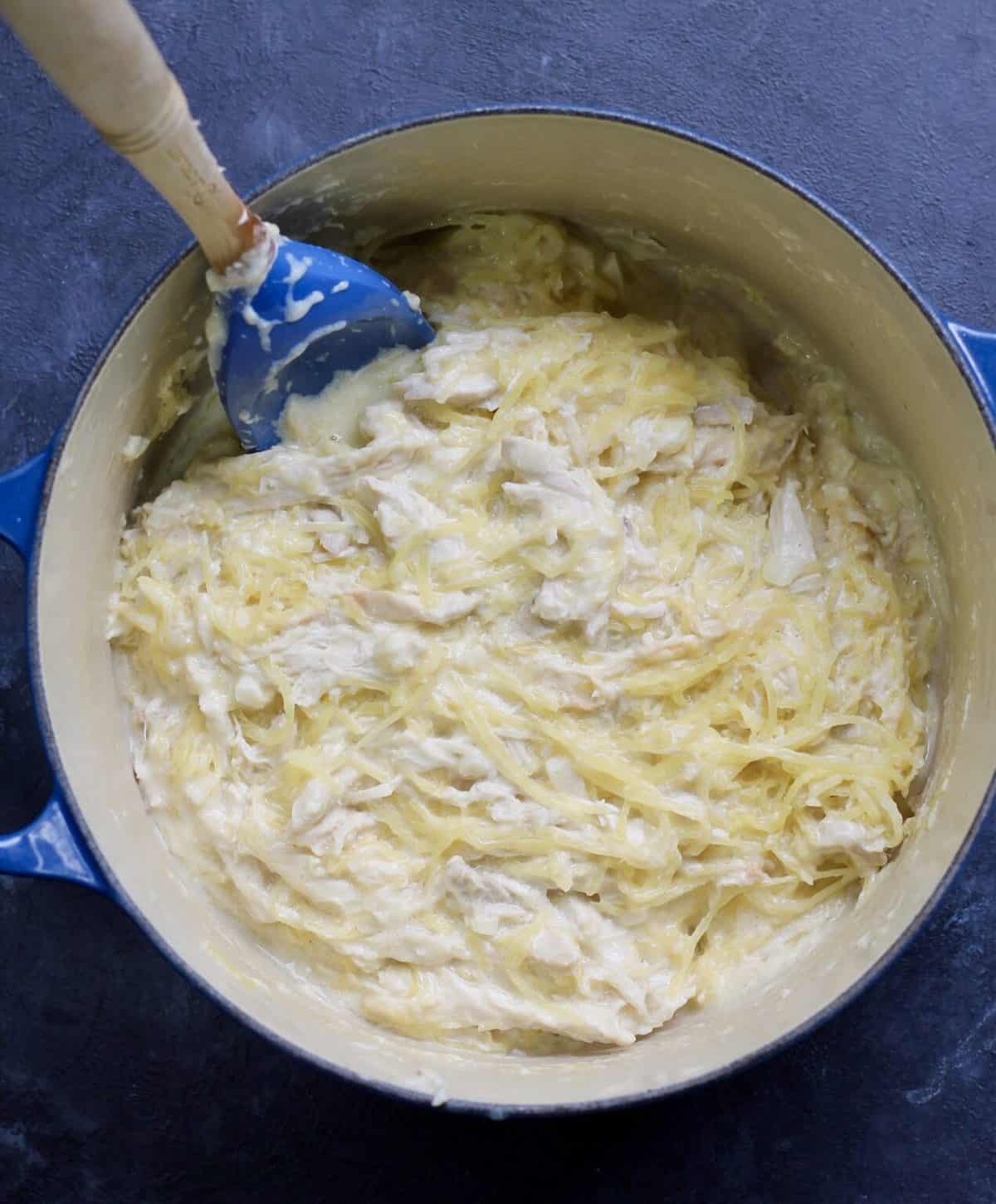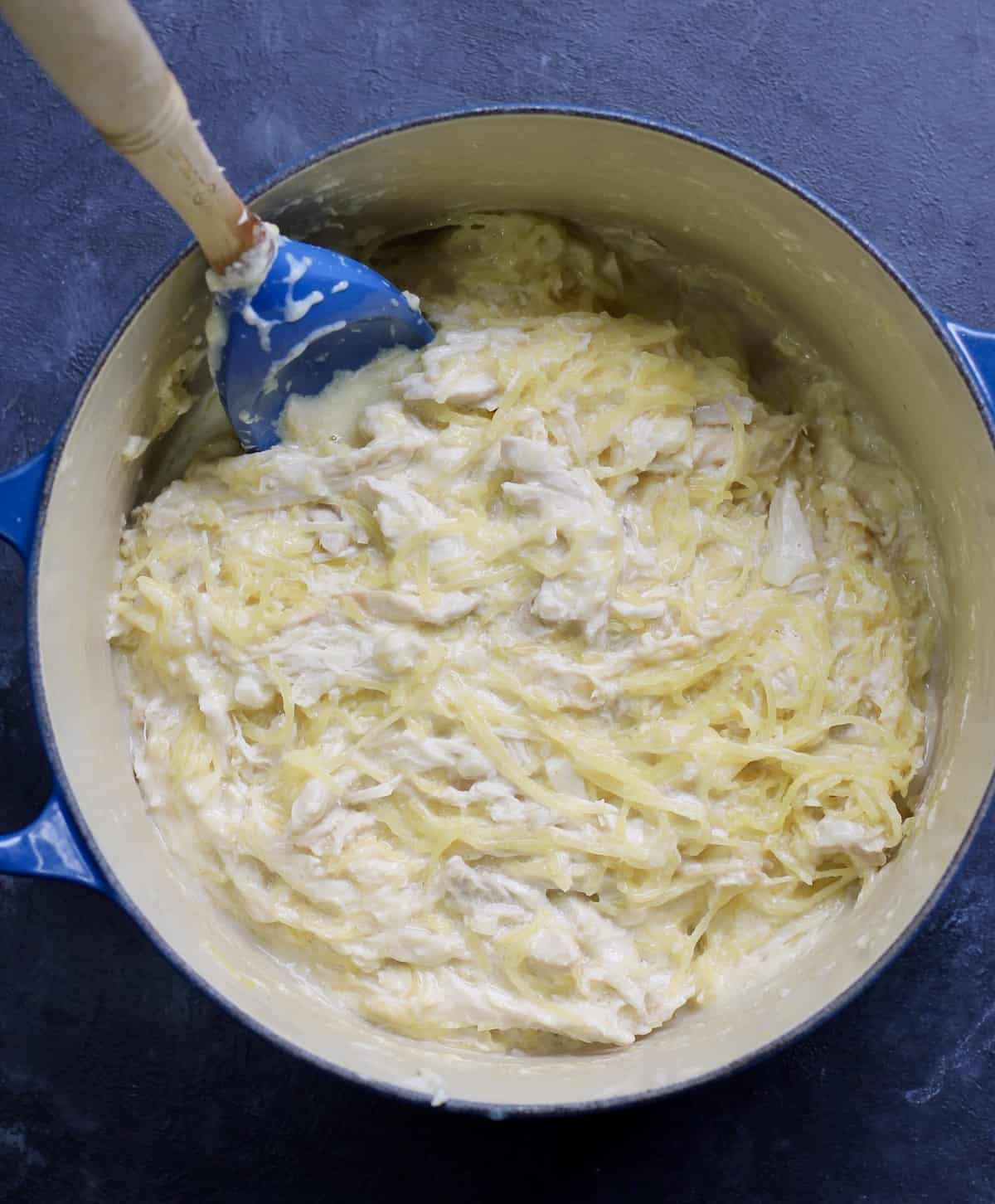 What To Serve With This Spaghetti Squash Alfredo Recipe
Serve the spaghetti squash alfredo hot! Enjoy this with a side salad or some veggies like some roasted asparagus.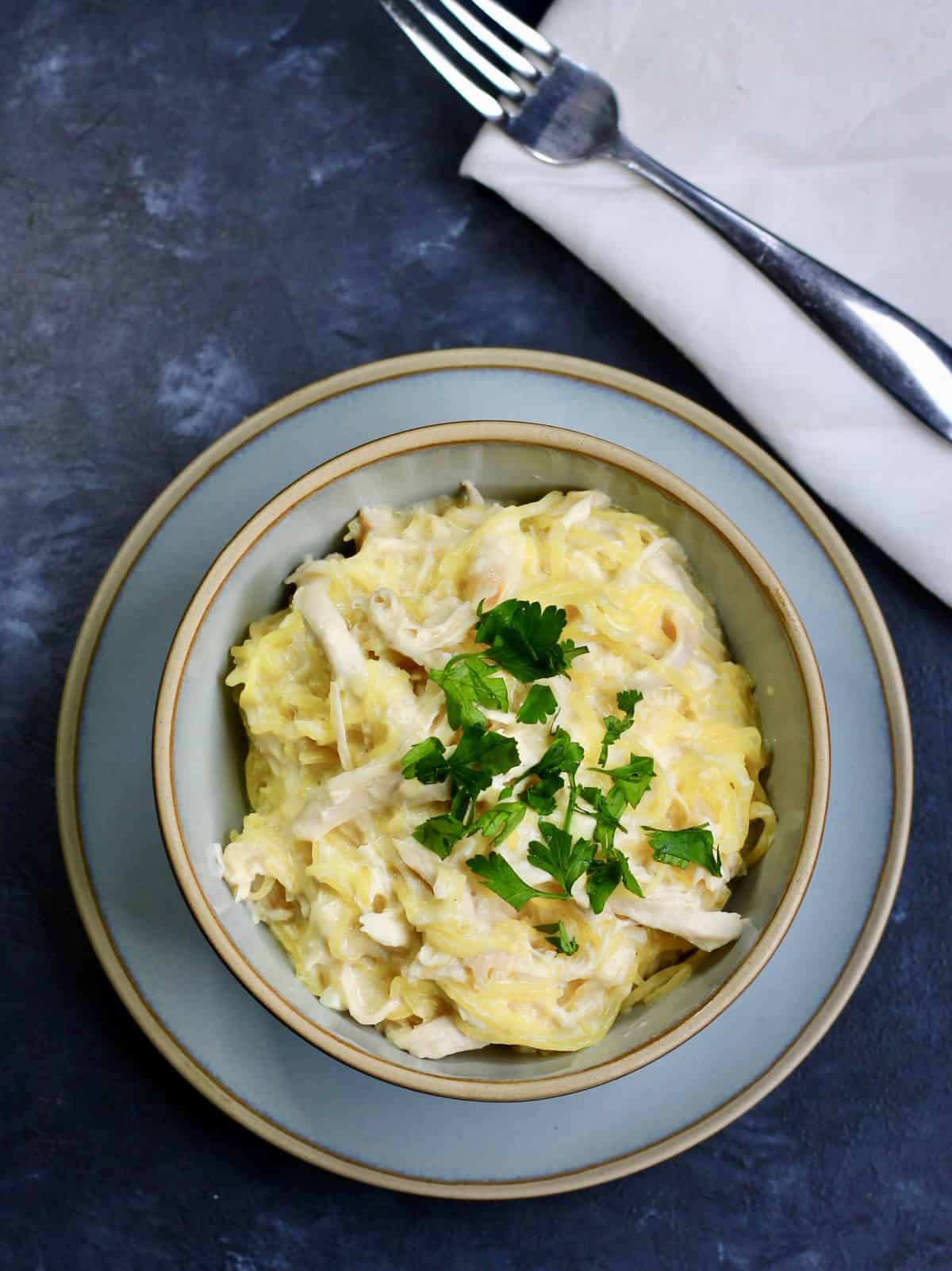 If you've been missing alfredo, then this dinner is going to make you very happy.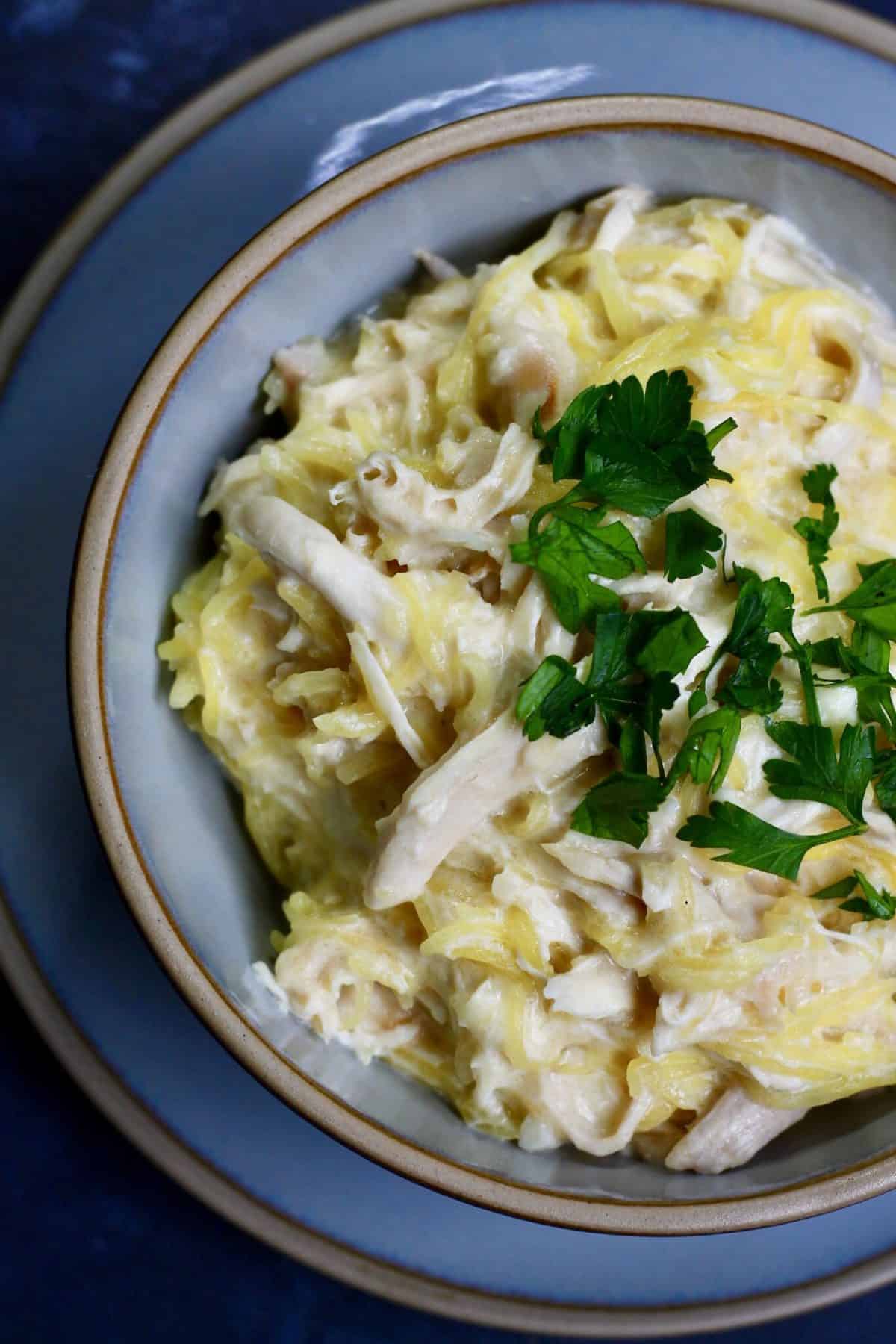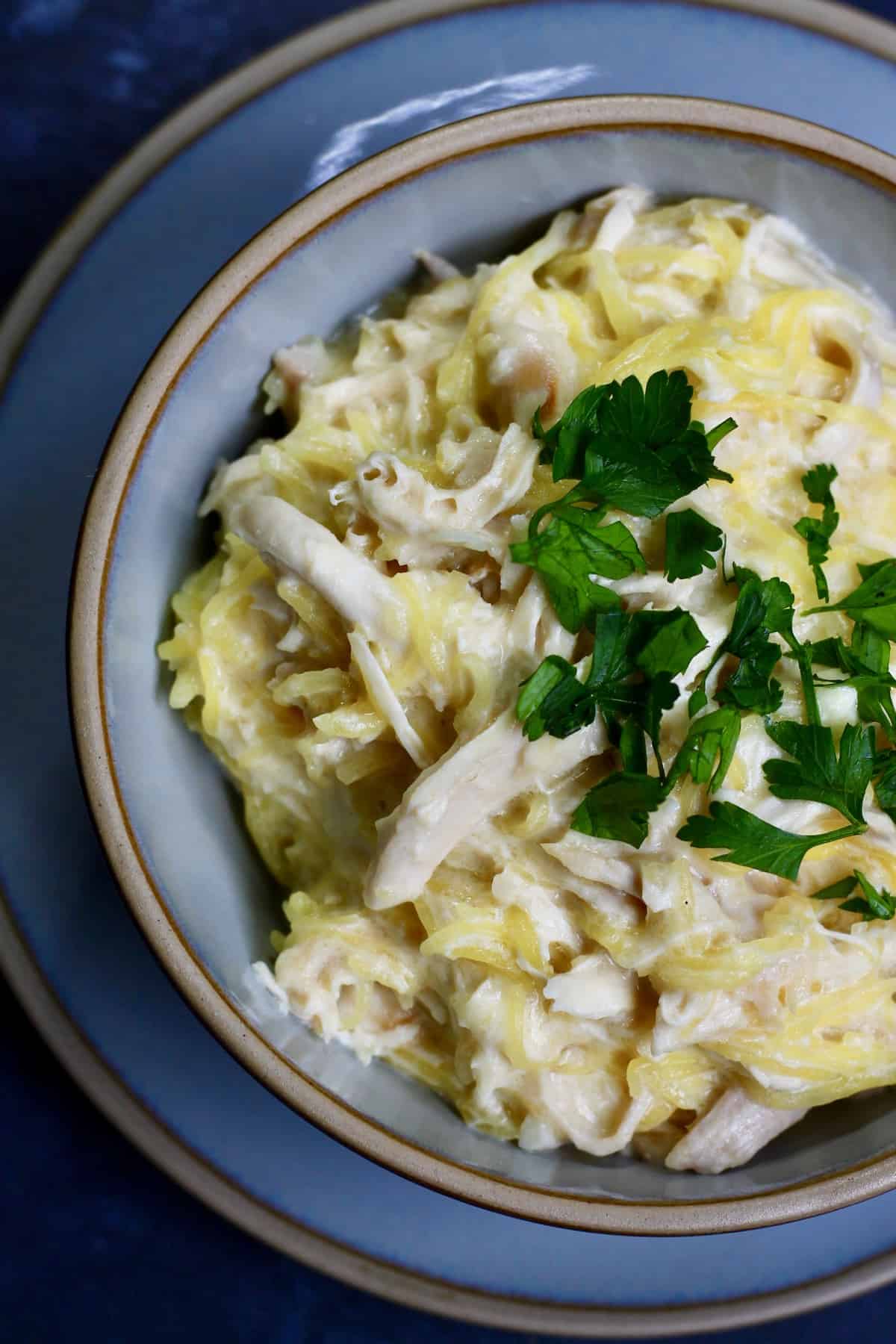 More Low Carb Dinner Recipes
This recipe for spaghetti squash alfredo is every pasta lover's low carb dream! Enjoy an Italian-American classic with half the carbs and calories.
If you are looking for a couple of more low carb dinner recipes, take a look at this list:
If you are following the keto diet I recommend taking a peek at my keto meal prep guide filled with tips and ideas to get your started on this eating style.
Share a picture and tag me on Instagram or Facebook if you decide to try to make some spaghetti squash alfredo!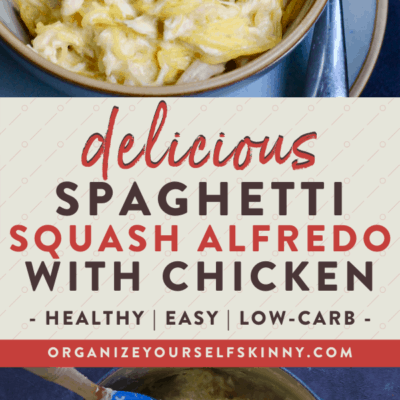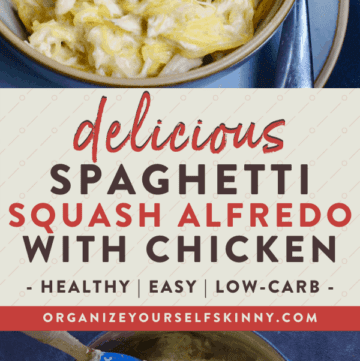 Spaghetti Squash Alfredo with Chicken
Spaghetti squash alfredo with chicken is a low-carb, high-flavor spin on the classic Italian-American comfort food. Enjoy this low-carb, keto-friendly dinner recipe!
Print
Pin
Rate
Ingredients
1

medium spaghetti squash

2

tablespoons

olive oil

2

tablespoons

butter

3-4

cloves

garlic

chopped

1

cup

half and half

½

cup

chicken stock

divided

3

tablespoons

flour

½

cup

grated parmesan cheese

1 ½ – 2

cups

shredded chicken

salt and pepper
Instructions
Preheat the oven to 425 degrees.

Clean the outside of the squash well. Then, using a fork or sharp knife, poke 10 – 15 holes all around the squash. Bake for 45 – 60 minutes or until the squash is tender to the touch and you can stick a knife through with ease.

After the squash is cooked, let it cool for 10-15 minutes.

Cut the squash in half and remove the seeds and guts. Then use a fork to pull and scrape all of the spaghetti squash strands from the sides. You should get around 3 cups of spaghetti squash. Set the spaghetti squash aside.

In a 6 quart dutch oven, heat up the olive oil and butter over medium high heat. Once hot, add the garlic and cook until fragrant, about 2-3 minutes. Don't let the garlic burn.

Reduce heat to medium and then pour in the half and half and 1/4 of the chicken stock.

In a small bowl whisk together the remaining chicken stock and flour until completely dissolved and then whisk that into the dutch oven with the other ingredients.

Bring to a boil, and then reduce to a simmer and cook for 5-7 minutes until hot and bubbly and starting to thicken.

Stir in parmesan cheese and shredded chicken and cook until cheese is blended and chicken is hot, about 5 minutes. Taste for salt and add more if needed.

Stir in the spaghetti squash and cook until it's heated through, about 5 minutes.

Serve hot.
Nutrition
Serving:
1
g
|
Calories:
411
kcal
|
Carbohydrates:
15
g
|
Protein:
31
g
|
Fat:
26
g
|
Saturated Fat:
11
g
|
Fiber:
2
g
|
Sugar:
6
g