Shrimp baked in olive oil, chicken stock, garlic, and lemon to create a delicious quick low-carb dinner.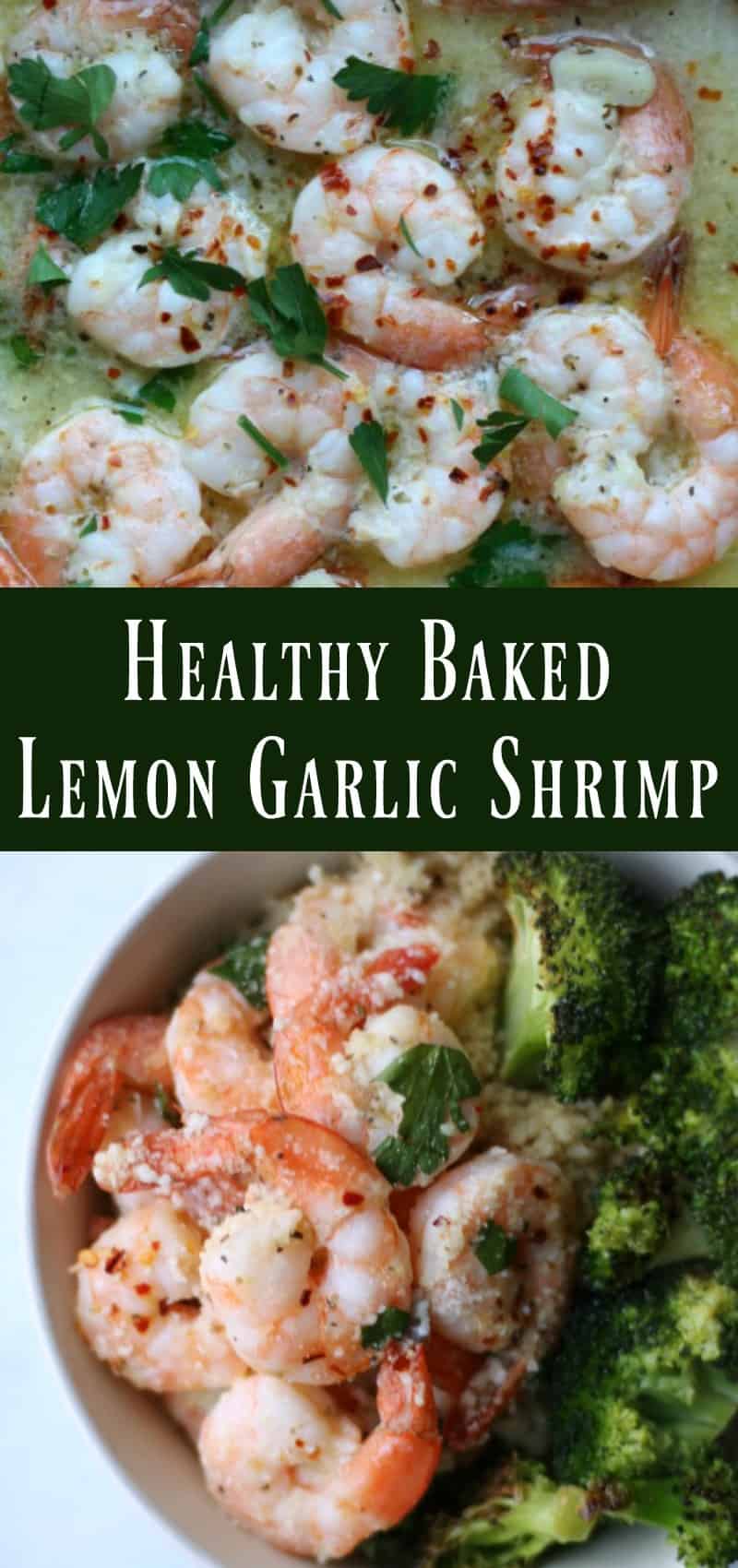 If you're looking for a delicious super easy recipe that can be prepared ahead of time AND ready to eat in about 12 minutes then this Baked Lemon Garlic Shrimp recipe is for you. Truly, if your family enjoys shrimp, then you'll love this recipe.
I'll be honest I never thought to bake shrimp in the oven. Up until this recipe I either cooked it in a pan or stirred it into sauce or risotto. However, I saw a recipe for baked shrimp on TV and was intrigued. Then I searched Pinterest and came across a bunch of baked shrimp recipes. Seriously, do I live under a rock?
I was a little skeptical at first but wanted to give it a shot because it seemed easy and looked scrumptious.
There are many things I love about this recipe so let's chat about it.
First of all this recipe uses simple ingredients you most likely have on hand. All you need is garlic, olive oil, lemon, Italian seasoning, chicken stock, salt, pepper, and crushed red pepper. If you don't have Italian seasoning then use basil and/or oregano. Of course, you need Shrimp which might be the one ingredient you need to get. Most of the time I tend to have a bag of shrimp in my freezer. I can get a 2lb bag for about $15 at BJ's Wholesale.
A little trick with frozen shrimp. You might already know this but just in case you don't let me share. When thawing out frozen shrimp you want to put them in a strainer (over a bowl) and thaw overnight. You don't want to let the shrimp thaw in a bag or bowl because they'll get mushy from the water.
After the shrimp thaws place them in a container and mix in the ingredients minus the lemon. Let the shrimp marinade for a couple hours or overnight in the refrigerator. I had my shrimp sitting in the marinade for a couple days and it turned out perfect. I bring this up because this is a great dish to prep on Sunday for dinner Monday or Tuesday. When you get home throw it in the oven, whip up some couscous, and steam up some broccoli. I actually roasted broccoli before I put the shrimp in because I love roasted broccoli.
You might be wondering why I left the tails on? I only left them on so they'd be pretty for pictures. You can certainly remove them.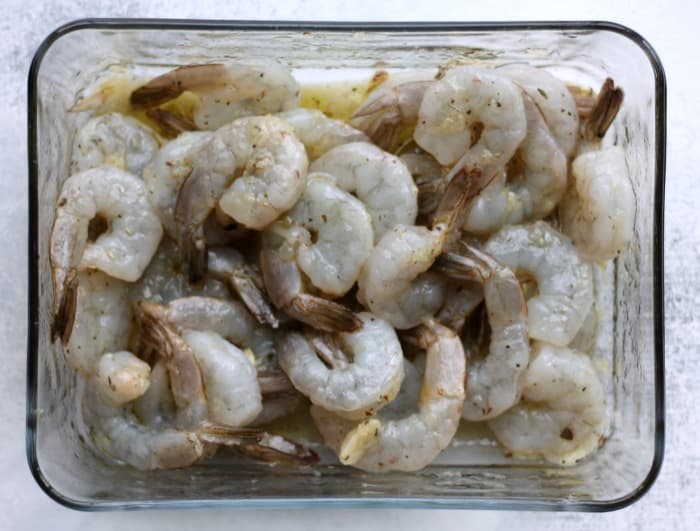 Pour the shrimp into a 9 x 13 baking dish. You could use a sheet pan but be careful because the juices could fall off the sides. I recommend a baking dish.  After you pour the shrimp and marinade into the dish stir in the lemon juice. I used half the lemon. Save the other half for after it's done.
I don't add the lemon until right before it's going to go into the oven. In my experience, adding the lemon too early could result in tough shrimp. Nobody likes tough chewy shrimp.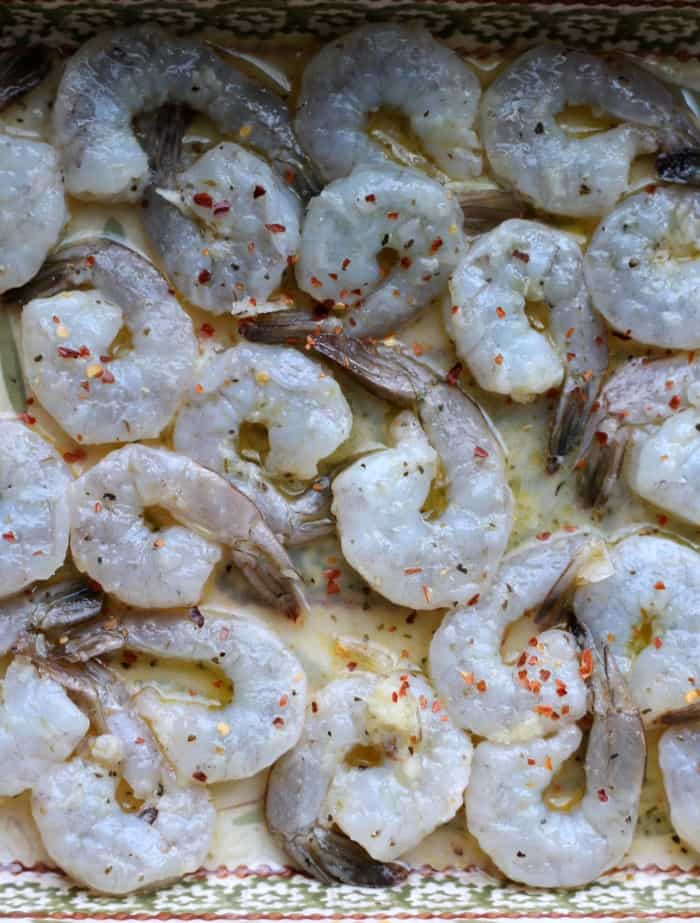 The shrimp baked for 12 minutes in a 425 oven and came out perfect. Keep in mind that my oven is electric so your time might be a little less or more. I'm not going to lie I was worried as these shrimp baked. I was worried about them not cooking enough or worse overcooking. But the shrimp turn out pink, plump, and perfectly tasty.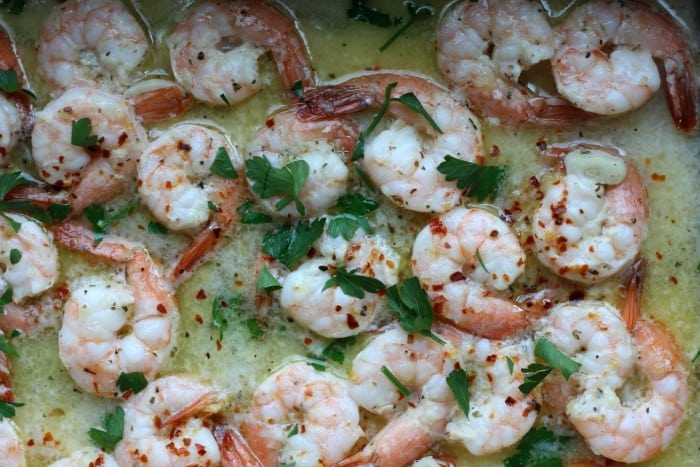 This garlic lemon sauce was divine, and I don't use that word lightly. I wanted to take a hunk of bread and soak up every last drop, but that would defeat the purpose of low-carb now wouldn't it.
It's amazing how ingredients so simple can result in such a fancy tasting meal. The crushed red pepper gives it a nice spicy bite. If you're not looking for spicy then leave it out.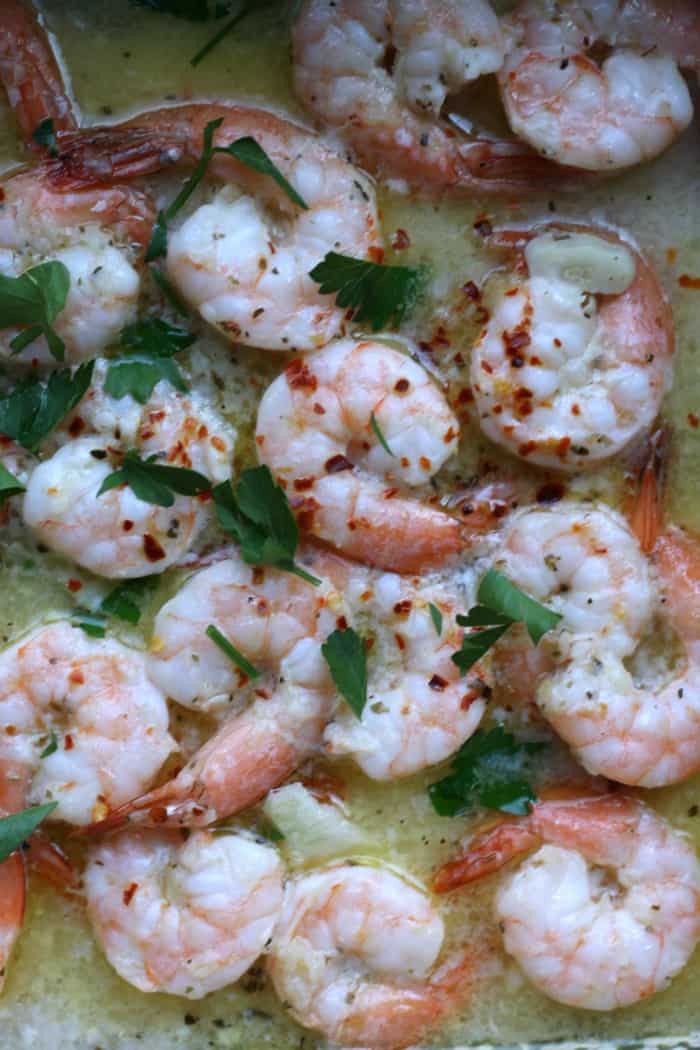 I served this with whole-wheat couscous and roasted broccoli. Of course, if you want to keep it low-carb then just enjoy the shrimp with veggies. It's very filling so I don't think you'll even miss the carbs.
Before chowing down I sprinkled a little Romano cheese on top and that was the perfect finishing touch. In fact, next time I might add the cheese before I bake it.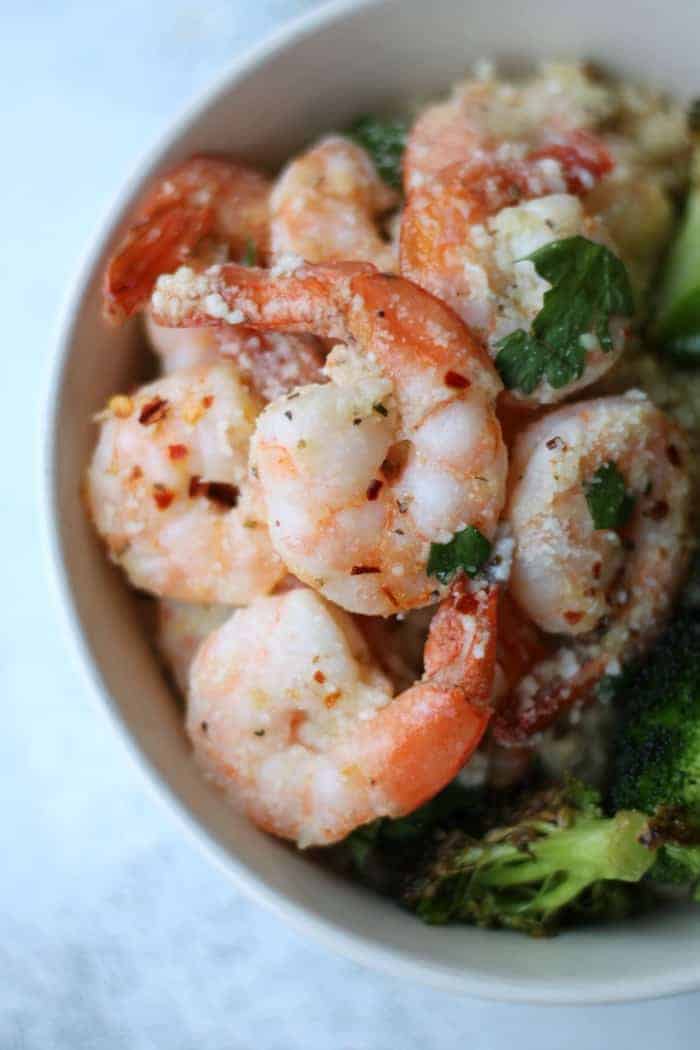 If you make this recipe, or any of my others, please share it on Instagram using hashtag #organizeyourselfskinny.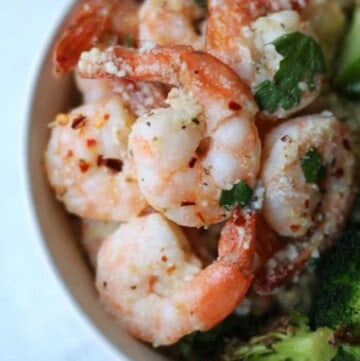 Ingredients
1

lb

medium shrimp

1/4

cup

chicken stock

3

tablespoons

olive oil

4

garlic cloves

grated or finely minced

1/4

teaspoon

salt

1/8

teaspoon

pepper

pinch

of red pepper

juice from half of a lemon
Instructions
In a medium bowl mix together the shrimp, stock, olive oil, garlic, salt, pepper, and red pepper. Let the shrimp marinate for 1-2 hours or overnight.

Preheat oven to 425 degrees.

Squeeze lemon juice into the shrimp and mix together.

Pour shrimp and marinade into a 9 x 13 baking dish and bake for 10 -12 minutes or until shrimp is pink.

Serve hot with vegetables and your choice of side.
Notes
Sugar: 0
Make-ahead tips
The shrimp can marinated for up to 3 days.
Nutrition
Serving:
1
g
|
Calories:
238
kcal
|
Carbohydrates:
3
g
|
Protein:
26
g
|
Fat:
12
g
|
Saturated Fat:
2
g