This Dijon Mustard Chicken and Spinach Skillet recipe is creamy, comforting, and easy enough to make for a delicious weeknight meal. Of course, you could also make this on meal prep day for a portion-control dinner throughout the week. Whatever works!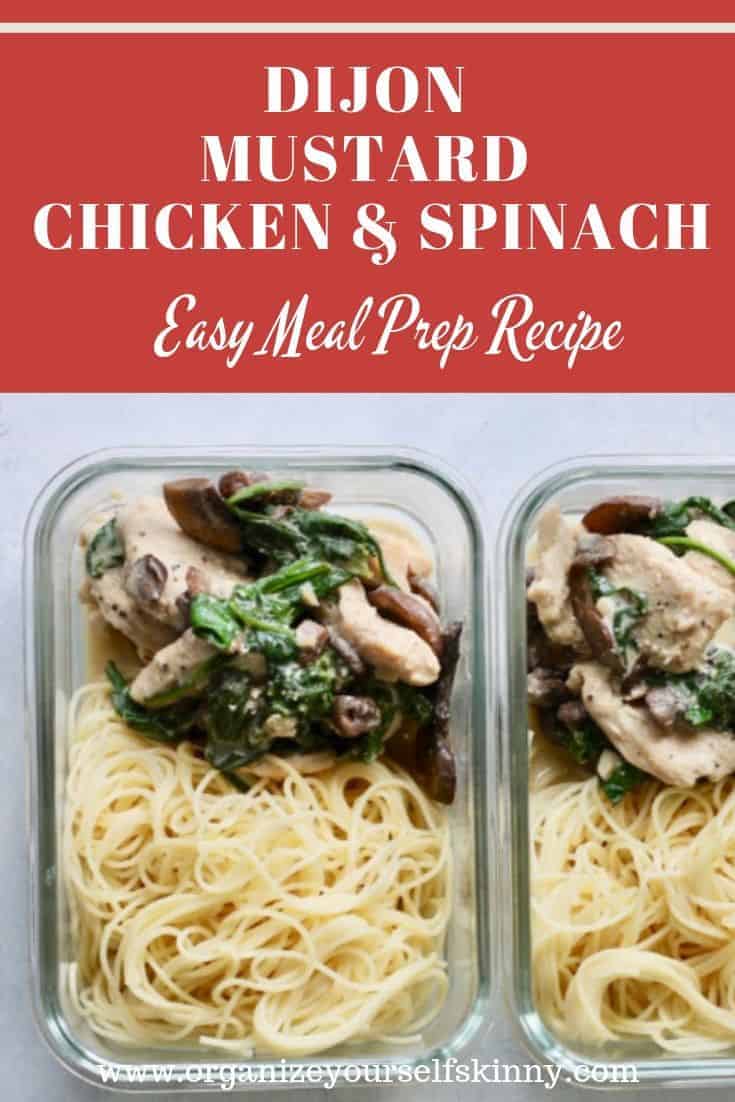 Since turning 40 I acquired a love hate relationship with pasta. I love to eat it but hate that I can't eat it whenever and wherever I want. I mean I could…but I'd probably have to change the name of this blog. Just sayin.
To enjoy pasta with minimal guilt, and reprocustions, I need to plan for it and portion it out. I know, that's no fun, but it's just the way it is. The good news is I don't need to give up pasta completely, I just need to be intentional. #over40problems.
One way I'm intentional is by creating meal prep bowls with portioned out pasta. In fact, this is the best way I've found to keep pasta in my life. I can still enjoy some pasta without going overboard. Every bowl is perfectly portioned out.
That's what I did with this new Dijon Mustard Chicken and Spinach Skillet recipe. Now you can certainly skip the pasta all together if you want to go low-carb. Trust me, this recipe is sooooo tasty you might not even miss the pasta. Notice I said might. However, if you want to mix in some angel hair then putting together some portioned-out meal prep bowls will work great.
Before I get to the recipe I want to go over some of the supplies I used:
Prep Naturals Glass 1-compartment Meal Prep Containers. I love using the 1-compartment for pasta recipes because you can still store everything side by side but then mix it all together once it's warmed up. If you don't want your sauce and pasta touching at all the consider the 2-compartment meal prep containers.   See all the other glass meal prep containers I use in this post.
Le Creuset 5 1/2 quart Dutch Oven. I use my Le Creuset for all my skillet meals but you can also use this large deep skillet by Cuisinart.
Let's get to the recipe.
Dijon Mustard Chicken and Spinach Skillet Recipe
This recipe has amazing flavor. In a way, it tastes fancier that it really is.
Let's start with the chicken. Many Dijon chicken recipes call for the chicken breast to be left whole. However, I like to stretch the meat I buy so I typically use less and then cut the chicken into strips so it distributes throughout the recipe. I bulk up the recipe with vegetables so it's not even noticeable there's less meat. I guess that's one of my money saving tips 🙂
Also, another tip I've learned about chicken recipes is to ALWAYS season the chicken before cooking it.
My standard "house" seasoning is:
1/2 teaspoon of each –> salt, pepper, onion powder, and garlic powder. I just mix it all together and then sprinkle it over the chicken before I cook it. I use this house seasoning in most chicken recipes. I feel it gives the chicken a great flavor.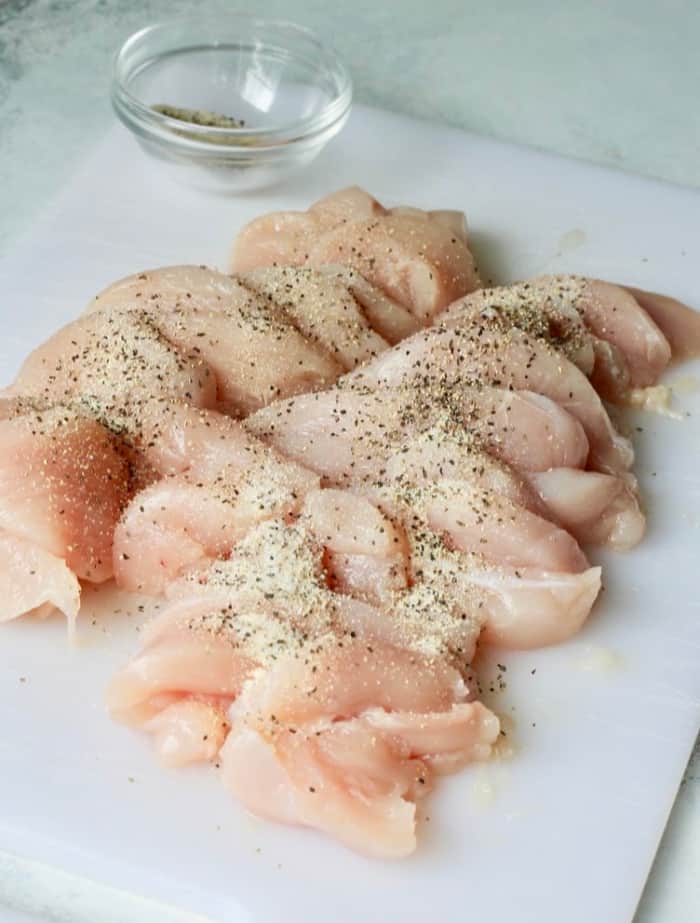 Typically, I take step by step photos but wasn't able to get all those shots this time around. Plus, I wanted to focus more on the meal prep part of the recipe. Because portion-controlled meal prep keeps us pasta lovers happy.
But let me give you a quick recap on how simple this Dijon Chicken recipe is.
You start by cooking the seasoned chicken in a couple tablespoons of olive oil in a deep skillet, or medium size dutch oven. Once the chicken is browned on both sides, and cooked through, set it aside.
Then you add a little more olive oil and cook the mushrooms until they are soft. That's when you add in the garlic and cook for about 1-2 minutes before pouring in the white wine. White wine is one of my favorite ingredients to use in chicken dishes. <– just wanted to throw that in there 🙂 If you don't want to use wine then use chicken broth. Of course, it won't have the same taste as wine but it'll work.
After the wine cooks down, add in the spinach and cook until just wilted. Last, stir in the half and half, dijon mustard, grated cheese, and chicken. Cook for a few more minutes so everything can get heated through.
That's it!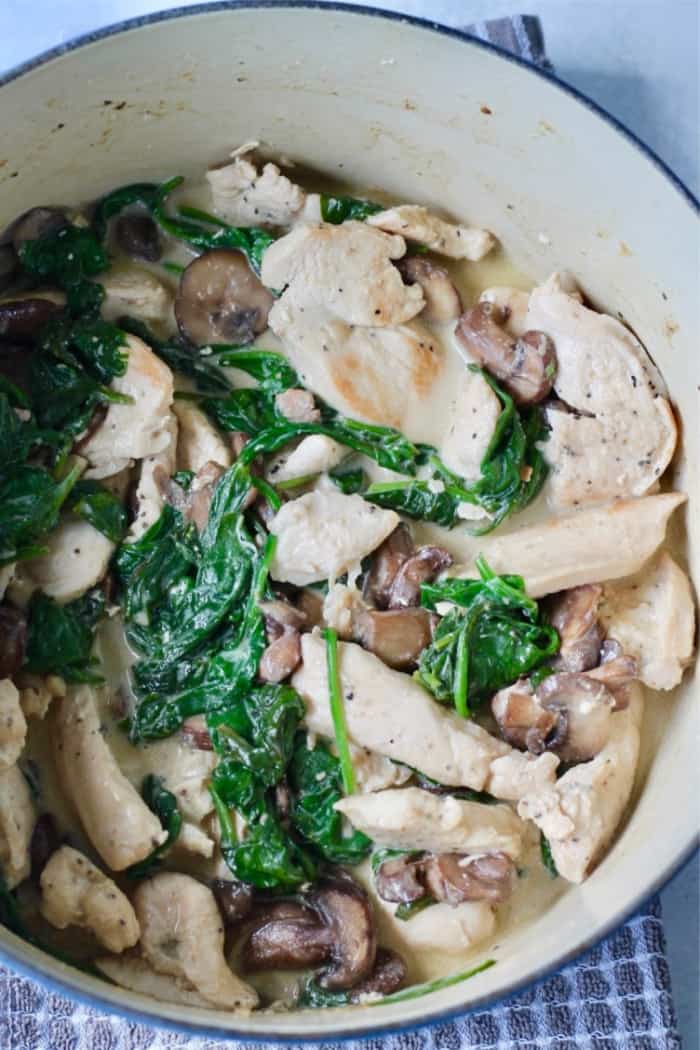 Can we talk real quick about the dijon mustard? Good. I also love using Dijon mustard in recipes. It elevates every dish, including this one. with a delicious tangy flavor. I only used 1 tablespoon, but you can use more if you like a stronger mustard flavor. Some Dijon Chicken recipes actually call for 2-3 tablespoons. My advice, give it a taste and if you want more then add some more.
This Dijon Chicken and Spinach Skillet recipe only takes about 30 minutes (maybe less) from start to finish to make. So, it's perfect to prepare during the week.
However, if you want to prepare this as a meal prep recipe then here are some instructions.
My first piece of advice is to start with glass meal prep containers. In my experience, glass containers keep food fresh the longest. Also, you can put these containers in the microwave with no worries. I linked to the containers I used for this recipe in the beginning of this post.
Start by placing 1-cup of angel hair pasta in the container. Of course, you can use any pasta you like. You can also use quinoa or rice. Or if you're going low-carb then leave the pasta out all together. By the way, 1-cup of cooked pasta equals 2 ounces of dry. So, that's one serving at 200 calories.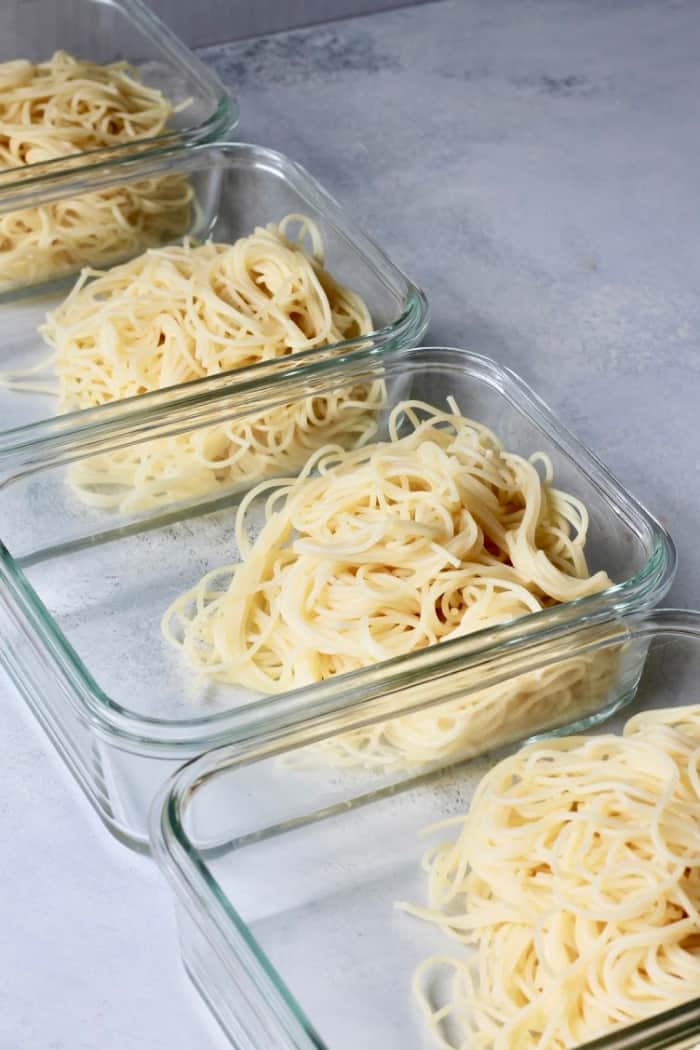 Next, put 1 heaping cup of the Dijon Chicken recipe in next to the pasta. You don't want to mix the pasta and chicken at this point because it could get mushy. It's fine if a little bit of the sauce touches the pasta.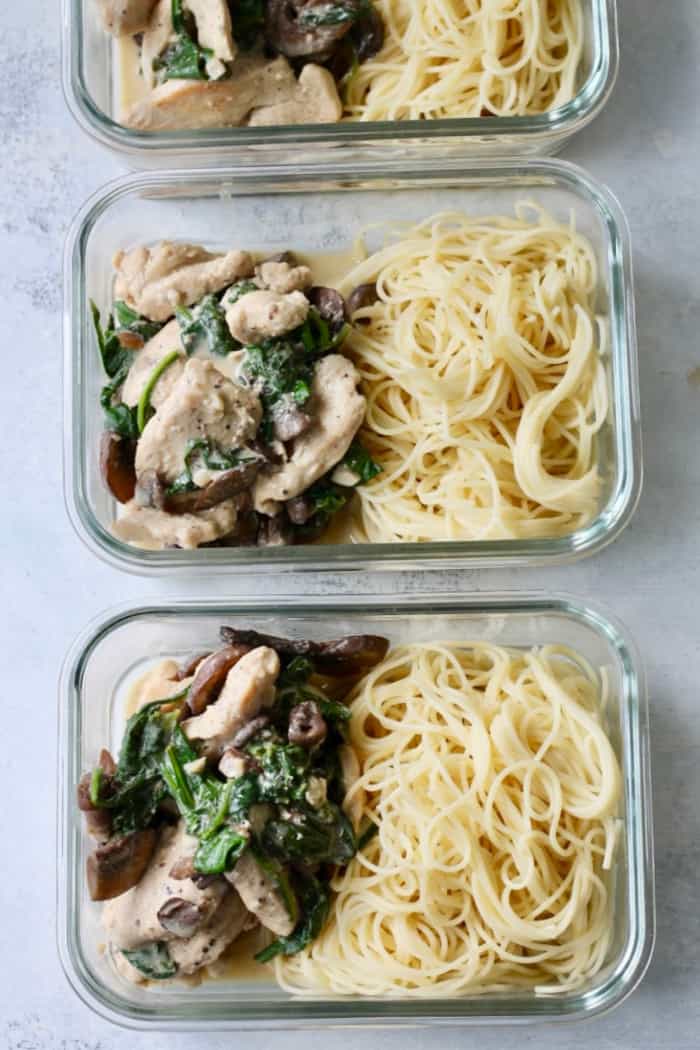 Last, just put the lids on and stick them in the refrigerator. Or, you could even freeze this recipe to have some homemade diet freezer meals ready to eat.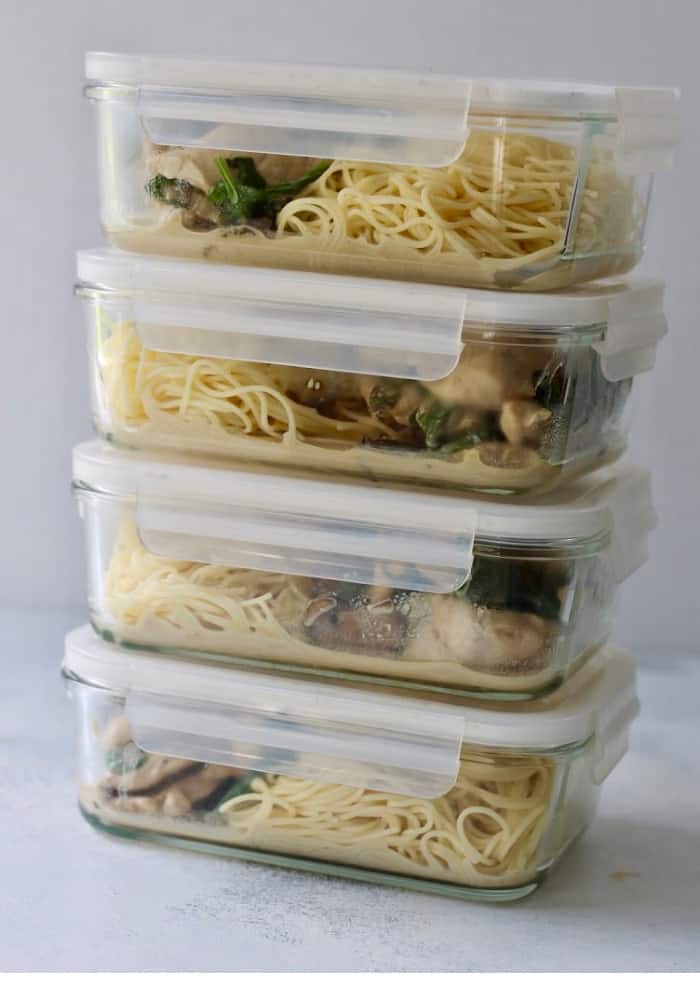 When you're ready to eat, simply stick the container (with the lid off) in the microwave and warm it up for 4-5 minutes or until heated through. Mix the Dijon chicken and the pasta together and you're ready to eat!
This recipe stayed fresh all week. In fact, I actually enjoyed one 6 days later and it was delicious. So, if you're looking for a delicious chicken and pasta recipe to fit into your healthy lifestyle then I highly recommend giving this Dijon Chicken and Spinach Skillet recipe a try.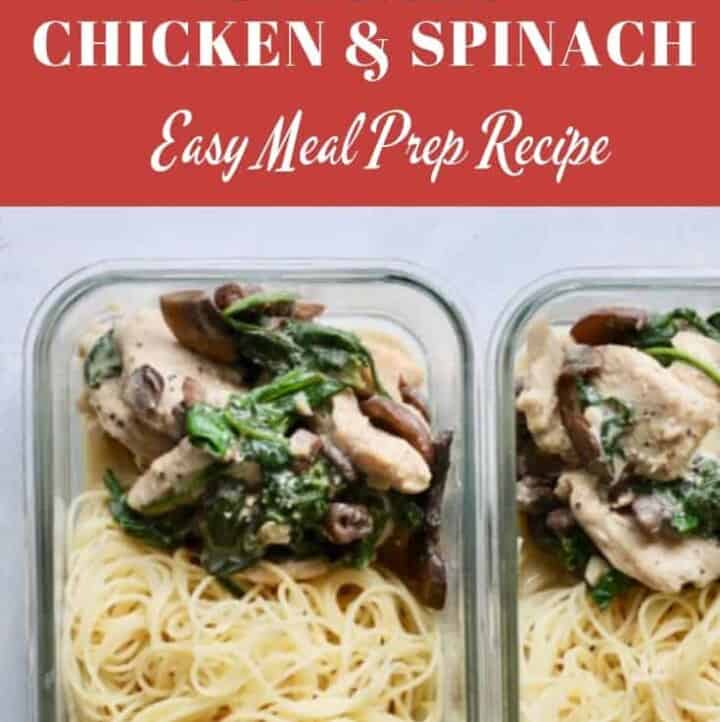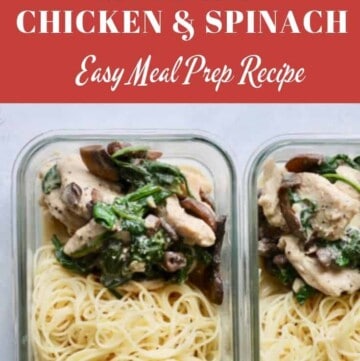 Dijon Mustard Chicken and Spinach Skillet
Creamy Dijon Chicken and Spinach Skillet recipe is easy to make for a weekend night meal or prepared ahead of time as a meal prep recipe.
Print
Pin
Rate
Ingredients
1/2

teaspoon

salt

1/2

teaspoon

ground black pepper

1/2

teaspoon

garlic powder

1/2

teaspoon

onion powder

1.25

lbs

about 3 chicken breasts boneless skinless chicken breasts, sliced into strips.

4

tablespoons

olive oil

1

7-ounce package of sliced white mushrooms

3-4

garlic cloves

minced

1/4

cup

white wine

3

cups

baby spinach

1/2

cup

half and half

1

tablespoon

dijon mustard

1/3

cup

grated romano cheese

5

cups

cooked angel hair
Instructions
Mix together the salt, ground black pepper, garlic powder, and onion powder.

Sprinkle the seasoning mix onto the chicken.

Heat 3 tablespoons olive oil in a large skillet or 6 qt size dutch oven. Add the chicken and cook until browned on both sides and cooked through. Remove chicken from pan and set aside.

Using the same pan as the chicken, use the last tablespoon of olive oil and cook the mushrooms until they are soft, about 3-4 minutes.

Add the garlic and cook until fragrant, about 1-2 minutes.

Pour in 1/4 cup white wine and cook until it's reduced by about half, about 3-4 minutes.

Add the spinach and cook just until wilted, about 2 minutes.

Still in half and half, mustard, and grated cheese.

Fold the chicken into the sauce and cook until sauce and chicken are heated through, about 2-3 minutes.

Serve 1 cup dijon chicken with 1 cup angel hair pasta.
Notes
Make-ahead tips:
This can be made ahead a couple different ways. If you want to quickly put this together during the week then prepping the chicken in advance will help. Or you can make the recipe completely and store it in the refrigerator. You can also freeze this recipe in individual servings for a quick healthy freezer meal.
Nutrition
Serving:
1
g
|
Calories:
478
kcal
|
Carbohydrates:
48
g
|
Protein:
33
g
|
Fat:
18
g
|
Saturated Fat:
4
g
|
Fiber:
3
g
|
Sugar:
4
g