Honey Mustard Chicken Sheet Pan Dinner Recipe made with a crunchy panko walnut topping. Baked until crisp and tasty!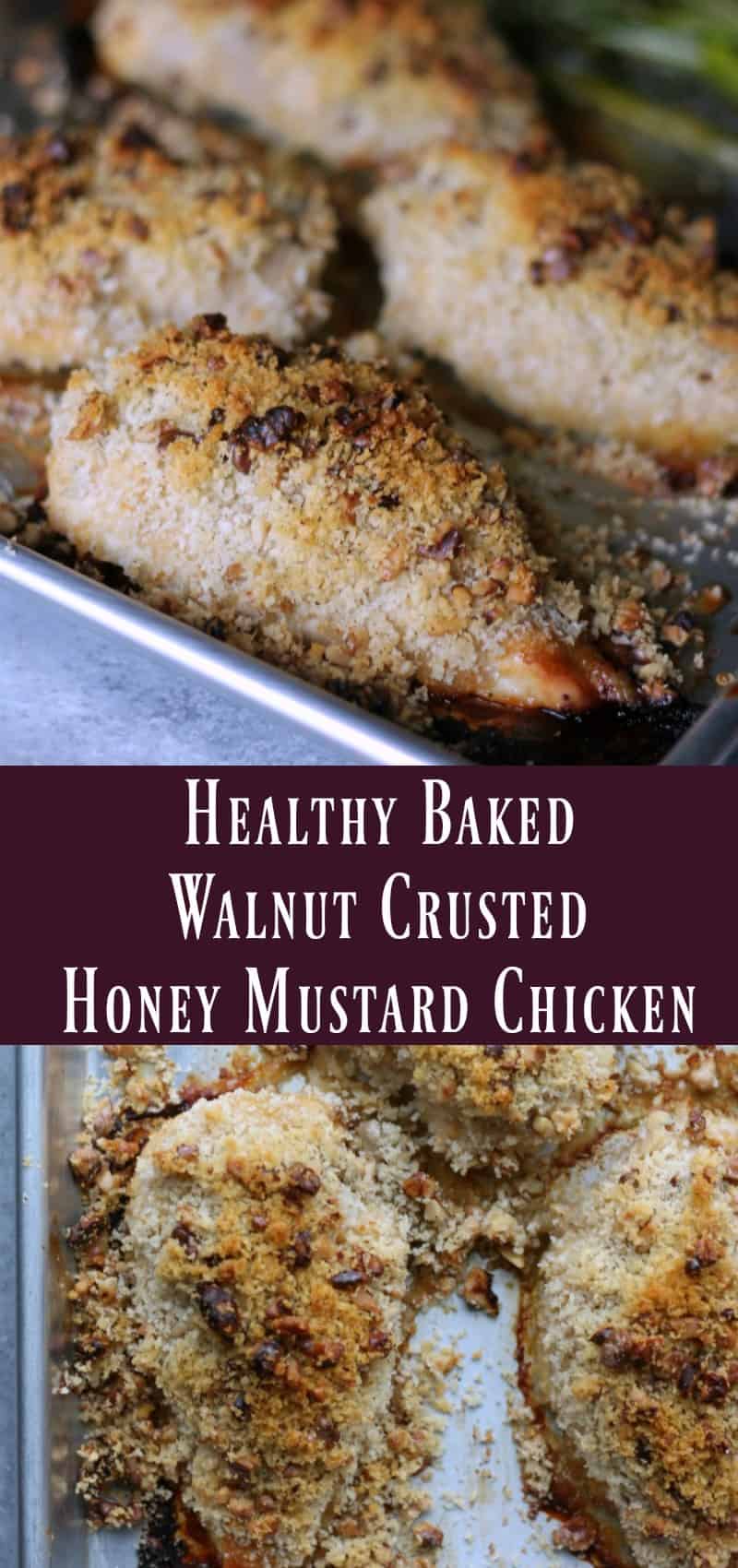 This is the year of sheet pan suppers for me! You'd think since I work from home that I have all this time on my hands to whip up healthy gourmet meals every night for dinner. Ummm no. Now that I work for myself I'm 100x busier than I was working for someone else – but in a good busy kinda way. Yes I have more flexibility but my days are filled with work not play. So just like when I worked outside the home I depend on meal prep and/or dinners that can be quickly prepared during the week.
With that said, I'm always working on new sheet pan creations. Some favorites so far are:
Lemon Garlic Parmesan Salmon and Asparagus
This honey mustard chicken with walnut crust recipe includes a couple extra steps but it's still easy to prepare. A few months ago I made a walnut crusted salmon dish sent to me by Hello Fresh. It was delish! I decided to use that same concept but with chicken. **By the way if you want to give Hello Fresh a try here's $40 off your first box.
First I made the mustard sauce/marinade. It's super easy. Mix together 2 tablespoons olive oil, 2 tablespoons dijon mustard, 1 tablespoon honey, and some salt and pepper. It's delicious!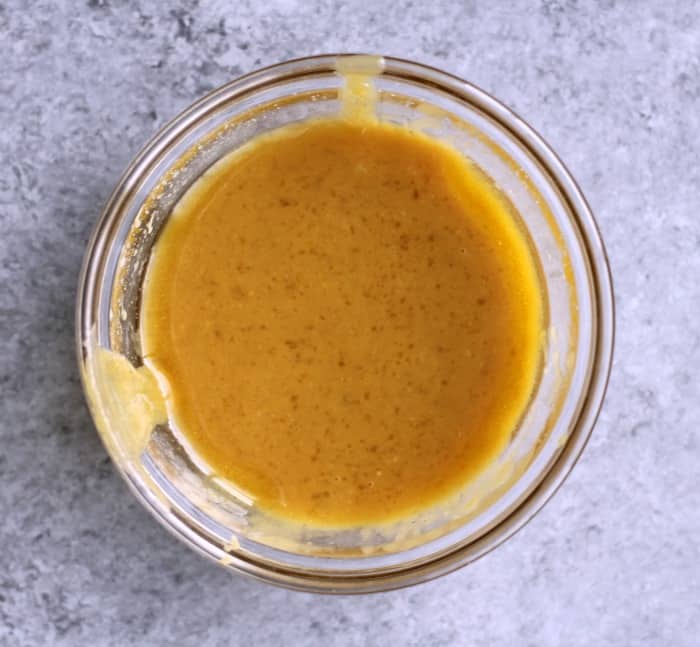 Then I made the breadcrumb topping. I mixed together 1 cup panko breadcrumbs, 1/2 chop finely chopped walnuts, and 1 tablespoon olive oil.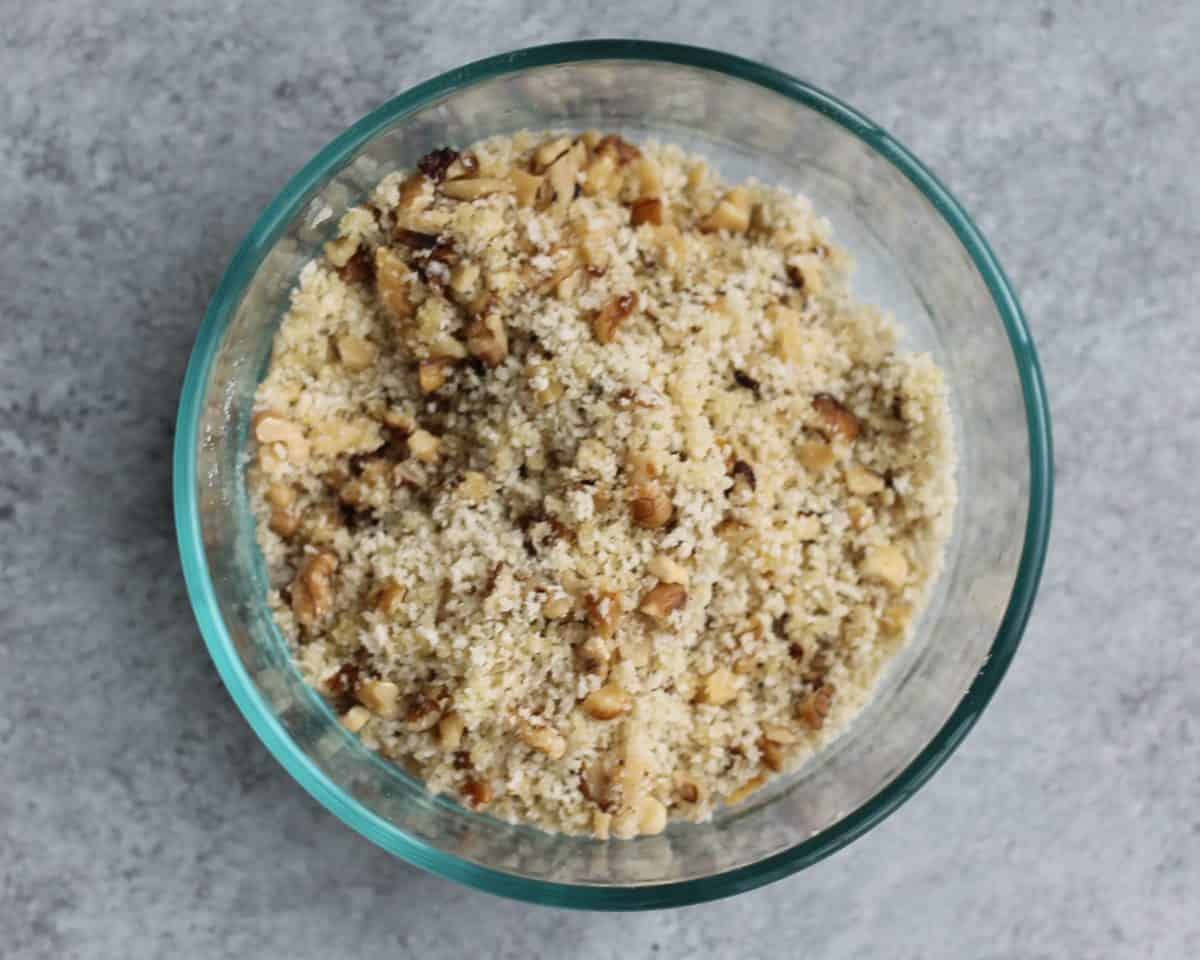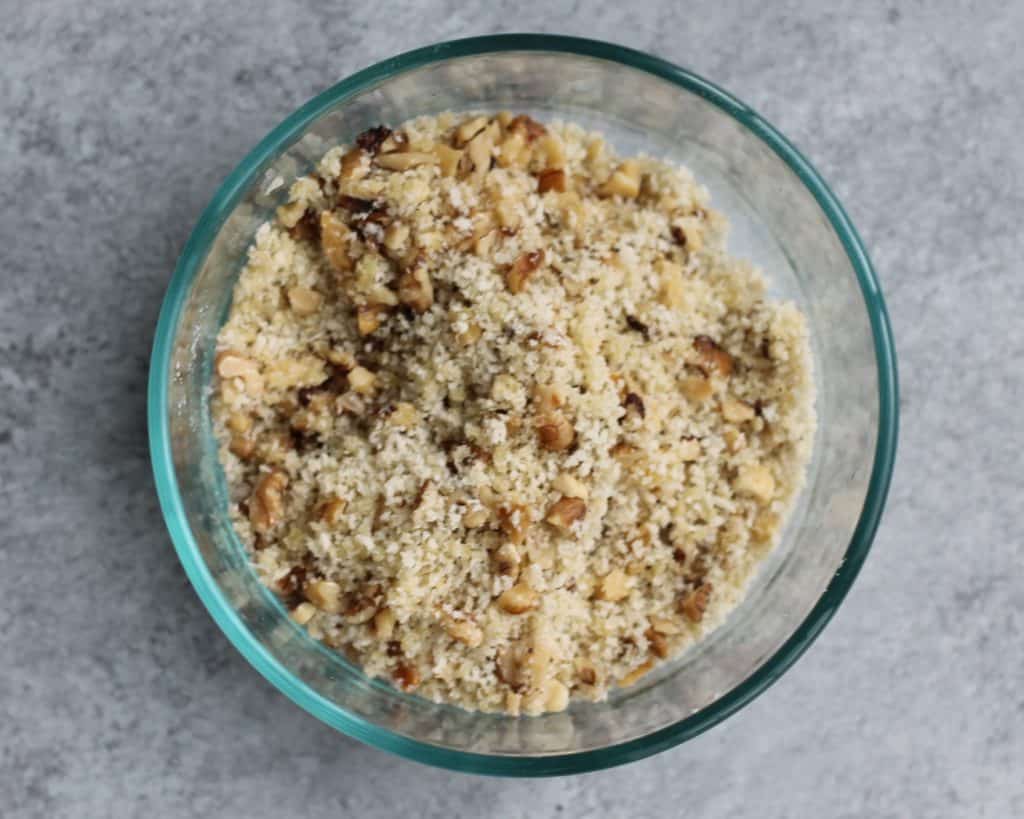 Both the marinade and breadcrumbs can be made ahead of time to reduce cooking time during the week.
Next I coated both sides of the chicken breasts with the marinade and then I pressed the crumb mixture on top of each breast. I made asparagus with the chicken so I tossed the asparagus in a little olive oil before putting it on the pan.
**you can make another batch of honey mustard marinade to dip the chicken in after it cooks.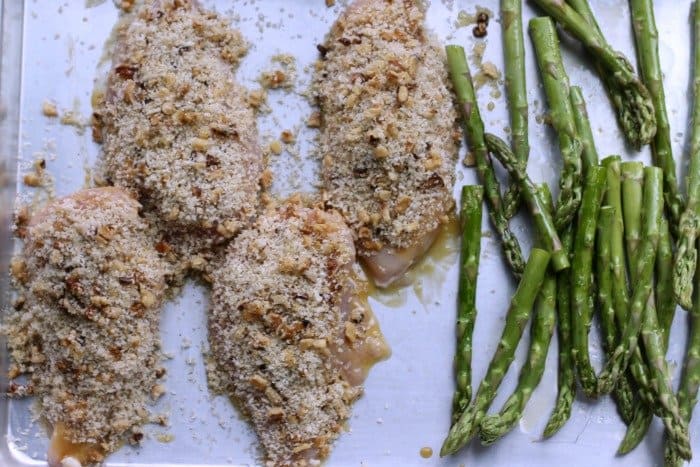 I baked the chicken and asparagus for 40 minutes in a 375 degree oven. Then I broiled it for 1-2 minutes until the crumbs got brown and crispy. Obviously, you want to cook the chicken until it's no longer pink in the middle and juices run clear (165 degrees).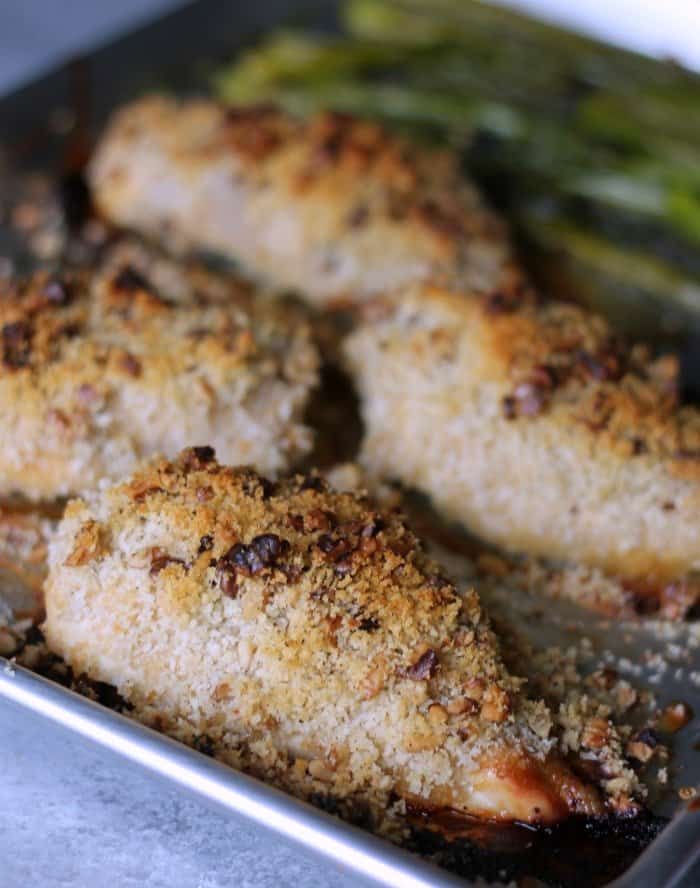 Dinner is served! If you're trying to stay on the lower carb side then eat this honey mustard chicken with a vegetable or serve with a salad. This taste great with some couscous or rice too.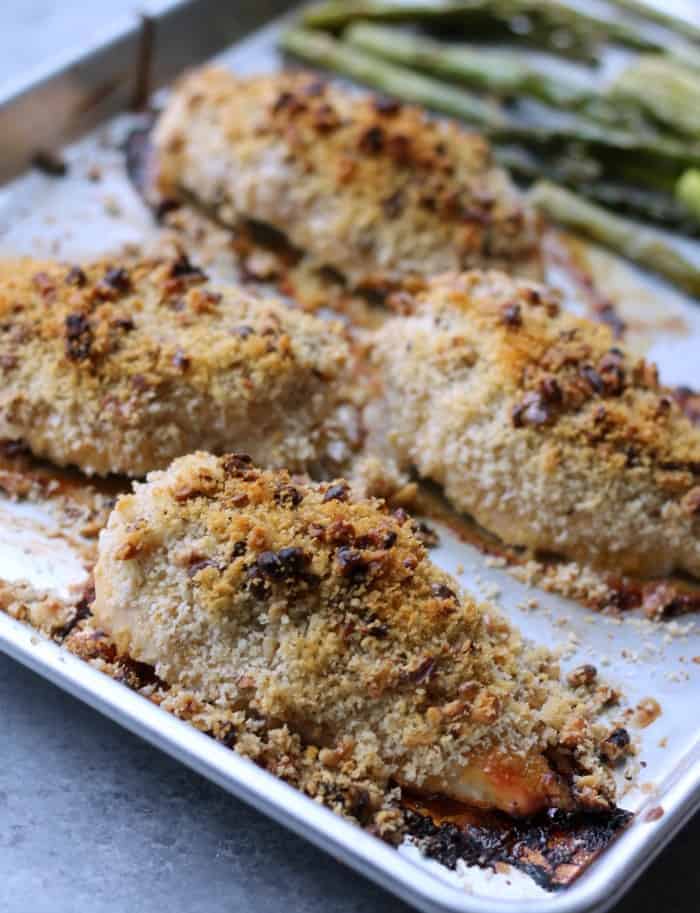 I would say this honey mustard chicken recipe is best the night it's made however I did enjoy leftovers during the week for lunch. The breadcrumbs aren't as crispy but still tasty.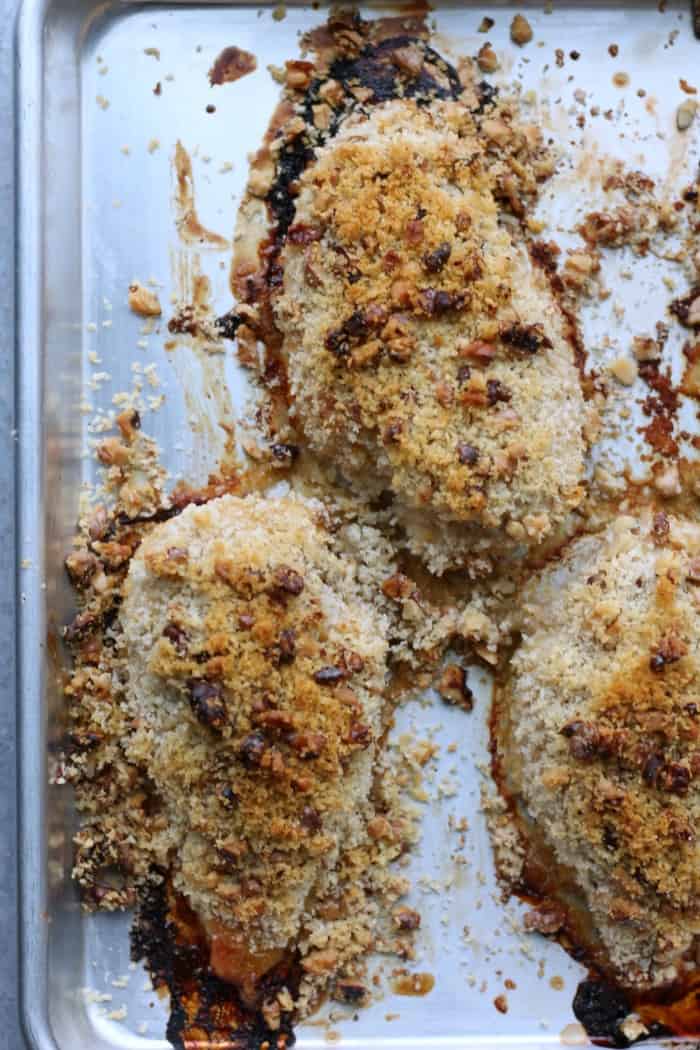 If you're looking for a healthy sheet pan  dinner to add to your weeknight rotation then give this honey mustard chicken recipe a try.
Ingredients
2

tablespoon

extra virgin olive oil

divided

2

tablespoons

dijon mustard

1

tablespoon

honey

cooking spray

4

3-ounce skinless boneless chicken breasts

1

cup

panko breadcrumbs

1/2

cup

chopped walnuts

salt and pepper
Instructions
Preheat oven to 375 degrees.

In a small bowl mix together 1 tablespoon olive oil, mustard, honey, and pinch of salt and pepper.

In another small bowl mix together panko bread crumbs, walnuts, the other tablespoon of olive oil, and another pinch of salt and pepper.

Spray a sheet pan with cooking spray.

Lay the chicken breasts on the sheet pan and brush each chicken breast (both sides) with the honey mustard marinade.

Press the breadcrumb mixture on top of each chicken breast.

Bake for 40 minutes or until the chicken reaches 165 degrees Fahrenheit and the juices run clear.

Set the oven to broil. Broil for 1-2 minutes or until the breadcrumb coating is brown and crisp.

Serve hot.
Notes
Sugars: 6
Make-ahead Instructions
This recipe is best the night you make it but you can prepare the marinade and breadcrumb mixture ahead of time.
Nutrition
Serving:
1
g
|
Calories:
318
kcal
|
Carbohydrates:
19
g
|
Protein:
28
g
|
Fat:
14
g
|
Saturated Fat:
1
g
|
Fiber:
2
g