I have made so many salads in a jar and I still get excited when I come up with a new recipe! This chopped version of a black bean and corn salad has so much layered flavor—it's fantastic. Plus, this mason jar salad is super easy to meal prep. Make a batch once and you can have it on hand all week long for a quick and healthy lunch.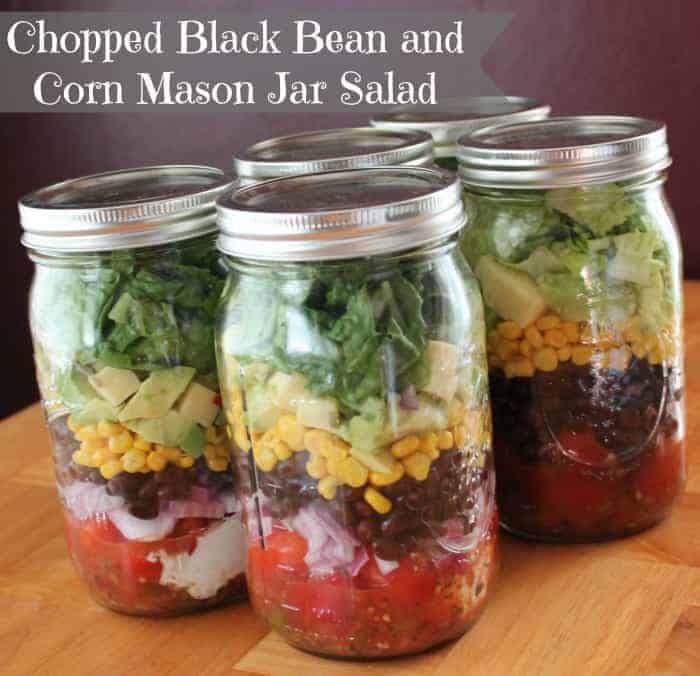 I love my mason jar salads (if you didn't know)! In fact, it is hard for me to remember weekday lunches without them. Usually, I make the same kind week after week – balsamic dressing, tomatoes, cucumbers, chicken or turkey, and baby spinach; or this one with tomato, fresh mozzarella, and pasta.
As much as I like those flavors, I was getting a little bored so I decided to switch it up.
I prefer chopped salads over big leafy salads, so, for my second mason jar creation I put together a chopped black bean and corn salad. This salad is so good and easily is going to be one of my favorites. I just know it!
Get free instant access to my mason jar salad recipe e-cookbook here! I share 19 of my best mason jar salads along with tips, tricks, and tutorials.
Frequently Asked Questions About Salad In A Jar
Before I jump into this black bean corn avocado salad recipe, I want to first answer some basic questions I have gotten from some of my readers:
Can I Add Some Protein To This Corn Salad?
Absolutely! You can add shredded chicken or some balsamic shredded beef. You can even add some of this sweet and spicy pork to add some delicious flavors.
If you want to keep it vegetarian but want even more protein, you can saute some soy-based chorizo or meatless crumbles to add to your salad.
How Do I Make Sure The Avocados Don't Turn Brown?
I have used avocado twice in my mason jar salads and both times, they did not turn brown. To make sure they stay nice and green, I squeeze lime on them and that seems to do the trick.
Try it out and see if it works for you. I hope it does because it is delicious!
How Long Does A Salad In A Jar Last?
I've come to find that any time I make a salad in a jar for lunch, they usually last me about 5 days. The biggest thing to remember is to make sure to layer all the ingredients correctly (starting with the dressing on bottom and greens on top—see more info below).
Black Bean and Corn Salad In A Jar
I am very excited to share this black bean and corn salad with you all. Here are the ingredients you'll need for this salad in a jar:
Quart size mason jars
Salsa
Plain greek yogurt
Cherry tomatoes (halved)
Red onion (chopped)
Black beans (drained and rinsed)
Frozen corn (thawed)
Avocados (peeled and chopped)
Pepper jack cheese (cut into small cubes)
Romaine lettuce (chopped)
Cilantro (chopped/optional)
How To Make Salad In A Jar
In each of the mason jars, start by pouring in ¼ cup of salsa. Then, divide the greek yogurt evenly among the jars. This will equal about 1 ½ tablespoons of greek yogurt per jar.
Next, layer the halved cherry tomatoes, red onions, black beans, corn, pepper jack cheese, avocado, chopped romaine, and top off with cilantro. I prefer cherry tomatoes over chopping up a regular tomato because I feel they hold up better to the dressing.
Originally, I was going to sprinkle some crushed tortilla chips over the top but I found it was good without it and I prefer to save the calories for something else – like chocolate zucchini brownies!
Plus, this salad is very filling so it didn't need anything extra. But, if you are looking for more crunch and a little saltiness, then throw a few tortilla chips on top.
I followed the recipe and layered the rest of the ingredients evenly between the 5 mason jars. When I'm ready to eat the salad, I pour it into a bowl, simply mix it together, and enjoy!
Cooking Tip
Make sure all the ingredients are as dry as possible before layering. This prevents moisture from building up and the lettuce from getting soggy.
You can reduce the fat and calories in these salads by reducing the cheese and avocado.
More Salad In A Jar Recipes
As much as I really enjoy eating this black bean and corn salad with avocados, I still like to add some of my other recipes into my salad rotation.
Here are some more mason jar salad recipes to add to your menu plan:
Try making this black bean and corn salad in a jar the next time you want to have lunch on hand. Share a picture and tag me on Instagram or Facebook if you decide to make this recipe!

Chopped Black Bean and Corn Mason Jar Salad
This chopped salad is filled with healthy protein along with a good serving of veggies. Give this mason jar salad a try and enjoy the flavors!
Author:
Skinny Mom's Kitchen
Ingredients
5 wide mouth quart size mason jar salads
1 ¼ cup salsa
1 6 ounce container plain greek yogurt
2 avocados, peeled and chopped
1 quart cherry tomatoes, halved
2 cans black beans, drained and rinsed
1 red onion, chopped
1 12 ounce package frozen corn, thawed
5 ounce block pepper jack cheese, cut into small cubes
4-5 cups chopped romaine lettuce
¼ cup or more chopped cilantro (optional)
Instructions
In each of the mason jars pour ¼ cup of salsa. Then divide the greek yogurt evenly among the jars. This will equal about 1 ½ tablespoons of greek yogurt per jar. Next divide and layer the rest of the ingredients evenly between the 5 mason jars starting with tomatoes then following with onions, black beans, corn, avocado, cheese, and ending with romaine and cilantro. When ready to eat pour into a bowl, mix together, and enjoy!
Notes
Make Ahead Instructions
This can be made up to 5 days ahead of time.
Nutrition Information
Serving size:
1 mason jar salad
Calories:
449
Fat:
23
Carbohydrates:
68
Fiber:
21
Protein:
26
Get Instant Access to my Mason Jar Salad Recipe E-cookbook!
Sign up now to receive your FREE e-cookbook that I created exclusively for my email subscribers! That's you!