Next time you get a bulk package of ground beef turn to these freezer meals to stock up on recipes for the whole family. These are some of my favorite meals to make with ground beef!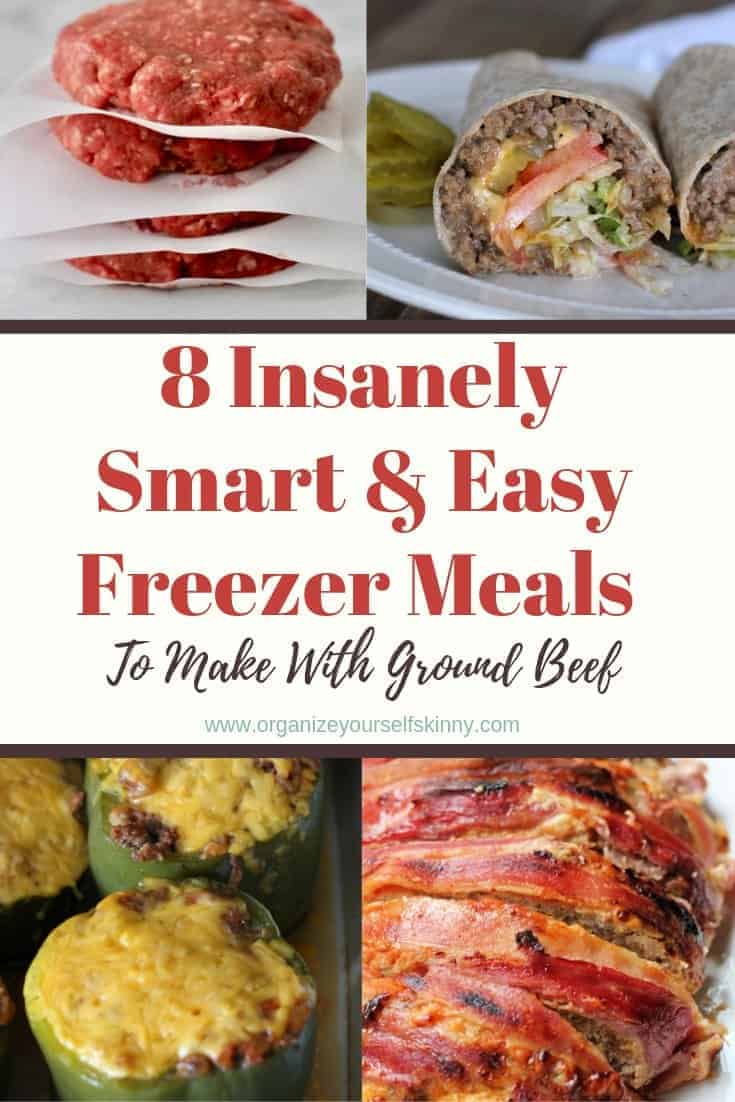 Recently, I got a great deal on organic beef! Yay for me! I happened to take a midweek trip to the grocery store and saw that organic beef was marked down. The expiration date was the next day so, obviously, they were trying to get rid of it.
But, I didn't care. I still grabbed 5 packages because I NEVER get discounts on organic meats. Side note, apparently if you grocery shop on Wednesday or Thursday there's a good possibility you'll find some type of discount on all meats.
Anyway, this got me thinking about my favorite freezer meals to make with ground beef. I couldn't just throw 5lbs of ground beef into the freezer with no purpose. Just like my entire life, I like to have a plan – and ground beef doesn't get a pass. Ha! Seriously, I've learned that if I don't have a plan then lonely unclaimed ground beef in the freezer turns into tacos every single time. Not to mention, I'll probably forget to take it out to thaw.
Before I get to my favorite meals to make with ground beef I want to answer some common questions.
Jump to:
Why do you use organic grass-fed beef?
When I started to eat clean switching to organic grass-fed beef was one of the first things I did.
Organic beef means that the cattle were raised on a farm that doesn't use harmful pesticides, genetic engineering (GMOs), or sewer sludge. With conventional beef all bets are off and you can pretty much assume all kinds of junk is in your beef.
Grass-fed means that cattle are grazing on grass. This is the way cattle were meant to eat. Grass-fed beef is healthier, has fewer calories, contains less bacteria, and has many more health benefits. You can read more about the benefits of organic grass-fed beef here. Also, in my opinion, grass-fed beef taste better.
Overall, organic grass-fed beef, and other quality meat is one thing I never skimp on. I know it's more expensive than conventional meats but, personally, I think it's worth it. I try to save money in other areas. You can read more about my grocery money saving tips here.
Of course, the type of meat you purchase is completely up to you. I've been asked about the quality of meat I purchase and I wanted to share my thoughts.
Where to buy grass-fed organic beef?
There are a few different options.
Purchase beef from a local farmer.
I did this about 5 years ago and it has its pro's and con's. You get to purchase locally and you know all your meat is coming from one cow. This is a pro and something I really liked.
This is what I didn't like. Purchasing from a farmer wasn't convenient at all. It took research and I had to travel well over an hour to get our beef. Not to mention, we ended up not using an organic grass-fed farm because we couldn't find one. Also, I had to get a few people to purchase beef with me because we were required to purchase a lot.
Last, I wasn't crazy about the taste. Maybe it was just the cow we got but I thought the beef was tough and very fatty. Anyway, while I think it's great to purchase from a local farm it just didn't work for me. However, this might be a good option for you.
Purchase from the grocery store.
Fortunately, grass-fed organic beef has become a regular in grocery stores. My favorite grass-fed organic grass-fed beef comes from Wegmans. It has the best texture, and flavor, in my opinion. I get a bulk package for $5.99 a pound. 1lb is about $7 a pound.
I've also seen grass-fed organic ground beef at Aldi's for $5 a pound and Whole Foods is around $7 a pound.
I haven't seen grass-fed organic ground beef at BJs Wholesale or Tops.
Those are the only grocery stores in my area. If you've seen organic grass-fed beef at any of the grocery stores in your area please list them in the comments.
Purchase online.
If you don't have easy access to grass-fed organic beef then consider purchasing online from Butcher Box. Butcher Box is a meat delivery service that works with local farmers to bring organic grass-fed high quality meats to your door. I ordered a couple boxes from them and was very happy with the quality. They are definitely more expensive but remember, you're not just paying for the meat but also for the convenience. You can learn more by checking out my Butcher Box Review.
Those are the three options for purchasing grass-fed organic beef.
Freezer Meals to Make with Ground Beef
Seasoned Beef
There are two types of seasoned beef I freeze – taco and hamburger. Both can be used in a variety of recipes so it's super helpful to have some in the freezer. Think of seasoned beef as a meal starter.
Of course, taco meat can be used for tacos, nachos, quesadillas, enchiladas, pizza, or in any way you want to use taco meat.
My favorite store-bought taco seasoning is Simply Organic Southwest Taco Seasoning or Spicy Taco Seasoning.
Hamburger seasoned ground beef can be used in cheeseburger wraps, hamburger macaroni and cheese, on cheeseburger salads, or in any recipe that calls for hamburger seasoned beef.
Here's the easy hamburger seasoned beef recipe I use:
1 pound ground beef
1 tablespoon Worcestershire sauce
1 tablespoon ketchup
1 tablespoon grated parmesan
1 teaspoon onion powder
1 teaspoon garlic powder
⅛ teaspoon pepper
⅛ teaspoon salt
Directions:
In a medium to large skillet coated with cooking spray cook the beef on medium till almost cooked through but still a little pink (about 7-10 minutes). Break beef up as it cooks.
Add Worcestershire, ketchup, grated parmesan, onion powder, garlic powder, salt, and pepper to the beef. Mix together until thoroughly combined.
Continue cooking until beef is cooked all the way through and is no longer pink.
These are two recipes I'll make when I want to quickly get ground beef made and into the freezer but don't want to commit to a meal yet.
After the beef is cooked, and slightly cooled, I'll portion it out into 1/2 or 1lb servings and freeze. I've used freezer bags and containers (plastic and glass) to store the beef.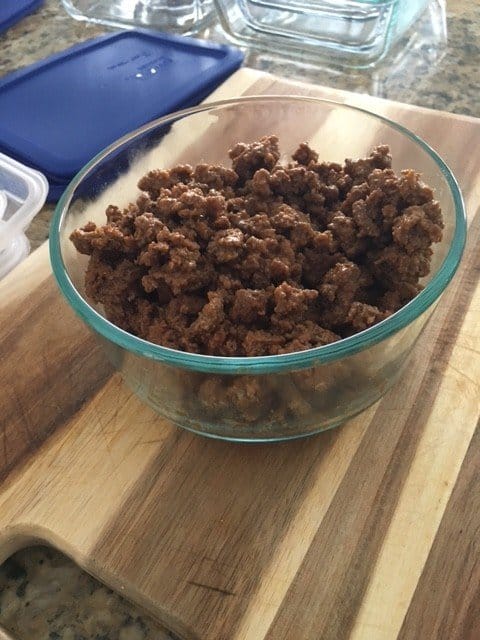 Meatballs
Meatballs is another freezer meal starter I make with ground beef. Meatballs can be used for sauce, subs, pizza, or to simply enjoy on their own.
This is my favorite meatball recipe. The recipe calls for ground turkey but I've used ground beef a million times and it's super good.
You can freeze meatballs a couple different ways. First, you can cook them completely, let them cool, and then portion out into freezer bags. To get the perfect round scoop every time I recommend getting a medium cookie scoop just to use for meatballs.
Lay the bag flat until the meatballs are frozen and then stick the bag wherever you like in the freezer.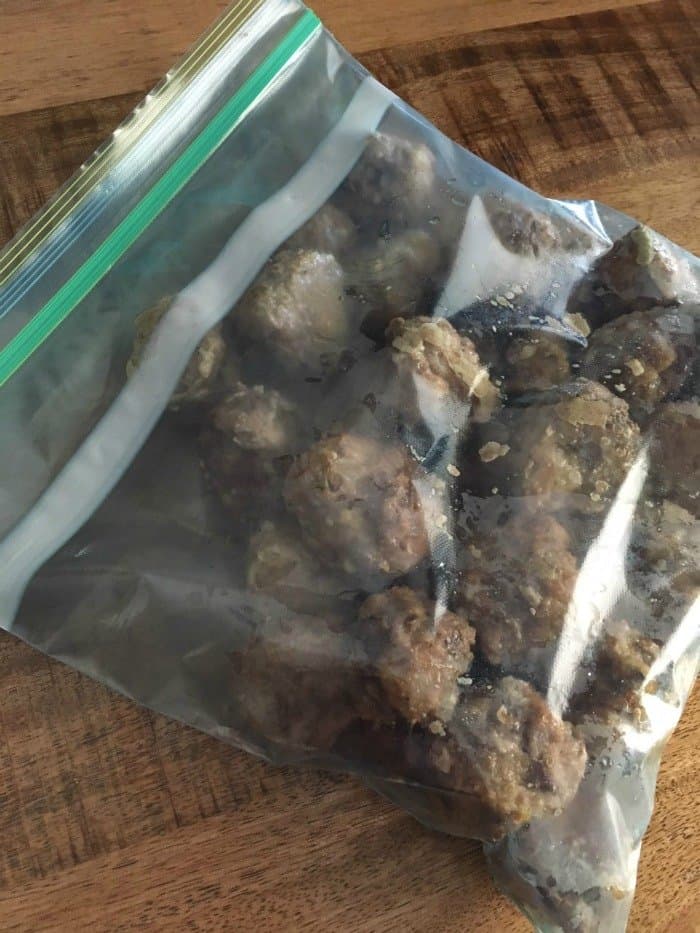 Or you can freeze the meatballs raw.
This is a little trickier because you need to flash freeze the meatballs first. This means you need to lay them out on a cookie sheet, stick in the freezer, and then once the meatballs are frozen you can place into a bag. You don't want to throw raw meatballs into a bag unfrozen or they will turn into a giant meatball.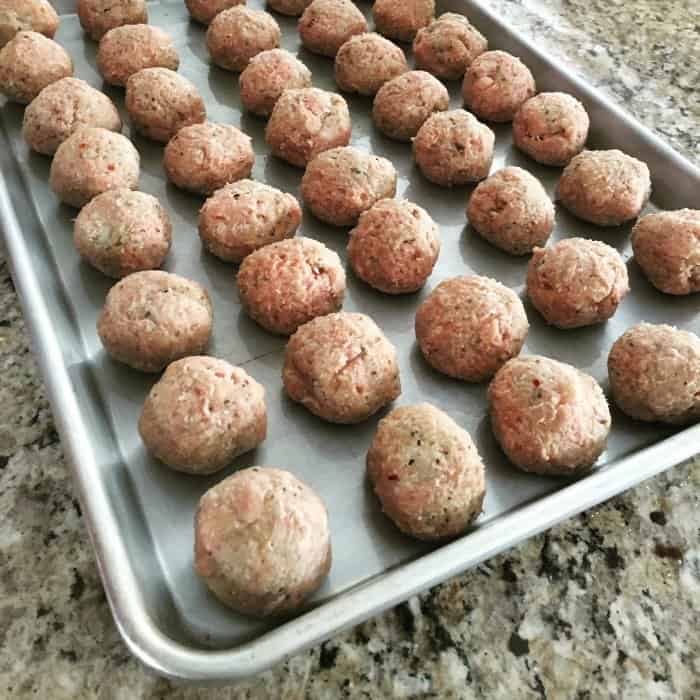 My favorite way to freeze meatballs is to cook them first because then they are recipe ready.
Hamburger Patties
Preparing a bunch of hamburger patties is another way I love to use up a bulk package of ground beef. I just put together a post on how to make hamburger patties to freeze so you can check that out for tips and my favorite seasoning to use.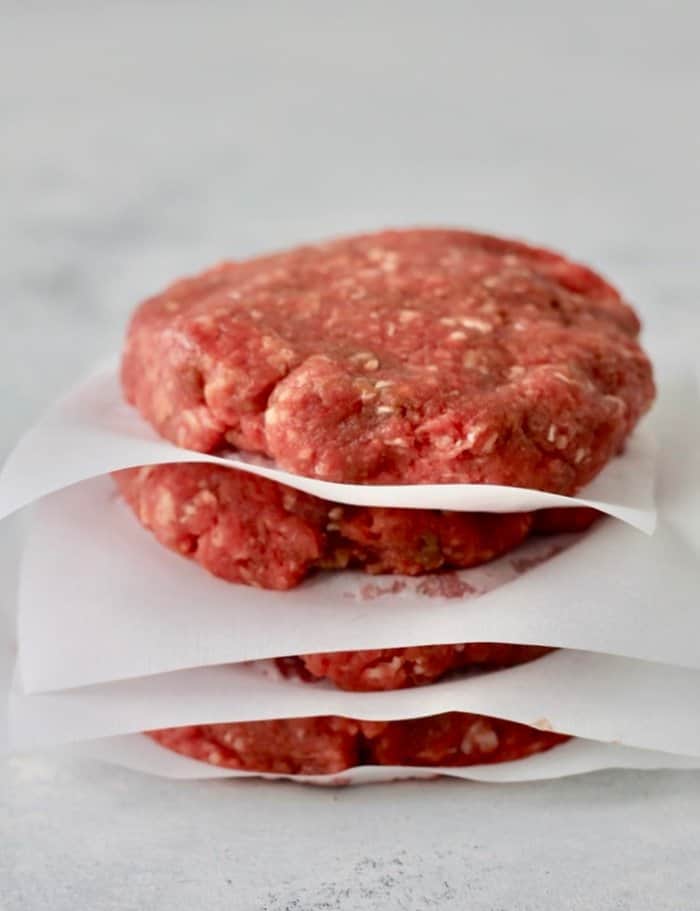 Meatloaf
I love meatloaf! I never thought I'd ever say those 3 words but here I am singing all the praises of meatloaf. Meatloaf is one of the easiest meal prep recipes to make. You can assemble it and freeze it raw or cook it completely, portion it out, and then freeze it that way. No matter what, it comes out great.
Whenever I do a big freezer cooking session you can bet I'm whipping together a couple meatloaves to cook later in the month. If you're not sure exactly how to freeze meatloaf then check out this post with my instructions, tips, and a few of my favorite recipes. Most of my meatloaf recipes call for ground turkey but, no worries, you can substitute beef no problem.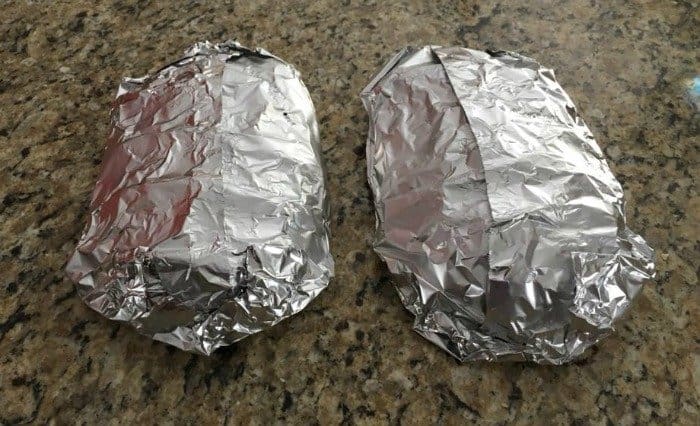 Casseroles
Casseroles are a great way to stretch ground beef. 1lb of ground beef can yield about 8-10 servings in a casserole recipe.
Most casseroles freeze really well. You can either assemble the casserole and freeze prior to baking or you can cook completely and freeze into portions. I'd say I do both equally. I love having casseroles ready to bake in the freezer because then it's like cooking up a hot meal with minimal effort. However, having casseroles frozen into portions make for a super quick meal. My advice is to do what works best for you.
If you do decide to assemble and freeze whole casseroles I recommend picking up some disposable bake pans. This way you can freeze and cook using the same pan. Most disposable pans can be washed and reused. I really like these Glad Heatables or Ovenware. You can find these on Amazon or in your local grocery store.
My favorite beef casserole to make is hamburger macaroni and cheese. I use this skinny macaroni and cheese recipe and then add seasoned ground beef to it.
Chili
Chili is another great way to stretch 1lb+ of ground beef. One pot of chili serves at least 6-8 people. Also, it's a fantastic freezer meal. Whenever I heat up chili that's been frozen it tastes like it was just made – and sometimes even better.
My absolute favorite chili recipe is this Slow Cooker classic beef and beans chili. While this chili cooks you can work on other beef freezer meals.
I like to freeze chili in small containers or individual servings so I can heat up a serving at a time. I like using 16-ounce plastic ball freezer containers for this.However, you can freeze in larger containers if you want dinner for the whole family.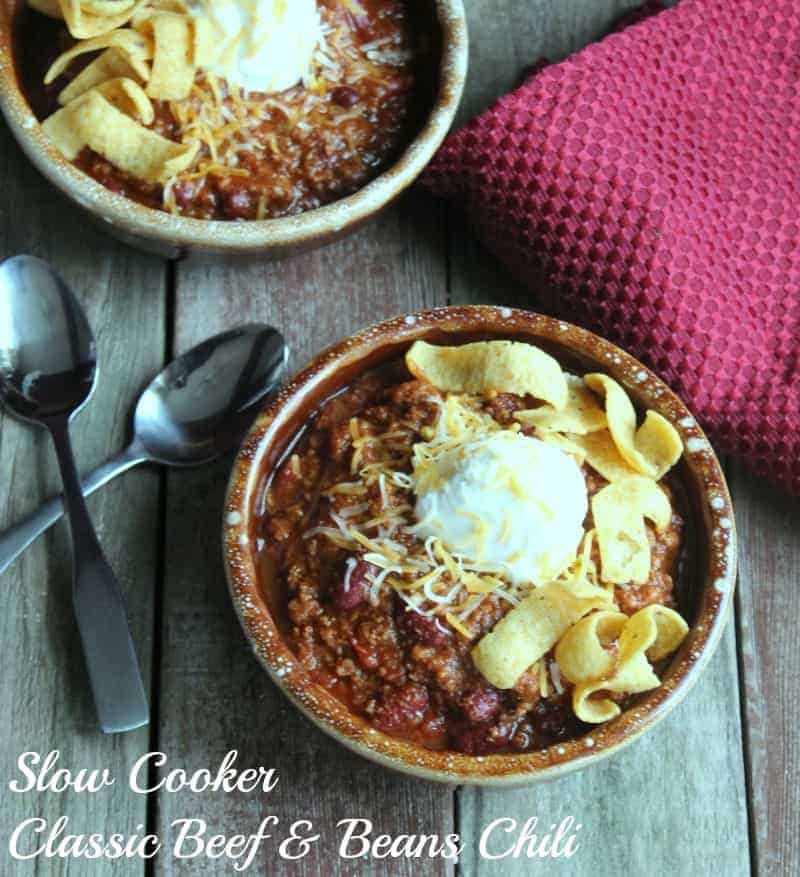 Stuffed Peppers
Stuffed peppers are another recipe I love to make for the freezer. Just like with some of the other beef recipes you can assemble the peppers and freeze prior to cooking or you can cook completely and then freeze into portions. Either way, stuffed peppers freeze great.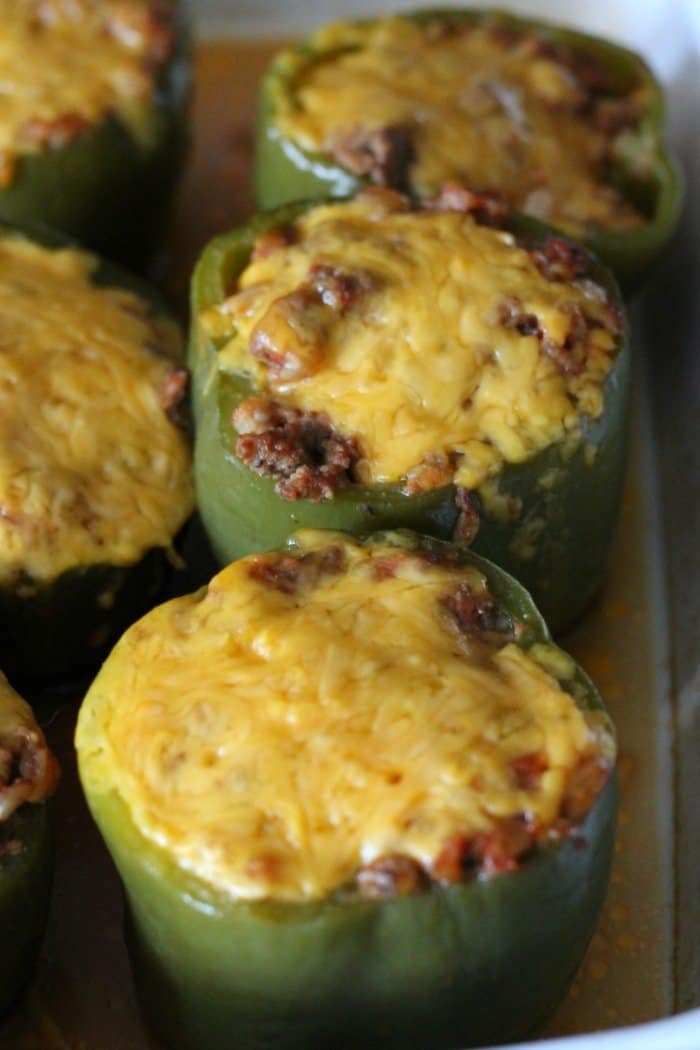 Here are my favorite stuffed pepper recipes:
Again, if you assemble and freeze then I recommend picking up some aluminum baking pans. You can certainly use ceramic or glass pans but then they'd be in the freezer when you need them for other things.
Dinner Freezer Kits
Hands down my favorite make-ahead freezer meals to prepare are dinner kits. This is where all the components of the meal are in a "kit" ready to prepare. The meat in these kits are cooked ahead of time so dinner comes together super fast.
When I have ground beef I love to make cheeseburger wrap and taco kits. You can view all my freezer dinner kits and instructions here.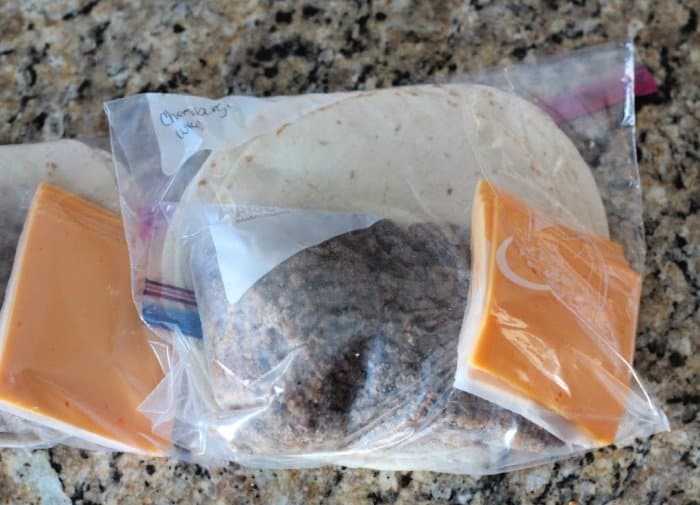 Supplies I Use to Prepare Ground Beef Freezer Meals
To make it easier for you here's a list of all the supplies I mentioned in this post.