Time and time again, I hear people say that clean eating on a budget is impossible. It's one of the top excuses people use for not changing their eating habits – they think clean organic food is expensive and unaffordable. Here are my best tips to teach you how to eat clean on a budget, all without using coupons.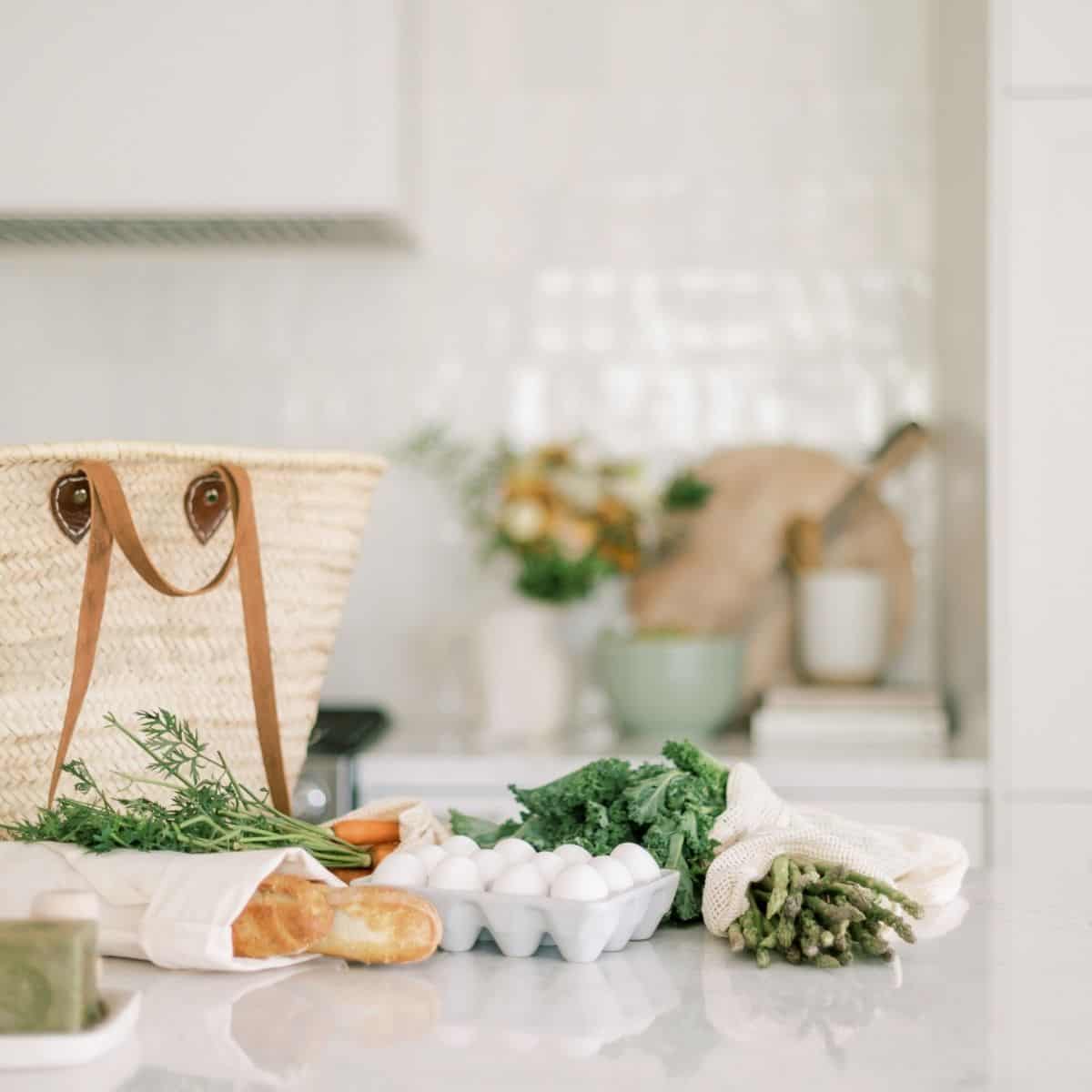 Clean eating on a budget is possible. Yes, of course, some ingredients are more expensive than others, but when you shop smart and cook at home, your grocery bill doesn't need to break the bank.
In my experience, after putting in the different tips I'm going to share, my grocery bill went down.
We spend about $800 a month on groceries for a family of 5, and some months it's a little more, and others it's a bit less. What's important is we eat healthy organic foods and stay within budget.
I think it's important to mention that I don't use coupons. It's not that I don't want to – trust me, I like to save money just as much as the next person.
However, I don't have the time, energy, or desire to clip coupons. I tried it once or twice and failed miserably. Honestly, I don't even check the weekend circulars. Yes, I should probably do that too, but I don't.
I shop once a week at my local grocery store and once every other month online and at my local warehouse store.
So, the money-saving tips I'm giving don't include coupon cutting or going to 5 different stores to get the best deals. Of course, those things might save you a few more dollars, but time equals money, and I'd rather spend my time doing other things.
Not sure what clean eating is? Or do you want more information on how to eat clean? Check out my clean eating for beginners guide.
Clean Eating on a Budget
These are my best tips for clean eating on a budget. As you'll see, it's more about creating habits and routines than magic tricks. I'll go over each tip in detail, but here's a quick list of what I do to keep healthy organic foods affordable for my family.
Create a grocery budget and stick to it
Significantly reduce going out to eat and ordering take-out
Only shop once a week
Shop in bulk
Shop online
Put together a clean eating meal plan
Meal prep & freezer meals
Create a grocery budget and stick to it.
Do you have a weekly grocery budget? Can you say with 95% accuracy how much money you spend on groceries a week? Or would you throw a number out there?
I bring this up because many people will say healthy eating costs too much but then don't know how much they spend each week on groceries or the actual price of organic healthier foods.
It's okay if you fall into this category; I was there too.
But "you don't know what you don't know." When you take time to create a budget and stick to it, it's easier to understand where you are spending money.
How to figure out a grocery budget?
Look at your bank statement and highlight the amount spent on groceries last month. Yes, I know this is painful to do.
Look at take-out (we will talk more about this next).
Total up that number.
If you're good with that number, then that's what you'll use. If you're shocked, decide on a grocery budget you're comfortable using.
This budget is what you'll use moving forward. All of your planning and shopping will revolve around that budget.
So, if you only want to spend $100 a week, then that's what you'll spend.
Of course, it's important to stay realistic. While not impossible, it'll be a challenge to feed a family of 4 a well-balanced, healthy meal plan on $50 a week.
My grocery budget is $175 -200 a week for a family of 5. Some weeks it's less, and others, it's a little more, but on average, this is what I budget for meals and snacks for the week.
I also spend an extra $200 – $250 every two months at my local warehouse store. Keep in mind this budget includes cleaning supplies and toiletries too.
I feel comfortable saying that a family of 4 can spend roughly $600 a month on a clean eating meal plan. Of course, the other habits I discuss below will help you stay within that budget.
Significantly reduce going out to eat and ordering take-out
When we think about our weekly grocery budget, we're likely to leave out trips to Starbucks (guilty) or take-out pizza, salad from Panera, weekend wine or beer, or dinner with friends.
Well, I'm here to tell you those extras add up quickly.
I'm not implying that you shouldn't go out with friends or treat yourself to a yummy coffee drink, but if you're using money as an excuse to skip the organic apples and grass-fed beef, then you need to take a hard look at these expenses.
From experience, it's entirely possible to free up $200+ by controlling the extras.
As you work towards clean eating habits, you'll need to cook and eat more at home. Cooking homemade meals allows you to control ingredients and portions, making it easier to eat clean.
Take-out, and dining at restaurants, will become something you do on special occasions instead of every day or week. This alone will save money to put towards your grocery budget or save for something else.
Only shop once a week.
This is one of my personal money-saving grocery shopping tips. I shop once a week to grab the fresh ingredients I need for my meal plan.
I used to head to the grocery store every day, or every time, I was missing an ingredient.
I would run in, grab what I needed along with a few other things, and before I knew it, I spent an extra $25 or more and had no clue what I bought.
It's too easy for me to lose track of my grocery budget when I head to the grocery store every time I forget something. There are some ingredients I need to get, but if I can leave it out or substitute it for something else, I will.
This habit took a little bit to master, but it made a difference in keeping my grocery budget in check once it became routine.
The key is to plan out my meals, have a detailed grocery list, and keep healthy staples stocked and organized in the pantry, fridge, and freezer and organized.
Clean eating pantry staples I keep stocked are:
Canned beans
Dried beans and lentils
Canned tuna
Canned tomatoes
Chicken broth
Brown rice, quinoa, and other grains
Pasta (wholegrain and gluten-free)
Organic spaghetti sauce
Oats (rolled and steel-cut)
See a complete list of healthy pantry staples for more ideas.
Shop in bulk
Another way I save money on nutritious foods is stocking up once every month or so on bulk items.
Bj's, Sam's Club, and Costco offer a large selection of organic brands, fruits, vegetables, meats, and seafood.
The healthy foods I purchase most often at BJ's wholesale are:
Smoothie ingredients – I purchase large bags of organic frozen fruit, apples, bananas, and spinach, then I'll create frozen smoothie packs, so I keep track of the ingredients I have for smoothies.
Chicken, beef, and seafood. Most of the time, I purchase our meats and seafood online from Butcher Box, but Bj's wholesale does offer high-quality meats and seafood. You can get whole chickens, ground beef, cheaper cuts of meat, salmon, shrimp, and other things at great prices.
Cheese. I'll get block cheese or large bags of shredded cheese.
Organic brown rice, white rice, and quinoa
Big bags of vegetables like broccoli, carrots, peppers, sweet potatoes, cauliflower, spinach, and kale.
Fresh fruit like oranges, peaches, pears, grapes, and other fruits. Most fruits will only last two weeks so I'll freeze the rest to use in smoothies and other recipes like oatmeal.
Healthy snacks like crackers, nuts, seeds, etc. See a complete list of clean eating snacks.
Organic Chia Seeds
Gluten-free flour.
Organic eggs
Siggis Yogurt
Pure Maple Syrup
Peanut Butter
Coffee
Rao's spaghetti sauce
Olive oil, Avocado Oil, and Coconut Oil
I also purchase all our cleaning supplies and most toiletries at BJ's wholesale, and I find the prices substantially lower than the grocery or other retail stores. So, if you plan, you can reduce your costs by purchasing household items in bulk.
A tip for shopping in bulk
If you're not going to use fruit, vegetables, meats, or seafood right away then take advantage of your freezer, You can either freeze foods portioned out so everything is recipe ready or prepare and freeze into recipes. For example, make big batches of soups and stews to freeze into portions.
Shop online
Since 2015, I've shopped online at Thrive Market. They offer many of the same brands that Whole Foods have but at lower prices. Thrive Market also has a store brand that offers mostly organic items, and the prices are comparable, if not cheaper, than grocery stores.
However, I find the most significant cost savings with their gluten-free items. I started eating gluten-free at the beginning of 2021, and Thrive Market has been a great resource.
Not only do they offer all of the popular brands and items, but everything is well stocked, and the prices are always lower than what I see in grocery stores.
Check out my Thrive Market review for more information. Or if you're ready to use Thrive Market then here's 40% off your first order.
Shopping online also helps to stick within the budget because it reduces impulsive buying, and you can see the total prices before checking out.
I put in an online order once a month or so when shopping wholesale.
I mentioned Butcher Box earlier, but to elaborate because this is another place where I shop online for groceries, specifically meat and seafood. Quality meats is an area I don't cheap out on, but I also don't want to break the bank. So, I make sure the cost of meats and seafood is a part of our food budget.
You can undoubtedly find organic meats and seafood in grocery stores, but I often find that things are sold out, and I hate wasting time at the grocery store.
So, I order a large custom meat box every two months and then plan our meals around that, and I plan out recipes that stretch the meat.
Butcher Box is a little pricier than the stores, but I never have to worry about finding high-quality organic meats, and it gets delivered right to my door. Check out my Butcher Box Review for more information.
Put together a clean eating meal plan
If you want to save money on your grocery bill, eat a healthy balanced diet, manage your weight, reduce the processed foods you eat, then meal planning is a must!
Taking the time to create a meal plan is the first step in getting your life organized and healthy food on the table. Start by using easy recipes (tacos, spaghetti and meatballs, grilled chicken, etc.).
Focus on creating the habit, not necessarily learning new recipes – that will come later.
A meal plan is your food road map for the week. Of course, you can plan any way you like, but if you're trying to eat healthy on a budget, I suggest planning out every meal and snack. This way you know what to buy (saving money part) and precisely what to eat (eating clean part)
Of course, there's no point in having a meal plan filled with healthy meals and healthy snacks if you don't create a grocery list to go with it. A detailed grocery list is where you'll find the savings. The key is to walk into the grocery store and only purchase the food you need.
No "I think I need this" or "Maybe this is good." Nope, you only purchase the food you need to prepare your meal plan. Having a detailed grocery list will help you save money!
After you put together a grocery list, you can see if anything is on sale, which could save you money.
Download my free meal planning guide that comes with a 7-day clean eating meal plan and grocery list.
Meal Prep
A meal plan is useless if you don't prepare and eat the meals. How often did you put together a delicious meal plan, buy all the groceries, and then throw most out by Friday? Me too!
Unfortunately, more times than I care to admit.
My solution – clean eating meal prep and freezer meals.
You're more likely to eat healthy during the week when you prepare recipes and ingredients ahead of time. This means preparing for the week or stocking your freezer every month or so with full meals, casseroles, meal starters, and snacks.
Once a week meal prep and batch freezer cooking:
Helps you stay on track because healthy food is ready to eat – all you need to do is heat and eat.
Saves money because you only purchase the foods you need and can also shop in bulk when making large batches of food for the freezer.
Significantly reduces food waste because you're only purchasing and making the foods you're planning to eat
Using weekly meal prep and freezer cooking alongside a meal plan is a powerful way to eat cleaner, manage weight, and save money.
You can still eat clean, unprocessed, healthy foods even on a tight budget. Putting together a budget, learning to shop smart, planning out your meals, and being prepared ahead of time will help you stay within a budget and enjoy a clean eating lifestyle.