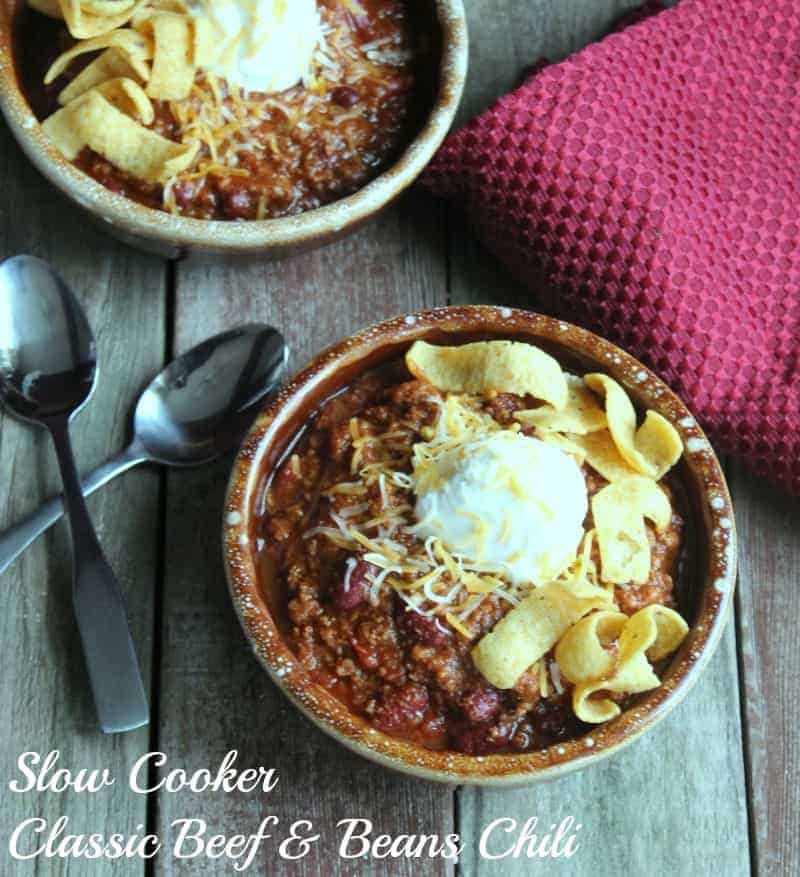 I am a huge chili fan. There are thousands of recipes to choose from and most them are super easy to make and freeze great. Some of my favorite chili recipes include Buffalo Chicken Chili, Sweet Potato and Black Bean Chili, Pork and Black Bean Chili, Classic Turkey Chili, Chunky Beef and Beans, and Meaty "Meatless" Chili. There are tons of chili variations but sometimes I just want a classic chili made with ground beef and kidney beans. Nothing fancy.
That is exactly what you will get with this classic beef and beans chili recipe. It is made in the slow cooker and is honestly one of the best classic chili recipes I ever made. Like many of my slow cooker recipes I found this one in my Slow Cooker Revolution Cookbook.
I adapted the recipe slightly. Instead of 3 onions chopped up, I used 3 tablespoons of onion powder. My kids hate onions. Personally, I think it is all in their little brains. But regardless if there is the slightest glimpse of an onion – no matter how small I chop it – they won't touch it. I don't get too bent out of shape about not using onions because I actually love the flavor of onion powder. I also decided to use granulated garlic instead of raw garlic. Just like with onion powder I think granulated garlic brings a lot of great flavor to this recipe.
As with most of my slow cooker recipes I always do a little prep before I put the ingredients into the slow cooker. Trust me taking a few extra moments to prep meat or bloom spices makes all the difference between a tasty slow cooker meal and a bland one.
For this recipe I combined all the spices together and mixed them in with the ground beef. I also mixed in the tomato paste at this time too. I find this helps the tomato paste distribute evenly throughout the chili. Then I browned the beef and cooked it until it was no longer pink – I did this in batches. Next I threw the beef and rest of the ingredients into the slow cooker and cooked on high for 5 hours. It turned out perfect!
Do not skip the milk and bread part of this recipe. This little trick keeps the meat moist and tender. Honestly, it works every time!
This chili is thick, hearty, and everything you would imagine a classic beef chili would be. If you need to thin it out a bit then just add some beef or chicken stock. I had to add a little when I was warming up the next day. You will get about 9 cups of chili from this recipe – that is a lot of chili. Freeze whatever you don't eat into single portions for easy lunches and dinners.
Serve with some corn chips, plain greek yogurt, and a little shredded Mexican cheese.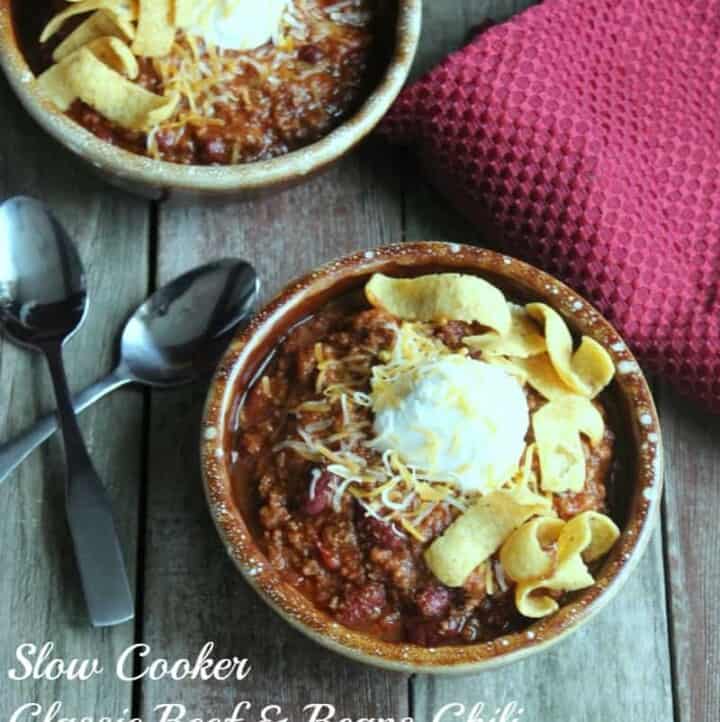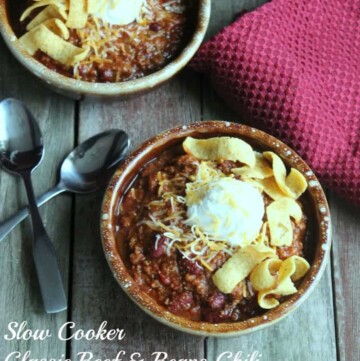 Ingredients
3

tablespoons

onion powder

1 1/2

teaspoons

granulated garlic

1/4

cup

chili powder

1/2

teaspoon

ancho chili powder

1/2

teaspoon

chipotle chili powder

1

teaspoon

oregano

2

slices

whole wheat bread

1/4

cup

1% milk

2

lbs

lean ground beef

1/4

cup

tomato paste

1

28 ounce can tomato puree

1

28 ounce can diced tomatoes

2

15 ounce cans dark red kidney beans, drained and rinsed

3

tablespoons

soy sauce

1

tablespoon

dark brown sugar
Instructions
Mix all the spices together and set aside.

In a medium bowl, mash together milk and bread until it forms a paste.

Using you hands, mix in the beef, spices, tomato paste, and milk/bread paste until all the ingredients are blended together. Don't over mix.

In a large pan heat oil on high. Cook meat mixture, in batches if needed, until it is browned and no longer pink in the middle. Transfer to slow cooker.

Add tomato puree, diced tomatoes, kidney beans, soy sauce, and brown sugar to the slow cooker. Stir a couple times until everything is blended.

Cook on high 3-5 hours or low 6-8 hours. Mine cooked perfectly on high for 5 hours.
Notes
Make ahead instructions
This recipe can be made completely ahead of time and frozen for future meals. You can also make this into a slow cooker freezer kit. Prep the meat, let cool, then add to a large ziplock bag with the rest of the ingredients. Take out the day before to let thaw in the refrigerator. Place ingredients in the slow cooker and continue cooking as instructed in directions.
Nutrition
Serving:
1
g
|
Calories:
378
kcal
|
Carbohydrates:
45
g
|
Protein:
32
g
|
Fat:
8
g
|
Fiber:
12
g
|
Sugar:
9
g