Thinly sliced roast beef, banana peppers, provolone cheese, and arugula brought together in a delicious low-calories wrap to make this simple and delicious Italian Roast Beef Wrap recipe.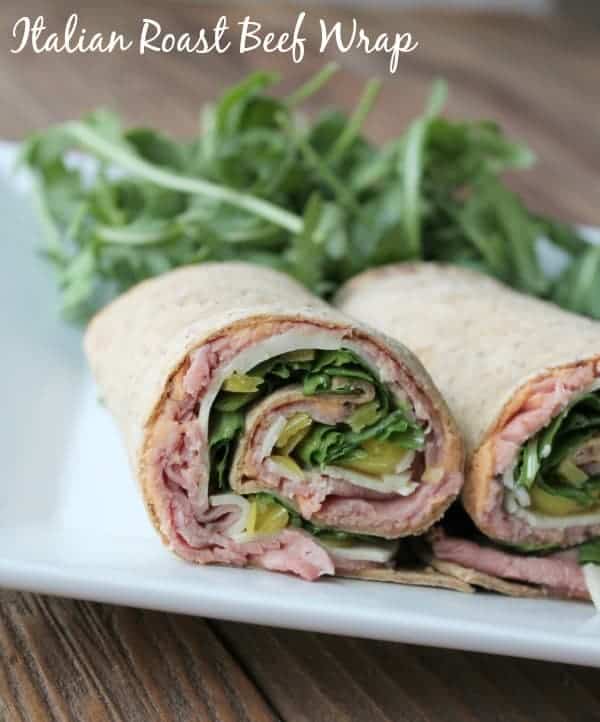 No-cook recipes are some of my favorites. They're quick, easy to make, and are just as tasty as recipes I spend an hour preparing. Plus, I don't always want to cook. Especially when I'm working from home ALL DAY. Often times when I'm trying to get a lot done on the computer I don't have time to stop and put together a meal. Instead, all I want is to grab a few ingredients, roll them together, and call it a day.
I make wraps a lot but I don't always think to share them on my blog. I don't why. Maybe because I think wraps are like "non recipes". There isn't a lot of mixing, stirring, or baking. But I should know better because some of the most read recipes on my blog are super simple recipes like my Turkey Club Ranch Wrap or my "no bread" Greek Turkey Rollups. Apparently, you appreciate simple recipes as much as me. I knew we were friends for a reason. xoxo
This Italian Roast Beef Wrap I'm positive is going to become a new favorite. It was kinda inspired from the Italian beef I made in the slow cooker earlier this year. The banana peppers make this wrap! Actually, I think banana peppers could bring any recipe to a new level. YUM!
Let's go through the recipe.
I started with a Flat Out Multigrain with Flaxseed Wrap. I use these wraps often because they are the best testing low-calorie wraps I can find. I've tried many brands and this is the only one I like. There are different varieties to choose from but I typically use the multigrain variety.
I spread about 1 tablespoon of roasted red pepper hummus over the top. I love using hummus as a spread instead of mayonnaise. It taste better and cuts the calories and fat in half. Of course you can use any flavor hummus but I chose roasted red pepper because I wanted it to have an Italian flare and roasted red peppers say Italian to me.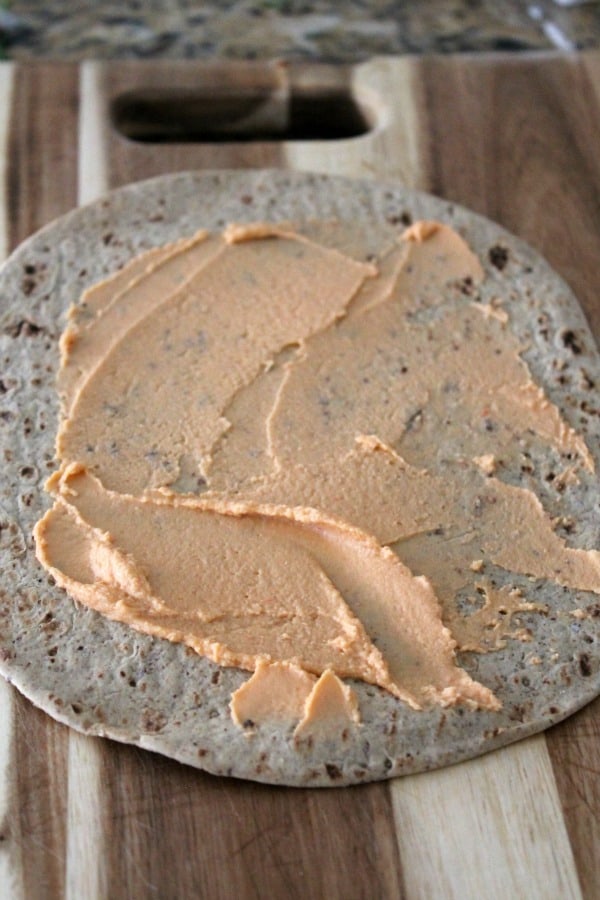 Then I covered the hummus with 2 slices of thinly sliced roast beef. I used organic grass-fed roast beef from the deli at Wegmans. It's delicious.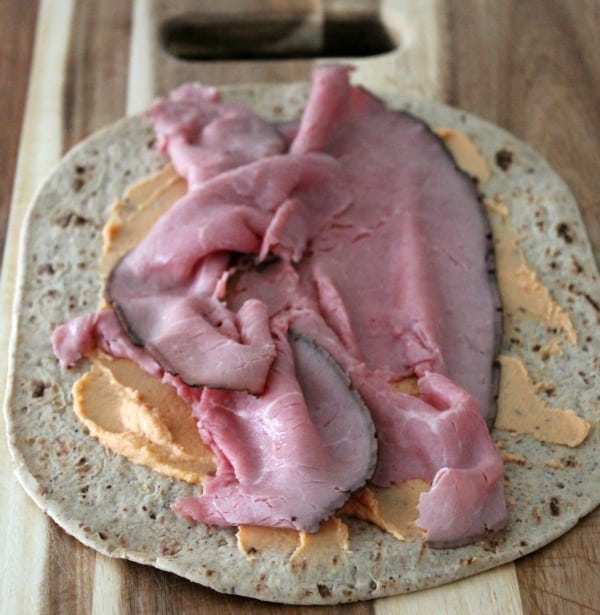 Next I added the cheese and banana peppers. Banana peppers add a ton of amazing flavor to this wrap. I prefer jarred sliced banana peppers. They're easy and super tasty. If you wanted to use fresh I'm sure you can but the flavor might be a little different. If you happen to have any jarred roasted red peppers then feel free to add some of those too. YUM YUM YUM!
If you want to lower the calories, fat, and points you can reduce the cheese or leave it out all together.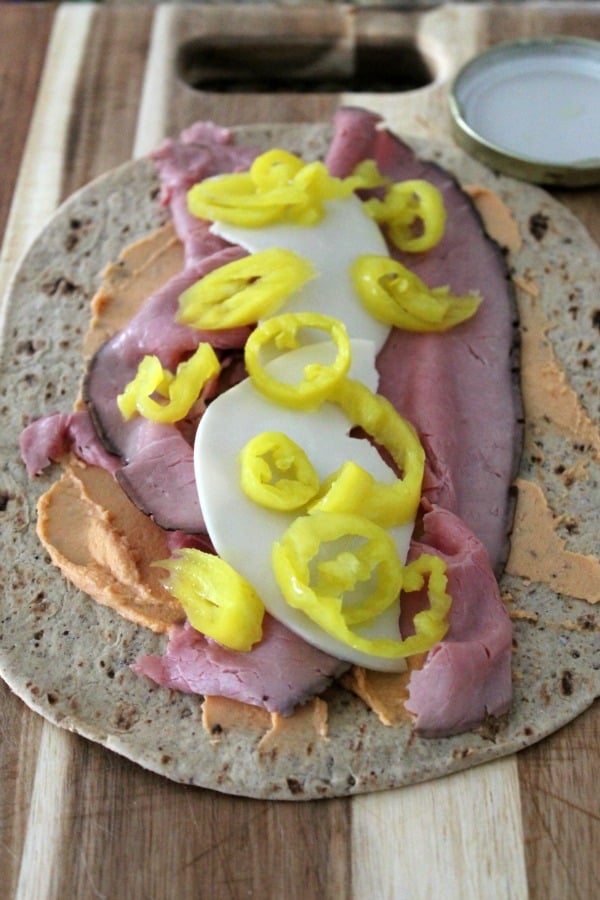 Next is the arugula. Arugula is my favorite salad green. I love the peppery flavor. The first time I made this I left it plain and thought it was to dry. So when I made it a again I tossed it with about 1 teaspoon of Italian salad dressing before adding it in. This was the right choice! Soooo good! Flavor, flavor, and more flavor!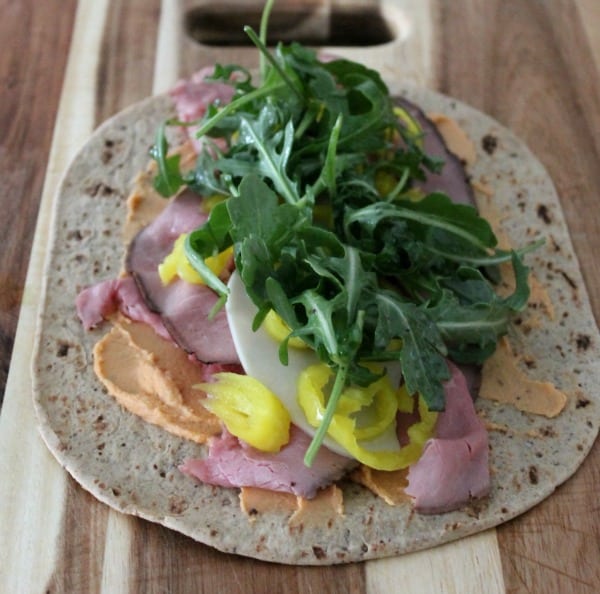 Once all the ingredients were place in the wrap I rolled it up. The first time I rolled it the long way and it didn't work. The second time I rolled it up the shorter way and it was perfect.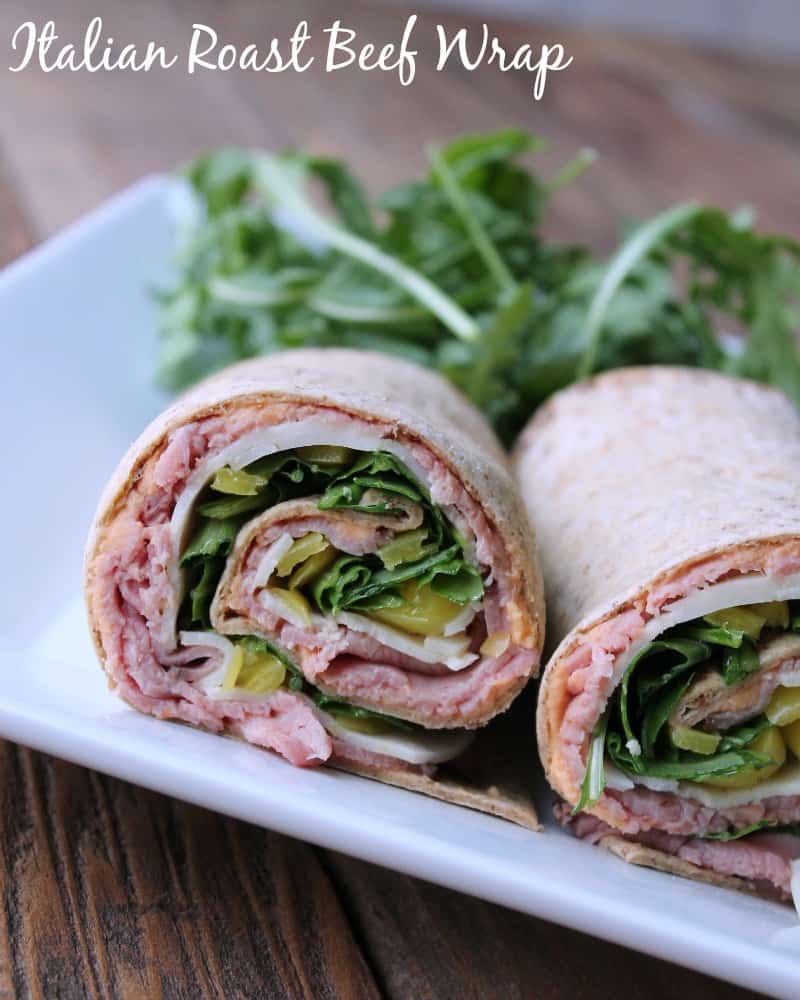 This is a hearty wrap. For lunch I ate 1/2 the wrap along with a greek yogurt. That was plenty! I saved the other 1/2 for the next day. It was even more delicious. The arugula was a little wilted but I loved it. Anyway, since this wrap will keep for a day or so I figured the nutritional information using 1/2 the wrap. If you eat all of it for lunch then double the nutritional information.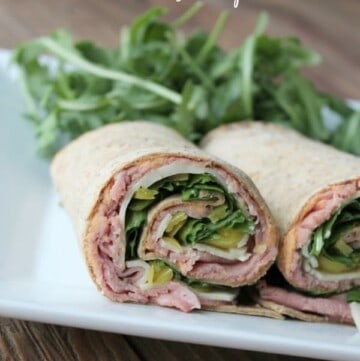 Italian Roast Beef Wrap
Thinly sliced roast beef, banana peppers, provolone cheese, and arugula brought together in a delicious low-calories wrap to make this simple and delicious Italian Roast Beef Wrap recipe.
Print
Pin
Rate
Ingredients
1

Flatout Multi Grain with Flax Wrap

or whatever variety you like

1

tablespoon

roasted red pepper hummus

2

slices

thinly sliced deli roast beef

1

slice

provolone

2

tablespoons

sliced jarred banana peppers

½

cup

baby arugula

1

teaspoon

Italian salad dressing
Instructions
Layout the wrap and spread 1 tablespoon hummus over the top. Add the roast beef, provolone, and banana peppers.

In a small bowl toss the arugula with 1 teaspoon salad dressing. Add the arugula to the wrap and then roll it up. Cut in half and serve.
Notes
Make-ahead food prep tips
These wraps can be made 1-2 days ahead of time. Wrap ion plastic wrap and store in the refrigerator.
Nutrition
Serving:
1
g
|
Calories:
167
kcal
|
Carbohydrates:
11
g
|
Protein:
14
g
|
Fat:
9
g
|
Saturated Fat:
3
g
|
Fiber:
5
g
|
Sugar:
5
g