Shredded, baked, stuffed, grilled- There are a million and one ways to make a chicken breast. In this post, I'm going to share the best chicken breast recipes I make all the time! As a bonus, I'll offer my best meal prep and freezer meal tips for each one. Trust me, you'll want to save this post!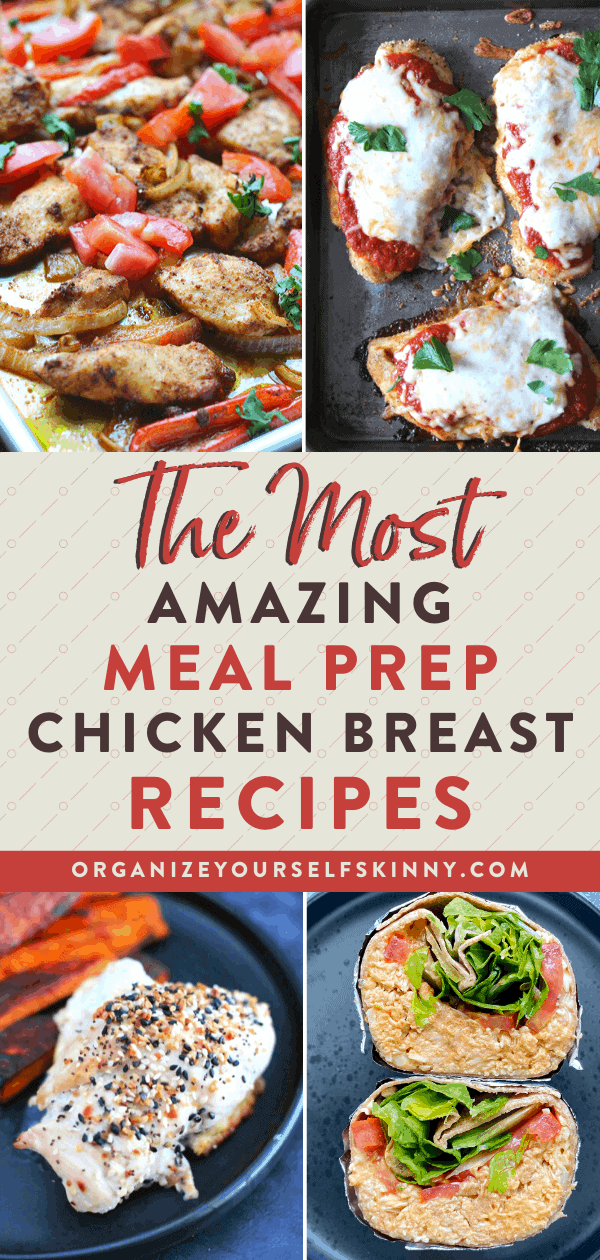 Back in the day (pre-weight loss journey), I'd purchase a huge package of bulk chicken from my local warehouse store and shove it in the freezer. When I was ready to make dinner, I'd either thaw the entire package or chisel out a few chicken breasts that I needed.
Then, I'd made 1 of these 3 recipes:
Marinated grilled chicken with bottled Italian dressing
Baked BBQ chicken
Breaded Fried Chicken
That was it.
At that time, I had no idea about the great big world of chicken breast recipes.
Fast forward all these years later and while I cook chicken breasts more often than any other protein, the recipes I make have expanded way beyond the 3 sad recipes I made years ago.
Meal Prep and Freezer Meal Tips For Chicken
Before I share some of my top chicken breast recipes, I want to go over some meal prep and freezer tips with you all because chicken breasts are one of the things I meal prep the most!
Buy High-Quality, Organic Chicken
Let's start with what kind of chicken breast I buy.
A great recipe always starts with great high-quality ingredients and chicken recipes are no exception.
One of the biggest changes I made when I started to shift my eating habits was moving over to a clean diet. When I did this, I started with meats, specifically chicken breast.
I'm not going to get into all the ins and outs of high-quality meat but I'll just say that, in my opinion, it makes a huge difference. I don't mind spending a little extra money on packaged chicken breast that is organic and free of any antibiotics and/or hormones.
There are 3 specific places I can find bulk organic chicken breasts:
Wegmans
This is my local grocery store and they sell organic chicken breasts in bulk for about $5-6 a pound. Sometimes, if they're overstocked, you can get a great deal on packages they have priced to sell! If you don't have a Wegmans in your area, then check your local grocery store.
BJ's Wholesale Store
In the last 3-4 years, BJ's Wholesale has been great with offering more organic meats. They sell organic chicken by the bulk for about $5-6 a pound. I highly recommend checking out your local wholesale store for any deals they may have!
Butcher Box
If you don't have access to high-quality organic meats, especially in bulk, then I recommend checking out some of the online meat services that deliver right to your door.
My favorite is Butcher Box!
I've been a member with them since June of 2018; And, even though I do have access to many grocery stores, I definitely love having Butcher Box available when needed. They really come through when I can't get to the store or my stores are running low or sold out of chicken and other meats.
Their prices are more expensive than the other two options, but keep in mind, these meats are of the highest quality you can get and you're also paying for convenience.
Also, they have member-only deals frequently so it's very possible to get meats for the same price as you would in the store. When I first signed up, they just had a bulk chicken special and I got 12lbs of organic chicken for a little over $6 a pound.
If you are interested in ordering some meat for yourself, you can learn more about Butcher Box here!
Supplies You'll Need To Make Meal Prep
Here is a list of supplies you'll need to meal prep all of the chicken.
Slow Cooker- I have the Hamilton Beach Programmable Set & Forget 6 Quart Slow Cooker and it works perfectly for all my slow cooker chicken recipes.
Large Sheet Pans- this Nordic Ware sheet pan is the one I use for all of my sheet pan chicken recipes!
Meat Tenderizer- I use this Oxo Good Grips Meat Tenderizer to pound thicker chicken breasts into cutlets.
Stasher Stand Up Silicone Bags or Gallon Freezer Bags- I use these to store recipe-ready chicken and marinated chicken breasts.
Meat Thermometer- If you're unsure of the internal temperature or are afraid of overcooking the chicken, then I highly recommend investing in a meat thermometer. This one by Thermo Pro is cheap and has great reviews!
Meal Prep Chicken- The Right Way
I have found that out of all the meats I meal prep, chicken breasts are the easiest protein to work with.
Here are some of my favorite ways to get chicken recipe-ready:
Cook It Completely
If you want to toss some chicken in your salads during the week, then you can cook it completely on Sunday to use throughout the week. You can chop or shred it to use this way have it ready to serve with some rice and pasta bakes.
If you're wondering how long to keep cooked chicken in the refrigerator, the recommended amount of time is 3-4 days. If you think you'll go past that time, then simply stick the cooked chicken in the freezer and pull it out when you're ready to eat it! I prefer using these glass meal prep containers to store chicken in.
Prep The Chicken To Be Recipe Ready
If you'd rather cook the chicken fresh the night you're going to eat, then I recommend prepping it ahead of time so it's recipe ready.
For example:
Trimming off the fat
Cutting the chicken into strips
Pounding it into cutlets
This cuts down on prep time during your busy work week!
Raw chicken can be safely stored in the refrigerator for up to 2 days. So, if you're not going to eat it within that time frame, then stick it in the freezer.
Marinate It Ahead Of Time
This is one of my favorite ways to prep chicken breasts because it's so easy!
All you need to do is place the chicken breast into a freezer bag with your choice of marinade and freeze. Take it out and let it thaw for a day or so in the refrigerator and then use a grill to cook or bake it. That's it!
These are some of my favorite homemade chicken marinades I always use.
Freezer Meal Tip: If you purchase a bulk package of chicken and don't have plans to use it right away, then I recommend taking the time to prep it in some form so it's recipe ready. You can do this by freezing it into prepped portions (cutlets or stir fry strips), marinated freezer kits, and slow cooker chicken freezer meals.
The last thing you want to do is freeze whole packages of chicken. Having chicken recipe ready will make it so much easier during the week!
The Most Amazing Chicken Breast Recipes You Need To Make
I'm really excited to share all of these recipes with you! I have cooked them a bunch of times and we never get tired of them. You can do so much with all of these chicken breast recipes!
I'm going to start with baked chicken breast recipes. I'm going to include some sheet pan chicken recipes on this list because they are essentially baked.
Recipes For Baked Chicken Breast
The question I get asked the most is: How long do I cook chicken breast in the oven?
One of the biggest complaints with any chicken recipe is ending up with dry, chewy chicken. Nobody likes dry chicken!
Here are my tips for cooking chicken breasts in the oven.
Now, I've cook chicken breasts at all different temperatures for all sorts of lengths of time. Here's what I learned:
Make sure all of the chicken breasts are even. If some are thicker and the others are smaller, then they won't cook evenly. So, this is where having a meat tenderizer comes in handy. Lay the chicken between a couple of pieces of plastic wrap and pound them out until all the chicken breasts are even.
If the chicken isn't marinated ahead of time, rub them in olive oil or melted butter to help lock in some fat. This helps it to stay juicy and adds to the flavor! Remember, chicken breast is a lean cut of meat so it doesn't have the fat to keep it moist and juicy. Marinating it acts as a brine and tenderizes the meat.
Let your chicken breast rest for about 3 minutes before cutting it. This gives it time to seal the juices. If you cut into it too soon, then all of the juices (and flavor) will come running out of the chicken breast.
When it comes to what temperature to cook the chicken at, my preferred temperature to cook chicken at is 375 degrees for about 25 – 30 minutes. If you want it to cook faster, you can cook at 400 for 20 minutes.
Note: The internal temperature needs to be 165 degrees to be safe to eat!
Now, it's time to cook! Here are my favorite baked chicken breast recipes:
This is one of the most popular recipes on my blog. And with good reason, because it's healthy, easy to make, and beyond delicious. You can also freeze this recipe ahead of time (here's how!).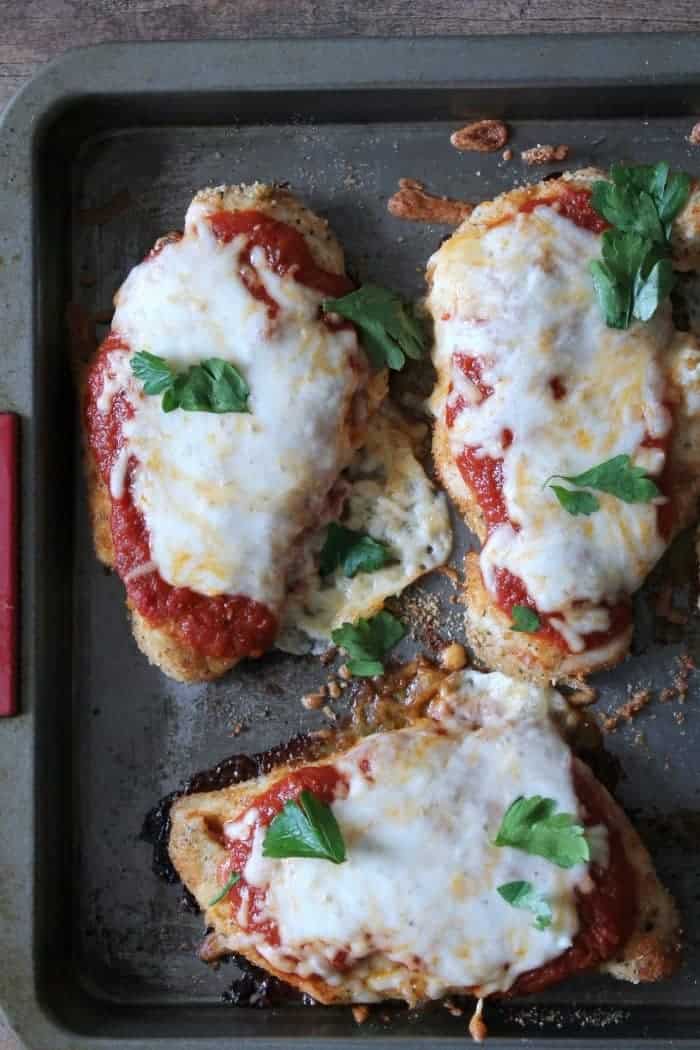 This is a great chicken recipe to eat mixed in a salad or served with rice and vegetable. It uses basic ingredients and comes together very quickly.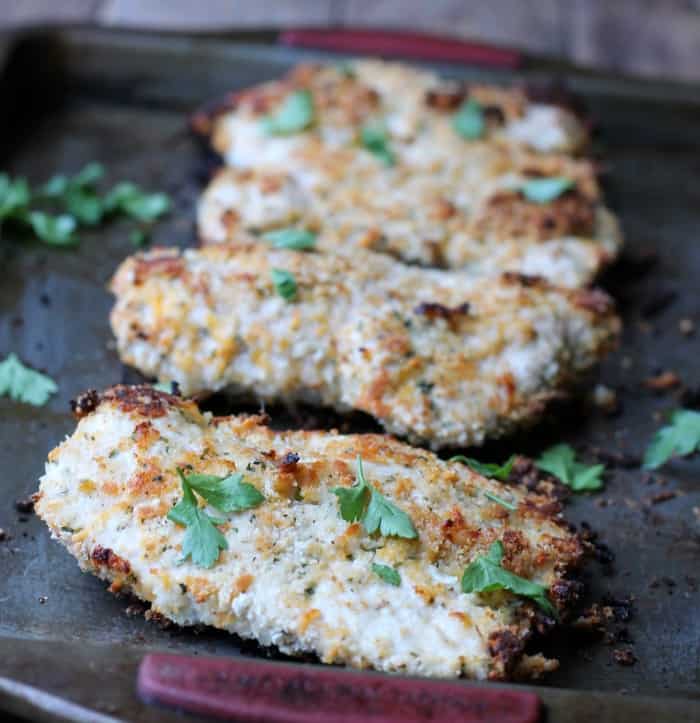 If you're looking for a complete one-pan chicken dinner, then definitely give this chicken and veggies sheet pan meal a try! This is my oldest daughter's favorite and I probably make this 2-3 times month.
It's super easy to make and keeps great in the refrigerator!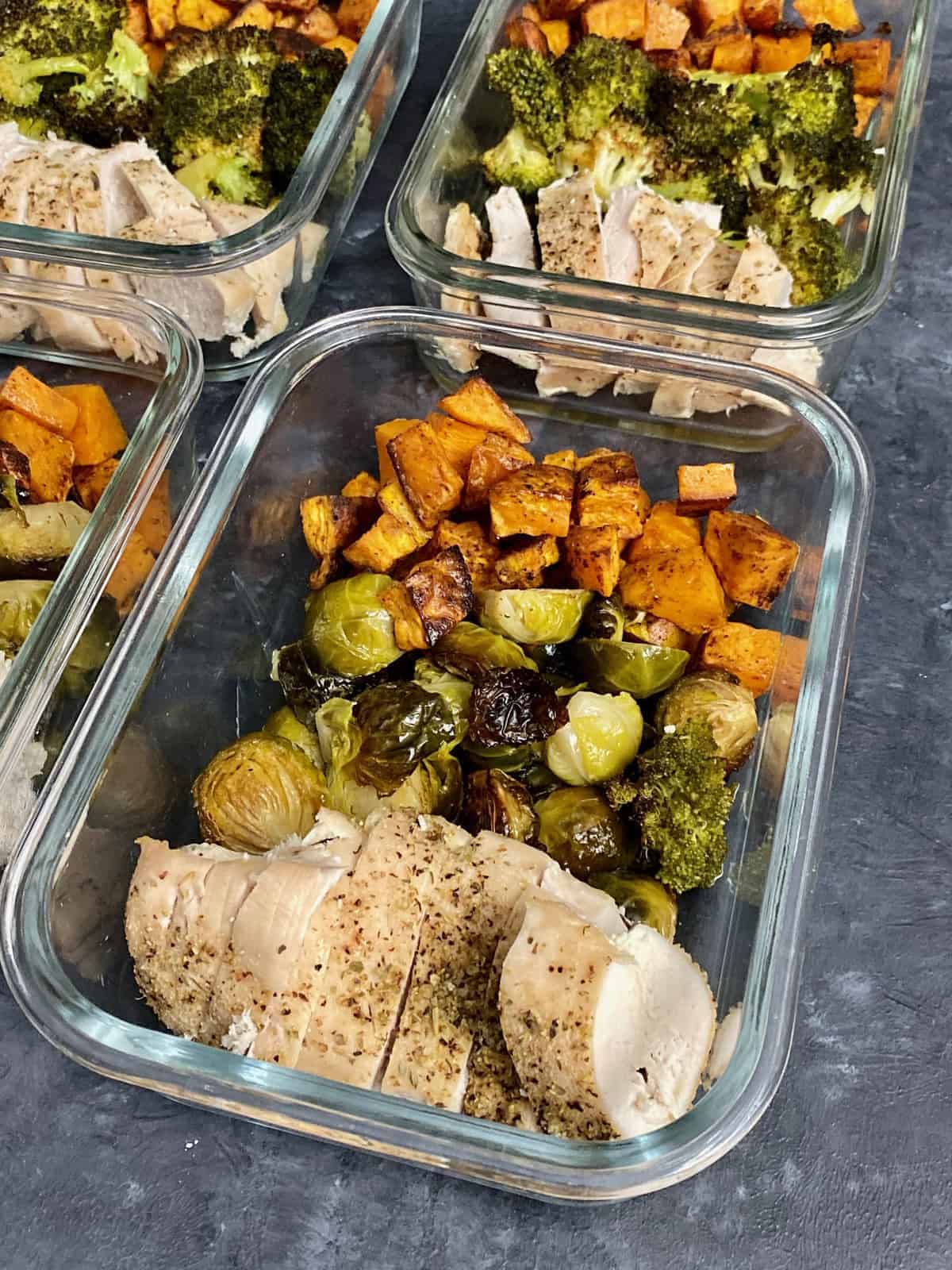 Stuffed Chicken Breast Recipes
When it comes to making stuffed chicken breasts, there are two ways to stuff the ingredients:
Using a meat tenderizer, pound out the chicken breasts till they're about 1/2 inch thick. Place the filling into the middle of the chicken breast and then roll them up. I typically use this method the most.
Cut a pocket into the chicken breast and then stuff the ingredients into that pocket.
How To Bake Stuffed Chicken Breasts
When I make stuffed chicken breasts, I like to cook them in a 375 oven for about 35 – 40 minutes. I add a little more cooking time to account for the filling. However, keep an eye on the chicken because they can be done around 30 minutes.
Here are my favorite stuffed chicken breast recipes:
These chicken breasts can be prep ahead of time; So, when you're ready to cook, all you need to do is stick them into the oven!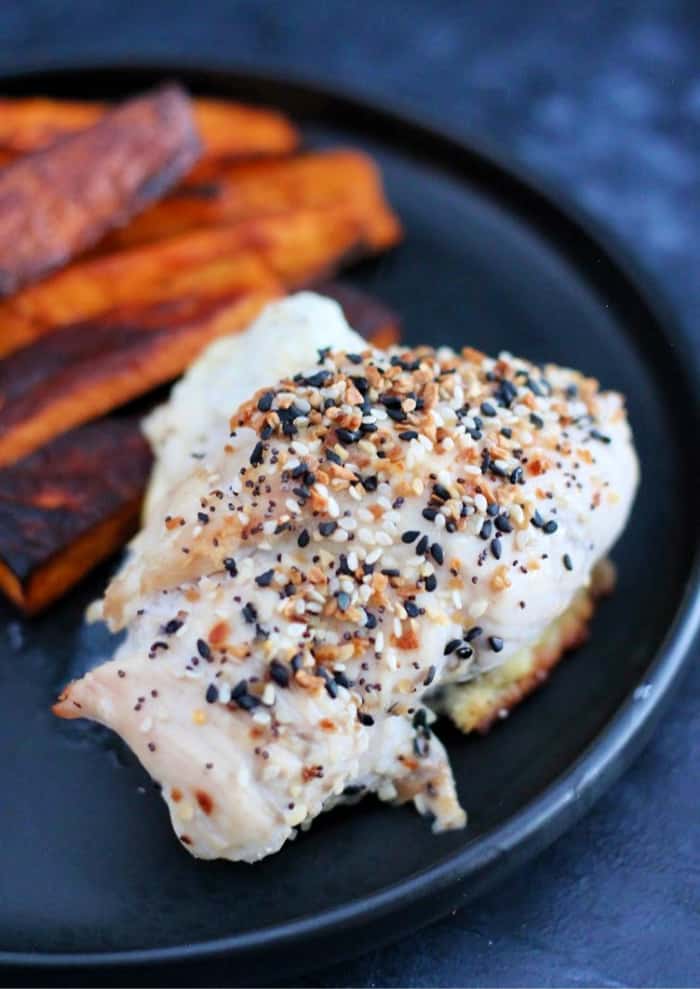 This recipe is a great low carb alternative when you're craving pizza. So yummy!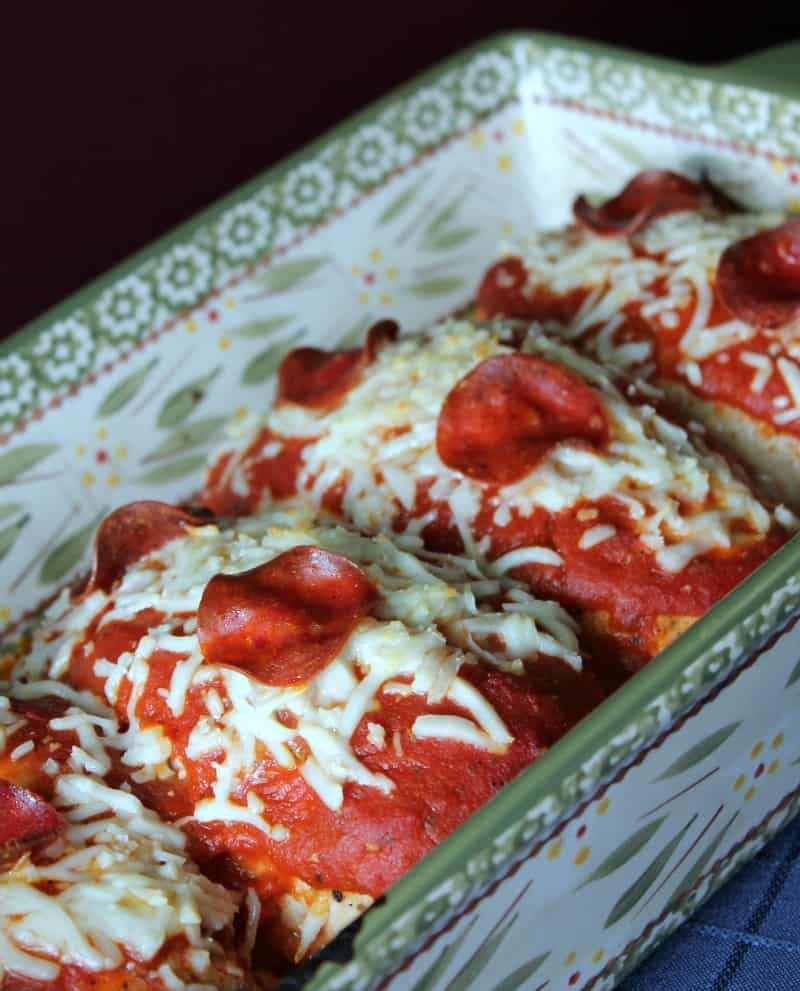 One-Pot Chicken Recipes
Who doesn't love a one-pot meal? All the flavors combine amazingly and minimal cleanup! MOM WIN!
These recipes call for either some shredded chicken or cubed chicken – both of these can be prepped ahead of time to shred time off dinner prep.
Here are some of my favorite one-pot chicken dinners:
Creamy Bacon Ranch Chicken Pasta
This recipe has comfort food written all over it! Plus it's made in one pan which makes all of our lives much easier.
I also show you how to turn this into a dinner freezer kit so you can stock up for dinners down the road.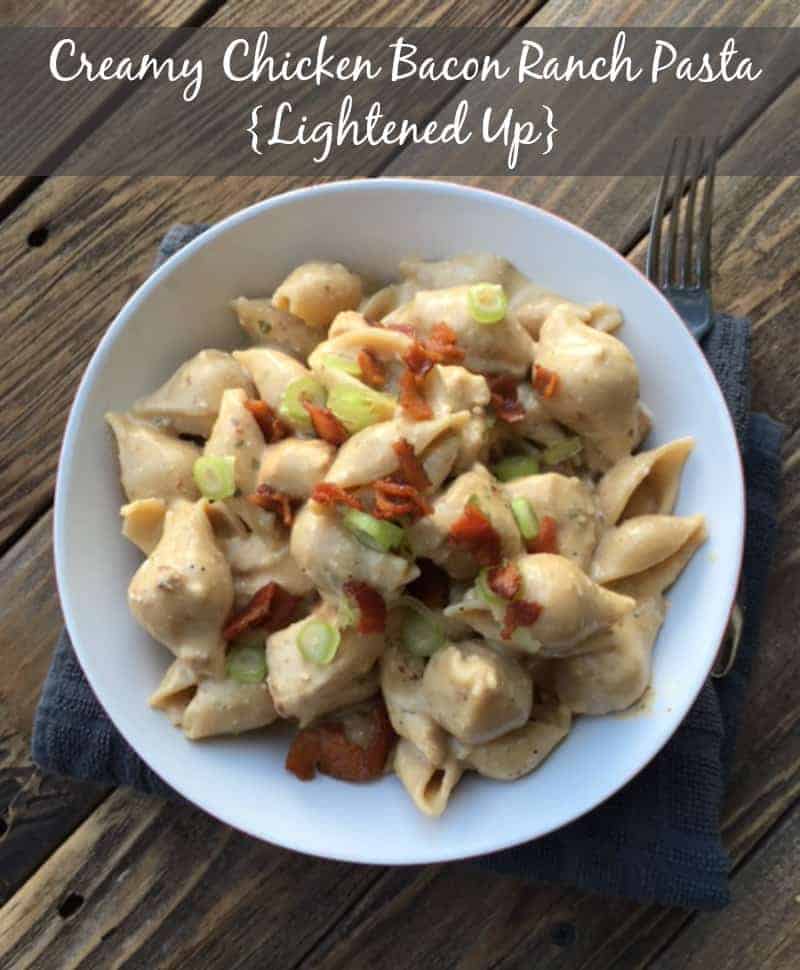 Here's another comforting chicken and pasta recipe that's flavored with tangy dijon mustard and filled with mushrooms and spinach. This also keeps great during the week for a quick lunch or dinner!
If you want to keep this low carb, then leave out the pasta or use zoodles instead.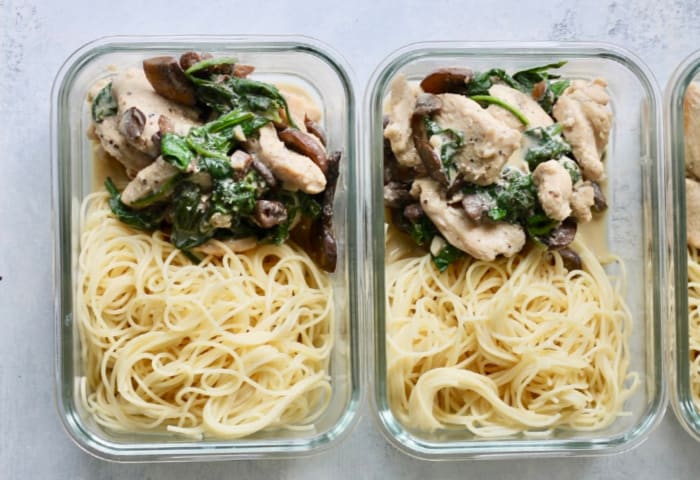 Shredded Chicken Recipes
Now, let's move on to some shredded chicken recipes!
These are the recipes I make when I'm not sure what to make with a bunch of chicken but want to make something.
Shredded chicken can be used in just about anything so it's great to make ahead of time and to have on hand in the refrigerator or freezer.
You can use shredded chicken in:
Wraps or salads
Stir into soups
Pasta or rice bakes
Stir-fry
Honestly, you can it in any way your heart desires!
If you decide to freeze the shredded chicken, I recommend freezing in 2 cup portions so it's recipe ready. Also, it's helpful to add a little broth or extra liquid to keep it from drying.
Here are our favorite shredded chicken recipes:
This is the easiest recipe to make – all you need is chicken, ranch seasoning, hot sauce, and chicken broth. I make this recipe 1-2 times a month. For one half of the recipe, I'll use it in subs and then I'll use the rest in my Buffalo Chicken Macaroni and Cheese.
This is definitely a family favorite!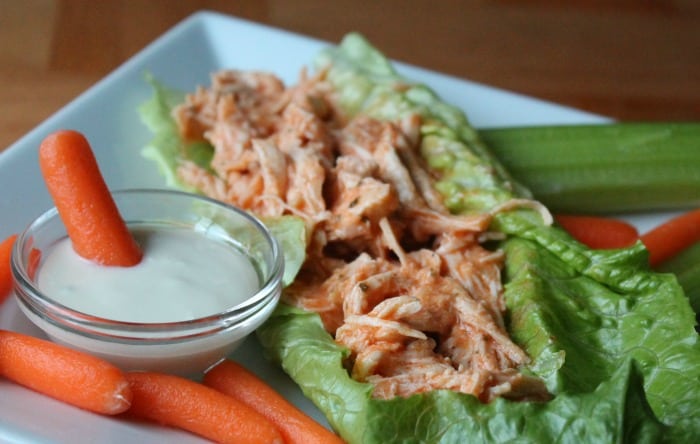 This is another shredded chicken recipe I make ALL THE TIME. I mostly use this for chicken quesadillas but have put this in enchiladas and on tacos, too.
Another kid-friendly favorite!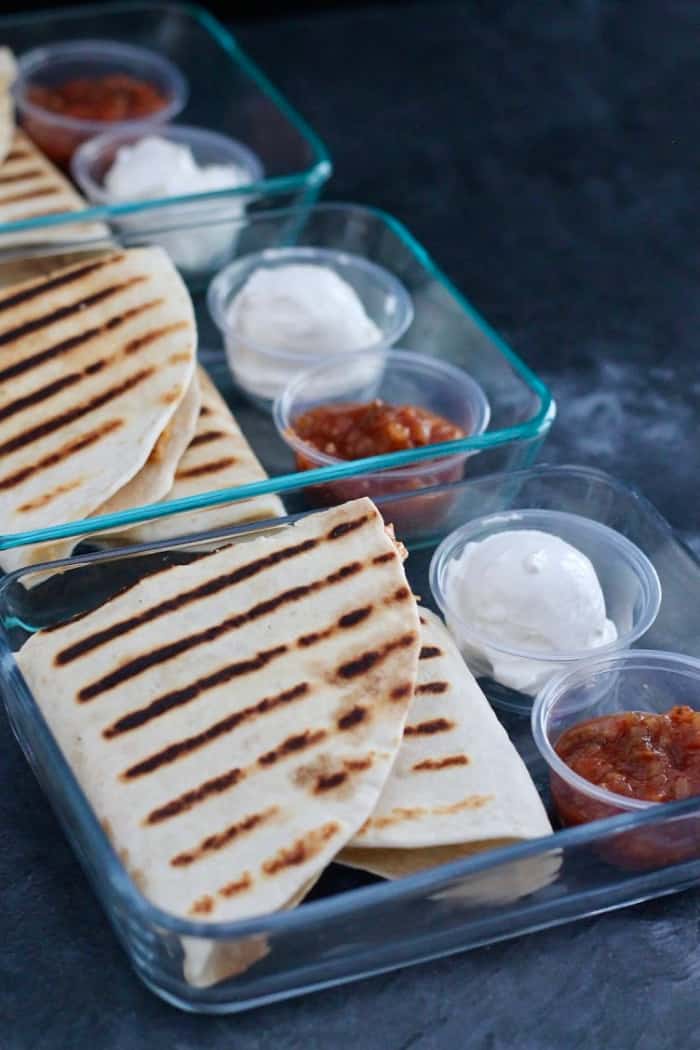 If you're looking for a shredded chicken recipe that has a tangy Asian flare then, this is it. This recipe goes great with some white rice or in a lettuce wrap.
This teriyaki chicken recipe also makes for a great chicken freezer meal.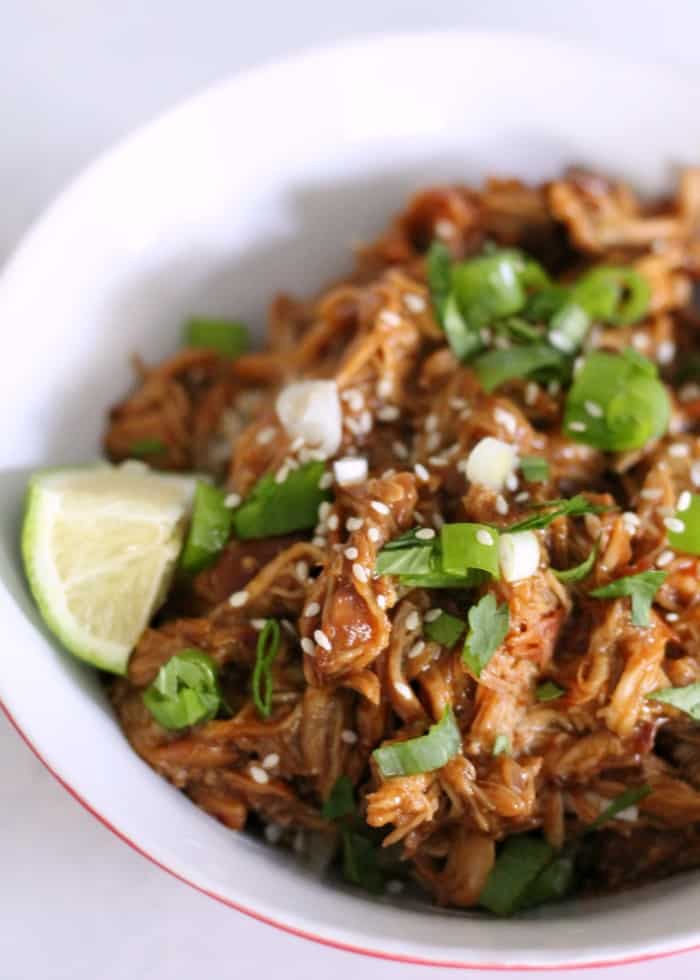 Note: All the shredded chicken recipes I make I do so in a slow cooker. A tip to keep chicken from drying out is to only cook on low for no more than 5 hours. I've seen many recipes that call for 8 hours of cooking time but it's not really necessary. Don't do it or you'll end up with shredded leather chicken!
Grilled Chicken Recipes
The best tip I can offer when it comes to grilling chicken is that marinating chicken before grilling makes for a juicy piece of meat!
All you need to do is pour some marinade over chicken breast in a freezer bag or glass container and let it marinate. My biggest tip is to let the chicken marinate at least 1-2 hours. I personally think you should marinate it overnight because this gives it the best flavor.
If you have a bunch of chicken breasts, you can quickly make a few chicken marinade kits and stick them in the freezer. Here's a post with some more instructions!
Tips For Cooking The Perfect Grilled Chicken
Make sure the grill is hot before placing the chicken breast on it. You want to preheat the grill to medium to high heat which is between 400-500 degrees.
Spray the grill with some cooking spray made specifically for the grill or rub with oil. This keeps the chicken breasts from sticking to the grill.
It's good to have medium thickness chicken breast. So leave the chicken with a thickness of about one inch or so because this helps it to cook faster and more evenly.
Don't keep turning the chicken. Cook the chicken breasts for about 10 minutes, turning it only once.
Don't press the chicken down. That'll squeeze out the juices!
Leave the grill closed. Unless you're flipping the chicken, you don't want to let too much heat escape.
Cover with foil and let it sit after it's done cooking. After it's done cooking, put it on a plate and let sit for 3-5 minutes as this helps the chicken to seal in the juices.
I love to serve grilled chicken breasts on top of a salad or with some grilled vegetables.
Here are my favorite grilled chicken marinades: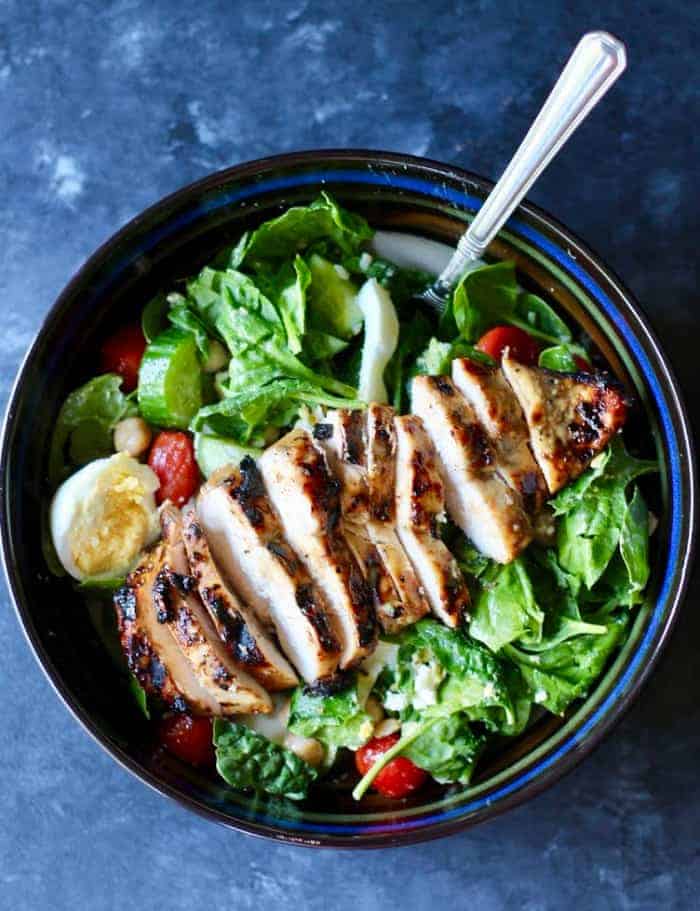 Make sure to keep this guide on how to make the best chicken breast recipes handy! Share a picture and tag me on Instagram or Facebook if you decide to try any of these techniques!