Pizza chicken takes everything you love about pizza and rolls it up into a low-carb delicious chicken breast!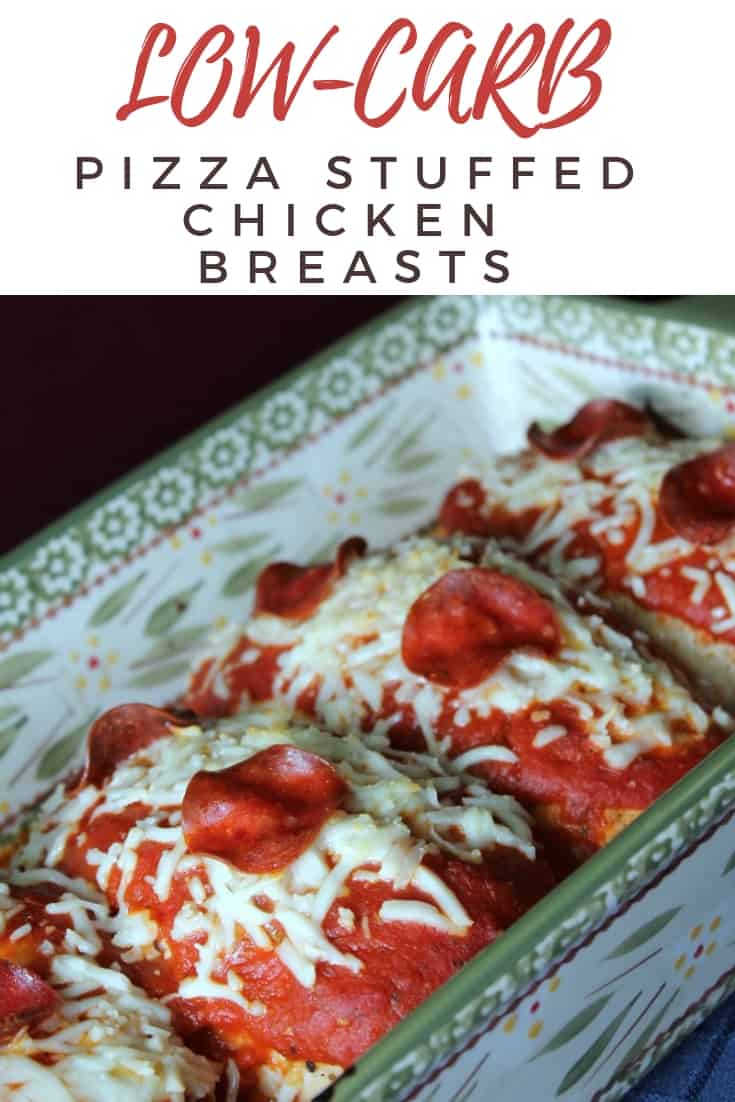 If you haven't noticed stuffing ingredients into other ingredients has been my new favorite thing to do. Just this past week I prepared spinach and feta stuffed chicken breasts that were amazing.  I also put together jalapeno popper chicken. And this past Friday I whipped up a cheeseburger stuffed pepper. Yum!
I think I like making "stuffed" foods for two reasons. First, it creates a nice portion controlled meal. Unlike, a big casserole where the portion can get tricky, a stuffed chicken breast or pepper makes figuring out the portion less complicated. I like easy. Also, I find stuffing ingredients into chicken and peppers gives a nice fancy twist to dinner. This keeps it interesting.
I particularly like stuffing chicken breasts because lets be honest chicken for dinner can get boring. There are just so many days you can eat breaded baked chicken or shredded chicken. Also, when a chicken breast is pounded out into thin cutlets, and stuffed with ingredients, I find that it stays moist and juicy as it bakes. So I think it is safe to safe that preparing stuffed chicken breast recipes are my new favorite thing to make so stayed tuned because my recipe wheels are already turning.
The idea for pizza chicken came when we were eating the spinach and feta stuffed chicken breast. I asked my oldest daughter for some recipe ideas and she suggest pizza toppings. Pizza toppings stuffed into a chicken breast?! Sounds good to me. So you can thank Emma for this pizza chicken recipe.
I decided to keep the "pizza" ingredients basic for this recipe. I figured down the road I could play around with other toppings (or fillings) but want to get a basic pizza chicken recipe down first. I pounded the chicken breasts out thin then seasoned with a garlic, onion, salt, and pepper mix. For the filling I used pizza sauce, parmesan cheese, mozzarella cheese, and turkey pepperoni. I cut up the pepperoni into small pieces so it all blended nicely. Also, for the pizza sauce, I used a jarred organic sauce but you can certainly make and use your own. If you want to add vegetables I would sauté them first then add them to the sauce and other ingredients. I am not sure they would fully cook if stuffed into the chicken breast raw.
I mixed all the ingredients together (minus seasonings and chicken) then spread the mixture on the seasoned chicken breasts and rolled up. I then topped the chicken with more sauce, cheese, a couple slices of pepperoni, and baked for 50 minutes at 350 degrees.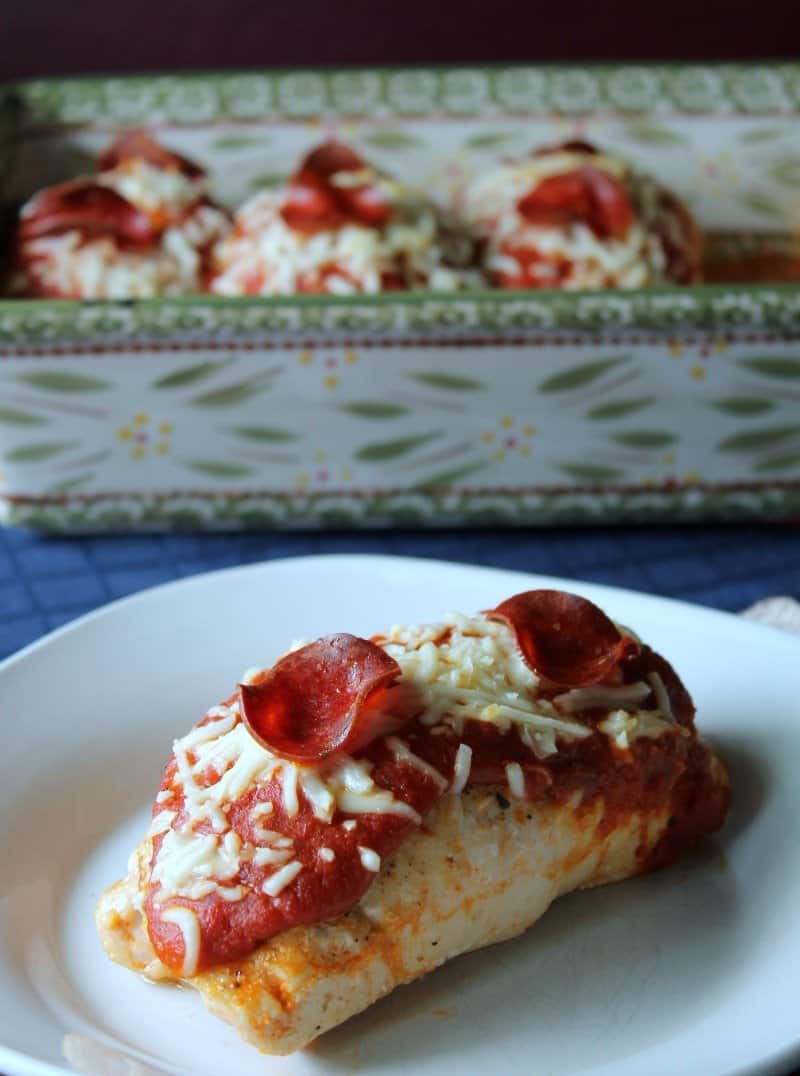 This pizza chicken recipe was a hit. Delicious! The chicken breasts – especially after being pounded out – are quite big so my kids and I only ate ½ a breast.  I think ½ of prepared chicken breast is a perfect portion especially if you are having a side or salad with it. I figured the calories and points using ½ of 1 prepared pizza stuffed chicken breast.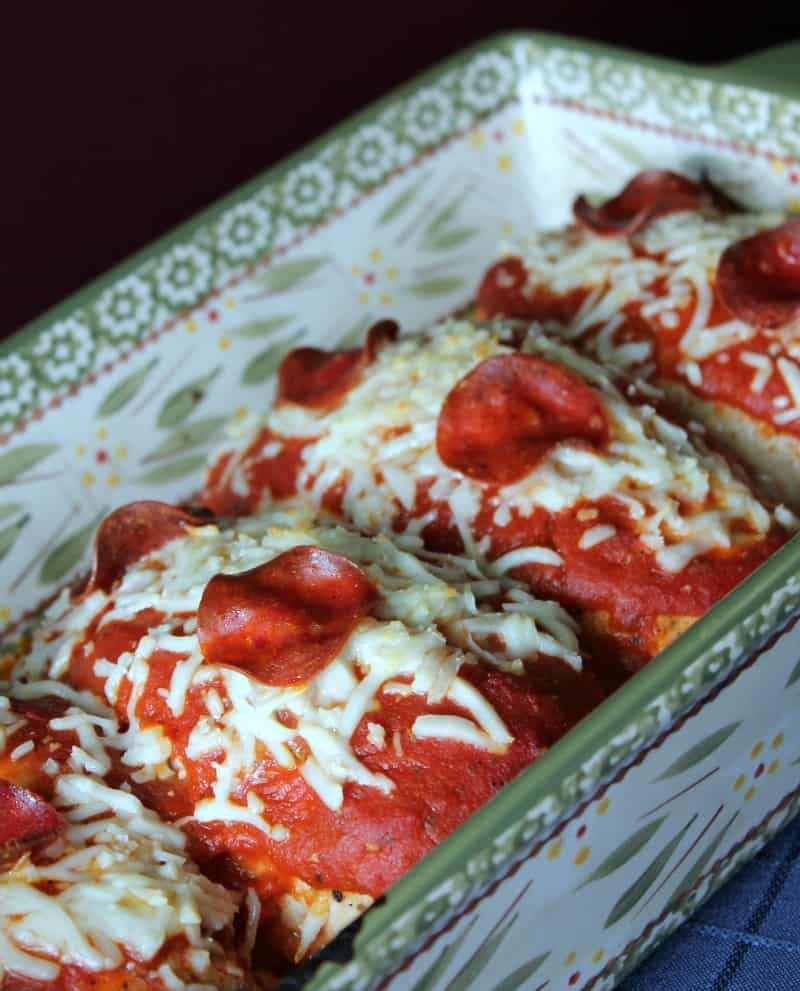 If you're looking for a low-carb alternative to pizza then put pizza chicken on the menu!

Pizza Stuffed Chicken Breasts
Author:
Organize Yourself Skinny
Recipe type:
weight watchers dinner recipe, chicken recipes
Ingredients
1 teaspoon onion powder
1 teaspoon granulated garlic
1 teaspoon oregano
½ teaspoon salt
½ teaspoon pepper
2 cups pizza sauce, divided
30 slices turkey pepperoni, chopped
¼ cup parm cheese
1 cup Mozzarella, divided
4 chicken breasts, pounded out into thin cutlets
8 slices whole turkey pepperoni
Instructions
Preheat oven to 350
In a small bowl mix together onion powder, granulated garlic, oregano, salt, and pepper. Set seasoning mixture aside.
In a medium bowl mix together 1 cup pizza sauce, chopped pepperoni, parmesan cheese, and ½ cup mozzarella cheese. Divide the mixture by fourths in the bowl.
Lay out the chicken cutlets, season with some of the seasoning mixture, and spread ¼ of the pizza sauce mixture onto each cutlet almost to the end. Roll up and place in a casserole dish. Sprinkle with a little more seasoning then pour the last cup of pizza sauce over chicken breast. Sprinkle rest of the mozzarella cheese on top of the chicken breasts. Then top each chicken breast with 2 pieces of pepperoni.
Bake for 50 minutes or until cooked through. Mine cooked perfectly at 50 minutes.
Notes
Make ahead instructions
Chicken breasts can be made ahead of time and frozen before baking. Take out night before to thaw in refrigerator. Bake as directed but you might need a little longer of cooking time if still slightly frozen. You can also cook completely and freeze. Let thaw in refrigerator and warm up in toaster oven or microwave, Best results would be in oven or toaster oven.
Nutrition Information
Serving size:
½ of chicken breast
Calories:
178
Fat:
7
Carbohydrates:
8
WW Points +:
5
Fiber:
1
Protein:
22
Get Instant Access to My Best Meal Prep Tips & 20 Delicious Make-ahead Recipes!
Sign up now to receive your FREE ecookbook that I created exclusively for my email subscribers! That's you!