When trying to incorporate a healthy lifestyle, it's important to stay consistent throughout the day, even at your job. Here are some of the best make-ahead lunch ideas for work that are not only healthy but super simple to make!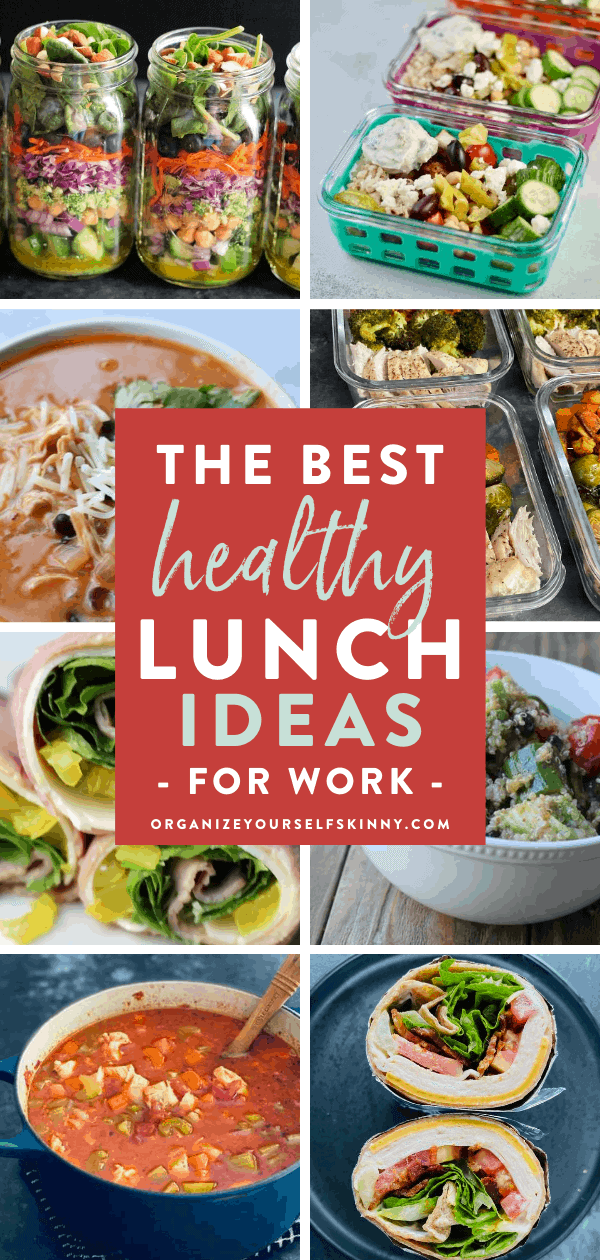 I've often said that the beginning of my weight loss journey was one of the busiest times of my life. My girls were really little and I worked 40 plus hours every single week including some nights and weekends. So, I didn't have the time to make healthy foods from scratch on a regular basis.
Once I committed to losing weight, I knew that one of the first things I was going to need to do was figure out how I can eat healthy every single day and fit that into my busy lifestyle.
I discovered meal prep kind of by chance. I didn't really know that I was meal prepping at the time. All I knew was I needed to make my meals ahead of time so I can eat healthy during the week because I didn't have time once Monday hit to get any of these meals prepared and put together.
One of my biggest struggles, when I started my weight-loss journey, was finding healthy foods to eat for lunch while I worked full time. I used to just throw any leftovers we had the night before or a random sandwich in a lunchbox. I would also add an apple that would just make its way back and forth with me to work all week and possibly a yogurt and some pretzels.
Honestly, I never really put together any lunch ideas for work that had any substance because I didn't pay attention to calories, so my work lunches were often loaded with carbs. A typical lunch would happen like this: I eat my lunch, end up very hungry an hour or two after eating, and finally suffer from a crash and burn for much of the rest of my workday.
Everything You Need To Have a Healthy Wholesome Work Lunch
So, learning to put together make-ahead lunch ideas for work was really important for my weight-loss journey. And not just any lunches – I needed lunches that were full of protein and fiber so I felt full and satisfied in between lunch and dinner with maybe just a small snack in between.
I also needed a lunch that wasn't going to make me want to fall asleep afterward. So, it needed to fill me up but not so much to make me feel full and bloated.
This is what I looked for specifically for lunches that I would put together for the workday.
Protein
Focusing on high protein for my lunches was really important to me back then but it's still important to me now because I want to be able to feel satisfied after I eat. Foods that are higher in protein tend to fill me up without making me feel bloated, and that's important to me especially considering I still needed to work another four to five hours after my lunch break.
Whether I'm making a vegetarian lunch recipe, like this Spicy Sweet Potato and Black Bean Chili, or not, I like to focus on lean proteins for my lunch. So, if I'm putting together a vegetarian recipe, I'll use things such as chickpeas, quinoa, or even some cheese, and that's how I'll get the protein in the recipe.
If I'm not worried about it being a vegetarian recipe, I use protein such as:
Grilled chicken breast
Lean organic deli turkey
Lean ground turkey
Grilled salmon
Sometimes, I'll even use lean ground beef or a high-quality steak! There are tons of different protein options.
Low Carbohydrates
When I'm talking about carbs, I'm specifically talking more about white refined carbs, not necessarily whole grains fruits, or vegetables.
So, when I plan out and prepare my lunch recipes, very rarely (if at all) will I ever include any type of white carbs in my lunch. That's because white carbs will spike your sugar then causing that crash and burn effect. As with many of you, I have to work after lunch, so it's important for me to feel energized and focused and not lethargic and sleepy.
Good carbs that I tend to focus on are:
Roasted sweet potatoes
Brown rice
Quinoa
Beans
Healthy Fats
Good fats also fill me up and keep me satisfied between meals. Ingredients I use that have good fats in them are:
Olive oil
Coconut oil
Avocado
Nuts
Tons Of Vegetables
Whenever I put together lunch recipes, I always tend to go heavy on the veggies because they are low in calories and fats yet full of fiber and nutrients. I can eat a lot of them without breaking the calorie bank!
Make-Ahead
One of the most important things about work lunch recipes is it needs to be made ahead of time. I didn't have time back then to put together any type of healthy lunch on a daily basis. I ended up having to take a few hours on Sundays to put my lunches together for the week; then I didn't have to think about it again for the rest of the week.
Grab and Go
I also needed to be able to just 'grab & go' my lunches. My mornings were always super busy, and not only did I not have time to prepare lunch in the morning, but I needed it to be so easy that all I needed to do was just open the refrigerator, grab what I needed, and go to work.
That's it!
Supplies I Recommend For Lunch Meal Prep
Before I jump into my make-ahead lunch ideas for work, I want to talk about some of the supplies that are really helpful to have on hand for easily putting these lunches together ahead of time and transporting them.
The Best Make-Ahead Healthy Lunch Ideas For Work
After all these years, I've tried so many different recipes and have finally narrowed down the best of them. Let's get to my favorite make-ahead lunch ideas for work!
Mason Jar Salads
I have to start with mason jar salads because they are hands down my favorite lunch and one that I've made just about every week for the last 10 years. No joke.
I love mason jar salads because they are:
Portion-controlled
Portable
Easy to make ahead of time
Stuffed with tons of veggies
Prior to eating mason jar salads, I never ate salads or vegetables really. I've never been the type of person to grab a handful of carrots or celery to munch on all day. Sometimes I'd make a can of green beans to go with whatever dinner I made, but that's about it for my vegetable consumption.
Sad, I know.
Mason jar salads changed all that! Every Sunday, I take about 30-45 minutes and put together 5 mason jar salads for the week. I fill them with tons of vegetables, whole-grains, and proteins. I feel full and satisfied after eating one but not bloated at all.
Honestly, now that I eat mason jar salads, I probably get more vegetables in one day than I used to get in a week!
Mason Jar Salad Recipes For Lunch
Here are some of my favorites: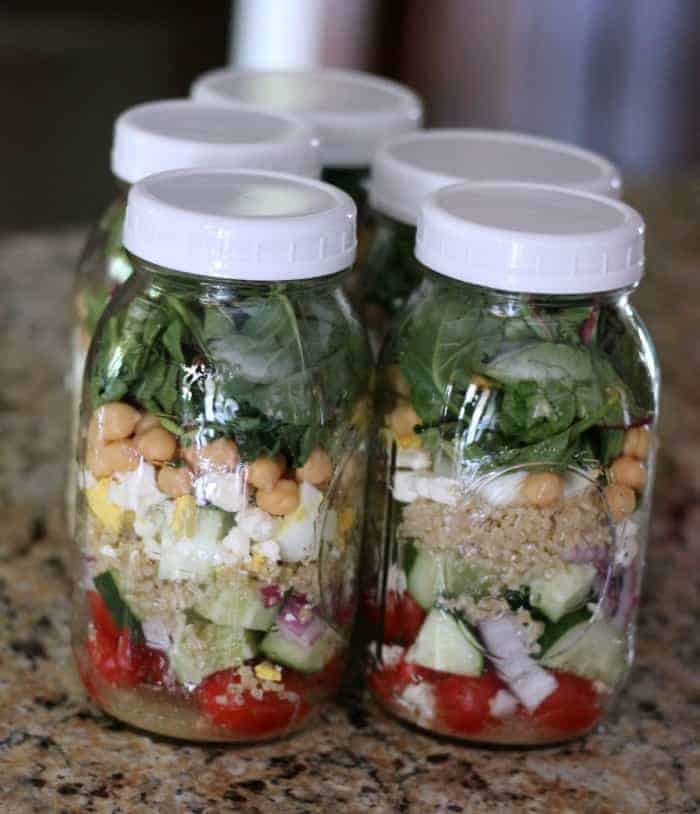 Salads That Aren't Mason Jar Salads
Believe it or not, but not everyone wants to be obsessed with mason jar salads like me. However, they still like the concept of bringing a salad to work- just not a big green leafy salad.
If this is you, I got you covered!
Many quinoa, rice, or pasta salads can be made ahead of time, portioned-out, and brought to work all week long.
Salad Recipes For Lunch
Here are some of my favorites: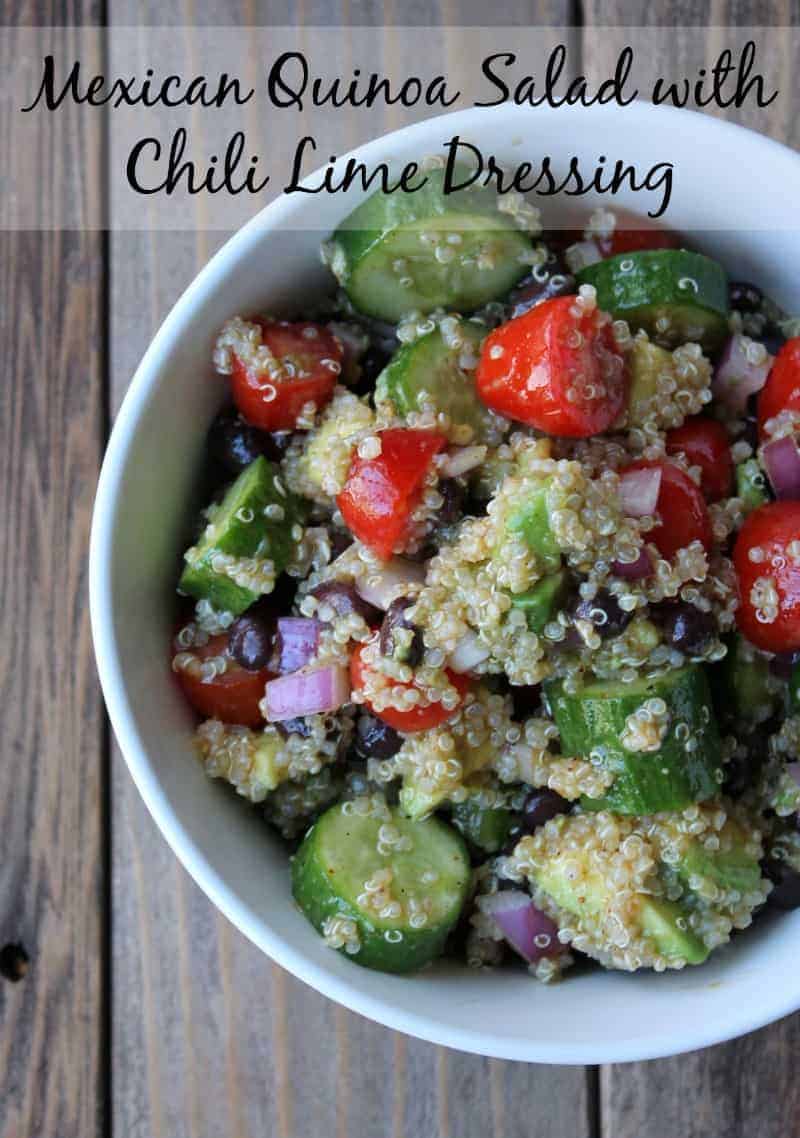 Meal Prep Bowls
My second favorite work lunch to make for the week is meal prep bowls. The concept of meal prep bowls is that you make one recipe and split it up amongst 5 containers- one for every day of the workweek!
Of course, you can add different ingredients to create a variety but the purpose is to keep it simple.
A basic formula for a meal prep bowl is:
Protein
Carbohydrate
Vegetables
A sauce of sorts
So, for example, you can make a meal prep bowl with some grilled chicken, brown rice, and broccoli with a teriyaki sauce. With this example, you can even switch up the sauces to create more variety.
One of my favorite ways to create meal prep bowls is to cook a sheet pan meal and then divide it. For example, this one-pan chicken and veggies is one of my favorite recipes to turn into a meal prep bowl!
Keep in mind, any recipe can be turned into a meal prep bowl. Just make it ahead of time and place the ingredients side by side in the bowl. When you're ready to eat, heat up (if needed) and mix all the ingredients together.
You can see an example of this in the quick video below.
It's that simple!
Meal Prep Bowl Recipes For Lunch
Here are some of my favorites: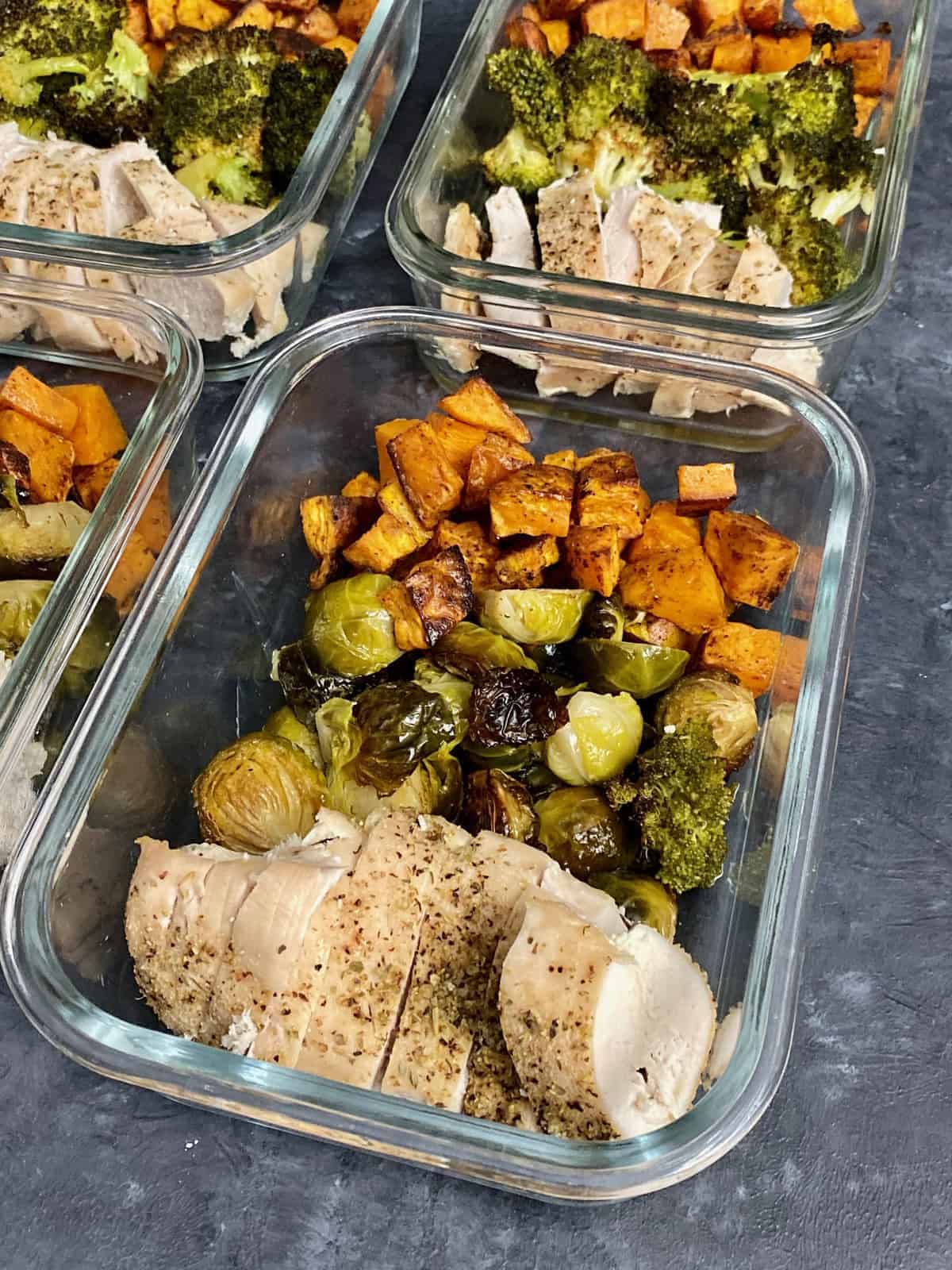 Soups and Chili
Another easy way to have lunch ready for the week is to make a big pot of soup or chili and portion it out for lunches during the week. You can pour the soup into 16-ounce mason jars or use a thermos.
You can even freeze into 1-cup portions using these souper cubes and then put a frozen cube of soup into a container before work and warm it up in the microwave at lunchtime.
Or, freeze the soup/chili into portions using mason jars or other containers. Take it out in the morning and warm up in a bowl at lunchtime.
Soup And Chili Recipes For Lunch
Here are some of my favorite soup recipes to bring to work: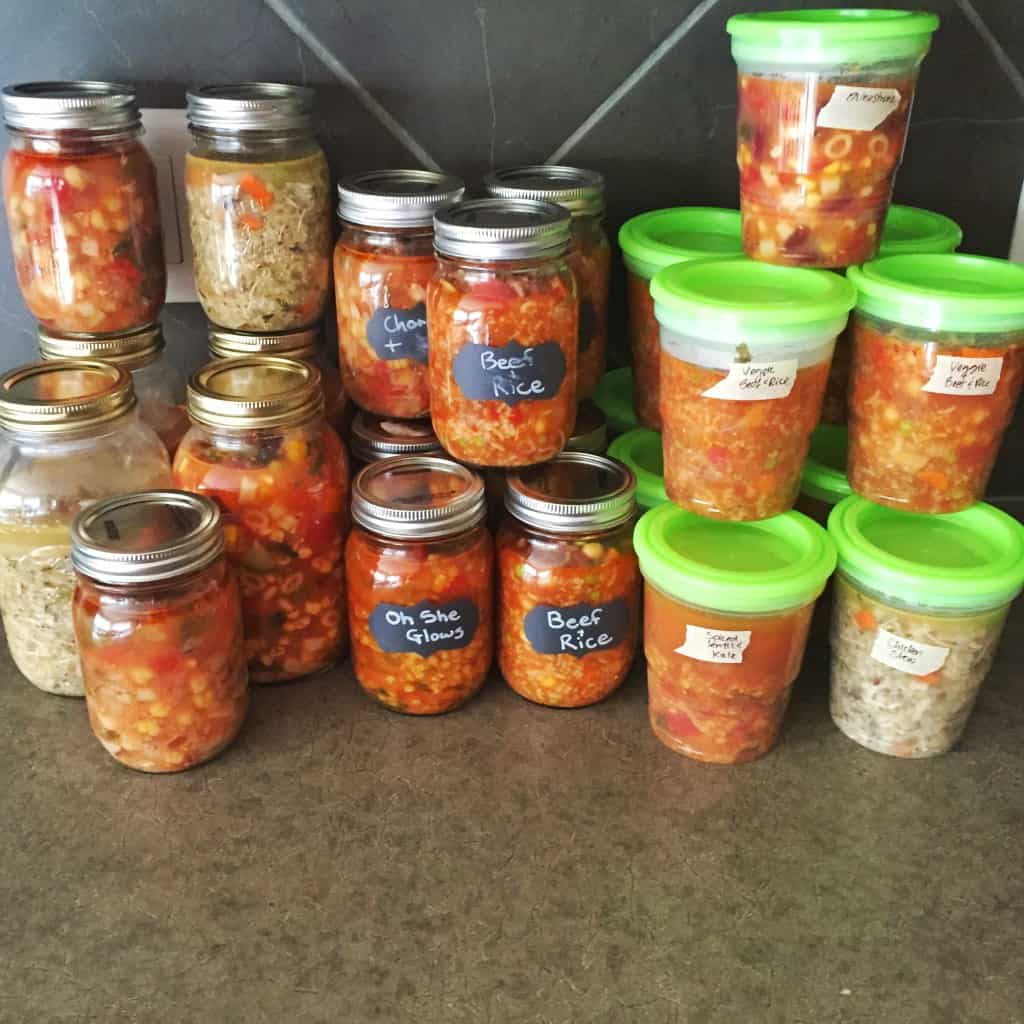 Sandwich Wraps
This is definitely one of my favorite lunch ideas for work. Nothing says lunch like a good old wrap or sandwich!
Sometimes preparing both of these ahead of time is hit or miss. Here are some tips I've learned:
Prepare the wraps the night before or morning of. In my experience, most wraps and sandwiches won't last all week prepared ahead of time in the refrigerator.
Prep the filling separately and then store it in a meal prep container with the other ingredients. Think of it as a sandwich or wrap kit and then put together the wrap or sandwich when you plan to eat it.
Sandwich Wrap Recipes For Lunch
Here are some of my favorite wrap recipes and fillings:
No Mayo Tuna Salad Wrap
Greek Turkey Wrap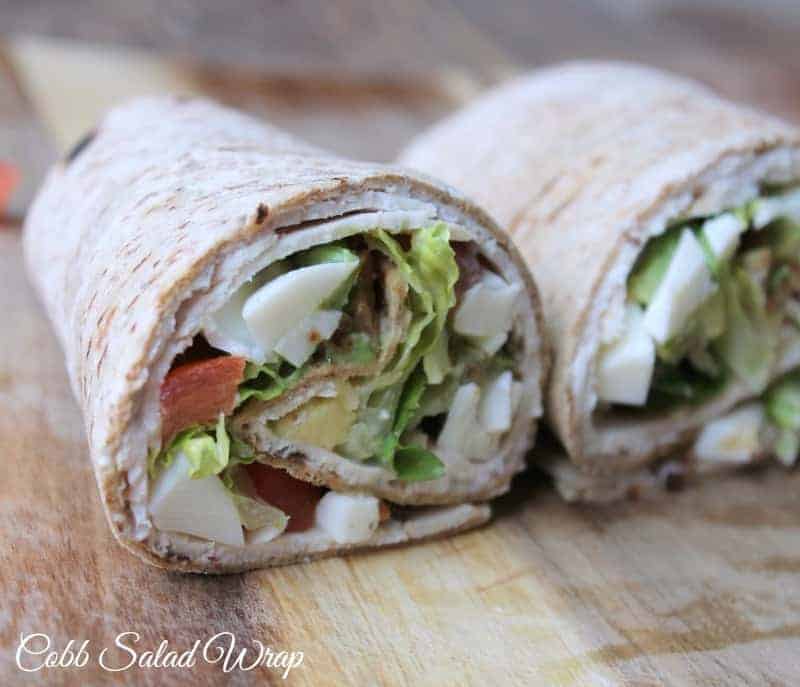 Low-Carb Roll-Ups
These roll-ups can be made 2-3 days ahead of time so they are a great alternative to bread wraps. Also, if you're trying to eat low carb or keto, these can work out great too!
To meal prep these roll-ups, I follow one of the recipes mentioned above and then wrap it in plastic wrap. After, all I have to do is put it into a regular sandwich bag or reusable sandwich bag.
It's that simple!
Low-Carb Roll-Up Recipes For Lunch
Here are some of my favorite tasty roll-up recipes: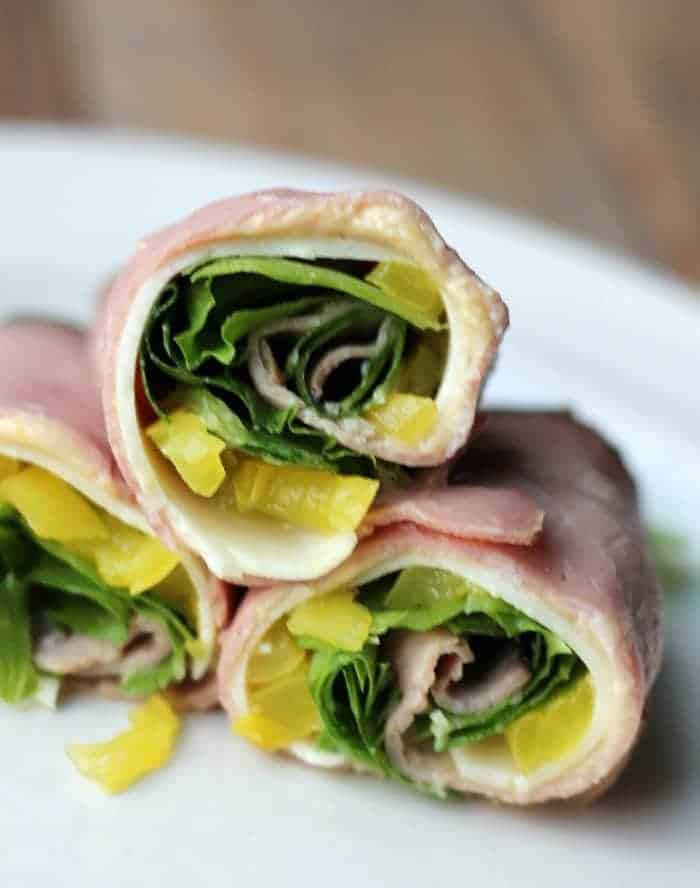 Share a picture and tag me on Instagram or Facebook if you decide to try any of these lunch ideas for work!