Healthy egg salad made with plain greek yogurt! Full of flavor without all the fat and calories!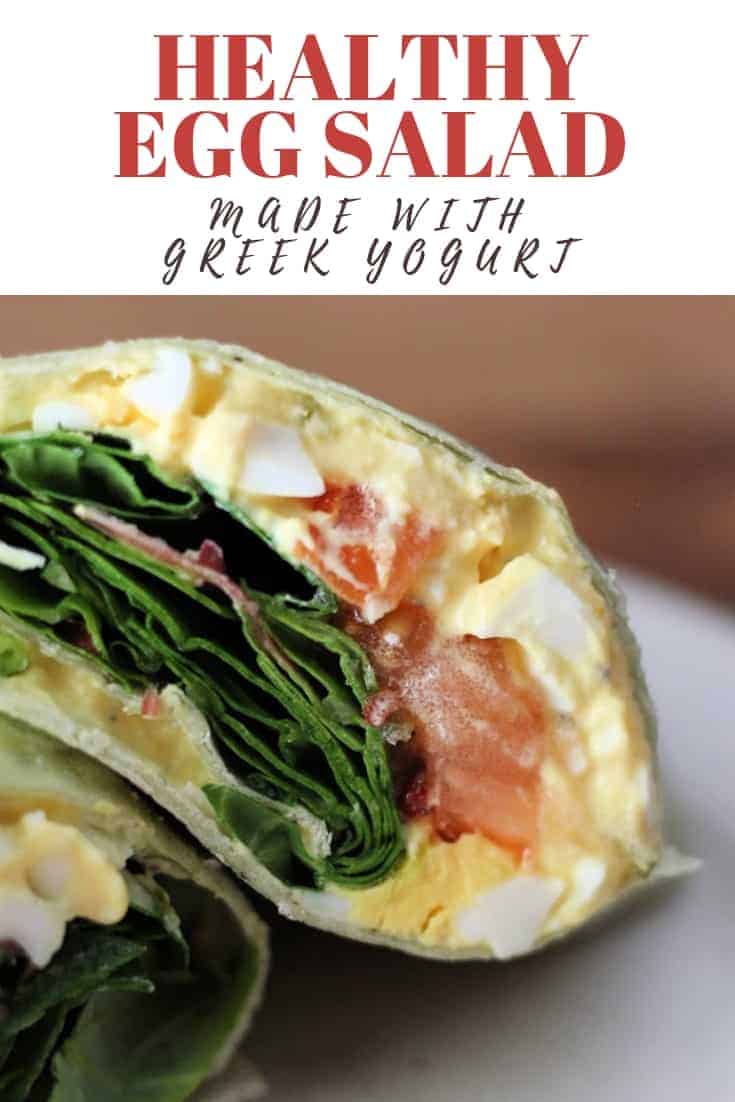 I think I have officially given up mayonnaise and replaced it with plain Greek Yogurt. So far I successfully substituted greek yogurt for mayo in chicken salad, tuna salad, and now I create a healthy egg salad. I may be wrong but I think those are the 3 major mayo based salads and now I have delicious low fat versions! YUM!
In the chicken and tuna salad I did mixed in some avocado but I opted to leave it out of this egg salad because I didn't have any on hand. Of course, avocado is used with eggs all the time so, if you have some ripe avocado then feel free to mix it in.
This healthy egg salad recipe is very easy to throw together. In fact, I bet you have all the ingredients in your fridge and pantry right now. Actually that's what I love about egg salad. It so easy (and cheap) to prepare. Whenever we I don't feel like going to grab lunch ingredients I can always count on whipping together a trusty healthy egg salad recipe. I even like it for snacks.
This healthy egg salad recipe starts with 5 hardboiled eggs. Of course, if you want more you can easily double the recipe. Also, if you want to lower the fat even more you can remove 1-2 of the yokes.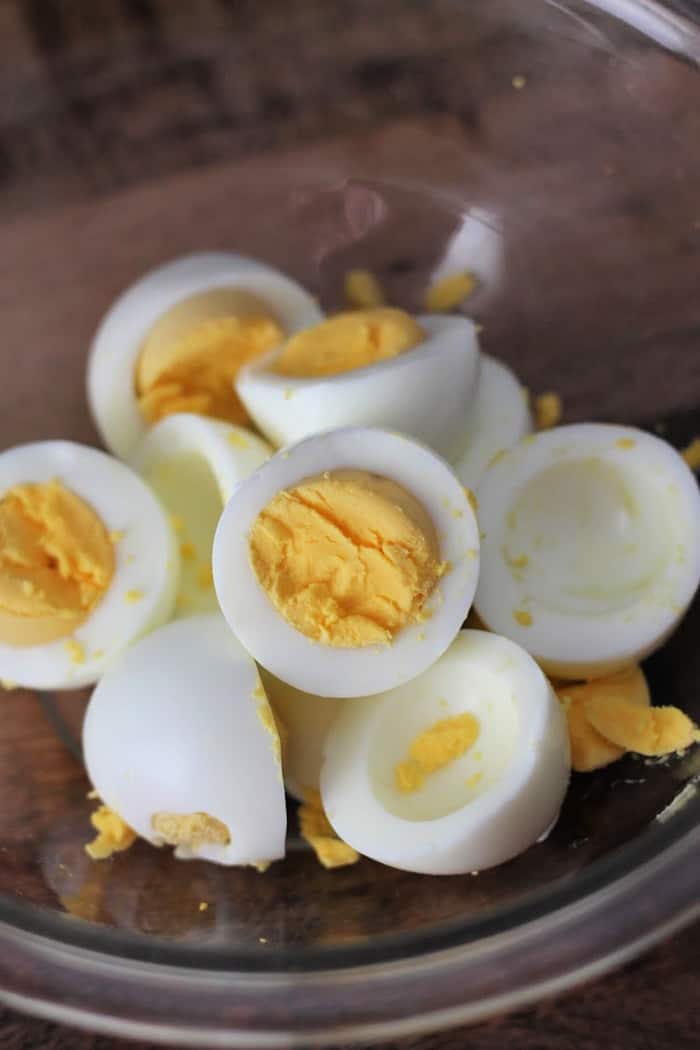 Using a fork, break up the eggs into small pieces.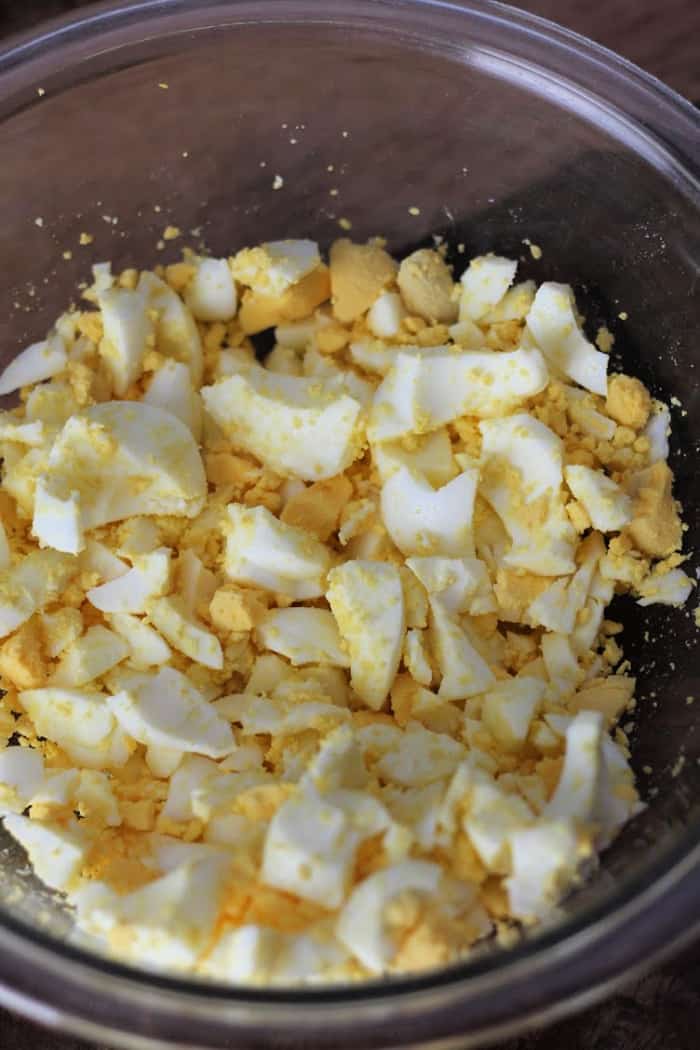 Then add in  1 (5.3 ounce) container of  plain greek yogurt, 1 tablespoon dill relish, 1 teaspoon mustard (any mustard will work but use dijon if you have it), 1/2 teaspoon onion powder, 1/2 teaspoon granulated garlic, 1/4 teaspoon salt, and 1/4 teaspoon pepper.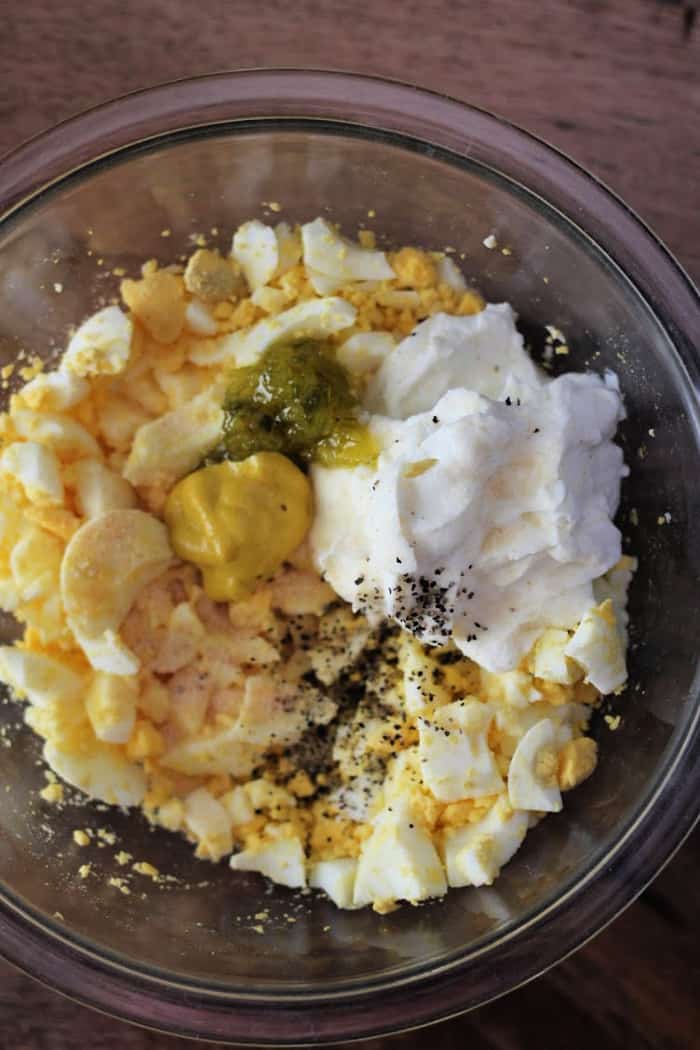 Mix together until it is creamy and smooth! Honestly, this healthy egg salad recipe is sooooo easy to put together.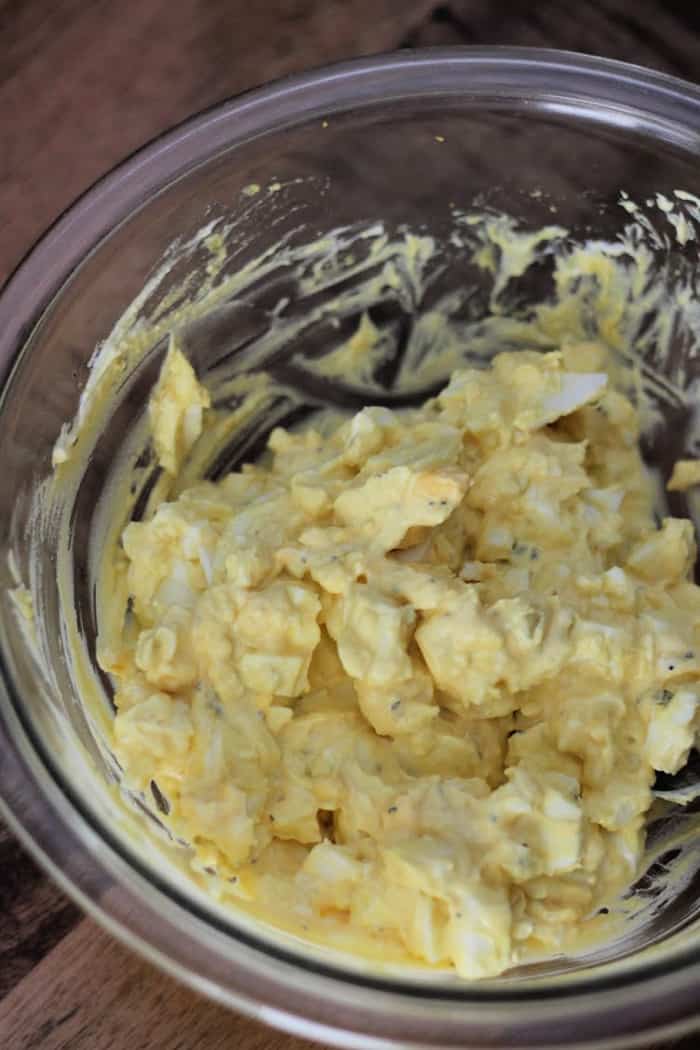 This recipe is delicious! There is a nice tang from the yogurt and relish. If you want less of a dill pickle taste then only use 1 teaspoon of relish. Also, if you want less of a tang then add in 1-2 tablespoons of mayonnaise. This will increase the fat and calories a little but it's still healthy. Personally, I love the taste of yogurt.
The spices do a great job rounding out the flavors. The salad turns out so creamy, just like you would expect from an egg salad. I usually eat this with crackers and vegetables but sometimes I'll make a wrap.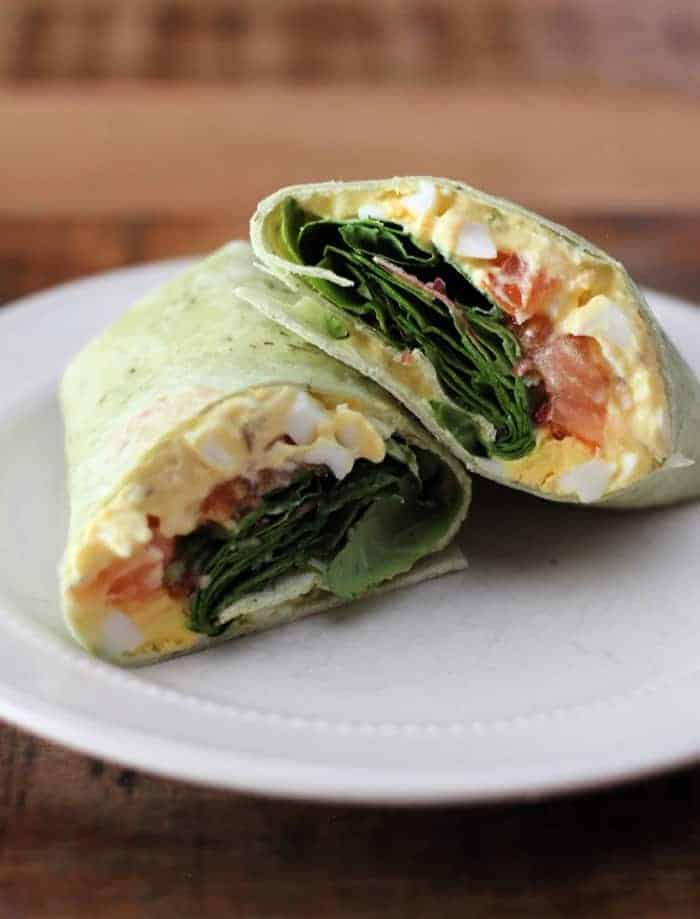 Egg salad makes a tasty make-ahead snack or lunch. I like to use glass containers to store egg salad. Pyrex simply store containers work perfectly. You can get an 18-piece set for under $39 on Amazon.
If you have skipped egg salad because of the high fat content from mayo then you must give this recipe a try. It only has 149 calories per serving (there's 3 servings in this recipe.). Adding a little mayonnaise will bring the calories to 212 calories.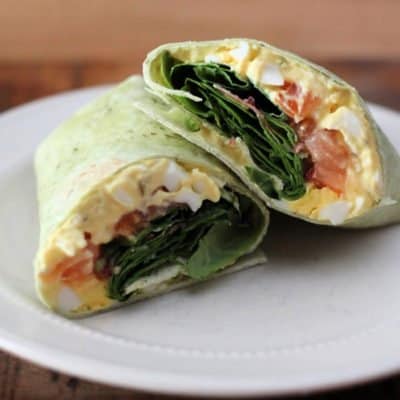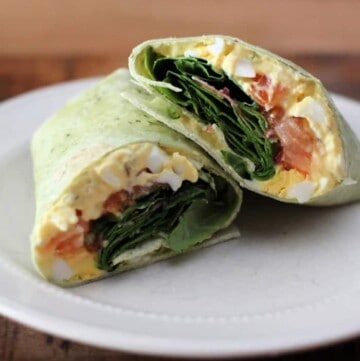 Ingredients
5

hardboiled eggs

1

5.3 ounce container plain greek yogurt

1

tablespoon

dill relish

1/2

teaspoon

onion powder

1/2

teaspoon

granulated garlic

1/4

teaspoon

salt

1/4

teaspoon

black pepper

1

teaspoon

yellow mustard
Instructions
In a medium bowl, using a fork, mash up the eggs into small pieces.

Stir in the rest of the ingredients until creamy.
Notes
sugar: 3
Make ahead tips
This recipe can be made 1-2 days ahead of time and store in an airtight glass container in the refrigerator. Having the hardboiled eggs made ahead of time makes this recipe come together in less than 7 minutes.
Nutrition
Serving:
1
g
|
Calories:
149
kcal
|
Carbohydrates:
2
g
|
Protein:
18
g
|
Fat:
7
g
|
Saturated Fat:
2
g