Pesto, tomato, and fresh mozzarella rolled into a low carb Caprese turkey wrap! Perfect lunch or snack.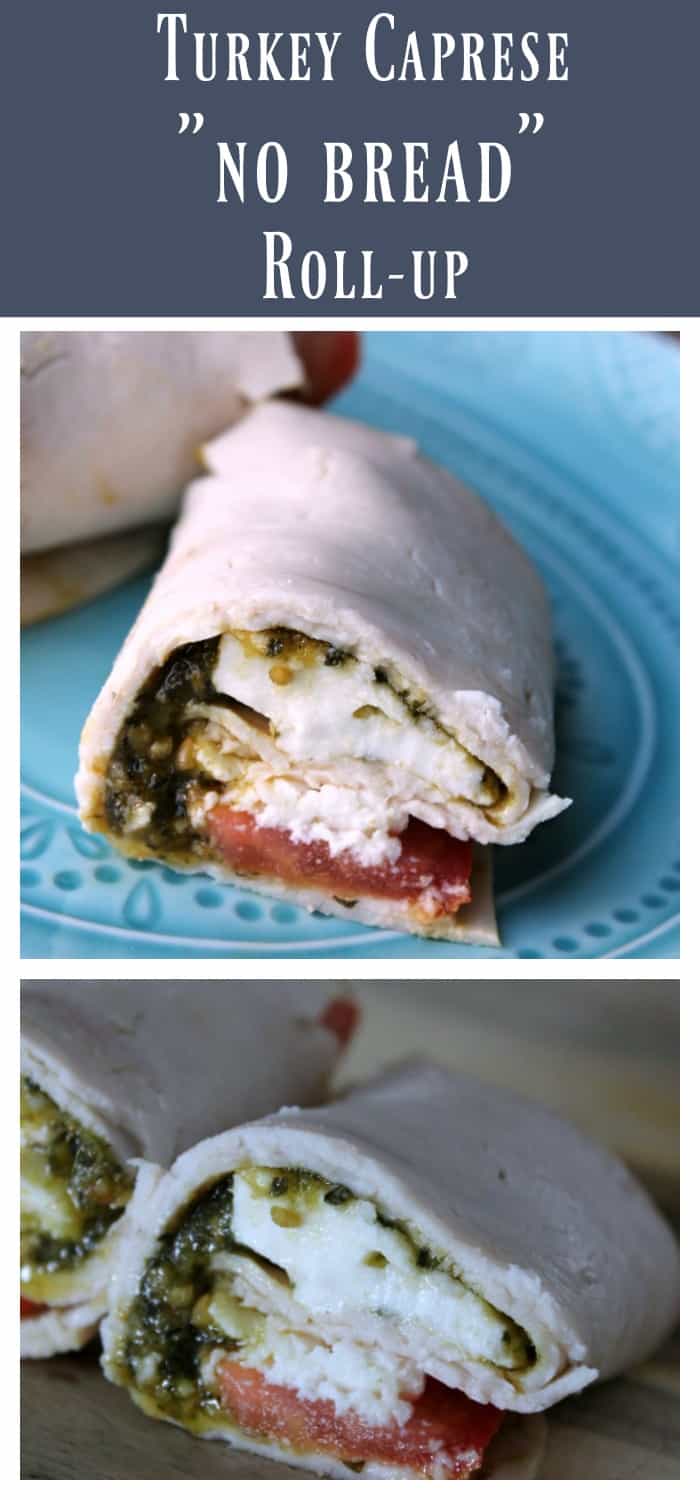 I think it's about time for another "no bread" low carb recipe – whatcha think? Over the last couple years I shared a few no bread wrap recipes and they've become some of the most popular recipes on my blog. Clearly, you all love easy low carb tasty recipes as much as me. This turkey avocado roll-up has been pinned close to 150k times! Whoa! And this Greek recipe almost 50k times.
"No bread" rollups are recipes that I've been eating for years – long before my blog. I almost didn't post that first turkey rollup recipe because honestly it just seemed too basic and simple. But I'm glad I did because those are the recipes most of you like to see. You like easy, tasty, and healthy just like I do.
I haven't posted a new rollup up recipe in a while because to be quite frank I couldn't think of one. I mean you can only wrap turkey in so many things. But…with tomatoes and basil popping up in everyones garden the idea for a Caprese rollup entered my brain.
Here's a quick video I made to bring this recipe to life.

A traditional Caprese salad is basil, tomatoes, fresh mozzarella, and some olive oil. Mmmmm. Nothing compares to a beautiful summer Caprese salad. For this new rollup recipe I decided to use pesto instead of plain basil leaves. These rollups need a spread of sorts to glue everything together. Typically, I use hummus but decided to stick with pesto.
Here are the 4 ingredients for this recipe. Yes I know I could make my own pesto. Buuuut…here's a secret you might not know about me – I don't garden. I like the idea of gardening but I've killed almost every basil plant I tried to grow. I know, shameful.
Also, I know I can purchase fresh basil and make my own pesto and sometimes I do. But another secret about me is there are certain convenience items I like to have in my refrigerator and jarred pesto is one of them. My absolute favorite brand is Delallo. It's high quality and taste homemade. I use it in these rollups but also love to put it on pizza or mix with pasta. In my opinion, it's very handy to have a jar of pesto available.
Back to the recipe. I used organic smoked turkey breast from the deli. Ask for it to be sliced thin but not falling apart. It needs to hold all the ingredients securely.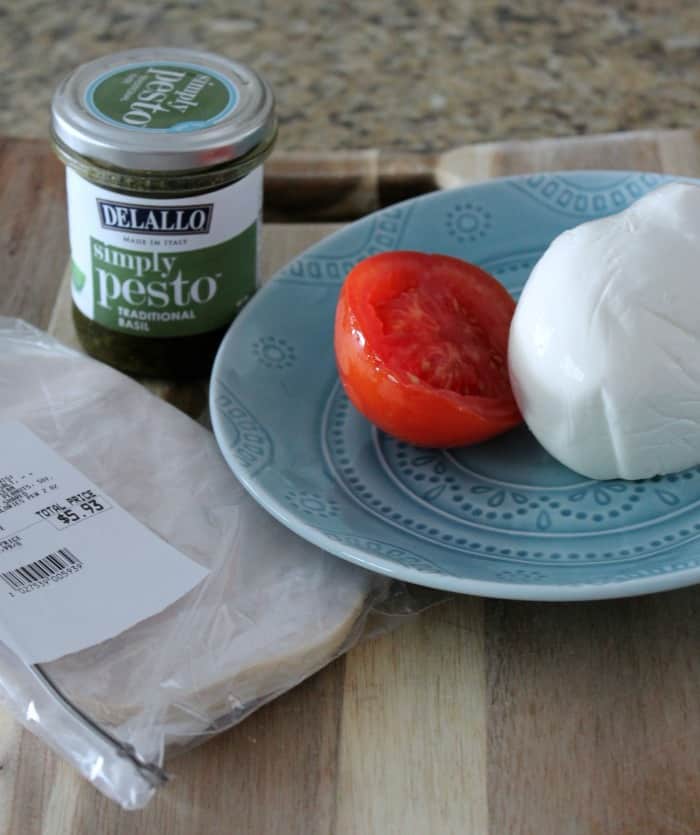 Take 2 slices of turkey and lay one on top of the other. You might be able to get away with 1 slice if your turkey is sliced on the thicker side.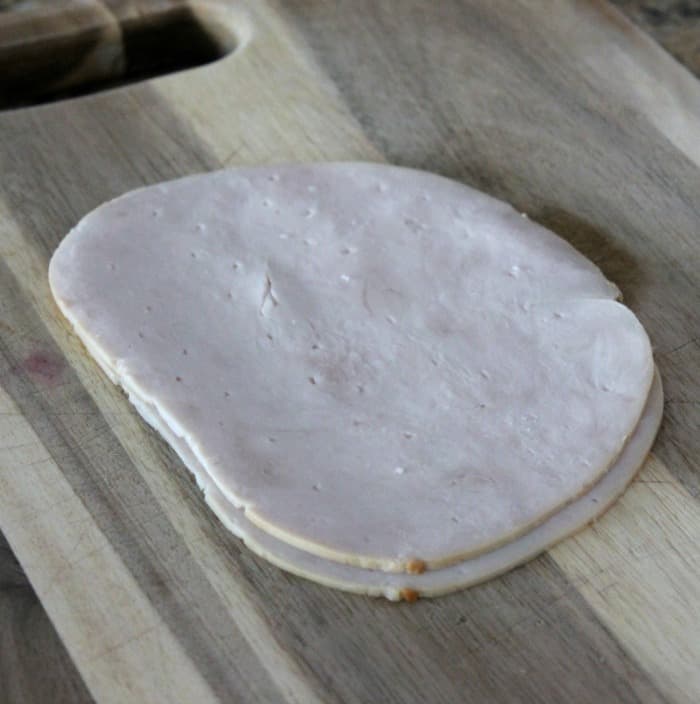 Next spread 1 tablespoon of pesto over the top. Mmmmm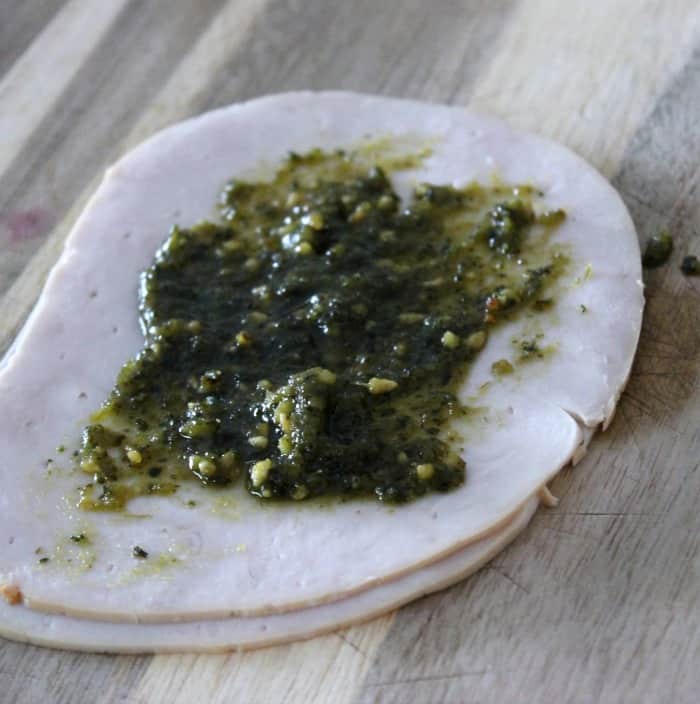 Place a couple slices of tomato over the pesto. Next time I will dice up the tomatoes. This will make it easier to eat without slices falling out as you take a bite. But no biggie if you just want to throw them on there.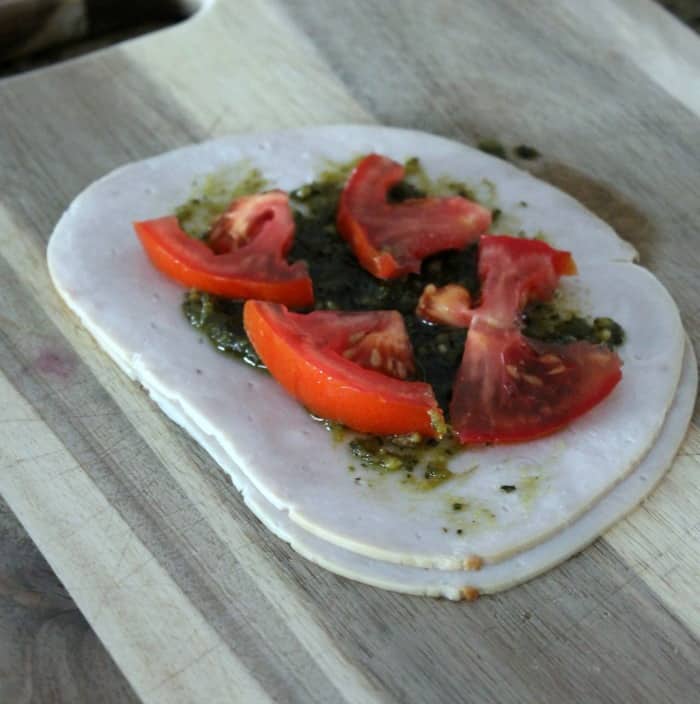 Now it's time for the fresh mozzarella! mmmmm! I used about an ounce of cheese or less. I broke it into small pieces and sprinkled it over the top.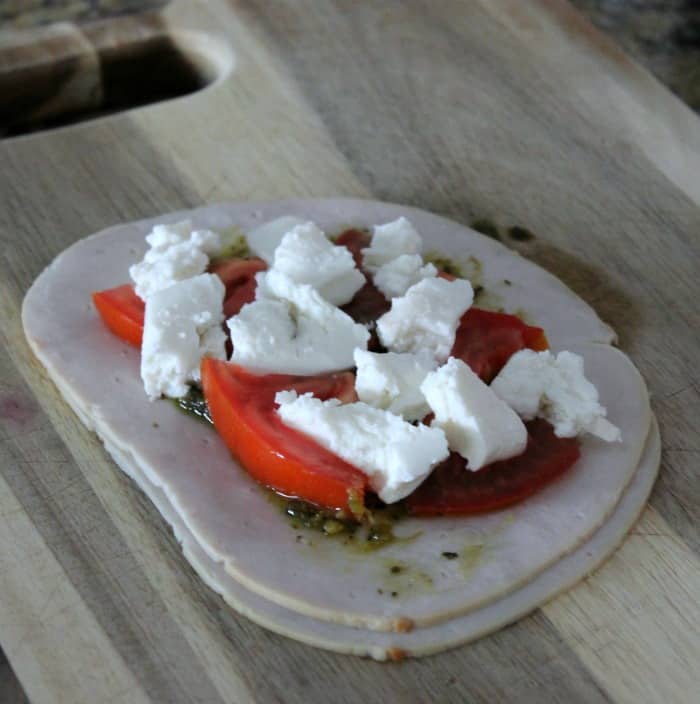 After all the ingredients are on top of the sliced turkey I rolled it up.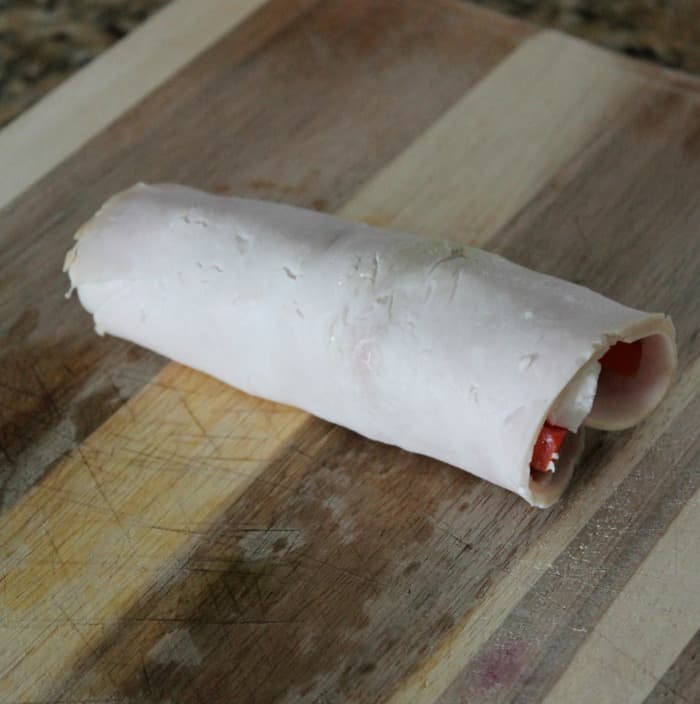 Eat just like that or slice it in half and enjoy.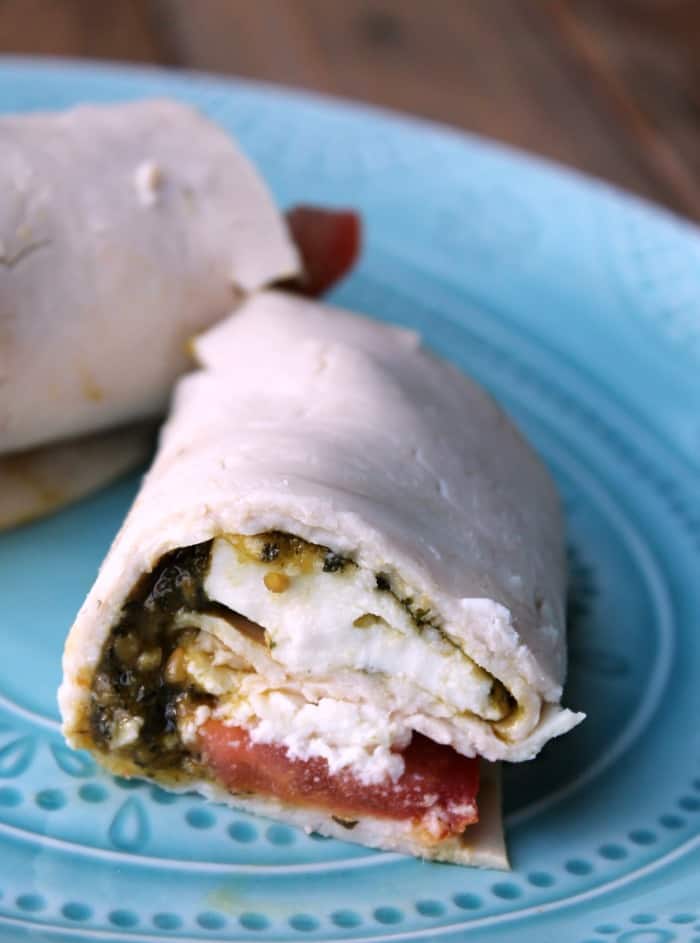 Each bite is filled with delicious pesto, juicy tomatoes, and creamy fresh mozzarella.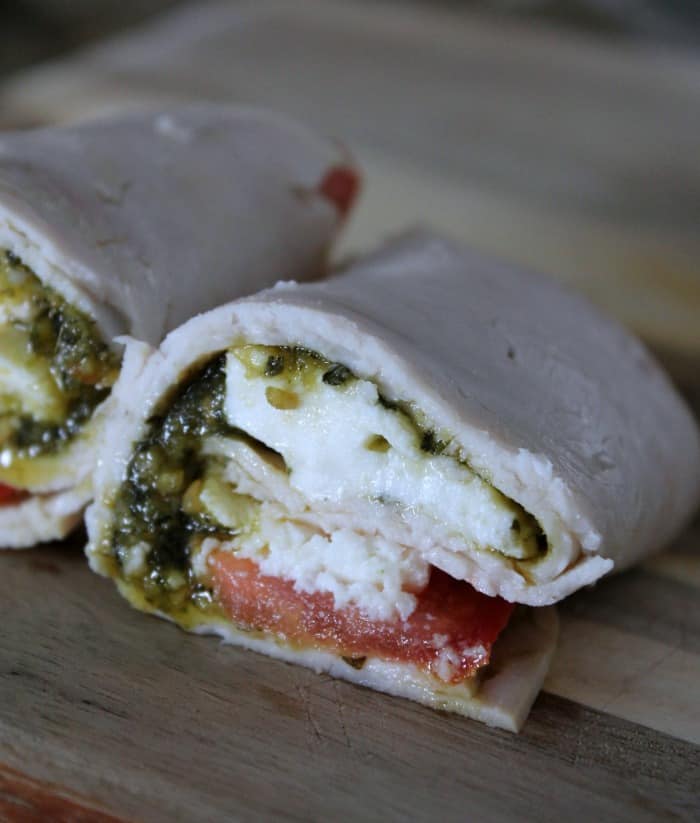 These Caprese rollups have so much flavor! I enjoyed one for lunch yesterday and was in love at first bite. If you plan to eat a rollup a couple days for lunch or snacks then make a few ahead of time. I think they would store best in one of these glass pyrex containers.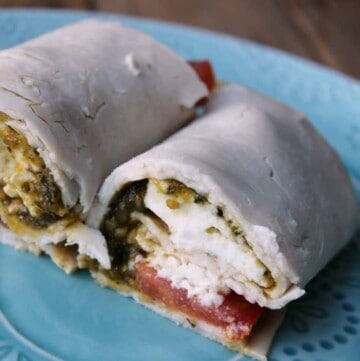 Ingredients
1-2

slices

smoked deli turkey breast

thinly sliced

1

tablespoon

pesto

I love the Dellalo brand

2 to

mato slices

1

ounce

fresh mozzarella
Instructions
Lay the turkey slices flat with one on top of the other.

Spread the pesto over the middle of the turkey breast.

Place the tomato slices and fresh mozzarella on top of the pesto.

Roll up the turkey breast, slice, and enjoy.
Notes
Sugar: 0
Make-ahead tips
These rollups can be made 2-3 days in advance.
Nutrition
Serving:
1
g
|
Calories:
190
kcal
|
Carbohydrates:
1
g
|
Protein:
13
g
|
Fat:
15
g
|
Saturated Fat:
5
g