Broccoli Cheese Soup lightened-up yet still super creamy and full of flavor. This soup is inspired by my favorite from Panera Bread.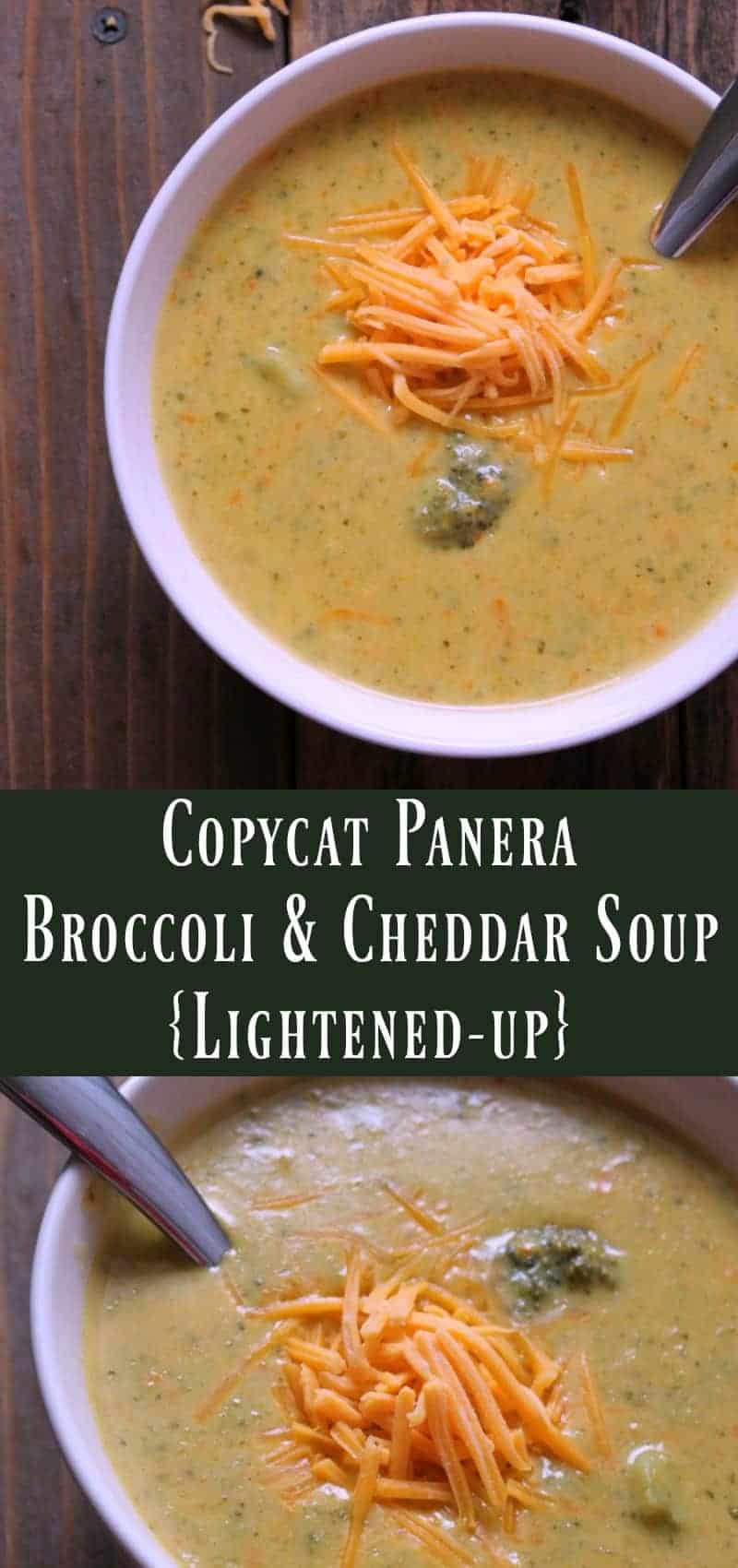 One of my favorite things about being a blogger is I can work anywhere. I can stay home all day in my PJ's or I can head out to a coffee shop to get the creative juices flowing. For the record, I just want to say that I never sit home in my pajamas. I wake up everyday and get ready as if I'm leaving for work, even if I stay home. This gets me in the right mindset. If I stay in my pajamas then I will stay on the couch and break Neflix-watching records. True story…it's happened.
I do prefer to work at home because I like quiet and to be alone. However, on days I get stir crazy and need to get out I will work at Panera Bread. It's one of my favorite places to write. I don't know what it is but I can completely focus at Panera even when it's in the middle of lunchtime. I guess it's just the atmosphere.
My favorite meal to get Broccoli Cheese soup. Mmmm mmmm mmmm! I love it! Who doesn't love it? It's like the best soup ever!
The only issue with Panera Bread's Broccoli Cheese soup is it's not the lowest in calories and fat. Seriously, why can't cheese be like kale? My life would be so much easier. Oh well…instead of crying about it I decided to make my own version of this soup. Apparently, a million other bloggers had the same idea because there's that many different copycat panera broccoli cheese soup recipes out there. For real! Gotta love food bloggers!
Here's my lightened up version of Panera Broccoli Cheese Soup.
Broccoli Cheese Soup
I started by sautéing onion, garlic, and shredded carrots. I used my food processor to quickly grate the carrots but you can make it even easier by purchasing bagged shredded carrots. I used 2 cups of shredded carrots cause I like carrots.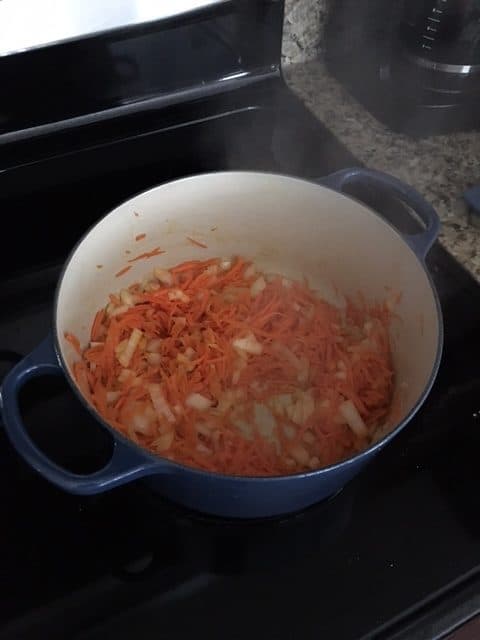 Then I whisked together 1/4 cup flour and chicken stock and stirred that mixture into the pot. I brought the chicken/flour mixture to a boil and let it simmer for about 3-5 minutes until it was thickened slightly. Then added in the rest of the ingredients minus the cheeses. I brought the soup to a boil again and then let it simmered for about 25 minutes until the carrots and broccoli were soft.
A couple tips with this soup. You can control the thickness of the soup with the amount of liquid you use. I suggest starting with 2 cups broth and 2 cups milk. I use unsweetened coconut milk in this recipe. You can use any milk, half and half, and some recipes even use cream. I like using unsweetened coconut milk because it provides a creaminess without the added fat of cream or whole milk. No it doesn't taste like coconut. Believe me everyone that tried this soup had no clue. and one of them is an avid "I hate coconut" person. Mmmm hmmmm. As the broccoli cheese soup cooks you can add more chicken stock if you like a thinner soup. Or leave it thick and creamy.
I kept this broccoli cheese soup recipe easy peasy by using frozen broccoli florets. I purchased 2 (12-ounce) bags of organic frozen "steam in bag" broccoli and just threw it in. Since the broccoli is frozen it cools down the soup quite a bit after you add it to the recipe. Again, just bring to a boil and then let the soup simmer until the carrots and broccoli are soft.
Also, a quick note about the nutmeg in the recipe. This is the ingredient that gives it the unique Panera taste so don't skip it. I add it in with the carrots, garlic, and onions because I like to bloom my spices by sautéing them. You could add it at the end too if you want.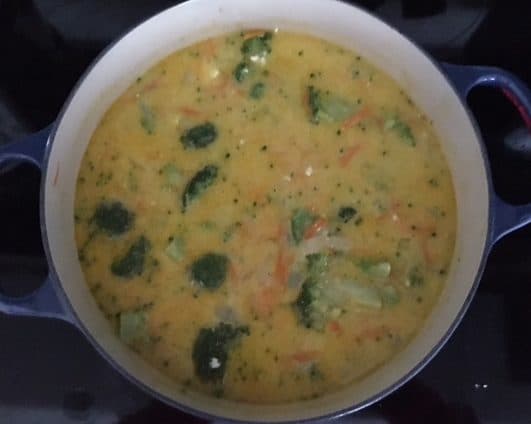 Now it's time to blend. I highly recommend using an immersion hand blender for this step. If you don't have a immersion hand blender then you can use a regular blender. Don't ask me how I lost my hand blender but the day I made this soup I couldn't find it anywhere. So I ladled the soup into my Vitamix in batches. I blended it up and then poured it back in. Blended it up some more and then poured it back in. The hand blender would've been easier but apparently I tend to lose small kitchen appliances.
You can make this as creamy or chunky as you want. I like my broccoli cheese soup creamy with just a little bit of chunks.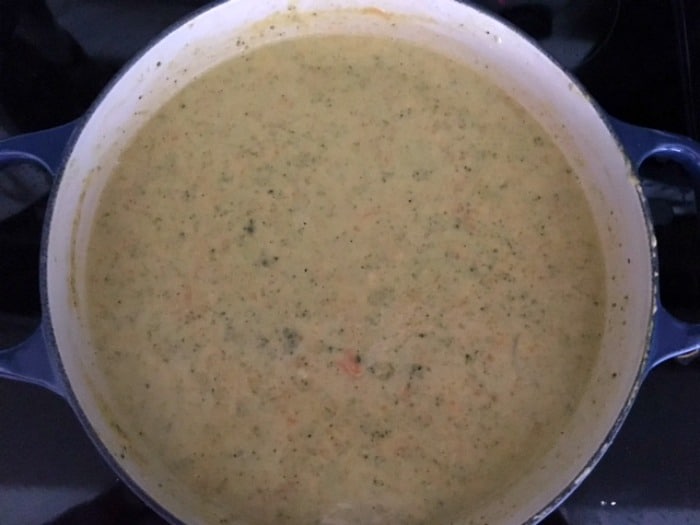 After you blend the soup it's time to add the cheese. Oh mama! It is a must to purchase extra sharp cheddar cheese. Not sharp. Not medium sharp. Not kinda sharp. You want extra sharp. That will give you the best cheese flavor. You can find extra sharp pre shredded cheese but if not just buy a couple blocks and shred it yourself. Break out your trusty food processor again for this one.
You can experiment with all kinds of cheese. I bet pepper jack or even swiss would be good. I prefer extra sharp cheddar but throw in what you have.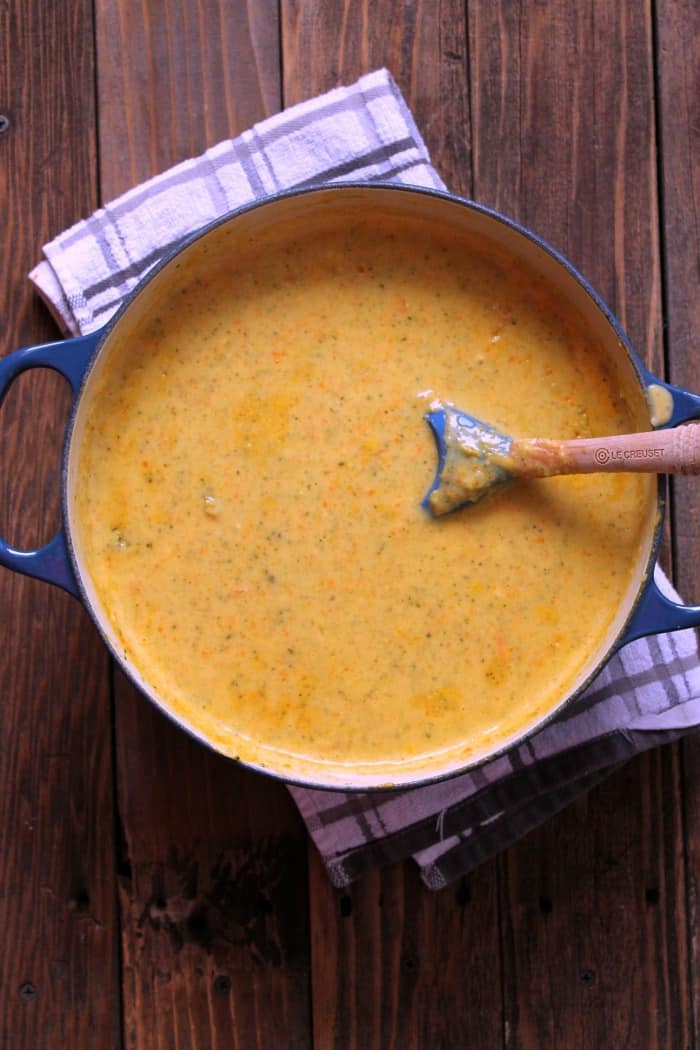 I used 2 cups of shredded extra sharp cheddar in the recipe. I also stirred in a little grated parmesan for an added cheese kick.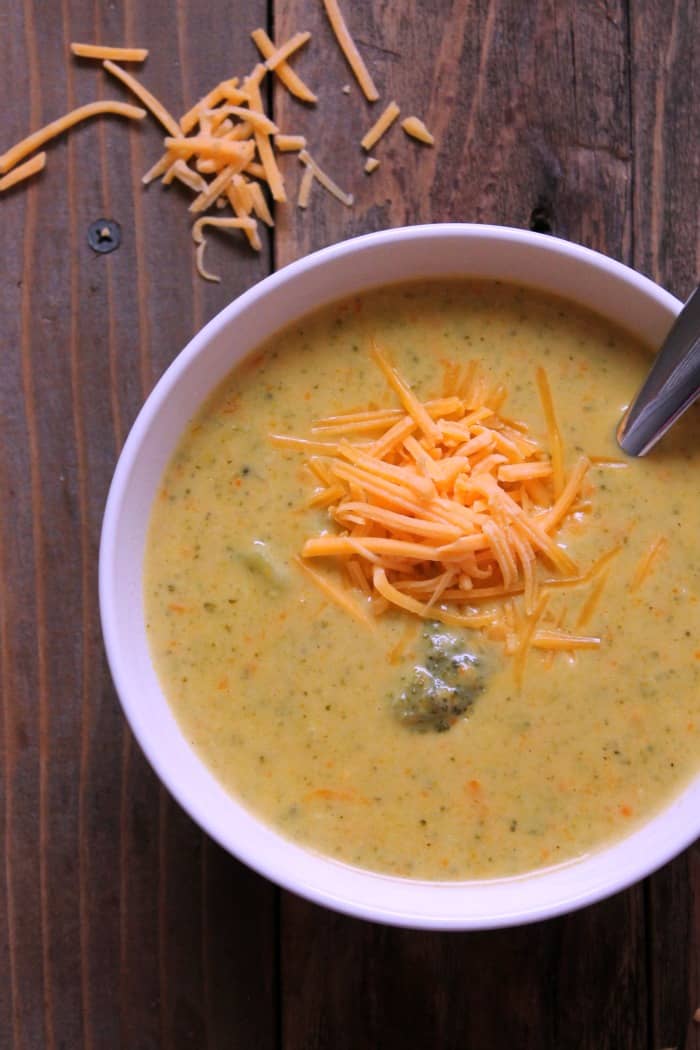 After you stir in the cheese taste for salt and pepper. I salt again at the end of recipes because it makes the flavors pop. If it needs salt start with 1/2 teaspoon and go from there.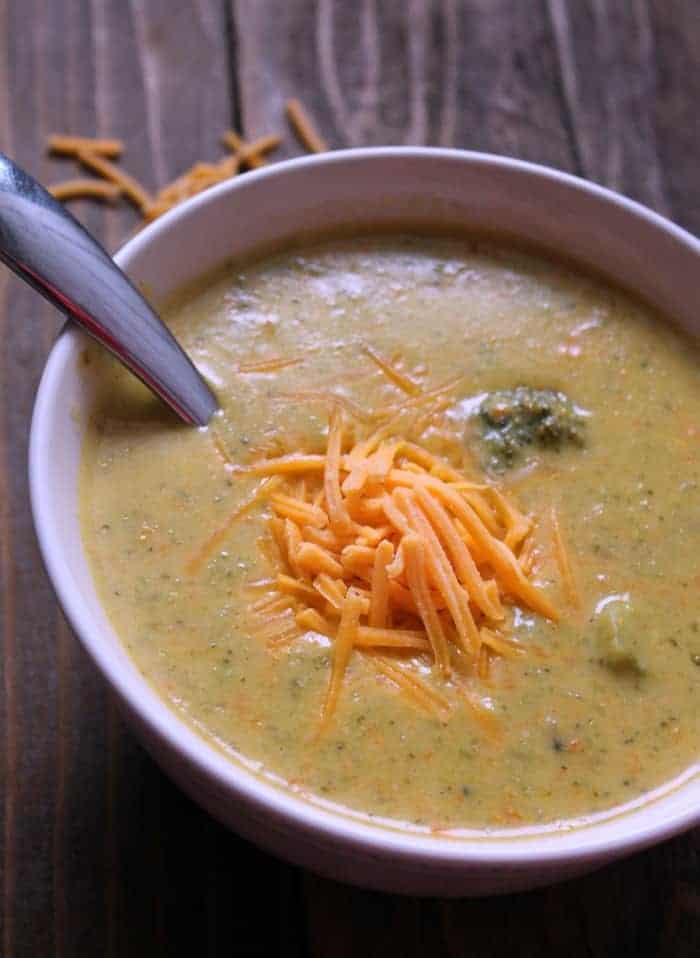 This broccoli cheese soup recipe (depending on the amount of liquid you use) will make about 8 cups of soup. Each 1 cup serving is 253 calories.
Check out my other favorite soup recipes:
Zuppa Toscana: Copycat Olive Garden Recipe
Pasta Fagioli Olive Garden Copycat Recipe
Healthy Stuffed Pepper Soup Recipe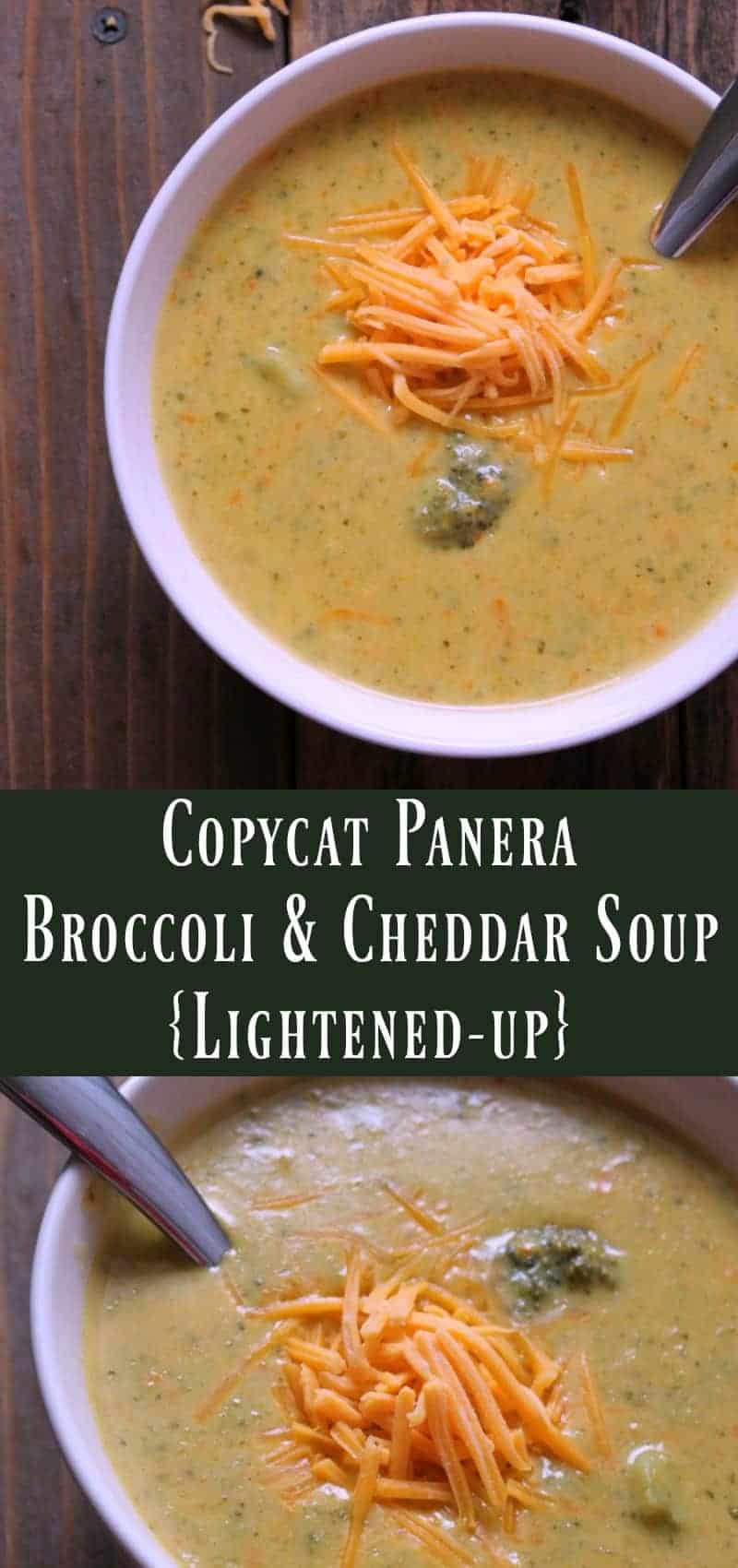 Ingredients
2

tablespoons

olive oil

1

medium white onion

chopped

3

cloves

garlic

chopped

2

cups

grated carrot

¼

teaspoon

ground nutmeg

½

teaspoon

salt

½

teaspoon

pepper

¼

cup

white whole-wheat flour

2

cups

chicken stock

2

cups

unsweetened coconut milk

4

ounces

low fat cream cheese

cut into cubes

2

12-ounce bags frozen broccoli florets

¼

cup

grated parmesan cheese

2

cups

extra sharp shredded cheese.

extra salt if needed
Instructions
In a 6 - 8qt soup pot sauté the onions, garlic, and carrots in olive oil until the onions are translucent and garlic is fragrant, about 2-3 minutes.

Stir in the nutmeg, salt, and pepper. Let cook for another minute.

In a small bowl whisk together 1/4 flour and 1 cup chicken stock. Pour mixture into the pot. Bring to a boil and let simmer until the liquid thickens a little bit, about 3-5 minutes.

Stir in the rest of the chicken stock, coconut milk, cream cheese, and broccoli. Bring to a boil and then let simmer until the broccoli and carrots are soft and the cream cheese is melted, about 25 minutes. It's okay if there are specks of cream cheese during this step. That will be gone after the soup is blended.

Using a hand blender or regular blender blend the soup until you get the consistency you like. If the soup is too thick then add in more chicken stock until you get the desired consistency.

Stir in the shredded extra sharp cheddar and parmesan. Stir until the cheese melts. Taste for salt and then serve.
Notes
Make-ahead instructions
Make the soup completely ahead of time and after it cools portion out into containers and freeze for up to 3 months. Warm up on the store or in the microwave.
Nutrition
Serving:
1
g
|
Calories:
253
kcal
|
Carbohydrates:
13
g
|
Protein:
12
g
|
Fat:
17
g
|
Saturated Fat:
8
g
|
Fiber:
4
g