All the flavors of the classic Cobb salad lightened up and served in a wrap.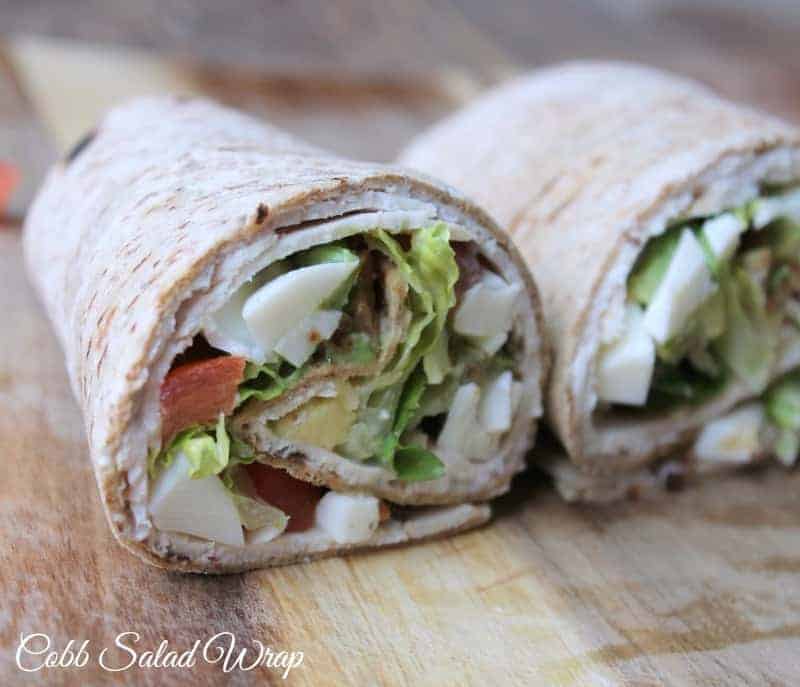 Who doesn't love a Cobb salad? Well maybe someone who doesn't like eggs, bacon, avocado, and blue cheese. But… if those 4 foods create happiness in your life then I bet Cobb salads are up there as one of your favorites. It sure is for me. I love me a hearty Cobb salad and even created a Cobb Mason Jar salad a few years ago because we needed one.
This time around I decided to transform the cobb salad into a healthy wrap recipe. Mainly because I need more easy lunch and dinner recipes to pull from and I'm sure you do too. Also, I know you guys love wrap recipes because this turkey ranch wrap I created when I first started blogging (5 YEARS AGO) is STILL in the top 10 most popular recipes on Organize Yourself Skinny. For real! That recipe happened on accident but you all love it. And because I love it too, and love all of you, I'm going to whip together some more easy wrap recipes. I put together a Italian roast beef wrap recipe a couple months ago that's delish. Today I give you Cobb salad in wrap form.
I lightened this recipe up by using Flatout Whole Wheat Wraps, Marie's Blue Cheese Yogurt Dressing, and only the white of a hard-boiled egg. These easy substitutions resulted in a delicious hearty wrap that only came to 309 calories for the entire wrap.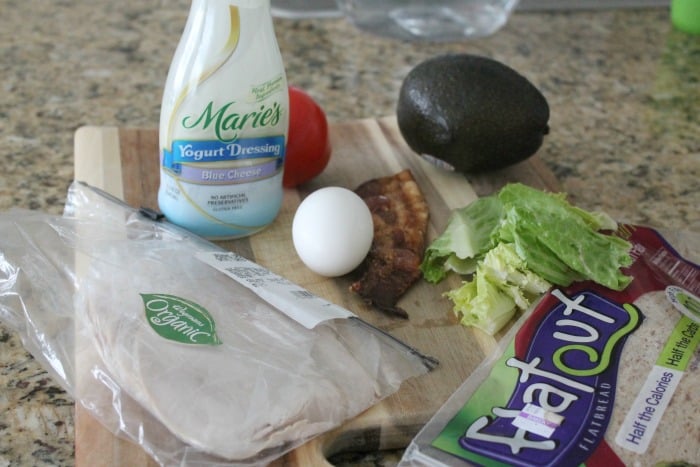 Let's go through the recipe. Obviously, wraps are easy enough for you to figure out the best way to assemble it but I like walking you through it. It's the mommy in me.
Of course I started with the wrap. Then I spread 1 tablespoon of blue cheese yogurt dressing over top. I used this in place of blue cheese crumbles. I absolutely love yogurt dressing. It saves calories without losing flavor. You can use a little extra if you prefer extra dressing without guilt.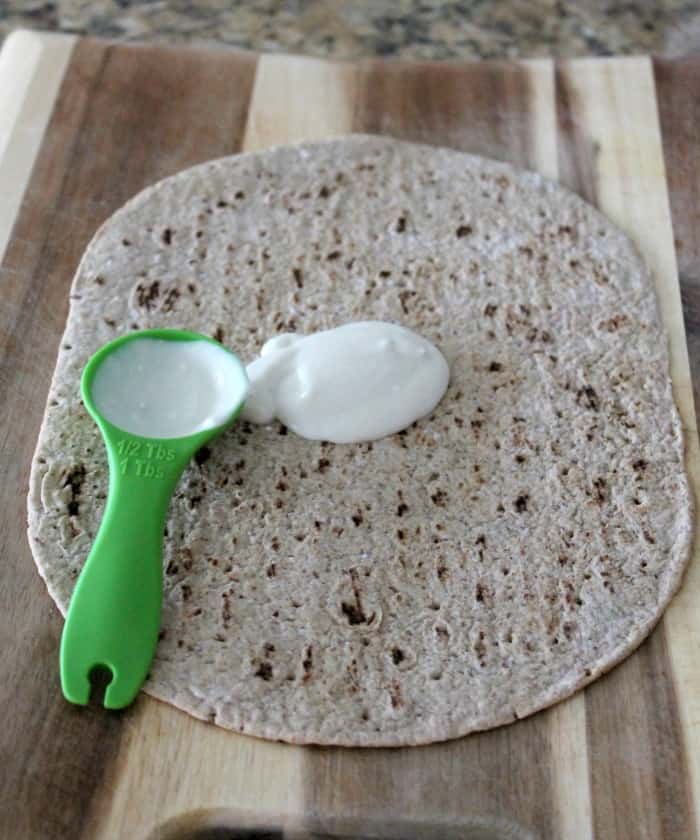 Spread the dressing all over the wrap.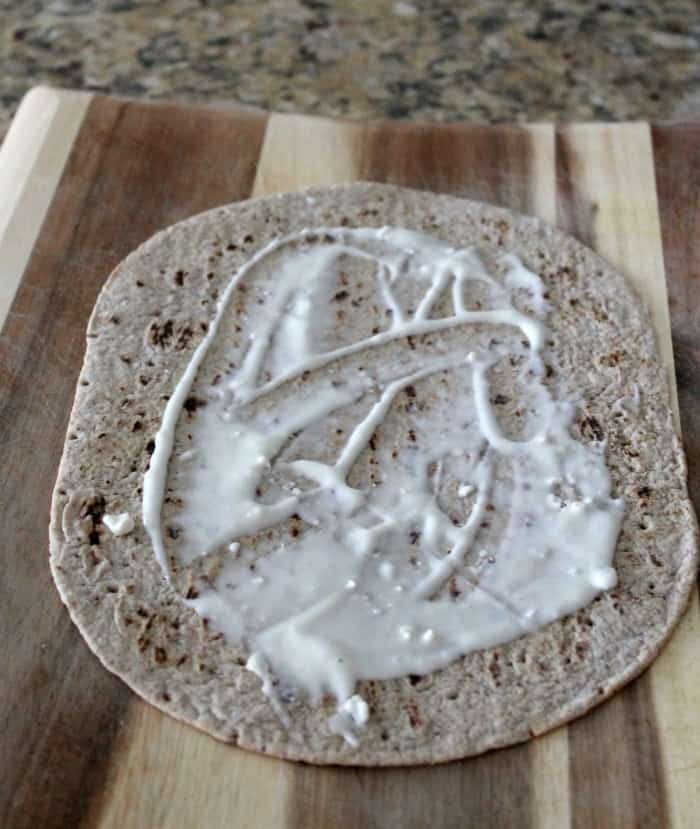 Then I laid the thinly sliced turkey breast over the blue cheese. I used about 3 ounces of turkey breast. As you can see from the first picture I purchased organic deli meat. Yes it's more expensive but high quality meat is something I don't skimp on. Use whatever turkey breast you like. Roasted, grilled, or baked chicken would taste great in this wrap too.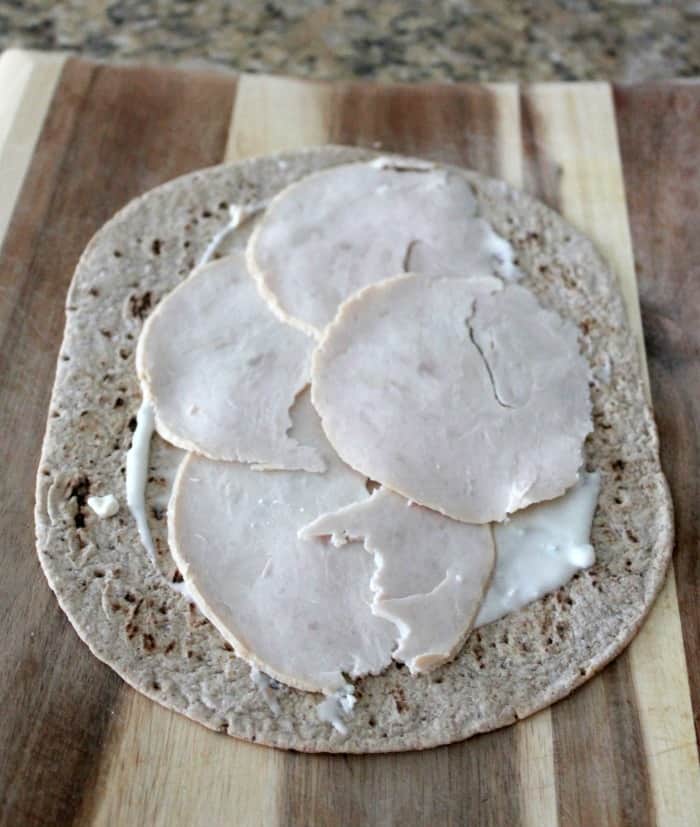 Then I added the egg whites. At first I was going to use the whole egg but decided to save the calories and fat and just use the egg white.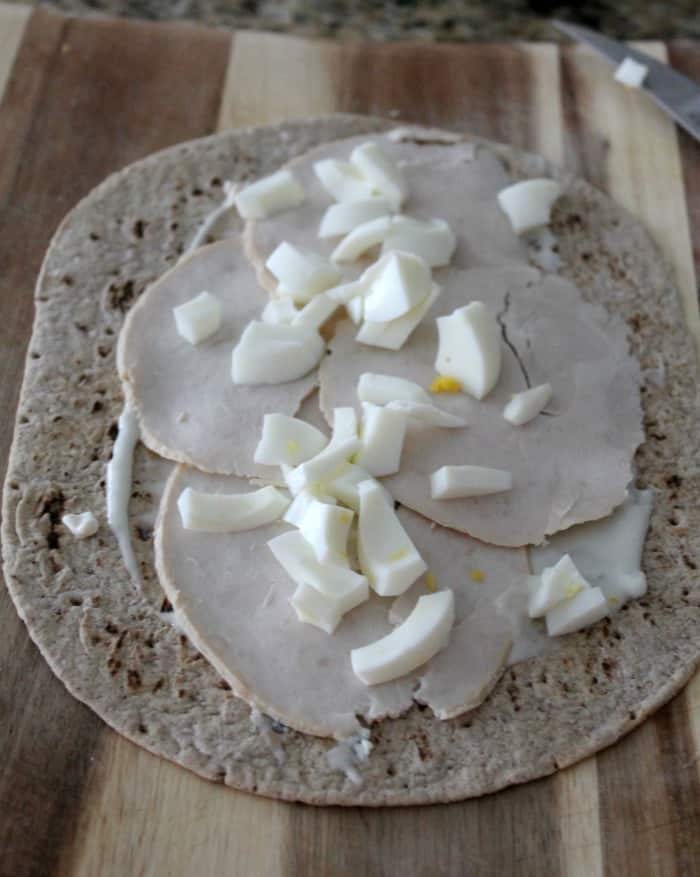 And then BACON!!! Bacon makes everything better. I used one slice of crispy yummy bacon.
Let me digress for a second.
Obviously if you needed to make hard-boiled eggs and bacon the day you ate this wrap it would take some time. However, if you make the eggs and bacon ahead of time this wrap comes together quickly. That's what I did. I made the eggs and bacon on Sunday and stored in the refrigerator until I was ready to put these wraps together. All I needed to do was peel the eggs and crisp up the bacon in the microwave. Easy peasy.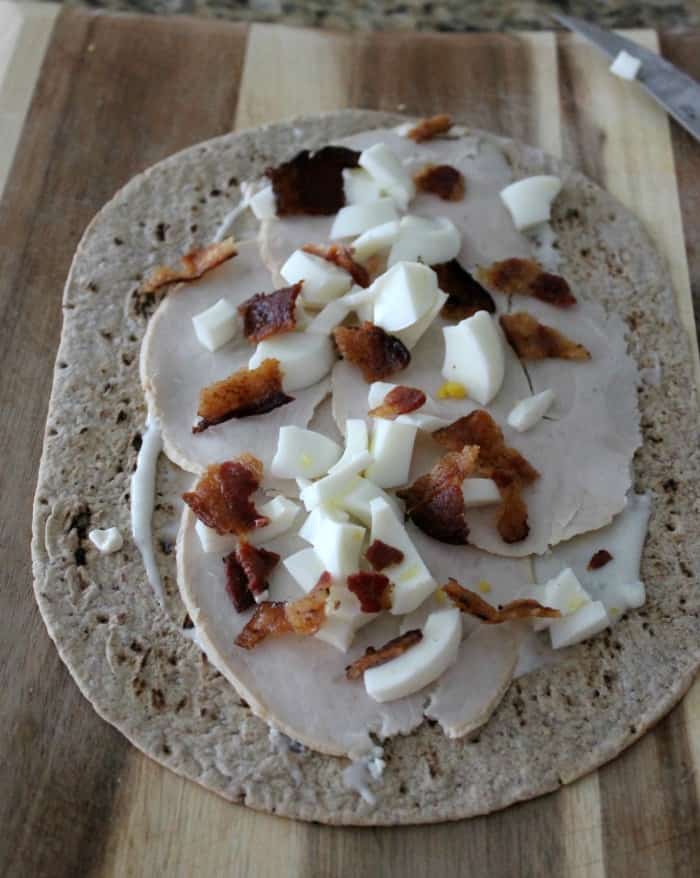 Then I added chopped tomato.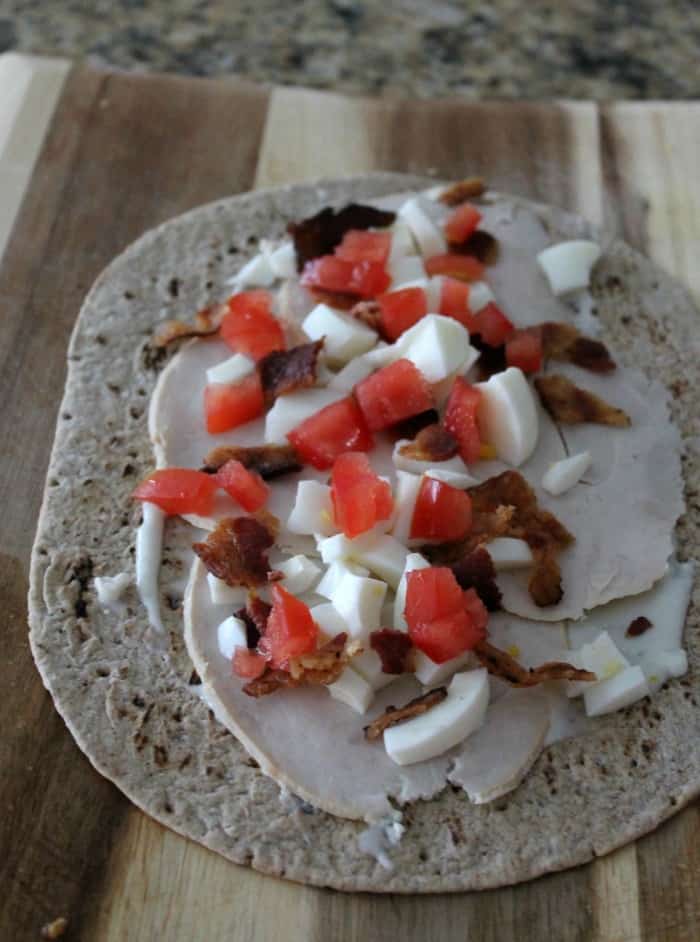 And 1/4 of an avocado.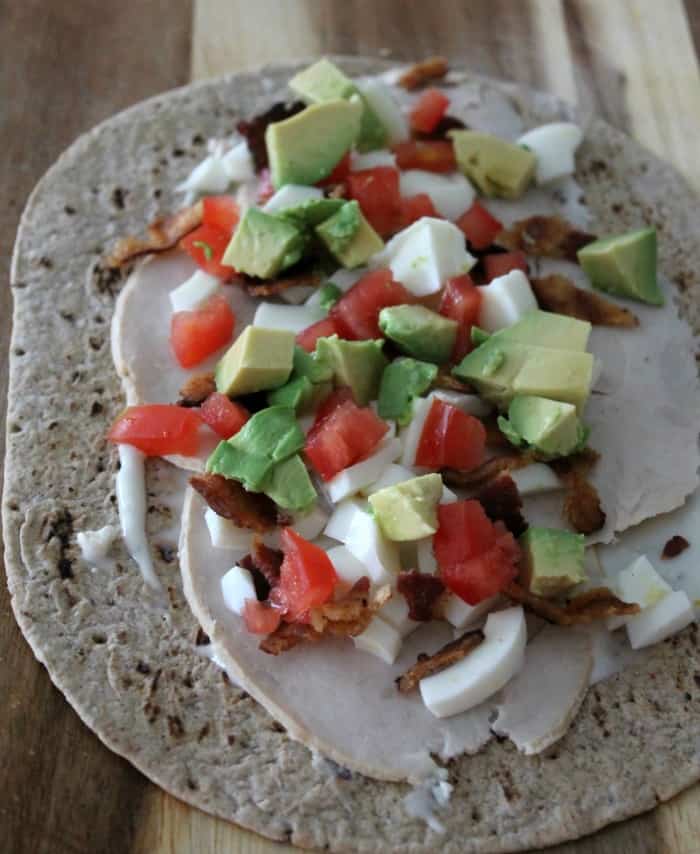 The last thing to make it's way to the wrap was some roughly chopped romaine lettuce. **When I make this again I will add 1/2 – 1 tablespoon additional dressing over the top before I roll it up. Only because it won't break the calorie bank and I think it would be tasty. Just a thought I had while typing this up.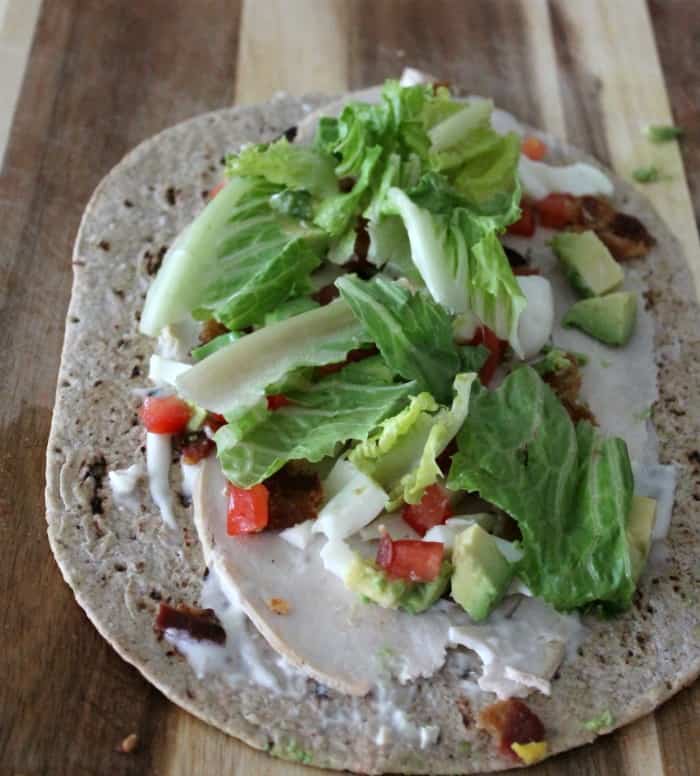 Time to roll it up. There's lots of goodies in this wrap so roll with care.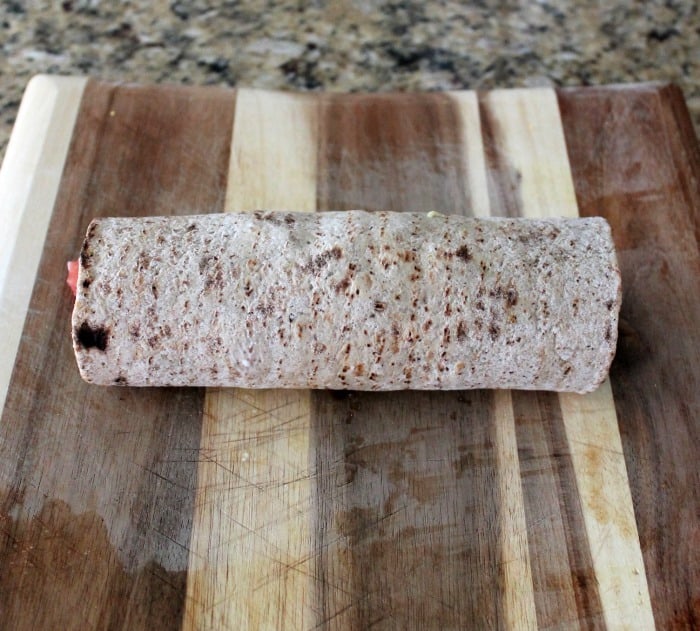 Cut it in half and enjoy!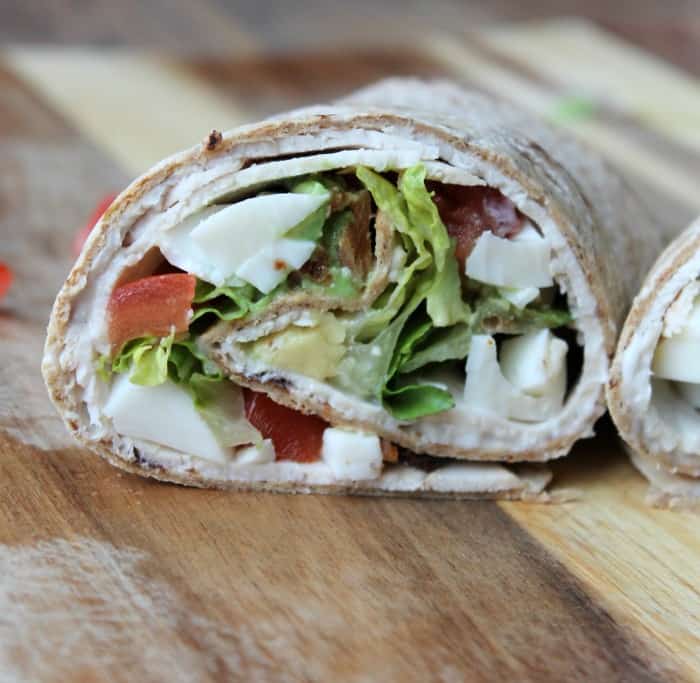 This wrap is delicious and pairs wonderfully with a cup of soup or a yogurt. You will be full all afternoon after eating this. I didn't make the wrap completely ahead of time but I'm sure it would hold up just fine if made the night before for lunches.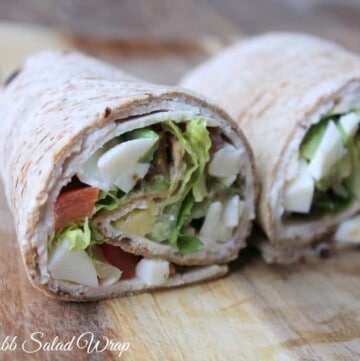 Ingredients
1

Flatout Whole Wheat Wrap

1

tablespoon

blue cheese yogurt dressing

3

ounces

thinly slice deli turkey breast

1

hardboiled egg

egg white only, chopped

1

slice

bacon

cooked and crumbled

2

tablespoons

chopped tomato

1/4

avocado

chopped

1/2

cup

chopped romaine
Instructions
Spread yogurt dressing over the top of the wrap. Next add the turkey breast, egg, bacon, tomato, avocado, and top with the romaine lettuce.

Roll up, cut in half, and serve.
Nutrition
Serving:
1
g
|
Calories:
309
kcal
|
Carbohydrates:
25
g
|
Protein:
33
g
|
Fat:
12
g
|
Saturated Fat:
2
g
|
Fiber:
13
g