If you want to level up your freezer prep game, you should check out this Souper Cubes Review. This product featured on Shark Tank has become a must-have tool in many kitchens. It's a great way to freeze and store your food in perfect portions, making it easier to meal plan and save time and money in the kitchen.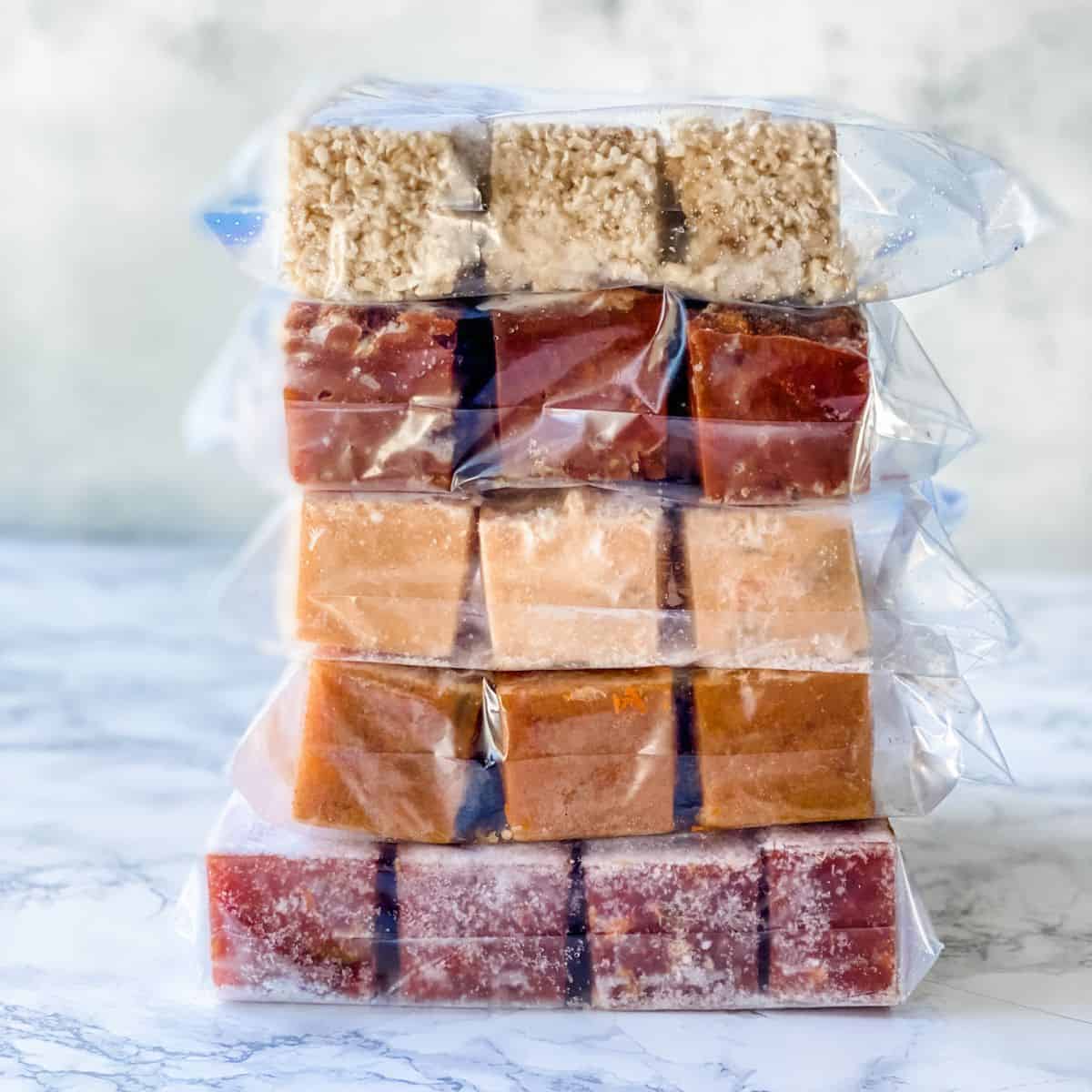 This post contains affiliate links. I am an affiliate for Amazon Associates and other brands and earn a small commission on qualifying purchases. You're by no means obligated to use my links but, if you do, thank you for supporting Organize Yourself Skinny.
My Honest Souper Cubes Review: Everything You Need to Know
I've been a fan of Souper Cubes for a long time, even before they became famous on Shark Tank. But, before I jump into my review, let me tell you a little about how I got into freezer meals.
It's been a part of my life for over a decade now, it all started when I was working full-time outside the home, and my kids were little. I knew that if I wanted to get healthy and lose weight, I needed to plan and freeze our meals for the week.
Freezer prep has genuinely made a difference in my life; it helps me eat healthier, save money, and, most importantly, save time in the kitchen. So if you're looking for a way to make meal planning a little easier, I highly recommend trying freezer meals.
Anyway, at first, I just used whatever plastic containers and freezer bags I had in my kitchen, but it worked, and I used them for a long time.
Fast forward about ten years later, and I stumbled upon Souper Cubes simply by being a part of the meal prep and freezer prep community on Instagram and Facebook. I was immediately intrigued when I saw these silicone trays that created perfectly portioned blocks of food; I knew I had to give them a try!
In early 2020, I got my first 1-cup portion Souper Cube tray and was absolutely blown away! These trays were incredibly easy to use, cleaned up nicely, and honestly the perfect tool for freezer meal prep.
I've been using Souper Cubes regularly since then, and I'm excited to share my Souper Cubes Review with you finally! In this review, I will break down everything you need to know about Souper Cubes – from what they are to what recipes and foods you can freeze with them, how much they cost, and where you can purchase them.
If you're excited to order Souper Cubes, head over to their website to see the latest deals and options available.
👉 My friends from Souper Cubes have generously provided OYS readers with a 10% discount on their cubes by using the code OYS10. Please note that this offer cannot be combined with any other promotion. Remember to enter the code OYS10 during checkout.
Jump to:
What are Souper Cubes?
Souper Cubes are silicone trays that make freezer meal prep a breeze. While the 1-cup portion tray is the most popular, they come in various sizes, including ½ cup, 2-cup, 2-tablespoon, and even cookie trays. Made of silicone, they're durable, dishwasher-safe, oven-safe, and reusable. One thing to note is that while they're oven-safe, the lids are not.
With Souper Cubes, you can freeze and store individual portions of food, which makes meal planning a breeze and saves you time and money in the kitchen. No more worrying about food waste or spending hours in the kitchen cooking every day!
Where to purchase Souper Cubes
While you can find Souper Cubes on Amazon, I highly recommend purchasing them directly from the Souper Cubes website. Not only are they often the same price, if not cheaper, but you'll also be supporting a family-run business instead of lining the pockets of Amazon. Of course, where you decide to purchase is entirely up to you, but I just wanted to share my opinion!
Souper Cube Costs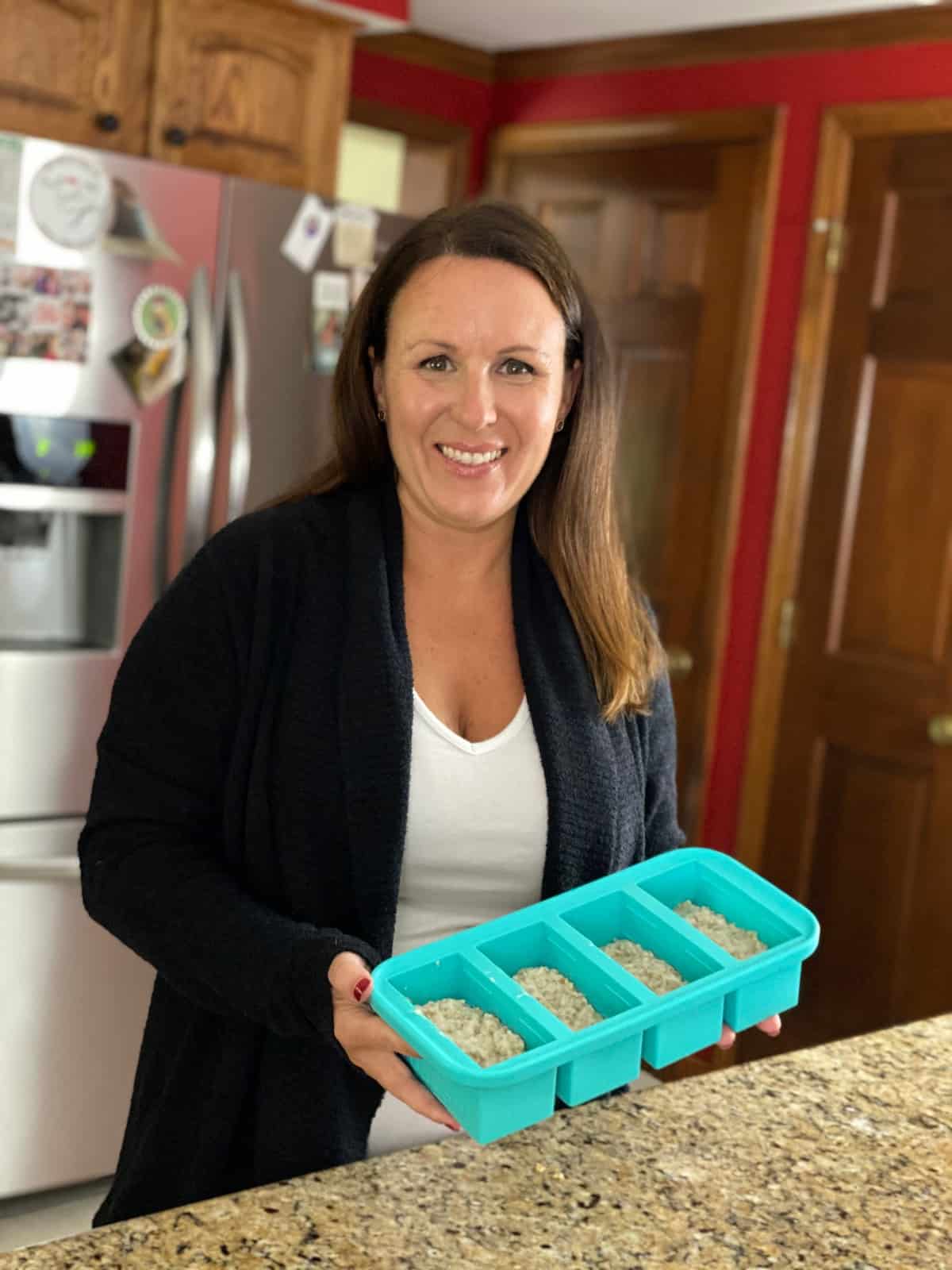 How To Use Souper Cubes to Freeze Food and Recipes?
The possibilities are endless when it comes to freezing food and recipes with Souper Cubes! Here's how you can freeze any recipe in a Souper Cube:
Fill the Souper Cube to the line with your recipe, then place the lid on and freeze it.
Once the recipe is frozen, pop the cube out of the tray and place it into a labeled freezer bag.
Put the bag back into the freezer.
That's it! Freezing food and recipes with Souper Cubes is super simple and helps make freezer prep a breeze.
I've had the pleasure of using all of Souper Cubes' trays, and I'd love to share some examples of what I've frozen in them.
The one-cup tray is my go-to, and I love using it to freeze things like steel-cut oatmeal, spaghetti sauce, chili, soups, broth or stock, taco meat, shredded chicken, beef, and pork. Sometimes, I'll make a big dinner, and we'll only eat half of it, so I'll freeze the rest using the one-cup tray for future healthy dinners. It's become a routine for me, and my freezer is always stocked with delicious meals ready to go!
The two-cup tray is perfect for making individual freezer meals. For instance, you can layer a cup of sauce at the bottom of the tray and top it with pasta before freezing it. You can do the same with rice and chicken recipes such as sesame chicken or chicken cacciatore. Additionally, you can use it to freeze individual portions of casseroles or rice bakes, making it an excellent way to prepare a bunch of freezer meals that you can heat for lunch or dinner throughout the month.
The half-cup tray is not something I use as frequently as the others, but when I do, I usually freeze smaller portions of ingredients I don't want to waste. For instance, I've used it to freeze leftover tomato sauce, canned tomato products, beans, or any other ingredient I need in a half-cup portion. This size is also perfect for homemade baby food.
The two-tablespoon tray is excellent for freezing small portions of ingredients you don't want to waste, like leftover tomato paste, Chipotle Chilies in Adobo sauce, pesto, mashed avocado, chopped garlic in oil, herb oil, or any other ingredient that you can use in small amounts. It's perfect when a recipe calls for a little bit of something, and you don't want to open a whole new jar or package.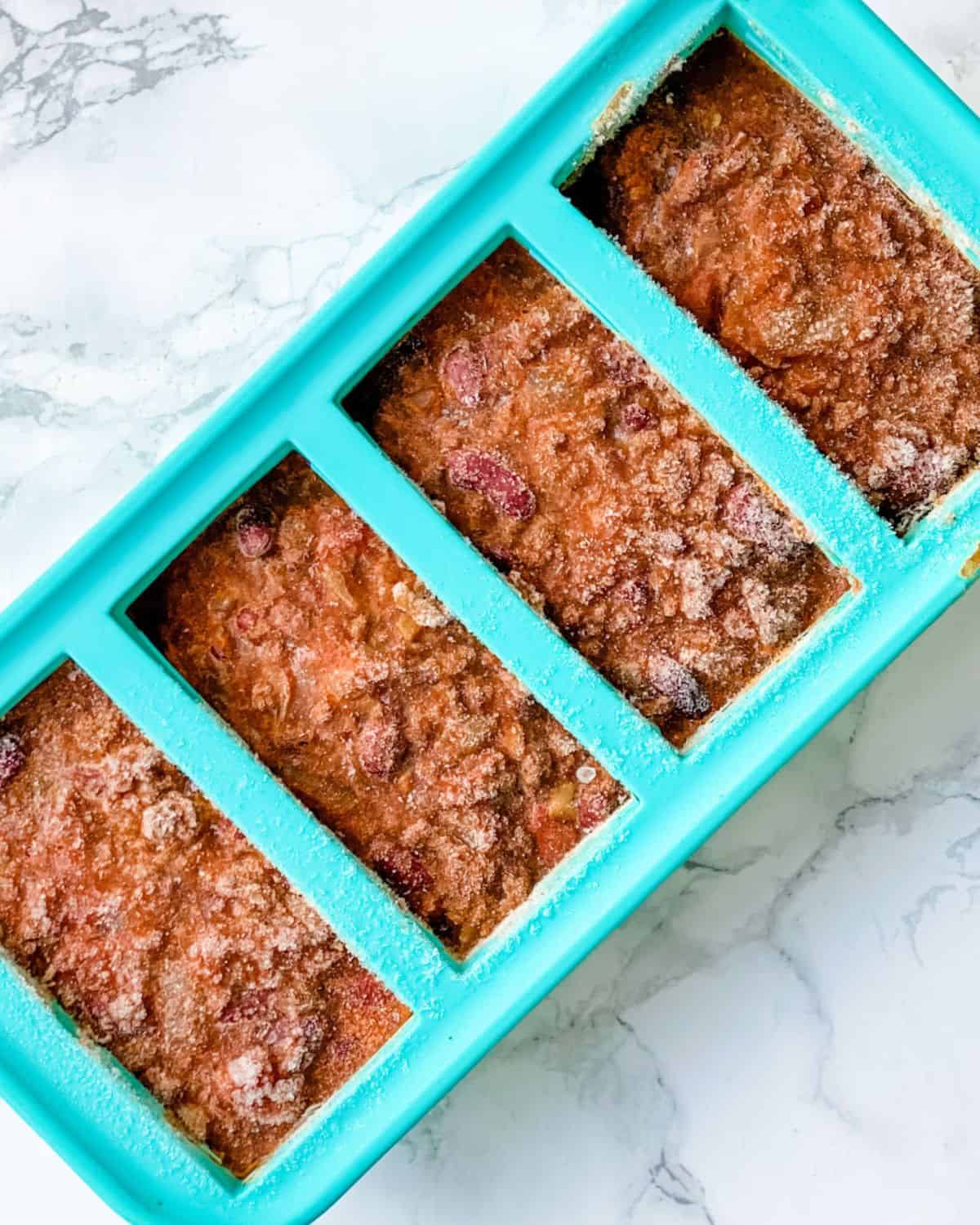 Can you bake in Souper Cubes?
If you're wondering whether you can bake in Souper Cubes, the answer is yes! They are oven safe up to 415°F. However, it's important to note that the lids with Souper Cubes are not oven safe.
While I haven't baked with my Souper Cubes, I've seen many people in Facebook groups and my group who have used them for baking and have had great results.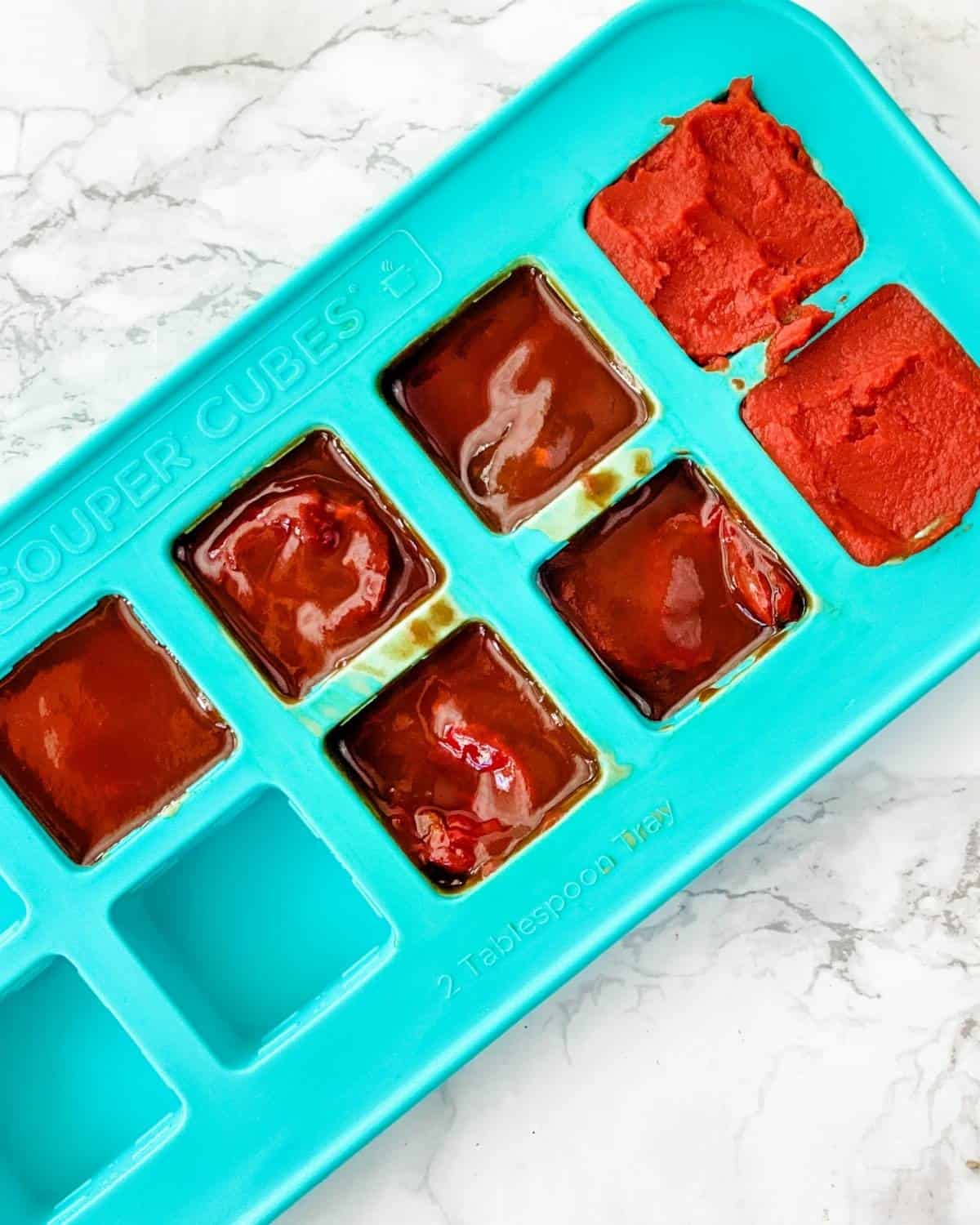 The reasons why I love Souper Cubes
Portion-controlled: Souper Cubes allow me to portion out foods and recipes, making it easier to freeze food and leftovers to have at a later date. It's also helpful when trying to keep portions under control to eat healthier and lose weight.
Saves space in the freezer: After the food is frozen into blocks, I can put them into a reusable freezer bag and stack them nicely in the freezer. This is super helpful if I'm limited on freezer space or don't want to use a bunch of containers to fill up my freezer.
Easier to heat up: Freezing food in Souper Cubes makes it much easier to heat up when food is frozen into blocks. I don't have to squeeze it out of a bag or chisel it out of a container – all I need to do is take the block out of the freezer bag and heat it on the stove or microwave.
Reduces food waste: Souper Cubes are great for saving food and ingredients I probably would have thrown out in the past, such as ripe avocado, tomato paste, leftover canned sauce, and even ripe bananas.
Reduces plastic: Using Souper Cubes significantly reduces the plastic I use for freezer prep. Instead of using a bunch of freezer bags to freeze the sauce, I can now freeze it into cubes and use just one bag to freeze all the cubes. It's an excellent option for someone trying to reduce their environmental footprint.
My #1 freezer prep tool: While I love weekly meal prep, freezer prep is the real hero in my kitchen. I use Souper Cubes regularly to ensure we have healthy meals ready in the freezer. I freeze leftovers regularly, but I also take time once every 4 to 6 weeks to specifically focus on using my Souper Cubes to freeze recipes to put into the freezer.
Are Souper Cubes Worth it?
If you're wondering whether Souper Cubes are worth the investment, I can confidently say they are. Even though they might seem a bit expensive at first glance, they are a great investment. These durable cubes will last you for years and will pay for themselves in the money you save by adding freezer prep to your routine. So, in the long run, they are worth it!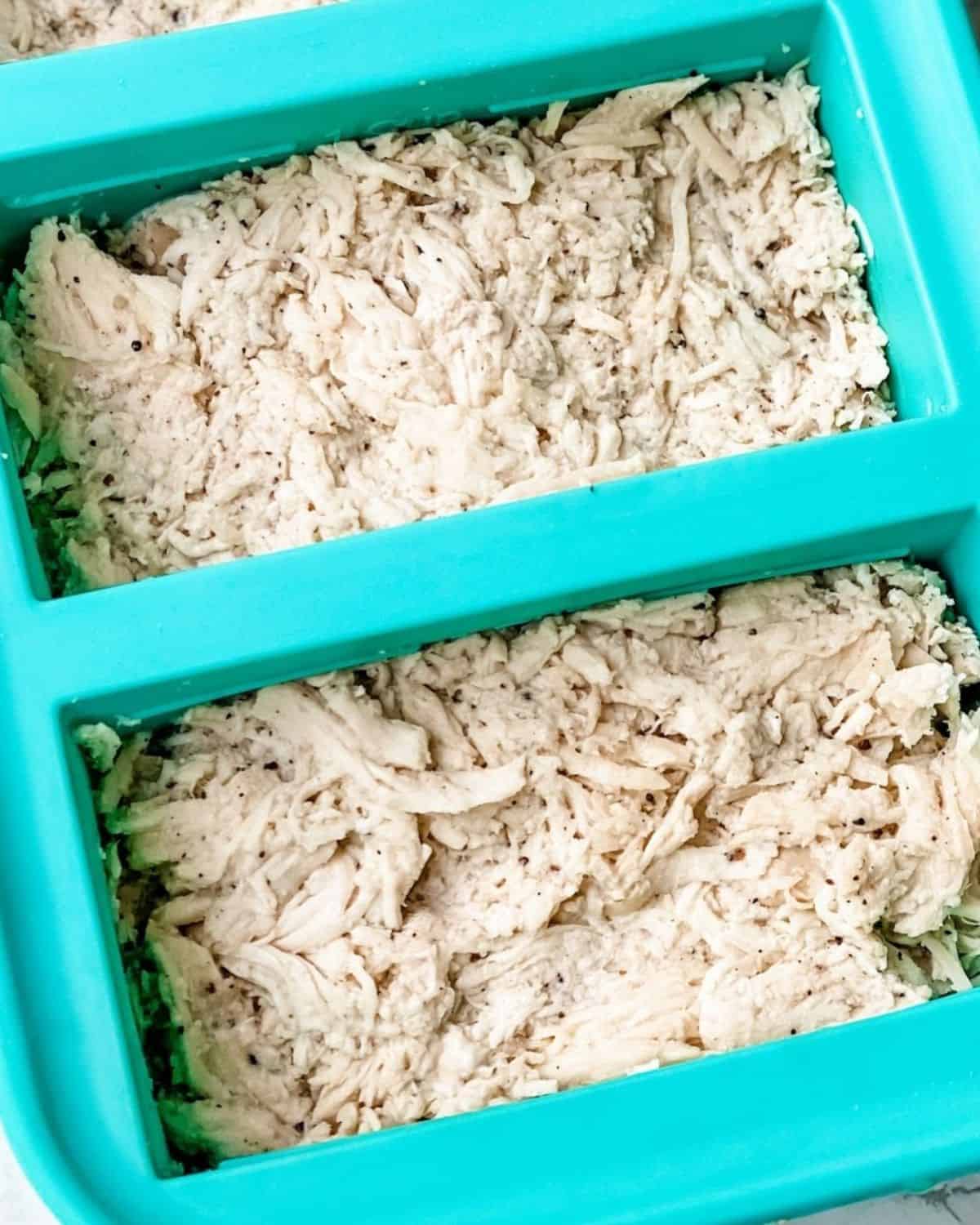 FAQS
What are Souper Cubes made of?
Souper Cubes are made of high-quality BPA-free food-grade silicone. It's a flexible and durable material that is safe for food and can withstand high and low temperatures, making it perfect for use in the freezer, fridge, oven, and microwave. The silicone material makes it easy to pop out frozen food without hassle or mess.
Will Souper Cubes stain?
The Souper cubes website states that the super cubes are fairly stain resistant. And from my experience using Souper Cube trays for the last three years, I agree. I have frozen red sauce numerous times using Souper cube trays, and have not been stained and still looks brand new.
How long does it take food to freeze in a Souper Cube? 
The Souper Cube's website states to Allow up to 24 hours for the food to freeze, depending on the temperature of your freezer and the food type. From my experience using Souper Cubes, this is correct; anytime I freeze recipes, I always allow at least 24 hours for the food to freeze into blocks.
Can you put hot food into a Souper Cube?
Yes, you can put hot food into Super cubes; however, I would let the food cool down a bit before placing the lid on and putting it into the freezer to prevent condensation, ice crystals, and possibly freezer burn with your food.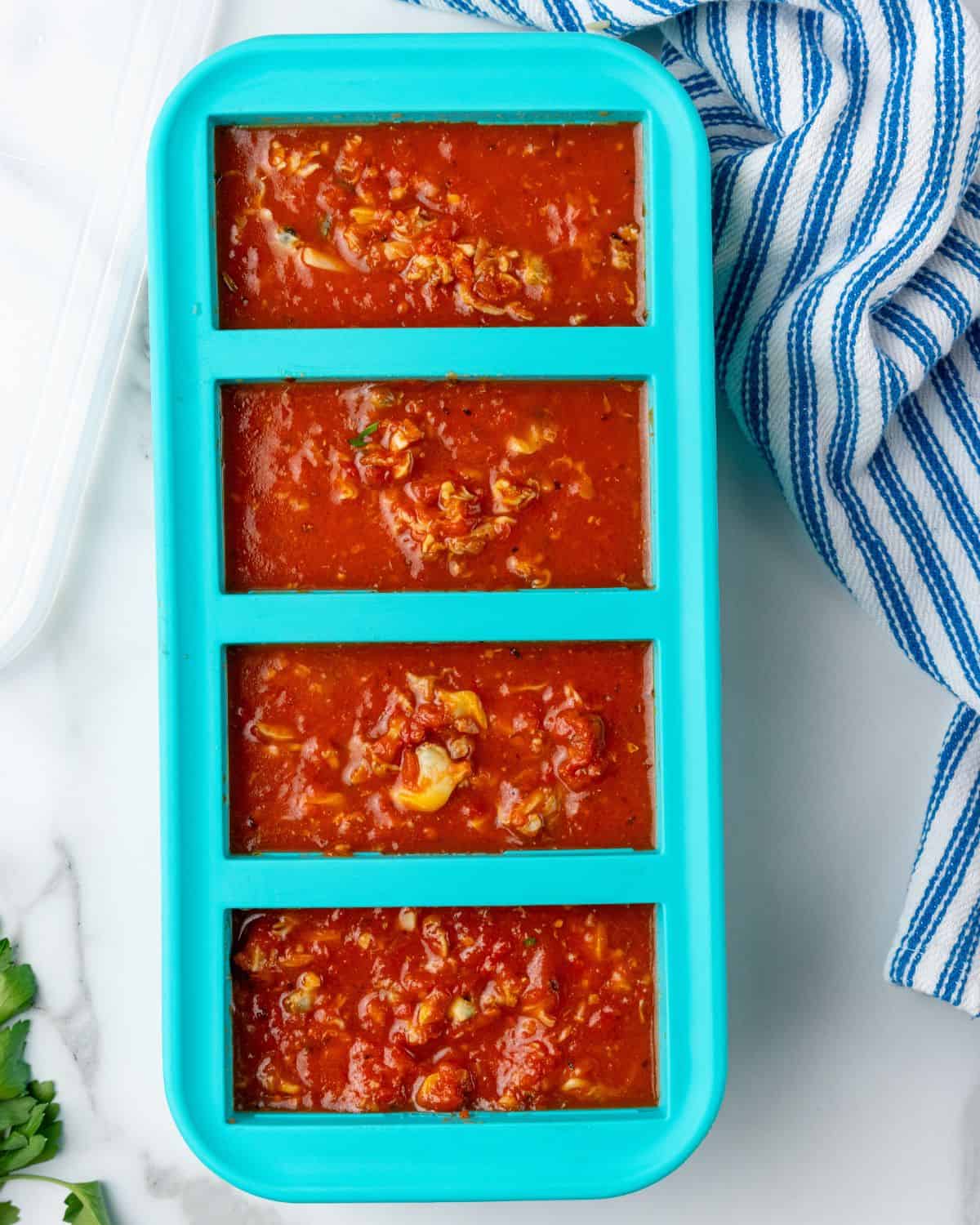 I hope my review of Souper Cubes Review was helpful to you. If you have any questions, please drop them in the comments section, and I'll get back to you as soon as possible.
Other Helpful Reviews
See all of my reviews.