This homemade hamburger helper is cheesy, comforting, delicious, and MUCH healthier than the boxed version we all knew (and loved) as kids.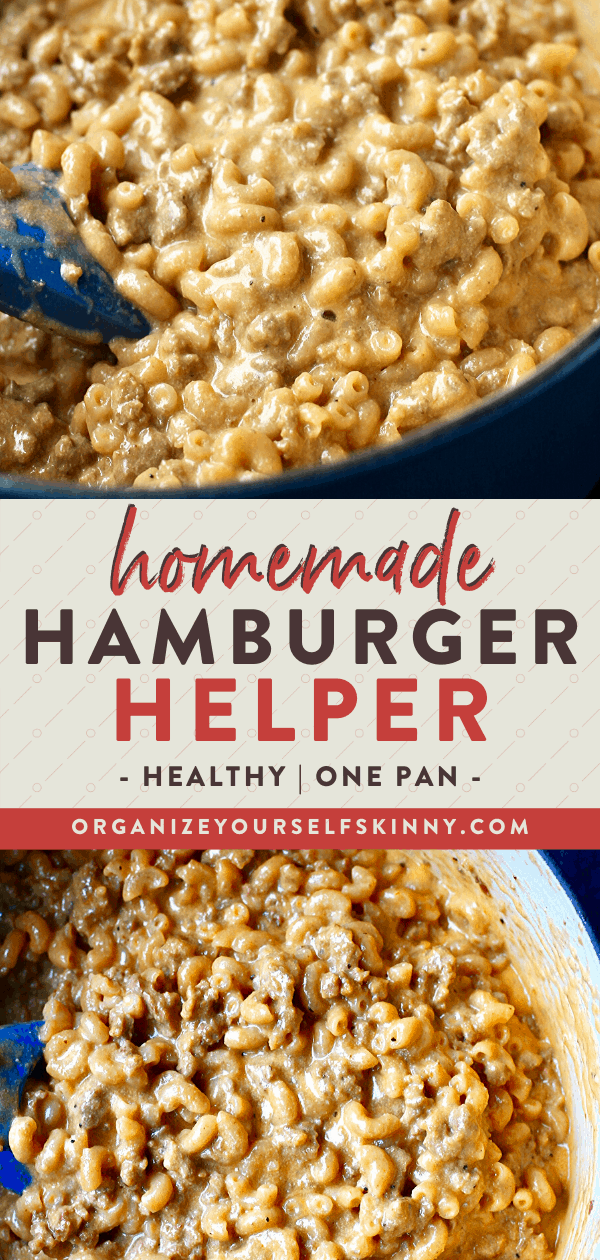 I grew up in the 80s and you know what that means? Hamburger Helper, baby! Yep, back then it was all about quick boxed meals and this boxed hamburger mac and cheese was a favorite.
Of course, my mother cooked homemade meals too, but she was a busy working woman with 4 kids. Many nights she just wanted to get dinner on the table fast so we would stuff our faces and be quiet for 20 minutes. Trust me, I totally get it. I'm often amazed by how much I appreciate my mom now that I'm a mother.
Anyway, I still crave the deliciousness of Hamburger Helper but fortunately (or unfortunately however you're looking at it) I know better. I try to eat as clean as possible and boxed processed dinners don't fit into that equation.
Homemade Hamburger Helper
Well, because I need comfort food in my life and also because I need quick dinner recipes for when my kids want their "hamburger mac and cheese" after a day of school and sports, I came up with an easy hamburger helper recipe.
This homemade hamburger helper is perfect for a busy weeknight. It takes less than 30 minutes to prepare and only uses one pot!
Yes, it does take a couple more steps than the classic box meal, but it's so much tastier (and healthier) you won't mind. Trust me, one bite of homemade hamburger helper and you'll be tossing the box version in the trashcan!
How to Make a Homemade Hamburger Helper Healthy
While a cheeseburger mac and cheese recipe isn't going to be as nutritionally savvy as a low-carb lettuce wrap there are certainly ways to make this recipe healthier. Here are some of my favorite swaps!
Whole Grain Pasta
With any pasta recipe, one of the first things you can do to boost the nutrition is to swap out the refined white pasta for whole-grain.
Whole grain pasta has a heartier texture and somewhat of a nutty flavor but it works really well in this homemade hamburger helper recipe. My favorite whole grain pasta is the Delallo brand.
High-Quality Beef
One way to clean up a recipe is to use organic grass-fed ground beef. Also, to keep the fat under control I use 95/5 lean ground beef. This way I can eat my hamburger mac and cheese practically guilt-free!
I'm able to find organic ground beef at Whole Foods and Wegmans. If you don't have access to those grocery stores, or want the convenience of meat being delivered to your door, then consider purchasing organic beef and chicken from Butcher Box. Some of the best meat I've tried has been through them.
Use Ground Turkey
If you want to make this homemade hamburger helper even leaner, you can skip the beef altogether and switch it for ground turkey. Honestly, we personally love using ground beef in this recipe because the flavor is a bit better for this recipe. However, if you want to lower the fat and calories then you can substitute ground turkey.
Ground turkey needs to be properly cooked if you want it to be flavorful. Here's a post I wrote about how to cook ground turkey, along with 10 of my favorite ground turkey recipes!
Use Unsweetened Coconut Milk
I've used dairy milk plenty of times with this recipe but if I want to reduce dairy then I turn to unsweetened coconut milk. It's a great substitute and it doesn't taste like coconut at all.
Just make sure it's unsweetened and unflavored! You definitely don't want your homemade hamburger helper to turn out tasting like vanilla!
More FAQs About This Homemade Hamburger Helper
I'm glad you all love this hamburger helper recipe as much as I do! I've gathered some of the questions asked over the years and compiled them here for you.
Can this be made gluten-free?
Yes. I've used gluten-free pasta in this recipe a number of times. The secret is to make sure the pasta is cooked extra al dente to prevent it from becoming mushy.
What to serve alongside cheeseburger mac and cheese?
This is a rich comforting dinner so serving a vegetable side and/or a salad breaks this up and lightens the dish even more.
Here are my favorite sides:
Caesar Salad
Leafy Italian Salad
Can you meal prep homemade hamburger helper?
Yes. There are a couple of ways to meal prep this hamburger helper recipe.
Cook the Beef and Freeze
Cook the ground beef ahead of time and store it in the refrigerator (or freezer). When you're ready to finish the recipe simply warm up the beef and continue putting the recipe together.
You can also cook the pasta ahead of time too and then all you'll need to do is make the cheese sauce and put everything together.
Cook the Entire Recipe and Refrigerate
Cook the entire hamburger helper recipe ahead of time and store it in the refrigerator. I do this often for my kids because then all they need to do is heat and eat.
Tips for Making Homemade Hamburger Helper
I use whole grain elbow noodles but any small shaped pasta will work fine. 2 full cups of dry pasta seems to be the magic number with this recipe.
The noodles take about 10 minutes to cook. I use 3 cups liquid (2 cups milk and 1 cup broth) for 2 cups pasta. This ratio creates a perfectly cooked pasta along with a creamy cheese sauce. If you notice the pasta is still hard and there isn't a lot of liquid left then add in a little stock (1/4 – 1/2 cup at a time) until you can the texture and consistency you want.
This recipe thickens up from pasta cooking in the liquid. There's no need for flour or other thickeners.
Freshly shredded cheese gives great flavor and adds to the creaminess. Package shredded cheese will work fine but if you can shred your own cheese then do so.
How to Make This Hamburger Helper Recipe
Okay, let's get to the recipe. Here's how you can make a fantastic hamburger mac and cheese the whole family will beg for!
Cook the Ground Beef
I love my 5 1/2 quart Le Creuset Pot, but you can use the pot of your choice, of course. As the ground beef cooks break it into small pieces.
After about 3 minutes stir in the Worcestershire sauce, ketchup, mustard, onion powder, garlic powder, salt, and pepper. Cook for another couple minutes or until the beef is no longer pink.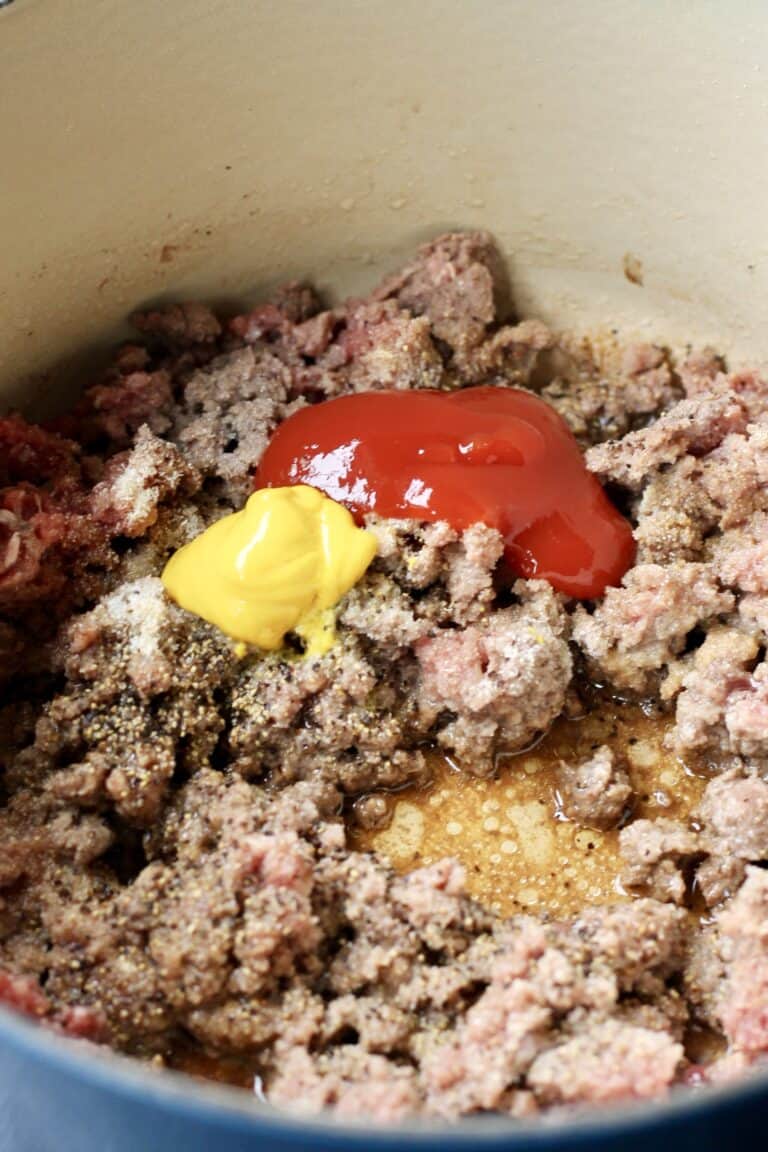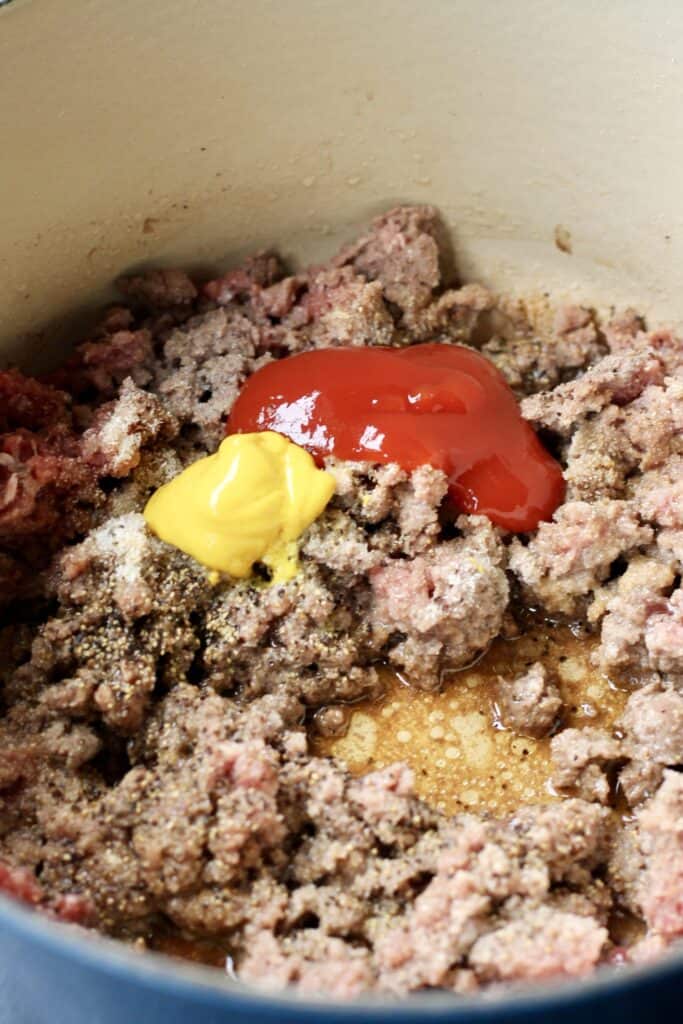 Add Liquids
Add milk and broth into the pot with the beef. I used chicken stock but you can easily use beef stock.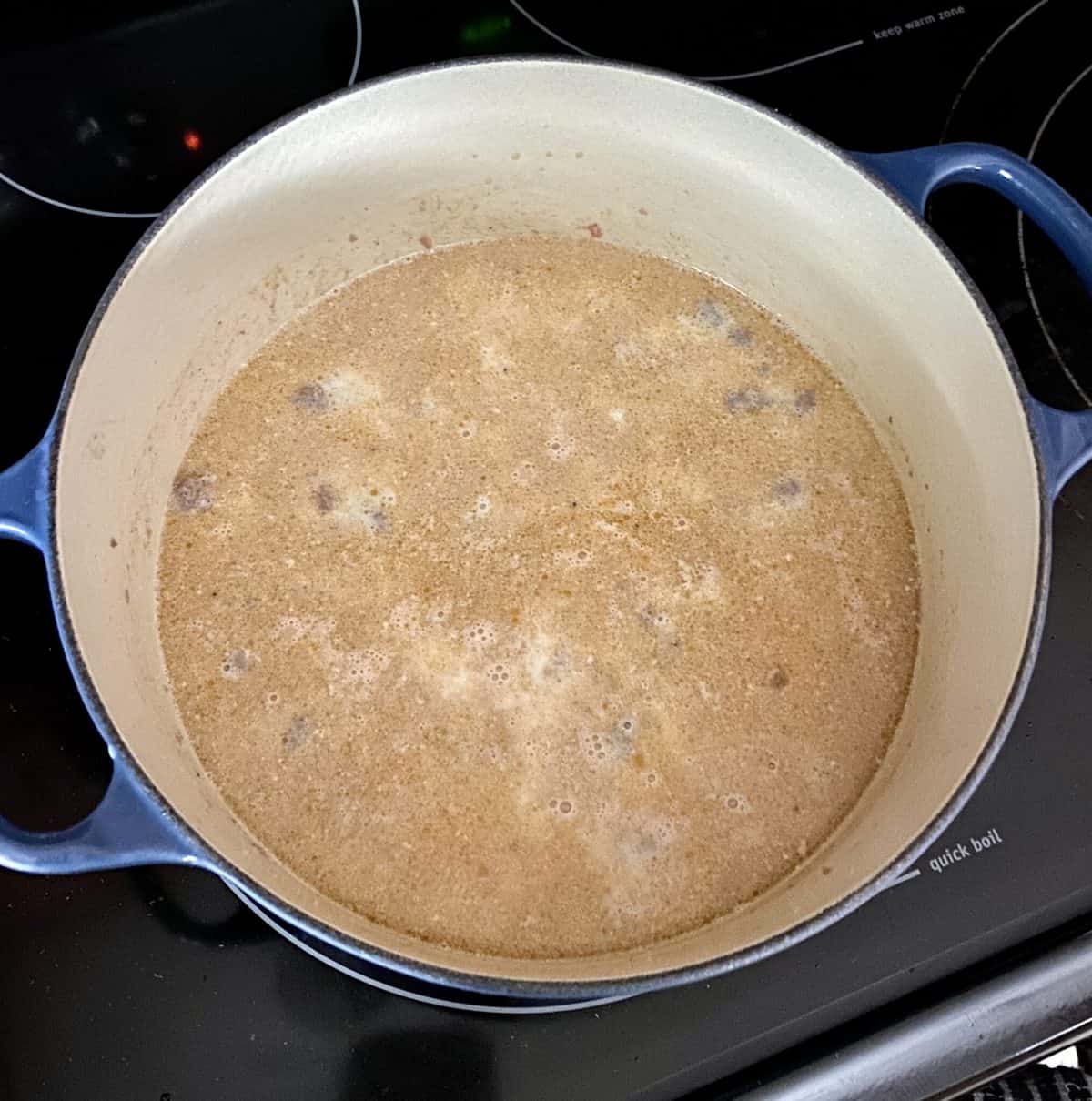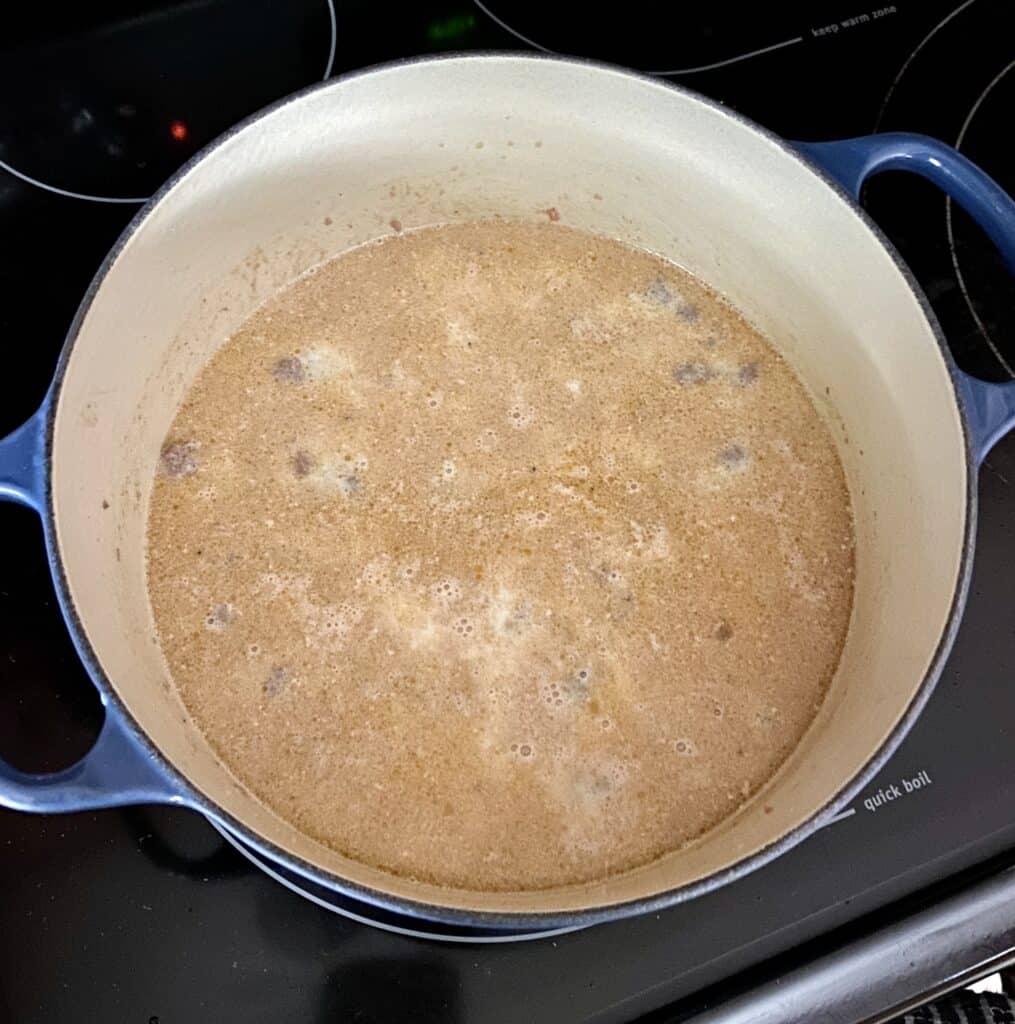 Add in the Pasta
Bring the liquid to a boil and add in the macaroni. Again, you're going to use 2 cups of dry small pasta. In my experience, small elbow macaroni works the best.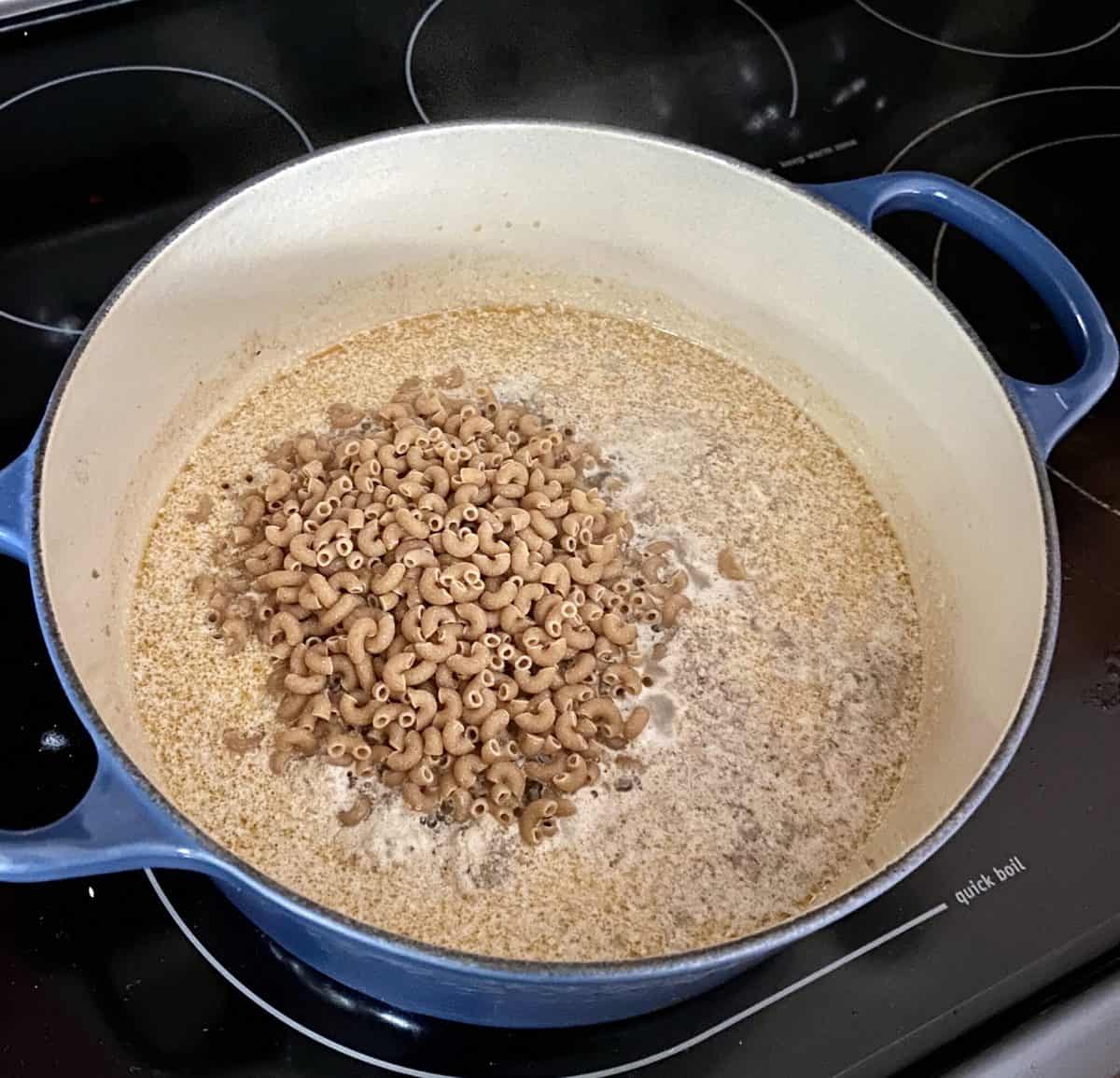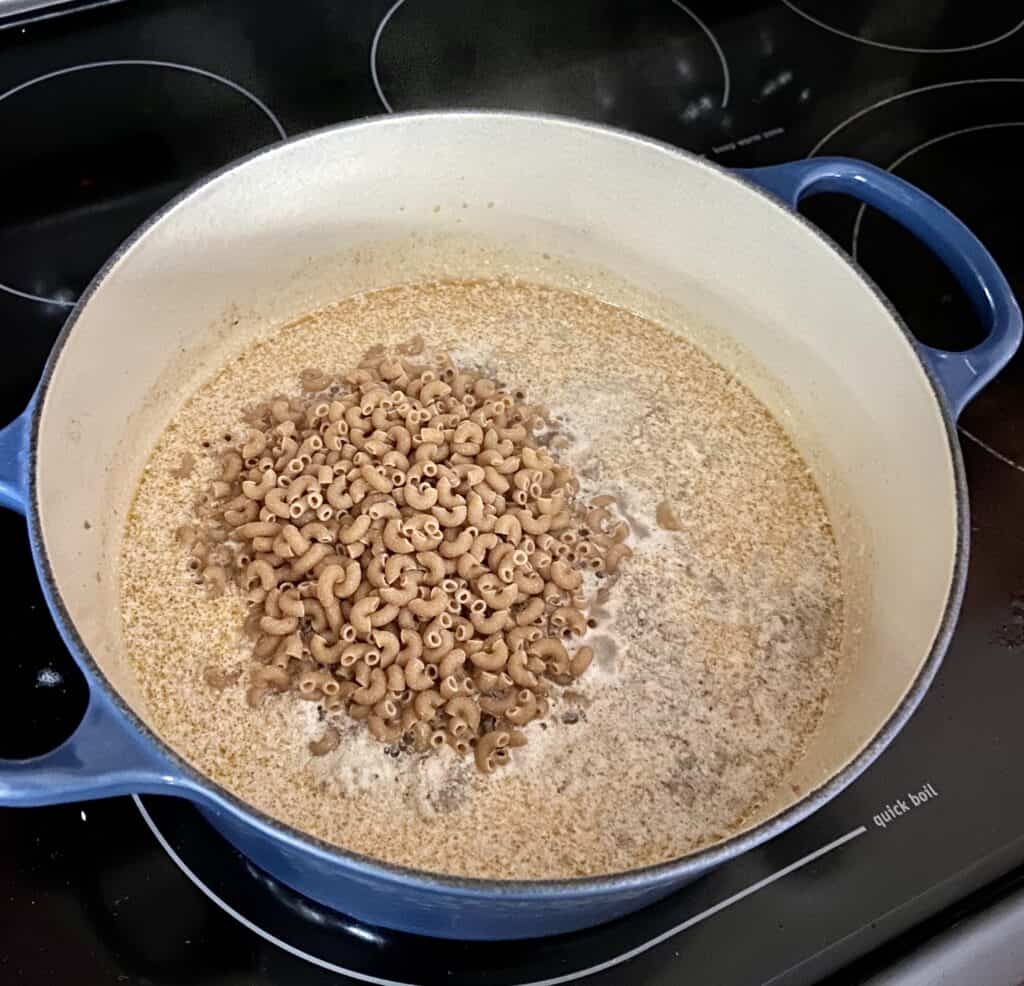 Cook the Homemade Hamburger Helper
Reduce to a simmer. The pasta takes about 10 minutes to cook. As it cooks it will absorb the liquid and start to thicken up. Make sure to give it a few stirs during this step so the pasta doesn't stick to the bottom of the pot.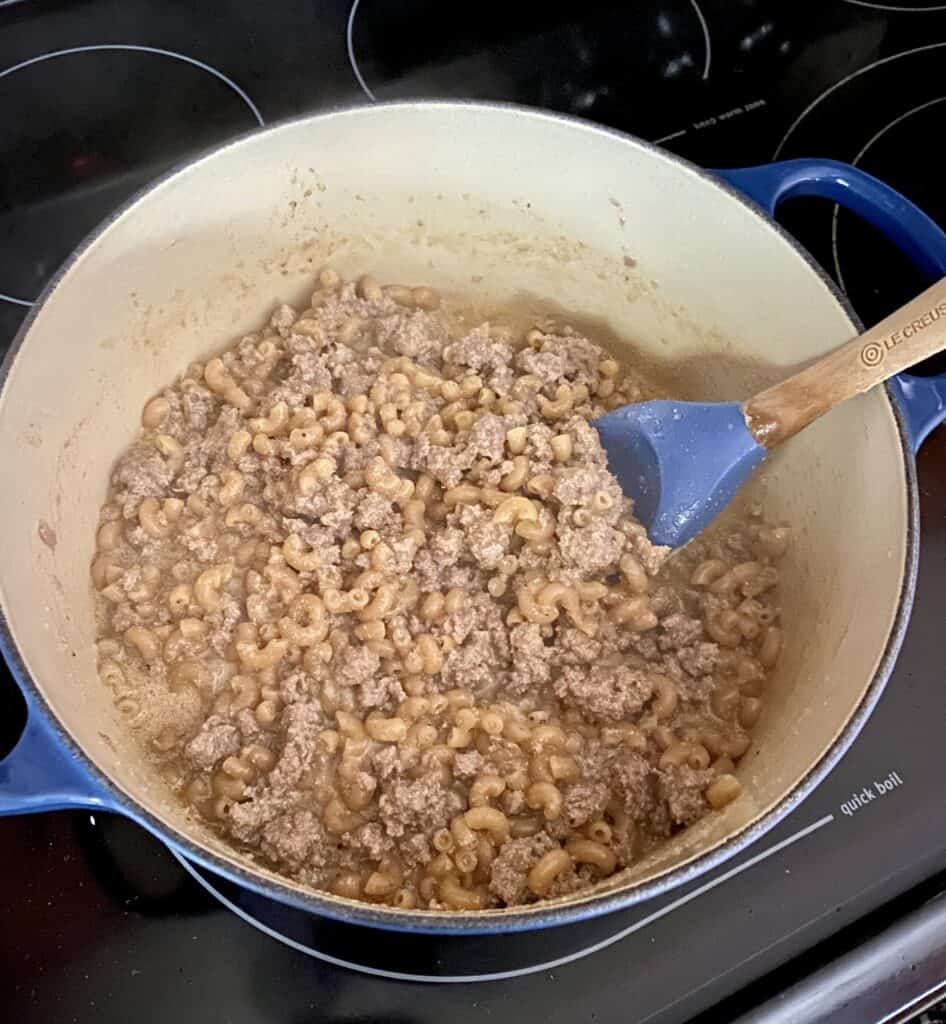 Add in the Cheese
Once the pasta is tender, and most of the liquid has been absorbed, remove from heat and stir in the cheeses. I use a full 2 cups of sharp cheddar cheese and 1/3 cup of grated parmesan. Stir until all the cheese is melted.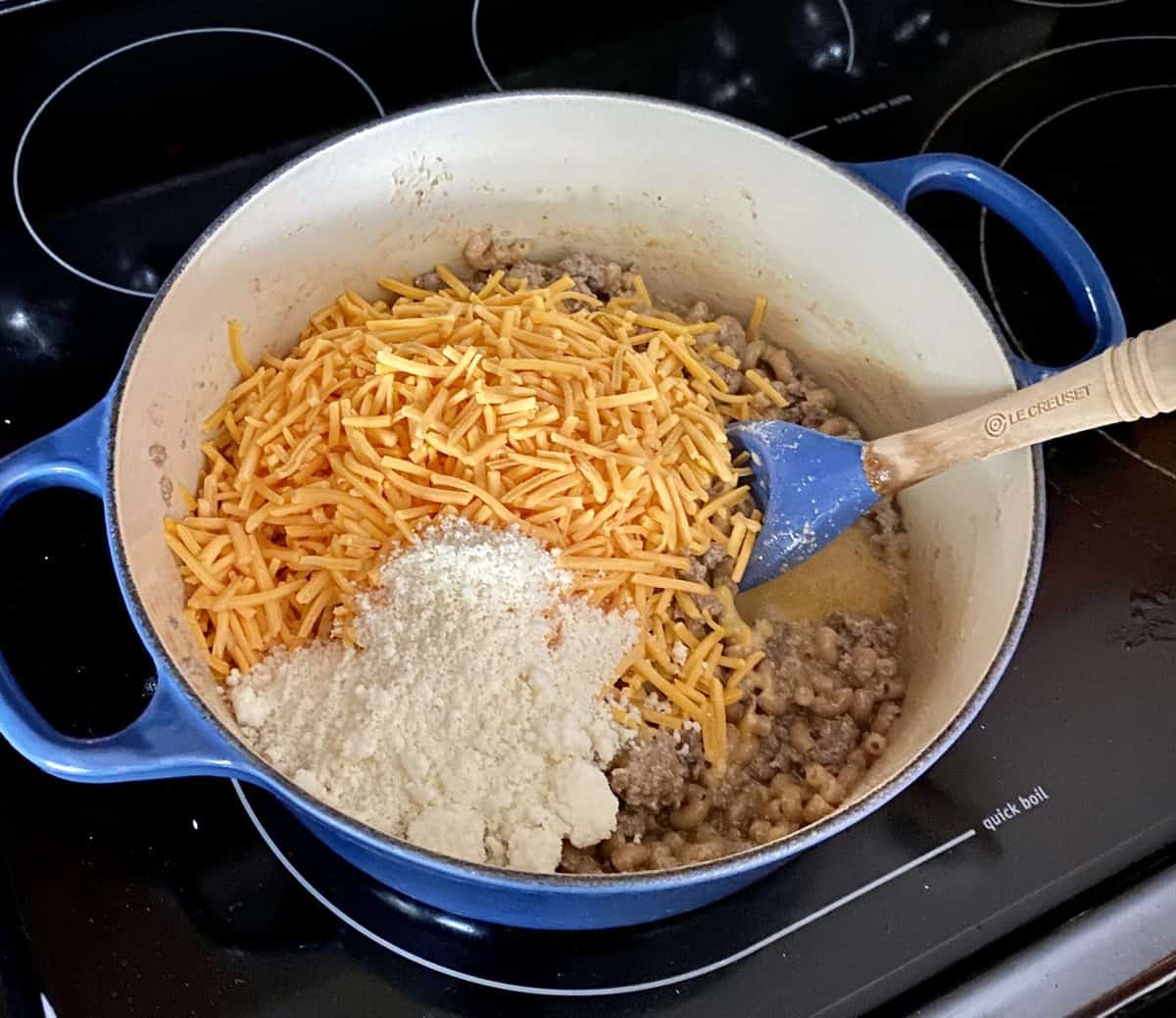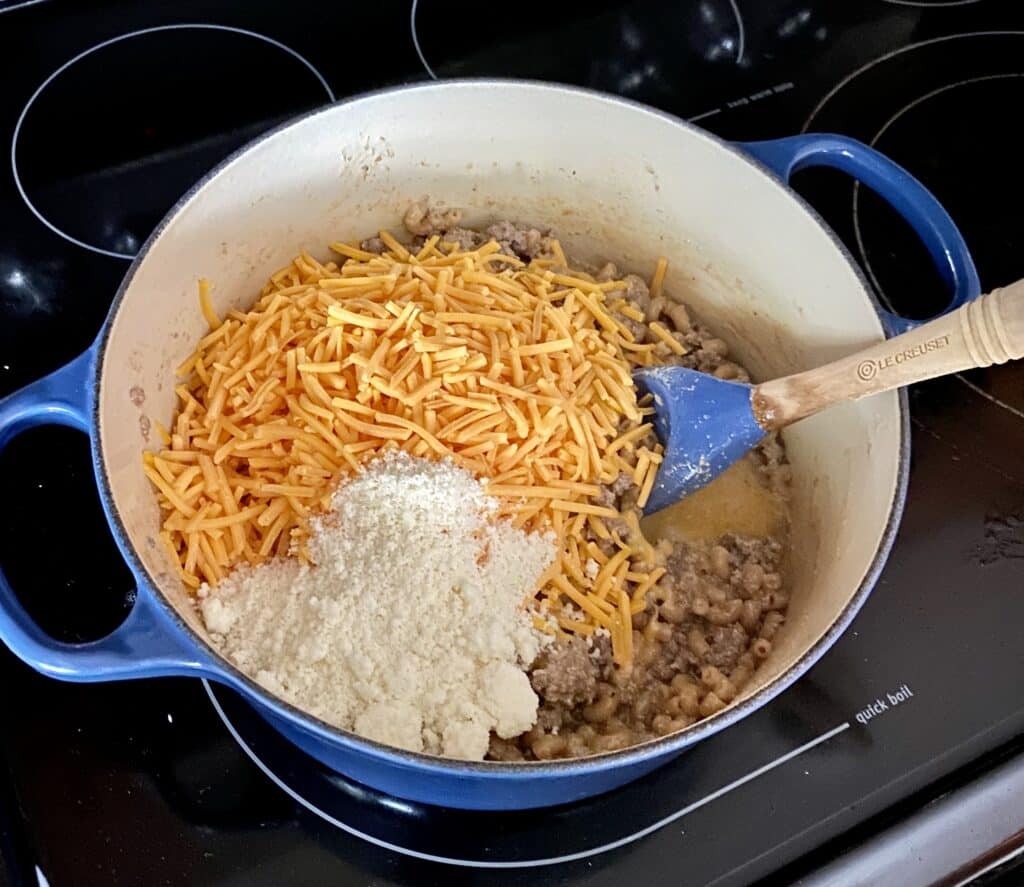 As the cheese melts it will create the most delicious rich cheesy macaroni ever. Just like with any recipe that includes pasta cooking in the liquid it will thicken as it sits.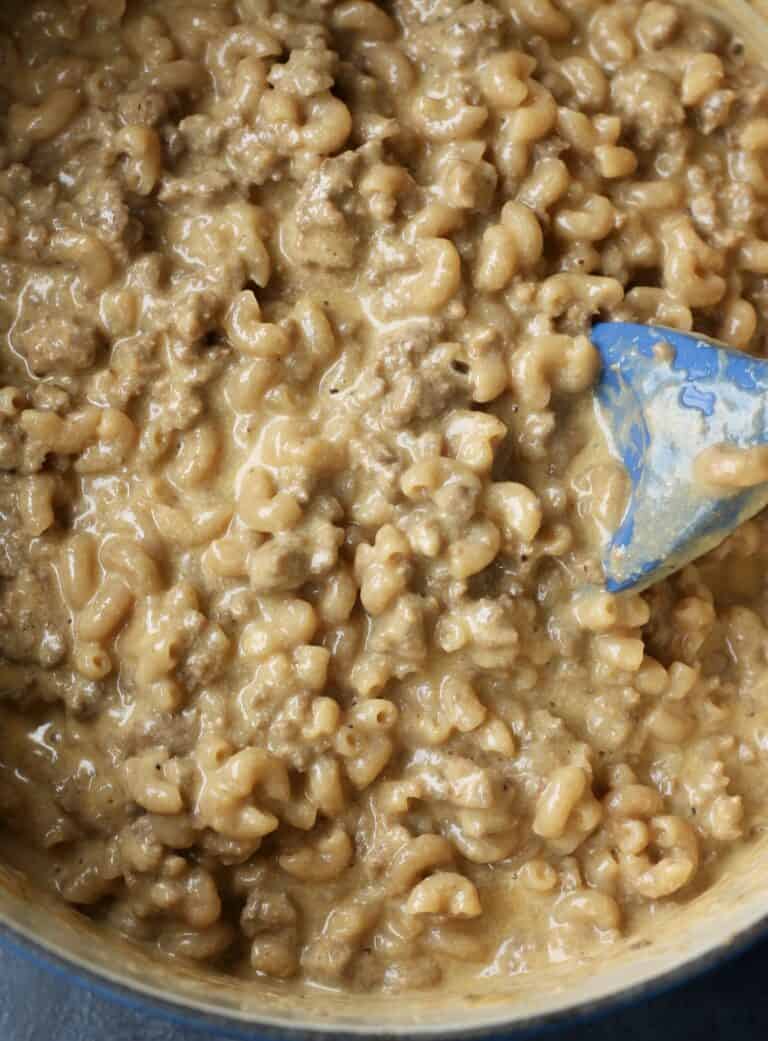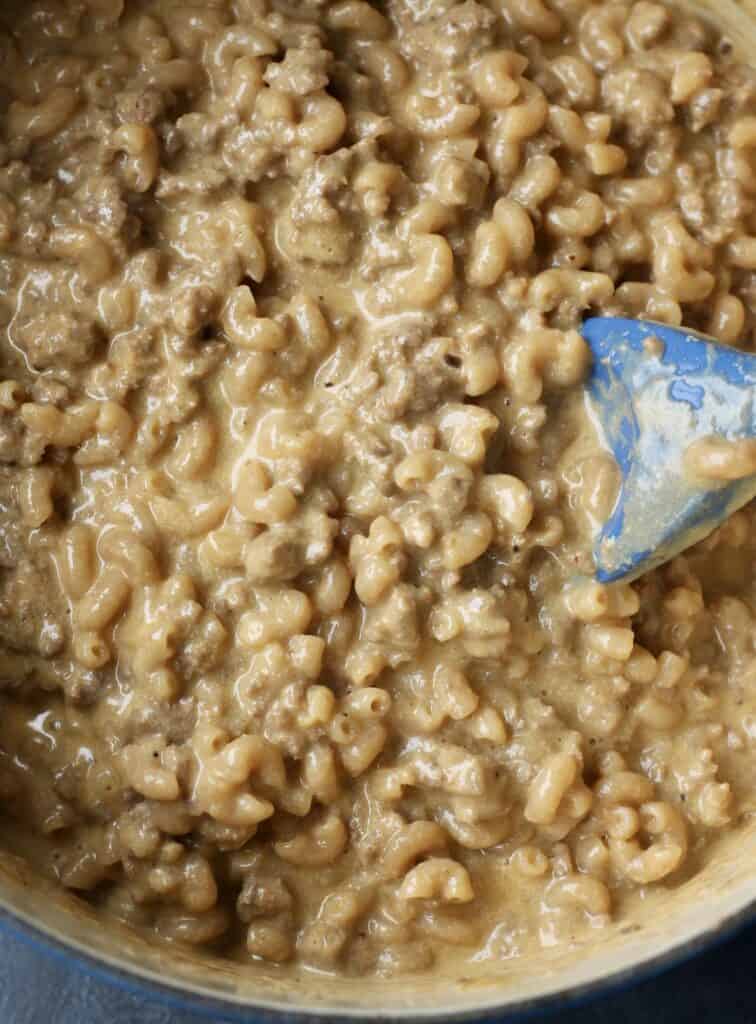 In less than 30 minutes you'll have such a comforting, yet wholesome, dinner that you're family will think you spend all day cooking. And, trust me, this is better than anything you can get in the box.
Your kids will be asking for this homemade hamburger helper to be on the menu week after week. Mom-win!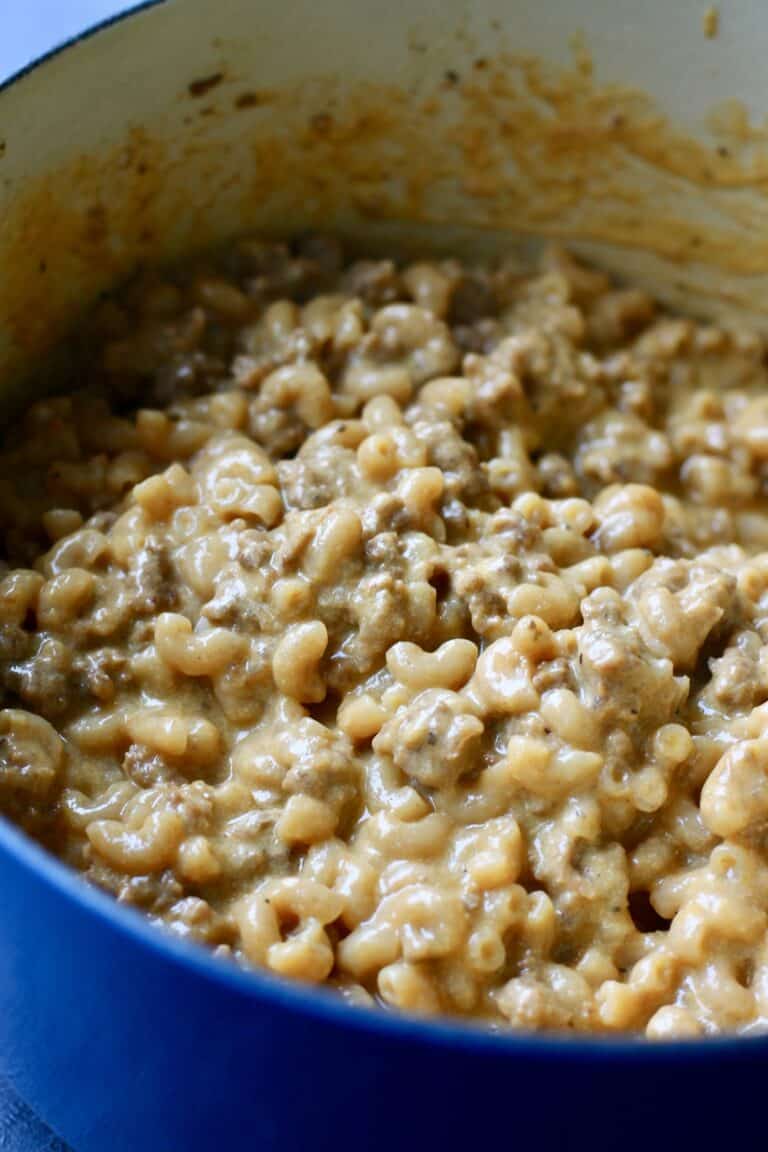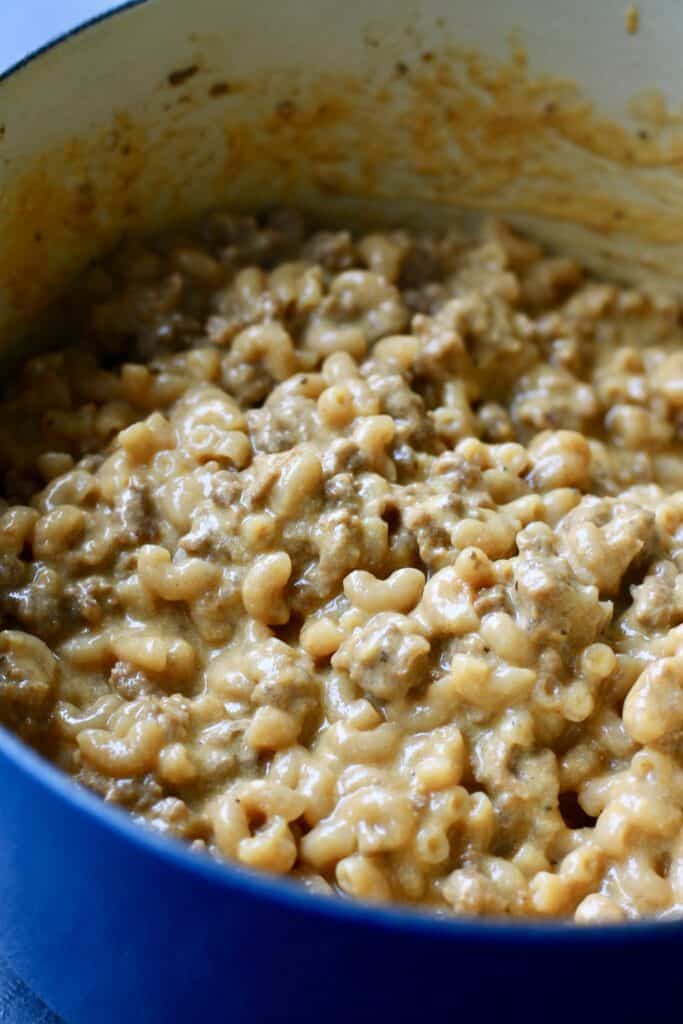 Hamburger Helper Recipe Add-Ins
This is a basic homemade hamburger helper recipe. You can switch it up with all kinds of fun ingredients.
For example, add some onions or mushrooms. You add those before you cook the meat, and your kids will never know there are hidden veggies there!
You can also switch up the cheese. I love using sharp cheddar but a taco cheese or even a swiss would be good too.
Or maybe add some fresh pickles, tomato, and chopped onion to the top after it's done. Yum. Think of ingredients you'd love on a cheeseburger and then experiment.
More One-Pot Meals to Try:
Share a picture and tag me on Instagram or Facebook if you decide to make this, or want to share any other smoothie recipes with me. I'd love to try them!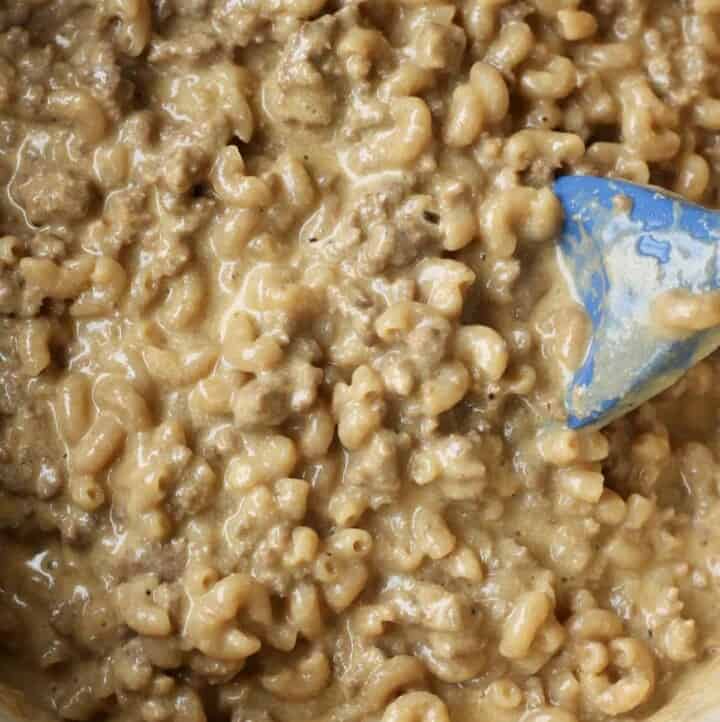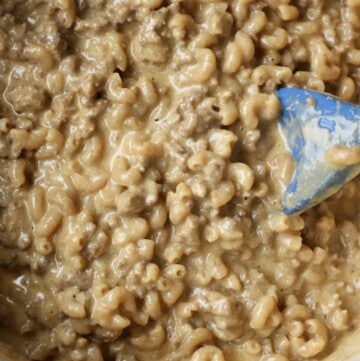 Homemade Hamburger Helper
This homemade hamburger helper is a major upgrade on the boxed version we all know and love. Here's how you lighten up a hamburger mac and cheese and make it a healthy family favorite!
Print
Pin
Rate
Ingredients
1

lb

ground beef

1

tablespoon

ketchup

2

teaspoons

mustard

1

tablespoon

Worcestershire sauce

1

teaspoon

onion powder

1

teaspoon

garlic powder

2

cups

1% milk

1

cup

chicken or beef stock

2

cups

whole grain elbow macaroni

2

cups

of shredded sharp cheddar cheese

1/3

cup

grated parmesan cheese
Instructions
In a medium to large pot cook the ground beef, breaking up as it cooks.

After about 3-4 minutes stir into the ground the ketchup, mustard, Worcestershire sauce, onion powder, and garlic powder. Continue to cook beef until no longer pink.

Stir in the milk and broth, bring to a boil.

Add in the pasta and reduce liquid to a simmer.

Simmer for about 10 minutes or until pasta is tender.

Remove from heat and stir in both cheeses until melted.

Serve hot.
Nutrition
Serving:
1
g
|
Calories:
457
kcal
|
Carbohydrates:
37
g
|
Protein:
34
g
|
Fat:
21
g
|
Saturated Fat:
11
g
|
Fiber:
4
g
|
Sugar:
6
g