There's busy and then there's crazy busy. Honestly, I can't tell the difference sometimes! Sound familiar? To keep my sanity in check and keep the chaos to a minimum, I heavily rely on quick meal prep ideas – especially during busy weeks! Here's a sneak peek at what my meal prep plan often consists of.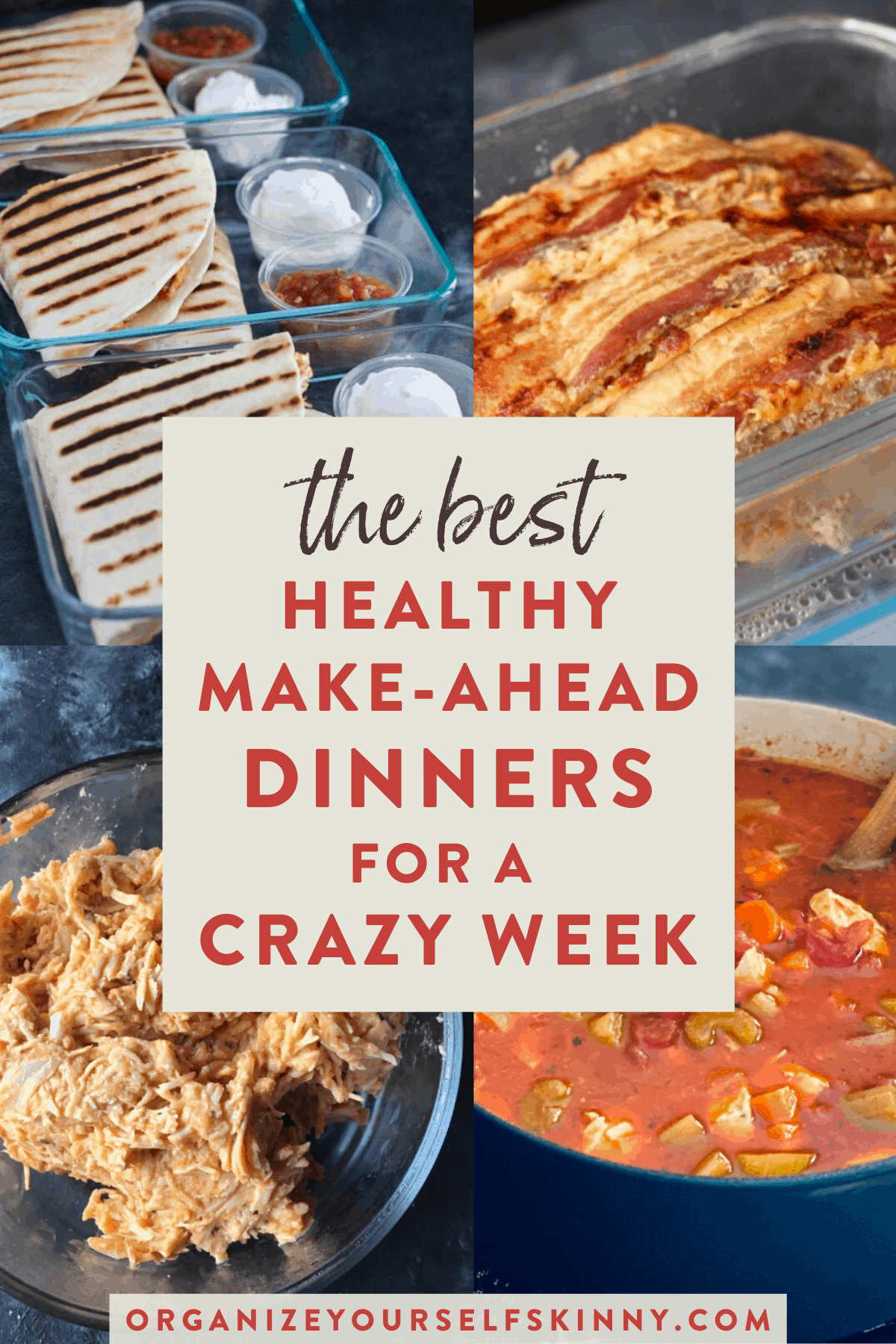 Since becoming a working mom, the days of flying by the seat of my pants are long gone.
There's always something to do, make, or take care of. You know what I mean!
Laundry needs to be washed and folded, the house needs to be cleaned. On top of that I need to attend doctors' appointments, make dinner, check school work, and the list goes on and on. If I even attempt to do all of this on the fly, I always instantly regret it.
You get it. I'm always busy. It's just the way it is and I've learned to manage life and not lose my mind by being prepared ahead of time in every way I can.
Yes, that takes the spontaneity out of life but I cherish my sanity more. 😁
Add in sports, dance, the holidays, and a busy work season and now we have crazy busy. It's very easy to feel totally overwhelmed when things get hectic but I've learned over the years.
During this kind of chaotic season of life, I find it essential to lean on quick meal prep ideas and make-ahead dinners.
Tips For Creating A Successful Meal Prep Plan
Meal prepping for busy weeks with make-ahead dinners will help you feel more in control and less overwhelmed. Trust me, you'll feel a huge sense of relief finding a healthy homemade meal in the refrigerator and/or freezer on those days where you just can't think.
Even if you don't want to cook full recipes ahead of time, there are still many other meal prep ideas and hacks to get dinner on the table quickly during the week.
Check out some of these tips for creating a successful meal prep plan:
1. Trim, Cut, And Marinate Meats Ahead Of Time
There's nothing I hate more than handling raw meat during the week after a long day at work. Taking time on Sunday to get meats recipe-ready will save lots of time (and emotional energy) during the week.
2. Cook Meats To Use In Recipes
When a recipe calls for shredded chicken or cooked seasoned beef, you can easily make those on the weekend to use during the week in the recipe.
3. Cook Rice, Quinoa And Other Grains
Cooking grains can sometimes take at least 45 minutes to cook, so having grains cooked ahead of time will put you ahead of the game with a dinner recipe.
4. Get Veggies Prepped
If you need onions, peppers, or mushrooms for recipes, I suggest washing and chopping everything up and leaving it ready in plastic baggies or containers.
5. Assemble Ingredients During The Weekend To Cook Later
For example, you can assemble recipes like this Buffalo Macaroni and Cheese or Beef Enchilada on Sunday and then just put it in the oven when you get home from work.
6. Plan To Cook Once And Eat Twice
Try to plan out meals that will give you multiple meals in one. For example, the recipes I just mentioned above make nice big portions; so if you have a smaller family, it's likely you'll have leftovers and can just reheat for meals another time.
7. Stock Your Freezer
Choose a day (maybe once a month or so) to stock your freezer with meals that can be warmed up for a quick dinner. For example, Pizza Soup holds up really well in the freezer and does not take a lot of time to defrost. All you have to do is reheat and eat up!
8. Prep Basics
If you don't want to commit to recipes, then prepare a bunch of basics like a baked chicken or some cut up veggies for a salad so you throw together a healthy dinner quickly.
9. Keep Pantry Stocked
One hack to get a healthy dinner on the table is to keep your pantry stocked with healthy foods that are purely convenient. For example, you can whip up an easy chicken parmesan with a jar of spaghetti sauce, whole grain pasta, and baked chicken. All you have to do is grab a bag of salad on the way home and you have a delicious healthy meal!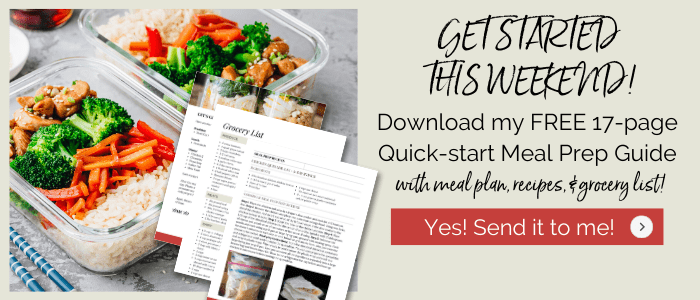 8 Quick Meal Prep Ideas for a Busy Week
When it comes to the cooking dinners ahead of time, these meal recipes are the ones I most often turn to during crazy times!
Taco Meat
Yes, I'm sure you guys have noticed that I always turn to taco meat when I meal prep but during our busy sports season, having cooked taco meat on hand is essential. You can quickly warm up cooked taco meat in the microwave or in a skillet. This means you can have dinner on the table within 10 minutes!
I also love putting together homemade taco freezer kits when I have time. This assures I have everything I need for need to make tacos for a quick dinner.
Here are some of my other go-to recipes to make with taco meat: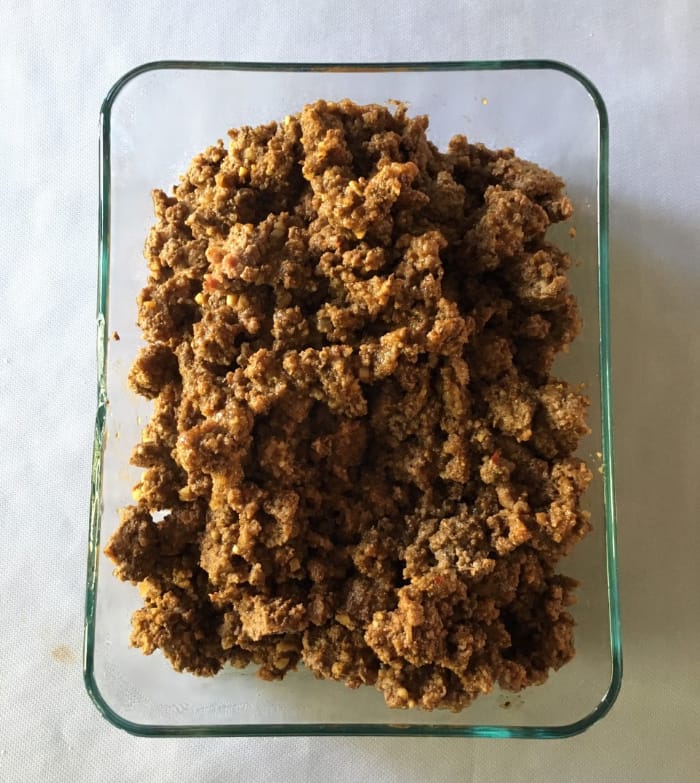 Buffalo Chicken Macaroni and Cheese
I mentioned this Macaroni and Cheese recipe above but want to share it again because this is one of the make-ahead dinners I cook most often for my kids.
Usually, I'll just put the ingredients together for a later time but mostly, I'll cook it completely, store in glass meal prep containers, and warm up in the microwave for less than a minute. This way, all we need to do is heat it up and eat!
After sports or dance, my kids have no patience for me to cook anything. I don't blame them.
Sometimes, I'll just make a batch of Slow Cooker Buffalo Shredded Chicken and store it in glass containers to have on hand. Here are 25 more recipes you can make using the leftovers from your Shredded Buffalo Chicken!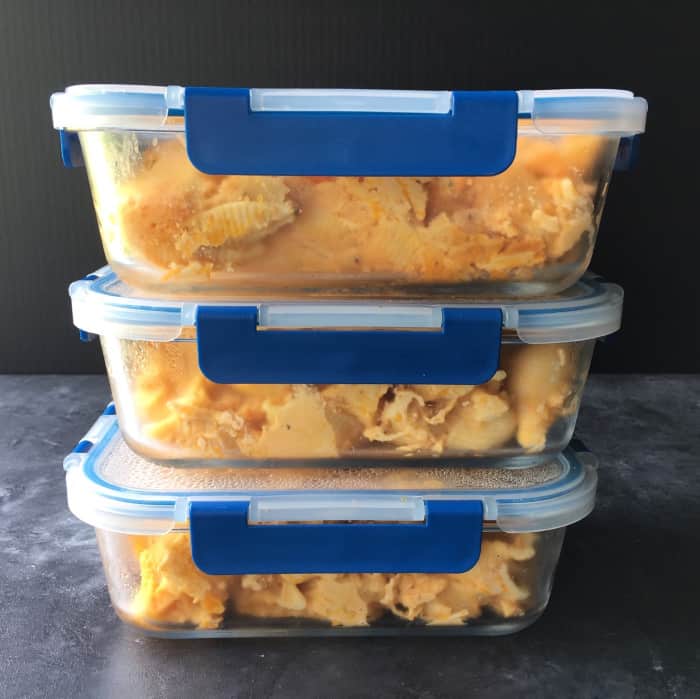 Turkey Meatloaf
Meatloaf is another recipe I make quite a bit. The majority of the time, I'll cook it completely on Sunday and store in glass containers to take to work for lunch during the week.
I've also found that meatloaf reheats really well! The ones I make and reheat never taste dried out.
To go with my meatloaf, I'll also make a bunch of roasted vegetables, especially my Chili-Spiced Sweet Potatoes Wedges to go alongside it.
Check out some of these other types of meatloaves to add variety to your meal prep plan: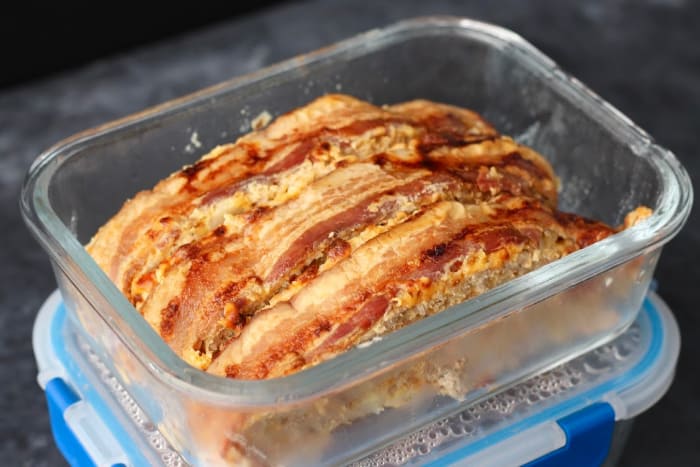 Chicken Quesadillas
Chicken quesadillas are huge at my house and my kids are always asking for it.
I tend to prep this recipe 3 different ways:
I cook all of the ingredients and make freezer kits
Assemble all the ingredients in the tortillas and cook during the week
Or, just make the chicken and store in the refrigerator until I make the quesadillas that week.
The fun thing about quesadillas is that they are incredibly versatile. You can add all sorts of veggies or even switch out what kind of meat you're using so that your family doesn't get bored.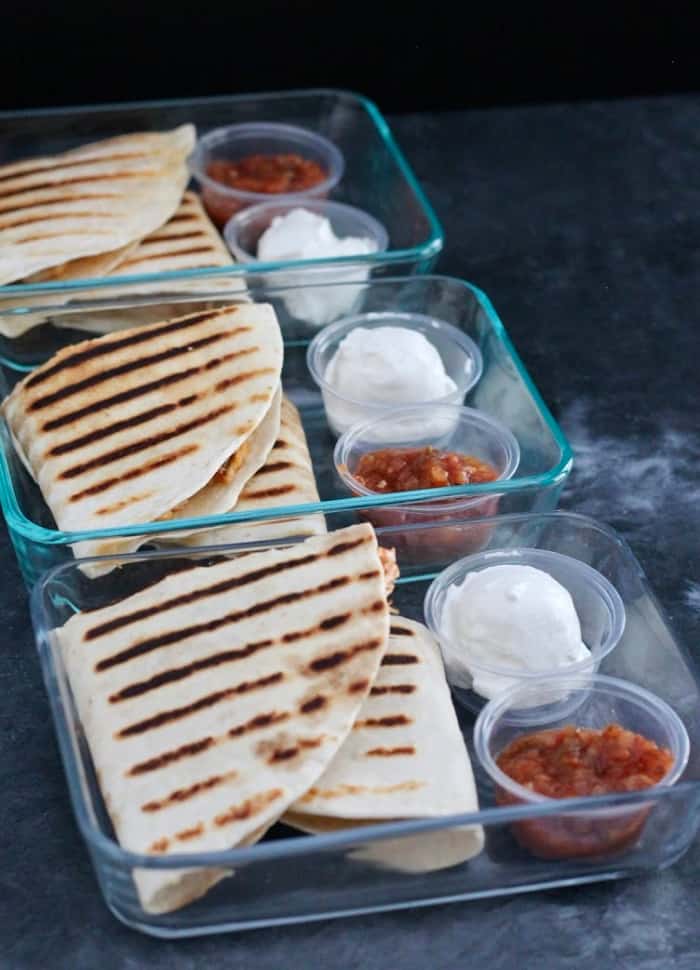 Soup and Chili
Nothing will keep you fed all week like a big pot of soup or chili!
I prefer to make this completely ahead of time so all I need to do is heat it up and eat. Also, the great thing about most soups and chilis is they taste better sitting in the refrigerator for a few days. It really gives it time for all the ingredients to come together and flavor the dish.
You can also freeze the soups into controlled portions and warm up when you ready to eat. Just make sure to wait till the soup is completely cooled before putting into a safe freezer bag or container!
Here are some of my family's favorite soups and chilis:
Sheet Pan Meals
I hate huge messes and cleanups after cooking which is why I have been so into coming up with quick meal prep ideas that consist of throwing everything into one pot or one sheet pan.
With sheet pan meals, you can add a protein, veggie and nutritious carb option all on one sheet pan and put it in the oven for a quick and easy meal. It has seriously been saving my life lately!
Here are some of my latest healthy (and cleaner) recipes I have been cooking up: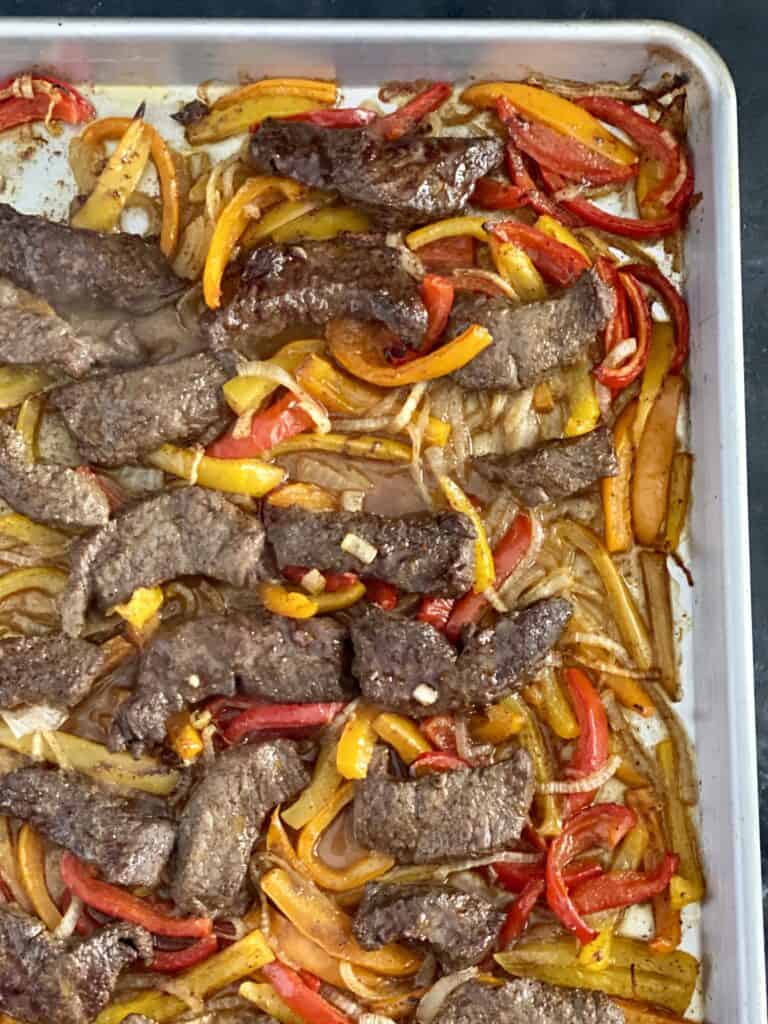 Slow Cooker Meals that Cook all Day
As much as I love to plan ahead, sometimes there are recipes that just need to be made the day of- that's where my slow cooker comes in!
I'll plan for a slow cooker meal that can cook all day so that it's ready for when we all walk in through the door. All we need to do is serve it up and eat! This works out great if I'm having a late-night or I'm stuck at work so my husband can feed himself and the kids.
Some of my favorites are:
Check out this post to see a whole bunch of my favorite slow cooker beef recipes that take up all day. I'll assemble the ingredients on Sunday, or the night before, in the crock and then get it started in the morning before I leave for the day.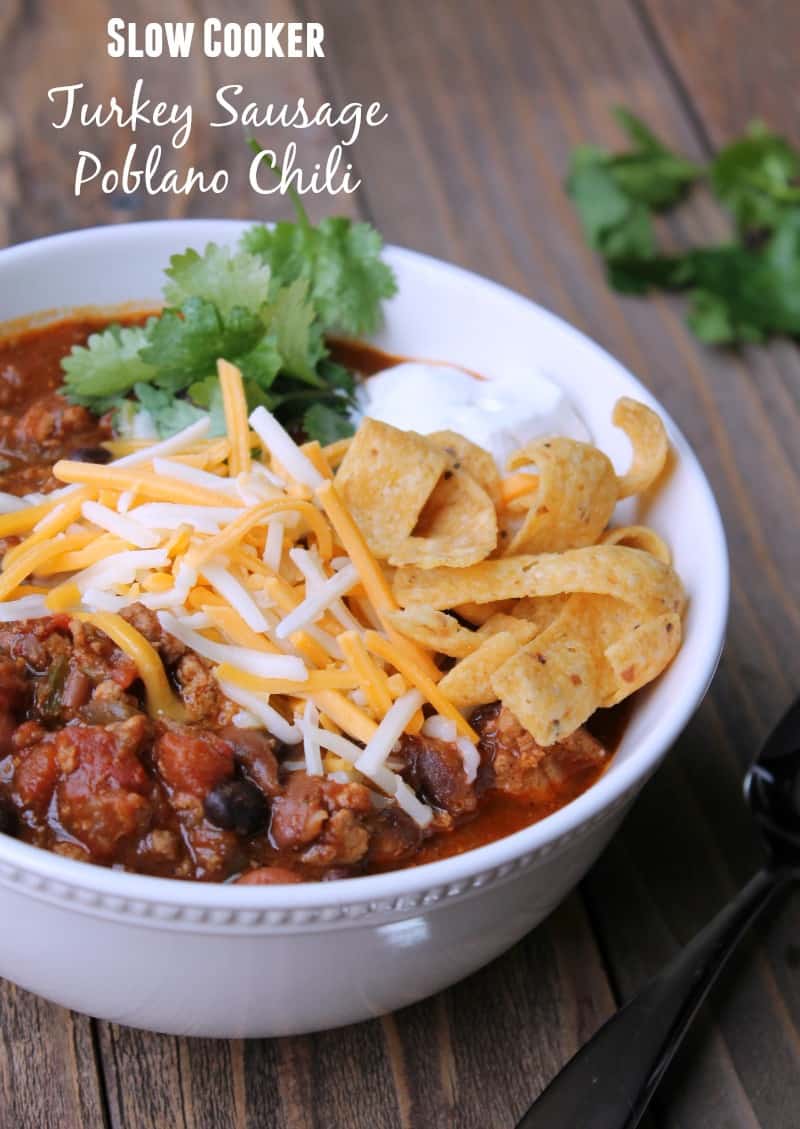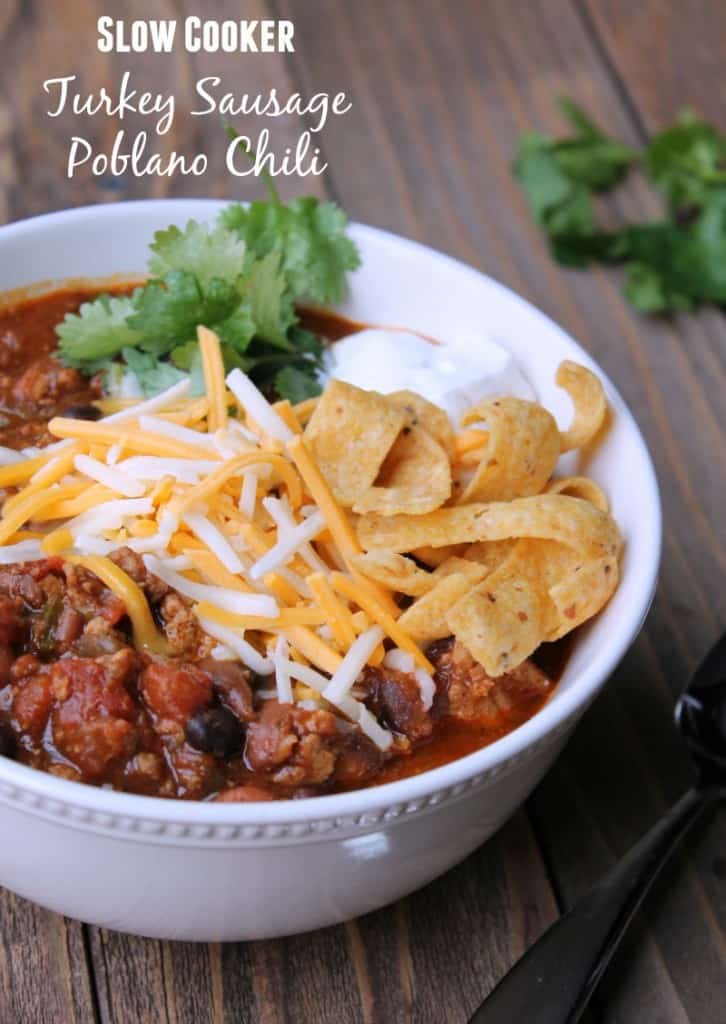 Now that you have some easy meal prep ideas and my tips on a successful meal prep plan, you can accomplish it all!
Put together some of these quick meal prep ideas to help your week go much smoother when it comes to cooking a healthy meal for your family! Share a picture and tag me on Instagram or Facebook if you decide to try it!