One meal prep challenge I often hear about is how to plan and prep meals for a small family of 1-2 people. Today, I have some meal prep ideas and meal plan solutions that'll help you see it's actually a lot easier than you think.
As you know, I think meal prep is one of the most important weight loss habits you can take on. And you really can't meal prep without planning first so learning to meal plan is equally important. So, I don't want you to give up, or become overwhelmed, because you're not sure how to plan and prep with a small family.  I have meal prep ideas that'll help you easily fit both of these habits into your lifestyle.
But, first I want to say this…
There's no right or wrong way to meal plan or meal prep. The purpose of putting together a meal plan is so you know what you're eating during the week. This is your food road map which essentially makes you intentional with food. Basically, a meal plan is the first step in helping you think before you eat – this habit alone will help you choose healthier foods and lose weight.
Now, the purpose of meal prep is to have all the delicious meals and snacks you planned out prepared ahead of time, so you'll actually eat it. We all know we're more like to eat healthy foods if the food is ready, right? If I need to cook every time I want to eat then, most likely, I'm grabbing something quick, processed, and not exactly "healthy".
Keep this in mind.
Meal planning and prep doesn't need to be complicated – and it shouldn't be. Not only will both help you eat healthier it should also make your life less stressful. So, if you start to become overwhelmed with meal planning or prep then stop and take step back. Make sure you're not overcomplicating the process and then make adjustments to fit both into your lifestyle. Remember there's no right or wrong way. Do what works for you.
With that said here are some planning solutions and meal prep ideas to help you feed 1-2 people healthy delicious meals week after week.
#1. You don't need to use full recipes.
I think a common mistake MANY people make when changing their lifestyle is they think their meal plan needs to be filled with Pinterest-perfect recipes. This isn't just people planning for 1-2 people – it's everyone. I can see how this would be overwhelming, especially if you're not used to cooking. Good news, I'm here to tell you that losing weight doesn't require special recipes. However, if you want to use recipes then hold tight cause I'll offer some meal prep ideas for that in a second.
First, I have a couple solutions that don't require recipes.
You can double dip basic recipes. For example, you can prepare 1lb of taco meat to use in nachos earlier in the week and then mixed into a salad later in the week. Or freeze half the taco meat for a meal later in the month. Another example, is Slow Cooker Buffalo Chicken. Use some for wraps on Monday and then save ½ cup to make a naan pizza on Friday. Again, freeze the rest into portions for meals later on.
Also, you can prepare basics to whip together simple healthy meals for 1-2 people with no problem. For example, if you make a batch of rice on Sunday you can freeze some of it into portions and then keep the rest in the refrigerator for easy stir-frys during the week. Grab a bag of frozen vegetables, a bag of portioned out shredded chicken you made the other week, and some jarred stir-fry sauce and you're good to go. By the way, I'm totally not above convenience items. See my favorite convenience items to use on meal prep day in this post.
My point is if you don't want to make an actual recipe then you don't have too. Just write out the food you're going to eat for the week and make sure to have those ingredients prepared ahead of time.
#2. Work with a friend.
But what if you want a recipe? Maybe you like chilis, pasta bakes, soups, and things like that.
Well I have a couple solutions. Let's start with working with a friend. If you know someone who has the same meal planning and prep struggles as you then ask them to do a recipe swap of sorts. Meaning you both cook, or prepare ahead of time, 2-3 recipes (or whatever amount), divide the recipe in half or portions, and then swap half the recipes with each other. This will give you more variety with recipes.
Obviously this take a little more coordination but this could be a great solution if you want to make recipes that serve a lot of people but don't want all those servings.
#3. Divide casseroles, and other bakes, into 2 smaller dishes.
This is my second meal prep solution for those that want to make larger recipes like casseroles or bakes. It's similar to what I just mentioned above. The difference is that you do the work yourself.
All you need to do is put the entire recipe together, then divide into two pans, and freeze. For example, if you're making a 9 x 13 casserole you would divide that recipe into 2 (8 x 8) pans. Personally, I use aluminum foil pans for this. They freeze great and can go right into the oven. Not to mention, they're inexpensive. Make sure to label the pans with the recipe and cooking instructions. Keep in mind, cooking instructions, most likely, will stay the same but you might need to adjust the cooking time.
Here are my favorite casseroles.
Buffalo Chicken Macaroni and Cheese
Broccoli and Chicken Pasta Bake
#4. Create portion-controlled freezer meals.
Another meal prep idea I use all the time with recipes is to prepare portion-controlled freezer meals. In this case I would make the entire recipe ahead of time and then portion into single serving meals. Think of these as homemade lean cuisines. You can make as many recipes as you want ahead of time.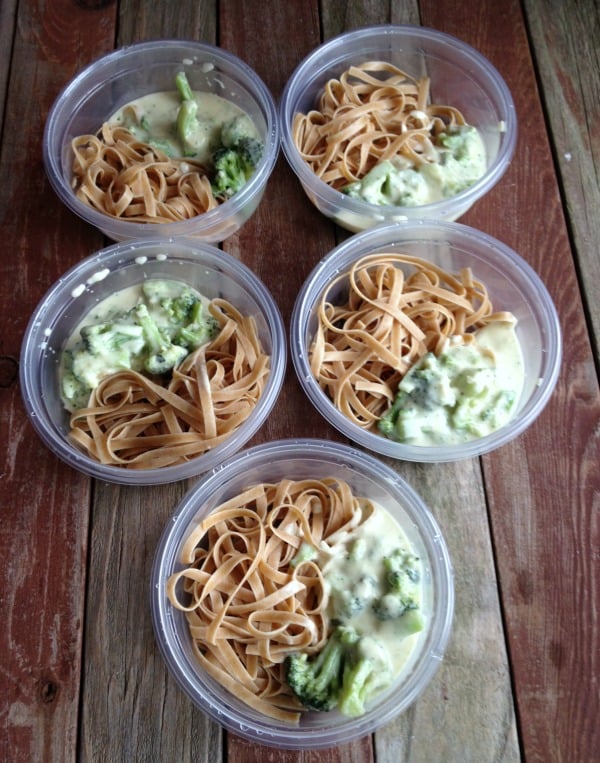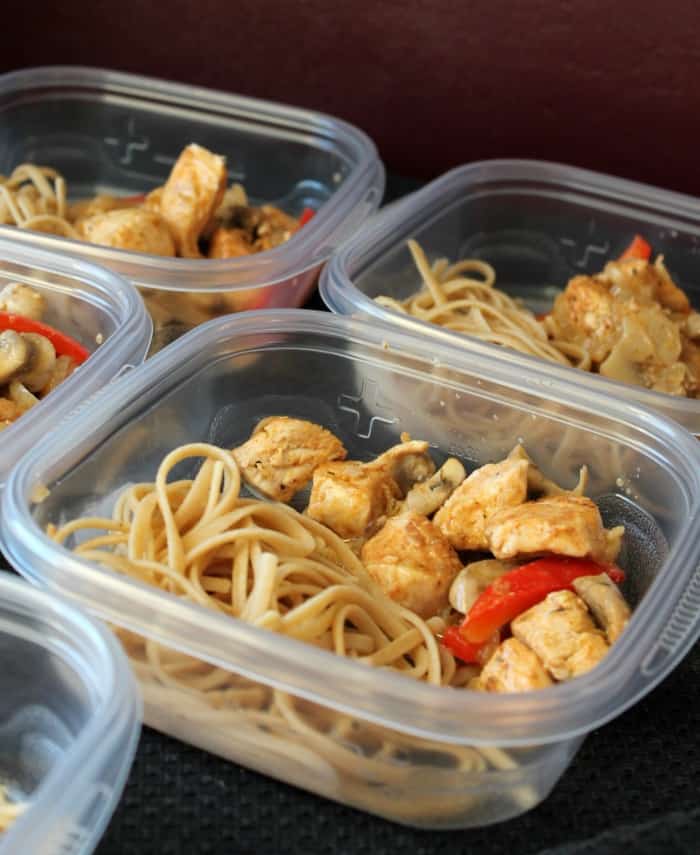 Here are some of my favorites.
Skinny Fettuccine and Broccoli
Personally, I find these to be extremely helpful when I need a quick healthy dinner but want to keep portions and calories under control.
I like using these meal prep containers when preparing homemade lean cuisines.
#5. Adjust the servings of a recipe.
Another idea, if you want to use a recipe, is to adjust the recipe to less servings. Of course you can do this on your own but if you belong to Plan to Eat then this task is made much easier.
All you need to do is drag the recipe onto the menu planner. From there, you can adjust the servings. The servings will also reflect in the grocery list section so you only purchase the ingredients needed.
You can try a 30-day free Plan to Eat trial to see if it's something that'd work for you.
Keep in mind if you don't want to purchase large packages of meat, or other ingredients, you can get small quantities by going to the meat counter or the bulk section in your grocery store. There's no need to get a 3lb bag of almonds if you don't need it.
#6. Use single serving recipes.
When I first talked about this topic with my Organize Yourself Skinny Ecourse students I realized that while I do have a family I tend to plan and prep for myself a lot. My weekly meal plans often include mason jar salads, snack kits, smoothie kits, and single-portion breakfast meal prep ideas. The only time I plan for everyone is at dinner time. However, even with dinner, I still have basics, and portion-controlled meals, in the refrigerator and freezer in case we need it.
So, while there are many recipes that feed 5+ people there's also many single-serving recipes too.
Here are my favorites.
Breakfast
Super Greens and Sausage Egg Bake – make this on Sunday for the week.
Slow Cooker Morning Glory Steel Cut Oats – this recipe makes a lot and can be portioned out for a healthy breakfast all month. Obviously, free the portions.
Lunch
Snacks
Dinner
Or any recipe turned into a homemade lean cuisine
Bonus tip!
#7. Subscribe to a meal planning service that offers menus for 1-2 people.
I know meal planning services aren't for everyone but if you struggle to put together a meal plan for 1-2 people then consider looking into a weekly meal planning service like Emeals.
Emeals offers weekly dinner meal plans in a variety of eating styles. Their most popular healthy lifestyle meal plans are the Clean Eating, Paleo, Low-carb, and 500 or less calories. You can also get a budget meal plan or a slow cooker meal plan. They have many more – you can view them all here. Anyway, if you don't know where to start with eating healthier then using one of these meal plans could be a solution.
Each week Emeals sends a meal plan directly to your inbox or you can access the meal plans on their app or website. To make eating healthy even easier Emeals works along side Instacart so you can get all your ingredients delivered to your door.
Emeals only costs $58 a year. That's a little over $1 a menu. In my opinion, that's very affordable.
If you think Emeals sounds like a good option, but not 100% sold on it, then give their 14-day free trial a try. I've been an Emeals member since 2012 and I've never regretted paying my yearly subscription.
Those are my planning solutions and meal prep ideas for 1-2 person households. The last piece of advice I'll give you is any little bit of planning and prep helps. Focus on the meal you struggle the most with and go from their. Before you know it, you'll have routines in place that make weekly meal planning and prep seamless.
What are your meal prep ideas and solutions for 1-2 person households? I'd love to learn more.
Get Instant Access to My Best Weight Loss Tips & Strategies!
Sign up now for a free step-by-step 7-day email course that I created exclusively for my email subscribers! That's you. I will teach the best habits, strategies, and insider tips so you can enjoy a lifestyle that encourages and supports weight loss! Stop relying on willpower and take control back over your life! You can do this. Let me help!