Want to save time, energy, and effort? Try learning how to meal prep for the week. Not only will a weekly meal prep session help you reach your health goals, but it will keep your pocketbook more full too. Plus, it's simple to do—especially if you implement the tips and tricks I'll share in this post!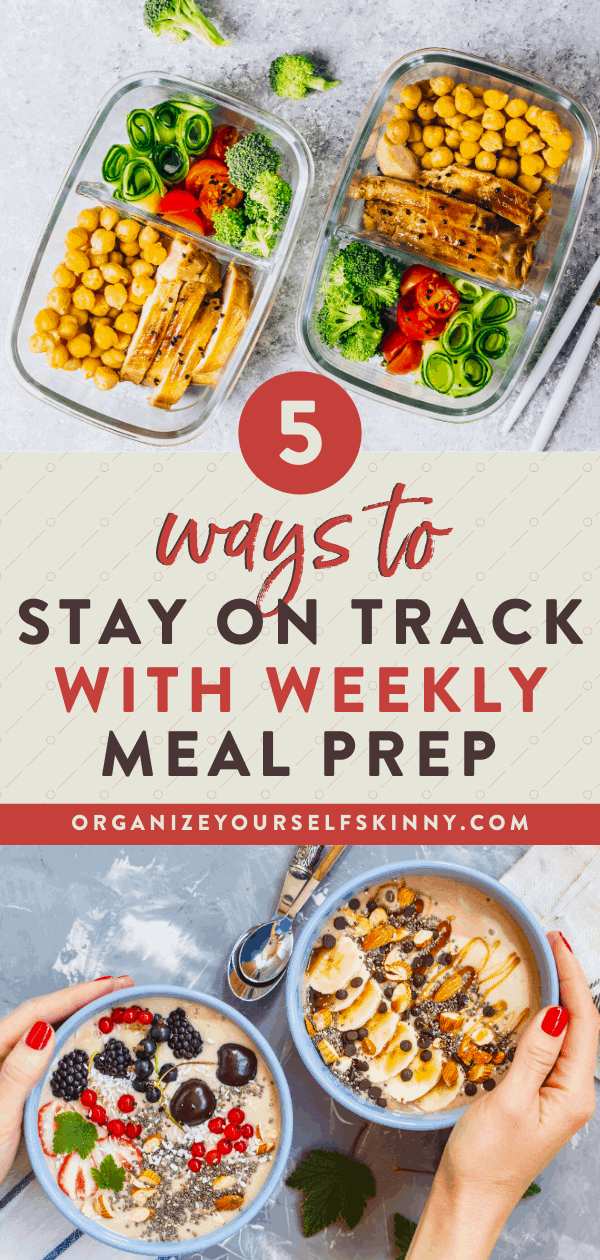 It's no secret that I think meal prep is the cornerstone of eating nutritious foods, living a healthier lifestyle, and losing weight. Meal prep moves us away from processed convenience foods and makes available healthy portion-control meals that we can enjoy. Doesn't that sound great? Sure it does.
But here's the thing…
Meal prep means we need to cook meals at home. This isn't an issue for those that enjoy cooking, but if you're not used to spending time in the kitchen then it can be a challenge. Even if you enjoy cooking, it can be hard to fit meal prep into your busy schedule. Or it's quite possible you like to cook and can make the time to do so but get completely overwhelmed when trying to meal prep every single week. Regardless, these reasons can put the breaks on any well-intentioned meal prep efforts.
How to Meal Prep for the Week
However, meal prep is important and I want you to succeed. Over the years I've learned many different tips and tricks to keep meal prep a priority. I'm not perfect, and still have weeks I fall off track, but instead of giving up I learn from those times and find new ways to move forward.
Here are 5 lessons I've learned from nearly a decade of meal-prep experience.
#1. Meal plan and grocery shop 1-2 days beforehand.
Prior to prepping food for the week, you need to know what you're eating along with having the ingredients ready to prep. As you know, this takes time, effort, and energy. Typically, when I fall off track, it's because I thought I could do everything the same day. That never ends well. Most of the time I'm exhausted from grocery shopping and end up with ingredients sitting in my refrigerator all week.
To stay on track with meal prep I've learned to have all the ingredients purchase 1-2 days before meal prep day. This way I can wake up with a plan, get started early, and have everything prepped by early afternoon.
#2. Have containers, and other supplies washed and ready.
On meal prep day you want to wake up ready to cook. Taking time to locate container lids or wash dishes will not only be annoying but it will cut into prime meal prep time. It's important to start strong on meal prep day so you can maximize the time you have. I've learned to wash containers and other cooking tools the night before so when I wake up everything is clean, organized, and I'm ready to prep!
If you want to invest in learning how to meal prep for the week, I highly recommend reading this list I put together of the best glass meal prep containers and the Ultimate List of Meal Prep Containers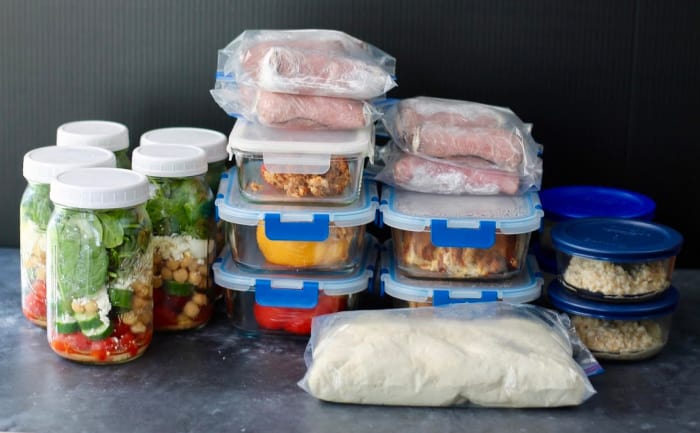 #3. Wake up early and make the time.
One common complaint people have about meal prep is about the time it takes. Here's what they might not understand – yes, meal prep takes time up front but it actually saves you time during the week. Also, it assures you have healthy food ready to eat during the week and saves you money because you're eating more at home. Yay! Meal prep is a win all around.
Weekly meal prep doesn't need to take up your entire day. However, meal prep still takes time. Plan to spend around 2-4 hours preparing meals and snacks for the week. Depending on the recipes this can be more or less. My advice is to wake up early. Yes, I know we all want to sleep in on the weekends but I promise, you'll feel so accomplished by taking time on Sunday morning to get ready for the week. I wake up around 7:00am and have food prepared by 10:00 am or so. After that, I'm ready for whatever the rest of the day offers.
If creating healthier eating habits is important to you then meal prep needs be a priority. At first, taking the time to learn how to meal prep for the week might be a challenge but that's only because you're not used to it. Make the time week after week and soon enough meal prep will be the life-changing habit you've been waiting for.
#4. Always prep something.
There's going to be weeks where you truly are too busy to prep a bunch of meals or snacks for the week. My advice is to still try and prep something because even the littlest bit of meal prep will make a huge difference in your week. More importantly, it keeps you in the habit of prepping your meals. The longer you go without prepping meals the harder it will be to get back on track. I recommend carving out a block of time every week to meal prep and whether you prepare 5 dinners or just hard-boiled eggs for the week at least you did something.
If you're looking for a place to start, I recommend taking a look at this list of 10 Easy Make-ahead Snack Recipes and this list of 30 No-Cook Meal Prep Recipes.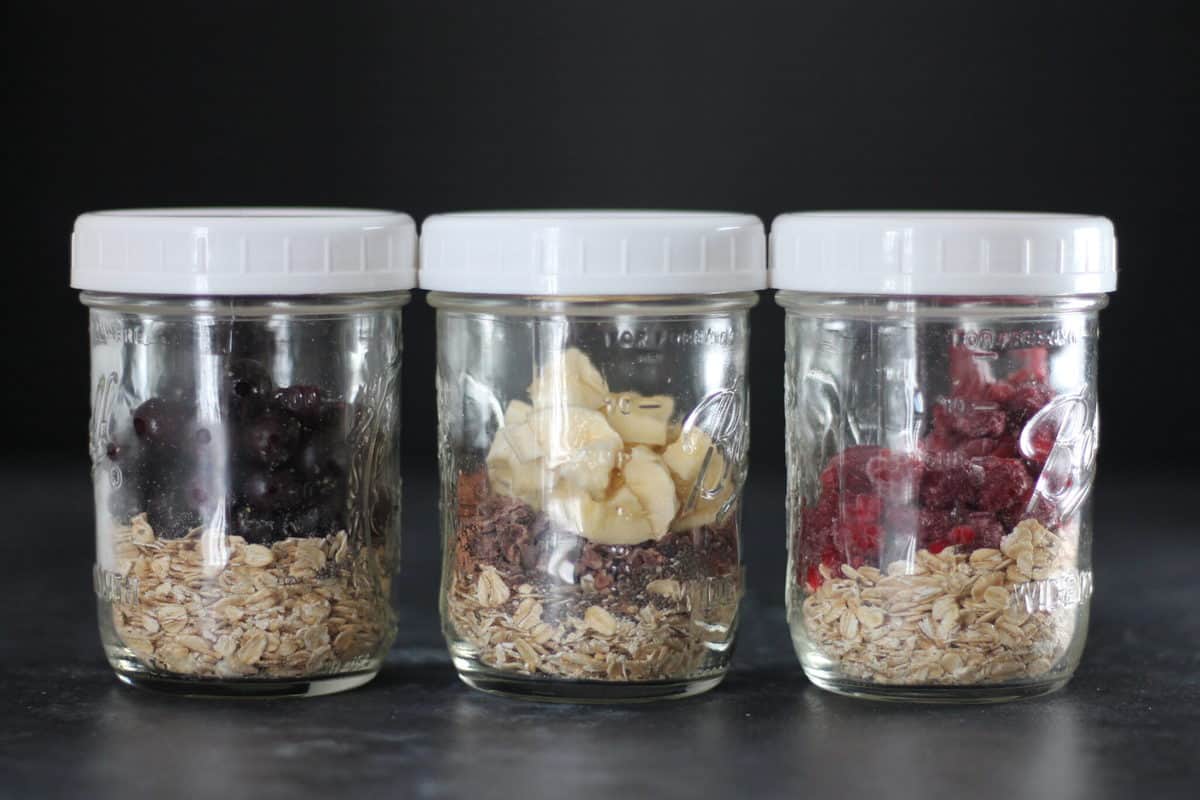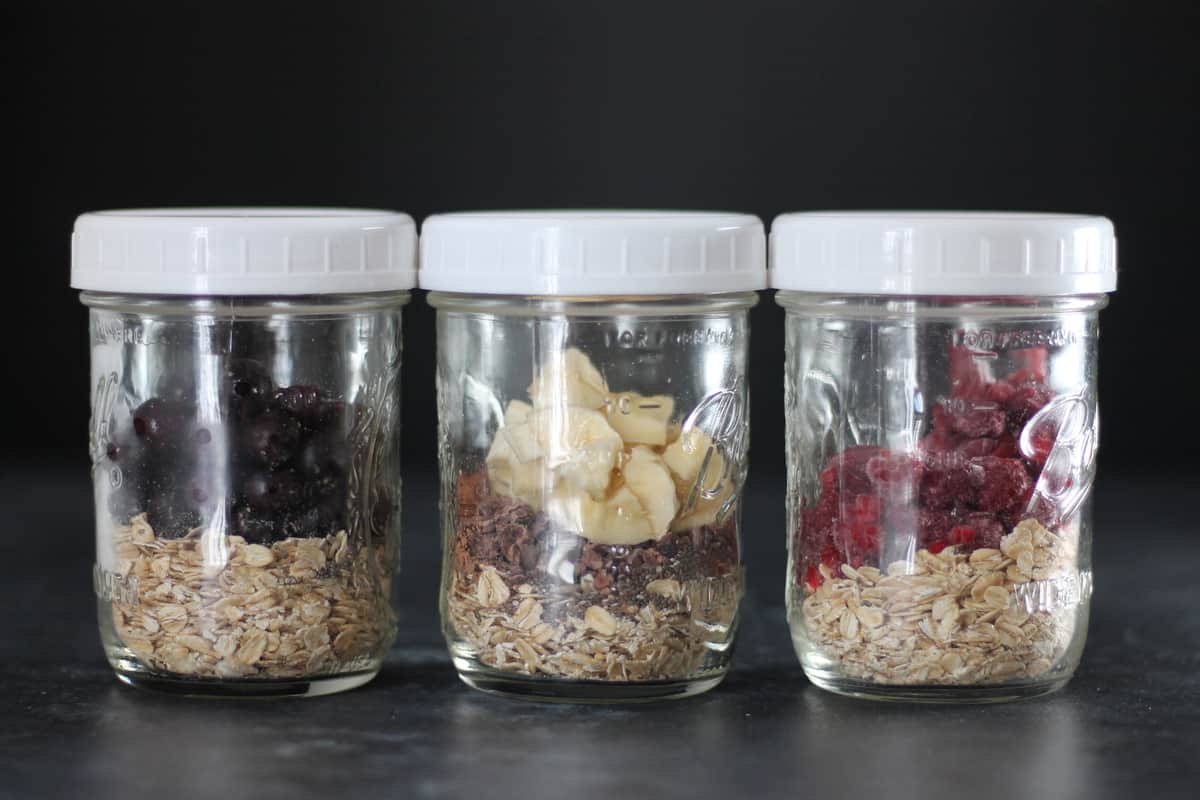 #5. Stock up on meals when you can.
If you consistently don't have a lot of time every weekend to meal prep then I highly recommend stocking your freezer with meals once a month. You can freezer everything from baked oatmeal cups and breakfast burritos to chilis and shredded meats for recipes. These dinner freezer kits are the perfect make ahead freezer meals to stock up on. When your freezer is stocked with food then on Sunday just prep the meals and/or snacks you need.
For example, if I have smoothie kits, a pizza kit, taco meat, marinated chicken, and a couple of other easy freezer meals available then I just need to prepare lunch and snacks for the week. For lunch that can be a mason jar salad and snacks can include raw almonds, cheese sticks, and hard-boiled eggs. In this case, meal prep would take me about 30 – 45 minutes.
Meal prep can be a game changer as you work to improve your eating habits. Life will do it's best to throw you off track. However with the right plan, and tools in place, you can bounce back and keep moving towards your healthy lifestyle goals.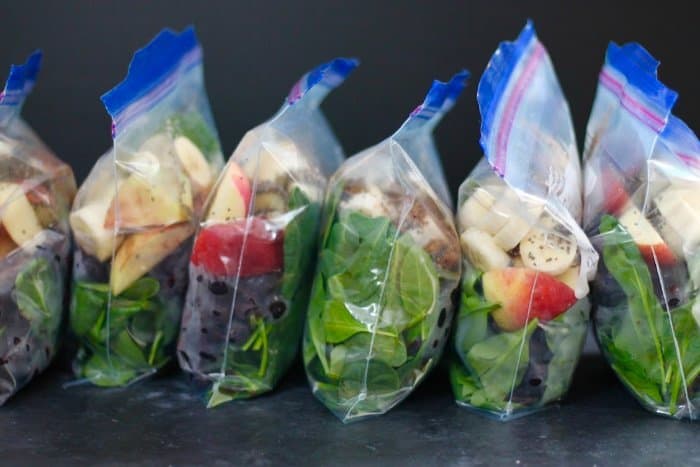 More Ways to Meal Prep
Here are other posts that will help you form, and stay on track, with the meal prep habit.