With the new school year coming just around the corner, my mind has been buzzing with a bunch of new healthy school lunch ideas to pack for my kids. So, I figured I would share them with all of you! Here is a guide full of recipe ideas, supplies, meal prep plan, and my secret school lunch formula.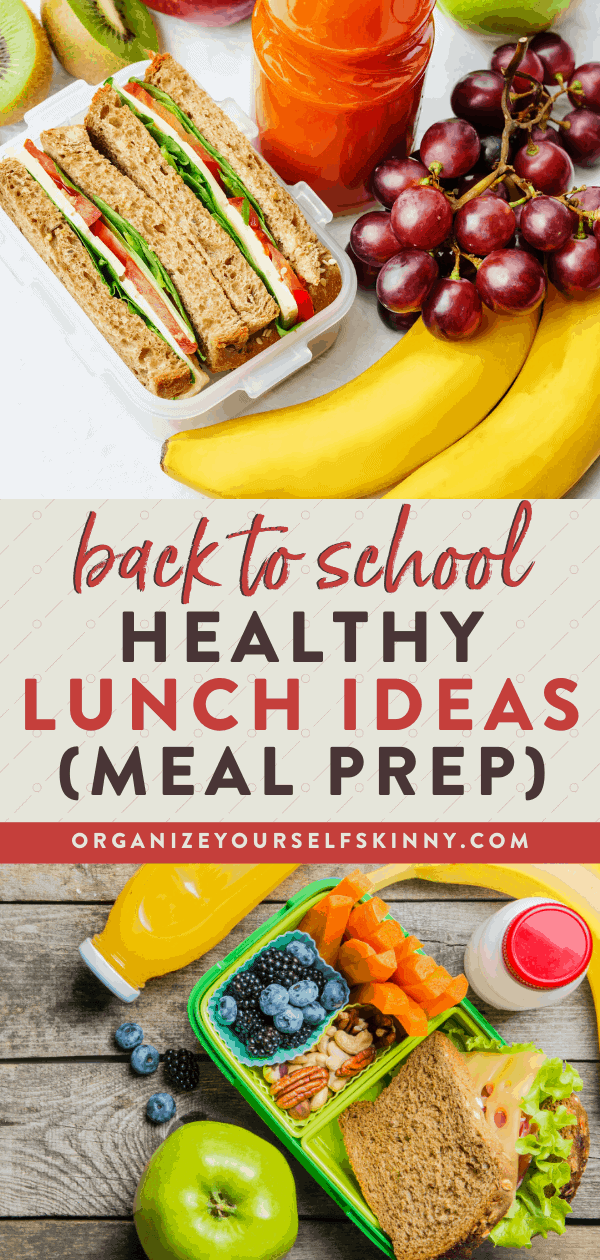 The new school year is almost here and next to the school supplies and the clothes, the thing I always worry most about is coming up with some new healthy school lunch ideas! My kids leave for school around 7:00 am and often don't get home until well after 5:00 pm because of after school activities.
So, stocking my kid's lunch bag with healthy foods that'll keep them full and satisfied all day is essential.
It's also important that I can easily prepare these lunches in advance- and not just the night before. I like to add their lunch items to my Sunday meal prep routine so I can quickly throw them into their lunch bag during the week.
My kids are sometimes a little picky or they get bored very easily with the same thing. So, over the years, I have always tried to experiment with different kinds of healthy school lunch ideas.
My Must-Haves That I Always Include In Healthy School Lunches
Generally, I like to have a "school lunch formula" that I wouldn't say it's all that scientific but like I said, I'm trying to put together a lunch that is:
Balanced
Wholesome
Satisfying
Tasty
Because really, what's the point of packing a lunch if my kids won't eat it or trade it for something else?
Here are some of my quick go-to items that are no brainers when trying to decide what to add to their lunch packs for the week.
Protein
As I said, my kids are gone all day so their lunches need to keep them full. So, having a good amount of protein is very important. Protein options can include:
Sliced deli meats and cheese – I always purchase organic sliced deli meats and cheese.
Greek yogurt – I'll purchase yogurt tubes or make a parfait for them to bring.
Nuts and nut butters – Currently, my kids can bring nuts into school so I either will give them some crackers and nut butter or a baggie of nuts.
Hummus – I'll put this on the side with some veggies or crackers.
Hard-boiled eggs – Believe it or not, my kids like hard-boiled eggs. So, I'll make some on Sunday to pop into their lunches all week. I also make sure they are peeled first.
Cheesesticks – I get a great price on bulk packages of cheese sticks at my local warehouse store.
Whole Grains
I like to make sure they have some sort of whole grain in their lunch because it gives them energy throughout the day.
Here are some whole grain items I like to include into their lunch:
Whole-grain crackers – So they can eat them with cheese or nut butters.
Wraps and slices of bread – I'll make sandwiches or snack wraps for their meals.
Homemade energy balls, granola, or granola bars
Pasta salads – My kids love pasta! So this is a quick and easy way to integrate pasta and veggies.
Fruits And Vegetables
I like to add a good amount of fruits and vegetables to fill them up without weighing them down.
These are some of my kids' go-to's:
Frozen fruits – I'll add these into a parfait and the fruits are thawed by lunch.
Fresh fruit cut up
Cut up vegetables – My oldest daughter loves vegetables like carrots, cucumbers, celery in her lunches. I'll also add a side of ranch or hummus for her to dip it in.
Snacks
What's lunch without a little snack to get you through the day? These are some of my favorite sweet and savory snacks to give to my kids!
Sweet
I always add some type of sweet treat into their lunches. I know that it'll make their day!
I'll make banana bread, muffins, energy bites, or even some homemade oatmeal cookies to bring with them. I do my best to make these homemade because then I can control the types of ingredients that are added.
Of course, oftentimes I do purchase store-bought snacks because let's be real- there are many weekends I struggle to make the time to bake snacks for the week.
Salty
My kids also love salty snacks. So I'll add some cheese and crackers or some salted roasted nuts. Again, I'll also purchase some store-bought snacks to make this easier.
My favorite store-bought snacks for healthy school lunch are:
Kind Fruit and Nut Bars
Kind Granola Bars
Luna Bars
Bobo Bars and Bites
Turkey Sticks or Jerky
Individual packets of nut butter (like Justine's)
You can purchase many healthy store-bought snacks from any large grocery store or Whole Foods.
However, my favorite way to purchase all of these snacks is online from Thrive Market. Thrive Market is like an online Whole Foods and I've found that Thrive Market prices are even the same or less than Whole Foods.
You can even order from the comfort of your own home and have it all delivered to your door. I'll buy a back to school snack order about 2-3 weeks before school starts so we are stocked and ready for the year!
Supplies For Healthy School Lunches
Okay, before I jump into some other delicious healthy school lunch ideas and recipes, I want to talk about some supplies you're going to need.
School lunch supplies and bags have come a long way since the 80s' when I was in elementary school. Gone are the days of brown-bagging it. There are many options available to assure that all the food packed stays temperature-controlled and safe. Not to mention, there are also many environmentally friendly options available.
Here are my recommendations!
Lunch Box
Every year, picking out a lunch box is a huge deal for my kids. They are very picky about the style and how it looks. They don't want it too big but I need to make sure it's big enough to hold all of there foods and snacks.
My favorite lunch box to get for both of my girls is this Mazforce Insulated Orginal Lunch Box. It's sold on Amazon for under $15. The price will depend on the color you pick!
Regardless, that's a great price for this lunch box.
The dimensions of this lunch box are 10.2 inches height, 8.7 inches width, and 4.5 inches depth. It also has an expendable side to hold a water bottle. This is a perfect size to fit everything in their lunch box without being too bulky. It also comes in 19 colors so there are definitely options for the kids to find something they like.
If you want something bigger, Mazforce also carries a Longhaul lunchbox.
Of course, there are many lunch box options to choose from on Amazon and in the stores. My advice is to make sure to get one big enough that's well insulated.
Ice Packs
You will need cooler packs to keep in your lunch box so don't forget to grab a couple of packs. I always purchase 1 or 2 extra packs because, for some reason, they always tend to get lost at some point throughout the year.
Side note: A few years ago, I bought my oldest daughter a lunchbox that had the ice packs built-in. This seemed like a great idea at the time. I figured I didn't have to worried about lost ice packs.
However, the issue became that we'd forget to put the lunch box in the freezer at night, and then I couldn't find an ice pack to use in the morning. I'm sure you can imagine what those mornings were like. Anyway, I decided those types of lunch boxes weren't for us. Since then, I've gone with the Mazforce lunch boxes and purchase ice packs!
Reusable Silicone Sandwich And Snack Bags
Over the last year, I've moved to use reusable bags when I can. They work out great for kids lunches specifically, foods like sandwiches and snacks. My favorite bags to use are Stasher bags which you can purchase at Whole Foods, Target, and other grocery stores. You can also get them on Amazon!
These are a little on the pricier side but they are reusable and will pay for themselves after a few months.
Mason Jars
I use 2-ounce, 8-ounce, and 16-ounce mason jars in my kids' lunches frequently throughout the school year. I use them for parfaits, salads, and snacks like nuts or granola.
Even though the jars are glass, I've never had an issue with the jars breaking. If you decide to use mason jars, I recommend purchasing plastic mason jar lids because the tin lids will eventually rust. You can get these at Target, Walmart, or any grocery store.
If you have a hard time finding them, then you can purchase them from Amazon.
Also, don't forget to grab the plastic mason jar lids (regular mouth and wide mouth).
Bento Lunch Boxes And Glass Meal Prep Containers
Another option to store food and snacks is to use bento lunch boxes or glass meal prep containers. These come in 1, 2, or 3 compartments so they're perfect to pack just about any lunch in. I recommend purchasing containers with a locking lid so you don't have to worry about the containers leaking.
This Clean Lunch'N Stainless Steel Lunch Box has great reviews and is under $25. It's non-toxic, BPA-free, and food-grade quality. This is a good size for a sandwich and sides plus will fit nicely into the Mazforce lunch box!
Another option are these Prep Naturals glass meal prep containers. These also have locking lids are leak proof and you can get them in 1 – 3 compartments. I really like these containers too.
If you prefer to use a container over baggies to store lunch items, then both of these will work great!
Thermos
A few years ago, I got my youngest daughter a thermos for school.
She loves taking hot lunches like soups, chilis, and macaroni & cheese to school. I ended up purchasing this 16-ounce stainless thermos. It's the perfect size for her lunch box and also comes with a folding spoon. It also keeps her food hot all day and is super easy to clean.
Water Bottle
Another must-have for my girls is a good, sturdy water bottle! Last year, I got them both 20-ounce Swell water bottles because they are stainless steel and keep their water cold all day. I'm big on hydration and I want to make sure they have a water bottle they can easily throw in their backpack without worrying about it leaking.
If I'm being honest, these have worked out really well.
Tips On How To Meal Prep School Lunches
When it comes to my kids' lunches, there are some things I can meal prep on Sunday for the week. Typically, if they're having sandwiches or wraps, I make those the night before. However, other snacks and sides I can prep ahead of time.
These are some of my time-saving tips to meal prep school lunches:
Put together a snack bin. Years ago, I started putting together a snack bin in the refrigerator. This bin is filled with snack bars, cheese sticks, turkey sticks, and containers of nuts, bags of cookies, and other snacks that I or my kids can easily grab to put into lunches. This bin is also super helpful for after school snacks! Basically, this bin helps my kids know what's available to eat for snacks during the week.
Cut up vegetables and wash fruit. When I meal prep, I cut up fruits and veggies to have them ready to pack so I can get lunches together quickly.
Cut up cheese. My kids love cheese, crackers, and pepperoni for snacks so I always have a couple of blocks cut up for lunches during the week.
Make energy balls or other snacks. I like to prepare weekly homemade energy balls, muffins, cookies, and other snacks. Then, I individually wrap them or portion out and either put them in the snack bin or just in the refrigerator. One of my kids' favorite homemade snacks is my homemade banana bread. I usually send extra with them because their friends love it too.
Make soups or any other hot lunches. Most of the time I'll make hot foods for dinners but if my daughter wants to have a hot lunch during the week, I'll save some of it to warm up in the morning and put into a thermos for lunch that day.
Healthy School Lunch Ideas For The Whole Week
Now that you have all of my tips and secrets, here is a list of some of my (and my kids) favorite homemade healthy school lunch ideas. I even threw in some snack options too!
There is a great variety here; from cold to hot lunch and delicious treats and snacks.
Cold Lunches
These are some kid favorite cold lunches that work. Just make sure to include an ice pack to maintain the temperature of the lunch.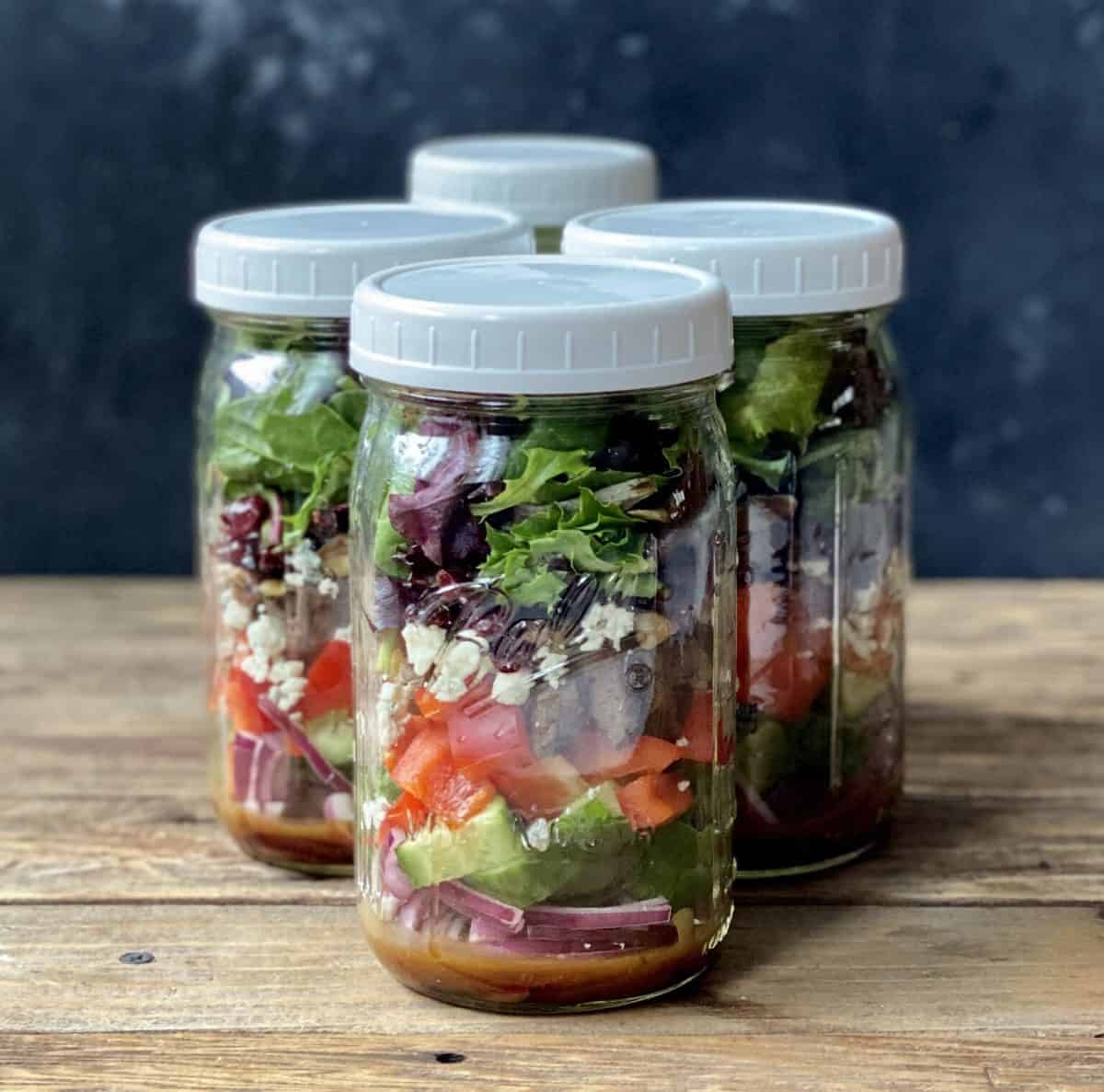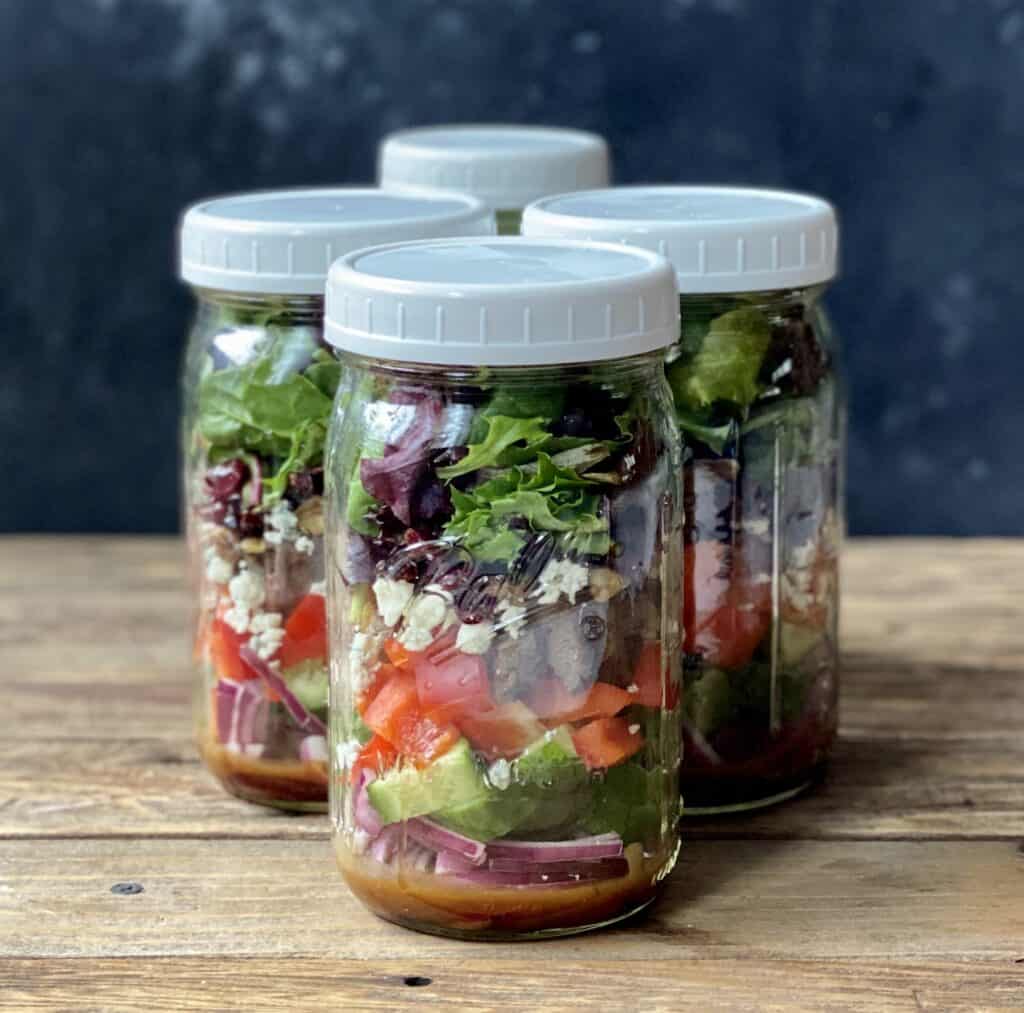 How To Meal Prep Cold Lunches
All of these lunch options can be made the night before!
If you're going to make the club wraps, you can cook the bacon on the weekends and then heat the strips up the night you make the wraps.
I also make smaller versions of those mason jar salads for kids' lunches. I either put them in a one-compartment glass container or a 16-ounce mason jar.
Hot Lunches
As much as cold lunches are super easy to put together, I also love to use some of my dinner meal prep recipes to make hot delicious lunches for school.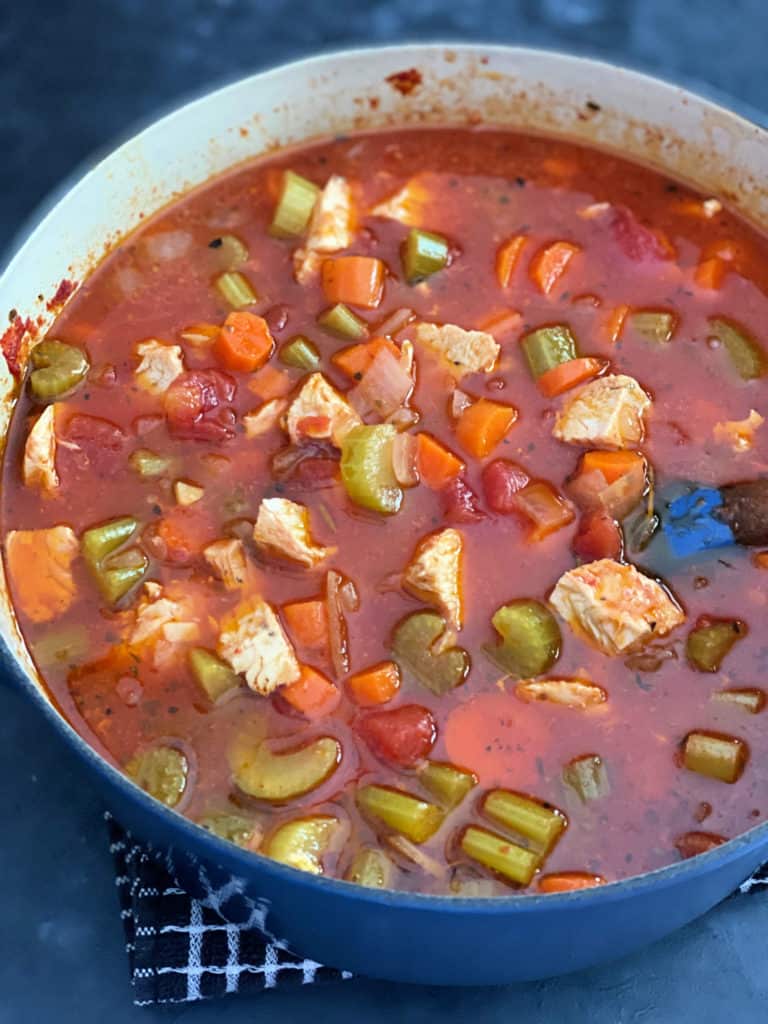 How To Meal Prep Hot Lunches
All of these recipes can be made on the weekend and then warmed up the morning you're going to put this into lunches. I recommend put these recipes into a thermos to keep them hot all day!
This is the thermos I highly recommend.
Snacks
When packing a great school lunch, I always like to include a couple of healthy snack options to hold the kids over throughout the day and after school activities.
These are some yummy options:
How To Meal Prep Snacks For School Lunches
All of these snack recipes can be made on the weekend and stored in the refrigerator all week! You can even portion out and freeze if you don't think you'll eat everything during the week.
I recommend placing the snack in the lunch pack frozen and it'll be thawed by lunchtime.
All of these healthy school lunch ideas have worked out great for my family and I hope it will do the same for you. Share a picture and tag me on Instagram or Facebook if you decide to try any of these recipes!