These low carb antipasto roll ups are beyond delicious and perfect for a quick snack or lunch.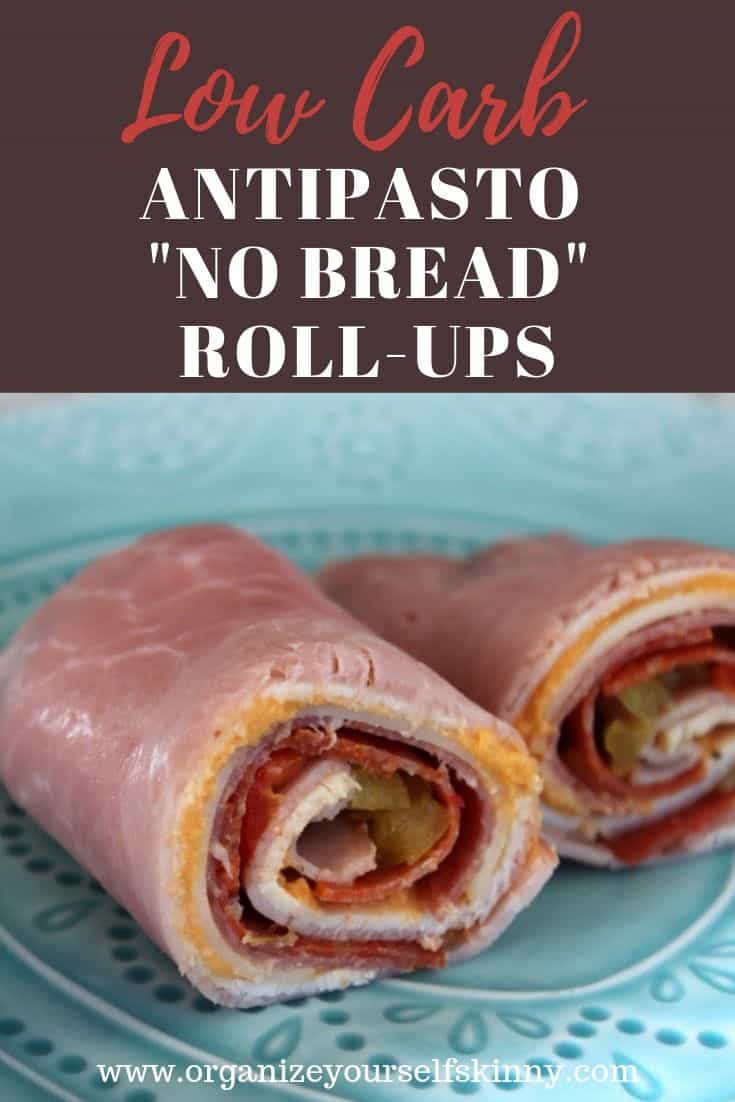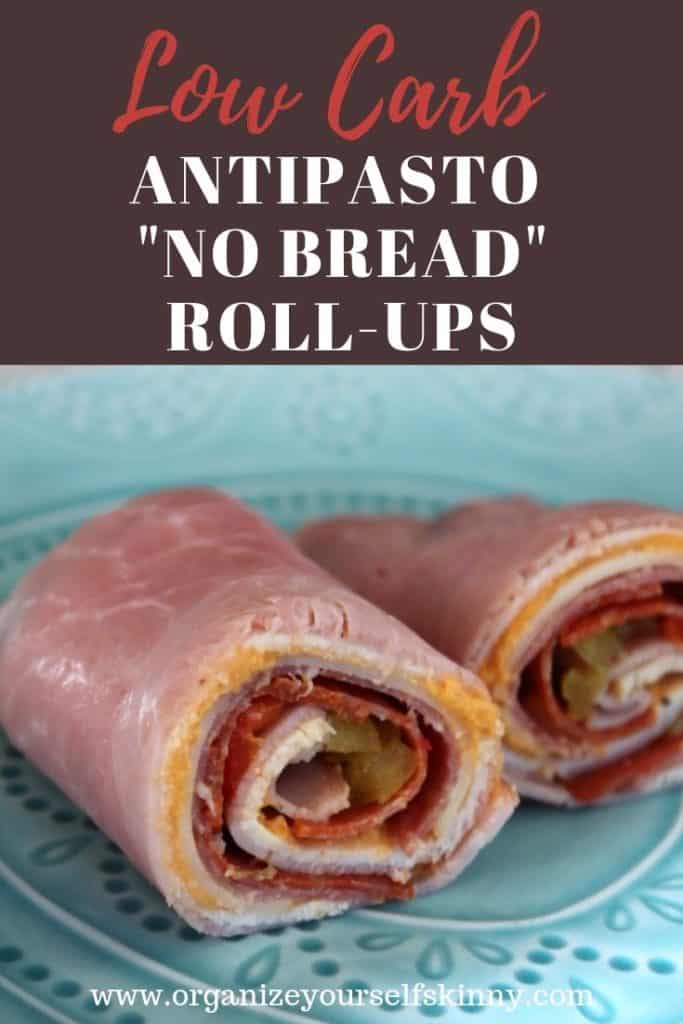 Antipasto salads are the reason I never became a vegetarian. I love them! I made a mason jar version a couple months ago that quickly became a favorite. Seriously, how can you go wrong with salami, ham, turkey, banana peppers, roasted red peppers, and cheese?! You can't! I swear I am not yelling..my exclamation points are to emphasize my love for all things meat and peppers. I don't know, maybe it's my Italian blood, but just the thought of an antipasto salad get's me excited and hungry. Yum yum yum.
Since I had antipasto on the brain this weekend I decided it was time for a new "no bread" roll-up recipe inspired by one of my favorite salads.
My "no bread" roll-up recipes are insanely popular. It's kind of funny because I only shared the first recipe because a reader asked me too – she saw me post about it on Instagram. So I was like…okay.
Wow!
I had no idea you guys would enjoy them as much as I do. But they are quite handy and tasty, aren't they? Not to mention low carb and easy to make. Win all around.
Let's talk about this new antipasto "no bread" roll-up. This was easy to envision because I had lots of meat to work with. The trick was gonna be keeping the calories under control.
I started with 1 slice of smoked turkey and smoked ham.
Then I spread 1 tablespoon of red pepper hummus. At first, I thought about using a sun-dried tomato spread but couldn't find anything I liked. I stuck with hummus because it's easy to find and healthy.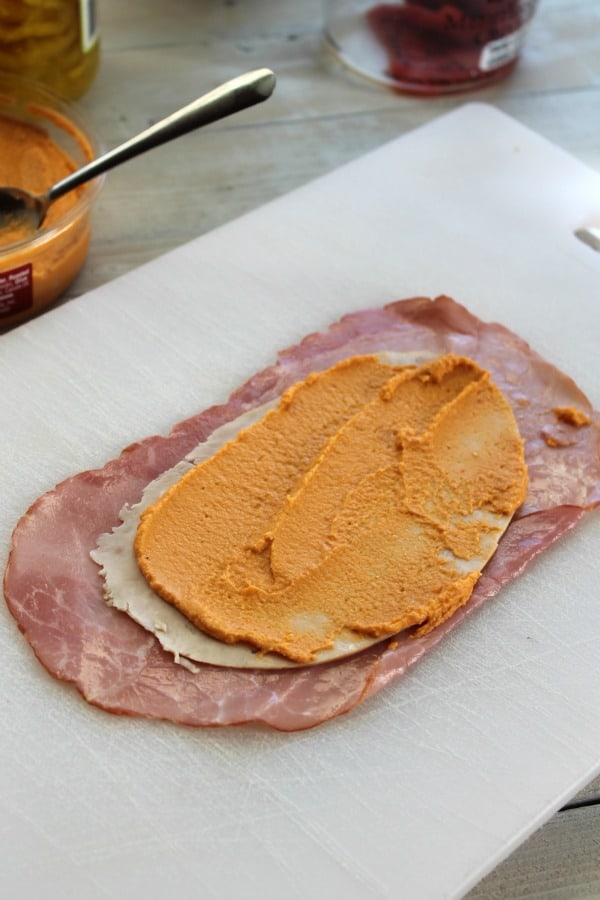 This meat and cheese layer is the layer that can add a lot of calories if not careful. 1 slice of cheese is 100 calories, salami is 70 calories a slice, and pepperoni is 58 calories for 7 slices. To keep calories and fat under control I used ½ slice of provolone cheese, ½ slice of salami, and a few pieces of turkey pepperoni. It was perfect.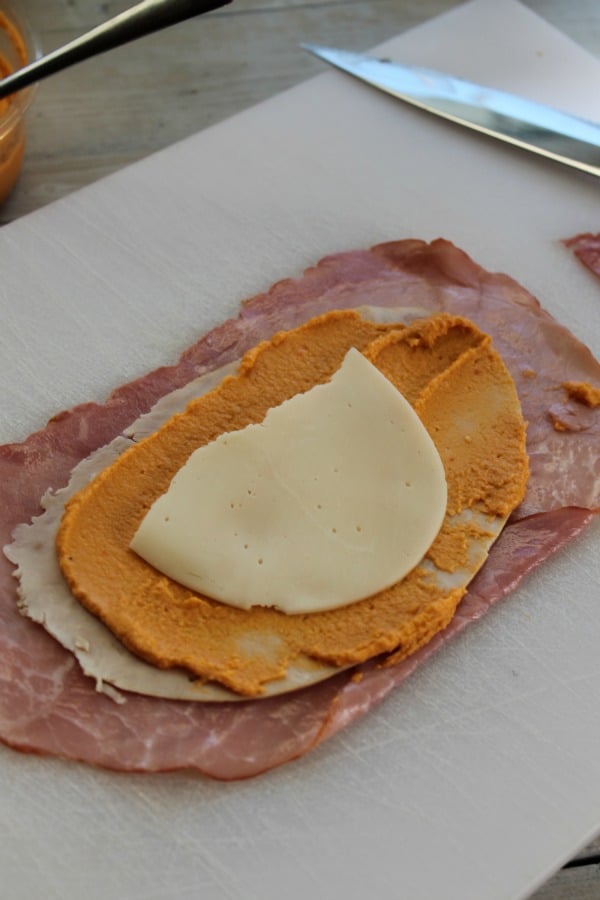 An antipasto salad is not complete without pepperoncini (banana peppers) and roasted red peppers – at least that's what I like in mine. I kept it easy by purchasing one roasted red pepper from the Mediterranean bar at Wegmans. I actually do this a lot when I need just a few Mediterranean type ingredients. I also used jarred sliced banana pepper rings. I cut both up a little before placing on the final layer. This is to help get a pepper with each bite.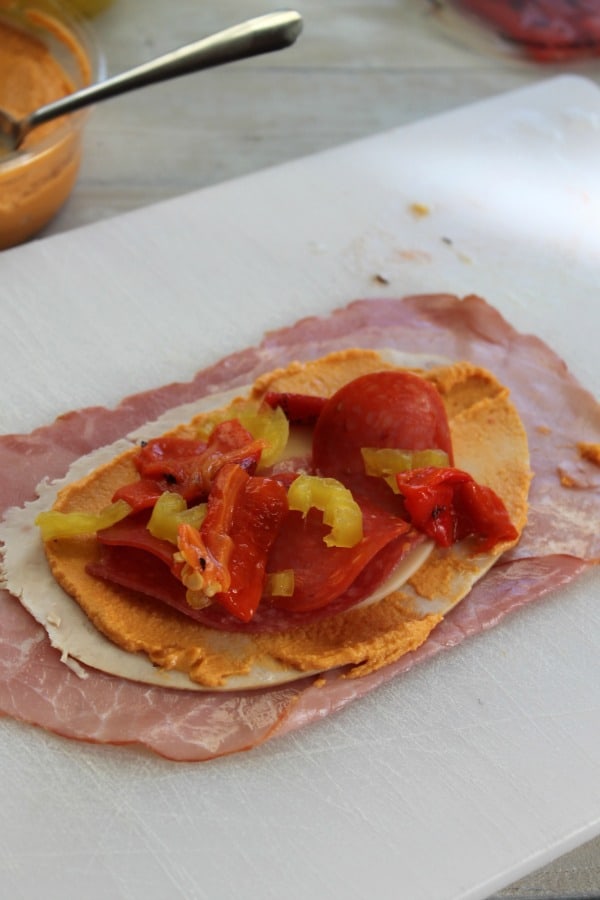 Now it's time to roll. It's important to get your turkey or ham on the thicker side. Not to thick but just thick enough to hold all the ingredients together.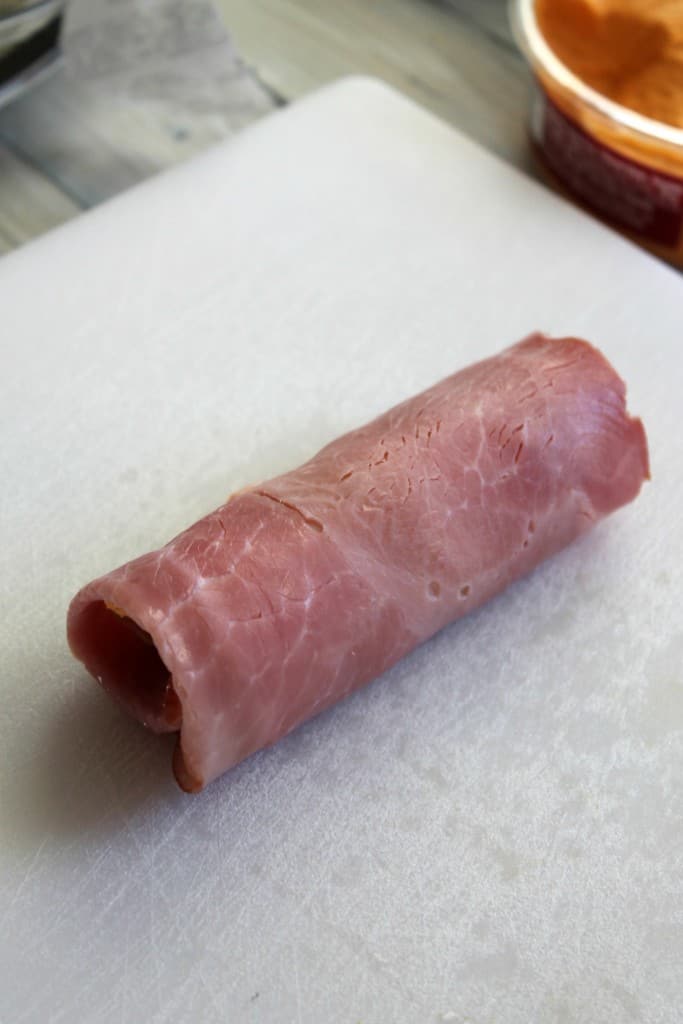 I cut mine in half but you can certainly leave it whole if you like. These roll-ups are super easy to make but you can make them a day or two ahead of time too.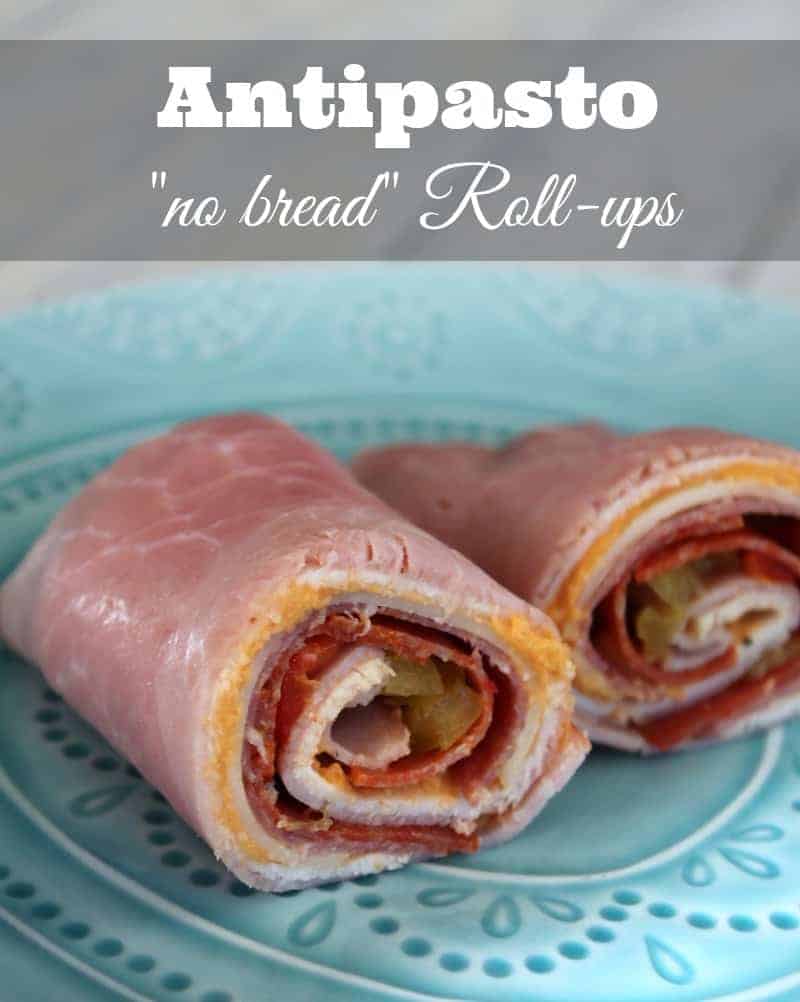 Enjoy with some yogurt or a piece of fruit for a delicious and satisfying lunch.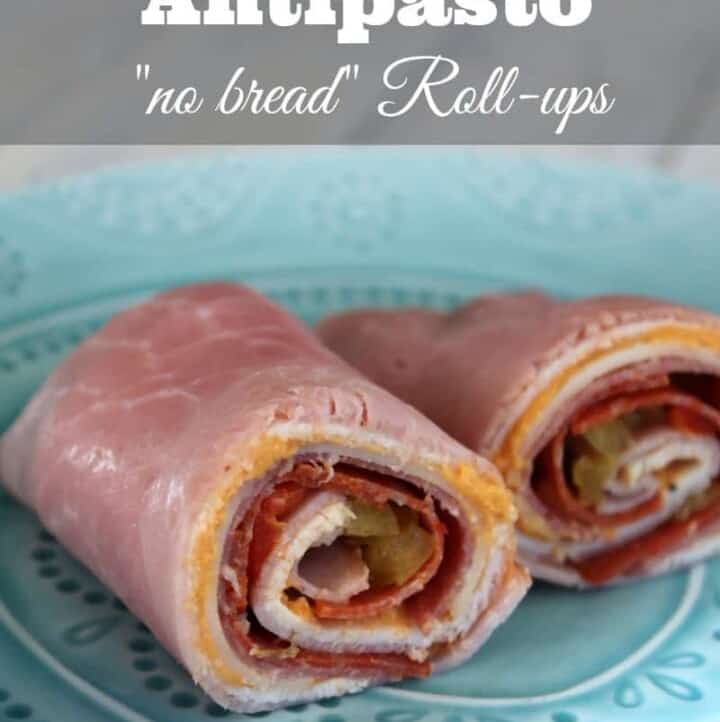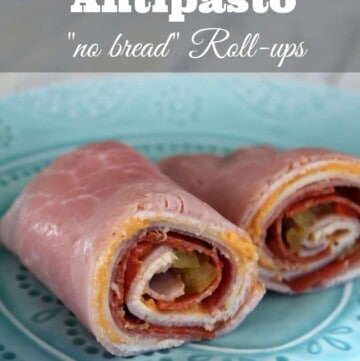 Ingredients
1

slice

ham

1

slice

turkey

1

tablespoon

roasted red pepper hummus

½

slice

provolone

½

slice

salami

1

tablespoon

chopped roasted red pepper

3

banana pepper rings

chopped
Instructions
Lay the ingredients starting with the turkey and ending with banana pepper rings.

Starting at the end roll up the ingredients. Cut in half and enjoy.
Notes
Make ahead instructions
These can be made 1-3 days ahead of time. Store in a plastic or glass container in the refrigerator.
Nutrition
Serving:
1
g
|
Calories:
221
kcal
|
Carbohydrates:
4
g
|
Protein:
11
g
|
Fat:
10
g
|
Fiber:
1
g
|
Sugar:
4
g