Hummus, provolone, and banana peppers rolled into a lean slice of roast beef to create the perfect low-carb snack or lunch recipe.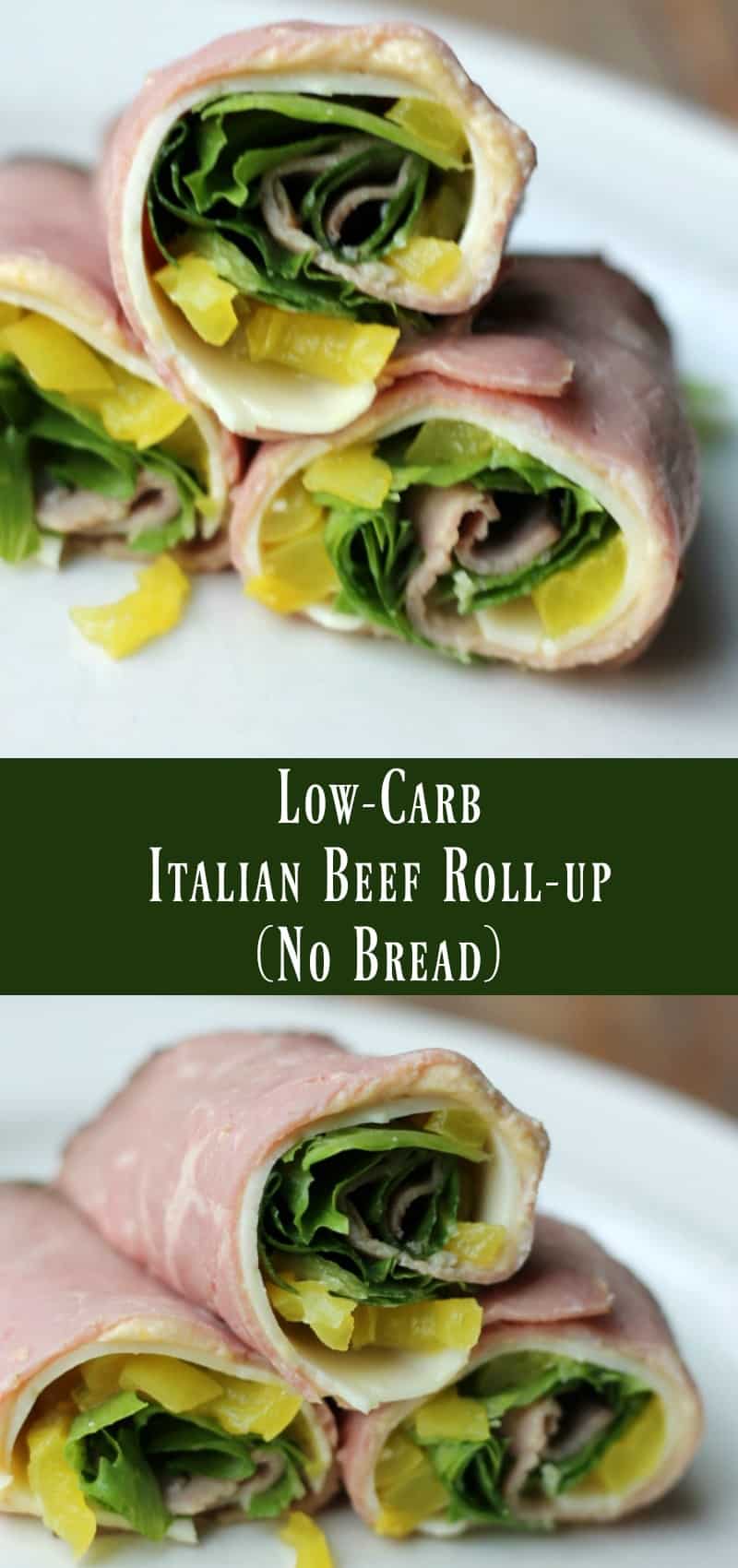 Over the past year I've recognized that my lunch and snack time meals need to be lower in carbs and higher in protein. High carb foods like sandwiches, pasta, rice, and the like tend to make me bloated and tired. And in the middle of the day, when I ready to take care of business, I can't be in a carb coma from a sub or bowl of pasta. It's just the way my body has transformed over the years. Or maybe that's how it's always been but now I'm just paying attention. I tend to feel and focus better when I keep my diet heavy in lean proteins, fruits, vegetables, and some dairy (cheese sticks, cottage cheese, and yogurt). Basically, it's not just about the skinny jeans anymore it's the way my body responds to certain foods. I still eat carbs but I save the pizza, pasta, and rice dishes for special occasions and/or weekends when I can afford to be lazier.
With all that said you can expect to see more "lower carb" recipes on Organize Yourself Skinny in the future. Don't worry, you'll still see the comfort favorites but with a low carb twist.
Last week I shared a Low-carb Mexican Turkey Roll-up recipe. It's filled with cilantro jalapeno hummus, salsa, and a little pepper jack cheese. I love this recipe and enjoyed it all week for lunch. I also created an Italian Beef No Bread Roll-up Recipe that's beyond simple to make and does not fall short in the flavor department.
This new low-carb Italian Beef roll-up recipe was inspired by my Italian Beef Wrap and Slow Cooker Italian Beef recipe. Both use similar ingredients but this roll-up recipe looses the bread and takes about 3 minutes to prepare. I enjoyed 2 rollups with a Siggis Yogurt and was completely fueled to take on the rest of my day.
Let me show you the simplicity of this recipe.
Take one slice of deli roast beef. I like Wegmans Organic deli roast beef or Applegate organic roast beef. Spread 1 tablespoon of garlic flavored hummus over the top. This also taste great with roasted red pepper hummus.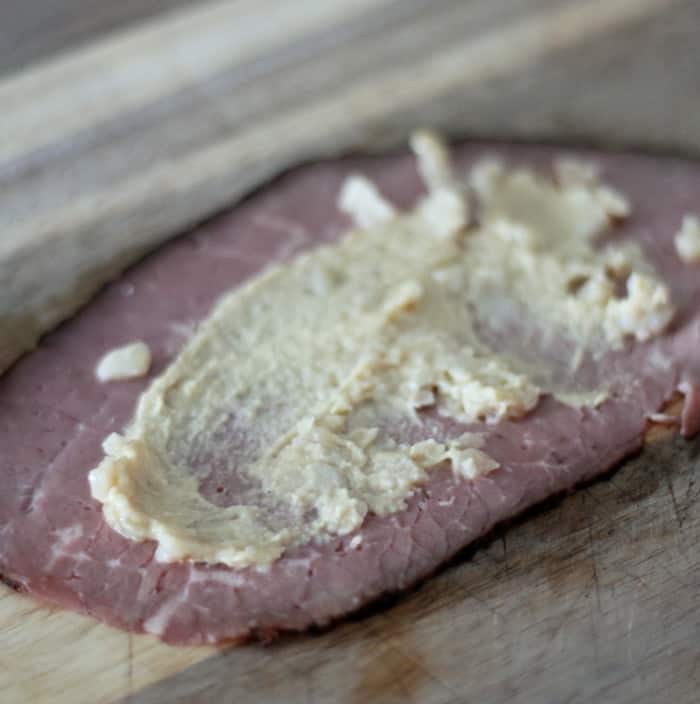 Next lay 1/2 slice of provolone on top of the hummus. I stay at 1/2 slice of cheese for all of my roll-up recipes. 1 slice is typically 100 calories or more and that increases the calories and fat too much in my opinion. 1/2 slice is perfect.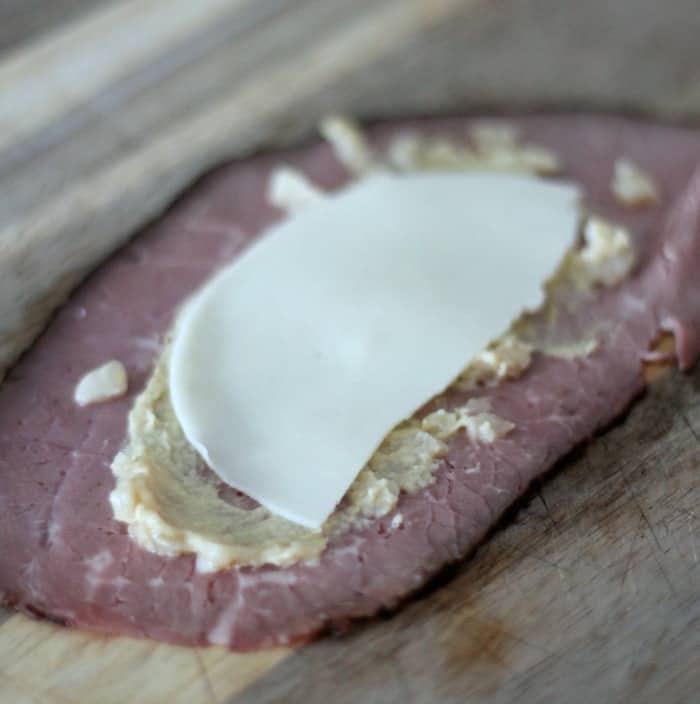 Then I sprinkled a few banana pepper rings over the cheese. This is the ingredient that gives it a flavor pop.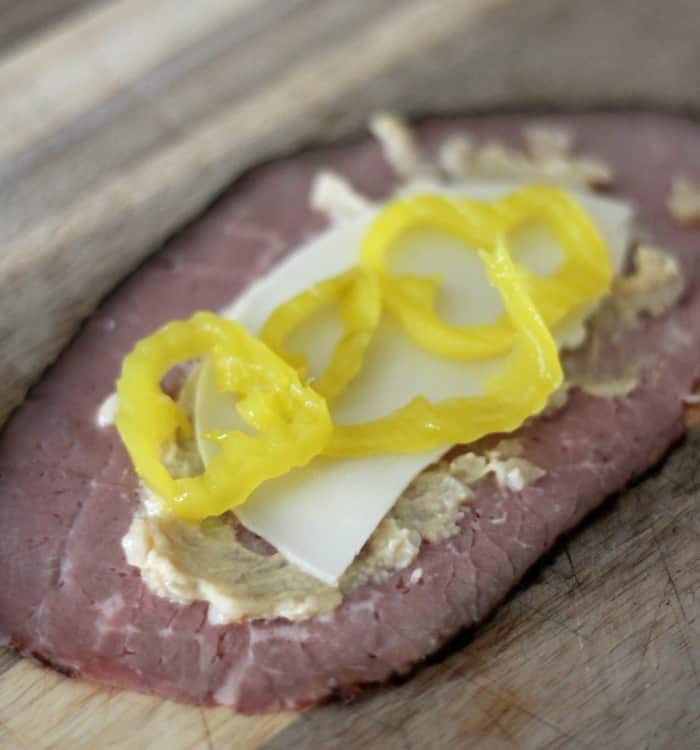 The last ingredient used for this roll-up was torn romaine lettuce. I've used spinach and arugula before and I have to say arugula is my favorite but use whatever greens you have on hand.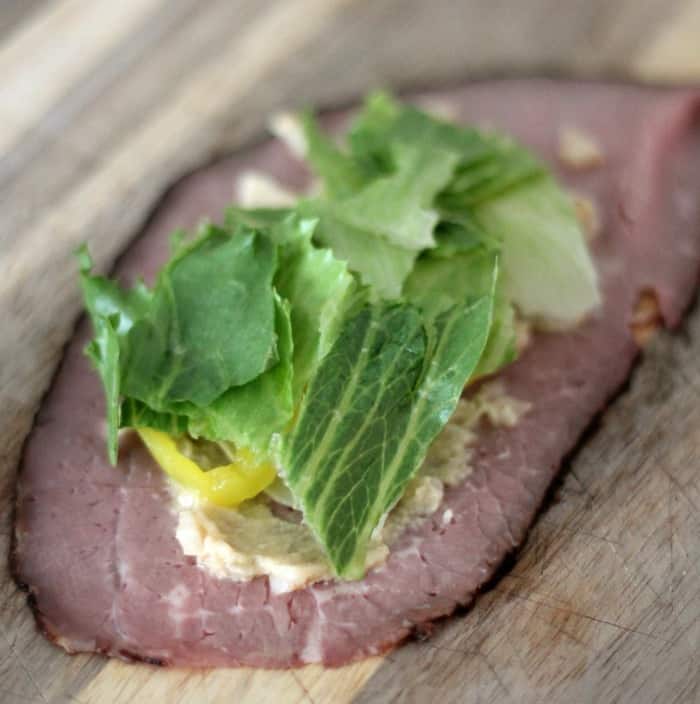 Time to roll it up. I've said this in other no bread recipe posts, you want to make sure the slice is thin but not to thin. It needs to be thick enough to hold all the ingredients but not too thick that it takes over. I ask for thin but not falling a part. If by some chance the roast beef slice is too thin then use 2 slices instead of 1.
After I roll it up I cut it in half and enjoy.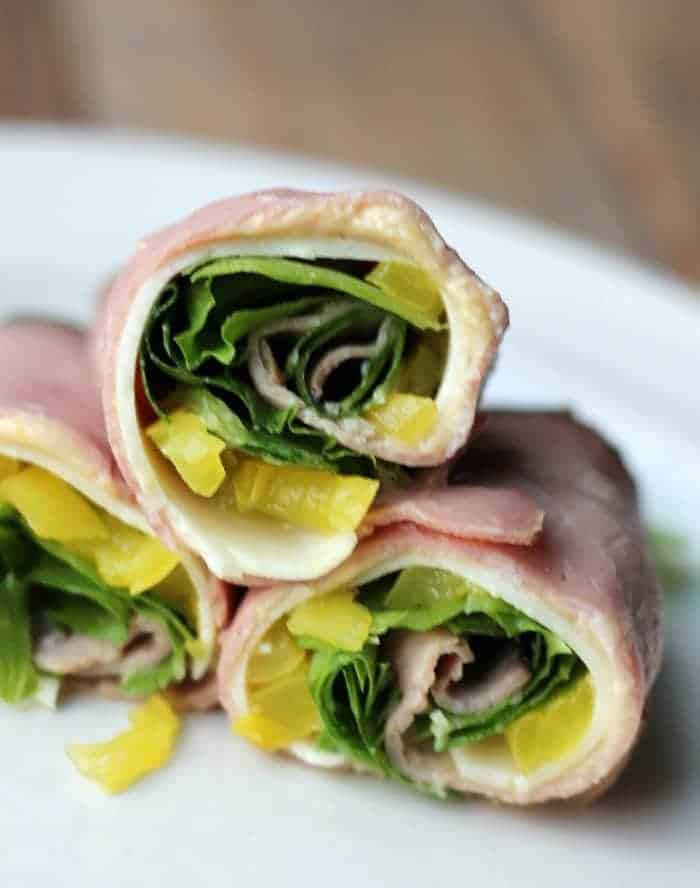 These no bread roll-up recipes have turned into a new favorite for lunches. I make them ahead of time and place into one of my protein packs to have ready to eat.
If you need a low carb option for snacks or lunches then I recommend giving this Italian Roast Beef roll-up and all my others a try. Here are my favorites:
Turkey, Avocado, and Hummus No Bread Roll-up
Ham and Swiss No Bread Roll-up
Ingredients
1

slice

deli roast beef

1

tablespoon

garlic hummus

1/2

slice

provolone cheese

4-5

banana pepper rings

chopped romaine
Instructions
Spread the garlic hummus over top of the roast beef slice. Next place the cheese, pepper rings, and romaine on top of the hummus. Roll up and enjoy.
Notes
sugar: 1
Make-ahead tips
These roll-ups can be made 3-4 days ahead of time.
Nutrition
Serving:
1
g
|
Calories:
150
kcal
|
Carbohydrates:
3
g
|
Protein:
15
g
|
Fat:
8
g
|
Saturated Fat:
2
g
|
Fiber:
1
g