Curb cravings and stay satisfied in between meals by creating a low-carb high protein snack kit.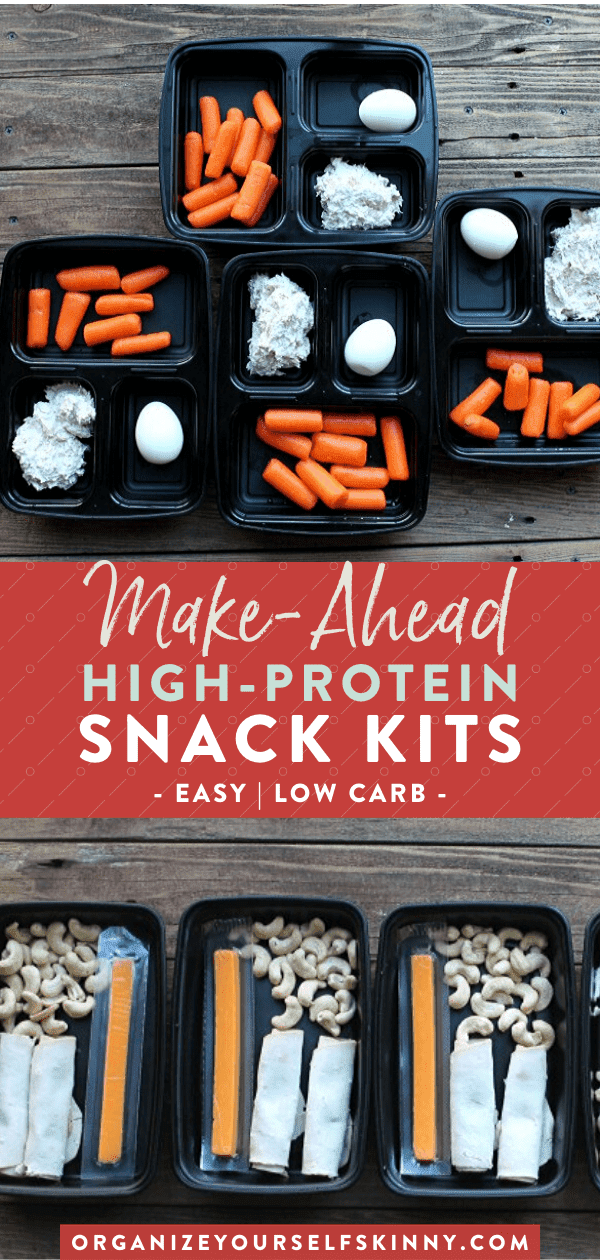 Hey hey! Today, I want to share with you a meal prep idea. I wish I could take full credit for this buuut I can't. My very good friend Paula shared this genius idea last week and then I begged her if I could share it with all of you. Of course, she said yes.
Now I know putting a bunch of low-carb high protein foods into a container and calling it a kit isn't going to part the waters and win a noble peace prize. But here's the thing… We live in a busy world, have a lot on our plates, and anytime I can find a way to make your life (and mine) easier I will stand on the roof top (or behind my computer) and share it with all you lovely people.
Also, I've been on my weight loss journey for 5+ years now and you would think I have all the tricks down. Well I don't. I am a lifetime learner and thanks to Paula I now know about homemade make-ahead low-carb protein snack kits.
I'm calling these snack kits but really you could eat one for any meal. This week I enjoyed one for dinner and it was perfect. I felt full and satisfied but not bloated.
Why low-carb and high protein? I am by no means anti-carb. Heck no. I love pizza, pasta, rice, and everything starchy. But as much as I love those foods, those foods don't love me. Carbs satisfy my heart but not my body. As I'm eating a slice of pizza, or plate of pasta, I feel all is good in the world. Then within a 1/2 hour of eating carbs I feel like I want to crawl in a corner and beg for forgiveness. I'm bloated, tired, and hungry an hour later. It's so unfair. I haven't written off carbs but I do keep them under control and make sure the carbs I eat are whole grain (80% of the time), minimally processed, and don't make up a majority of my calories. Protein keeps me full longer and it's easier to stick within a lower calorie limit when my meals include more protein. For these reasons I do my best to keep my meals focused on lean proteins, nuts, fruits, and vegetables.
I made 2 different kits this week for a total of 10 kits. In the future, I could get by with 5 kits if I plan to just eat one a day for snacks. However, I was experimenting this week so I made a little bit more than I needed. But make as many as you want and need. If you need the structure of every meal portioned out then making a kit for each meal would be very helpful.
Before I talk about the food lets first discuss the containers. The containers you see in the pictures I purchased of Amazon. They are specifically marketed for meal prep and I love using them. You can get all different sizes but the ones I use are the single and triple compartment containers. I just purchased dual compartments that I think will work very nicely with this kits. Of course, you can use any container you like. Paula used baggies and it worked just fine. Again, these are ideas but do what works for you.
For the first kit I included a hard-boiled egg, no-mayo tuna salad, and carrots. This kit is about 230 calories. Other ideas could be no-mayo chicken salad, Healthy Buffalo Chicken Dip, hummus, or no-mayo egg salad. The goal is to choose a snack that will satisfy hunger and keep you full.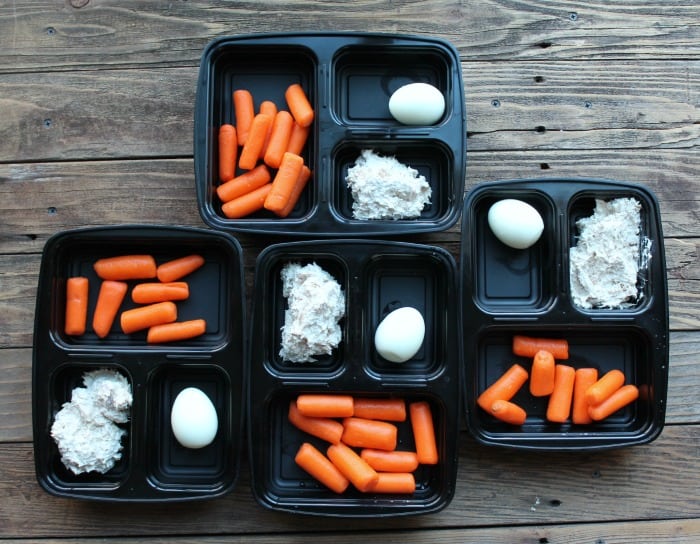 The second kit I put together includes 2 slices of organic turkey breast that I rolled hummus in, 1/4 cup of cashews, and 1 cheese stick. This is my favorite of the two. It's a little higher in calories (310) because of the cashews so next time I make it I will keep the cashews at 2 tablespoons instead of 1/4 cup. If I were to eat this for lunch or plan to have a smaller dinner I would keep the full amount of nuts in.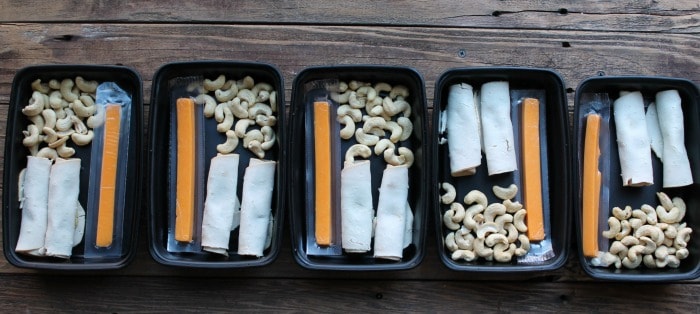 Some variations for this kit would be the type of lunchmeat used, a different flavor cheese stick, and a different nut. You can even switch up the hummus to give the rollups a different twist.
My no-bread roll ups would work great in these kits.
Ham and Swiss No Bread Roll Up
Beef and Cheddar No Bread Roll Up
Other ideas for a high protein snack would be almond or peanut butter rolled up in a low carb wrap. I would include berries with that kit for a fiber boost.
Or if you want a sweet treat included in the snack kit then add in an energy bite. I know energy bites are higher carb but they also include nut butter and nuts to balance it out. Include that with some cottage cheese, cheese stick and maybe a hard-boiled egg and you are good to go.
These are my favorites:
Peanut Butter and Chocolate Energy Bites
These high protein make-ahead snack kits are just two ideas to help you get creative with your own. I'm not saying don't use crackers, fruit, or any foods like that. Just make sure the focus of your kit is on the protein and keep the carb options limited.
Here's a list of my favorite mix and max snacks to create your own make-ahead low-carb protein kits.
Nuts (almonds, cashews, pistachios, and pecans)
Pumpkin seeds
Peanut butter
Almond butter
Hard-boiled eggs
Organic deli meat
Cheese sticks
Cottage cheese
Yogurt tubes (I love the siggi brand)
Raw vegetables (for dipping)
Wholegrain crackers
Berries
After the kits were put together I put them in the refrigerator. Another reason I love these meal prep containers is, as you can see, they stack nicely. The containers don't take up a huge amount of space and they stay visible to remind me I have a healthy snack ready to eat.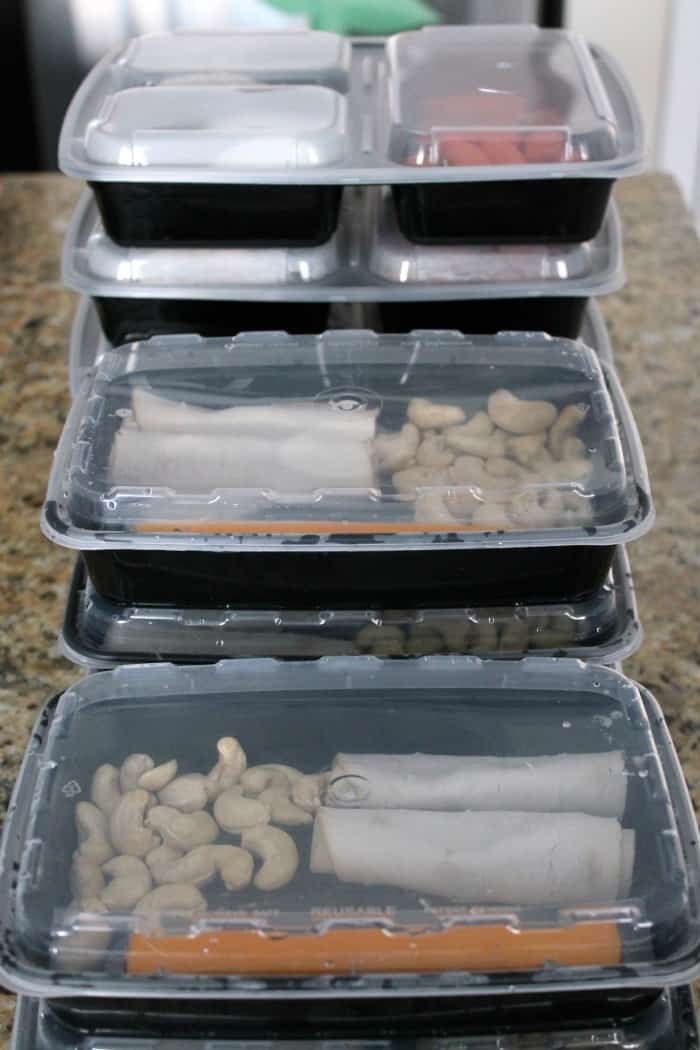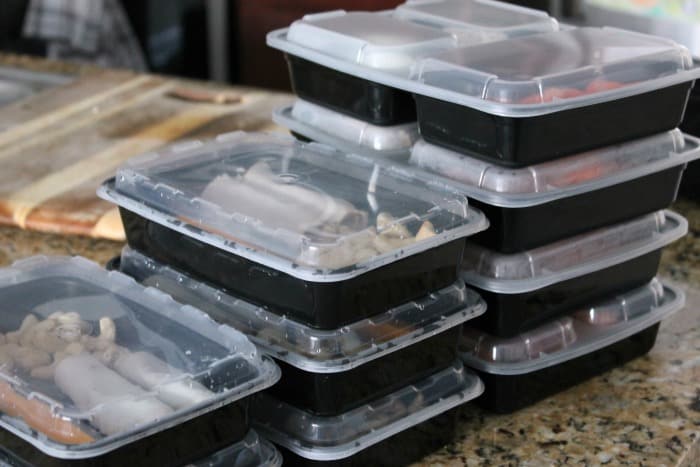 Anytime you make-ahead a meal you are one step ahead of the game. It's easier to eat healthy meals and snacks when the food is portioned out ahead of time and ready to eat. If you put together your own low-carb protein snack kits I would love for you to share them on Instagram using the hashtag #organizeyourselfskinny or in our Facebook group. I'm always looking for new ideas.