If you are looking for some healthy lunch meal prep recipes that don't consist of leafy salads, then you are in the right place!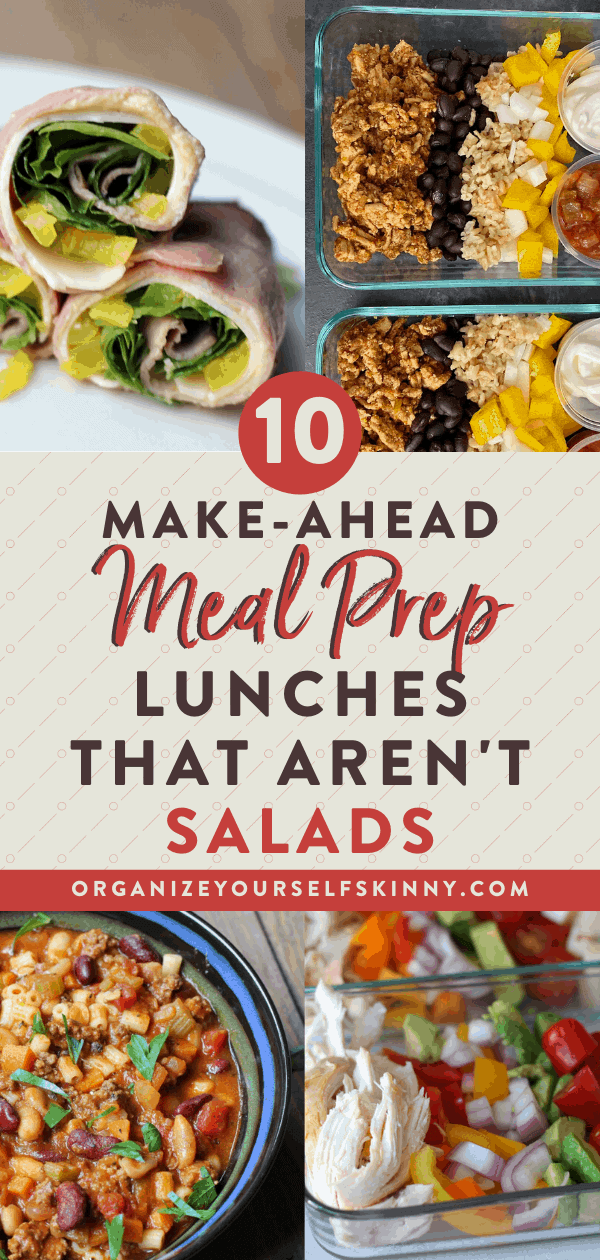 If you've been following my blog and weekly meal plans, then you already know that I'm a huge fan of mason jar salads! In fact, mason jar salads have been a staple in my weekly meal plan for close to 8 years now.
Even though salads play a big role in my meal plan, I realize not everyone wants to eat salads for lunch or maybe just want to add a bit of variety. If this is the case, I got some delicious options for you—no lettuce required!
Before I jump into all the non-salad recipes, I want to share with all of you some make-ahead basics I've come to learn and depend on.
Tips For Easy Meal Prep Lunches
Lunch is one of the meals I make sure to prep every week on Sunday. This was especially important when I worked outside of my home.
I never had time every night to make my lunch and everyone else's in the mornings. So, if I didn't have them made on Sunday, then it most likely didn't happen. And, if I didn't have lunch made, I was surely going to the vending machine or spending money on fast food nearby.
Even as a work at home mom, I have my lunch made ahead of time. I don't have time or want to make the mess every day to get lunch ready. Just being honest!
With that said, here are some tips and make-ahead basics to keep lunches fresh all week.
1. Use Glass Containers
In all my years of meal prep, I've found glass meal prep containers keep food fresh the longest. Plus, many glass containers are microwave and oven-safe where plastic containers aren't the best when it comes to heating up food.
2. Keep Sauces Separate If Possible
I try to keep sauces separate from my meals to avoid foods from getting soggy. These are especially helpful with meal prep bowls. I like to buy these small sauce containers to add to my lunch box!
3. Keep Pasta And Rice Separate From Soups
Pasta and rice tend to get mushy if sitting in soup all week.
If you're making a pot of soup to eat during the week for lunches, then add the pasta or rice (if using) to the soup when you are ready to eat so it keeps that freshly cooked taste.
4. Use Limes To Keep Avocados From Browning
If you're using fresh avocados in some of your recipes, I recommend squeezing a little bit of lime juice over it to keep it from browning. Also, I've found mixing avocados with onions helps keep it green too.
Easy Healthy Lunch Meal Prep Recipes That Aren't Salads
Here are some of my favorite non-salad meal prep lunch ideas you can easily add to your meal plan:
Sandwich Wraps
Sandwiches are definitely a simple lunch go-to for anyone! I can make them for my entire family.
When I make these ahead of time, I'll wrap individually in plastic wrap or store in a glass container. I have 2 different types of wraps I usually make:
No Bread Wraps
These are great when you're in the mood for a sandwich but don't want all the carbs that come with the bread.
Good thing, these 'no bread' wraps are super easy to make so you can plan to make more for the week on Wednesday or simply plan another lunch recipe to eat later in the week.
These are my favorite lunch wraps:
Cooking Tip: If you decide to omit the cheese, then these sandwich 'wraps' can last you all week. However, if you are using cheese, these will still stay fresh for 3 days.
After that, the cheese gets a little soft. Personally, I don't think it's a big deal but my husband does not like the way the cheese gets, so I usually leave it out.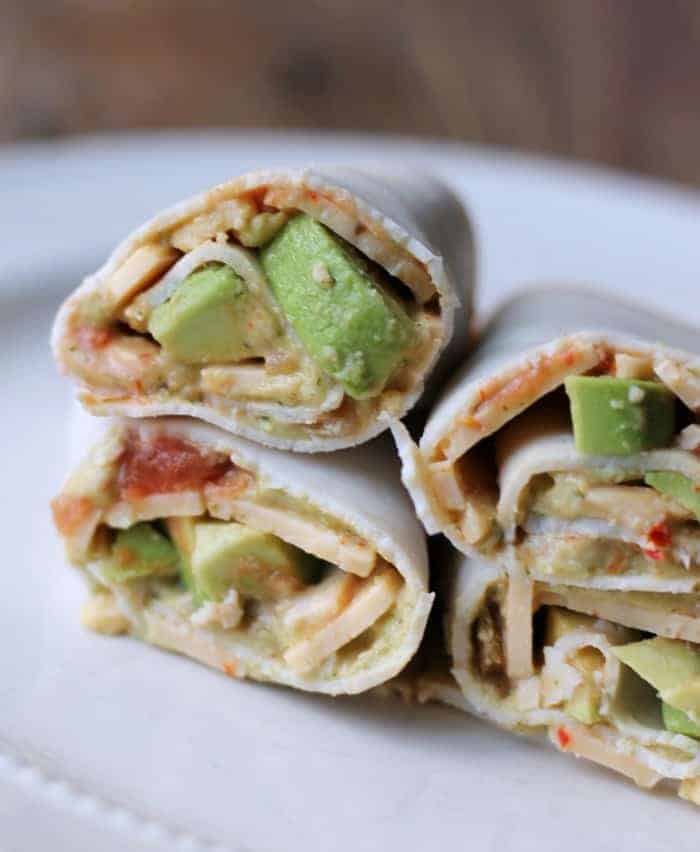 Low Carb Wraps
Now, even though I love 'no bread' wraps, sometimes I like to eat wraps with a little more substance. I like to buy some low carb options like whole wheat or spinach wraps to use with these healthy lunch meal prep recipes.
Some of my low carb wrap recipes can get a little tricky with sauces, dressing, mayo, and cheese but I find these are at their best for 1-3 days after I make it.
One of my favorite wraps is these chipotle turkey taco wraps! I'd do the same thing as the bean and cheese wraps but with the taco filling. You can even use shredded beef or chicken with these wraps.
I found these to be a nice change of pace for lunches or early dinner.
Soup and Chili
Most soup and chili recipes can be made on Sunday and last you for several meals throughout the week.
After the soup cooks and cools, portion it out into containers that you can grab and go for lunch.
Cooking Tip: Make sure the containers you use to store the soup are microwave safe. This makes it easier to heat up and eat!
I recommend these 2-cup round pyrex containers or 16-ounce glass mason jars. You can also use 16-ounce plastic freezer containers to freeze individuals portions of soup. This is helpful when you want to freeze some for later in the month.
Like I mentioned in my meal prep basics, try to keep any pasta or rice on the side so you don't have to worry about it getting mushy sitting in the soup all week or in the freezer.
My favorite soup and recipes to make ahead of time are: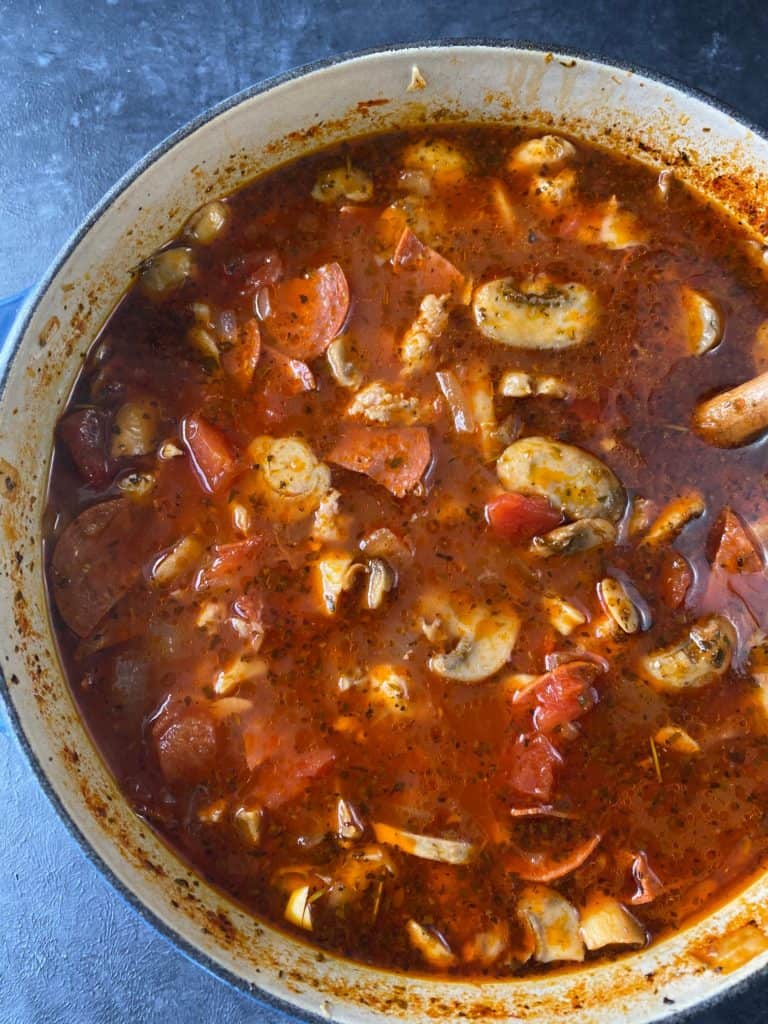 Meal Prep Bowls
Meal prep bowls have really grown in popularity over the last couple of years, and it's definitely grown on me!
Basically, it means layering components of the recipe side by side or on top of each other into rectangle containers. Keeping the components somewhat separate helps keep ingredients fresh and tasty but this also depends on what kind of meal prep bowl you are making.
It's also helpful to keep any sauce or condiments separate.
Meal prep bowls are a great way to create a portion-controlled lunch to eat all week. I've put together different recipe ideas but you can easily fill these with your favorite protein, veggies, and carb.
For example, shredded chicken, roasted veggies, and roasted sweet potatoes are one of my (and my daughter's) favorite meal prep bowls. I'll have this for lunch but my daughter has enjoyed this for dinner after many volleyball practices!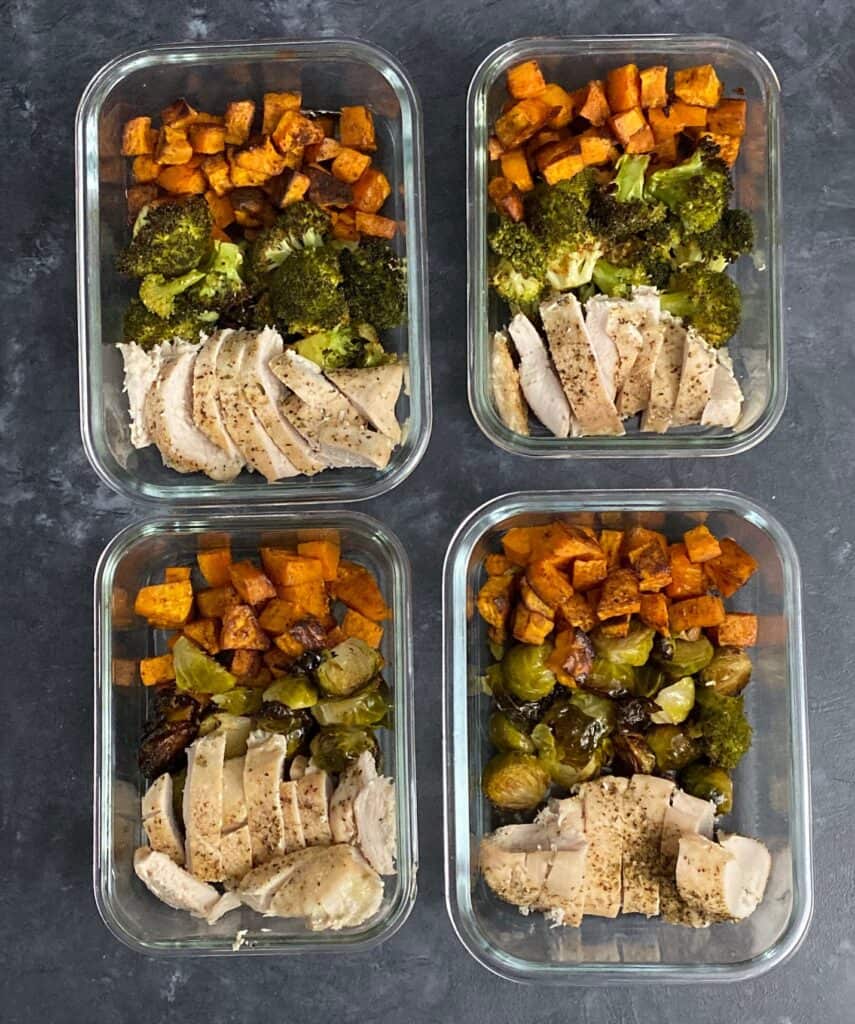 Sometimes, I like to keep it super easy by picking up a rotisserie chicken and make these chicken burrito bowls. You'll notice that this recipe has avocado in it. Again, using lime juice and onion helps tremendously to keep the avocado green and fresh.
Currently, I have these taco meal prep bowls as part of my healthy lunch meal prep plan.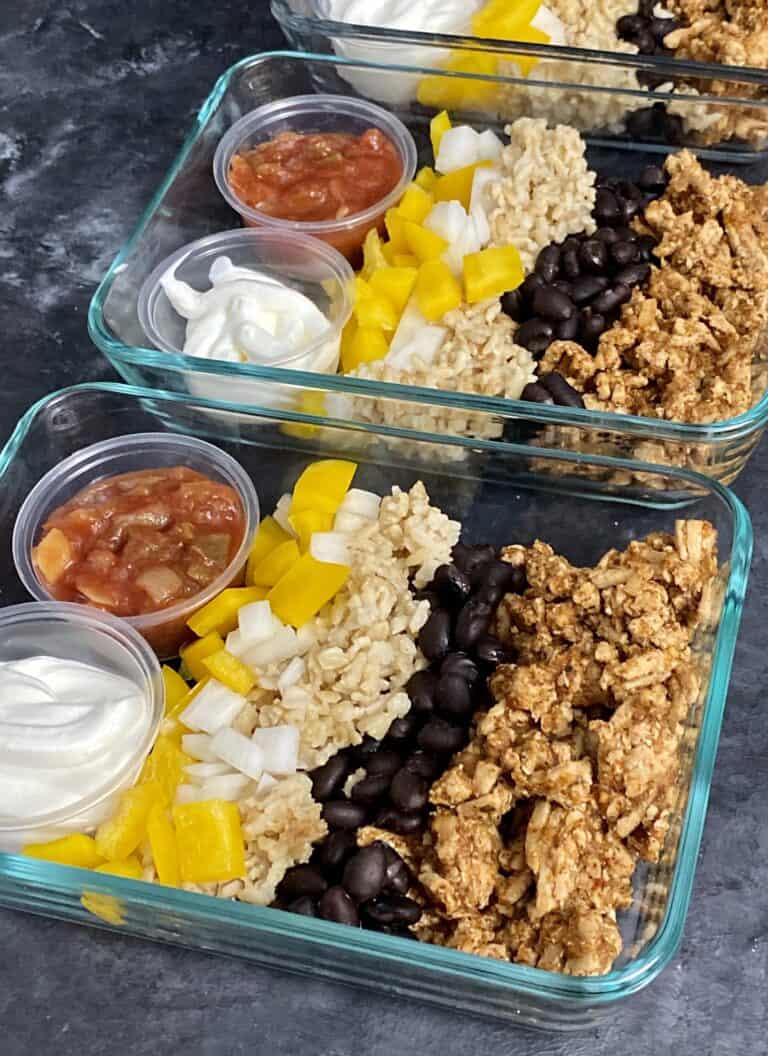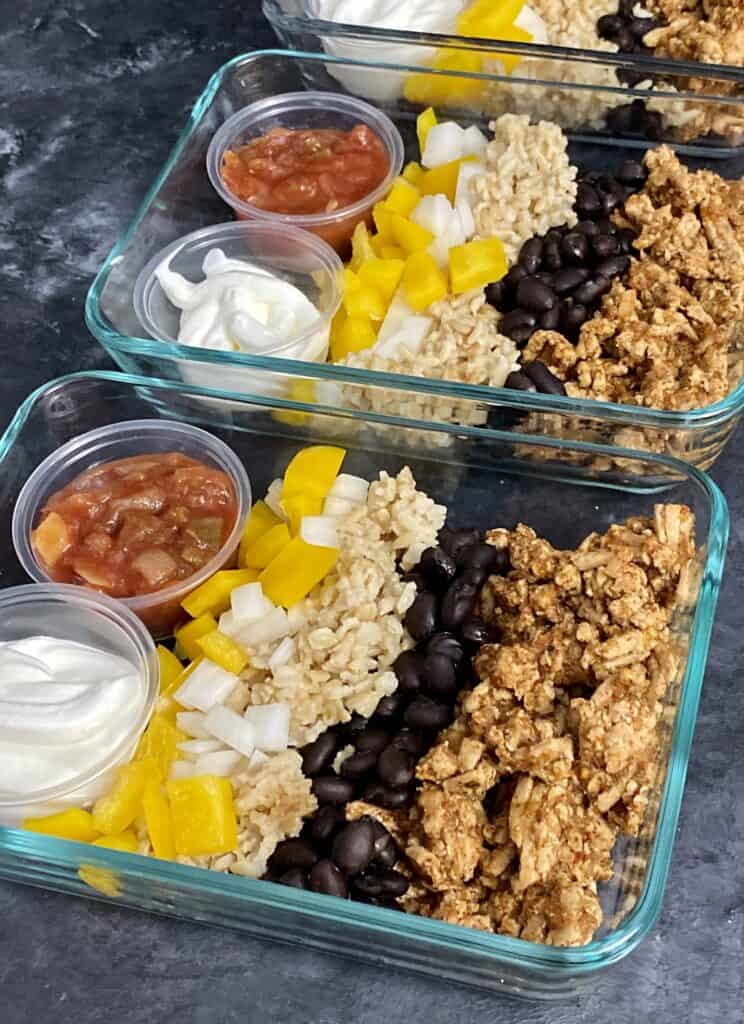 Freezer Burritos
Another recipe I make all the time is freezer burritos. Not only are they are super easy to put together, but you can also make a bunch at a time and stock up your freezer.
The usual recipe I choose is this basic bean and cheese burrito. All I do is buy a can of refried beans, shredded cheese, and low carb burrito tortilla wraps. I spread some beans in the middle of the wrap, sprinkle on some cheese and roll it up. That's it!
I like to pair it up with some hot sauce to give it a nice kick.
To eat the burritos, I grab one out of the freezer and then warm it up in the microwave when I was ready for lunch.
You can take it out of the plastic wrap, wrap it in a paper towel, and then heat up in the microwave for 2-3  minutes.
Cooking tip: it's helpful to put a cup of water in the microwave with the wrap as it cooks in the microwave to keep it from drying out.
Here are some other types of burritos you can make:
Black Bean and Rice Burritos
As you can see, meal prep for lunch can be done easily, all without a single lettuce leaf! 🙂 Which one of these yummy recipes will you make first?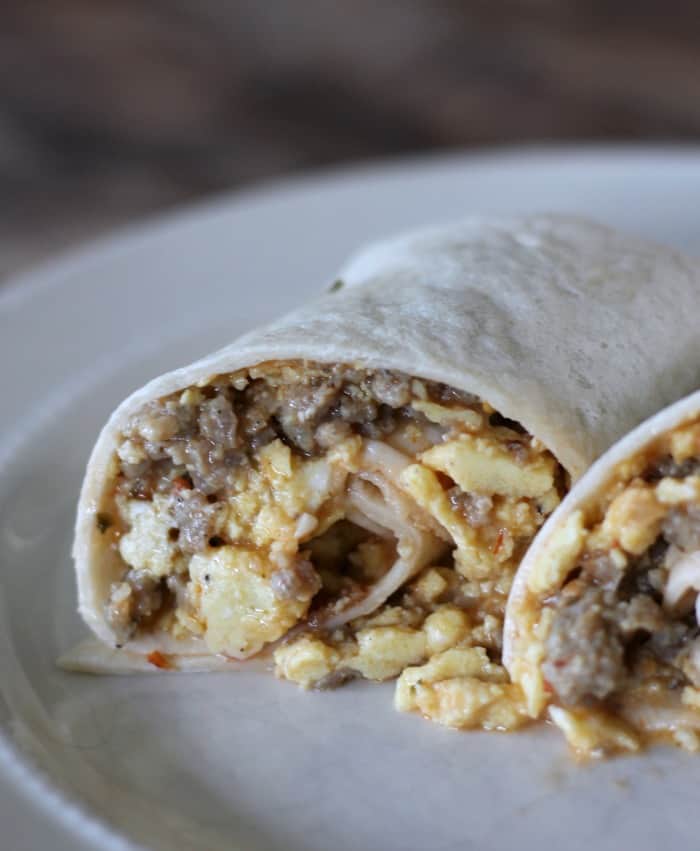 Get ahead of the game and put together some of these healthy lunch meal prep recipes to avoid binging on foods you shouldn't be eating. Share a picture and tag me on Instagram or Facebook if you decide to try it!