Staying on track with healthy eating habits throughout the day requires having healthy snacks available. We all know that homemade is best but most of us don't have the time every single week to focus on preparing healthy snacks for the week. A solution that has worked for me is to take time once a month and stock my freezer with my favorite homemade healthy snack recipes!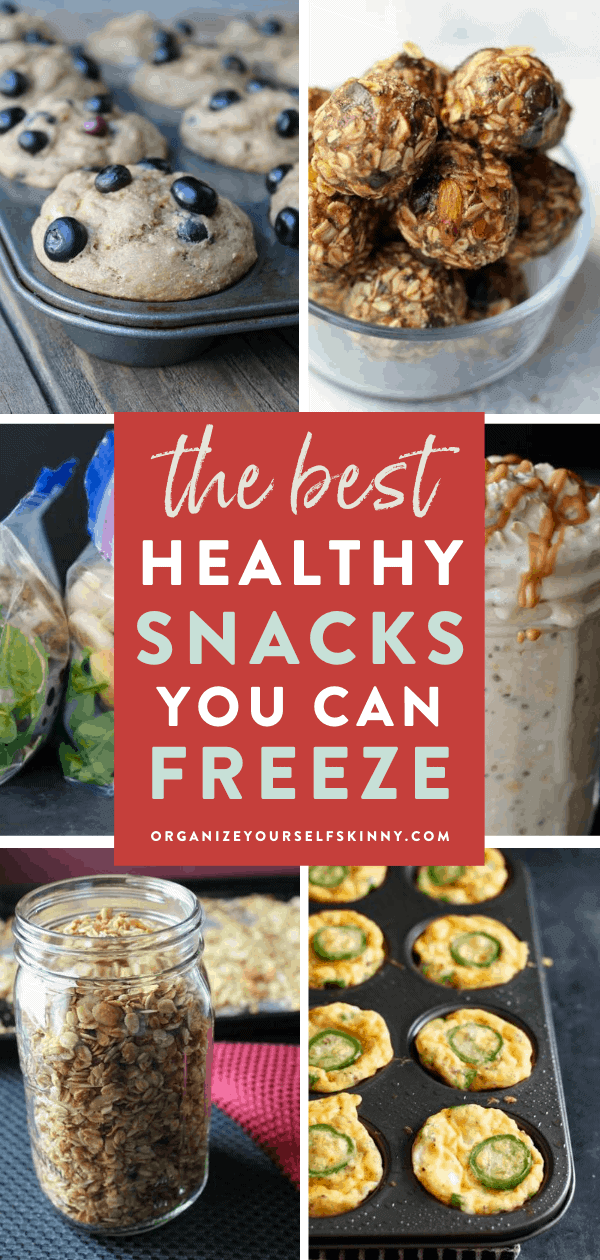 To stay on track with my healthy eating habits, one of the things I do is eat 5 times a day. That includes 3 meals and 2 snacks.
When I plan out my food for the day, I'm just as intentional with snacks as I am with the other meals. I know if I try to "wing it" with snacks, it's a guarantee I'll either reach for anything I can grab out of a bag or box. Or if I'm out, then I'll head to a vending machine or drive-thru for sure.
Obviously, this isn't good if my goal is to eat healthily.
Since I know this about myself, I have been trying out some delicious healthy snack recipes that I can stock in my freezer for the next couple of weeks. And let me tell you- I think I got some good ones!
Jump to:
What I Look For In A Healthy Snack
High protein – The point of snacks is to hold me over in-between meals. The snacks that do this best are ones that include protein. So whenever I plan out my snacks for the week, the first thing I make sure of is that they include protein. This helps to fill me up and keep me full!
Clean ingredients – I prefer to have snacks that are made with organic wholesome real ingredients. I try not to eat any ingredient that I can't pronounce. The cleaner the ingredient, the better the healthier the snack.
Low sugar – Again, I need a snack that's going to fill me up and keep me satisfied. If it's high in sugar, the only thing it's going to do is cause a crash and burn. Also, I prefer any sweetness in a snack to come from a clean source like honey or pure maple syrup. I don't like to purchase or make snacks with white processed sugar.
Under 200 calories – I work to stick to 1500 calories a day so I need a snack to be under 200, if not under 150 calories. This way I can fit snacks into my day without going over calories.
Why I Prefer To Make Homemade Snacks
Look, I'm not above purchasing store-bought snacks. I actually think that most brands have got with times and now offer a better selection of healthy snacks. You can actually check out my favorite store-bought keto snacks in this post. However, I try to make homemade snacks when I can.
Here's why:
I control the ingredients. If I want to use all organic ingredients or reduce the sugar or add nut butter, I can do that.
It saves money. Even though purchasing store-bought snacks are super convenient, it can also be very expensive, especially when you're purchasing organic high-quality snacks. Making homemade snacks even with the highest quality ingredients is always going to be more cost-efficient.
The issue with making some of these homemade healthy snack recipes every week is that it takes time. And when I'm focusing on getting breakfast, lunch, and dinners ready for the week sometimes the last thing I want to worry about is making homemade snacks too.
The solution that's worked for me to have homemade healthy snacks available and not have to make them every week is to take time once a month or so to stock my freezer.
A few hours once a month can get your freezer stocked for 4-6 weeks! This saves time, money, and calories!
The Benefits Of Freezing Snacks
Just like with other meals I freeze, the benefits of freezing snacks means I can make a large number of homemade healthy snack recipes in bulk when I have the time so I can have them available when time is limited.
This also means I don't need to depend on store-bought snacks because I have wholesome homemade snacks available.
This saves me time, money, and calories!
Tips For Freezing Homemade Snacks
Freeze in individual baggies, containers, or wrap individually. The goal of having snacks in the freezer means you can grab and go when needed. Also, having portion-controlled snacks makes it easier to stay on track.
Flash freeze into individual portions prior to freezing. If you're not able to freeze in individual containers, then flash freeze using a sheet pan prior to freezing in large bags or containers. Flash freezing makes it so the snacks don't stick together and you can grab what you need out of the bags. For example, if you freeze energy balls in one bag together, then it's possible they will stick together and freeze. Instead, lay on a sheet pan and freeze. When the balls are frozen, then place them into a larger freezer bag to freeze. When you want to pack some for a snack, then take out what you need.
Label with nutritional information. This also helps to stay on track and not overeat when adding snacks into the meal plan. I've found when the nutritional information is listed out I tend to make healthier choices.
Supplies Needed To Prep Healthy Snack Recipes
Here are the supplies I have available for preparing and freezing snacks!
To Prepare:
To Store:
Snack bags – If you're going to prepare and freeze snacks then you're going to need snack bags. I like quart size and snack size bags. These Stasher snack bags work great if you want reusable bags! However, there are many times I wash and reuse plastic snack bags when I just using them for snacks.
Mason jars – Mason jars are my go-to meal prep containers for everything and snacks are no exception. I use these 4-ounce mason jars and 6-ounce mason jars for nuts, trail mix, granola, parfaits, and even to pack energy balls in. I think mason jars are a great environmentally friendly meal prep container because they clean out nicely to be reused again.
Plastic wrap – I use plastic wrap to wrap up muffins, breakfast cookies, or individual slices of snack bread. Then, I'll freeze all the portions into a larger bag. So when I put lunches together, I can throw in a snack without having to spend time wrapping it. If I don't plan on using these snacks for on the go, then I won't wrap them.
Lunch bag – Of course, if we are eating this at home, we don't need a lunch bag. However, if you're planning to bring snacks to work or off to school with the kids, then I recommend getting a lunch bag that can hold lunches and snacks for the day. This Mazforce bag from Amazon is a good size to carry everything you need for the day. Of course, don't forget the ice packs!
The Best Healthy Snack Recipes You Can Freeze
Okay, let's get to the healthy snack recipes you can freeze.
Granola
I love making homemade granola. Mostly, because it makes my house smell amazing but also because I control all of the ingredients. Store-bought granola can be very high in sugar. When I make my own, I can control the amount of sweetener used.
I use granola in parfaits but my daughter loves to eat it like cereal!
How To Freeze Granola
Let the granola cool on the sheet pan then break it up into chunks/pieces and put into a mason jar or into freezer bags. Take out what you need and let it thaw in a bowl for about 10 – 15 minutes before using it.
The Best Granola Snack Recipes
Here are my favorite granola recipes: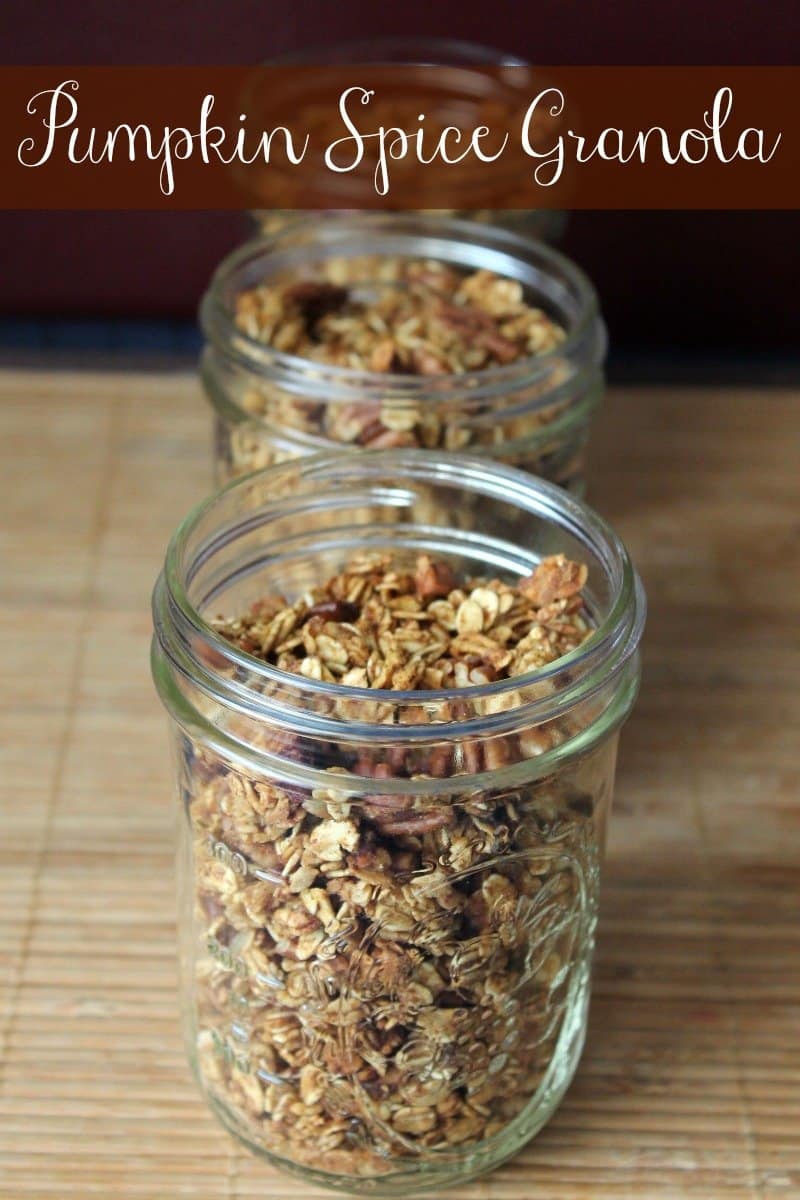 Granola Bars
Healthy clean granola bars are expensive! That's one of the top reasons I like to prepare them homemade. Then, I can get all the health benefits without the huge price tag.
How To Freeze Granola Bars
After you make the granola bars, let them cool and then cut them into portions. Wrap each portion in plastic wrap and then place them in a larger plastic bag or container and freeze. Take out the granola bar 15 minutes before you want to eat it and then enjoy!
The Best Granola Bar Recipes
Here are 2 granola bar recipes I love:
Energy Balls
Out of all the healthy snacks I make, I think I make energy balls the most. They are so simple to throw together and use basic pantry ingredients.
You can read this energy balls post for all of my tips and tricks for making energy balls.
How To Freeze Energy Balls
You can do this in a couple of different ways.
Place the energy balls side by side into a glass meal prep container and freeze. Take out what you need when you're ready to eat one.
Flash freeze on a sheet pan. When they are frozen, place them into a large freezer bag. Again, take out what you need when you're ready to eat.
Frozen energy balls only take about 10 minutes to thaw.
The Best Energy Ball Snack Recipes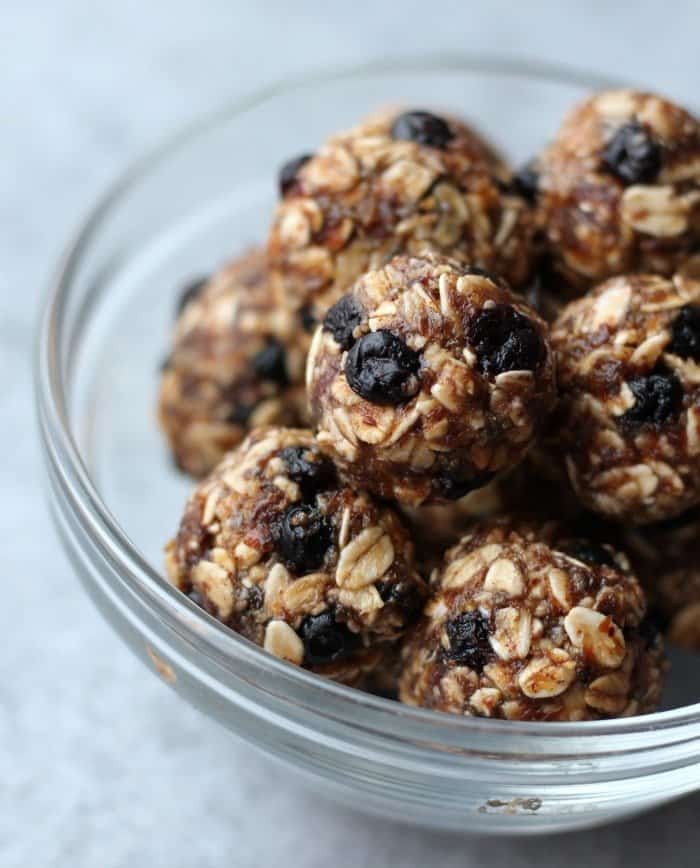 Baked Oatmeal Cups
I usually make baked oatmeal cups for breakfast but they also make a good snack if you're looking for something sweet and wholesome.
How To Freeze Baked Oatmeal Cups
After the oatmeal cups have cooled off, then wrap each one individually in plastic wrap and then place them into a large labeled freezer bag or reusable bag.
Or, you can place them into a freezer bag and lay flat until the oatmeal cups are frozen. After the cups are frozen, move the bag wherever you want in the freezer.
When you're ready to eat, remove the plastic wrap and microwave for 1-2 minutes or until heated through.
The Best Oatmeal Cup Snack Recipes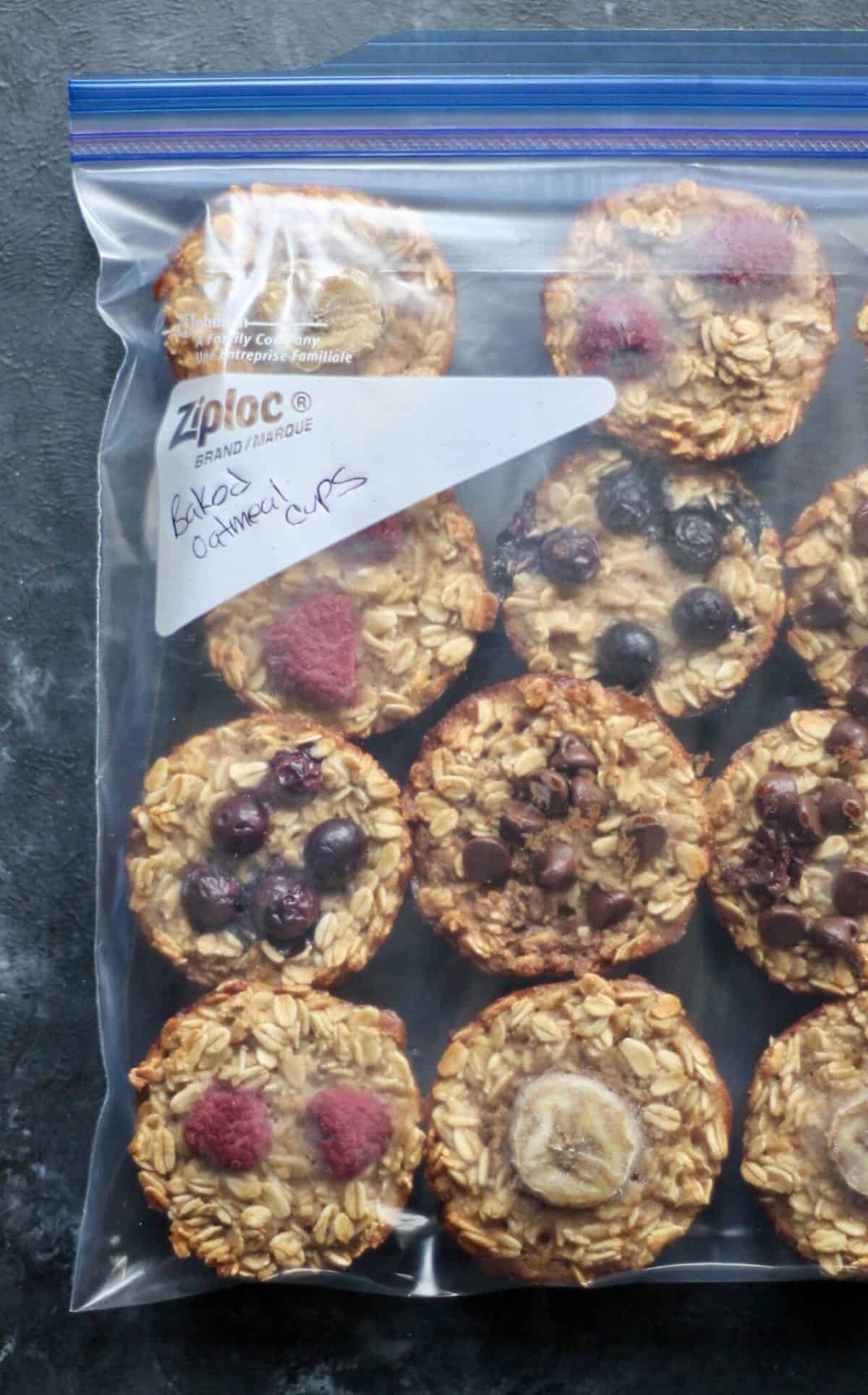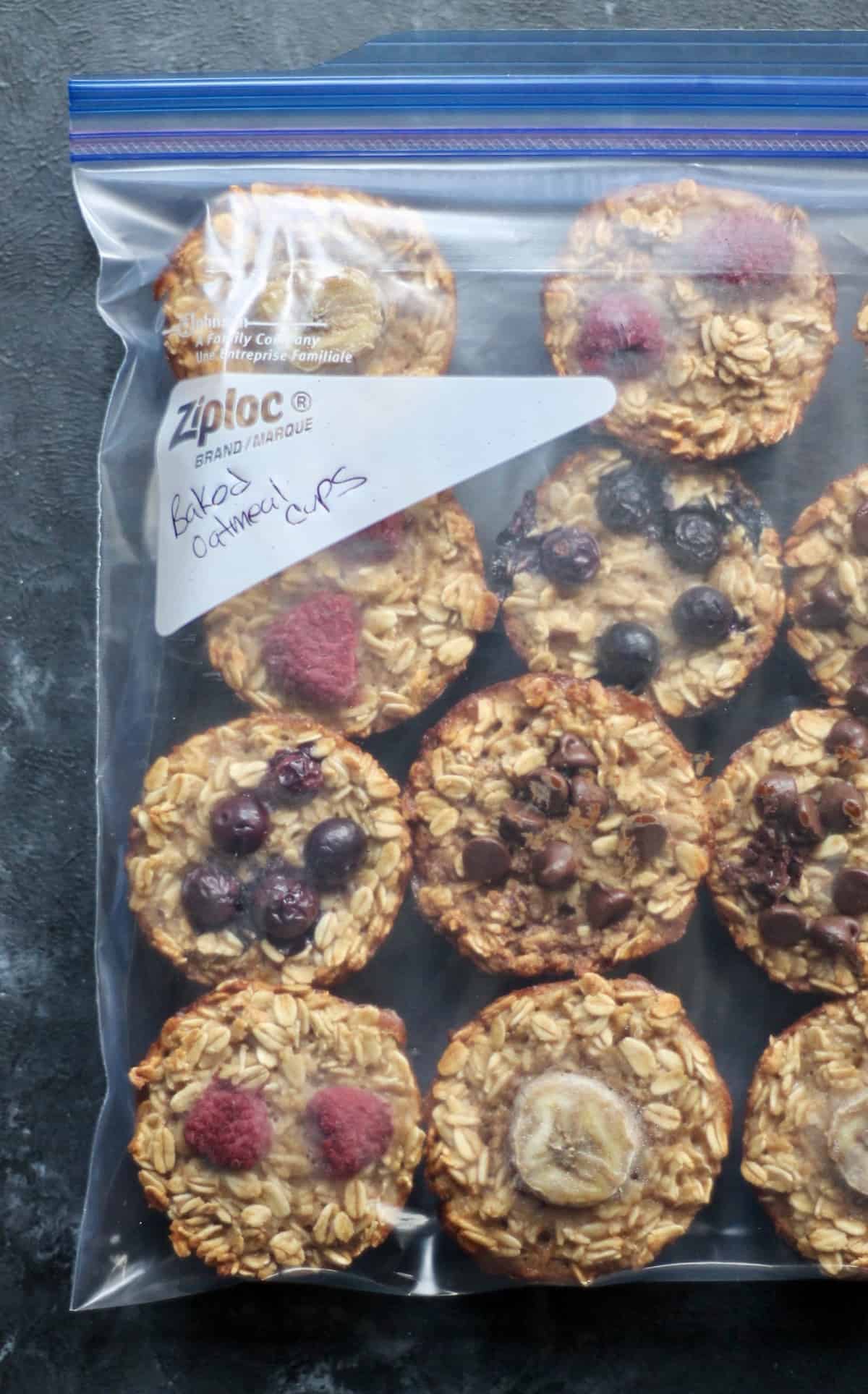 Muffins & Quick Breads
Who doesn't like a good muffin or quick bread for a morning snack? I make quick breads and muffins often in my house because there's always bananas or some other fruit that needs to be used up. Not to mention both are so easy to make ahead of time for the week. The kids love getting a slice of banana bread or a blueberry muffin in their lunches!
How To Freeze Muffins And Quick Breads
To freeze muffins, I recommend, after they have cooled, wrapping them in plastic wrap and then freezing in large freezer bags or reusable bags. For quick breads, I recommend, after the bread has cooled, slicing it into portions and then wrapping portions in plastic wrap and putting them into a large freezer bag or reusable bag and freezing.
When you're ready to eat, let thaw on the counter for 10 -15 minutes or remove from the wrapping and warm them up in the microwave for 1-2 minutes.
The Best Muffin And Quick Bread Recipes
Smoothie Packs
I know I always root for smoothies as being the best breakfast food but don't overlook it for a snack recipe either. Whenever I'm feeling egg recipes for breakfast or something other than smoothies, I tend to stick my smoothie in at snack time.
Truth be told I miss my smoothies when I don't drink them even if I'm craving something else.
How To Freeze Smoothies
Having frozen smoothie packs ready to blend is the perfect way to whip up a quick smoothie at snack time.
The Best Smoothie Recipes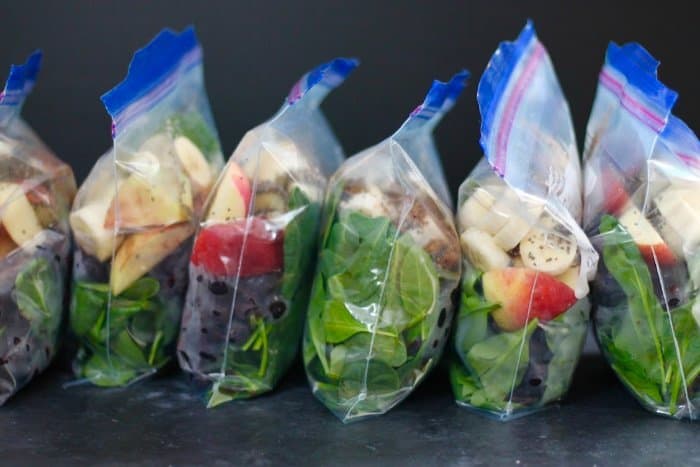 Egg Bites
I've been sharing more sweet snacks in this post but if you need a high protein snack to freeze ahead of time, then consider freezing some egg bites!
These are great to heat and eat during the day.
How To Freeze Egg Bites
After the egg bites are cooked and cooled, you can flash freeze on a sheet pan and then put the frozen egg bites into a large freezer bag or reusable bag and freeze.
Or, you can place the cooked and cooled egg bites into a glass meal prep container and freeze.
Take out what you need and warm them up for 1-2 minutes in the microwave or until heated through.
The Best Egg Bite Snack Recipes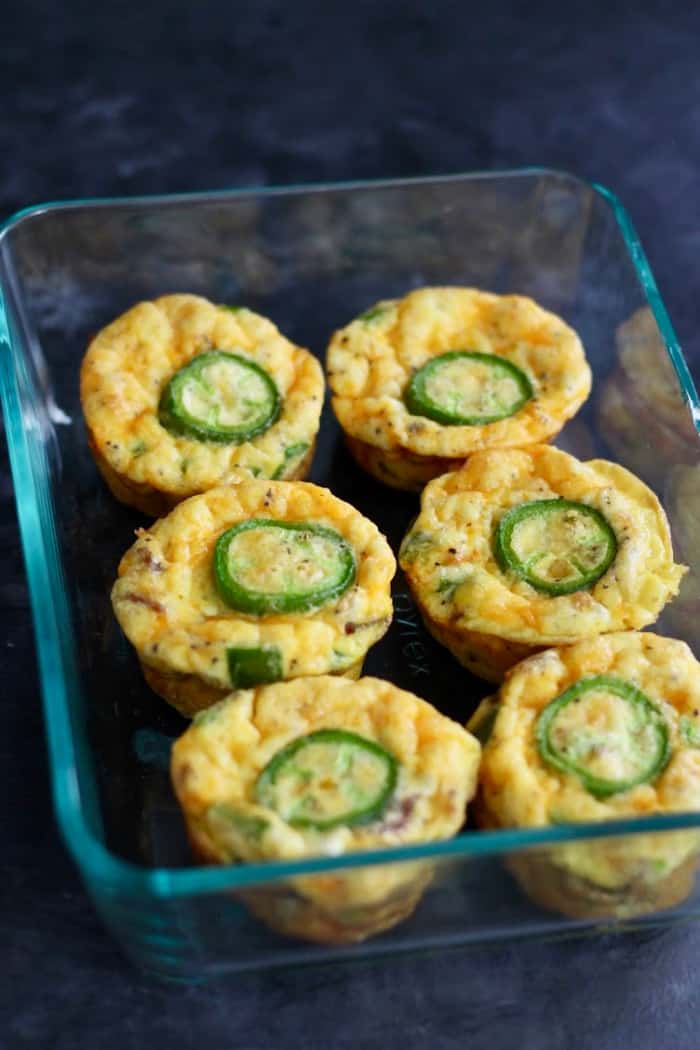 All of these awesome healthy snack recipes are yummy and easy to make all at the same time. You can easily make a month's worth of healthy snacks by choosing a few of these recipes. Share a picture and tag me on Instagram or Facebook if you decide to try any of these!