Everyone knows that breakfast is the most important meal of the day. But, not just any breakfast. The best breakfast is filled with protein to help you stay full and satisfied all morning. The easiest and cheapest way to add protein to your mornings is with eggs. Here are my favorite high protein breakfast ideas using eggs!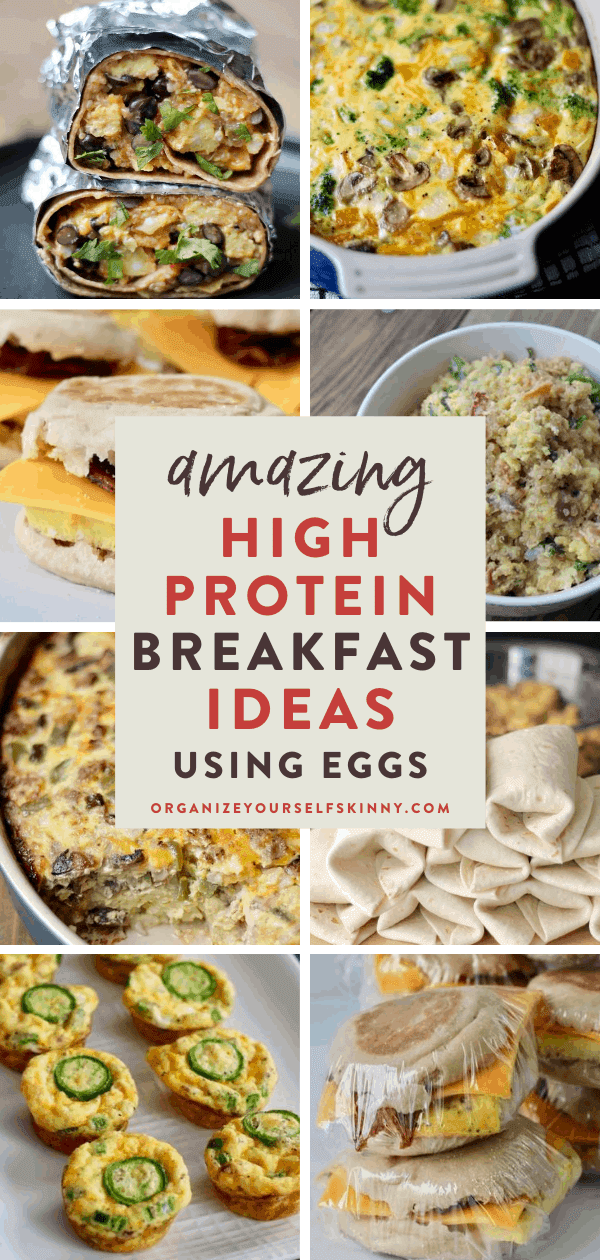 A few months back, I wrote a post about high protein breakfast ideas that don't include eggs. Personally, I love eggs but not everybody does. I also get a lot of requests for vegan breakfast ideas so I put that post together to share recipes and ideas on how to include protein in your morning without eggs. That post has been a huge hit – it's been pinned almost 20,000 times since I shared it!
Anyway, I wanted to do a follow-up post but this time focusing on egg recipes. As many non-egg lovers as there are, I know there are probably just as many people who love a good egg breakfast recipe in the morning. So, in this post, I'm going to share all my best high protein breakfast ideas that include eggs.
Also, I'm going to share tips to meal prep those recipes so you can prepare them on the weekend to eat during the week!
Reasons Why I Love Eating Eggs For Breakfast
Cheap. Even the high-quality organic eggs I get are less than $4 for a dozen! This means you can make a healthy high protein breakfast for very cheap.
Easily accessible. You can purchase eggs just about anywhere. Seriously, even my local gas station carries eggs.
Easy to cook. I don't think it gets much easier than scrambled eggs but even more complicated recipes take minimal cooking skills.
Versatile and delicious. You can add so many different ingredients to eggs. Leftover vegetables? Chop them up and add them in. Leftover quinoa? Stir it in. Want it spicy? Then, squirt in some sriracha or hot sauce. Whatever you can imagine, you can create!
Frequently Asked Questions About Breakfast Recipes
Before I share my favorite recipes, I just wanted to go over some questions.
Why Is Protein Important To Eat In The Morning?
Starting your day with breakfast has many perks but adding protein to the mix really elevates those benefits.
Helps you stay full longer. I think feeling hungry an hour after eating breakfast is one of the worst feelings ever. Eating a high protein breakfast fills you up fast and keeps you full much longer than a high carb sugary breakfast.
Helps you lose weight. Not only does protein keep you full longer which prevents you from being hungry and eating more, but it also jump-starts your metabolism. It actually takes more energy to burn protein than carbs; which ultimately means it burns more calories.
Helps you make better food choices throughout the day. When you start the morning with a healthy breakfast full of protein, then this means the first choice of the day was a good one. This helps you continue to make healthy food choices for the rest of the day. How you start your morning is typically how you end the day!
Are Egg Whites High In Protein?
Yes! If you want to keep the fat low, then you can easily remove the yokes and just eat the whites. Egg whites make up about 67% of the protein. However, removing the yolk will change the taste and texture of the egg recipe. Most egg white recipes will be more rubbery and lack flavor.
Personally, I like to keep at least some of the yolks when making a recipe so it still has that creamy texture. For example, if I'm making an omelet, I'll use 2 egg whites and 1 yolk. For egg bake recipes, I'll use half and half.
What Is Considered A High Protein Breakfast?
There are all kinds of different opinions on the percentage of protein to be considered a high protein meal. For me, I try to eat between 15 – 20 grams of protein in the morning.
It's important to keep in mind that while you want to eat a high protein breakfast you still need to keep calories under control. I think a healthy breakfast is between 350 – 400 calories and 15 – 20 grams of protein.
If you can get the fiber up in there too, then even better.
How To Add Fiber To Egg Breakfast Recipes
Speaking of fiber. Not only do I like to eat a high protein breakfast, but I like to include a good dose of fiber when I can.
Eggs don't have any fiber in them, so if you want fiber, you need to be intentional with the ingredients you add.
Vegetables. Any and all vegetables go great in all kinds of egg recipes. I put leftover roasted vegetables in omelets, scrambled eggs, and egg bakes.
Quinoa. Quinoa is a great ingredient to add when you want the extra fiber, protein, and omega 3's. I stir in a ¼ cup to scrambled eggs and egg bakes.
Beans. I know it might seem weird to add beans to eggs but trust me, it's tasty! Beans are a great way to add fiber and protein to your egg recipes. It's also a great way to add some extra bulk, especially to vegetarian dishes. I love adding some to breakfast burritos and scrambled eggs!
Meal Prep Tips For High Protein Breakfast Ideas And Recipes
The great thing about egg recipes is they work great for meal prep! Most of these breakfast recipes can be made ahead of time, so you can have a healthy breakfast waiting all week.
I'll go over some meal prep tips with each of the recipes I share.
Breakfast Burritos
Breakfast burritos started my love affair with meal prep and freezer cooking. I used to be a die-hard drive-thru breakfast girl. Obviously, that made it difficult to drop any weight. Instead of giving up my favorite breakfast burritos, I created them at home instead.
These homemade breakfast burritos already have a good amount of protein because of the eggs and sausage. But, you can also add in some extra protein to these burritos by mixing in beans or quinoa; or bulk them up with some veggies (like these vegetarian breakfast burritos!).
You can also make these low carb by using low carb wraps!
How To Meal Prep Breakfast Burritos
You can meal prep these 3 different ways.
You can make the filling separately, warm it up, then put together the burritos the morning you want to eat them.
Or, you can put the burritos together completely. Wrap them in plastic wrap or foil and then warm up in the microwave or toaster oven the morning you want to eat them. Obviously remove the wrapping before warming up in the microwave. You can leave the foil on if you're warming up in the toaster oven.
My favorite way is to make a huge batch like 25 – 30 at a time! Wrap them in plastic wrap or foil and freeze. When you're ready to enjoy them, remove the wrapping and then wrap in a paper towel. Heat in the microwave for 2-4 minutes or until heated through.
Pro Cooking Tip: Put a coffee cup of water in with burritos as it's cooking to keep the tortilla from drying out.
You can learn more about make-ahead breakfast burritos in this post.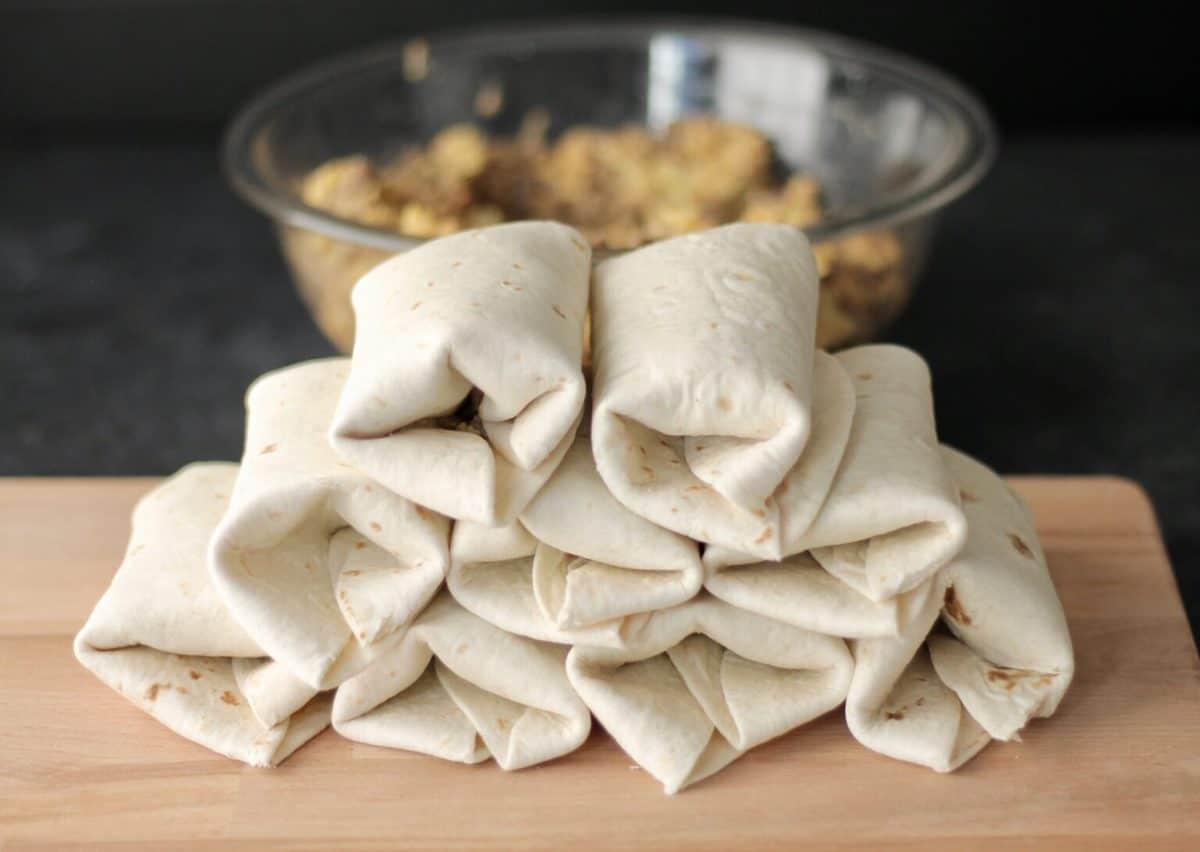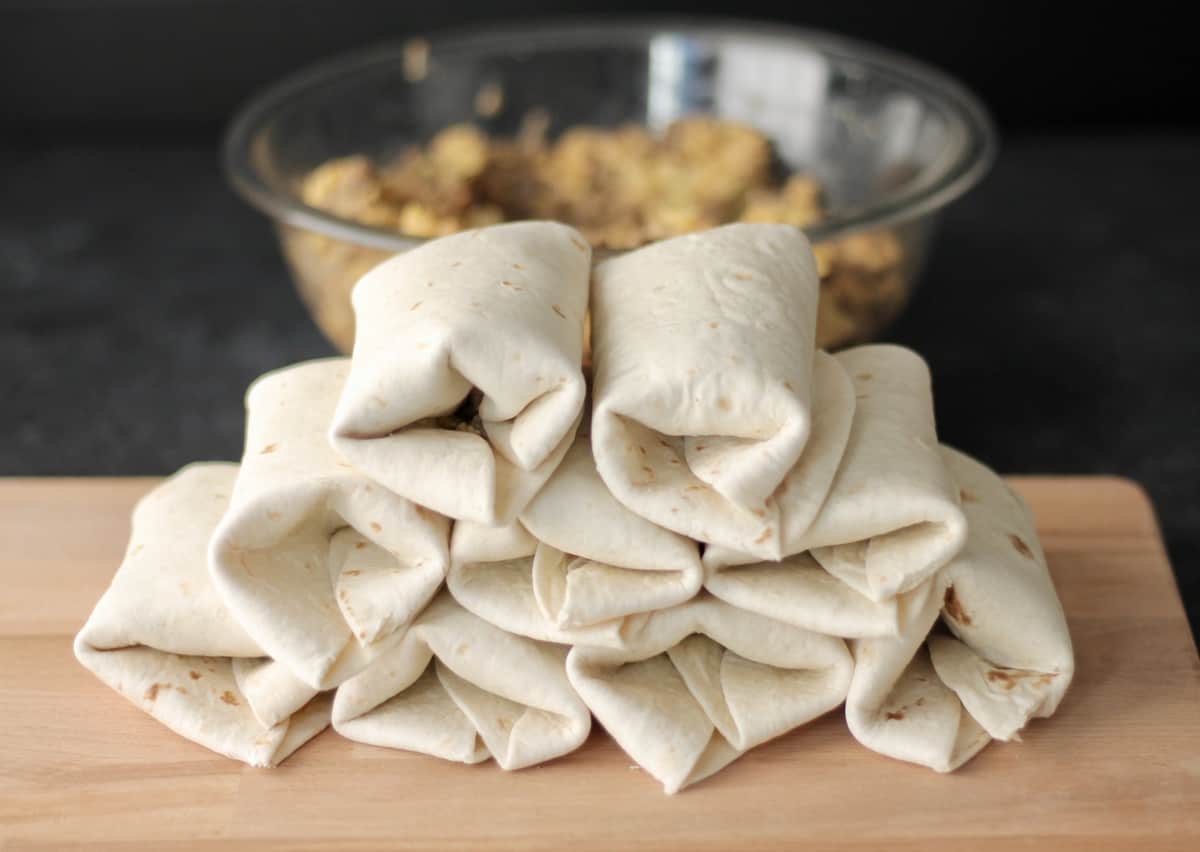 Breakfast Sandwiches
Another super tasty and high protein breakfast idea that is a great alternative to fast-food breakfast favorites are these breakfast sandwiches. These come together super quick and can be made on Sunday for the week or made in a big batch to freeze!
Just like with the burritos, you want to remove the plastic wrap and then wrap in a paper towel and cook in the microwave 2-3 minutes or until heated through. Again, add a cup of water to keep the bread from drying up while it cooks.
I like to make these with bacon but they are also good with sausage patties or Canadian bacon. If you don't want to use meat, then vegan sausage patties or bacon works well too.
You can read more tips and get my go-to recipe in this frozen breakfast sandwiches post.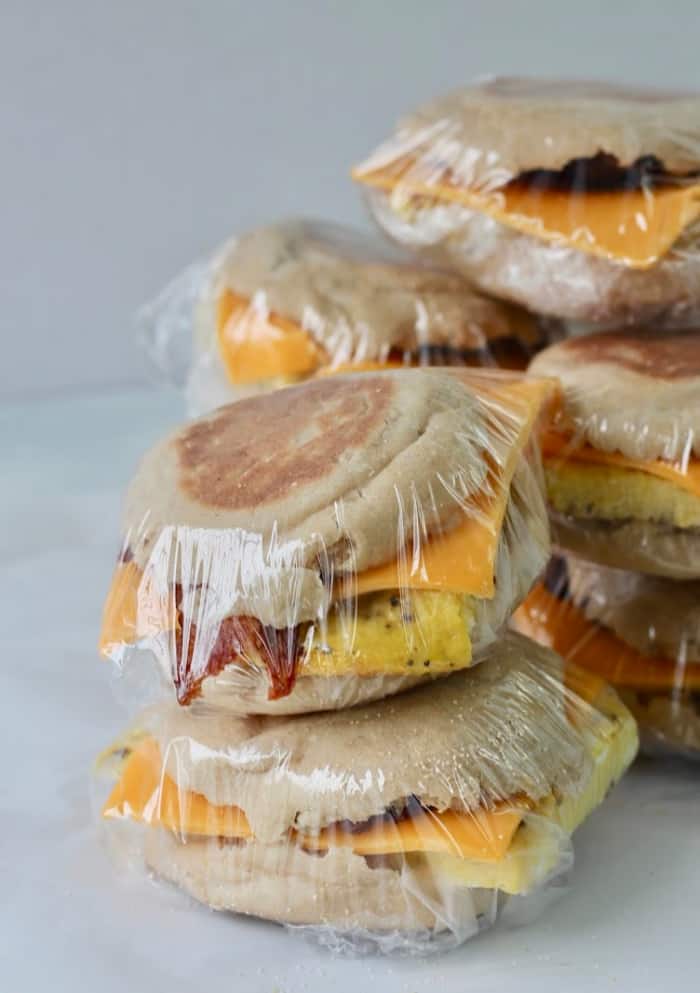 Egg Bakes
When I need to make a quick high protein egg recipe for the week, I always turn to egg bakes. These can also be turned into egg cup recipes by dividing the recipe among a muffin pan and baking it.
Egg bakes are super easy to make! All you do is mix the ingredients together, pour into a pan, and then bake in the oven. You can also bulk up any egg bake recipe with vegetables, quinoa, or beans.
Whatever you want to add, simply stir it into the egg bake before cooking.
They are also easy to meal prep! Once the eggs are cooled, then put into a glass container and store in the refrigerator. When you're ready to eat, just warm up it in the microwave for 1-2 minutes or until heated through.
You can freeze egg cups or portioned out egg bakes, but for the most part, I just make them on Sunday and keep in the refrigerator to eat for the week.
Here are some egg bake recipes I make often: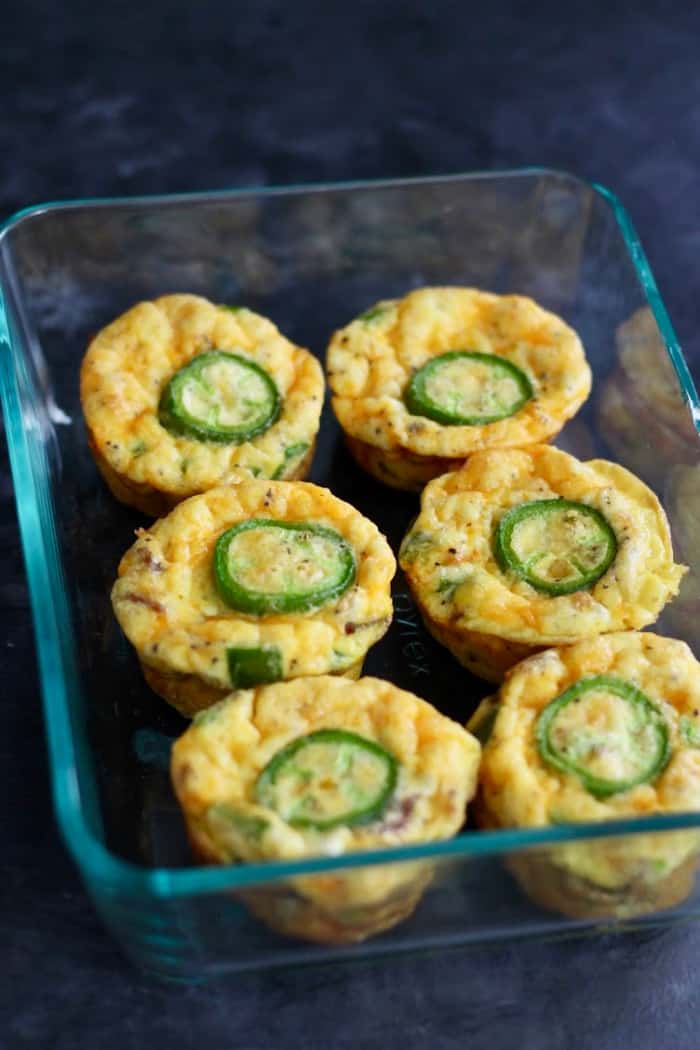 Quinoa Breakfast Bowls
These breakfast bowls are filled with protein, fiber, and flavor! They are basically like the filling of a breakfast burrito (but without the tortilla) which makes them a great low carb breakfast.
You can make these on Sunday and eat all week or freeze into portions for easy heat and eat breakfast in the morning.
I love using quinoa in these bowls but you can substitute rice, bulgur, or leave the grains out altogether if you want it to be high protein and low carb.
These breakfast bowls are super versatile as well. You really can add just about any ingredient you have leftover in the refrigerator.
These are my favorites: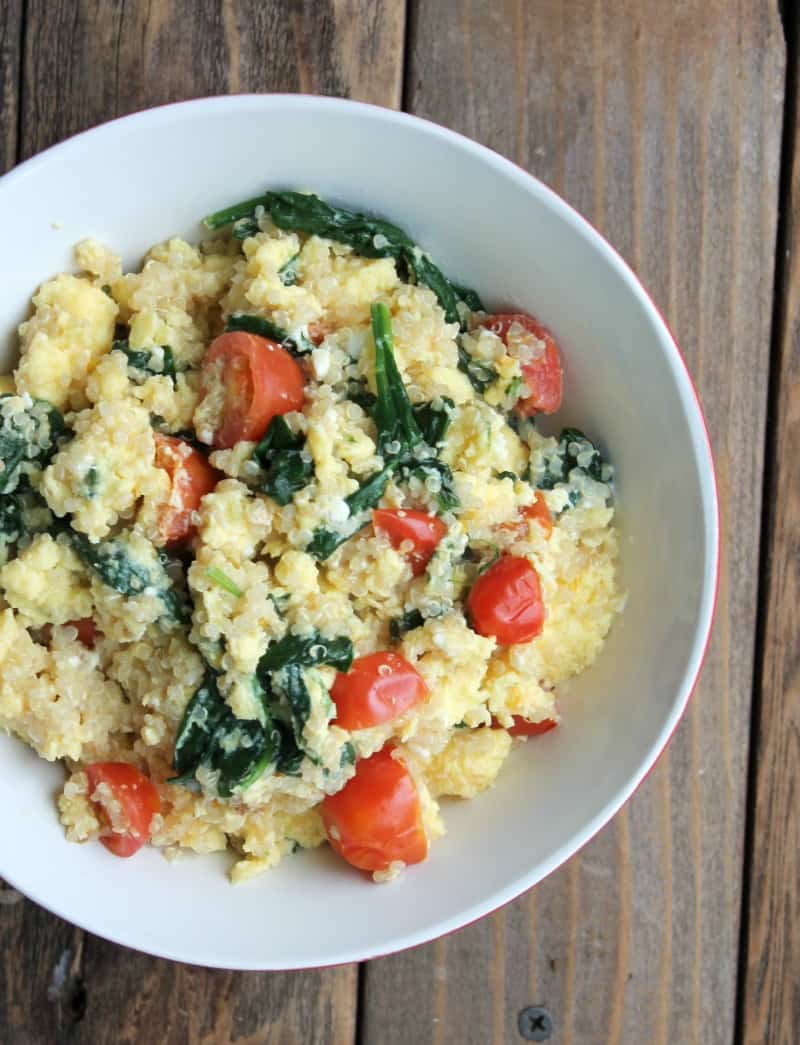 Avocado Toast with Egg
We are HUGE avocado toast fans at my house. These are so simple to throw together and can be layered with all kinds of goodies. Avocado alone is high in protein and good fats so you don't really need anything else to get a healthy breakfast. But, if you want some added protein and substance, then adding a scrambled or over easy egg will send your avocado toast to the next level.
It's really to prepare an avocado toast recipe with eggs. However, if you want to meal prep it then you can easily cook the scrambled eggs ahead of time and then warm up when you're ready to eat.
You can learn more about creating avocado toast recipes in this post.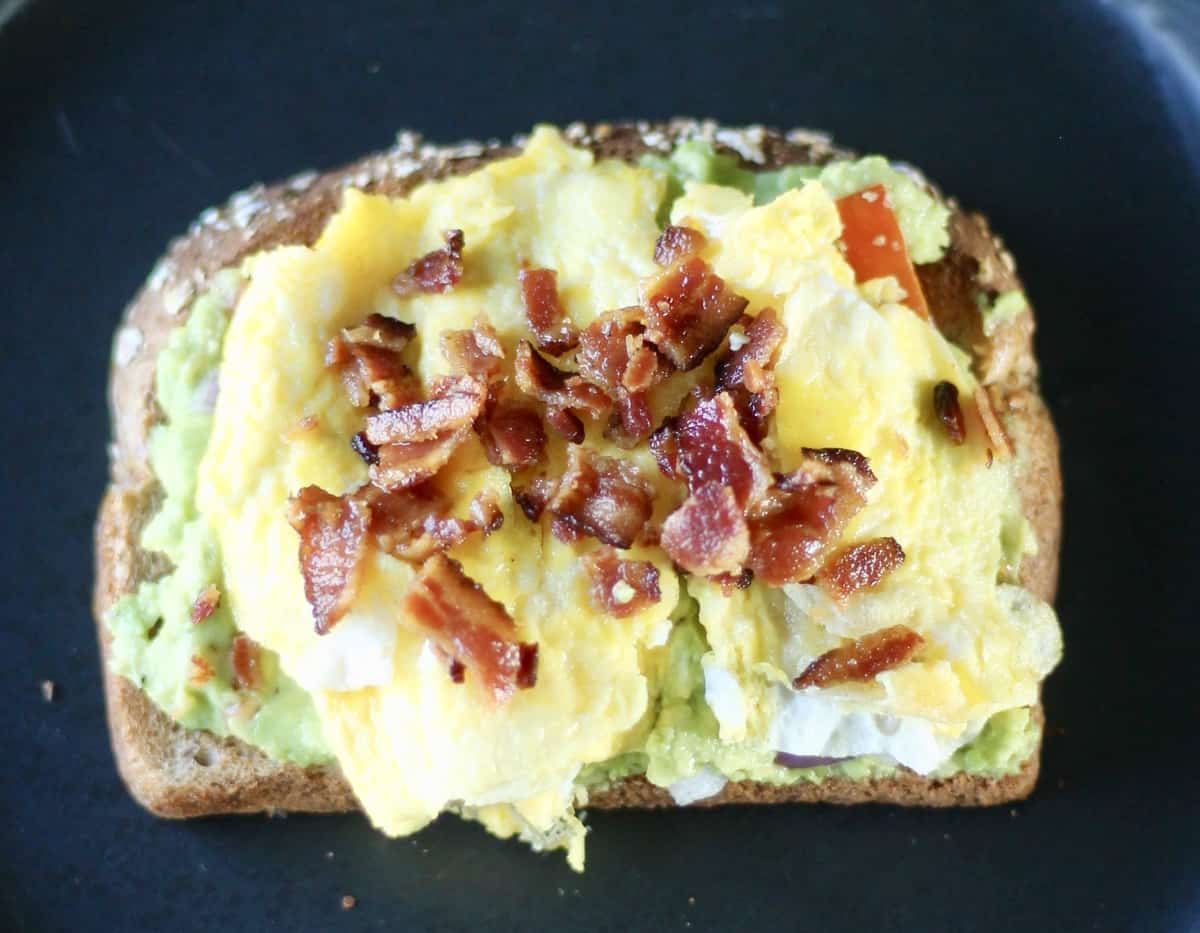 Omelet Jars
Where are all my omelet fans?! This high protein breakfast idea is for you. If you like filling up on omelets with all kinds of meats and veggies but have zero time in the morning to do all the work, then putting together omelet jars on Sunday is the solution. You can even freeze these jars to use later on in the month.
You can read more about omelet jar tips, ideas, and recipes in this post.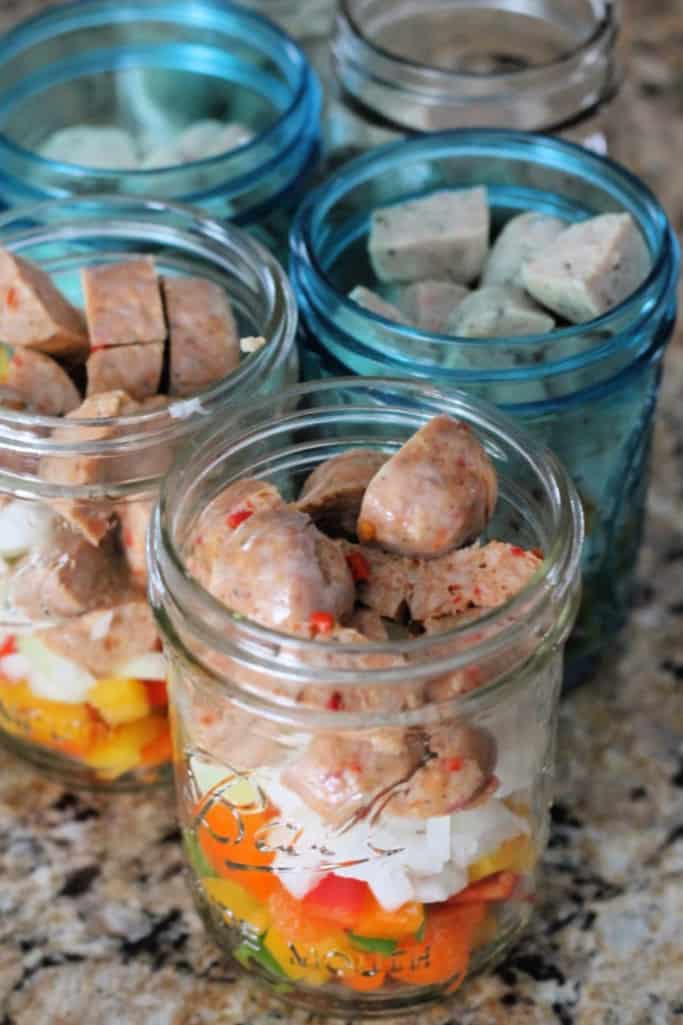 Those are my best high protein breakfast ideas using eggs. If you have other ideas to add please leave them in the comments. I'm always looking for new egg recipe ideas!
Share a picture and tag me on Instagram or Facebook if you decide to try any of these high protein breakfast ideas!