This delicious kale and eggs quinoa bowl recipe is filled with kale, bacon, and eggs. It's can be prepared ahead of time for a healthy protein packed breakfast all week.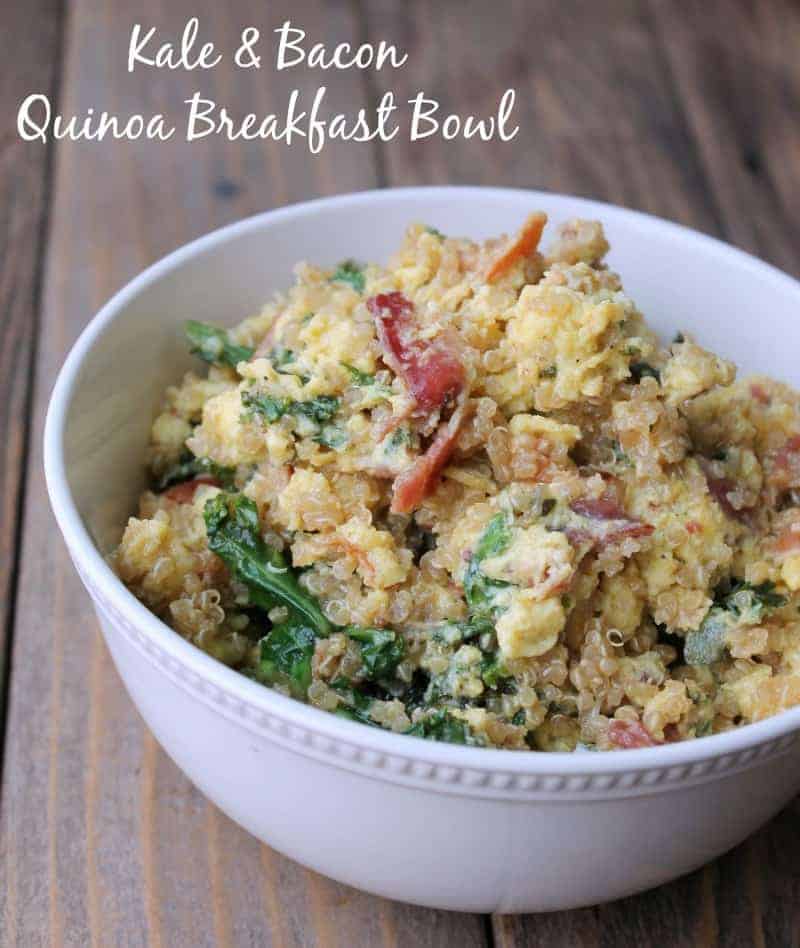 Where have quinoa breakfast bowls been my whole life? OH MY GOSH! I love love them. Yes I might be getting a little too excited about quinoa but these are delicious. Also, they are filled with protein, fiber, and lots of wholesome nutrition. Win all around!
Typically, I'm a green smoothie girl in the morning. I have my best days when I start it with a glass of green goodness. But…from this point forward when I need to switch it up, or craving some eggs, THIS is what I'm having.
Adding quinoa to eggs is nothing short of genius. Let me tell you about this discovery of mine. I accidentally made an obscene amount of quinoa earlier in the week.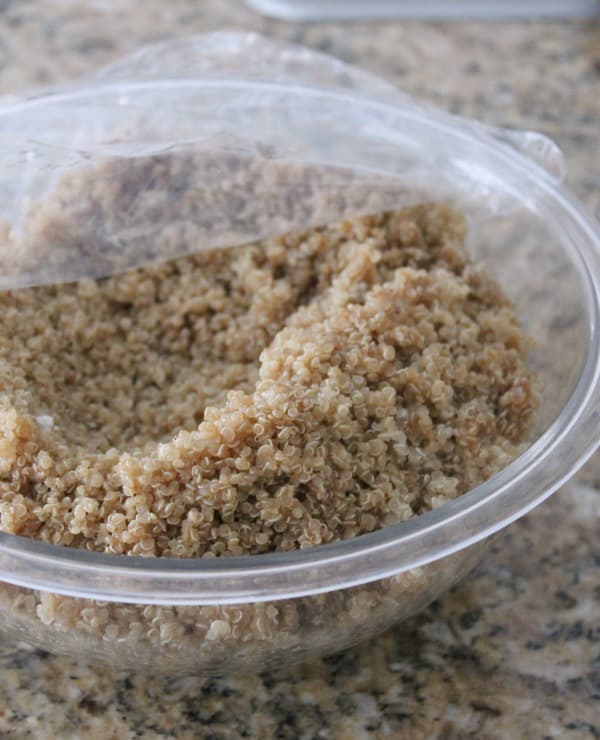 For my first quinoa bowl I used kale, eggs, and bacon. No real reason other than that is what I had in my refrigerator. Actually, I cooked up bacon earlier in the week to use in a new egg bake recipe I was going to prepare. I was going to use the kale in that recipe too. Anyway, I decided to switch gears and use that same concept but using quinoa.
How to Make a Kale and Eggs Quinoa Bowl
The first thing I did was cook up the kale. I highly recommend removing stems and chopping it fine. You want the kale to distribute throughout the eggs and quinoa. Next time I make this I will chopped the kale even finer.
Kale cooks down like spinach does. It takes a little longer but eventually it does cook down. I used about 3 cups of chopped kale and cooked it in a touch of olive oil.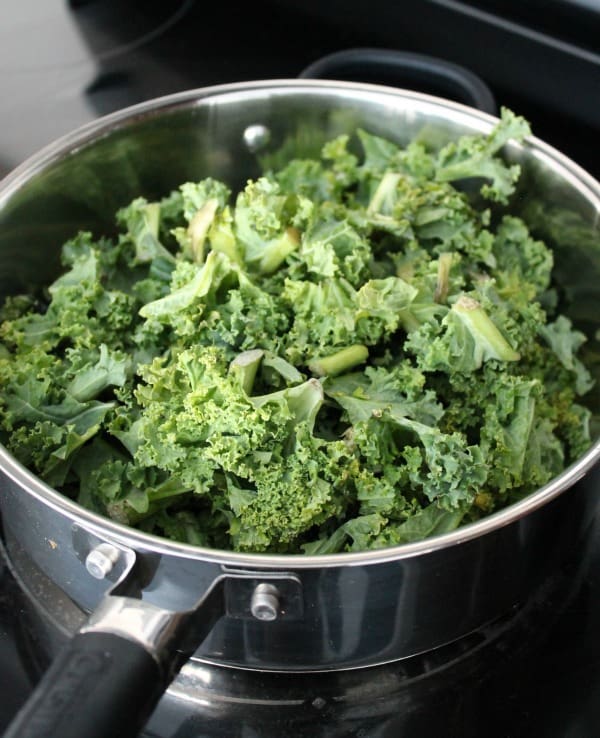 When it started to cook down I stirred in the cooked chopped bacon. I used 1 cup of bacon. This is about 1/2 lb of uncooked bacon. I had this bacon stored in my refrigerator so it was recipe ready. All I needed to do was throw it in with the kale.
As the bacon cooks it releases some oil. This helps cook the kale more and releases all kinds of bacon goodness into the power veggie.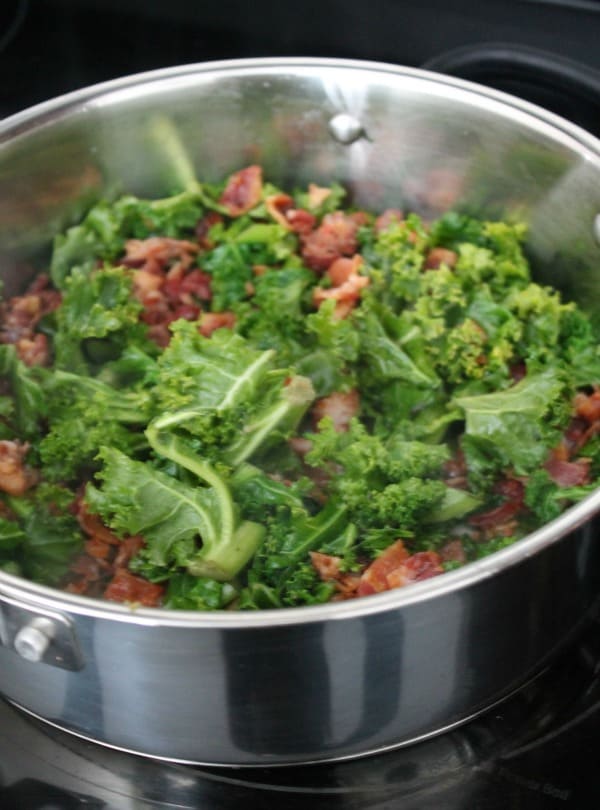 As the kale and spinach cooked I whisked together 12 eggs, 1/4 cup plain greek yogurt, and some seasonings.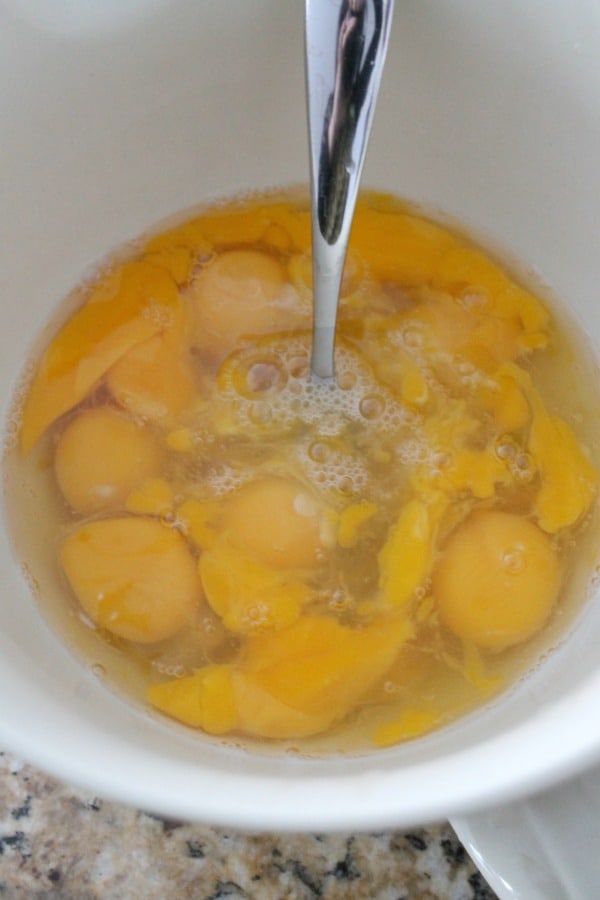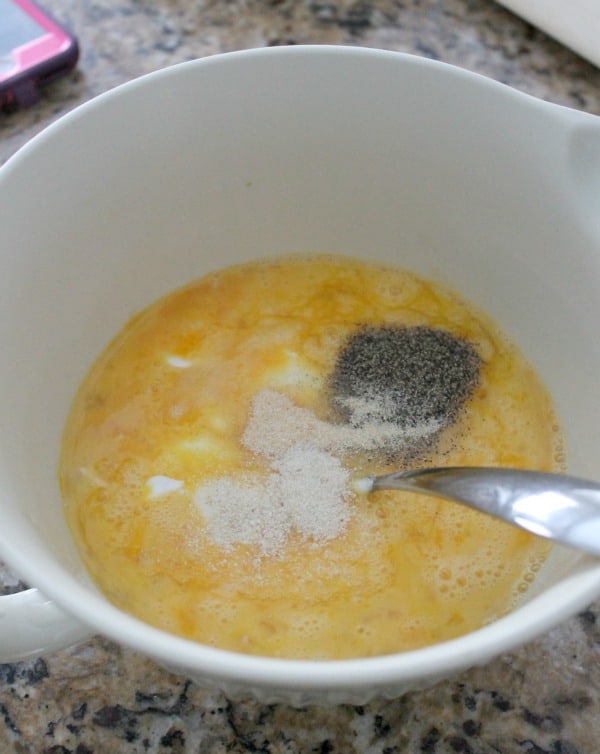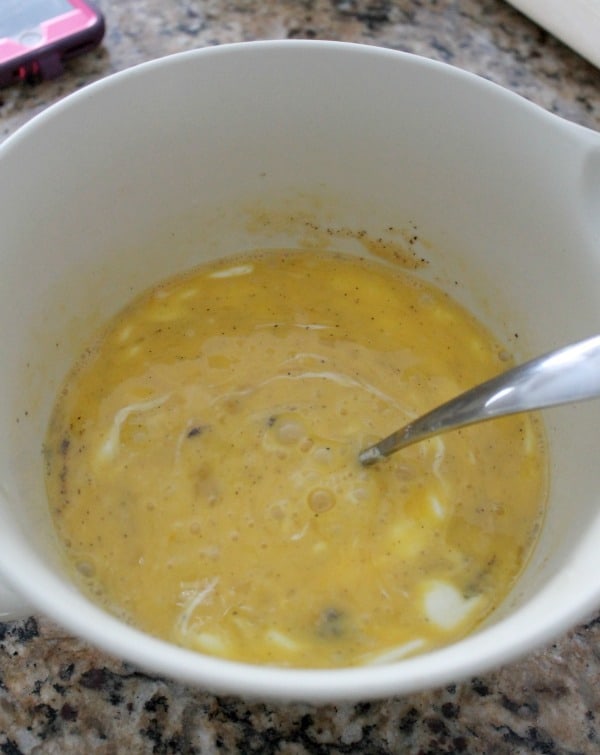 Then I poured the egg mixture into the kale and spinach. As the eggs cook the kale will really start to cook down. If you're not using a nonstick pan you might get some of the eggs sticking. I just kept stirring the mixture and that seemed to help. You can always spray with nonstick spray before adding in the kale.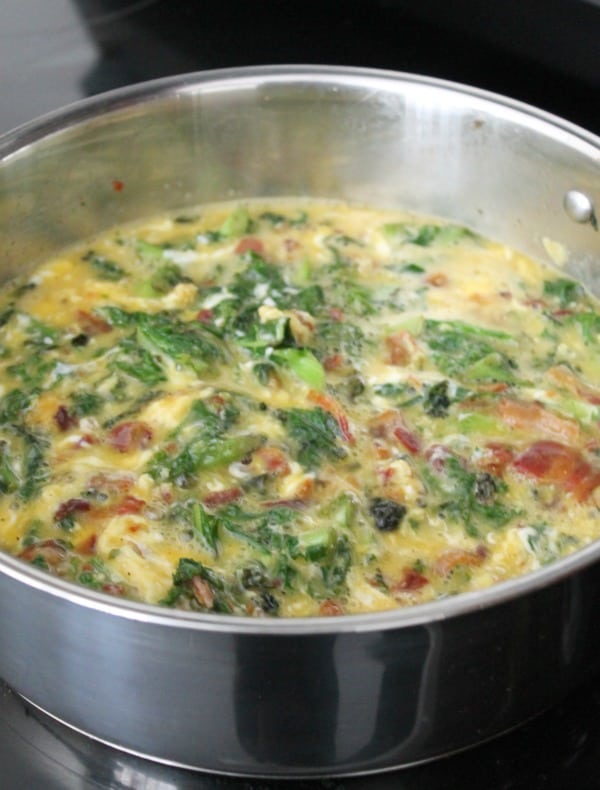 After the eggs are set stir in the quinoa and cheese. I can't even tell you the excitement I felt as I waited for this to cook.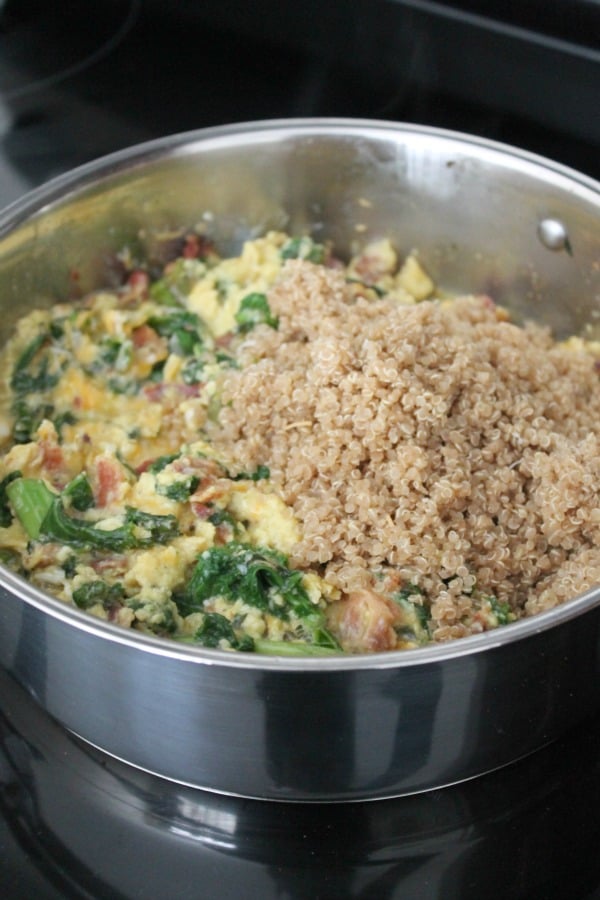 Give the mixture a couple stirs and then dig in.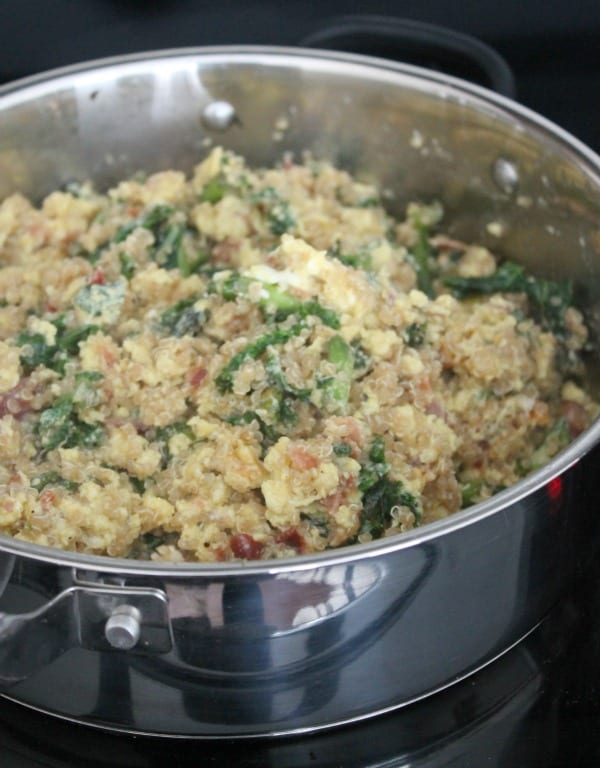 It's not the prettiest recipe I ever made but it doesn't matter because this quinoa breakfast bowl is AWESOME. I loved it.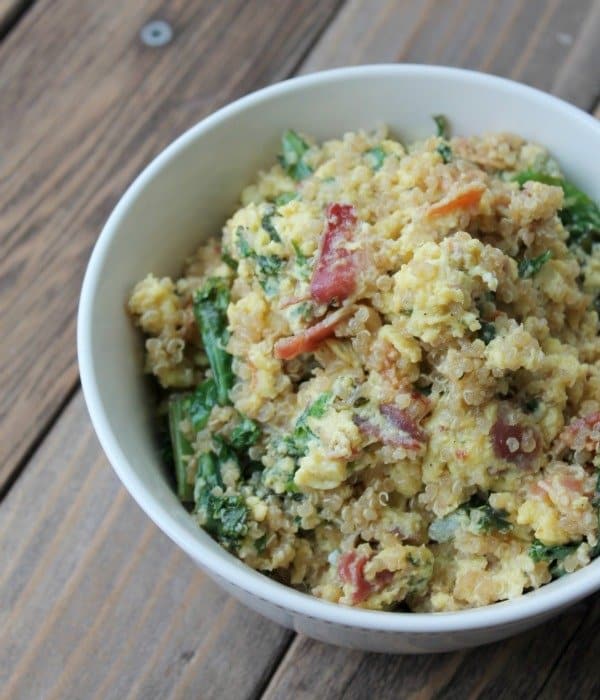 I love the flavor of cooked kale. And the bacon…oh the bacon. It feels so naughty to eat but no guilt needed here.
This entire recipe makes about 6 generous 1-cup servings. Each serving is 304 calories, 16 grams fat, 3 grams fiber, and 24 grams of protein. You could lower the fat by using some egg whites in place of the whole eggs. This recipe will fill you up all morning.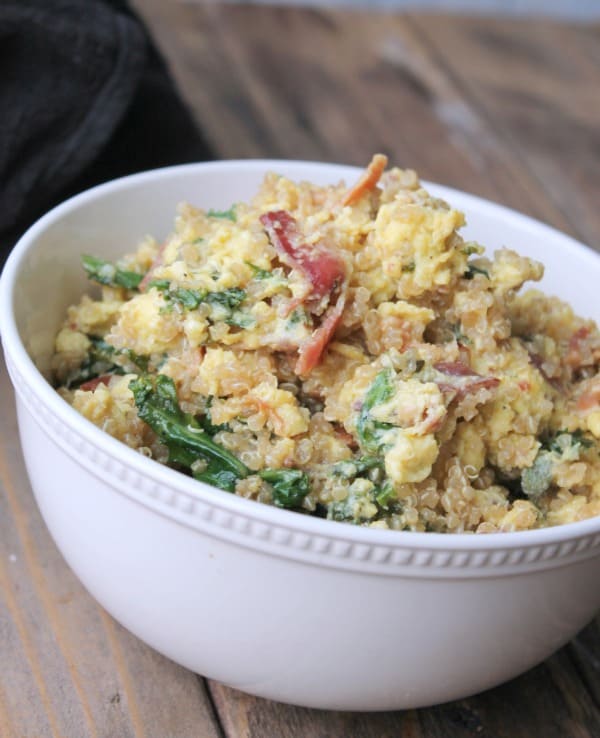 And it keeps great in the refrigerator for up to 5 days and in the freezer. I froze mine in the meal prep containers you see below. I bought them from Amazon. All I did was microwave for 3-4 minutes or until it was hot. This makes a perfect grab and go breakfast recipe.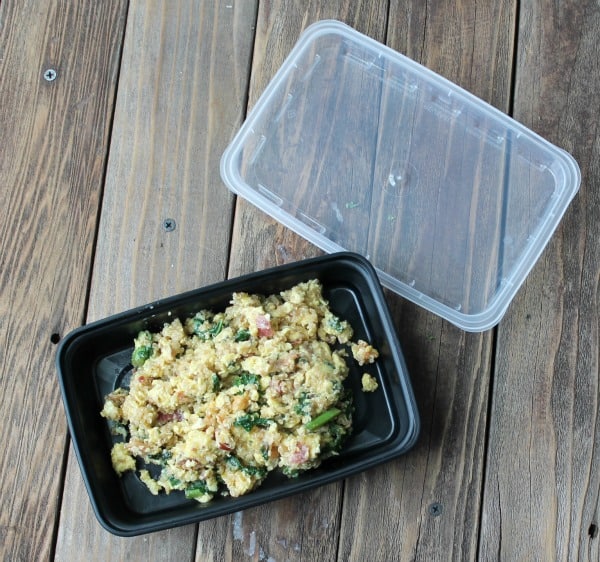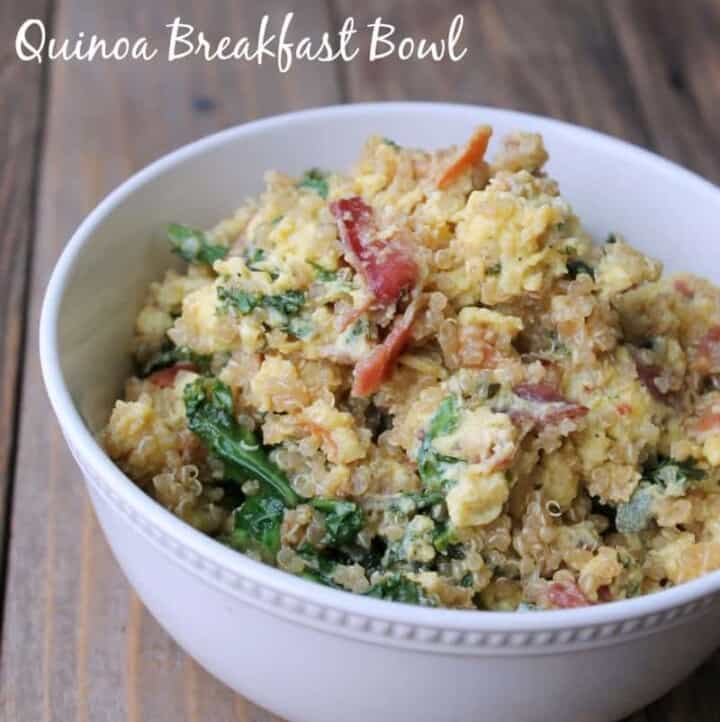 Kale and Eggs Quinoa Bowl
This delicious kale and eggs quinoa bowl recipe is filled with kale, bacon, and eggs. It's can be prepared ahead of time for a healthy protein packed breakfast all week.
Print
Pin
Rate
Ingredients
12

whole large eggs

¼

cup

plain greek yogurt

½

teaspoon

salt

½

teaspoon

pepper

½

teaspoon

granulated garlic

½

teaspoon

onion powder

1

teaspoon

olive oil

3

cups

kale

stems removed and chopped fine

1

cup

cooked and crumbled bacon

2

cups

cooked quinoa

½

cup

shredded cheddar cheese
Instructions
In a large bowl whisk together eggs, yogurt, salt, pepper, granulated garlic, and onion powder. Set aside.

In a large pan heat olive oil on medium heat until hot. Add in the kale and cook until slight wilted.

Stir in the bacon and cook until the kale is a bit more wilted.

Stir in the egg mixture into the kale and continue to stir as it cooks. You want the consistency of scrambled eggs. This takes about 7-8 minutes.

After the eggs are set stir in the quinoa and shredded cheddar. Stir until all of the ingredients are combined. Serve hot or store for later.
Notes
Make -ahead instructions
Cook completely and then store in the refrigerator up to 5 days or freezer up to 2-3 months. I recommend portioning out the recipe before storing.
Nutrition
Serving:
1
g
|
Calories:
304
kcal
|
Carbohydrates:
18
g
|
Protein:
24
g
|
Fat:
16
g
|
Saturated Fat:
6
g
|
Fiber:
3
g
|
Sugar:
1
g