Homemade breakfast sausage mixed with eggs, cheese, salsa, and quinoa makes for a hearty, healthy, and absolutely delicious breakfast recipe.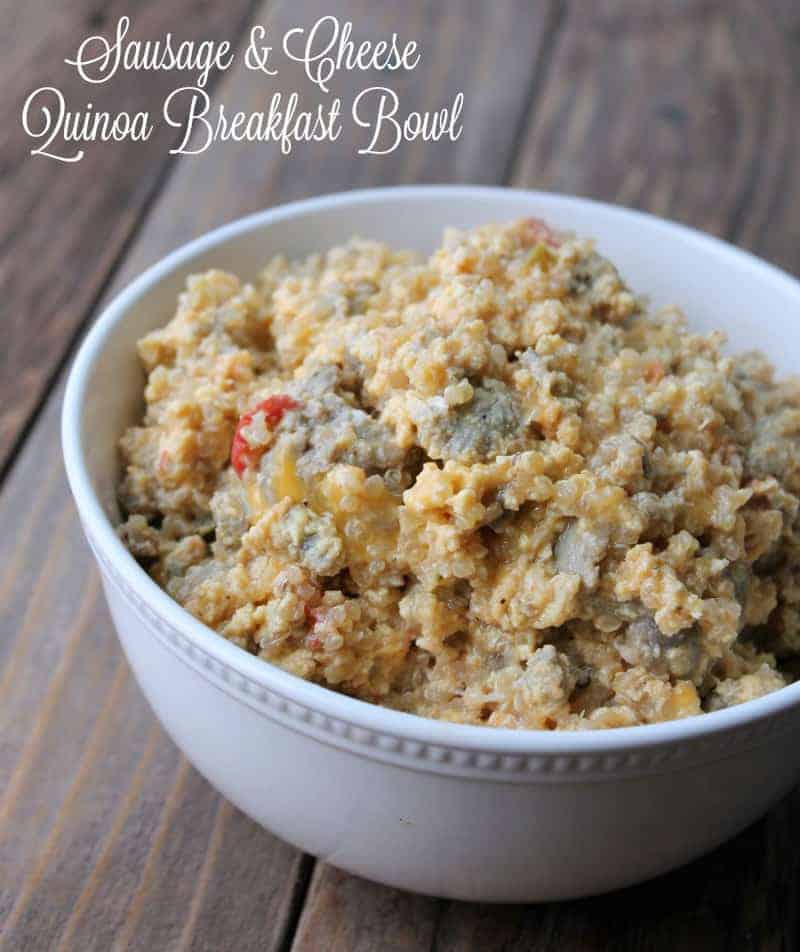 A couple weeks I prepared my first quinoa breakfast bowl using kale and bacon. I fell in love. Where has this breakfast been my whole life? I think I said that already but I'm gonna say it again because if you haven't thrown quinoa in with eggs and other ingredients yet than you need to do that ASAP.
Last week I made this lightened up homemade breakfast sausage recipe and had every intention of using that recipe to recreate a healthier version of these freezer burritos. But….I decided to take all those ingredients and prepare another quinoa breakfast bowl instead. Good choice Tammy. Yes, I thought so.
I typically have a bunch of step-by-step pictures with my recipes. However the day I made this recipe I was trying to be an overachiever. What does that look like? Well imagine little ole me trying to prepare 5-6 brand new recipes (pictures and all) in a 3-hour time slot while trying to keep laundry going and possibly making time to vacuum the house. All of that equals hot mess by 1:00pm and me forgetting to take pictures because I almost set the house on fire trying to work on another recipe. Soooo please forgive me but there's no step by steps today. Today is use your imagination day. Yay!
I can talk about the deliciousness of this recipe. Let's swoon together and bask in the glow of another tasty quinoa recipe.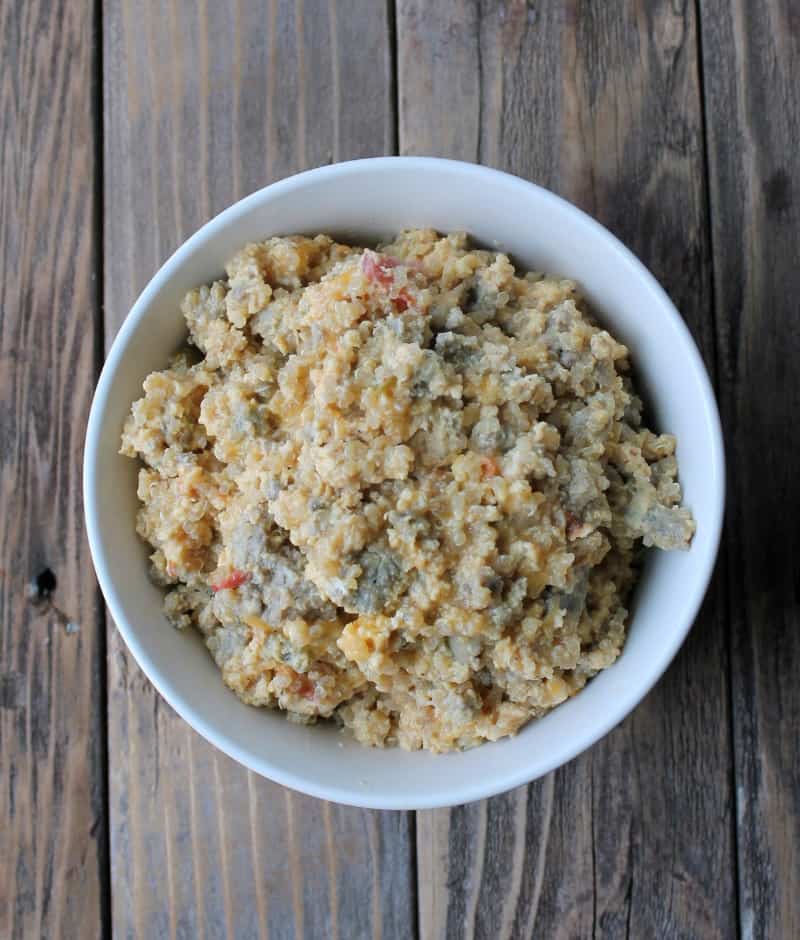 Like I said, my original thought was to put these ingredients into another burrito recipe but all that does is add a 150 – 200 calorie tortilla and not a lot of nutrition. Stirring in quinoa gives you bulk while also providing fiber and protein. You'll feel full and completely satisfied after eating this for breakfast.
The sausage, cheese, salsa, and yogurt give this breakfast bowl killer flavor. I know salsa seems like a wild card ingredient but trust me it taste wonderful in this recipe. Use your favorite salsa. I prefer the Wegmans organic brand so that's what I used.
Just like the kale and bacon recipe this quinoa breakfast bowl freezes great for a quick healthy on the go breakfast during the week. I use these meal prep containers.
Please note the kale and bacon recipe makes 6 servings. This sausage and cheese breakfast bowl makes 8 servings because the sausage bulks it up a bit more. You will still get a very generous serving but just in case you noticed and were wondering I wanted to clarify.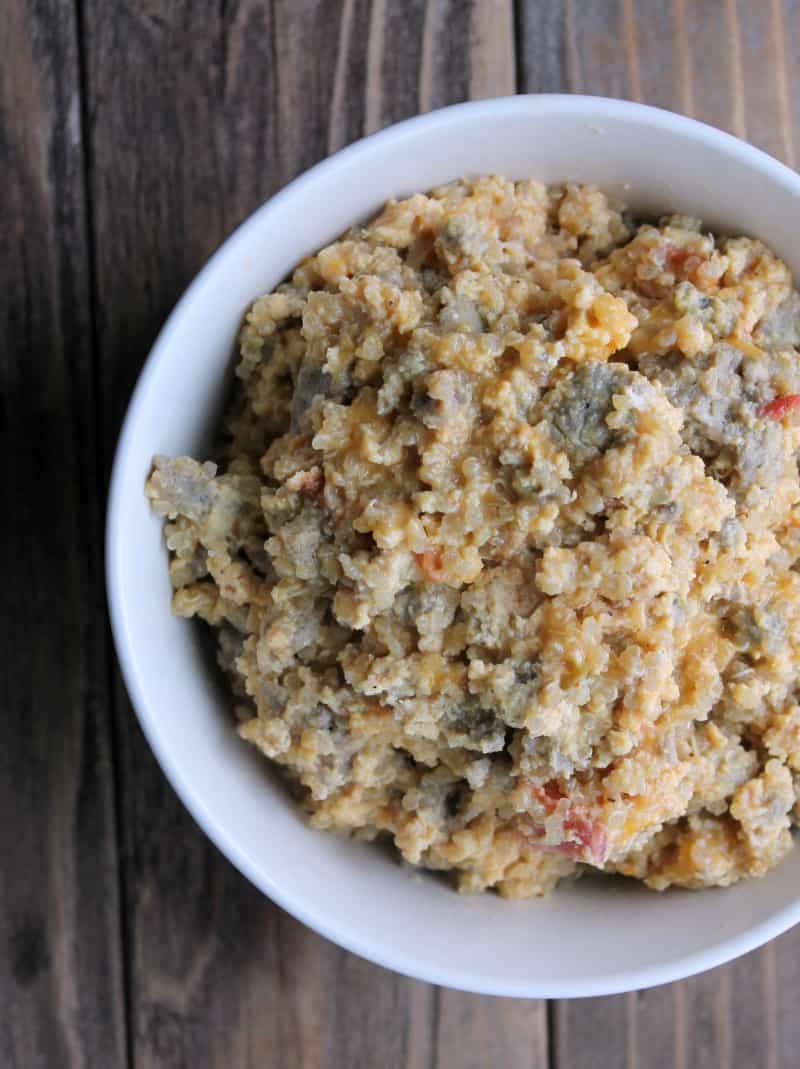 If you are an egg and sausage breakfast person then give this quinoa breakfast bowl a try. You'll love it.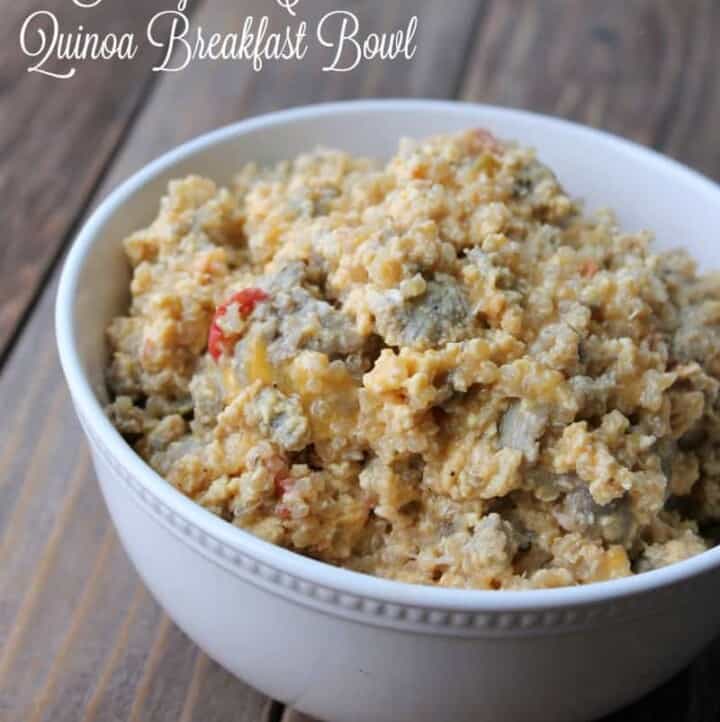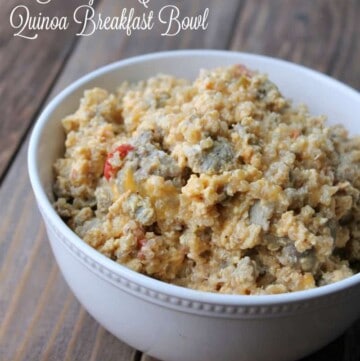 Ingredients
1

lb

homemade lightened up breakfast sausage

12

large eggs

1

teaspoon

granulated garlic

1

teaspoon

onion powder

½

teaspoon

salt

½

teaspoon

pepper

¼

cup

plain greek yogurt

½

cup

salsa

1

cup

shredded cheddar cheese

2

cups

cooked quinoa

cooking spray
Instructions
In a large pan cook the breakfast sausage until it's no longer pink, about 7 – 10 minutes. As the sausage cooks break it apart with a spoon. Remove the sausage from the pan and place it into a bowl. Set aside.

In a medium bowl whisk together eggs, granulated garlic, onion powder, salt, pepper, greek yogurt, and salsa.

Spray the pan with cooking spray. Heat the pan over medium heat. Pour in the egg mixture. Cook over medium low heat and stir as it cooks to create scrambled eggs.

When the eggs are set stir in the sausage, quinoa, and cheddar cheese. Stir until all the ingredients are combined and heated through.

Serve hot.
Notes
Sugar is 3 grams
Make-ahead tips
This recipe can be prepared completely ahead of time, portioned out, and frozen for a quick on the go breakfast. It will also keep in the refrigerator up to 5 days. Heat up in the microwave.
Nutrition
Serving:
1
g
|
Calories:
378
kcal
|
Carbohydrates:
14
g
|
Protein:
29
g
|
Fat:
22
g
|
Saturated Fat:
9
g
|
Fiber:
1
g